Cowboy boots are officially the most anticipated footwear trend of the year.
If you just walk around Times Square or run down downtown NYC, not even Texas or Georgia, you'll observe thousands of Gen Z folks and chics wearing cowboy boots of all sorts, along with their set of quirky outfits.
For that reason, this trend seems to come up as a refreshing vibe for celebrations or special occasions. Yet, it's absolutely worth giving a reservation in your shoe wardrobe but it can be picky to find the right pair with you.
This footwear has been a part of American history for many centuries. This economic sector is worth more than 2 billion US dollars annually nowadays. That's how you know thousands of Americans and expatriates have joined this culture with blessings.
Many desire to include these pieces of extravagant boots in their formal and outdoor outfits. Nevertheless, many find cowboy boots way too selective and annoying while wearing them. Therefore, it is important to know whether you can dress them up in an outfit for daily use.
The answer is Yes, as long as they are giving you 100% confidence and comfort on the go. But as mentioned earlier, finding the right pair that brings up these 2 criteria before throwing on a wrong purchase decision with great cash is no piece of cake.
Come down and check what you should look for in a pair of cowboy boots for daily use.
Key Takeaways:
The decision to wear cowboy boots every day depends on your preferences and needs. Cowboy boots offer unique style, durability, and versatility. They can enhance your outfit with their distinctive design and high-quality materials.
However, there are some drawbacks to consider. Traditional cowboy boots might lack proper foot support, their sleek outsoles could pose slip risks, and real leather can show marks easily.
Important features include comfort, durability, protection, versatility, and fashion appeal. Consider your daily activities and the demands of your environment.
If you value style and can adapt to the boots' design, cowboy boots could be a great choice. To make the most informed decision, weigh the benefits and drawbacks according to your lifestyle and priorities.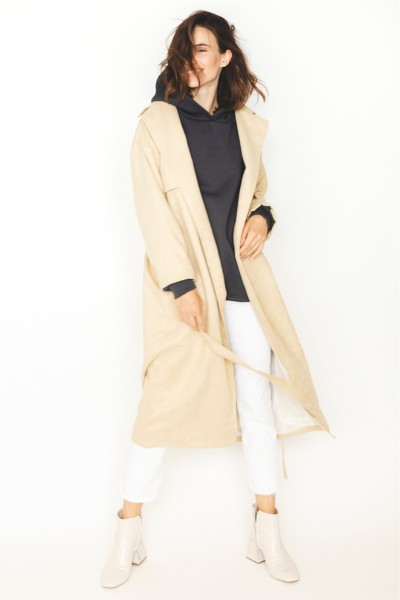 Can you wear cowboy boots every day?
It's not easy to answer this question because everyone's experience and preferences are different. Personally, I think, Yes definitely you can for some good reasons.
Nevertheless, some people also find it annoying when wearing cowboy boots on a daily basis. Let's break down its pros and cons.
Pros of wearing cowboy boots every day
First, let's see how you can benefit from wearing cowboy boots every day.
1. Beauty and Style
First and foremost, cowboy boots sparkle and shine. Like many Americans, I'm not one who is more of the classic and sleek stuff.
I wanted to add color and style to my life with these cowboy boots. Most of us can't take our eyes off the distinctive construction of cowboy boots that make the wearer's legs look longer and slimmer, including pointed toes, riding heels, and deep V-cuts.
In addition, the Western-inspired embroidery, engraving, and stitching details on the entire shaft of cowboy boots are unique and impressive. They are boldly Boho and Vintage and are perfect to wear in our American sunshine.
When you put on jeans and cowboy boots, you don't have to tell anyone in the world that you are American. That duo showed it all!
2. Durability
Most cowboy boots are highly well-constructed and well-stitched. My latest pair of cowboy boots can even last for more than 5 years with a frequency of about 10 months of continuous daily wear.
This is because cowboy boots are made using the traditional method of stitching the upper to the outsole with double or triple stitches. As a result, they are usually very endurable without the risk of easy detachment due to water.
In addition, the leather material used to make cowboy boots is usually sturdy and of high quality. A pair of full-grain leather cowboy boots can even accompany you for more than 10 years with frequent wear. And this allows us to save a lot of money on footwear without sacrificing style and beauty.
3. Versatility
You can wear cowboy boots for many purposes and that's a great thing. Like, you can ride a horse, go shopping, do gardening, go to the office or go to parties and weddings with just a pair of cowboy boots. Interestingly, right?
Cowboy boots are footwear that is easy to wear with any outfit, from casual like fringe skirts to formal like vests. The wearer can leave them over the pants or tuck them inside at ease.
This is due to the signature wide shaft design of this footwear. For men, they like to tuck the boots inside most of the time, and it's part of the cowboy boots culture.
Cowboy work boots are very useful and versatile. They have additional safety features such as safety toe caps, shanks, grooved outsole, or low squared-off heels. Those like construction workers, metal workers, motorcycle riders, or mechanical engineers can do heavy-duty jobs on them.
The high collar design of cowboy boots fully protects the ankles, insteps, and toes from the heat and hot air emitted by the burning machinery as well.
Cons of wearing cowboy boots every day
In addition to the fact that you will look stylish in a pair of cowboy boots, there are some disadvantages to wearing cowboy boots every day.
1. They often lack foot support
If you are a newbie wearing traditional cowboy boots, you will probably feel pain in the arch, heel, and toe area when wearing them for a few hours. This comes from the rather narrow inner construction of cowboy boots with narrow toe boxes and riding heels.
When your feet are tightly stuck in the boots, the blood vessels will be difficult to circulate, leading to blockage of blood vessels and causing fatigue at the end of the day.
The vamps of cowboy boots are often pressed close to the wearer's insteps. This can make some people who are used to sneakers feel uncomfortable wearing cowboy boots. If you wear a pair of leather cowboy boots that haven't broken in enough, oh I feel sorry for your feet.
In addition to the relatively narrow internal structure of the foot, cowboy boots have a characteristic wide shaft. This makes you feel that there is not enough ankle support because of the looseness around this area.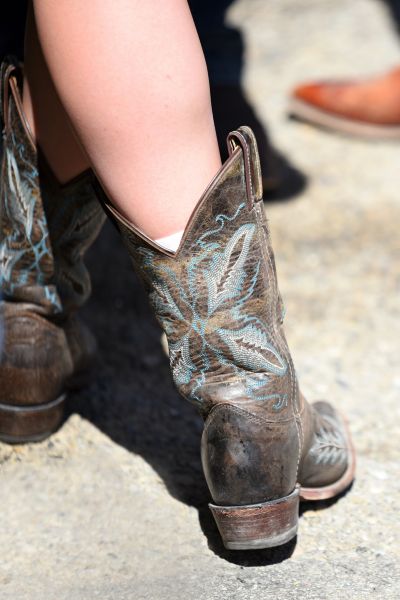 If you're new to wearing cowboy boots all the time, you may need devices to help you tighten around your ankles like leather straps.
Another important reason that so many people complain about traditional cowboy boots is the lack of cushioning in the sole construction.
Basically, the sole construction of traditional cowboy boots has no cushioning like tactical boots or hiking boots.
They are sewn from only overlapping layers of leather and do not have a midsole attached to the middle. This causes many people to experience blisters, corns, or pain around the ball of the feet due to the lack of shock resistance.
If you're having this problem and don't want to give up on cowboy boots, add an insole with proper padding for enhanced support and comfort for your foot.
But the good news is, today some modern cowboy boots from well-known manufacturers like Ariat have applied technologies to the soles and insoles of the boots, helping to increase the comfort right out of the box without the need for additional insoles.
Personally, I really like Durango's cowboy boots, they are extremely comfortable with good cushioning. I wear them every day for all different jobs.
2. Unsafety sleek outsole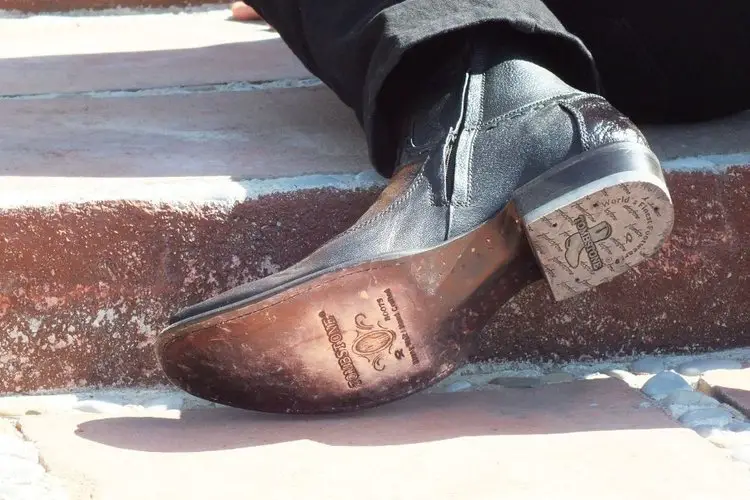 Most of us are familiar with shoes that have a grooved outsole or at least the sole of the shoe has a certain high level of friction.
But traditional cowboy boots or fashion cowboy boots usually only have smooth and sleek outsoles. This exposes the person to possible fall problems and injuries due to slips.
If you work in an outdoor environment and there is a lot of risk of slipping from the outside, maybe cowboy boots are not the right choice for you. Sleek outsoles themselves have no resistance to slippery surfaces such as water, moss, or grease. In addition, this surface will wear down and become more slippery over time, creating potential future injury risks.
If you have to do heavy-duty work in a heavy-abuse environment, cowboy work boots with low grooved off-square outsoles are the better choice.
3. Easy to get marks on the leather upper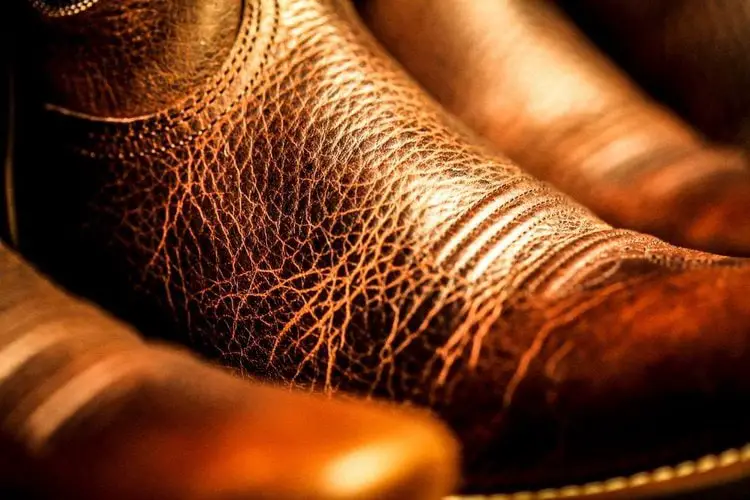 You rarely find cowboy boots made from synthetic fabrics or textiles. Leather material is part of cowboy boots culture. Therefore, most of these boots are made from real leather, faux, nubuck, or split leather.
One of the characteristics of these materials is that it is easy to leave marks on the surface if exposed to water, mud, or moisture for a long time.
Nubuck and split leather often cling to dust, dirt, and mud for a long time and it is difficult to regain their original appearance. They are also selective to conventional leather care methods.
This is also a disadvantage of wearing cowboy boots every day. The solution is you can go for cowboy boots with distressed patterns on the surface. They almost blend in with the stains and so you won't need to pay too much attention to them after cleaning thoroughly.
Alternatively, you can increase the durability of your cowboy boots by periodically cleaning the stitches, with just a brusher and leather cleaner. Since fiber threads can oxidize and corrode over time, periodic cleaning of the stitches will greatly increase the life of your boots.
Important features of cowboy boots for daily use
To help you better judge whether or not to wear cowboy boots every day, we have the following cowboy boots feature reviews based on our own wearing experience as shown above:
1. Comfort
To be honest, the comfort of cowboy boots is largely based on your foot's adaptation to the boot's construction.
Long-time wearers still feel quite comfortable and flexible when being on them for a long period of time, while newbies will find their feet a bit sore and uncomfortable right in the first place.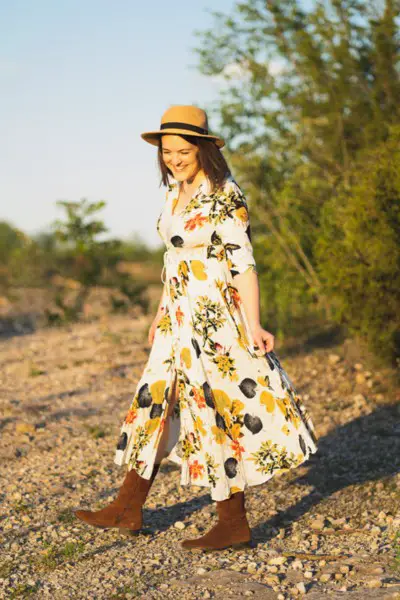 Overall, the construction of cowboy boots with pointed toes and riding heels usually doesn't do much to provide foot comfort when worn all day long. Yet, you'll still feel the footwear hold up the feet pretty well and you'll be confident with every step you take.
2. Durability
As mentioned above, durability is a big plus point of this footwear line. Thanks to the construction that is sewn and machined using traditional stitching methods, most people rarely experience the release of the outsole and upper when wearing cowboy boots.
In addition, high-grade leather materials such as full-grain leather can have a life expectancy of more than 10 years.
However, there is a drawback cowboy boots' stitches can create micro gaps between each other, creating a pathway for water to flow in. This reduces the cowboy boots' ability to resist water from the outside.
Therefore, the durability of boots can be significantly reduced. A good solution for you is to coat the entire cowboy boots with a waterproof layer. This will reduce the chance of water seeping into the micro gaps in the middle of the thread.
3. Protection
Most fashionable cowboy boots do not provide safety features. This only happens with the cowboy work boots line.
This is completely understandable because if you only wear cowboy boots to work, you will not find the safety toe caps so deadly important.
Instead, they even increase the weight of the boots unnecessarily. Besides, another reason comes from the design of fashion cowboy boots with pointed-toe designs. This design is not capable of adapting any safety toe caps for assembly.
But you can count on a relatively good level of safety in cowboy work boots. They have round toes with safety toe caps, a low square rubber outsole, and a form-fitting shaft (instead of a wide shaft).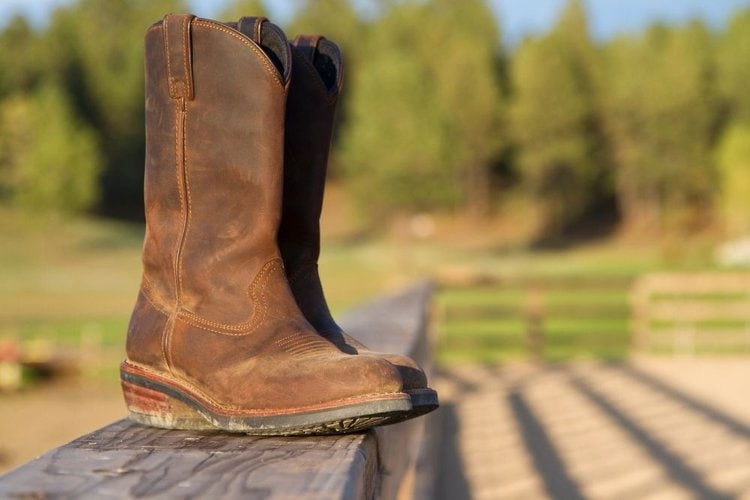 These characteristics make cowboy work boots still widely popular with construction site workers, farmers, horse riders, machine workers, or metal workers.
4. Versatility
This is another plus point of cowboy boots. As mentioned above, cowboy boots are quite versatile. You can wear cowboy boots with a variety of outfits for many different purposes.
In addition, cowboy boots also have many variations based on material, shaft height, and function. Therefore, rest assured that you will always choose the best pair of cowboy boots.
5. Fashion
Cowboy boots embody a fashion culture and a distinct fashion sense.
Millions of people are their followers with perfect loyalty. What else leaves you doubting the fashion level of this footwear line?
6. Breathability
This is a disadvantage of these boots when you need to wear them every day. Cowboy boots are not designed with vented holes or tiny openings in the lower upper part.
What makes cowboy boots provide the best ventilation is pulling holes and deep V-cuts. These details give the footwear increased air circulation from above, but this doesn't have a really big effect.
In general, cowboy boots can make your feet hot if you put on them for a long time. With a closed upper with leather lining, your feet may have to sweat to dissipate heat and cool your feet down.
Therefore, don't insert additional leather insoles unless you have to. Choose an insole with high-level breathability that can absorb heat, moisture, and sweat well so as not to reduce ventilation from the inside.
If high-collar cowboy boots are not your true love, then ankle cowboy boots will be the best option in terms of this feature.
Here we have built a visual table for cowboy-boots-for-every-day-wear features rating:
| | |
| --- | --- |
| Features of cowboy boots | Editor's Rating |
| Comfort | ⭐⭐⭐⭐ |
| Durability | ⭐⭐⭐⭐⭐ |
| Versatility | ⭐⭐⭐ |
| Protection | ⭐⭐⭐⭐ |
| Fashion | ⭐⭐⭐⭐ |
| Breathability | ⭐⭐⭐ |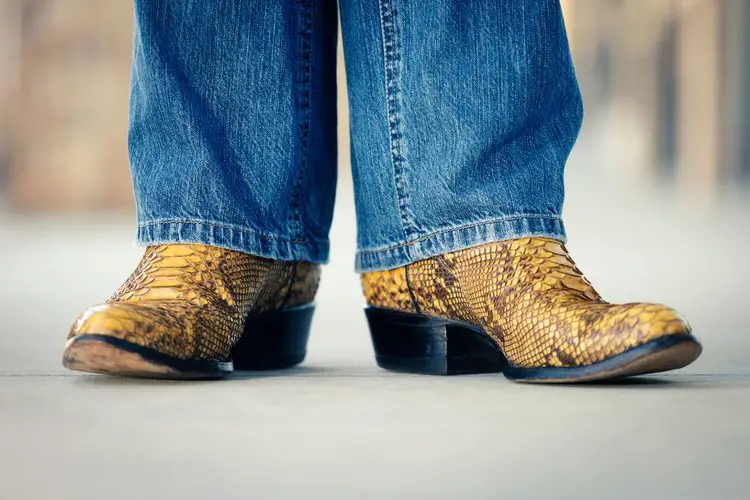 Is it bad to wear cowboy boots every day?
Yes, it is, if you choose to wear cowboy boots with high heels and super pointed toes. These designs will impede blood circulation in the toes and the entire foot.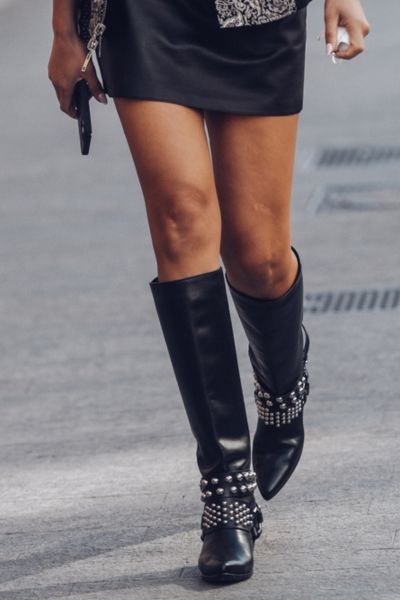 This is even worse if you wear the wrong boot size and causes unnatural walking gaits. Over time, you may face lower back pains, dislocated toes, or Plantar fasciitis.
If your job requires being on your feet for long hours, opt for cowboy boots with low heels and round toes/square toes. In this way, your feet will be provided with better comfort and a relaxing experience.
What cowboy boots are good for everyday use?
If you've read this far, you probably know how to choose cowboy boots by looking at the pros and cons part. But to be more specific, I will show you some types of cowboy boots that are suitable for everyday wear.
Cowboy work boots
One of the safest cowboy boots for everyday wear is cowboy work boots. They are designed to provide comfort and protection to the wearer at the same time. You will not face the risk of foot health problems when wearing this footwear.
Round toes are capable of providing enough roomy toe boxes for comfort. Along with that, they are also designed to attach to composite/steel toe caps for total toe protection.
Outsoles of cowboy work boots are made mainly of rubber and are shaped into grooves or deep lugs depending on certain types. This design provides better friction between the footwear and surfaces, reducing the risk of falls and injuries from slips.
The low square heels of this footwear reduce pressure on the ankle and heel, promoting better blood circulation in these areas. You probably won't tire your feet too much at the end of a long day.
Ankle cowboy boots
This is the best breathability line of all cowboy boots if you find this feature really important to consider. Ankle cowboy boots are only ankle-high or slightly higher.
They retain the iconic deep V-cut detail in the center of the collar or are attached to the sides of the collar.
Overall, with a low-cut design, these boots have excellent ventilation and airflow without causing your feet to sweat to cool down, even during constant movement.
This is the most suitable line of cowboy boots to wear every day during the hot seasons.
Moderate high heel types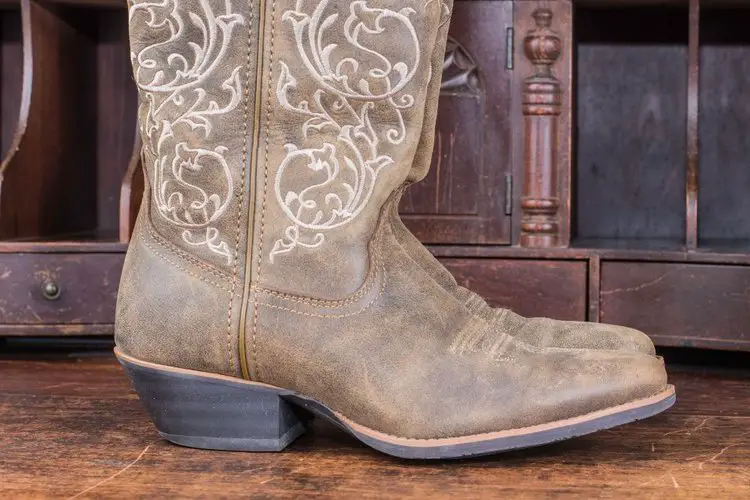 Most of the heels of traditional cowboy boots are around 1.5 – 2 inches high. This height does not cause too much harm to foot health.
But today, there are modern cowboy boots up to 3-3.5 inches high with a more pointed heel. This is really bad for the bones and blood vessels of the heel and ankle to function and circulate effectively.
You also run the risk of twisting or slipping due to this terrifying height of the heel. And certainly, I don't recommend wearing such boots every day.
All in all, traditional cowboy boot heel height is suitable for everyday wear.
Roomy toe boxes
Whether you work indoors and require little walking or you have to constantly move on your feet all day long, providing the perfect amount of room for your toes to wiggle inside the boots is a must. However, the pointed toes of most cowboy boots might not provide that.
If you own wide feet, you probably won't want to wear pointed cowboy boots for the second time in your life. If your toes are not comfortable for a long time, the toe bones can become oddly deformed, or worse, they can develop a blood clot or blisters around the tip of the toe.
For everyday comfort, you should go with cowboy boots that possess square toes and round toes, rather than pointed toes.
These designs will provide better roomy toe boxes for better breathing and blood circulation. Rest assured that it won't make your feet look big.
Arch and heel support
One last important thing to look for in an everyday cowboy boot is comprehensive foot support. The wearer's feet will definitely suffer a lot of harm because of the low shock resistance coming from the construction of traditional cowboy boots.
But these days, well-known cowboy boots brands like Ariat have applied amazing technologies to the soles to enhance all-around support for the foot.
They add footbeds in the boots or midsoles between the layers of the boots' soles to improve shock resistance and cushioning for wearing all day long.
In addition to the support, these designs also feature gel pads around the heels, arch, or the ball of the feet, for improved support. Additional insoles are also designed to fit both flat feet and high arch feet, effectively reducing pain attacks around these areas.
Some last words
The choice of cowboy boots to wear every day is indeed comfortable or not depending largely on your experience and preferences.
If you are a true fashionista, the disadvantages of wearing cowboy boots are not a big deal. But if you are looking for security and protection, cowboy work boots are a better choice.
Howdy y'all! I'm Grace, a Western style enthusiast with over 5 years of experience. From cowboy boots to western gear, I'm passionate about all things Western and dedicated to helping you find the perfect style to suit your taste. Join me and my fiancé Jay Gatz as we explore the rich history and timeless appeal of Western fashion together!