Have you ever wondered which cowboy boot brand is the most famous in the world? In fact, I firmly believe that no brand is the most famous.
Today, many brands of cowboy boots have developed more beautiful and edgy products. With an elegant and sophisticated design, cowboy boots now are suitable for the tastes of modern times.
Unfortunately, not all of us have the opportunity to own all sorts of cowboy boots from all brands. And knowing the brands of cowboy boots to choose a pair that fits your style is a necessity.
For that reason, we will list the top 8 most famous cowboy boot brands according to our criteria. Besides, we will tell you their most outstanding features.
Besides, we also filtered out some questions that many people are interested in when it comes to cowboy boot brands as below:
What are the famous cowboy boot brands?
What is the most expensive brand of cowboy boots?
What boot brands are made in the USA?
What is the best brand of women's cowboy boots?
Do not worry, we are here to answer every question for you!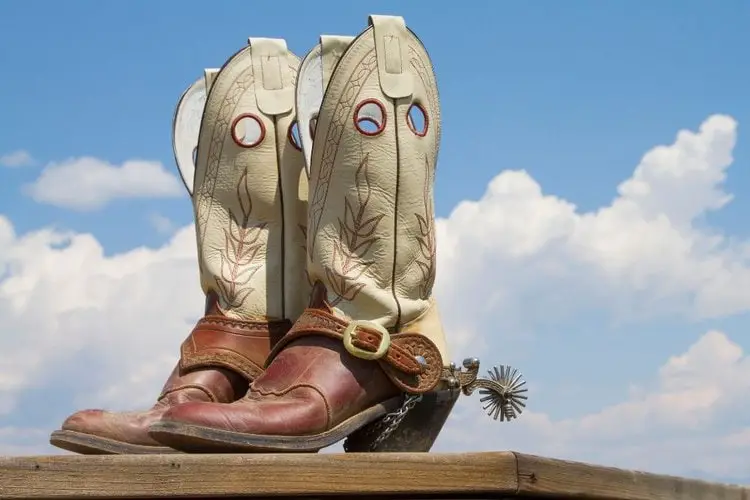 What brands of cowboy boots are the best?
Every brand has its own best.
If you are looking for cowboy boots made from exotic leather with deep color, rich in style and hand-made by skilled craftsmen in Mexico, Tecovas is the number 1 choice.
If you're looking for a new brand of cowboy boots that offers great comfort, why not try Chisos?
If you are new and want to have more choices, you should look to the Ariat brand for many different types of cowboy boots: Workhog Boot, Rambler, Western Work Boot, Riding Boots, etc.
When it comes to the wild and traditional cowboy boot brand, we can't neglect Dan Post – A great brand with boots made from exotic leather.
For a brand of cowboy boots with a strong and masculine look with great comfort, it is Durango!
Wondering if cowboy boots are made in the United States, Tony Lama is your destination.
For cowboy boots with delicate stitching and fragile appearance, take a look at Lucchese handmade brand.
If you are looking for a cowboy boot brand with excellent and diverse collections of riding boots, cowboy work boots, traditional boots, square toe boots, etc. Then Justin brand is definitely a wise choice.
Don't be surprised by the colorful appearance of Anderson Bean, this brand is a precious gem of America.
Still, there are many other brands of cowboy boots with their own best.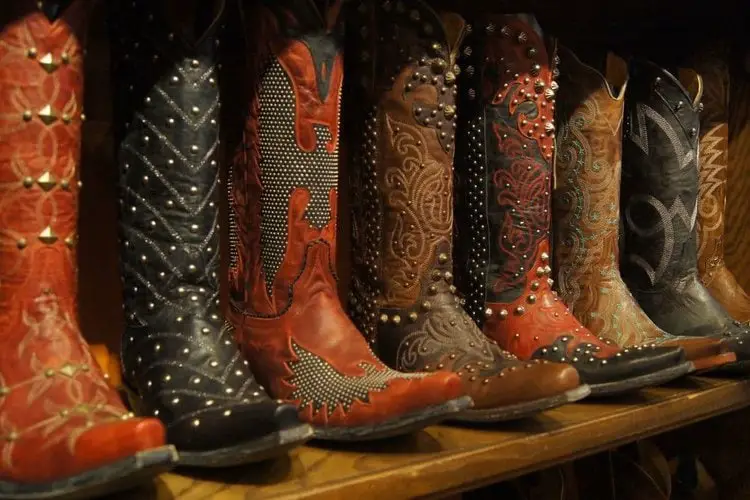 What are the famous cowboy boot brands?
Without making you wait any longer, here is ̣one of the most famous cowboy boot brands that we have personally collected and evaluated.
Let's check it out!
1. Tecovas – King of Exotic Boots
When thinking of cowboy boots, Tecovas should jump to your mind first. And when looking for exotic boots, you definitely have to think about Tecovas.
As one of America's most beloved cowboy boots (and accessories) brands, Tecovas has always been the #1 destination for all western-style cultists.
It's definitely hard to make a choice when you walk into a Tecovas store because they have all kinds of cowboy boots with styles beyond your expectations.
From cowboy boots made from cowhide to exotic, from full-grain leather to suede leather, they have it all!
I love the classic cowboy and roper style boots of Tecovas. And I'm pretty sure those are their mainstream product lines.
Want cowboy boots with an elegant look but not boring while still bringing comfort with softness and breathability? It may sound like a demanding task, but The Wyatt with hand-corded calfskin, full-quill ostrich leather hand-lasted vamp and deep color will give you complete satisfaction.
Want a pair of cowboy boots to match your elegant suit? Alright, The Cole caiman boots are sure to be an exquisite choice. Their attractive dark color with a round toe, leather sole and roper heel is a superior combination.
One thing that people are often afraid of is that the price of Tecovas is higher than most brands of cowboy boots.
This is also easy to explain, as Tecovas are handcrafted in León, Mexico. And the price of handmade cowboy boots in Mexico is always higher than that of machine-made boots across the ocean.
However, in reality, if you have worn boots for more than a decade and know many different brands of boots, you will know that the price of Tecovas boots is not expensive compared to the price of a handmade pair of boots elsewhere! I can guarantee it!
With superb craftsmanship and sophistication in every stitch, the price of Tecovas cowboy boots is certainly not high.
So don't hesitate!
2. Chisos – A new brand, a new feeling
One of the extremely notable brands this year is Chisos. You may not have heard of this brand, which is understandable, because this is a start-up company. However, you should know that Chisos is really making a big hit in the cowboy boot community and the Texan community.
One of the things that build their success is the quality products, especially in terms of feeling, you will be conquered by the great comfort.
When I emailed them for an opportunity to collaborate with this cowboy boot brand, I never thought I would meet the real owners instead of the salespeople.
But Will Roman (Founder of Chisos) really surprised me by replying to that email himself. Such an honest and warm-hearted man!
And when you interact with Will, a son of Texas, you will learn that he is not just a businessman, but a true talent who knows every corner of cowboy boots.
Example: What makes Will Roman's mindset is when he visited cowboy boot factories and witnessed many bootmakers trying to reduce costs by deliberately making poor-quality boots.
Some make plastic heel counters, while others use synthetic shanks or simply cheap and poor-quality leather. And many other unacceptable things!
Those things are sure to make the wearers have bad feelings when experiencing boots.
Will just can't tolerate this sad scenario! That's when he feels he can do great things using old-school ways to serve people who enjoy the feeling of a real cowboy boot! A truly comfortable pair of boots!
The above explains why many Chisos cowboy boots are not made from exotic leather but are not cheap. The reason behind them is the high quality along with meticulous workmanship that has created top-class boots.
You can tell that Chisos boots are really well-made by feeling their leather heel counter, leather sole, leather upper, and stacked leather heel.
Interestingly, Chisos boots are made from daily cow hides, not calfskin so you can feel their thickness. This makes them thicker, sturdier and more durable. But, thanks to the fine workmanship, you still experience softness with a very short break-in time.
Not to mention, Chisos' cowboy boots also have a sharp look! You can feel it through the well-polished surface, and beautiful construction from the toe and heel or to the vamp and shaft.
Chisos No.2 and Chisos No.5 will definitely be the first and best experiences for you!
Today, when I'm writing these lines, you can still easily contact Will for product reviews and comments! He will quickly reply and solve them for you.
But, after a short while, I'm not sure you'll easily meet Will, believe me, Chisos will grow super fast!
Good luck, Will!
3. Ariat – Diversity in style and developments in technology
If you're having a hard time finding cowboy boots that suit your style, don't give up, drop by Ariat. This brand has an extremely diverse treasure trove of cowboy boot styles.
They offer many different types of cowboy boots for both men and women. Ariat boots are very diverse for all ages and serve many different purposes.
As someone who is quite familiar with Ariat cowboy boots, I found hundreds of pairs of cowboy boots with different looks. It's an unthinkable thing for a company.
You can use Ariat cowboy boots for both fashion and function. As they have so many models, from Work boots, and Western Booties to Riding Boots, Roper Boots, and Stockman Boots.
Besides, Ariat's cowboy boots also have very diverse prices, you can find Ariat boots at all different prices. You'll never be short of options when looking for a pair of Ariat cowboy boots.
One thing I like about Ariat cowboy boots is that they incorporate a lot of modern advanced technology into their cowboy boots. Don't get me wrong, Ariat boots still keep a great classic look, but those advanced technologies make them even more comfortable, versatile, and durable.
4. Lucchese – King of handmade cowboy boots
If you don't want your cowboy boots to be "look-alike", try handmade boots from Lucchese. The products of this brand are extremely delicate in every stitch with skillful workmanship.
With over 130 years of experience in making cowboy boots, each pattern on the boots is made as exquisite as possible. Besides, Lucchese boots are famous for the traditional cowboy boot style.
To this day, Lucchese always has a place in the hearts of cowboy boot fans. If you ask cowboy boots lovers what is the best brand of handmade cowboy boots, Lucchese will surely always be on their answers.
If you want to own unique and special boots that a few people have, this brand will not let you down.
It's no exaggeration to say that this is the king of handmade cowboy boots!
However, it should be noted that this brand's boots are very expensive (manual making!), so you need to choose carefully before buying to avoid unnecessary trouble.
Read more: Lucchese Cowboy Boots Reviews
5. Justin Boots – Unique style combination between modern and classic
Modern and classic, youthful and wild, elegant and seductive… this must be a brand that pleases even fastidious customers.
The Justin boot brand often brings to the market great collections with a variety of styles and colors. This is also a brand with a wide range of products, you can absolutely find cowboy work boots, traditional boots, riding boots, etc.
Quite similar to Ariat (Justin and Ariat are two big rivals), Justin boots' products are diverse and suitable for many different ages, personalities and genders.
These boots are specially designed for comfortable wearing all day long. For that reason, they are really great for working, hanging out with friends, and taking long field trips.
With such a long history since 1879, the quality of the boots of this brand is indisputably confirmed.
6. Dan Post Western Boots – Brand for true cowboys
One of the most famous brands of cowboy boots that cannot be ignored is Dan Post. Their classic designs and styles won't fade with time.
Dan Post cowboy boots are extremely popular in the cowboy boot world with their classic style boots.
Their products are mainly traditional cowboy boots but are made from many different materials. You can easily find cowboy boots made from ostrich leather, crocodile, lizard, caiman, etc. named Dan Post.
This is a legendary brand that specializes in Western cowboy boots. Besides, Dan Post cowboy boots also have very little or almost no break-in time, proving they have very quality workmanship.
If you're looking for boots like Rick Dalton (Leonardo Dicaprio) in "Once upon a time in Hollywood", this brand is a perfect fit for you.
7. Durango – King of comfort
Details, details and details, meticulous details of each pattern, and every elaborate stitch line … are what we are talking about the Durango brand.
One of the biggest highlights of the Durango brand is their cowboy boots provide a very high level of comfort. You can absolutely use Durango cowboy boots for any trip, any job, and even standing for 12 hours a day! Because Durango boots have great support in the soles.
I own many different cowboy boots, but when it comes to comfort, I would choose Durango as the best representative.
Durango is famous for cowboy boots, yes, everyone knows that. But when it comes to the cowboy boots line that makes the Durango famous, it's western work boots.
Western work boots provide excellent comfort for outdoor activities, construction, etc.
If you are looking for great cowboy boots to work outdoors, Durango should be your number one priority.
8. Soto Handcrafted boots – Golden boy cowboy boots industry
It's also a brand that makes manual cowboy boots, but at a more affordable price than Lucchese or Tony Lama.
Though Soto was born late, this brand has been gradually confirming its skills over time.
Established in 2001, Soto has been famous for providing premium quality crafts at affordable prices so far.
If you love a pair of handmade boots, the Soto brand is a trusted brand!
What is the most expensive brand of cowboy boots?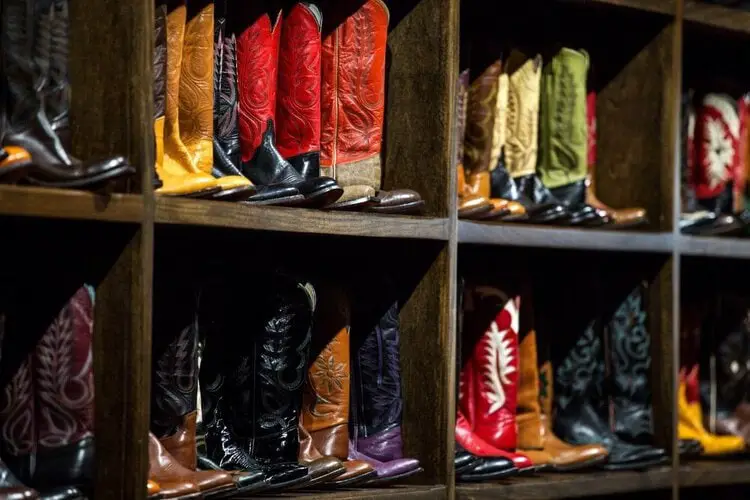 Through the article "What are famous Cowboy Boot Brands?", we can see that handmade cowboy boots' prices range from expensive to extremely expensive!
As for the high price, we get the boots with smoothness and sophistication in each stitch and the attraction from the designs to the motifs.
The brand that we want to talk about is J.B. Hill Boot Company and Lucchese. J.B. Hill Boot Company was founded in 1996, with a factory in El Paso, Texas. It may not be the oldest brand of boots, but this is definitely the brand with the most expensive products.
There is very interesting information that you may want to know: Jeff Bezos, the richest man in the world for many years, flew into space with the cowboy boots of JB Hill Boot Company for the first time.
That was the first time for Jeff and the first time for a pair of cowboy boots to the universe. Jeff is certainly a connoisseur of cowboy boots – the richest man in the world wears a pair of cowboy boots from the most expensive brand in the world, such a perfect balance!
The Cowboy Boots Jeff Bezos Wore To Space
The Lucchese brand is also a very famous brand because of its very expensive handmade cowboy boots made in the US or Mexico.
One of Lucchese's most expensive cowboy boots are made from American alligator leather (more than ten thousand of dollars).
What boot brands are made in the USA?
Today many cowboy boot brands have no longer completely manufactured cowboy boots in the US for many reasons, which is really a pity.
However, you will not regret it too much because there are still many brands of cowboy boots made in the US. And especially those brands are handmade cowboy boots.
For handmade cowboy boots in the US, to name a few, we have Tony Lama, Anderson Bean, Lucchese, Corral, Rios of Mercedes, and The Frye Company. These are all jewels of America.
Besides, other famous brands of cowboy boots made in the US can be mentioned as Nocona Boots, Justin Boots, Double-H Boots, etc.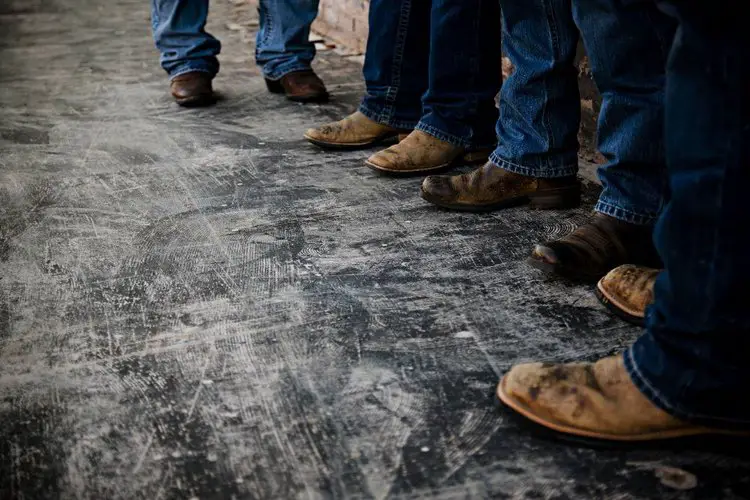 What is the best brand of women's cowboy boots?
Just like the answer above, each brand of cowboy boots has its own beauty. And the best cowboy boot brand for women depends a lot on their taste.
If you like classic brands, look to Dan Post, Laredo, Dingo, Corral, etc.
If you like brands that give you a lot of choices, then Ariat or Justin is your destination.
If you like handmade cowboy boots, Tecovas, Lucchese, and Soto are the names you must fall in love with.
Femininity is all you'll find in Tecovass and Very Volatile.
If you like cuteness and comfort, then you will definitely love Roper, Chisos.
What is your taste? Let me know in the comments, and I will choose for you the best brand of cowboy boots.
Besides, you can refer to the 8 best cowgirl boots brands here!
Before you leave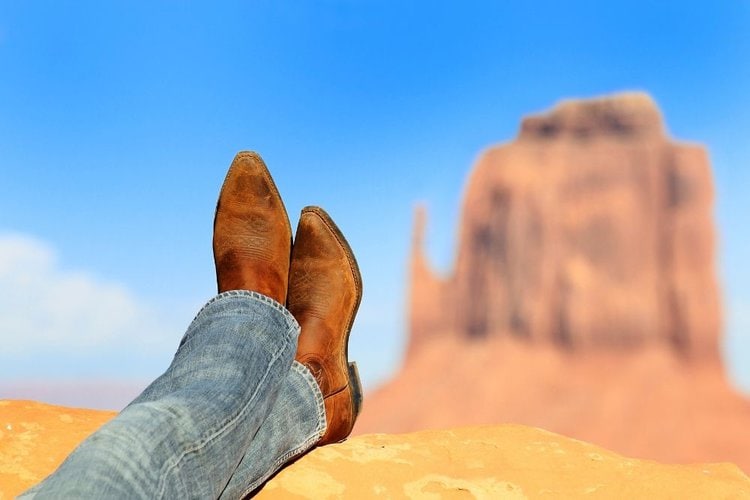 Hopefully, the above information is helpful for you, look for the best cowboy boot brands to buy the best cowboy boots.
Cowboy boots are one of those classic and historic accessories, but make no mistake, they always evolve. More and more new brands are being born to bring more interesting boots.
That's why cowboy boots are increasingly versatile and closer to the mass market.
Not only do you see them on the ranch worn by ranchers, but today, they also accompany office workers, construction workers, or even grooms at weddings, etc.
Cowboy boots develop in categories, styles, etc. largely thanks to the proliferation of many new cowboy boot brands.
Don't be lazy to search for a friend who will follow you for more than 10 years, choose and consider carefully and you will get one of the best boots in the world.
One more thing, don't forget to thank us once you've found a satisfactory pair of cowboy boots!
Howdy y'all, and welcome to From The Guest Room, your ultimate guide to all things Western! I'm Jay Gatz, a lifelong cowboy boot enthusiast with over 5 years of experience in the Western style world. I'm excited to share my knowledge with you and help you discover the perfect cowboy boots and western gear to elevate your style. Let's explore the rich history and timeless appeal of Western fashion together!