Welcome back to the From The Guest Room FAQ about cowboy boots.
Today we come to some of the basics of cowboy boots: Are they durable or not? What is the maximum and minimum use time of cowboy boots?… And other related things.
No more time-wasting, let's get started!
How long do cowboy boots last?
10 years or… 2 weeks.
There are many different types of cowboy boots in the world. The lifetime of cowboy boots will be determined by the quality of the cowboy boots and how they are used for your purpose.
Cowboy boots can last more than 10 years if you buy a pair of good quality boots, use them for the right purpose and take good care of them.
And based on many true stories, many people indeed have used a pair of cowboy boots for more than 14 years.
The only thing that need to be replaced over time is the sole – this often happens in cowboy boots with leather outsoles.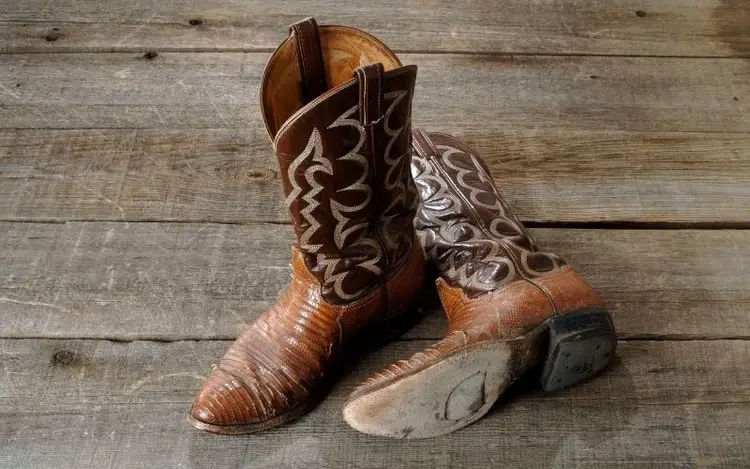 Use cowboy boots for the right purpose
This means that if you are a heavy duty outdoor, farm, etc. person, you should use low-heeled, durable cowboy boots with rubber outsoles such as western work boots.
If you are a lover of beauty and mettle of cowboy boots, you just enjoy sitting on horses or cars, staying in the office, then you can absolutely use beautiful boots with high heels (over 2″), those get soft and "fragile" look.
Otherwise, if you use too high heel cowboy boots to work on the farm where you need to stand on your feet too much, then these beautiful cowboy boots cannot last long as in the above situation. In this case, you need a sturdy boots rather than just lovely boots.
Read more: Different Types Of Heels On Cowboy Boots
Take good care of cowboy boots
Another factor to keep cowboy boots long-lasting and always shining is to take good care of them.
Most cowboy boots are made from leather or suede. The way to preserve, care and clean leather and suede will be different.
For example, to clean cowboy boots, you should use specialized products such as leather cleaner, Horsehair Brush, boot shaper ….
Fortunately, we have an article on how to clean cowboy boots here and how to store cowboy boots here!
Quality of cowboy boots
The quality of boots can greatly determine the lifetime of cowboy boots, there are fake or faulty cowboy boots that can only last for 2 weeks.
To solve this, you should choose trusted cowboy boot brands such as Ariat, Laredo, Dan Post, Tony Lama …
Another thing is to choose the size of cowboy boots correctly, I can assure you that cowboy boots will not be able to survive more than 2 hours in your feet if they are too wide or too tight.
So to avoid those mistakes, here and here are 2 articles to help you not to make mistakes!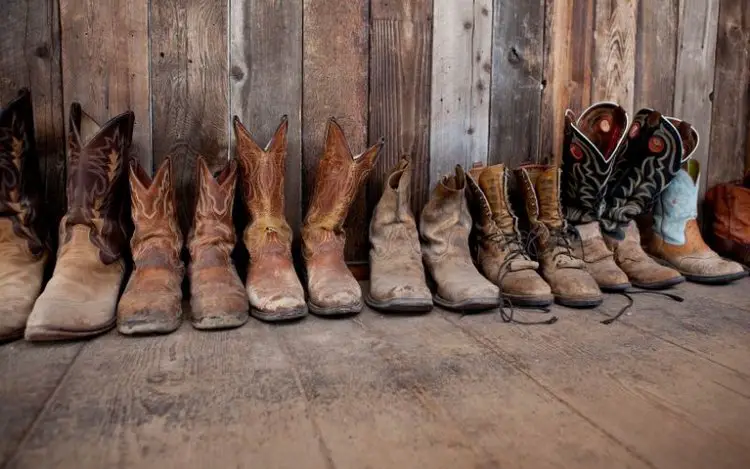 Are cowboy boots durable?
Cowboy boots are super durable if they are of good quality, genuine leather and used for the right purpose with good preservation!
The purpose of cowboy boots was born to serve the cowboys working on large farms. Therefore, cowboy boots often suffer from external forces such as intense sun, high winds, snow, etc.
Not to mention they have to protect cowboys from wild animals such as poisonous snakes, centipedes,… and even withstand bullets from Mexican cowboys.
For that reason, special cowboy boots must be durable, very durable, and super durable. If you take good care of them, they can be used for up to 10 years!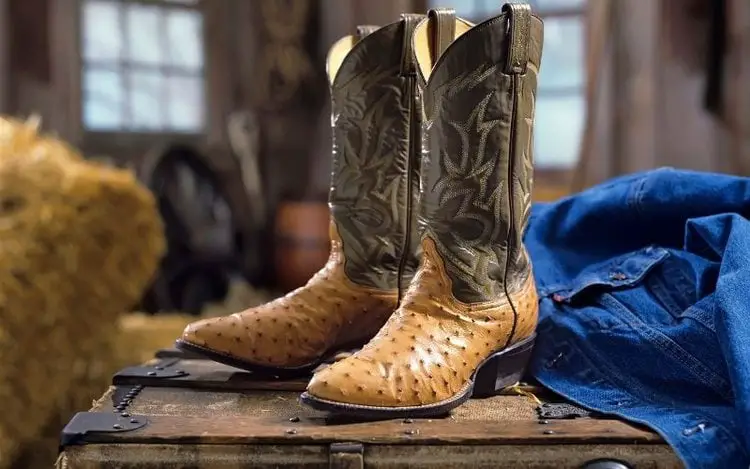 What are the most durable cowboy boots?
As mentioned above, whether cowboy boots are durable or not depends on how you store, clean or care for them
However, to recommend the most durable cowboy boots, western work boots are a good choice.
Western work boots were born with the purpose of serving people who do outdoor work, heavy work and jobs that require cowboy boots to withstand good external forces.
The design of Western Work Boots often has steel toe and steel shank. These protect the feet of wearers and increase the durability for the boots.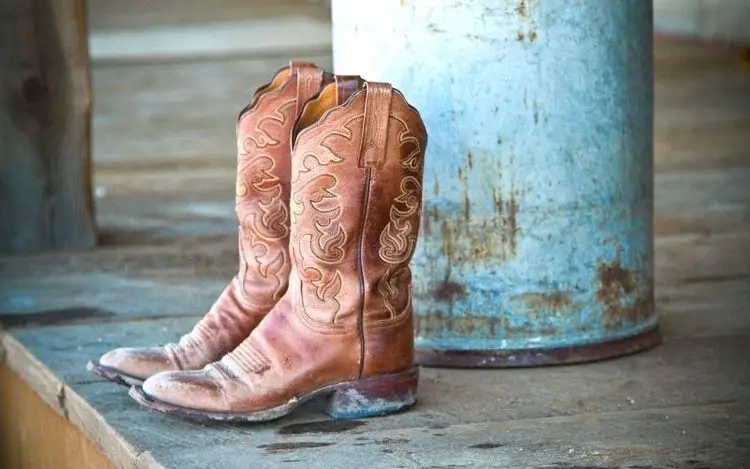 What is the best cowboy boot material?
Cowboy boots are made from a variety of animal skins, such as Kangaroo, Cowskin, Lizard, Horsehide, Snakeskin, Ostrich, Alligator, Stingray and… Shark.
However, it can be said that the animals that hate cowboy boots the most are Cow and Ostrich. Cowhide and ostrich leather are the common material to make cowboy boots.
When it comes to the best cowboy boot materials, I appreciate cowhide for its durability and ostrich skin for its beautiful appearance. Also, cowboy boots made from crocodile skin often come with expensive price tag.
Fun fact: A pair of Lucchese cowboy boots made from blue crocodile skin costs up to thousands of dollars.
What is the metal thing on cowboy boots?
There are three positions of cowboy boots made from metal: toe, spur, shank, and sometimes heel.
Steel toe
Normally, traditional cowboy boots do not have steel toes, but things are different now. To serve more heavy-duty jobs such as working at construction sites, there are several pairs of cowboy boots with steel toes on the market.
If you are looking for a pair of cowboy boots with steel toes, then work style cowboy boots (western work boots) are what you are looking for.
Steel shank
For people working at a construction site, just like steel toe, steel shank helps protect the sole of your foot from being ravaged by sharp metal objects (such as nails, screws, etc).
Besides, the steel shank also brings high balance and stability to the wearer. For that reason, it often appears in work-style cowboy boots.
Steel heel
Unlike steel toe and steel shank, steel heel usually does not have much to support the foot and very few cowboy boots possess this feature.
It seems that the appearance of steel heel is just an increase in the aesthetics of cowboy boots.
Spur
Spur is a metal material attached to the back of a cowboy boot (mounted on the heel). Spur allows cowboys to direct the horses (or other animals) while riding so that they can move straight ahead or adjust their direction.
Nowadays, not many people use spur for cowboy boots anymore.
Did Cowboys really wear spurs?
Yes, cowboys wore spur a lot in the past.
Western cowboys in the United States often sit on horses more than they stand on the ground. For that reason, along with the horses' inability to understand human language, cowboys must have something to communicate with the horses, that is, the spurs.
Spurs are a tool for cowboys to signal commands to their horses.
Today, because the number of riders has decreased significantly, along with the spurs are also quite cumbersome to move, few people use the spurs anymore.
How To Use Spurs Properly
Before you leave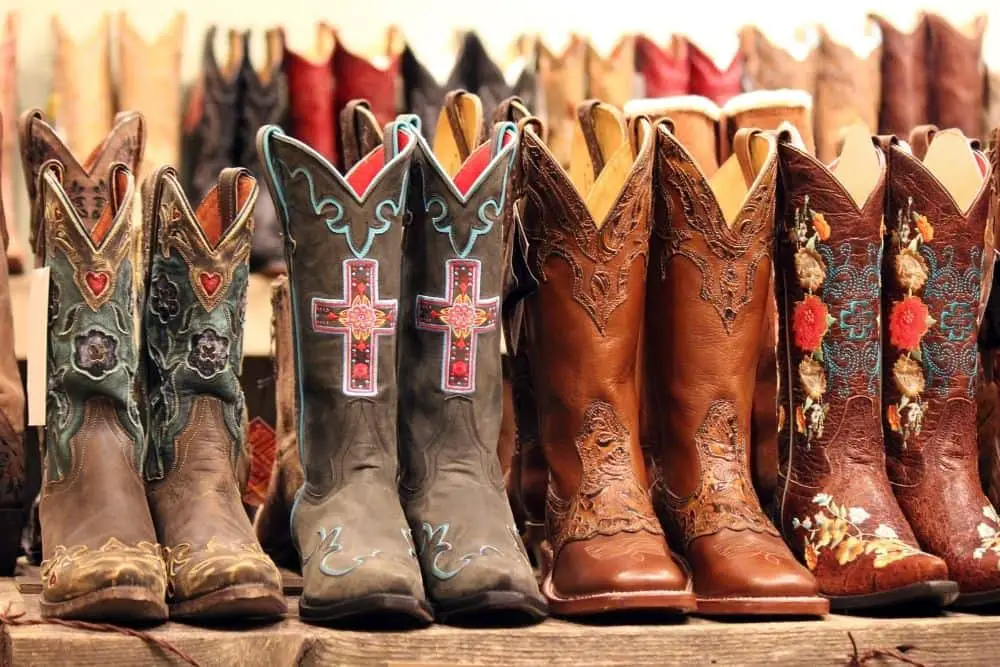 As always, we hope that the above information is useful for you,
In general, it can be concluded that cowboy boots are very durable. Remember to choose the good quality boots from the beginning (reputable brand, right size) along with good care and maintenance, the cowboy boots will accompany you for a long time.
If you often involve in heavy or dangerous work, consider choosing western work boots with steel toe and steel shank to ensure the required safety and durability for your jobs.