Needless to say, whether off-road, on the track or simply driving to work, the most important thing behind the wheel is the driver's footwear.
Unlike riding a motorbike, the driver of a car has a completely different mechanism of using the gearshift, pressing the accelerator or pressing the brake.
They don't press the shift gear by their feet to control the vehicle. Instead, drivers hold the device by their hand which sounds less burdening.
Yet, the story does not end here with happiness. The driver's feet are to control the brake system. That requires even more attention and grip on the brake pedal and accelerator from the footwear if you don't want to potentially start a crash or deadly accident.
But don't be panicked if you realize you are putting on a pair of cowboy boots with an absolutely sleek outsole. We are here to tell you, Yes, you can drive in cowboy boots!
This answer is absolutely positive but if you want to rest assured to stay away from potential dangers arising from wearing cowboy boots on your drive, let's scroll down to find out what cowboy boots are suitable for driving!
Can you Drive in Cowboy Boots?
Yes, as earlier mentioned. You can feel free to wear cowboy boots to drive like millions of Americans still do every day since cowboy boots are already a part of our daily outfit.
But that doesn't mean you should put on fashionable cowboy boots to drive heavy trucks. Therefore, wearing cowboy boots to drive in general will also have certain pros and cons that are outlined below.
Driving wearing Faith Cowgirl Boots
Pros
Let's see what's good to drive in cowboy boots.
1. It's stylish
Not to mention, the first thing that you get when you drive in cowboy boots is style.
A lot of us love the feeling of being beautiful wherever we are, even when driving every day. And of course, gorgeous and eye-catching boots are the first thing that comes to mind when you open the door and step out of the car.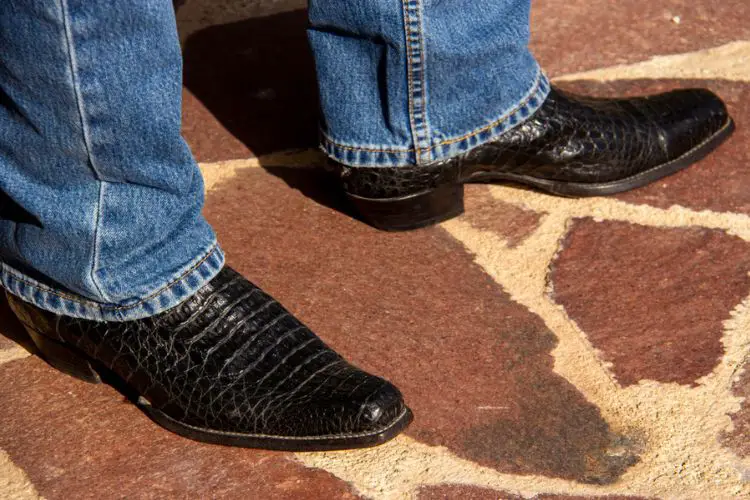 When you stop by the red light and look at these praising pieces of art, bet you will find out how much you enjoy this life.
2. Focused toe function
As you know, cowboy boots design features pointed toes, square toes or round toes. The toe of the boot usually extends past the human toe instead of enclosing the toe like with most sneakers or shoes.
The toe box of cowboy boots is usually quite narrow. Most cowboy boots are made from pure and quality leather that molds your feet very well.
As a result, you can feel your feet better and more clearly. This allows the brake and accelerator pedals to be pressed precisely and quickly when needed, especially in emergencies.
3. Toe protection
Like all footwear, cowboy boots also protect the toes when placed on the brake pedal of a car while driving. You don't want to see your toes suddenly go numb when your feet accidentally hit the pedals.
The toe of the boots is sewn carefully and thickly, minimizing the risk of toe injury due to kicking. The toe length of the boot is also longer than the length of the foot, so if you hit your toe on the pedal, the risk of injury is significantly reduced.
This becomes even more important and necessary for heavy truck drivers. The cowboy work boots they wear are reinforced with safety toe caps (made of either steel, composite or hard TPU).
The brake pedals of heavy trucks or tractors are larger, heavier and 2 to 3 times thicker than those of conventional cars. Therefore, if you accidentally hit your foot with a strong force on it, the chances of breaking toe bones are predictable.
4. Fewer risks of boot toe scratches
A lot of people complain about their toe boots getting worn out pretty quickly when driving continuously. This is because drivers put their feet under the pedals and unfortunately rub the toe of the boot against the edge of the pedals, causing scratches or fraying.
Besides, cowboy boots feature longer toe parts than usual. This reduces the chance of you unconsciously putting the toe of your footwear underneath the pedals, causing scratches on the boot surface.
In addition, cowboy boot construction has a welt in the outsole that protrudes a little bit more than the upper. This part will act as a barrier to protect the toe parts from being scratched by friction with the pedals. That's probably one of the best things when driving in cowboy boots.
Cons
Now let's check out the dark sides of wearing cowboy boots to drive. It sounds negative but that's what you should avoid.
1. Sleek outsoles
Most traditional cowboy boots have a smooth and sleek outsole. You will rarely find grooves or tread patterns appearing on their outsole.
Although car brake pedals feature deep lugs with high friction, the ability of the footwear to stick to the pedal surface is still extremely important.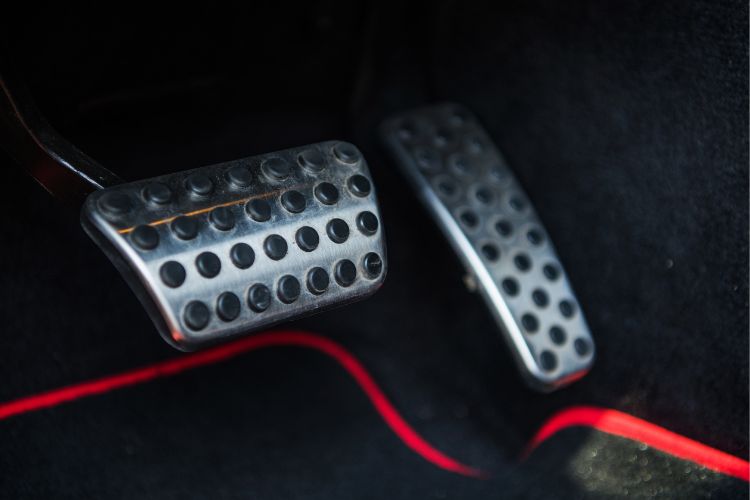 This is even more vital when you are on the track or driving a heavy truck. It reduces the feet's ability to accurately react when braking or adjusting continuously.
In addition, if the outsole of cowboy boots is covered with mud, it will also be very slippery and will not have a good grip on the pedal surface. This is very dangerous if you are not able to produce the correct and timely braking.
2. Narrow toe boxes
Cowboy boots have relatively narrow toe boxes, obviously! This is a result of the footwear's traditional pointed-toe construction.
Even if you don't move constantly on your feet while driving, repeatedly pressing the brake inside tiny toe boxes can make your legs tired quickly, even painfully. Therefore, roomy toe boxes are necessary for all-round comfort while driving.
It's important to consider when you have to drive long distances for weeks or months.
If your toes are constantly in pain, your risk of toe cramps while driving is high and predictable. This is a potential cause of car accidents on the go, endangering your life and many people on the road.
The solution is if you must drive more than 3 hours a day, choose to wear cowboy boots with round toes or roomy square toes. As a result, your toes will be better relaxed, minimizing foot health problems.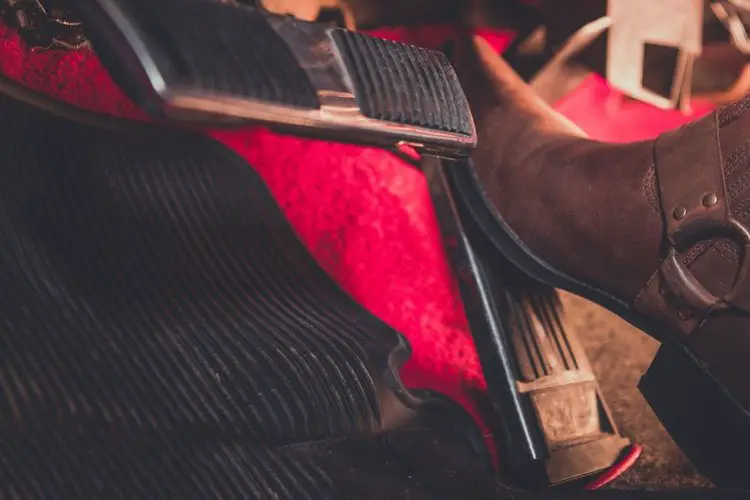 3. Lack of foot support
This feature is extremely important for people who have to drive heavy trucks or large cars for hours or days continuously. When the foot is fixed on the pedals for an extended period of time, it can cause foot numbness or poor reflexes due to fatigue.
For this reason, you need to wear footwear that provides good support for the foot to reduce fatigue, such as gel pads around the arch, toes, heel or the ball of the foot.
Unfortunately, traditional cowboy boots really lack this feature. This line of boots does not contain a midsole between the insole and outsole, thus reducing shock resistance and cushioning.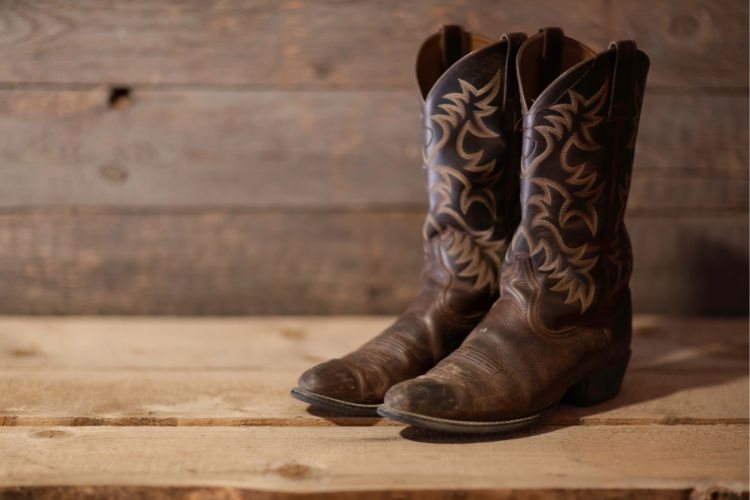 In addition, most cowboy boots also lack support for flat arches as their construction with riding heels is often better adapted to high arches.
If you have flat feet and are forced to constantly move your arch and toes like when driving, your chances of facing plantar fasciitis or metatarsal dislocation in the future are highly expected.
The solution is to go for cowboy work boots or modern cowboy boots from Ariat or Durango brands or such.
They are highly well-recognized for applying advanced tech on the boot construction innovation with more comfort and foot support. The soles are provided with layers of gel pads for footbeds to properly reduce shocks and pains while wearing.
4. High heels are bad
There are many reasons why we are advised not to wear high heels when driving.
High heels often reduce foot reflexes because your foot is under pressure from the high heel. Wearers also face heel pain and ankle pain if driving long distances in this terrible footwear.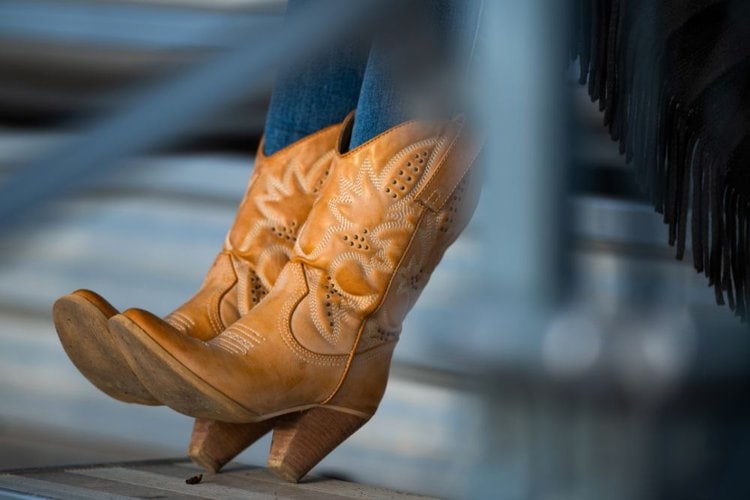 Luckily, most cowboy boots are only 1.5 – 2 inches tall. This does not become a too heavy burden on the ankles and heels, leading to fatigue while driving.
However, some variations of cowboy boots have heels as high as 3 inches, which seriously affects the foot movement to apply the brakes quickly and accurately.
Therefore, I do not recommend that you wear cowboy boots with heels higher than 2 inches to drive, no matter how long you will drive.
5. Uncomfortable vamps
One of the problems that many people complain about when wearing cowboy boots and driving, is uncomfortable vamps.
When the wearer needs to constantly raise and lower their foot while pressing the brake pedal, that's when cramped vamps can cause your foot to work inefficiently. If you've ever worn traditional cowboy boots, you'll understand why I mention this. Pointed toes even aggravate the problem.
Fortunately, modern cowboy boots have been restructured to fit the requirements of everyday commuting and driving.
The vamps are loosened up and the toe parts are slightly enlarged. Therefore, the driver no longer feels the entanglement around the insteps when applying the brake.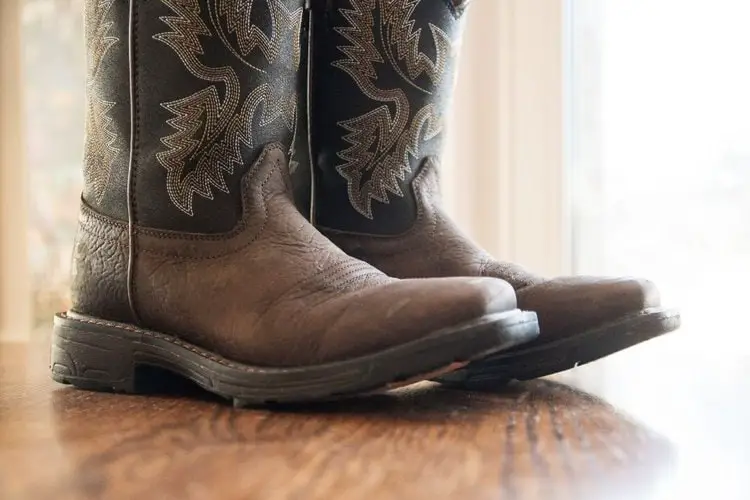 Rating Table for Driving in Cowboy Boots
| | |
| --- | --- |
| Features of cowboy boots | Editor's rating  |
| Comfort | ⭐⭐⭐ |
| Safety | ⭐⭐⭐ |
| Durability | ⭐⭐⭐⭐ |
| Convenience | ⭐⭐⭐⭐ |
| Driving function | ⭐⭐⭐ |
If you are still confused about whether to wear cowboy boots to drive or not. Here's a breakdown of a few important features to consider.
Comfort
Basically, most cowboy boots don't really provide all-around comfort. This comes from the typical pointed toes and riding heels construction of this footwear line.
They often tend to increase pressure on the toes, heels and ankles, thereby reducing comfort and flexibility when pressing the brake.
Even if you just sit in the driver's seat and press the brake with your foot, this structure is nothing short of comfortable for the feet overall.
However, cowboy boots hold up the feet pretty well. They make the wearer feel their feet better, thereby helping you to apply the brakes more effectively.
If you need a safer solution for long-distance driving, mid-calf cowboy work boots are the smart choice. They feature round toes and comfortable low square heels.
As a result, your toes, heel and arch stay away from the pressure that comes from cramped boot construction.
Safety
When driving, your feet are not directly exposed to dirt, mud or rain, thus reducing the risk of injury from these impacts. But another more important issue is protecting the driver's toe.
As mentioned above, cowboy boots are shaped with sturdy, durable toe parts that are not easy to transmit force to the wearer's feet. Especially when you accidentally kick your foot into the pedals. So basically, the driver's toe is guaranteed to be safe under normal conditions.
Cowboy work boots are reinforced with protective toe caps, providing good shock resistance for safe toes. Therefore, they are suitable for truck or container drivers.
However, high-heeled cowboy boots are not something you should compromise just because they look good, especially when you're driving long distances.
These boots cause your feet to lose feeling due to being numbed by the pressure. So you can produce an erroneous brake command, leading to an accident.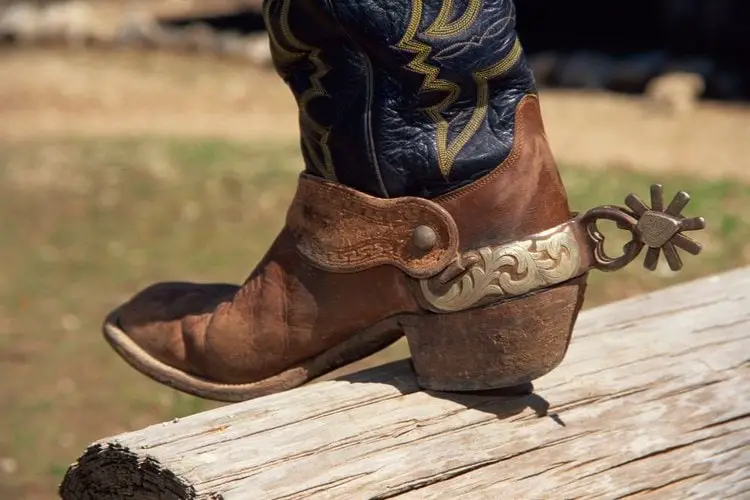 Convenience
I would say Yes, cowboy boots are convenient. They belong to the laceless footwear family. Therefore, the wearer does not need to spend too much time tying the shoelaces over and over again.
Especially when shoelaces can accidentally get caught in the brake pedals, tying your foot to the device and even causing you to accidentally press the brake incorrectly.
Those who drive long-distance trucks for months on end don't need to spend too much time cleaning or polishing cowboy boots in a daily way.
Most cowboy boots feature distressed leather uppers. This material is very durable and does not usually leave stains or marks on the surface.
Full-grain leather cowboy boots have good natural water resistance. Therefore, if you must step out of the car for a few minutes during the rain, you do not need to worry about your feet getting wet, like when wearing dress shoes.
Driving function
This may be the most important feature if you are wondering whether to wear cowboy boots to drive. Basically, most fashion cowboy boots have sleek outsoles without proper traction tread patterns or lugs.
This means that your foot will not be firmly attached to the brake pedals. That is a danger.
It is even more dangerous if the outsole surface becomes slippery when exposed to water, mud or oil. You will not be able to control the vehicle's braking.
Think about your life and others if you are intending to compromise with this risk.
But cowboy work boots are the opposite. They feature low and high-traction rugged rubber outsole (instead of leather outsole or wooden outsoles like other lines). Therefore, they ensure the best adhesion of the outsole surface to the pedals.
Even if the outsole comes into contact with oil, mud, or water and becomes slippery, the tread patterns still work well to keep your footing stable with correct braking commands.
Driving in Black Cowboy Boots Part 2
Are Cowboy Boots Good to Drive In?
The answer is Yes if you choose the right type of cowboy boots according to your experience and expectations as well.
For example, if you wear cowboy boots to drive every day for only a few hours, opt for normal traditional boots. Simply, these boots provide enough comfort and protection for the light abuse level of your trip.
But if you are forced to drive for long hours and even on rough terrain that requires constant braking, choose mid-calf cowboy work boots for good comfort and safety.
Cowboy work boots have round toes and low square heels, so they don't burden the ankles, heels or toes.
Last Words
Overall cowboy boots are still a good choice to wear while driving. Cowboy work boots can protect the wearer's feet while still ensuring your feet function well to press the brake quickly and continuously.
Keep in mind to stay away from high-heeled boots that will endanger your safety on the go. Also, if you don't see any problem with the lack of ventilation of cowboy boots, this is a versatile choice to go with.
Howdy y'all, and welcome to From The Guest Room, your ultimate guide to all things Western! I'm Jay Gatz, a lifelong cowboy boot enthusiast with over 5 years of experience in the Western style world. I'm excited to share my knowledge with you and help you discover the perfect cowboy boots and western gear to elevate your style. Let's explore the rich history and timeless appeal of Western fashion together!