As someone deeply passionate about cowboy boots and their natural pairing with jeans, I've often wondered about pushing the boundaries of fashion.
The question that's been on my mind is this: Can I pull off cowboy boots with a suit? It's an exciting venture into uncharted territory, where the rugged allure of the Wild West meets the sophistication of tailored attire.
Join me on this thrilling journey as we explore how cowboy boots can seamlessly elevate my suit game, allowing me to make a statement that's both audacious and elegant.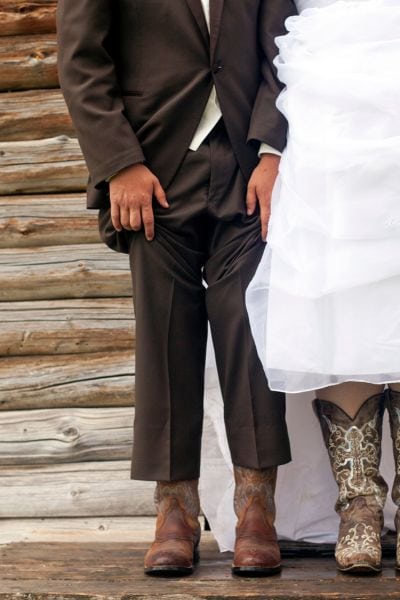 Can you wear Cowboy Boots with a Suit?
Believe it or not, I've witnessed cowboy boots undergo a transformation beyond their rugged and distressed reputation.
Today, these boots have embraced elegance, class, and luxury. While I might hesitate to pair a suit with a pair of well-worn cracked leather cowboy boots, there are exquisite options to explore.
Consider cowboy boots crafted from caiman, lizard, or meticulously polished cowhide. These materials exude sophistication and charm.
Choosing boots with leather soles further enhances my refined appearance. Glossy brown or black cowboy boots are particularly apt choices for complementing a suit.
For a sleek and elegant ensemble, my personal preference is black lizard cowboy boots matched with a business suit.
The good news is, renowned cowboy boot brands like Tecovas offer a range of boots designed to complement suits perfectly.
Their crocodile leather boots, for instance, combine craftsmanship and style to create a sophisticated yet rugged look.
So the answer is clear, you can completely wear cowboy boots with suits and appear at a wedding ceremony at Buckingham Palace.
Mastering the Art of Cowboy Boots with a Suit
Once I've decided to pair cowboy boots with my suit, there are a few key considerations to keep in mind. Start with the material—opt for boots made from genuine leather, preferably full-grain leather for an exquisite look and feel.
When it comes to color, I stick with classic choices like brown or black that seamlessly blend with my suit. Avoiding bright and flashy colors is essential; subtlety is the key to elegance.
A black suit paired with black cowboy boots painted a picture of sleek, monochromatic sophistication. Alternatively, brown boots injected warmth and contrast.
Avoiding overly distressed or wild-looking boots with cracks or tears is essential; instead, aim for a sleek and chic appearance while retaining that timeless Western charm.
Ensuring the right fit is crucial. My suit trousers should have a wide enough leg to accommodate the boots without revealing their V-shaped collars.
Make certain that your cowboy boots snugly cradle the tops of your feet. This snug fit not only offers essential support but also ensures a comfortable and effortless stride as you walk.
Incorporating round toe cowboy boots into your wardrobe adds a touch of sophistication, modernity, and a nod to tradition to your cowboy boot and suit pairing.
They are a versatile choice that ensures you look your best while embracing the unique fusion of Western fashion with formal attire.
When considering the heel height for cowboy boots paired with suits, the optimal range is between 1 1/2 to 1 3/4 inches.
Within this range, you achieve a harmonious balance, allowing you to stride confidently while maintaining comfort.
This choice is perfect for ensuring your appearance and comfort are at their peak, whether you're attending formal events, business meetings, or any occasion that demands the distinctive fusion of Western and formal fashion.
When it comes to wearing cowboy boots with suits, selecting the appropriate boot style is crucial for achieving a balanced and polished look.
If you prefer a classic and refined appearance, traditional or roper-style cowboy boots with round or square toes are the way to go.
Traditional cowboy boots are characterized by their timeless design and Western heritage. These boots feature a moderately rounded toe and a moderate heel height, making them a versatile choice for formal and semi-formal occasions.
Roper-style cowboy boots are renowned for their comfort and understated style. These boots are characterized by a rounded or square toe and a lower heel, making them a practical choice for pairing with suits.
Roper boots typically have a shaft that ends just above the ankle or slightly higher. This shorter shaft makes it effortless to tuck the pants of your suit neatly into the boots, creating a clean and polished appearance.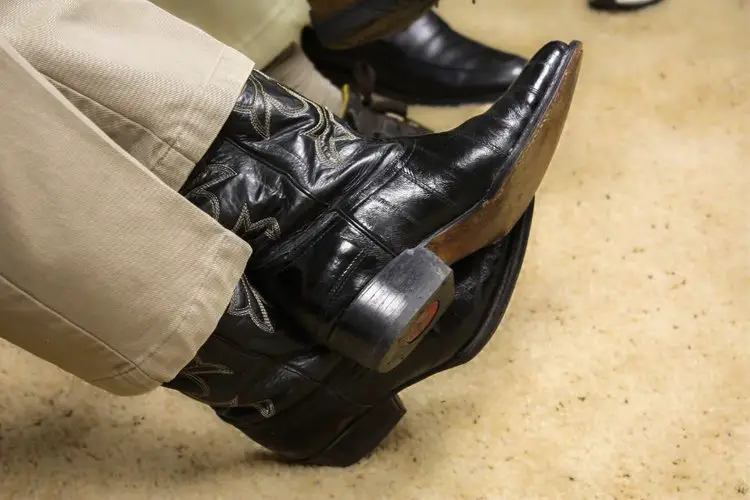 Examples
Well-Polished Cowhide Boots:
The hallmark of well-polished cowhide boots is their glossy and refined appearance. This elegant finish elevates your entire ensemble, seamlessly merging the rugged charm of cowboy boots with the sophistication of a suit.
It's a harmonious blend of two contrasting styles that result in a look that's undeniably stylish.
Cowhide boots with a polished finish embody classic versatility. Their timeless design and polished leather exude a sense of timelessness that complements various suit colors and styles.
Whether you're donning a traditional black suit or experimenting with bolder suit choices, well-polished cowhide boots effortlessly adapt to your attire.
These boots add a touch of refinement that's particularly well-suited for formal events, business meetings, or any occasion where you want to exude confidence and style.
Lizard cowboy boots offer a unique and captivating option for those looking to make a statement while wearing suits.
What sets lizard cowboy boots apart is their distinct texture. Lizard leather showcases intricate scales that create a visually striking and distinctive look.
This unique texture adds depth and character to your outfit, making it a conversation starter at any event.
Lizard cowboy boots strike a harmonious balance between classic and modern.
While they nod to traditional Western aesthetics, their unique texture and sleek design bring a modern flair to your suit ensemble. It's a fusion that captures the essence of timeless style.
Lizard leather is available in various colors, allowing you to choose a shade that complements your suit perfectly. Whether you opt for a classic black or venture into deeper hues like burgundy or navy, lizard cowboy boots offer versatility in color selection.
Another Tips of Styling Cowboy Boots with Suits
1. Occasions and Dress Codes
When it comes to wearing cowboy boots with suits, understanding the appropriate occasions and dress codes is key. This versatile style fusion can work exceptionally well in various settings: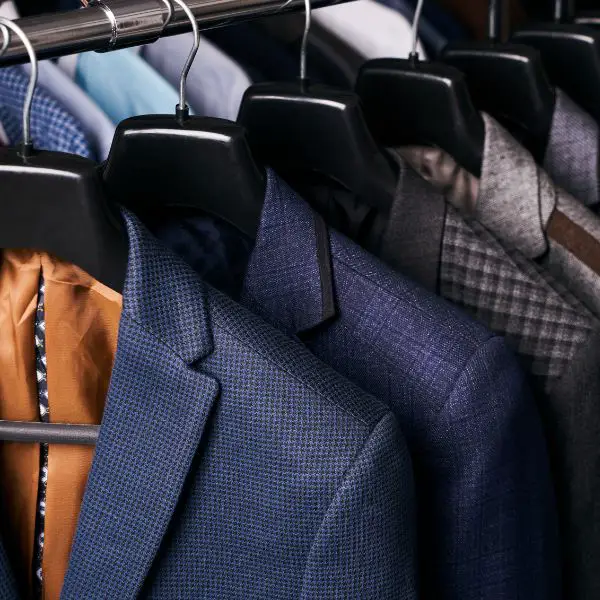 Consider this look for rustic, outdoor, or Western-themed weddings. It adds a unique touch of personality to your attire.
For formal occasions, particularly those with a Western theme, cowboy boots can be a stylish choice. Pair them with a well-tailored suit for a confident yet unconventional look.
In some creative or cowboy-influenced industries, wearing cowboy boots with a suit can set you apart and showcase your individuality. Gauge the dress code of your workplace to determine if this is appropriate.
2. Matching Accessories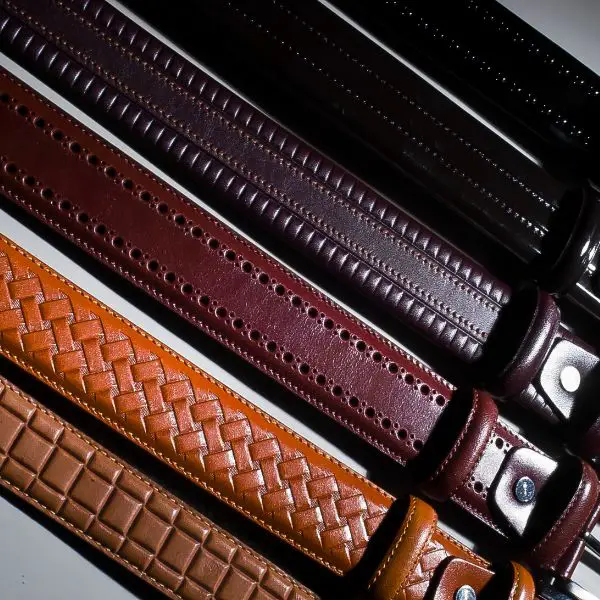 Achieving a cohesive and well-put-together look involves more than just cowboy boots and a suit. Pay attention to accessories that complement this style fusion:
A matching or complementary leather belt can tie your look together. Aim for a belt that matches the color and style of your cowboy boots.
When wearing a tie with a suit and cowboy boots, choose one that complements the overall color scheme. Patterns or textures that echo the Western theme can also work well.
Add a pocket square to your suit jacket for a touch of sophistication. Coordinate its color with your cowboy boots or tie for a harmonious ensemble.
Remember, it's all about balance and coordination. These accessories can elevate your cowboy boots and suit combination, making it even more stylish.
3. Seasonal Considerations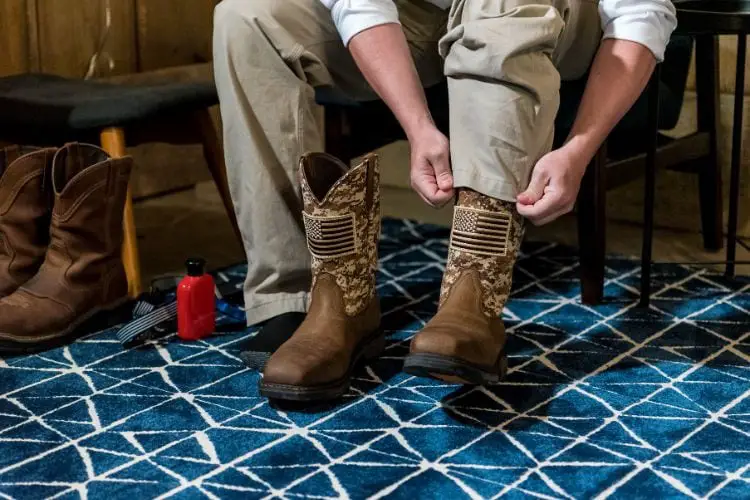 The choice of materials and colors for your cowboy boots and suits should consider the season and climate:
Opt for lighter colors and breathable materials in both your suit and cowboy boots. Tan or light brown boots paired with a light-colored suit can create a breezy and comfortable summer look.
In colder months, darker colors and heavier materials are preferable. Black cowboy boots with a dark suit are a classic choice for winter.
For spring and fall, you have more flexibility with color choices. Earthy tones and mid-weight fabrics work well during these seasons.
Taking seasonal factors into account ensures that you're both stylish and comfortable while embracing the cowboy boot and suit combination.
Last Thoughts
Embracing the fusion of cowboy boots and suits elevates your style to a distinctive realm. It's a look that sets you apart and makes a statement, wherever you go.
Remember, personalization is your secret weapon. From choosing materials to crafting intricate details, it's your canvas for self-expression. Make it uniquely yours.
Opt for round toes for a modern touch with a hint of tradition, and seek out a heel height that exudes confidence while keeping you comfortable throughout the day.
Beyond the attire, it's how you carry yourself. Stride confidently in your cowboy boots and suit, and you'll leave an indelible mark, exuding a timeless blend of Western charm and formal elegance.
With these insights, you're well-equipped to master the art of wearing cowboy boots with suits, leaving a lasting impression that's as unique as it is timeless.
Howdy y'all, and welcome to From The Guest Room, your ultimate guide to all things Western! I'm Jay Gatz, a lifelong cowboy boot enthusiast with over 5 years of experience in the Western style world. I'm excited to share my knowledge with you and help you discover the perfect cowboy boots and western gear to elevate your style. Let's explore the rich history and timeless appeal of Western fashion together!