Cowboy boots with jeans are a must, and jeans are the love of cowboy boots. It can be said that jeans are born to go with cowboy boots.
However, aside from jeans, what outfits can match cowboy boots?
Can you wear cowboy boots with a suit? Are they good to go together?
This question is very interesting, come with us to find out now!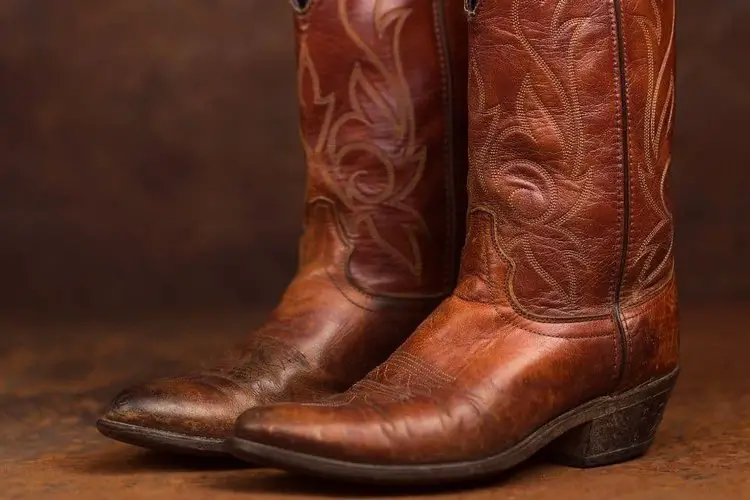 Can you wear cowboy boots with a suit?
Why not? Cowboy boots can be worn with a suit.
You might think that cowboy boots only feature distressed and wild styles, but those are old stories.
Like many other creatures of nature, cowboy boots are always evolving and growing. In addition to the distressed styles, we can see cowboy boots nowadays feature elegant, classy and luxurious fashion.
You may not wear a suit with a pair of rugged cowboy boots made from cracked leather. But you can definitely wear a suit with cowboy boots made of caiman, lizard or well-polished cowhide.
In addition, you can choose cowboy boots with leather soles to optimize your luxurious and elegant appearance.
Glossy (well-polished) brown or black cowboy boots would be good suggestions to go with a suit.
Personally, I like to use black lizard cowboy boots with a sleek and elegant look to match my business suit.
In fact, these days, it's very easy to find big cowboy boot brands like Tecovas that offer cowboy boots with a great look to go with a suit.
For example, cowboy boots made from crocodile leather by Tecovas are products that they have painstakingly created to go with the suit perfectly. With skillful craftsmanship, the disadvantages of crocodile leather are eliminated and its advantages are upgraded.
They still retain the rough contours of the alligator leather texture but don't feel dry due to a good polish covered on their surface.
On the contrary, the glossy shine of the polish combined with the unique texture of the crocodile leather brings a great look when worn with a suit.
So the answer is clear, you can completely wear cowboy boots with suits and appear at a wedding ceremony at Buckingham Palace.
How to wear cowboy boots with a suit?
There are many ways to pick a pair of cowboy boots that are suitable for a suit. Here are a few suggestions for you: cowboy boots made from well-polished cowhide or ones made from crocodile, lizard leather…
In addition, the material of cowboy boots is also one of the deciding factors that make up their appearance. You should choose cowboy boots made from real leather, full-grain leather is a good choice.
Full grain leather is the leather type that retains the most natural properties of leather, it will give you complete comfort in both the look and the feel.
The above types of cowboy boots can give you an elegant and luxurious appearance. These are great to wear with your suit and complete your gentlemen's look.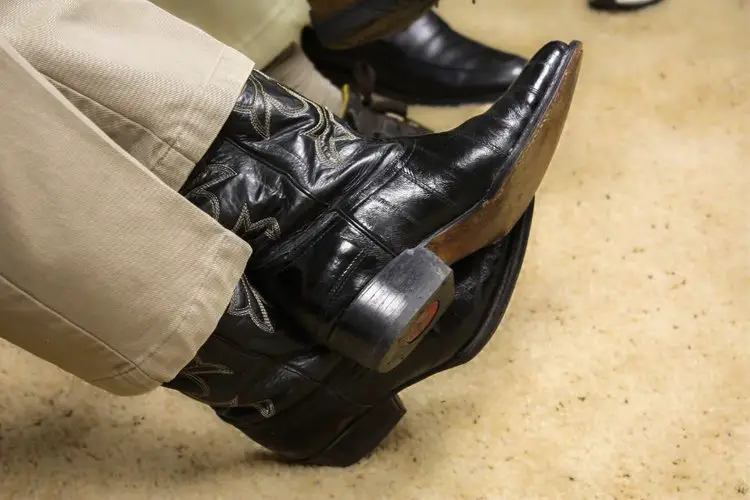 When it comes to the color, you should choose brown or black cowboy boots, or ones that are ton sur ton with a suit. Do not choose cowboy boots with bright or colorful colors (like red, yellow…)
Regarding the look, it is important that your suit trousers have the ends wide enough for you to tuck cowboy boots inside. Don't let the V-shaped collar of cowboy boots show under your suit trousers or it will lose your aesthetics.
You should also avoid cowboy boots that look too distressed and wild like ones with cracks, tears…
The best cowboy boots to go with the suit are those that look slick and chic. And it would be even more wonderful if they still retain the classic and bold Western style.
We'll give you a few examples:
Example 1: Cowboy boots made from well-polished cowhide
Cowboy boots that go with the suit should be well polished at the foot, and you can easily find them at Dan Post, a very famous and historic brand.
The Dan Post Men's Milwaukee is a pair of cowboy boots made from shiny and luxurious cowhide.
Also, one advantage that makes cowboy boots a great accessory to go with a suit is that they have heels. The heel of cowboy boots makes the suit wearer look taller, more confident, masculine and a bit arrogant.
The Dan Post Men's Milwaukee with 1 1/2-inch heel can give you that look.
Besides, a leather sole will help you feel like you are wearing one pair of dress shoes. The gorgeous cluck click from the leather sole is what you need to look for in the right cowboy boots for the suit.
Although it may seem noble, what we love about the Dan Post Men's Milwaukee is that they still retain the great classic of western boots with Western-inspired detail.
Lastly, the superb construction from the high-skilled design is also the notable and commendable highlight of Dan Post Men's Milwaukee.
Example 2: Cowboy boots made from lizard leather
There's one fascinating thing when it comes to cowboy boots made from lizard leather. That is, they have an elegant, classy look but still retain the traditional and classic look of the West.
This is an interesting and wonderful contrast. I really enjoy the texture of the lizard leather, it is unique.
You can look at the Dan Post Men's Raleigh cowboy boots and feel their distinct difference from the rest of other boots (cowhide, goat leather,…)
Not only satisfying the look with a suit-fitting look, cowboy boots made from lizard leather are soft, breathable and have good moisture.
This will make you feel comfortable even when you have to put on a hot suit.
Example 3: Cowboy boots made from crocodile leather
The last type of cowboy boots that will make every suit happy is cowboy boots made from alligator leather.
Classy, elegant, luxurious, and seductive but still retaining the classic, distressed and wild look of the West, that's all about cowboy boots made from crocodile leather.
You can choose from caiman cowboy boots to go with your suit. These boots are not only suitable for your suit, but they also enhance the beauty of the outfit.
Don't be shy to wear a suit with caiman cowboy boots to enter Birmingham Palace, because this combination is a classic.
Conclusion
In short, you can completely wear cowboy boots with the suit as this combination can bring a very high breakthrough in style. (Believe me, wearing cowboy boots and the hip suit is not new for die-hard fans, newbies should learn more about this style)
Fact: In fact, many celebrities love to wear cowboy boots and suits. You can easily see "terminator" Arnold Schwarzenegger uses this set very often. Or you can encounter Jason Statham in his masculine suit and cowboy boots in the media.
However, you should note that not all cowboy boots can go with the suit. For a comfortable, masculine, and gentlemanly look, choose cowboy boots that look classy and polite rather than wild ones.
In addition, the heel of cowboy boots should also be 1.5 inches to 2 inches high, which will increase your elegance and confidence.
Good luck!