To be honest, traditional cowboy boots are not a good choice for heavy-duty work, including construction work.
But, when I said traditional cowboy boots, it means we still have a chance!
Nowadays, modern cowboy boots can be used for construction. But, not all types of cowboy boots are suitable for construction.
Cowboy boots need to have some special features in their structure to fit construction sites!
What is that structure? What type of cowboy boots are best for construction sites?
No worries, you are in the right spot, I will reveal it now!
Are cowboy boots good for construction?
Back to the main question, I can assure you that traditional cowboy boots are not a good choice for construction sites.
Yes, you can use traditional cowboy boots as work boots, but not for heavy-duty work like construction sites.
In my experience, trad cowboy boots can be used for farming, ranching, riding, etc. But after all, these types of work are not heavy like construction work.
Boots used for construction sites need to be reinforced at the heel, shank, and especially the toe.
If you walk around a work boots store, you will see many boots reinforced with steel toe, composite toe, steel shank, composite shank, etc.
Besides, you will catch many types of boots used on construction sites with anti-puncture and slip-resistant outsoles.
Some other features of a good pair of boots to survive in construction sites include electrical hazard protection, insulation, etc.
You can easily recognize that these boots also provide protection at a very high level in sites.
Also, these construction boots often meet many safety standards such as ASTM standards.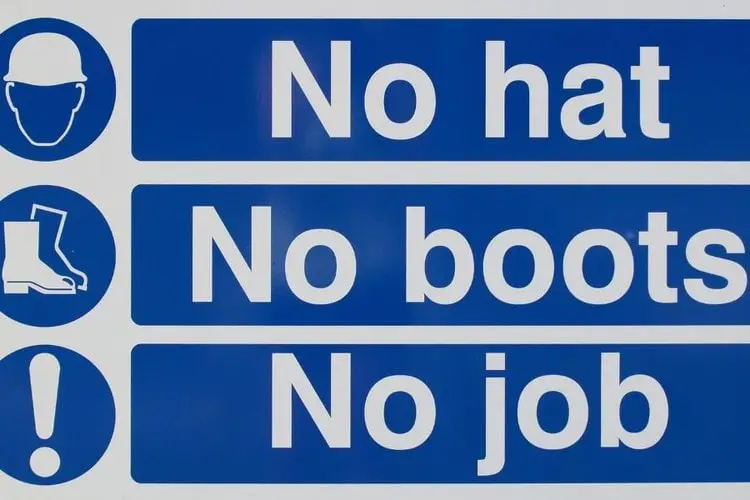 How about traditional cowboy boots?
I know, when I said cowboy boots were not good enough to use on construction sites, many people out there will be disappointed. Me too, because I'm a die-hard fan of cowboy boots like you.
But, when it comes to safety, we need to look at the truth frankly!
Trad cowboy boots don't have a heel, toe or shank reinforced with steel or composite. Therefore, they can't withstand the impact of different objects at construction sites such as nails, or steel bars.
Many people have suffered from serious injuries when heavy objects fell on their feet during work.
Some workplaces require workers to have boots with steel/composite shanks for better protection!
Most cowboy boots are made from genuine leather (full-grain leather), which is good material, but it's not enough. Cowboy boots need to be reinforced more if used on construction sites.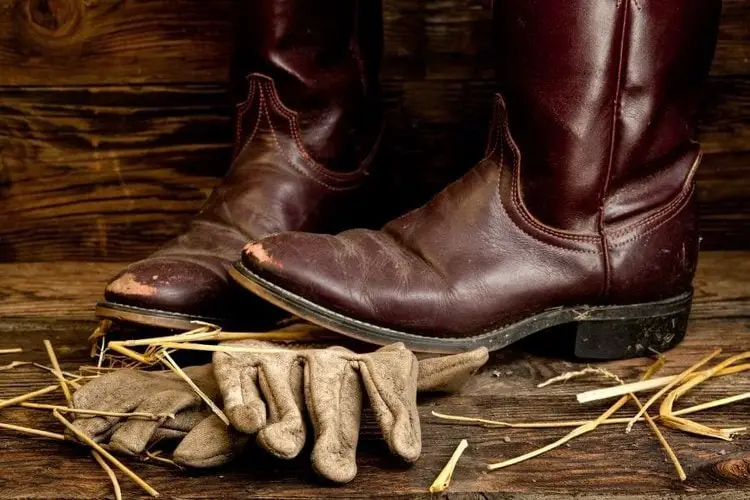 Another important reason that makes trad cowboy boots not a good choice for construction is their outsoles.
The outsoles of traditional cowboy boots are made of leather! It's heavy leather. It can be punctured and too slippery – such a fatal weakness!
You need boot outsoles that are strong enough to withstand nails and debris and have good traction to balance in the concrete or scaffolding.
The high heel is also not a good idea for heavy tasks, it cannot withstand the heavy loads on your shoulder.
The pointed toe of trad cowboy boots also doesn't provide enough comfort for your toes while working.
Not to mention cowboy boots are often heavier than other boots, a pair of cowboy boots can weigh 4 pounds, but a pair of work boots or tactical boots is just around 2 pounds.
Another ideal feature of cowboy boots for construction sites is the tall shaft for good protection and cushion soles for comfortably standing all day. But as I said, it's still not enough!
We can't blame cowboy boots because they were not born to work on construction sites, but to serve cowboys on horseback.
However, it's not the end! Today, some modern cowboy boots have many good features to be used on sites.
So, what types of cowboy boots can be used on construction sites?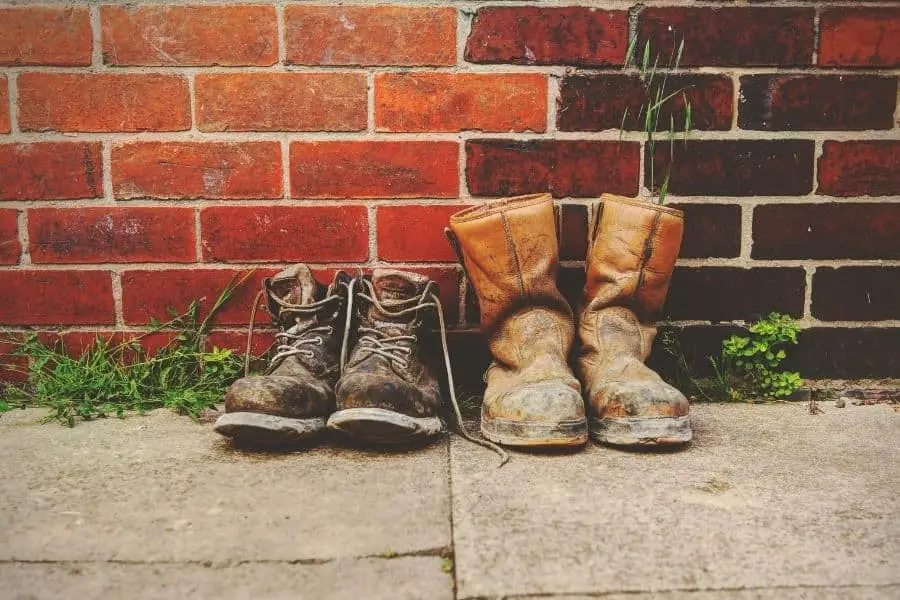 Types of modern cowboy boots can be used on construction sites
In fact, to understand customer psychology, many boot makers nowadays have launched a new kind of cowboy boots that can be used for construction sites: cowboy work boots (or western work boots).
Let's picture it, this type of cowboy boot can be considered the hybrid boots between cowboy boots and work boots.
Look at the overall appearance of these boots, you can see it's more similar to cowboy boots than work boots.
Cowboy work boots have a tall shaft (over mid-calf) with no laces and are reinforced at heel, toe, and sole carefully.
Many modern cowboy work boots have safety toes reinforced with steel or composite, and can withstand very strong impacts.
For instance, steel toe cowboy boots can withstand 75 pounds to 100 pounds of pressure from any sharp object falling on your toe.
A standard composite toe can withstand 75 pounds of pressure or 2,500 pounds of compression loads (based on ASTM standards).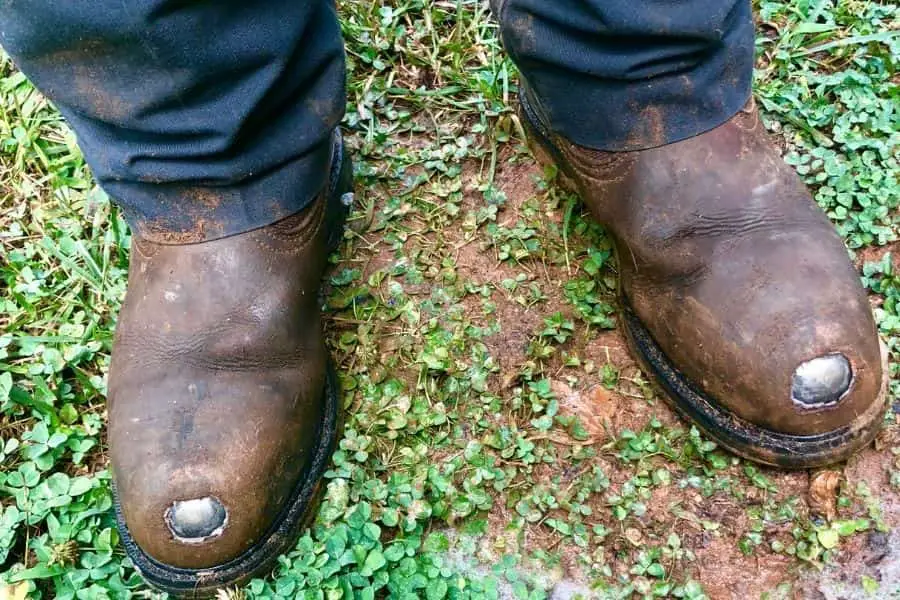 In addition, cowboy work boots often have Goodyear welt construction. This provides better durability and strength for these boots.
It can be said that almost all cowboy work boots have rubber soles, and are quite thick.
It's understandable since rubber soles are stronger, more durable and have better grip than leather soles.
Cowboy boots with rubber soles will reduce the chance of nails at the construction puncturing your feet to the bare minimum. Your soles will be safe!
Besides, with better traction, rubber soles can better enhance balance and stability on the concrete or scaffolding.
Not only toe, cowboy work boots often have well-reinforced heels and soles to increase protection and comfort (ex: electrical hazard protective sole).
Some cowboy work boots are waterproof, and I think it's necessary. Since you work on outdoor construction sites, you cannot avoid sudden rains.
Another feature that I like about cowboy work boots over other regular work boots: they have tall shafts and no laces.
The tall shafts can protect your legs better, that's for sure. You don't need to worry too much about the temperature in the sites as well as when you do welding or metal cutting work.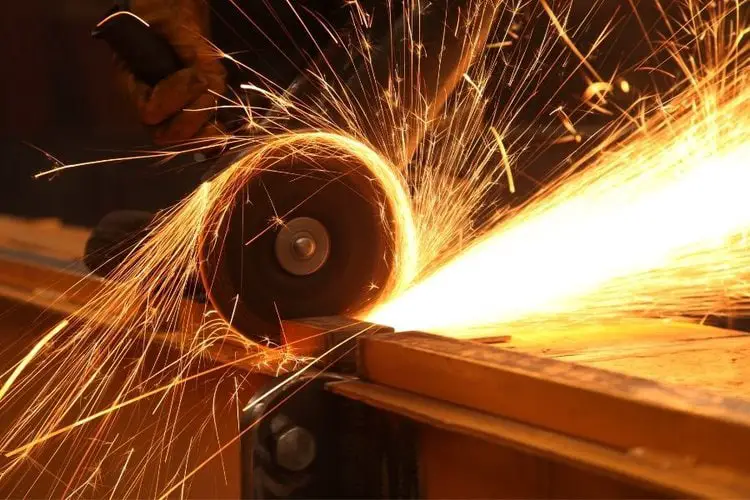 Also, a laceless structure will make you neater, and reduce the chance of laces getting stuck somewhere on construction sites.
Not a few cowboy work boots meet ASTM standards, and this is an important point to prove my assessment.
The last thing is that cowboy work boots have reduced much weight than traditional cowboy boots due to their shorter shafts. Yes, most cowboy work boots just reach your mid-calf.
Most cowboy work boots have a very wide toe box to provide more wiggle room for toes, thus making your feet more comfortable.
Overall, cowboy work boots are the advance of trad cowboy boots. They may not own the style of traditional cowboy boots, but were born for construction sites. Cowboy work boots will be the best type of cowboy boots for you to use there.
Top 3 picked cowboy boots for construction sites
Still not believe that cowboy boots can be used on construction sites?
These top 3 picked cowboy boots below will vouch for my entire article.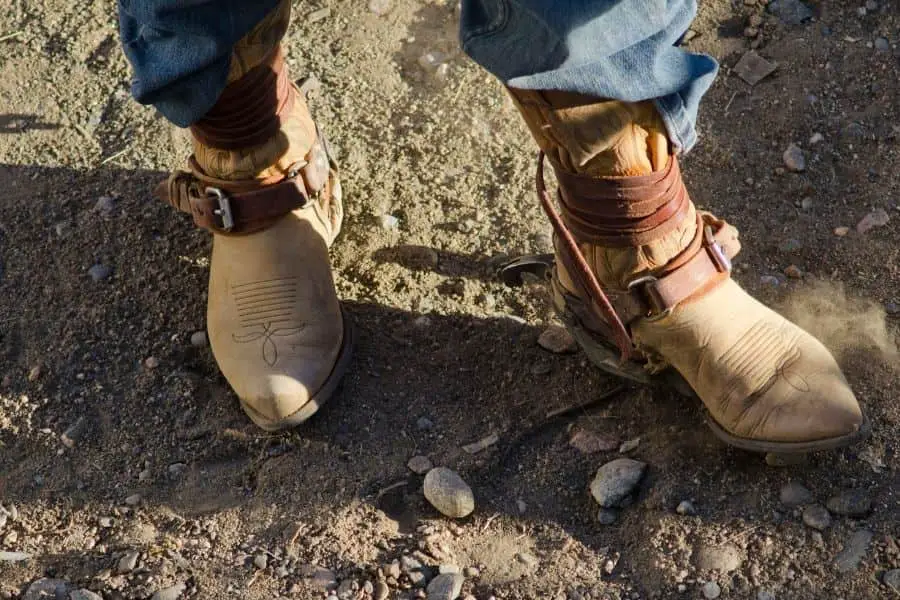 1. Wolverine Men's Rancher 10″ Square Toe Steel Toe Work Boot
Sale
WOLVERINE mens Rancher St Work Boot, Dark Brown/Rust, 9.5 US
Goodyear Welt construction for added durability and strength to withstand the tough demands of any...
A strong steel toe that meets ASTM standard F2413-11 M I/75 C75 EH
Slip resistant rubber lug outsole to safely keep your footing in slippery conditions
Last update on 2023-09-28 / Affiliate links / Images from Amazon Product Advertising API
Wolverine Men's Rancher boots are the first cowboy work boots because they are such a perfect shield to protect your feet from the potential dangers in the sites.
Firstly, they meet the ASTM standard  (F2413-11 M I/75 C75 EH), which proves that these boots can be used for construction sites, no doubt!
They have a very strong steel toe, and it is a must-have feature if you want to protect your feet from sharp objects on sites.
With a height of 11.5″ from the arch, these boots defeat any regular work boots out there.
Their high shaft covers almost your entire legs from debris when you are working. Most regular work boots just reach around 8 inches.
The thick synthetic sole is another feature that keeps you safe. Along with the slip-resistant rubber lug outsole, you can easily balance on concrete or any oily and slippery surface.
Don't worry about the heat on the sites. With moisture-wicking lining, you are comfortable for all-day working. Besides, their cushion insole and EVA midsole are perfect for standing all day.
Some people said this boy doesn't take long to finish the break-in period. One customer claimed he wore them 50 hours a week on construction sites, these boots are super durable and extremely comfortable.
And many people also admitted that these boots were very good for all activities on the sites. What do you expect more in a pair of boots to work on construction sites?
2. Irish Setter Work Men's 83912 Marshall 11″ Steel Toe Waterproof Boot
Sale
Last update on 2023-09-28 / Affiliate links / Images from Amazon Product Advertising API
Irish Setter Work Men's 83912 Marshall are the must-have boots for any construction work. Why do I say that? Let me explain to you!
Steel toe is the most prominent feature of these boots to keep your toes safe, that is the first point.
The heat-resistant outsole is another feature that makes these Irish Setter boots outstanding from other cowboy boots for work, especially on the sites.
Walking in the hot concrete of the construction road is one of the challenges that many workers have to face. These boots can help you overcome this mission easily.
The UltraDry Waterproofing system will turn these boots into a strong shield to protect you through harsh weather.
12 inches from the arch is the perfect shaft height to prevent your legs from debris when you are cutting metal. And it's what I love most.
You can't resist the safety these boots give you, because the ASTM standard (F2413-11, M/I/75/C/75 Electrical Hazard Safety Rating) guarantees it!
One construction worker said that he could wear these boots while climbing ladders for 12 hours per day. It means they are lightweight and provide super comfort to overcome any long-term challenge.
Besides, harsh weather/environment is not a big deal with these boots. Even a construction field with mud, snow, water, or rock is no biggie, one customer guaranteed.
And it's all you need from a good pair of cowboy boots for construction.
3. Ariat Groundbreaker Square Toe Work Boot
Ariat Mens Groundbreaker Wide Square Toe Work Boot Brown 11.5
WORKS AS HARD AS YOU DO: The Groundbreaker by Ariat are made for the long haul: strong, sturdy and...
THE SUPPORT YOU NEED: The Duratread outsole is both oil and slip resistant and the 90-degree heel...
EVERYDAY COMFORT: Along with the 4LR (Four Layer Rebound) technology for added comfort, these men's...
Last update on 2023-09-28 / Affiliate links / Images from Amazon Product Advertising API
One of the most successful cowboy work boots from Ariat on this list today is Ariat Groundbreaker Square Toe Work Boots.
They don't have a steel toe like the other ones above. Instead, they get a soft toe, but a safety toe.
No worries, the soft toe is ASTM rated, and you can rest assured of the protection these boots provide you.
What's more? Their outsole is slip-resistant, along with a 90-degree heel for more support, you can easily balance and flex on any terrain, even in construction sites or farms.
Besides, I always appreciate the sole cushion of Ariat boots. With 4LR technology, working all-day dong is no longer a nightmare for you.
10 hours per day of a construction worker with these boots is definitely convincing proof that these boots are just right for construction.
Another guy said he is doing a construction truck, and this boot construction provides comfort far from his expectations. And I can bet you that it comes from the wide toe box, 4LR technology and breathable mesh linings.
Good protection, excellent safety, and other great features, all you need are in these boots!
Conclusion
In summary, traditional cowboy boots are not a good choice for construction because they can't provide good protection for your feet and legs.
But, you have another choice. Another type of cowboy boots you can count on is cowboy work boots, this type of boot contains all the features you are looking for working in construction.
Cowboy work boots can provide better protection, balance and comfort to ease your work on the sites.
In my view, they are even greater than regular work boots. Don't miss these wonderful boots!
Howdy y'all, and welcome to From The Guest Room, your ultimate guide to all things Western! I'm Jay Gatz, a lifelong cowboy boot enthusiast with over 5 years of experience in the Western style world. I'm excited to share my knowledge with you and help you discover the perfect cowboy boots and western gear to elevate your style. Let's explore the rich history and timeless appeal of Western fashion together!