Obviously, when we buy new boots, some unpleasant problems will arise.
In the previous articles, we have mentioned how to overcome the heel slippage of cowboy boots, or what should or should not be when breaking in cowboy boots…
Besides, the tight instep of cowboy boots is also one of the uncomfortable problems when you wear cowboy boots.
Today, in this topic, we are going to help you solve this problem.
From our view, the instep is the most important part to consider when buying a cowboy boot. The tight instep of cowboy boots greatly affects your comfort when wearing cowboy boots.
So how to fix this problem? Check it out!
Cowboy boots tight instep – How to fix?
Cowboy boots tight instep
When choosing cowboy boots, let's notice the instep of cowboy boots because it is an important part. The principle when choosing cowboy boots is that the instep of cowboy boots must not be loose, not tight, but must fit the instep of your foot.
Unlike other shoes or boots, most cowboy boots don't have shoelaces. So if the instep of the cowboy boot is too tight or too loose, you won't have your shoelaces to deal with it.
If you choose cowboy boots too tight on the instep, your feet will feel very uncomfortable and painful when wearing boots for a long time. This can lose the flexibility of the foot or can lead to swelling and soreness in the instep when you take off the cowboy.
However, when you buy cowboy boots online, it's hard to avoid mistakes, so let us fix it!
Read more: Comfortable Cowboy Boots For Flat Feet
How do you stretch the instep of a cowboy boot? – 8 ways
1/ Use Boot Instep Stretcher
One Pair Boot Stretcher Ladies Boot Stretchers Boot Shapers Designed Specifically for Women's High-Heeled Boots
❤FUNCTION:This boot stetcher is used to stretch the forefront of boots, reducing the painful break-in period. And enables you to stretch all kinds of your boots to accommodate the exact size of your feet.
❤MATERIAL:The boot stetcher is specially designed for women's high heels,the components of this stretcher are made of tough polyurethane plastic and premium steel. Smooth surface protects your boots.
❤METAL HANDLE:The metal handle is electroplated and rust-proof, smooth and sturdy, easy to use,and it will last longer.
❤FREE GASKET:We also give away a set of gaskets that can be used to further increase the upper.Allowing you to stretch very small areas of your boots, letting you zero in on painful pressure points.
❤INSTRUCTIONS:Just insert the shoe stretchers into the boots, and then turn the knob clockwise to stretch the width of the boot. Leave it in overnight, or for 24-48 hours. The longer the shoe stretcher is inside, the more your boot will stretch.
This is a very effective way to stretch the cowboy's instep. This is also the way that cowboy boot repair shops use to fix tight boots. (Usually, they will steam inside cowboy boots before placing boot instep stretcher in the boot.)
All you need to do is put the Boot Instep Stretcher inside the cowboy boots before bed and adjust the level expansion you want on the instep. Then the next morning you will see the results.
Normally, Boot Instep Stretcher of professional shoe repair shops is quite expensive. If you only use it for your small family, you should use Boot Instep Stretcher from wood.
2/ Use Boot Stretch Spray
FootMatters Professional Boot & Shoe Stretch Spray – Softener & Stretcher for Leather, Suede, Nubuck, Canvas – 4 oz
PREMIUM SHOE STRETCHER: FootMatters Professional Shoe Stretch is a leather conditioner that is formulated to soften and stretch tight fitting shoes or boots, while you walk
TRUSTED BRAND: We make the best products on the market to make sure your Shoes, Boots, Slippers and Sandals are comfortable and well taken care of, If you are not happy with your purchase, Please contact us and we will issue a refund
WONT STAIN OR FADE: Safe and effective. The spray will go on clear and will never cause discoloration, no matter what color your shoes may be
WORKS ON MULTIPLE MATERIALS: Works on a wide variety of materials, including: Leather, Suede, Canvas, Synthetics, Linens, Nubuck and Patent leather
EASY TO USE: Shake bottle, Spray generously on the area you want to expand (inside and outside), put on your thickest pair of socks and immediately wear your Boots or Shoes, walk around in them till dry. Repeat as needed. You can also use a wooden shoe stretcher overnight instead of wearing the shoes after application
Another effective method is to use Boot Stretch Spray to fix the tight instep of cowboy boots.
How to use it? Very simple. Just spray on the instep of the cowboy boot (spray inside), then use your hand to relax the leather of the instep. Some time later the instep of cowboy boots will stretch.
Or, you can use boot stretch spray before going out with your cowboy boots.
However, you should put on socks, do not get your feet wet with these fluids when wearing cowboy boots for long. That can have a bad effect on your feet.
Besides, a pair of thick socks also helps you not to hurt your feet while waiting for stretching the instep of the boots.
Read more: Comfortable Cowgirl Boots For Wide Feet
3/ Spray water & Steam inside the boots
Pack of 3-12 Oz Empty Plastic Spray Bottles - Attractive Vibrant Colors - Multi Purpose Use Durable BPA Free Material
SET INCLUDES: The DilaBee set of sprayers comes in 3 fun eye-catching colors, including 1 of each color: Pink, Blue, and Purple
SUPERIOR LEAK-PROOF QUALITY: Made of quality material. Features a tight seal that will prevent any liquids from dripping out
ADJUSTABLE SETTINGS: Easily adjust between 3 trigger settings including MIST, STREAM and OFF by simply turning the nozzle
CONVEIENT: The unique design makes the bottle fit comfortably in your hand, and your fingers rest easily on the trigger
MULTI PURPOSE: Great spritzer bottle for homemade cleaning solutions, hair care products, garden and plant care, pet training and more
Spray the water inside the instep of cowboy boots to moisten it
You should spray a little water into the inside of the cowboy boots, then use your hand to stretch the instep of the cowboy boots.
Steam inside cowboy boots
This is also the way that professional shopkeepers use for stretching cowboy boots.
You can take advantage of the steam from your kettle to warm and moist inside the cowboy boots. Then use your hands to stretch the instep of boots.
However, you should notice when using these 2 ways:
First: You need to dry other wet areas, otherwise the cowboy boots will stretch out at the wrong place.
Second: You need to dry the cowboy boots with natural wind after the process is finished. Don't let cowboy boots get wet for too long, the humidity will shorten their life.
Read more: Where Are Laredo Boots Made
4/ Use Leather Conditioner, Lotion
Sale
Leather Honey Leather Conditioner, Best Leather Conditioner Since 1968. for use on Leather Apparel, Furniture, Auto Interiors, Shoes, Bags and Accessories. Non-Toxic and Made in The USA!
OUR LEATHER CONDITIONER WAS INVENTED OVER 50 YEARS AGO WITH MILLIONS OF HAPPY CUSTOMERS. Same time-tested formula used today!
ONE TREATMENT LASTS SIX MONTHS OR LONGER. Deeply penetrates into the leather's pores to protect new leather and rejuvenate old leather. Softens, moisturizes and promotes flexibility leaving your leather feeling and looking beautiful! A little goes a long way; no need to reapply monthly as with other products.
THIS LEATHER CONDITIONER PROLONGS THE LIFE OF ALL TYPES OF LEATHER, including leather furniture and upholstery, automobile and motorcycle seats, boots, gloves, purses, jackets, saddles and tack. Non-toxic, non-solvent, not sticky, no odor and does not contain silicone. Water, snow and rain repellent formula. Not for use on suede or faux leather/vinyl.
UNLIMITED 100% SATISFACTION GUARANTEE. If you're not satisfied, return the product at any time for a full refund.
A LEATHER CONDITIONER THAT IS MADE IN THE USA by a small family business owned by the grandchildren of the original inventor. Use with Leather Honey Leather Cleaner, also available on Amazon!
The essence of what we're doing is trying to make the leather on the instep soft and smooth. So you can use Leather Conditioner, Lotion for softening the skin of boots.
Besides, Leather Conditioner also makes cowboy boots leather shinier. Also, your boots get a longer lifespan.
Similar to the second method, just apply them to the instep (inside) and wait for the results.
5/ Use hairdryer
Similar to the steam method, you can use a hairdryer and your hands to stretch the instep of cowboy boots.
The heat of a hairdryer can cause the cowboy boots to loosen up. But keeping the temperature at a moderate level, overheating will affect the leather of your cowboy boots.
This is a pretty classic way…
Note: You should give your boots a break after applying these ways. If you are not patient, your boots might get wider than you want.
These breaks are necessary for your cowboy boots to adjust themselves and fit your feet.
6/ Use ice
Another method to stretch cowboy boot instep is to use… ice.
You may not have heard of this method before, but this is a fairly commonly used method.
Prepare a plastic zipper bag, and put water inside. The amount of water inside the bag must be sufficient for the plastic bag to be a little tight when placed in cowboy boots.
Then put all the cowboy boots inside the freezer compartment of the refrigerator. Leave it overnight.
The next morning, the cowboy boot instep will stretch, making it more comfortable to wear.
7/ Use boot trees
Using boot trees is a very popular method to solve many problems of cowboy boots.
When you use cowboy boots for a long time, they withdraw many external forces such as weather, cold temperatures, and humidity, causing cowboy boots to shrink and leading to the tight instep.
With boot trees, they will keep the shape of your cowboy boots, then the tight instep won't happen during use.
Besides, boot trees can absorb moisture, keep your cowboy boots dry, and increase your boot life.
8/ Wear cowboy boots more often
This is the simplest way, but this method might take a long time for the instep of cowboy boots to stretch.
We think when you read this topic, you might have "lost patience" with your cowboy boots.
Read more: Are Cowboy Boots Waterproof?
[FAQ] Should cowboy boots be hard to put on? How to fix it?
It can be said that this is a drawback of cowboy boots, cowboy boots shaft is quite high compared to other boots, so it can be difficult for you to put on.
To overcome this drawback, cowboy boots manufacturers now have a pull strap on the side of cowboy boots for you to easily put on cowboy boots.
However, many cowboy boots are still difficult to put on, then what is the cause?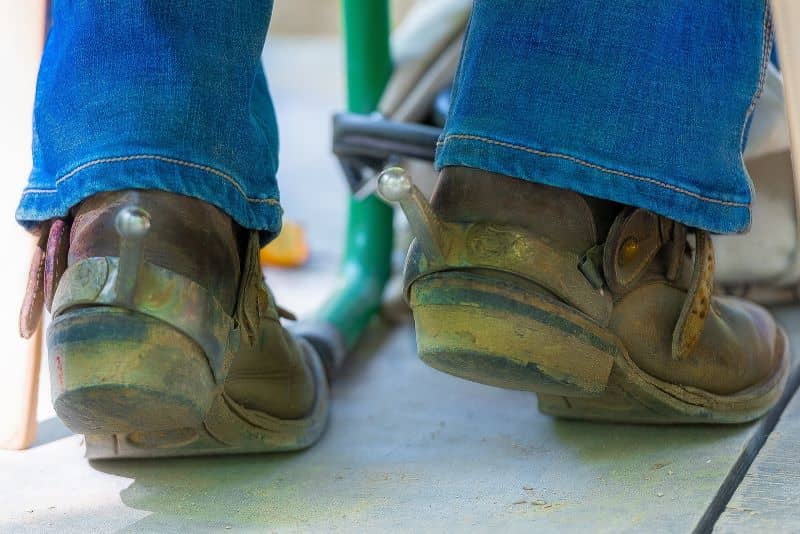 1/ Boots have not been broken in
For newly purchased cowboy boots, they often hurt your feet and are hard to put on at the first wear. What you need to do is to break in them.
The newly purchased boots have a hard leather (the leather at the vamp and the instep is hard making you feel uncomfortable and hard to put on), the heels and toe box have not had good elasticity.
You can use a variety of methods to break in your newly purchased cowboy boots, such as:
Use your cowboy boots regularly for the first 1.2 weeks
Use Boot Shapers and Cowboy Boot Stretchers
Use Leather Conditioners & Leather Stretcher Spray
Use a hairdryer
Spray water
And there are many different ways to break in your new cowboy boots, we have very detailed instructions here: How To Break In Cowboy Boots
2/ Choose the wrong cowboy boot size
You choose a cowboy boot that doesn't fit your leg size.
Wearing tight boots makes it difficult for your feet to slip inside. And usually the tightness around your calf will cause that.
If your new cowboy boots get this tightness, you should consider changing to a new one.
To learn more about choosing cowboy boots size, you can read here – Different cowboy boots brands will have different cowboy boot sizes (For example: Same size 8 but Dan Post cowboy boots can be smaller than Ariat cowboy boots). So when buying any brand's cowboy boots, you must use the exact size chart of that brand.
3/ You have big, wide calf and you need to stretch the leather around calf of boots
It is an ironic situation when you have chosen the right size of boots but still find it difficult to slip your leg into cowboy boots because you have big calves.
Don't worry, maybe these ways can help you.
Read more: How to Wear Cowboy Boots in the Winter
Extend the leather around calf of your cowboy boots with Boot Stretcher
This is a specialized tool that cowboy boot repairers and collectors have: Boot stretcher.
You just need to put it in cowboy boots, adjust the level and wait.
However, one inconvenience here is that the price of this product is quite expensive, if you are not a professional cowboy boot repairer or collector, this may be a big obstacle.
Hence, scroll down to see the method below.
Use boot stretch spray & boot shaper
This is an effective and easy method, you just need to spray on the cowboy boots shaft. Using your hands to loosen the leather around the calf, after a while the leather of the boots around your calf will stretch.
Besides, you can use an additional boot shaper to keep the leather of cowboy boots from wrinkling and keep the boots upright, without affecting the shape of boots.
Boot shaper also helps to stretch the leather of boots, if combined with boot stretch spray will make the boot shaft wider in a short time.
Use hairdryer or steam inside the cowboy boots
Here are 2 classic ways you can apply at home.
Use a hairdryer to dry around the shaft of the cowboy boots, then stretch the leather around the calf with your hands. (Don't overheat, this will affect the leather quality of the boots)
Or after drying cowboy boots, put on them and then walk around your house. This will help the boots' leather expand more quickly.
Similar to the hairdryer method, another way to stretch the shaft of cowboy boots is steam inside of cowboy boots. This is also a very effective way that cowboy boot repair shops use.
Let's take advantage of the steam from your kettle to steam inside cowboy boots.
Just steam inside cowboy boots and put them on, walk around the house.
Note: Do not overheat when applying these methods. And when wearing after using heat to relax the boots, you should put on socks to avoid burning yourself.
Besides, you need to give your cowboy boots some time to "adjust" themselves to fit your feet.
If you use the methods too quickly, you can make your cowboy boots stretch too wide. Then you have google again "What to do if my boots are too big?"
Read more: What Are Roper Boots
How do you know if your boots are too big?
Very simple, we only need a test.
Put on cowboy boots, if the cowboy boots are wide on the instep, touch this area with your hands, you will feel the leather of the boots there very soft compared to normal new boots.
You can do the same when checking the width in the vamp of cowboy boots.
Or keep forefoot on the ground, then lift the heel up about 3/8″ to 1 1/2″. If the heel slippage appears (more than 3/8 "), then it is likely that the heel of the cowboy boot is too wide for your heel, or the instep of the boot is loose, or the tip of the cowboy boot is too far against your toes.
Your toes should be 3/4″ to 1 1/2" away from the tip of a cowboy boot. When you put on the cowboy boots, you can estimate this distance by pressing down on the toe box of the cowboy boots with your hand. If it is more than 1 1/2 ", you mean the cowboy boots are wider than your toes. This can lead to heel slippage.
Read more: How to Fix Heel Slippage in Cowboy Boots
Before you leave
In general, the issues above have one thing in common that is all about stretching the leather of cowboy boots.
These ways are some of the most effective (or the most convenient) ways you can use. You should be patient or it can affect the skin quality of cowboy boots.
In case these methods could not stretch your cowboy boots, you should go to professional repair shops, or exchange other ones, cowboy boot companies have a very good exchange policy.
Don't worry, keep calm, cowboy boots are a very durable accessory. There exists some people who use a pair of cowboy boots up to 10 years. As long as you are patient with them, cowboy boots will create the best wearing feel for you that no other shoe or boot can give you.
Wish you good luck and success!