Every woman wears skirts, or if she doesn't wear them often, there will be at least one skirt in her wardrobe.
Dresses and boots are a great pairing for any stylish girl. But if you're not the kind of cheesy girl, you can still become more individually impressive with a glowing skirt and a pair of cowboy boots.
In general, cowboy boots, when combined with any skirt, will shine your uniqueness and impression.
With bold designs, the boots can reduce excessive femininity or increase personality to the extent you want, in combination with outfits.
The classic combination is cowboy boots and jeans, but skirts and cowboy boots will make you stand out from the crowd.
You can pair cowboy boots with skirts for Bohemian, vintage, or whatever you want.
Even a professional business look can be done as long as you know how to choose the right material, color and design of the skirt to go with your cowboy boots.
Now, let us just break down what skirts to wear with cowboy boots and how to wear the duo properly.
How to Choose a Skirt to Wear with Cowboy Boots?
There are several dozen cowboy boots and thousands of skirts out there in the market. So how do you choose the best duo?
Colors, materials, purpose, and weather are some main aspects that you need to consider before you spend your hard-earned money on any item.
Let's find out below!
Purpose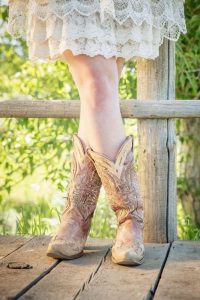 The purpose of the combination with skirts and cowboy boots is the first thing you should consider.
For business dressing, choose A-line skirts or office pencil skirts which are minimalist in design as well as using typical fabrics for office wear.
A smart choice is to pick a skirt that is the same color or nearly the same color as the cowboy boots.
You will have a professional and consistent overall look instead of looking like a chameleon in the meeting.
If you wear cowboy boots to picnics or outings, wear whatever you want!
You can be either colorful or stylish as long as you feel most confident and comfortable in that outfit and boots.
High-low, handkerchief, circle, or even bubble skirt designs with cowboy boots are all perfect for showing your personality and impression, but keep in mind to mix the colors properly!
Colors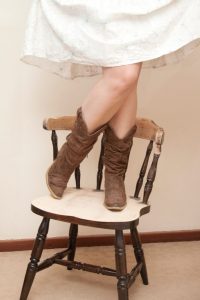 The color of cowboy boots is important to consider when thinking about how to mix with a skirt.
Usually, boots that are in dark tones and possess basic colors like black or dark brown are extremely easy to coordinate with any skirt design.
For example, classic brown and black cowboy boots with wrinkled, embroidered leather patterns on the body can be worn with a Boho high-low skirt for outings and can also be combined with an A-line skirt to wear at the office.
But if you have a pair of cowboy boots in bold and glossy color variations like red, green, purple, silver, or gold, well, I think you better wear them for parties or shows if the dress code is matched.
You should not burn the eyes of people around you when wearing these shining babies just to go shopping at the supermarket or to drink coffee.
Materials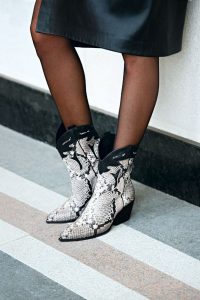 The material of the skirt will create your style when combined with cowboy boots.
There is no set standard for what material of skirt should be worn with cowboy boots and what material should not.
Because cowboy boots are footwear that can go with any material as long as you pair the right one.
Yet, there is still a general rule for the combination that there must be mutual reciprocity between materials.
If your boots look too stiff, choose a soft-styled skirt and vice versa.
For example, you wear a calf-length leather skirt that looks pretty sturdy, but you still want to look feminine and soft in that outfit.
If worn with a pair of classic 12-inch cowboy boots with wrinkled leather and heavy embroidery, your lower half will look as bulky as boots.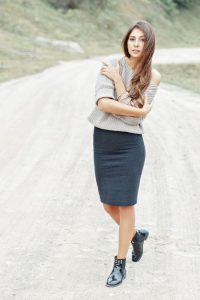 Let's go with ankle cowboy boots, they will show part of your legs and will make you appear noticeably taller and slimmer. That's how you look more feminine and stylish.
Conversely, if you're wearing an ankle-length maxi skirt in soft chiffon, wear a pair of traditional 12-inch cowboy boots with wrinkled leather and lots of embroidered detailing.
These two materials support each other so that you look both feminine in a maxi skirt and equally impressive in cowboy boots.
Weather
You may think the weather has nothing to do with choosing a skirt for cowboy boots, but in fact, the weather affects psychology, emotion, and performance in that outfit a lot.
In winter, choose bold colors like red, blue, or yellow to dispel the darkness, gloom, and cold around.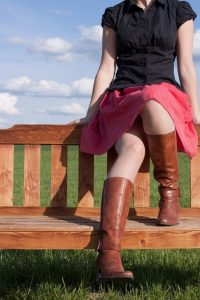 A pair of cowboy boots in Burgundy red will go great with a black pencil skirt and sweater. You will stand out in a very sophisticated and fashionable way.
But if you wear Burgundy boots on hot days, watch out you're making some people around you feel more annoyed and stressed than ever.
A pair of high-collar cowboy boots under the sun is also not a good pick if you do not need to protect your feet carefully.
Ankle cowboy boots make your feet feel more breathable, light, and flexible in hot and irritable conditions.
What Types of Skirts are Suitable for Cowboy Boots?
Any type of skirt can be worn with cowboy boots.
What you need to decide are colors, material, shape, and the most important aspect is the purpose of use when it comes to combining together.
1. Midi Skirt
Midi skirts are a versatile choice when it comes to creating stylish outfits with cowboy boots.
These skirts are characterized by their moderate length, typically falling below the knee but above the ankle, striking a perfect balance between sophistication and comfort.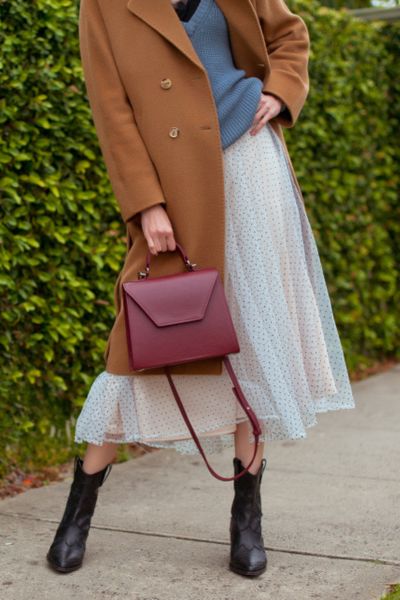 One of the key advantages of pairing midi skirts with cowboy boots is that it allows for a wide range of boot styles to complement your look.
Whether you opt for ankle cowboy boots for a more casual appearance or go for the added height and flair of 8-inch cowboy boots, midi skirts provide the ideal canvas.
However, it's essential to consider the design elements of both your boots and your skirt. If your cowboy boots feature intricate and heavy embroidery, it's advisable to choose a midi skirt with a minimalist flowy design.
This balance ensures that your outfit remains elegant and doesn't become overly cluttered, maintaining a sophisticated Western-inspired fashion statement.
2. Layered Skirt
Layered skirts, particularly those with a boho aesthetic, can harmonize beautifully with cowboy boots for a distinctive Western-inspired look.
These skirts often feature multiple tiers of fabric and have a flowing, free-spirited appearance that aligns perfectly with the boho fashion sense.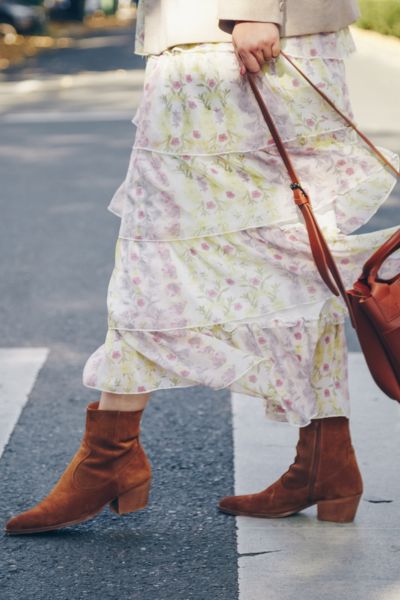 When combining layered skirts with cowboy boots, you have the opportunity to create a bohemian cowboy fusion that's both chic and eclectic.
The length of these skirts can vary, but choosing a style that falls somewhere between midi and maxi length often works best.
Pair them with ankle cowboy boots for a slightly more laid-back feel or opt for taller boots if you want to make a bold statement.
Keep in mind that if your cowboy boots have intricate detailing, it's advisable to choose a layered skirt that complements rather than competes with this ornamentation.
The result is a whimsical and uniquely boho take on Western fashion that's perfect for those who appreciate a touch of creativity in their style.
3. A-line Skirt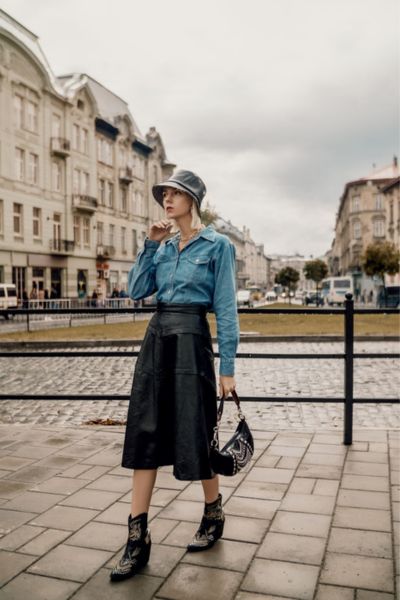 A-line skirt is a classic skirt design used mostly for professional office style.
This design features a triangle shape with a tight waist and extending downwards to the knee or shin.
Most A-line skirt designs are plain and quite minimalistic. The fabric and materials are also very diverse with optional textures according to preferences.
With a skirt at a little below the knee, you can wear 10-12 inch high cowboy boots. Your legs will still be partially exposed and this will make them look longer.
If you feel a bit clumsy with the above combination, you can choose a pair of ankle cowboy boots with heels about 2 inches high.
Get the best use of the principle of "ton sur ton" to coordinate cowboy boots and outfits. You will look fashionable and sophisticated in any condition.
4. Straight Skirt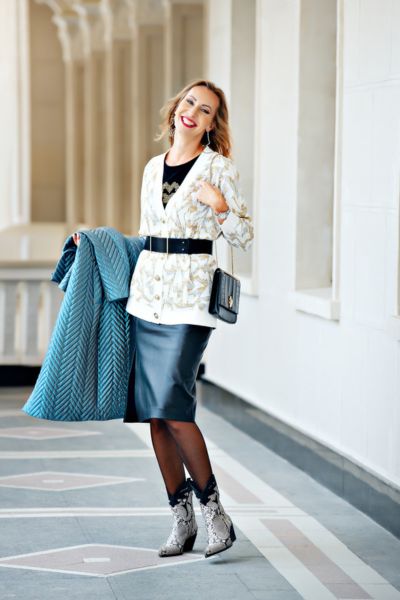 Straight skirts are another type of skirt that many women tend to wear at work. This type of skirt usually has a shape that pulls vertically from the waist down to a little below the knee or shin.
This type of item is quite picky. If you have wide hips or a pear-shaped body, this skirt will show all the imperfections of your body.
To wear cowboy boots with straight skirts, you can pair them with ankle-high or 8-inch high boots.
This will make your legs look longer. A heel height of about 1.3 – 2 inches is considered suitable for all uses.
5. Maxi Skirt
Personally, I love how comfortable and feminine the vibes that maxi skirt can give you.
When wearing it with cowboy boots, people will be more impressed by how vintage and boho you look.
Maxi skirts are often worn to the beach, so they are made with soft and breathable materials like chiffon or rayon and are a sort of floor or ankle length.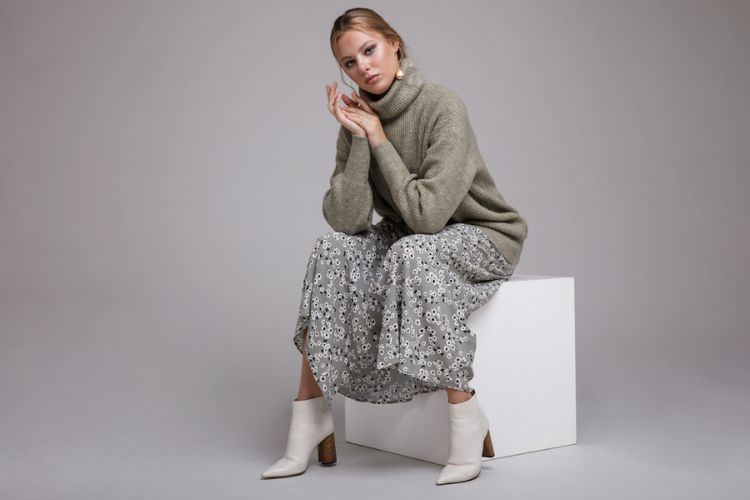 You can become a Bohemian if you wear a white maxi skirt with traditional wrinkled leather cowboy boots or you can also create a vintage look as desired in this duo.
6. High and Low Skirt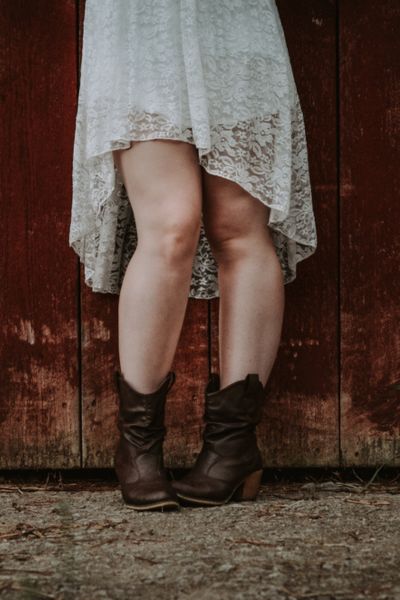 High-low skirts are quite a favorite fashion item and became a trend about 10 years ago.
They have a great advantage in that the wide shape helps to hide the shortcomings of pear-shaped people.
The material of the skirt is usually quite soft, thus bringing femininity, grace, and loveliness for the wearer.
In addition, they also have a low cut in the front and a long down at the back. This helps to create the illusion that the wearer's legs are longer and slimmer.
I think 8-10 inches of cowboy boots when combined with high-low skirts will reduce the feeling of femininity and increase coolness and charisma in the overall style.
7. Pleated Skirt
Pleated skirts have a light A-shape with pleats running down the entire skirt. That's why it's called pleated skirts.
The length of the skirt is usually below the knee or shin. The width of the skirt can also vary according to different designs.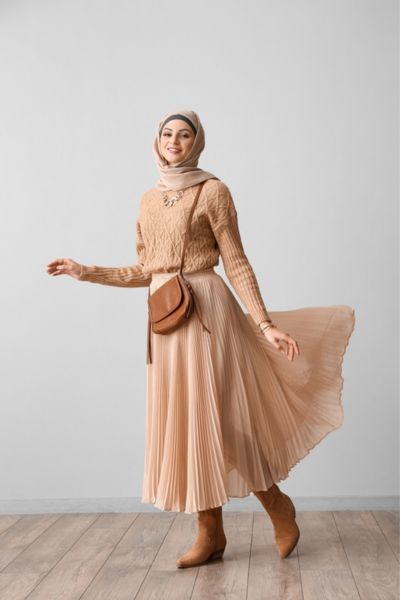 You can wear it with ankle cowboy boots or 8-inch cowboy boots.
However, if your boots have too heavy embroidery on the body, we suggest choosing a pleated skirt with a minimalist pleated design and avoiding the one that is too wide, which will make the overall messy and less sophisticated.
8. Bubble Skirt
Bubble skirts are skirts that are playful and possess a very cute design.
Teenage girls or those who love youthful style are often in love with this type of skirt. They used to be a hot fashion item from Disney movies.
The design features unordered pleats and slight bulges from the waistband to the hem.
Usually, skirts are thigh-length or above the knee. Therefore, when worn with cowboy boots, they will make the legs look slimmer and longer.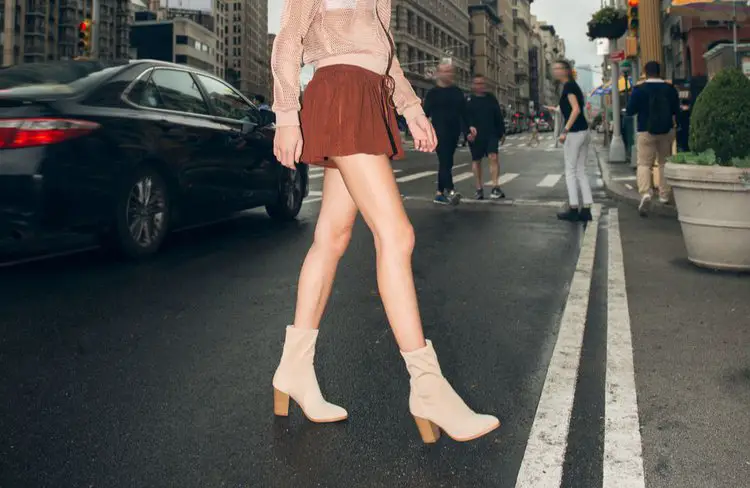 In addition, the high collar boots also reduce the sexy feeling due to the shortness of the skirt.
If you have a pair of boots in basic colors like black or brown, you can wear them with skirts in neutral colors like grey variations or bold colors like neon green, red or yellow.
Overall, it will still look very fashionable. You can also wear Buckaroo boots with bubble skirts.
9. Mini Skirt
Mini-skirts can be said to be a variation of A-line or straight skirts but with a shorter length (usually above the knee or thigh).
The skirt can be slightly extended A-style or straight form. But it all brings a youthful and extremely dynamic feeling to the wearer.
You can combine this skirt with any line of cowboy boots. If you choose boots with high heels, you will have an extremely sexy and seductive style.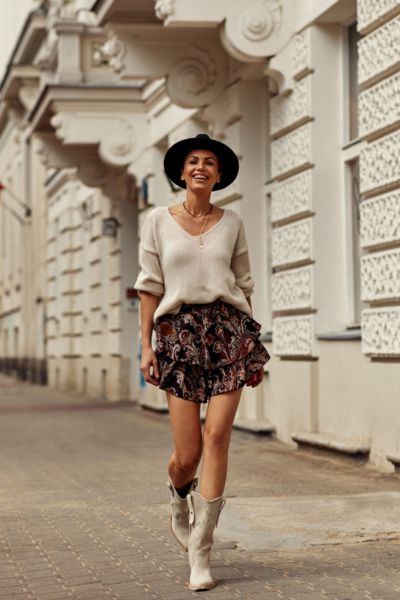 If you wear it with boots with square-off soles and low heels, you will have an attractive and dynamic style.
The material of the mini-skirt is very diverse and easy to transform into many styles with cowboy boots.
You can choose a khaki fabric that provides a bit more structure when worn.
Or you can also choose a soft material like cotton or Buckram fabric with a softer form. All can be combined perfectly with cowboy boots.
10. Circular Skirt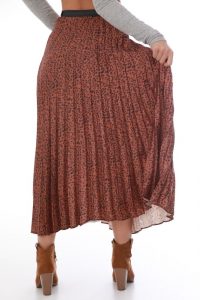 Circular skirts are a type of skirt worn by skaters. It is cut round and wide open, creating a naturally folded form that bulges and falls loosely downwards.
The length of the skirt can vary depending on the design and preferences, it can be above the knee, below the knee, or reach the shin.
The longer the skirt length, the wider the natural flare.
If you're wearing cowboy boots with circular skirts, knee-length skirts should be worn with turtleneck boots, and knee-length skirts should be worn with ankle boots.
This will balance the overall outfit so that it doesn't make you look too sloppy and flashy.
11. Pencil skirt
Pencil skirts are seen as a fashion standard of the office. They have a tight fit and are usually black, creating a clean and professional look.
We rarely wear pencil skirts when at home or going out because honestly, this skirt brings a lot of discomfort to the wearer.
For your sake, we recommend wearing a pencil skirt with ankle cowboy boots. The shoes will provide the flexibility and breathability needed for the wearer.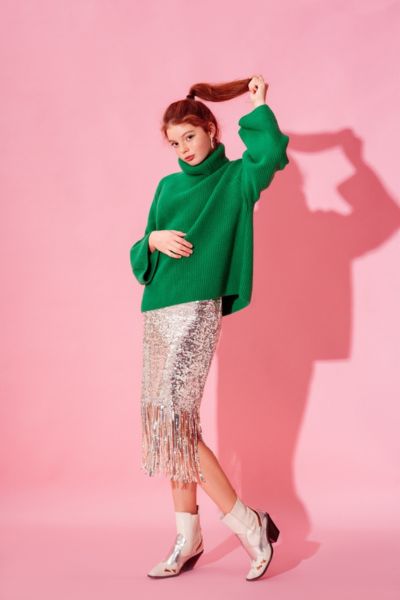 12. Pleated Skirt
A brief pleated skirt typically features a waistband and numerous small, evenly spaced folds or pleats that flow outwards, creating a flared silhouette.
This design adds volume and movement to the skirt, enhancing its playful and youthful appeal.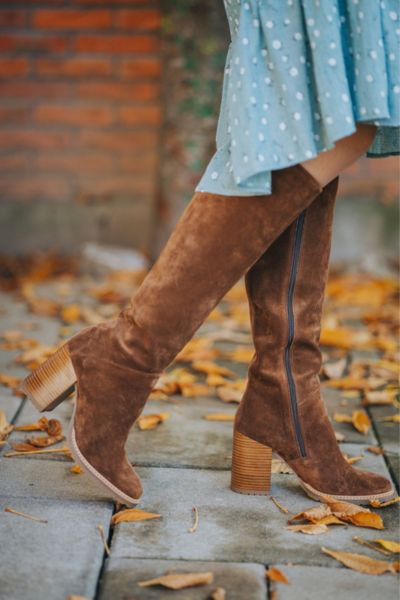 Pairing such a skirt with cowboy boots can create a sweet and feminine vibe due to the contrast and balance between the rugged, rustic feel of the boots and the delicate, playful nature of the pleated skirt.
Pairing the pleated skirt with a blouse can elevate the outfit, making it suitable for semi-formal events or a chic day out.
A light, airy blouse complements the skirt's playful movement, while a more structured blouse adds a touch of sophistication.
This combination, along with cowboy boots, strikes a balance between femininity and a subtle touch of ruggedness, making it a stylish choice.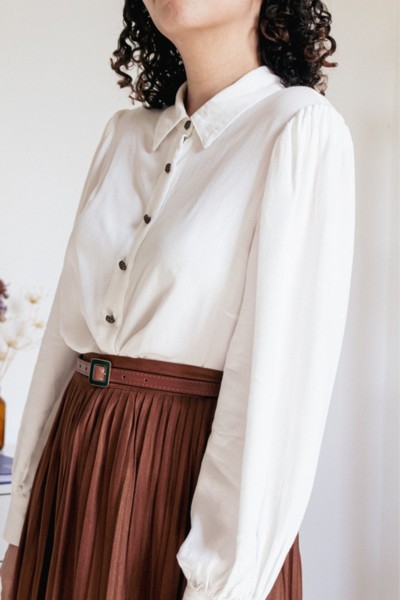 Moreover, pleated skirts and cowboy boots are versatile for all seasons. In warmer months, the skirt's light and airy fabric offers comfort and breathability, while the boots provide a stylish edge.
For cooler seasons, combining the pleated skirt with a cozy sweater creates a charming and comfortable ensemble.
The sweater adds warmth and a casual, relaxed vibe, while the skirt keeps the outfit playful and feminine.
This pairing, along with cowboy boots, is perfect for a casual autumn or winter look, offering both style and practicality.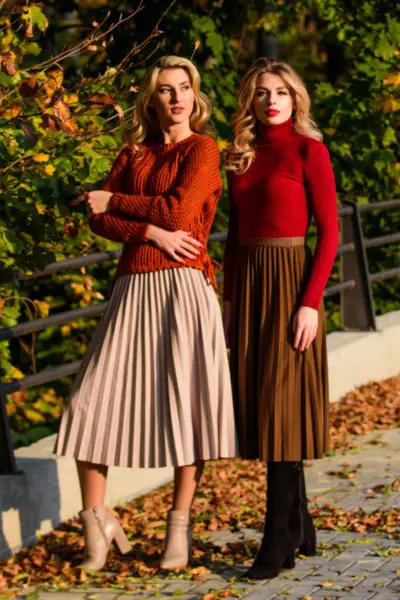 This adaptability makes the combination a great choice for a variety of occasions and climates, offering both style and practicality.
How do you Wear Cowboy Boots with Skirts?
How to wear cowboy boots with skirts, well, it's as simple as putting on those two things at once, right?
Just kidding, the problem of coordination is not that simple. You need to pay attention to the material, length, and color.
Regarding color, always follow the rule of "ton sur ton" consistently between 2 of the 3 (or 4) items you wear.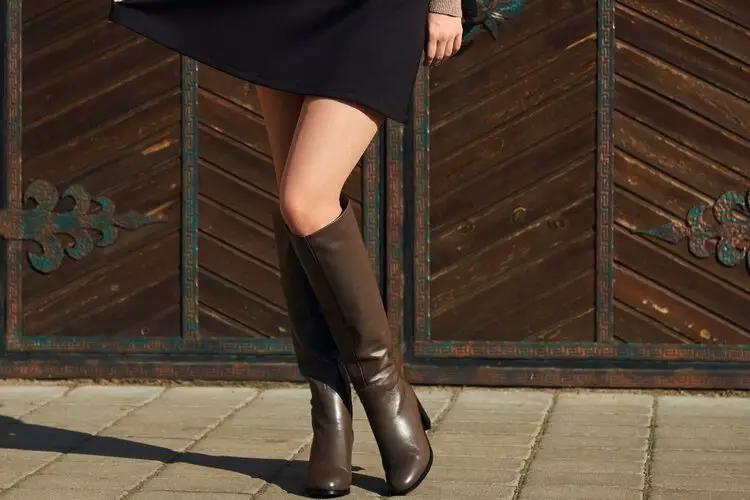 This means that if you wear a pair of black cowboy boots, you should wear a shirt with some black details or wear a black jacket.
This will make your overall outfit more eye-catching and reasonable. This principle is also important if you need to dress professionally in business.
In terms of material, keep in mind that cowboy boots are usually made of leather, so the shape of the boots is often quite stiff and bulky (for high-collar types).
Therefore, choose minimal skirt designs with few details and avoid materials that are too thick which make your lower body look rigid.
Regarding the length of the skirt, to avoid looking sloppy, follow the general and safest rule of "short on top, long on the bottom or long on top, short on the bottom".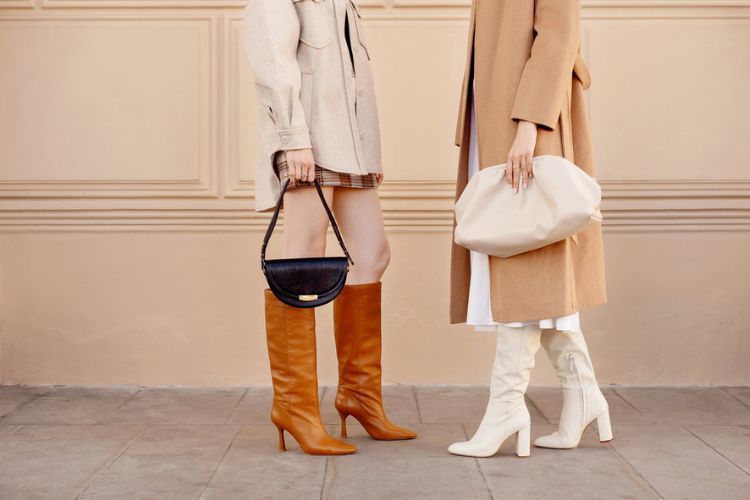 This means trying to show some space between the hem of your skirt and the collar of your shoe.
If your skirt is too long (like ankle length), wear short cowboy boots and vice versa. It makes your legs look longer and your style is more elegant and comfortable.
Before You Leave
As a woman, you have a ton of skirts to wear with cowboy boots.
Your problem is just choosing materials and colors, and how to coordinate them to achieve the effects you want.
We hope you find something useful for what you are looking for in this article.
Howdy y'all, and welcome to From The Guest Room, your ultimate guide to all things Western! I'm Jay Gatz, a lifelong cowboy boot enthusiast with over 5 years of experience in the Western style world. I'm excited to share my knowledge with you and help you discover the perfect cowboy boots and western gear to elevate your style. Let's explore the rich history and timeless appeal of Western fashion together!