To be honest, cowboy boots and dress shoes belong to two completely different worlds in every way. Or at least, you'll notice the biggest difference is the shaft height of each.
Cowboy boots possess high collar while dress shoes that have no collar at all (that's why we call them shoes instead of boots).
Dress shoes are anything but sneakers, sports shoes, and boots. This definition also means that they are any footwear (without collar) to be worn in smart casual or on a daily basis.
Interestingly, dress shoes have thousands of variations of themselves. This is because dress shoes for women and men are no way the same.
Meanwhile, cowboy boots appear to be unisex. This means that both genders can even wear the same design (just different sizes). Therefore, cowboy boots clearly have less variation than dress shoes.
Now let's dive into what else sets them apart from each other!
Cowboy Boots vs Dress shoes in construction
The huge number of variations of dress shoes has made a big difference in figuration when compared to cowboy boots.
Variations
Before learning about the structure of both types, let's take a look at their variations to see how diverse and magical their worlds are.
Variations of dress shoes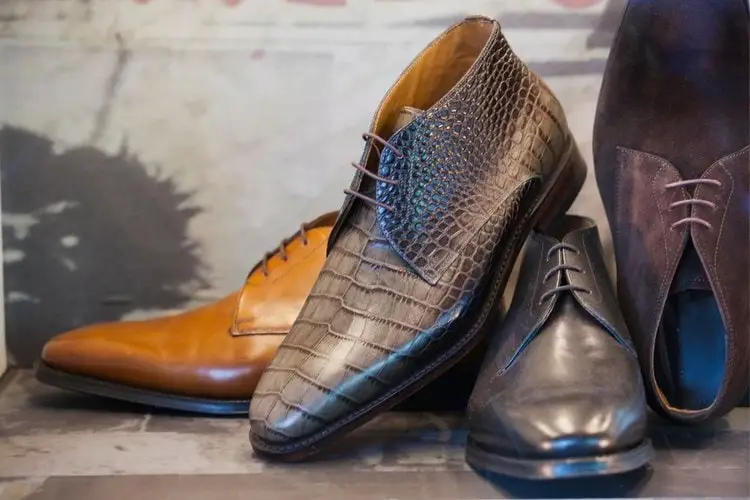 Dress shoes are anything (except sports shoes) you wear with your outfit in a Western dress code or formal dress code for an occasion.
A typical western dressing for men would include a dress shirt, blazer, vest, necktie, and dress shoes.
For many true gentlemen, this is considered their everyday casual wear. But most of us put on this combo for business or professional purposes only (they're somewhat breathless, you know!).
When it comes to variations of dress shoes for men, many people may immediately think of Oxford shoes/Balmorals or Monk shoes. But they are much more than that, typically Derbies, Loafers, or Brogue shoes.
Oxfords shoes
This type of dress shoe has a long history and comes from Scotland and Ireland. They began to be popular in America in the 18th century with the name Bal-type shoe.
They embrace a typical British classic and conventional style with a pointed, slightly long square toe, square-off heels, and closed lacing system (with short, small round shoelace type).
Most of them are preferred for a shiny polish, showing a clean, streamlined exterior in a gentleman's style.
Monk shoes
This line of dress shoes has no lacing system. Instead, they have integrated buckle straps around the vamp that can adjust the width and tightness of the foot when put on and when taken off. This is the biggest difference from their brothers.
The rest of the details such as the shape of the toe, heel, or internal structure are similar to the Oxford shoes.
Loafers
This line of dress shoes is completely different from its kind.
They are slip-on and cannot be adjusted for width or tightness with any tools. It's easy to put loafers on your feet, but they may not fit snugly as you'd like.
Some buoyant loafers also have tassels as a fashion touch. Loafers' toes and heels are as varied and diverse as their cousins.
Just like men's loafers, this is a line of slip-on dress shoes for women. They present a masculine look by featuring a typical rigid silhouette with a prominent thick sole, rounded square toe, and low square (or square, high) heels.
Derby shoes
It is similar to the shape of Oxford shoes, but Derby is designed with an opening lacing system.
They seem to be more popular in America because they represent the open and liberal spirit of the American gentleman.
Other details such as the heel, toes of Derby are not different from other men's dress shoes.
Brogue shoes
This dress line probably resembles its older brother Oxford shoes the most.
But they have a more attractive and breezy design than all by featuring multiple-piece leather with classy decorative perforations running from the toes to the heel. This is the special design of this shoe line, giving them a bold British classic.
When it comes to the dress shoes for women, you will feel a headache starting to trigger your mind to figure out which one is the one she is wearing. Their dress shoes come in all-in-all shapes and sizes with a wide range of heights as well.
Women wear dress shoes for an outing, dance, wedding, party, show, business, or special occasions.
But there are also some variations of dress shoes that they wear every day from indoors to out (and you shouldn't question why women are so confused, simply because they like to wear it that way).
Pumps
Pump shoe design features super pointed toes, square toes or common round toes. They have a discreet quarter counter that conceals the wearer's heel all the way.
This is a popular dress shoes line because they are easy to wear with any outfit from skirts to pants. Depending on the height of the pumps, some designs come with ankle straps to better stabilize the foot while walking.
Slingbacks
The design of the slingback is not too different from the pump with pointed toes or square pointed toes.
The biggest difference is that the counter is open and replaced with a narrow wrap running around the heel, which has the effect of fixing the shoe to the foot for a more stable step.
Slingbacks seem to be more desirable to wear in hot weather but they are often not as formal as pumps.
Ballet flats
This is the line of dress shoes that are worn most often by women from inside the house to the street.
They feature flat heels and round toes. Therefore, we feel quite comfortable when walking on them.
Sandals
This dress code line makes us think of summer and the beach every time we see it. They fall under the casual dress code and their designs range from informal to formal.
They feature an upper with a network of interconnected straps, so they're relatively breathable to wear in hot weather.
Nowadays, sandals have become unisex footwear as both men and women prefer to wear this dress shoe every day.
Variations of cowboy boots
Cowboy boots are unisex footwear. Their variations are often classified by shaft height,  including ankle cowboy boots (ankle height), mid-calf cowboy boots (8 inches to less than 16 inches height), and knee-height cowboy boots (16 inches or more).
Ankle cowboy boots are more commonly used by women because they are easy to put on, breathable, and can be combined with any outfit for any purpose from casual to business. Meanwhile, many guys prefer to tuck their pants on mid-calf cowboy boots.
In terms of feature variations, cowboy boots are divided into 3 categories, including riding cowboy boots (traditional line), street-wear cowboy boots, and cowboy work boots. Of these, cowboy work boots have the most distinct design.
They feature more serious safety details like protective toe caps, shanks, and grooved square-off heels. Therefore, they have round toes and roomy toe boxes, providing the best comfort for working all day long.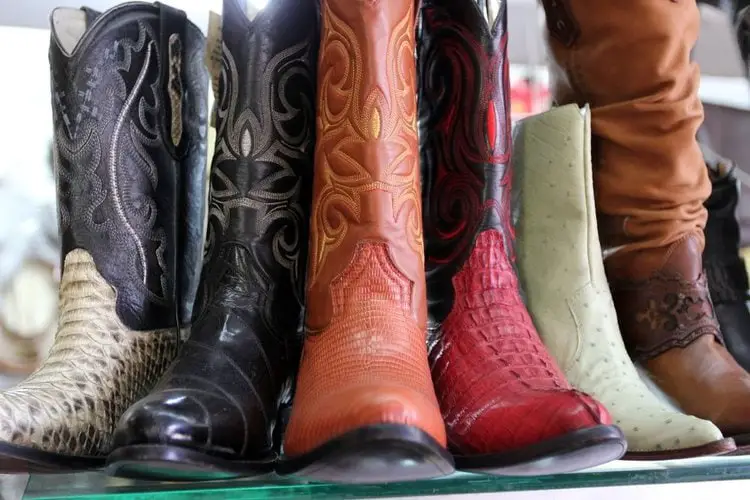 Structure
As early stating, cowboy boots and dress shoes have 100% different shapes. But that doesn't mean the way both types are made is different.
Nearly all footwear that exists on this earth is created by attaching (or stitching) the upper to the outsole. Cowboy boots and dress shoes are no exception.
How they are assembled
Both cowboy boots and dress shoes are made by attaching the upper to the outsole.
However, while most cowboy boot uppers are sewn with strong thread to the outsole, some dress shoes upper (such as women dress shoes, Derby, Loafers and so on) are glued to the outsole.
This gives cowboy boots a vintage and bohemian style while dress shoes look sleeker and more modern.
In addition, the stitching method for genuine leather materials increases the quality and durability of cowboy boots.
Meanwhile, the gluing method like for dress shoes increases water resistance from the outside by minimizing micro gaps between the stitches for not letting water seep inside.
Height
This is the biggest difference between cowboy boots and dress shoes.
As earlier mentioned, cowboy boots often range from ankle height to knee height. Meanwhile, dress shoes are mostly less than ankle height (if you don't include the ankle straps).
Thanks to this construction, dress shoes become more versatile and agile casual footwear than cowboy boots. But it's not really ideal when wearing them in winter or cold weather compared to cowboy boots.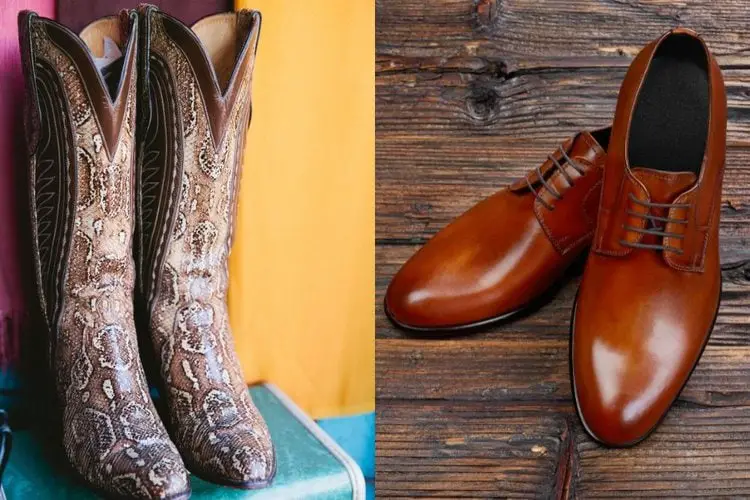 Heel
This is also another major difference between the two types of footwear.
The heel is a distinctive feature of cowboy boots. They are somewhat tapered in shape and are of medium height (around 2 inches).
Cowboy boot heels are usually made of leather (the traditional way), wood, or rubber (the modern way).
The Riding heel has a distinctive shape that points slightly inward rather than vertically as with the dress shoe heel.
Particularly, cowboy work boots have low, square-off heels with a wide ground contact surface. In addition, the heel plate and outsole plate of this footwear are usually flat, slippery, and low-friction.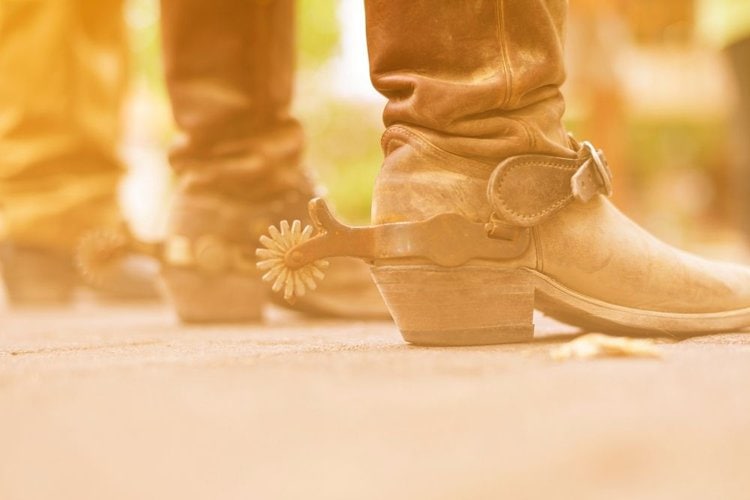 Meanwhile, the dress shoe heel has hundreds of different shapes depending on the type.
Dress shoe heels for men are usually square-off, low and only about 1-2 inches high. They are usually made of wood or rubber with a small grooved heel and sole for added traction and noise reduction while walking.
Dress shoe heels for women can be from 2-5 inches tall, have a small, pointed or square, round shape depending on the needs of users.
The majority of these heels are made of wood. They are often attached with outsole and heel rubber pads to reduce walking noise and heel wear as well.
Toe
Most cowboy boots come with pointed toes as an identifying feature. However, cowboy work boots often have rounded toes so that protective toe caps can be added in this position.
Dress shoe toes are much more diverse and incorporate all styles of toes into their overall design.
Most men's dress shoes have pointed, rounded, or slightly rounded toes. While women dress shoes have a more pointed or more rounded toe look.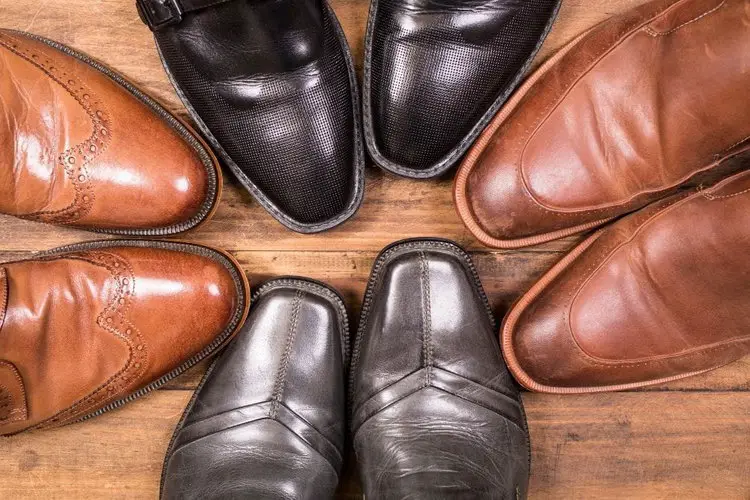 Lacing system
Another big difference between the two types of footwear is the laces system.
Cowboy boots completely belong to the typical laceless world.
If you find something that looks like cowboy boots with laces running across their shaft, that's probably something else out of true cowboy boots.
Meanwhile, dress shoes have some variations appearing with the lacing system in men's shoe lines such as Oxfords, Derby, and Brogue.
Women dress shoes usually do not include this feature in their construction but are replaced with straps.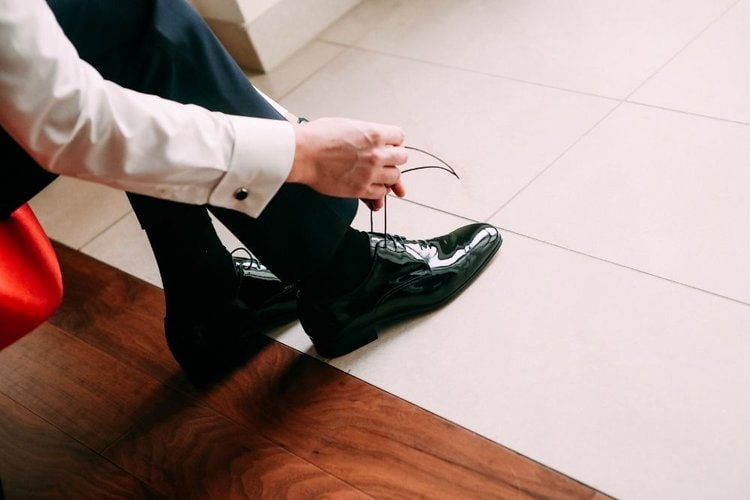 Material
As you might see, cowboy boots are usually made from genuine leather with a special texture and pattern in Vintage or Boho style. They often have a typical distressed finish with a slight wrinkle or even deep wrinkles.
You barely see a pair of cowboy boots with a sleek and glossy finish from top to bottom. There aren't really any rules here, but it's a part of cowboy boots culture.
Most men's dress shoes have a sleek and polishable leather finish from head to toe. They make for a true gentleman who puts on these classy Oxford shoes or Derby shoes.
Depending on how much you can invest in, chances of owning a pair of real snake leather, python leather, crocodile leather, or at least high-quality buffalo skin are varied.
If you are unable to afford it, there are tons of cheaper options with faux leather for you with the same gaudy look.
Women dress shoe materials are more diverse. They are made from woven fabric, genuine leather, nubuck, or faux.
Some sandal lines also incorporate synthetic materials such as nylon, plastic, metal to create the straps.
Origin
Cowboy boots and Oxford shoes are probably the two oldest footwear lines of all, around the 18th century. But I'm not sure which came first.
Cowboy boots were invented with a laceless construction to increase the convenience of putting on or taking off for the wearer.
They are also designed to be work boots for horse riding or farming. Therefore, they are more durable and less likely to be exposed to the outside environment.
Meanwhile, Oxford shoes appeared with an elegant, sleek low-cut design that was usually only worn by the middle and upper classes of society at that time.
They are always polished and do not allow dust whenever their owners put them on. They are often worn on special occasions or by people who work in low-abuse indoor environments.
Women dress shoes like pumps or slingback shoes look like products of modern demand.
Pumps are a reinterpretation of the court shoes that appeared in the 17th and 18th centuries. But it wasn't until the 20th century that they acquired their current pointed toes look.
Weight
On average, women's dress shoes can weigh between 2-2.5 lbs. This is due to their less metal and lightweight materials construction.
Men's dress shoes usually have a slightly larger load capacity, from 2.5 – 3 lbs due to the thick material construction and heavy outsole.
Meanwhile, even the lightest cowboy boots can weigh up to 3-4 lbs. This result comes from the dense and heavy texture of materials such as leather, wood, and cumbersome embroidery details.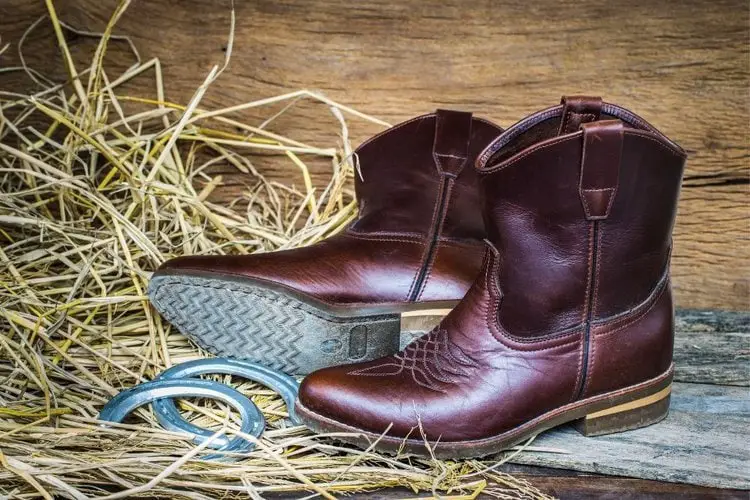 Identifying characteristics
The identifying feature of cowboy boots is in the deep V-cut placed in the front of the top collar.
In addition, you will see a solid amount of Western-inspired embroidery, stitching, etching on their shaft.
They contribute to creating a very Boho and Vintage style on the typical distressed leather background. That makes up a true cowboy boots culture.
Additionally, the high collar, pointed toes, and riding heels are other signature details. All create a pair of American cowboy boots full of freedom and dynamism.
Dress shoes appear with a low-cut design that sits below the ankle with/without a lacing system (either opened or closed type). But they are made from leather and treated to a proud shine.
Overall, dress shoes are the most populous footwear of all. Therefore, as long as it is not sneakers, running shoes, boots or sporty shoes, the rest can be considered dress shoes.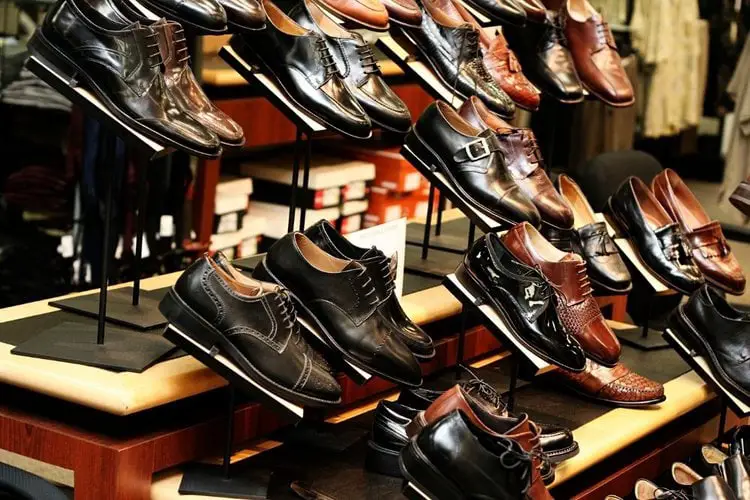 Cowboy Boots vs Dress shoes in experience
The construction of the footwear will be the main reason why we feel good or not when we wear them. Let's see how it feels while putting on both types.
Comfort
Basically, the internal structure of cowboy boots and men's dress shoes is quite similar to each other with leather insoles, sleek lining, shanks, and narrow toes.
The difference is that cowboy boots have a higher upper with a tight instep but looser around the ankles and calves. This can be advantageous to tuck the pants inside the boots.
But if you wear cowboy boots with bare feet, you will find your footwork functions less naturally, leading to quick fatigue.
In addition, narrow toes and tapered heels can quickly cause blisters if you are new to this footwear.
Men's dress shoes are just below the ankle, they don't provide ankle support, but their lacing system (with Oxfords, Derby, or Brogue shoes) allows the wearer to adjust the tight and loose fit between the foot and the footwear.
This helps you feel the foot better for more solid footing, reducing ankle sprains or dislocations due to unnatural walking gaits.
Women's dress shoes with small, high heels and narrow toes (like with pumps or slingbacks) are pretty bad for foot health. They are the cause of ankle dislocations, blisters, or calluses.
High heels also put more pressure on the feet and ankles, causing poor blood circulation around these places.
Flat shoes are fine but they are less cushioning at the bottom. Therefore, they are also not adequate for walking all day long.
So to fairly assess this criterion, I would rather give men's dress shoes 1 point.
Safety
Dress shoes are not made to be used as work boots, so they have no safety features.
In general, cowboy boots have an outstanding advantage over dress shoes in this regard. At least they have a leather high collar that protects the foot from splashes or heat from the outside.
Cowboy work boots reinforced with protective toe caps double the level of safety for the wearer's feet.
Overall, I give cowboy boots 1 point.
Durability
Cowboy boots can last more than 10 years, especially cowboy boots made from full-grain leather with traditional stitching methods.
These days, dress shoes seem to be applying a glue method to attach the upper to the outsole. This reduces the water-resistance of the footwear and makes it more likely to come apart when exposed to water for long times.
However, men's dress shoes like Oxfords, Derby, loafers, or Brogues that are hand-stitched and made of genuine leather are also relatively durable. Especially when they are not subject to operating in a heavy abuse environment.
Therefore, I give both sides equal points.
Versatility
For this criterion, I definitely give dress shoes a point.
The reason is, you can still wear dress shoes without needing to have an extra pair of cowboy boots. Meanwhile, even if you are a loyal fan of cowboy boots, you still need other dress shoes in your life.
Dress shoes are more convenient, versatile and most people wear them for all your daily activities from indoors to out, from work or to events.
Cowboy boots are often a reflection of their own style and culture. People often wear them for fashion purposes since riding heels are not quite agile and convenient to dress on all the time.
Yet, cowboy work boots are still a great choice for daily wear.
Fashion
Again, I give dress shoes 1 point.
You won't be able to really count how many variations of dress shoes there are. It is so much that if you change a different pair every day, your 70-year life still has a new design of dress shoes to wear.
In addition, dress shoes also apply a lot of unique and strange materials in their construction. This further enhances the variety of styles and figurations of dress shoes compared to cowboy boots.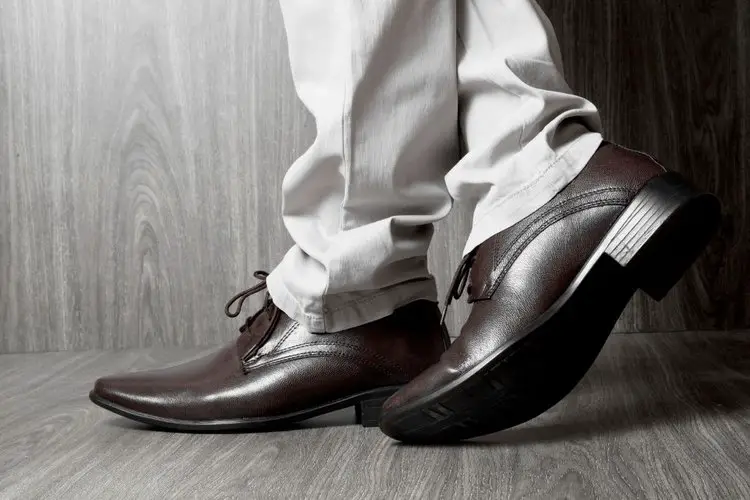 Meanwhile, cowboy boots are often loyal to distressed leather material over the centuries. It is their culture that makes them stand out from the crowd and cannot be mistaken for any other footwear.
However, in fact, today you can still find cowboy boots that are as elegant and luxurious as dress shoes.
You can look at some brands like Tecovas, their lizard or caiman belly boots are really good-looking. Or more simply, their bovine but well-polished cowboy boots can be worn with a suit to a luxurious wedding.
However, the number of cowboy boots with such style is not really that many and if you want to own them, you will have to spend a lot of effort to find them.
Dress shoes still have the upper hand all over the world because their original style is inherently sharp, easy to mix and match, and goes well with many different accessories. Meanwhile, cowboy boots that look so wild and distressed are hard to go to a palace, aren't they?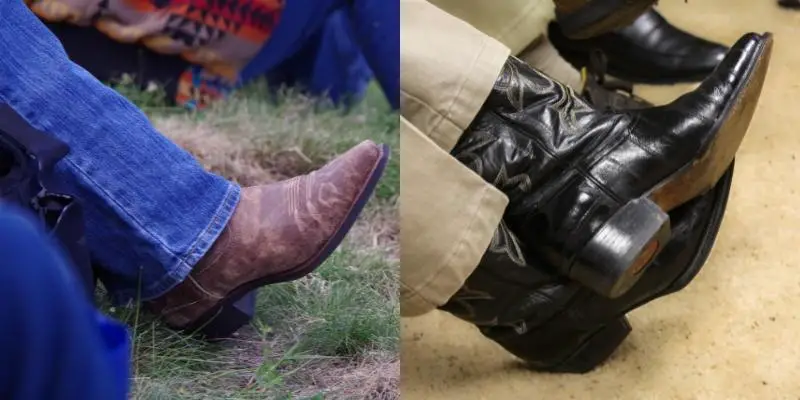 Function
Basically, dress shoes are born just to live in indoor or low-abuse environments. They also do not possess safety features for the feet. They can be worn as casual footwear but don't really create any concrete value in terms of functionality.
Meanwhile, cowboy boots have functional variations, typically cowboy work boots or cowboy riding boots. They can both be used for riding, farming, walking, or working at construction sites/production plants.
Waterproofness
Obviously, cowboy boots bring better waterproofness compared to dress shoes. This comes from their high collar leather construction.
The leather material itself has a natural water-resistant surface to some extent. Therefore, it has the ability to help prevent water from entering the interior for a certain period of time.
Dress shoes are the opposite. They are also made of leather but just below the ankle. This allows water to seep in from the outside more quickly if you step over a puddle or even get a light rain.
The line of brogue shoes with special multiple decorative perforations will pave the way for the water to flow inside as quickly as possible.
Women's dress shoes are even worse. They have a non-closed construction around the heel, toe, and foot.
Sandals with a massive strap upper don't even have any water resistance effect. And wet feet is a predictable and unavoidable outcome.
Breathability
Due to their less water-resistant construction, dress shoes are more breathable than cowboy boots.
Women's dress shoes are the queen of the most breathable footwear. The non-closed construction and strap network upper allow for better air circulation.
In addition, for men's dress shoes, Brogue shoes with massive perforations have better air exchange between inside and outside.
Meanwhile, high collar cowboy boots are not usually for hot weather. They have no vented holes or micro holes in the upper to fight the hot outside air.
Most people who wear cowboy boots will often feel their feet heat up quickly.
Comparison table
I'd come up with a visual comparison table to conclude my opinions about these two footwears as below:
| | | |
| --- | --- | --- |
| Features | Cowboy boots | Dress shoes |
| Comfort | ⭐⭐⭐ | ⭐⭐⭐⭐ |
| Durability | ⭐⭐⭐ | ⭐⭐⭐ |
| Safety | ⭐⭐⭐⭐ | ⭐⭐⭐ |
| Versatility | ⭐⭐⭐ | ⭐⭐⭐⭐ |
| Fashion | ⭐⭐⭐ | ⭐⭐⭐⭐ |
| Function | ⭐⭐⭐⭐ | ⭐⭐ |
| Waterproofness | ⭐⭐⭐⭐ | ⭐⭐ |
| Breathability | ⭐⭐⭐ | ⭐⭐⭐⭐ |
Are cowboy boots considered dress shoes?
No, absolutely not. Cowboy boots are a completely different world from dress shoes. They belong to the high collar and laceless footwear construction.
Meanwhile, dress shoes are actually shoes with low-cut height and vary in shape, material, and color.
Cowboy boots belong to a cowboy culture of their own. On the other hand, dress shoes are rather casual footwear to wear in all your daily activities.
Wrapping It Up
If you want to express your strong personality and freedom through the footwear you wear, cowboy boots are an interesting suggestion for you.
Dress shoes are usually for girls or guys who want to radiate elegance, sophistication, femininity and politeness rather than help you shape your personality.
Personally, I always have both types of footwear in my shoe cabinet. How about you?
Howdy y'all! I'm Grace, a Western style enthusiast with over 5 years of experience. From cowboy boots to western gear, I'm passionate about all things Western and dedicated to helping you find the perfect style to suit your taste. Join me and my fiancé Jay Gatz as we explore the rich history and timeless appeal of Western fashion together!