In the movie Once Upon a Time in… Hollywood, Leonardo Dicaprio perfectly played a cowboy hunting bounty with a confident and arrogant appearance.
No no, I'm not talking about Leonardo, I'm talking about the cowboy boots that he wore in this film! A pair of cowboy boots with the perfect pointed toe.
But have you ever wondered why cowboy boots have pointed toes? What is the difference between snip toe and pointed toe?
Read this article for more interesting facts about traditional cowboy boots!
Why do cowboy boots have pointed toes?
To answer this question, we need to go back to the past in the late 18th and early 19th centuries.
At this time the farmers and cowboys in the wild West America needed strong and safe shoes to protect them while working on large farms.
These boots are not only born to protect their feet when walking but also to support them when riding. For riding, pointed toe cowboy boots are born.
If cowboy boots have a high heel about 2″ to support it hooked into the stirrup, the pointed toe of cowboy boots was born to help the boots easily slip into the stirrup.
Cowboy boots with pointed toe will be narrower than cowboy boots with square toe or round toe so it is easier to slip into stirrup. That makes the cowboys more flexible when jumping on horseback.
Read more: Cowboy Boot Toe Types
What is the difference between snip toe and pointed toe?
It can be said that snip toe is a variant of pointed toe. Or some say that the snip toe is a cross between square toe and pointed toe.
You can see the difference between pointed toe and snip toe as the end of the snip toe is blunted (snipped) rather than completely pointed as pointed toe.
The snip toe was created to offset the narrow toe box weakness of the pointed toe. For people with wide feet, it's difficult for them to wear pointed toe boots so the snip toe is a better choice.
To be fair, today's snip toe boots are more dominant than pointed toes, you can easily find snip toe cowboy boots on the market than pointed toes.
What are pointed toe cowboy boots called?
They are traditional cowboy boots, traditional western boots or Riding boots. These are the three frequently used names  when referring to pointed toe cowboy boots.
From the first days, cowboy boots have appeared with pointed toes (so it was called traditional cowboy boots) with the purpose of letting cowboys easily slip their feet into stirrup when riding horses (so it is called riding boots). And it has also been one of the first boots to originate from the western United States (so it was called traditional western boots).
Read more: Cowboy Boots Square Toe vs Pointed Toe
Are pointed toe cowboy boots in style?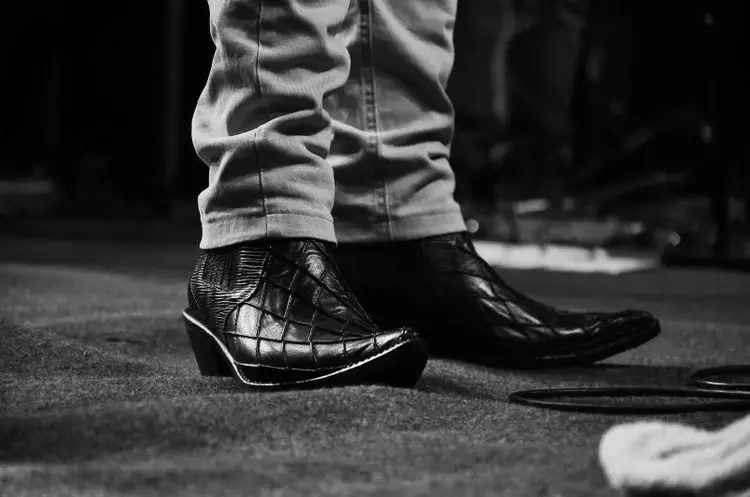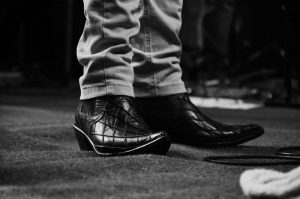 Pointed toe cowboy boots are still and forever in style!
Speaking of cowboy boots, we not only look at their appearance, we also look at the things they symbolize.
Cowboy boots represent a resounding national history and a dream of an independent America. In it is the beauty of clothing, folk art and popular culture.
A pointed toe cowboy boots would be a great accessory to go with the jeans, leather jacket, khaki pants or suit…
Today, you can easily spot cowboy boots on the street, such as famous actor Jason Statham still wearing a suit with pointed toe cowboy boots. Or the actor in the movie "The Terminator" Arnold Schwarzenegger is a super fan of pointed toe cowboy boots, probably in his house a few hundred pairs of boots.
If you are a man, you will regret it if you have never owned a pair of pointed toe cowboy boots in your life. They are immortal items and always in style!
Read more: The 10 Best Looking Square Toe Boots
Some cowboy boots with pointed toes will show you that they are always IN STYLE
1/ FRYE Women's Billy
| | |
| --- | --- |
| What we like | What we don't like |
| Leather sole | Leather around calf slightly wide |
| It takes less time to break in | |
| Distressed look | |
| Very nice to go with skirt, dress, skinny jeans | |
FRYE Women's Billy is a powerful testament against those who say cowboy boots are out of date. What kind of boots can you find in this world more beautiful than these traditional Billy cowboy boots?
2/ Laredo Men's 68068 Monty
| | |
| --- | --- |
| What we like | What we don't like |
| Cushion insole | Not durable |
| Leather foot, rubber sole | |
| Contrasting stitching | |
| Smooth linings | |
To protect the feet, especially the toes of cowboys, cowboy boots get steel toes.
Today there are not many pointed toe cowboy boots with steel toe but if you like, Laredo Men's 68068 Monty is a wild western boots that you should have in your cowboy boot collections.
3/ Durango Women's Classic
| | |
| --- | --- |
| What we like | What we don't like |
| Full-grain leather | A bit large in the calves |
| Leather lining | |
| Cushion Flex insole | |
| Durable welt construction | |
You can also look for distressed and wild cowboy boots at the Durango brand. Besides the strong and charismatic appearance, Durango cowboy boots are particularly comfortable that few other brands have.
4/ Laredo Men's Nashville
| | |
| --- | --- |
| What we like | What we don't like |
| Fit: True to size | Probably need to be broke in a bit |
| Metal accents on the toe and heel | |
| It does not take long to break in | |
| Cushion insole | |
The Laredo brand is famous for its traditional cowboy boots. They have a lot of pointy cowboy boots that are diverse in color and very affordable.
Besides, in addition to wild beauty, the Laredo boots still have elegant beauty, it would be fantastic if Laredo Men's Nashville goes with a suit.
5/ Soto Boots Women Cheyenne
| | |
| --- | --- |
| What we like | What we don't like |
| Comfortable leather lining | No more diverse colors |
| Cushioned insoles | |
| Classic western stitching | |
| Leather soles | |
If you love handmade cowboy boots with a vintage look, then Soto is the brand for you. You will be surprised by its appearance with the affordable price compared to other handmade cowboy boots.
Soto offers feminite look for cowgirls and liberal style for cowboys. With Soto cowboy boots, you will get classic and attractive style.