Cowboy boots always make you look as cool as you wish. They don't feel too rigid and boring like regular work boots. In return, you will be inspired by the style and trendy touches at every step.
With distinctive features of no lacing system and the boot body gradually expanding upwards, these give the great advantage that the process of putting on and taking off the boots can be sometimes simpler and quicker in a few seconds.
It is just frankly helpful whenever you get your night-owl ass out of bed late and has to rush to work, saving you from being fired for being late for work (hopefully).
However, these can be so troublesome too.
They can cause the wearers to have a lot of upset about how to make them fit their feet and legs better.
Many people have experienced entanglement and discomfort when cowboy boots are wider than what they expect, especially those who first try these gorgeous babies.
No worries, you are not alone!
You don't have to compromise an expensive pair of cowboy boots with the uncomfortable feeling of looseness around the ankles, let's just find out ways better to wear inappropriate footwear.
How Do I Tighten My Cowboy Boots Around My Ankles?
To tighten cowboy boots better, you must know what problem you are having with your footwear. Some people will find it wide in the ankle, and some will feel it in the calves.
But for the most part, if you're wide in your calves, you'll also experience a greatly loose feel in your ankles which causes unnatural walking postures.
Keep in mind that you can't use any boot tightening method properly if your boot size is 2-3 sizes different. This is completely impossible! We can't help you either (sorry!).
So, make sure you get yourself the right size cowboy boots, first of all.
If your cowboy boots are now only about an inch wide at the ankles. We have some useful options below for you.
These are not very DIY methods that can't ensure the maximum level of comfort and usability.
We will come up with easy-to-do and applicable ways to help you tighten these uncomfortable ankle gaps better without sacrificing convenience and your feelings.
Read more: How to Make Cowboy Boots Fit Tighter?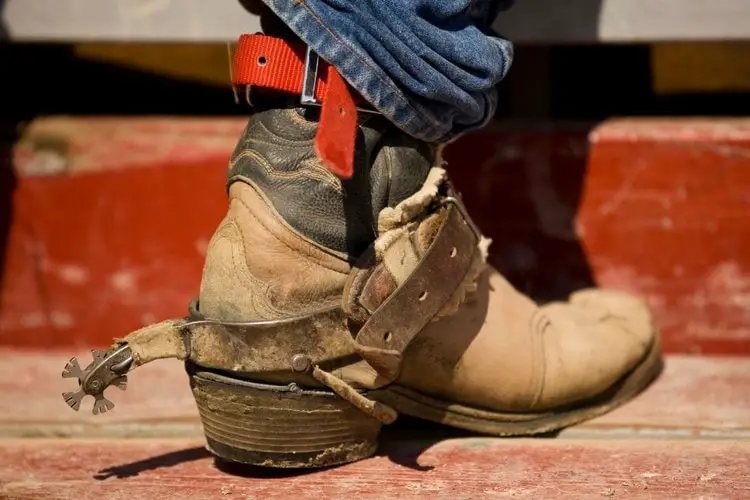 Use leather straps
Using leather straps is one of the most effective ways to tighten the ankle gaps when your cowboy boots are too wide in this position.
It gives you both style and function at the same time.
You will look cool, bold and freestyle with these amazing leathery straps that are tied around the ankle of the outside boots.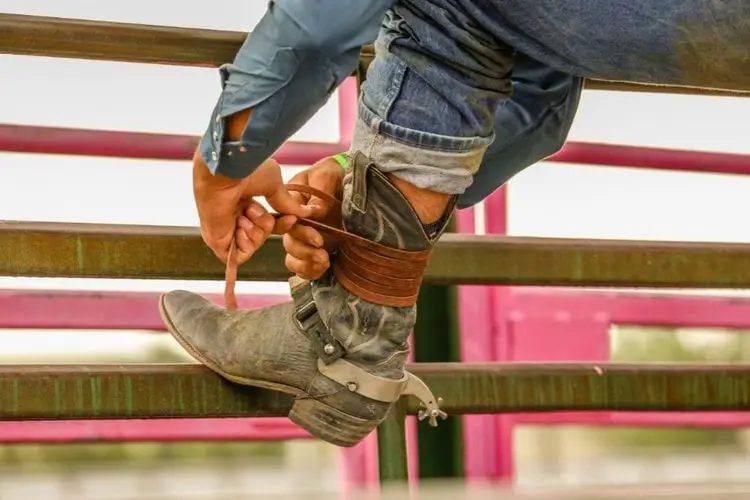 So how to wrap the strap well? Well, make it freestyle.
Yes, this is what I mean. Since the leather strap is a separate rope and is not part of the structure of the boots.
It doesn't even have any special features other than a regular leather strap.
So you can tie a loop, 2 loops, 3 loops or more around the ankle and then tie a bow or knot as you like.
You will have many choices of strap lengths, colors and sizes depending on your preference and the size of the footwear.
Even if the cord is too long or too short, you can easily cut or reconnect it in your own style.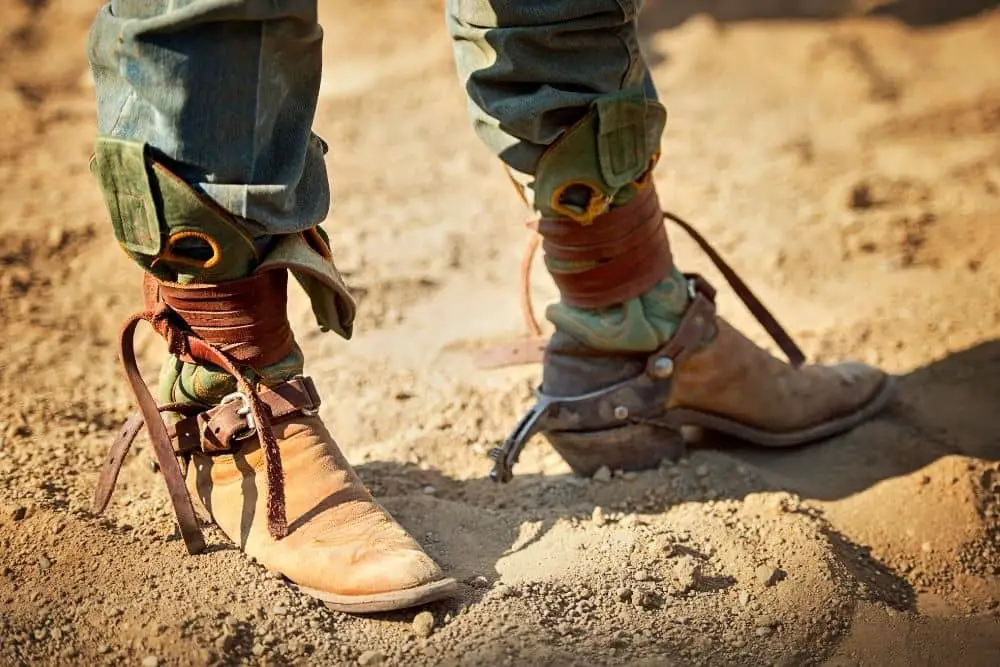 All in all, you have a lot of ways to show off your personality when wearing a leather strap to tighten your boots.
In addition, you can easily adjust the tight or wide in the ankle position or calves position depending on your preference.
However, a small trouble is that when you want to adjust it again, it will take you time to remove the strap and re-tie it from the beginning (quite time-consuming, isn't it!).
The obvious fact is that leather straps will significantly change the original shape and beauty of cowboy boots.
If you are a fan of this beauty, you probably won't be a fan of leather straps.
But we do not recommend using leather straps on cowboy boots that are made of hard leather.
Fastening boots with leather straps for a long time will destroy the shape and texture of the original leather irreparably.
Wear open-legged jeans
Open-legged jeans are such seductive fashion items. Jean pants and cowboy boots are admirable Texas couples as always.
But how to wear open-legged jeans to cure wide cowboy boots at the ankles? Let me show you this easy trick.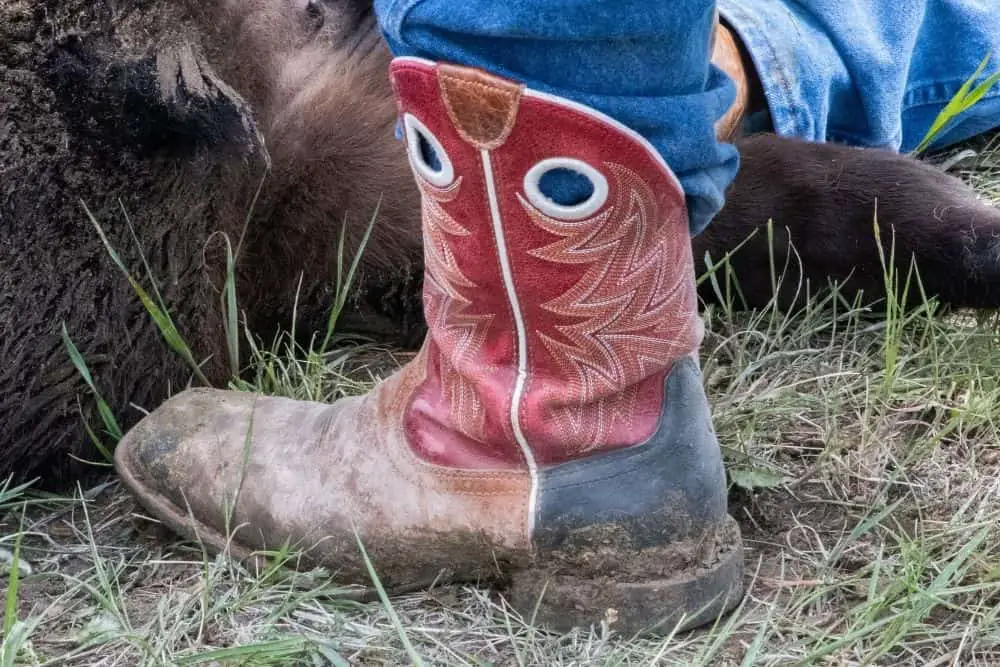 First of all, pick an appropriate wide-legged jean that fits your shape and feel.
The point is you will be tucking the jean leg inside the boots. That way, it will helpfully tighten not only the ankles but also the calves without any added devices.
Yet, keep in mind that you should fold the pant legs in a certain order (either vertically or horizontally in each pleat), especially pressing on the ankle part.
That way it won't make leg pants unnaturally bulge or pop out easily.
This is a very simple and fashionable tip. You may think it is kind of weird to what's the point of tucking open-legged jean pants.
But fashion is always weird and this style has been on a hot trend recently.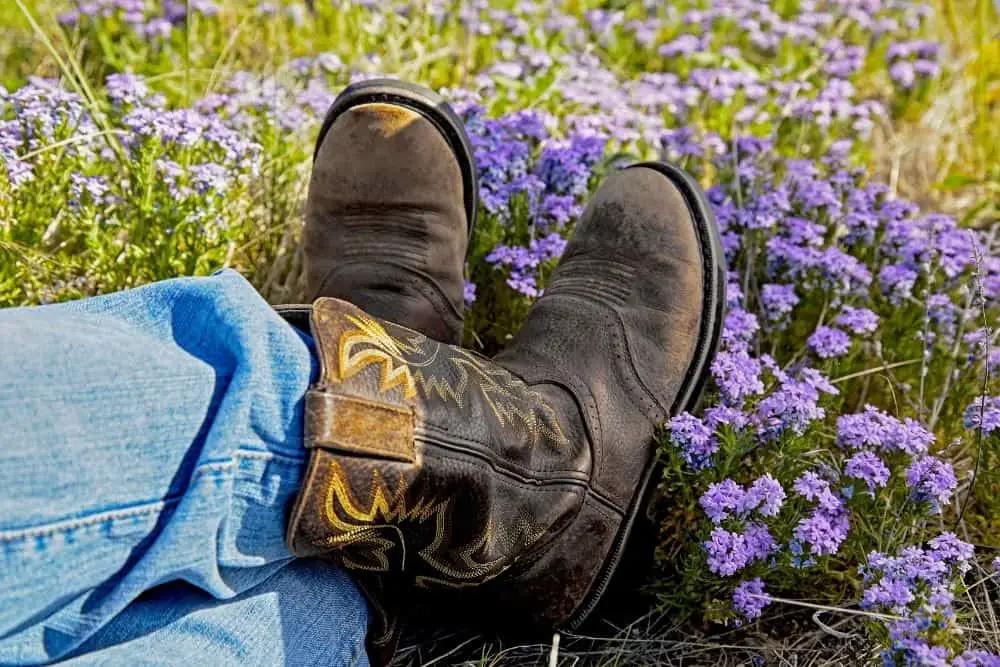 Now you are up to date but make sure to pick an appropriate wide-legged pant so it can fit your boots better.
Many said this method suits women better than men. So, yeah, it is up to you to decide whether to tuck the pants or not.
Sometimes, fashion is unisex but if you are a man and you find this method inapplicable to you. No worries, we have other methods here for you.
Using Boot Bumper/ Ankle Braces
These devices are very applicable as they can enhance both ankle gaps, abrasion and foot support at the same time.
The boot bumper comes with 2 gel pads. One is placed at the ankle part which can help fill the ankle gaps properly.
Another gel pad is located at the dorsal part of the foot which can greatly reduce the chances of abrasion against the skin when your boots get tighter after being adjusted.
This is a very medical method to tighten your cowboy boots around the ankle. You can either wear it alone or wear it underneath boot socks.
It is not way too bulky, so it won't surely weigh your step down. The bumper can be easily washed and dried out quickly for long times of use.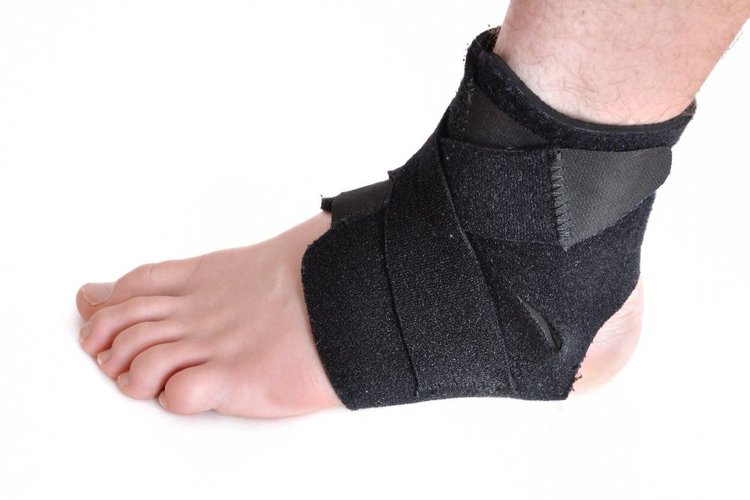 Ankle braces are a more athletic method as they are often used by sports players.
There are many types of thick and thin ankle braces but we suggest getting soft and proper thick braces that fit your ankle gaps the best.
These two devices are proven to help correct your walking gaits to be more natural and righteous.
That way, it greatly reduces foot pains and foot fatigue when wearing cowboy boots for a long period of time.
Leg-folded thick socks can be ideal
If you feel your boots lose a little bit all the way, especially ankle parts that you don't even know where to start to adjust, let me tell you a way to wear thick socks to reduce these ankle gaps.
This is very useful when it helps to tighten cowboy boots better as well as keeps your feet warm and comfy in super cold snowy winter weather.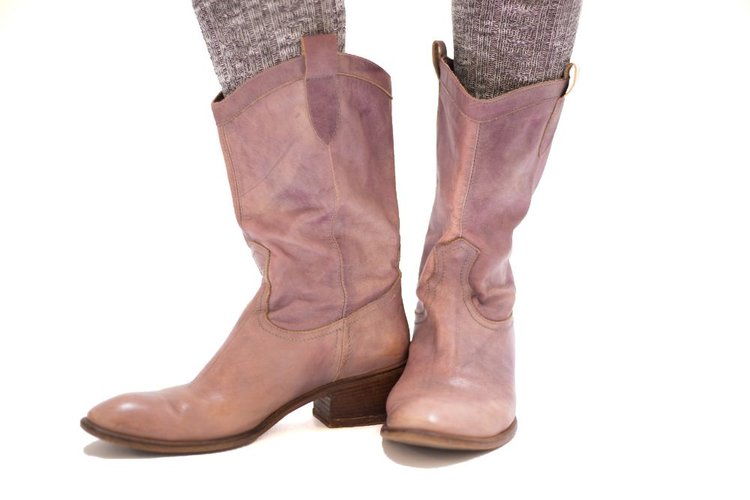 Firstly, you need to prepare a pair of genuinely thick socks.
Their thickness and height depend largely on the looseness between the footwear and the foot.
Some lines of socks that are furry and have an extremely thick material will be able to reduce the boot size by half quite effectively.
Secondly, fold the leg of the socks once, twice, three times or more to the ankle position where you want it to fit better.
Remember the thicker the folds, the better fill around the ankle gaps.
In case you are wearing cowboy boots with open-legged pants or skirts, we recommend doubling the socks: the outside sock is for folding and the inside one is to provide protection skin from rubbing against the boot causing irritation and scratches.
Keep in mind that thick socks can reduce the chances that sweat and moisture can dry out quickly.
Therefore, make sure you pick well-ventilated and moisture-absorbent materials that can make your feet breathe well.
Thick socks with a proper cushioning lining will provide better comfort and support for your feet, especially when you are wearing boots on rough, rocky, and uneven surfaces.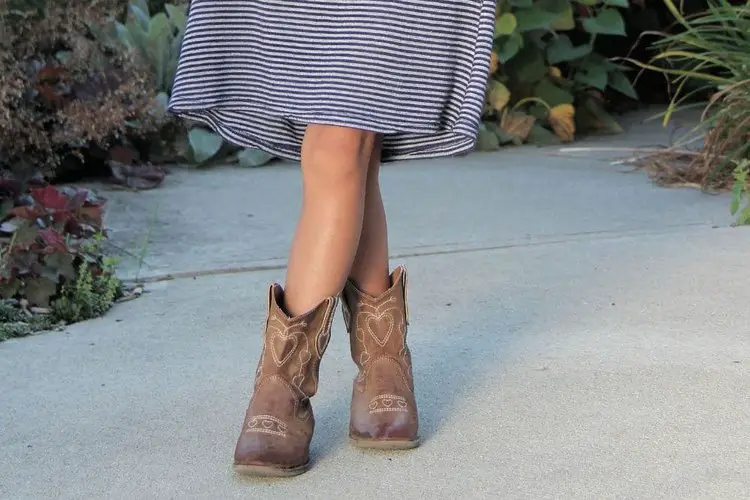 However, it's not a good way to wear leg-folded thick socks during the summer.
The heat and suffocating sensation of wearing cowboy boots in the summer with thick socks can double your upset and discomfort.
Try another way!
Boot Cuffs & A Piece of Soft Cloth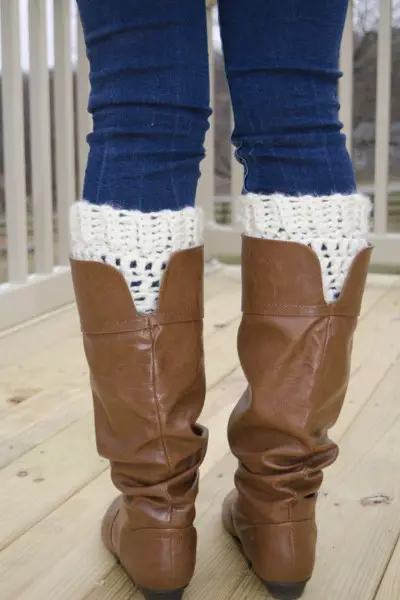 Boot cuffs are some kinds of knitted texture pads that are sewn in a round tubular shape.
They are worn outside your pants around the collar of cowboy boots to create a thicker layer of padding, helping to tighten calves and ankle gaps.
They are easy to use and seem to provide a proper grip on pants.
That is great because you won't have to waste time pulling them up every time they slide down with the motion of your feet when moving.
Now you can place one or double layers of cuffs under the boots around the ankles to make your boots fit better.
If they are still not tight enough, just simply fold the cuffs a couple of times to fill larger gaps.
You can also knit cuffs yourself in your own patterns and colors. This styling is invisible inside and safe for your walking postures.
However, you shouldn't wear very tight cuffs as they will reduce blood circulation causing foot numbness.
Besides, if you don't have a specially knitted boot cuff, you can pick a soft cloth and then tighten it around your ankle. This way can be helpful too to fill the ankle gaps.
Wrapping it up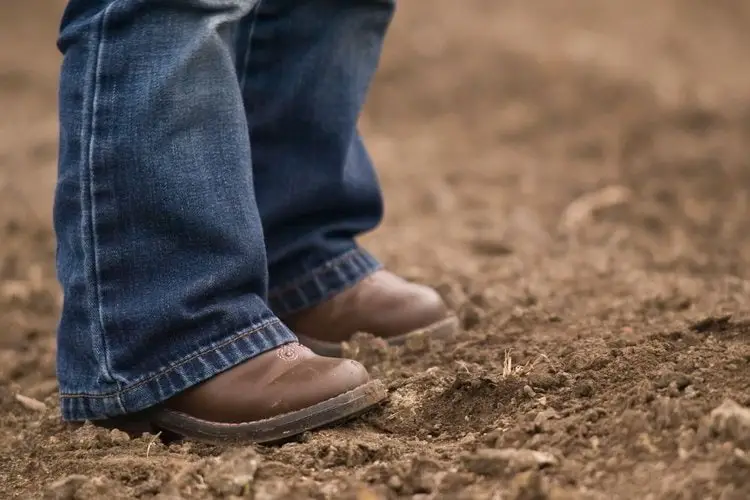 Wearing wide cowboy boots and specifically, boots that are wide at the ankles, are uncomfortable and can hurt your feet and even worse lower back.
Sometimes, our gorgeous boots can still be a little loose in some places even if you choose the size that you usually wear. That's why you need to read our article.
To sum up, we've gathered 5 methods to tighten around the ankle gaps when wearing cowboy boots, including:
Leather straps
Wearing open-legged pants
Boot bumper/ ankle braces
Leg-folded thick socks
Boot cuffs
Any way you choose, keep in mind that you must know your foot problem with cowboy boots first before looking for the right solution.
Howdy y'all, and welcome to From The Guest Room, your ultimate guide to all things Western! I'm Jay Gatz, a lifelong cowboy boot enthusiast with over 5 years of experience in the Western style world. I'm excited to share my knowledge with you and help you discover the perfect cowboy boots and western gear to elevate your style. Let's explore the rich history and timeless appeal of Western fashion together!