Anybody when first looking at the cowboy boots will be interested in many stitches throughout the shaft and vamp.
That is the unique feature of cowboy boots that not all boots have.
I'm sure that one in their life at least once wondered: "What is the stitching on cowboy boots called?"
Yes, that is also my curiosity the first time I saw them!
What does that stitching mean?  I'll tell you right below!
What is the stitching on cowboy boots called?
It's a signature of a brand, a model or boot line of cowboy boots!
This is a correct answer to explain the stitching on cowboy boots.
In fact, many traditional cowboy boots in the past have a similar structure. Therefore, the best way to recognize them is through the manufacturer's signature.
But signing the boots with a regular pen is too simple and easy to fade over time. Why not use stitches to make those signatures?
Since then, the stitching on cowboy boots not only has the function of holding the pieces of leather together (or attaching the sole with the upper) but also making a difference between brands, models, etc. – The stitching on cowboy boots then becomes Signature Stitches.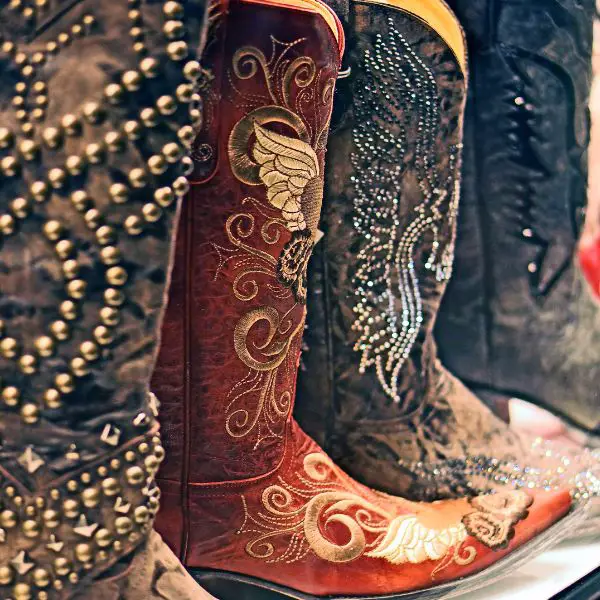 Why do cowboy boots have stitching?
When you come to any e-commerce site and type "cowboy boots". Take a look at them, you'll see various stitch patterns on cowboy boots of different brands and models.
Some cowboy boots come with contrast color stitches, others have decorative stitches with a cross, phoenix, wing, flower, heart, etc. Or there are motifs that only the manufacturer knows their meaning.
Once you are a longtime fan of cowboy boots and familiar with many cowboy boot brands, every time you look at the decorative stitching on the boots, you can immediately recognize what brand they belong to without having to look at the brand's names on the lining.
Overall, stitching on cowboy boots is not only used to connect different parts of boots together but also used as an identifier of a model, a brand, a bootmaker, etc.
Signature Stitches are the most important unique part that distinguishes cowboy boots from brand to brand.
Bootmakers often imprint their names on the lining inside the boots or on the surface of the soles. Over time, these names will gradually fade.
But if their signatures are the stitching on the shaft, they will live forever.
Some cons of stitching on cowboy boots
Besides many benefits of stitching on cowboy boots, there are some drawbacks:
The biggest drawback of stitching on cowboy boots is you have to spend more time cleaning them.
The stitches on cowboy boots rarely have a full color like all dark or all white, they come in multiple colors.
If you don't know how to take care of them, their colors will fade more quickly.
Therefore, when stitching cowboy boots get stuck in the mud, that's a disaster! To solve it, here's how you handle dirty stitching on cowboy boots.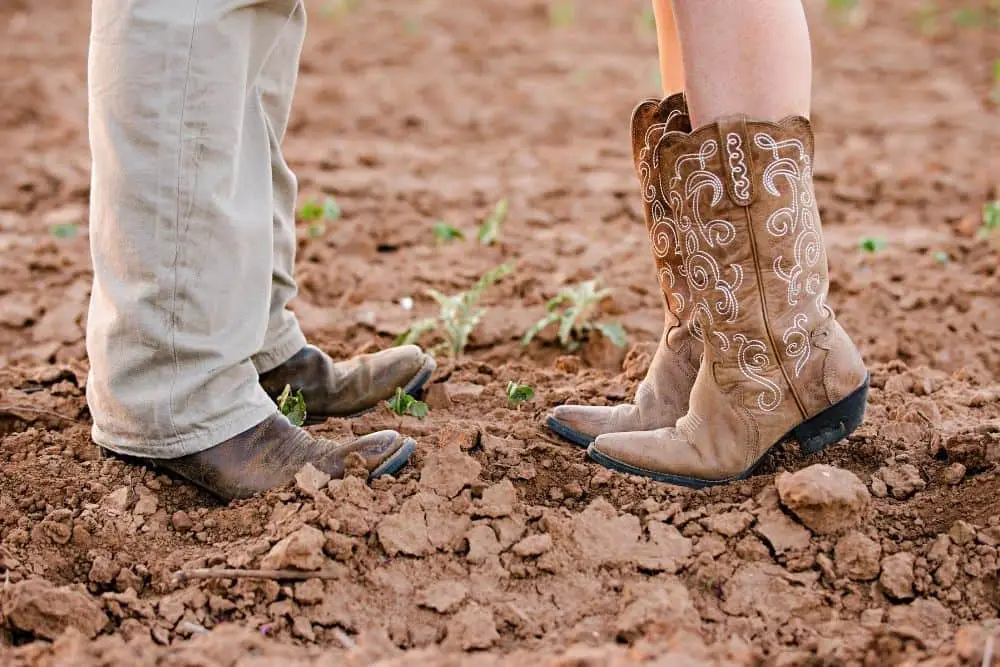 Conclusion
To summarize, there are two most important things to note.
First, the stitching on cowboy boots is often called Signature Stitches, because they are the signature of the bootmakers, which makes their model and boot line distinctive from other brands.
Therefore, stitching on cowboy boots has two effects:
Connect each part of cowboy boots: attach leather layers, upper and sole, pull strap and collar, etc.
Make a highlight: stitching is a signature of bootmakers on a pair of cowboy boots. It's also the most creative part to beautify and distinguish each cowboy boot model/brand.
And that's all you need to know!
Howdy y'all, and welcome to From The Guest Room, your ultimate guide to all things Western! I'm Jay Gatz, a lifelong cowboy boot enthusiast with over 5 years of experience in the Western style world. I'm excited to share my knowledge with you and help you discover the perfect cowboy boots and western gear to elevate your style. Let's explore the rich history and timeless appeal of Western fashion together!