In addition to wearing cowboy boots in spring, summer, autumn and winter, you can wear cowboy boots in another season – riding season.
What do you think of wearing cowboy boots to ride motorcycles? Are cowboy boots good enough to ride motorcycles like riding horses?
The cowboy boots feature a high heel design for fastening to the stirrup and a pointed toe to easily slip into the stirrup, thus providing the flexibility for the cowboys to be balanced and stable on the horse.
So does that happen when riding motorcycles? The answer is right below.
Let's get started!
Are cowboy boots good enough for riding a motorcycle?
Yes, they are. You can absolutely wear cowboy boots to ride a motorcycle.
Cowboy boots have high heels to rest on the pegs. They also provide good ankle protection, so they will work well for riding a motorcycle.
However, it is not that simple. Actually, it is a bit difficult to ride a motorcycle while wearing traditional cowboy boots.
Traditional cowboy boots often have leather soles. So their bottom is often slick, causing slipping off when riding. You don't want to slip and lay down a 700lb motorcycle.
To solve that problem, you should use cowboy boots with patterned or ribbed soles. Currently, there are many cowboy boots with rubber or synthetic soles that meet your requirements.
I also recommend using cowboy boots with a roomy toe box like round toe or square toe for riding a motorcycle. With such toe boxes, your toes will not be numb, instead, are more comfortable and feel the rear brake better every time you press.
In general, you can rely on cowboy boots for riding motors since they are very solid and safe. Their high shafts made from full-grain leather will surely protect your feet and legs from the heat of the engine.
A good pair of cowboy boots can last up to 10 years, which proves they are safe and reliable enough to ride motorcycles.
Another highlight is that all "true" cowboy boots have no lace. You won't have to worry about it getting caught in your motorcycle's engine.
You don't have any problems shifting gears either, because many modern cowboy boots today come with an innovative construction: non-slip outsoles.
Some types of cowboy boots you can use for riding motors include stockman, roper, western work boots, or traditional riding boots.
Today, there is a kind of boots that are a hybrid between harness and cowboy boots. These boots are very convenient for you to ride a motorbike.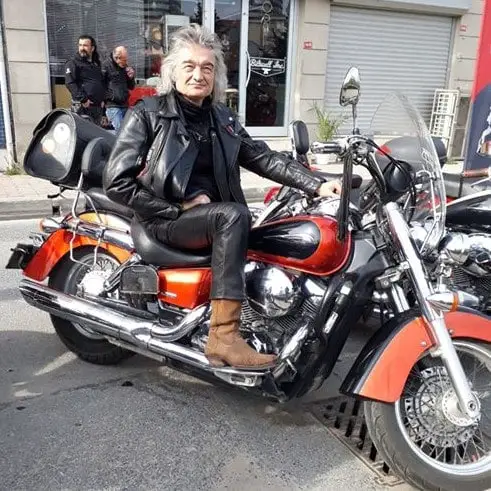 "Back in the 80s I wore my cowboy boots on my bike. The shifter will mar/mark the toe on your left boot from the black rubber on the shifter. So best to use a darker color boot. I started wearing some black boots because of that. I did not worry about the soles much back then. I was in San Diego and it rarely rained at the time. But the leather soles can be a bit slick" – Victor Harrelson
"Yep. I ride my Harley dang near every day of the week and wear cowboy boots 100% of the time" – Victor Harrelson
Do you need boots to ride a motorcycle?
Yes, you definitely need them.
You are riding in a motorbike, not in a secure car. So for motorbike riders, comfort and safety is more of a matter.
There are two main reasons you need a pair of boots when riding a motorbike:
 Comfort: Boots are a type of closed shoes so they are neat for riding a motor. This helps you avoid distraction and fatigue when riding.
 Safety: A good boot can protect your foot from the bike's exhaust pipes, cold weather and harsh conditions… Besides, if there is an accident, your feet can also be protected better, especially in the ankle area.
Back to today's topic, cowboy boots meet the above 2 things. For comfort, cowboy boots provide smoothness with leather lining and cushioned insole. Also, with no shoelaces, there is no worry about entangled laces stuck on your vehicles.
Cowboy boots were born to serve cowboys in the late 18th and early 19th centuries. They were born to protect cowboys from inclement weather, dangerous animals. Hence, regarding safety, they can protect you when riding a motorcycle.
My style! Motorcycle, Cowboy Boots and Denim
The 5 best cowboy boots for riding motorcycles
We will show you 5 best cowboy boots based on the criteria mentioned above: High heels, good ankle protection, patterned or ribbed soles.
1. ARIAT Men's Heritage Roughstock Western Boot
| | |
| --- | --- |
| What we like | What we don't like |
| 100% Leather | Quite heavy |
| Synthetic sole, square toe and stacked heel | |
| ATS technology filter | |
| Full-grain leather, six-row stitch pattern | |
A synthetic sole design, the square toe and stacked heel are the perfect design to keep your feet balanced and stable on pegs.
Besides, the ATS technology filter gives you the ultimate comfort to concentrate and avoids suffering from fatigue too much while riding a motorbike.
With such features, Ariat Heritage Roughstock boots are made to be a great motorcycle riding boot.
2. Wolverine Men's Rancher
| | |
| --- | --- |
| What we like | What we don't like |
| Synthetic sole, 100% Leather, Slip-resistant rubber lug outsole | The opening is a bit narrow for people with big calves |
| Durability, strength and strong steel toe | |
| Comfort and safety | |
| Good price | |
A pair of western work boots is not a bad option when riding a motorcycle.
With non-slip outsole and a safe steel toe, you don't have to worry too much about your feet if you get an unexpected accident.
Besides, western work boots are incredibly comfortable. With good ankle protection, lining and cushion insoles, these boots are completely flexible and comfortable on long roads.
3. Ariat Men's Sport
| | |
| --- | --- |
| What we like | What we don't like |
| Synthetic sole, 100% Leather, Duratread outsole | Fairly stiff (You should wear socks to break in) |
| Beautiful and comfortable | |
| Well-constructed, Fit: True to size | |
| Perfect for big calves | |
The Ariat Men's Sport has a duratread outsole that provides wear resistance, along with excellent flexibility. This is a perfect feature for riding motorcycles.
These boots are used and trusted by many sports athletes, so you can trust these boots as well.
4. Ariat Women's Legend
| | |
| --- | --- |
| What we like | What we don't like |
| 100% Leather, Rubber sole, ATS Technology | Don't fit wide feet very well |
| Full-grain leather foot and upper, Four-row stitch pattern, Duratread outsole | |
| Turquoise colored lining | |
| Slip resistance and flexibility | |
Ariat Women's Legend is quite suitable for riding a motorcycle. Also, when it comes to the appearance, it looks like a work of Picasso.
With feminine Chocolate blood color and four-row stitch pattern, this Ariat boot makes you stand out in your motor riding association.
5. ARIAT Women's Heritage Roper
| | |
| --- | --- |
| What we like | What we don't like |
| 100% Leather, Rubber sole, Leather lining | Not suitable for wide feet |
| Full-grain leather foot and upper, Four-row Western collar stitch pattern | |
| Comfortable right out of the box | |
| Good for high arches, big calves, narrow feet | |
Cowboy boots with roper style always give the wearer an elegant look, not to mention its extremely good riding motorcycle support.
Duratread outsole, lining and ATS technology of Ariat are extremely wonderful advantages for you to steer your motorbike in the best way.
Conclusion
In short, cowboy boots can be used for riding motorcycles, but you need to pay attention to these things: the soles must have a good grip and be made of rubber or synthetic.
Don't use cowboy boots with leather soles. The traction on leather is quite poor, so it is a bit difficult to ride the motorcycle when wearing boots with leather soles.
One thing for sure is that cowboy boots will give riders rugged and impressive looks that no boots can give them.