Cowboy boots are one of the very versatile boots of the 20th century thanks to the evolution in their construction.
Nowadays, you can see cowboy boots popping up outside ranch in the American West. They can be a sturdy shield for construction sites or elegant footwear for the office.
On the other hand, our riders also wonder if they can use cowboy boots for riding a motorcycle. Well, this is an interesting question!
Honestly, the answer is yes, but the point is, not all cowboy boots are suitable for motorcycles.
In today's post, we will help our riders understand this matter more.
Key takeaways
You can use cowboy boots for motorcycle riding, but not all cowboy boots are suitable.
You should make sure your cowboy boots have non-slip outsoles (usually made of rubber). This helps your feet don't slip out of the pegs, thereby ensuring better stability.
Cowboy boots should also have non-slip heels, you should choose heels with rubber heel caps to accommodate that. Also, the heel should have a flat and wide bottom and not be too high (no more than 1 1/2 inches). The above ensures that you can easily shift while riding a motorcycle.
Stay away from cowboy boots with slippery outsoles and heels made from leather, this is the traditional outsole and heel of cowboy boots.
You should only use cowboy boots for motorcycle riding at a relative speed and within the allowable range on easy terrain. Because cowboy boots can hardly be compared with motorcycle riding boots in this regard.
Are cowboy boots good enough for riding a motorcycle?
In the UK or Europe, professional racing motorcycle boots are usually required to meet CE certification standards. This standard is quite similar to the ASTM standard for American work boots. This ensures high safety for the wearer.
Professional racing motorcycle boots are often resistant to tearing, punctures and other external forces. This ensures professional riders have good protection.
Some cowboy boots these days are usually more reinforced (such as steel or composite toe) and are certified to the ASTM standard for American work boots. Therefore, they can appear on dangerous construction sites.
However, no cowboy boots have ever achieved CE certification standards suitable for motorcycle clothing (or anything like it). Therefore, you cannot bring a pair of cowboy boots to participate in professional races.
But in terms of structure, we believe that you can completely use cowboy boots for riding on the street at an allowed and moderate speed.
Cowboy boots certainly can't compare to specialized motorcycle riding boots. But if you're not into professional racing or if the states don't really have any special rules for motorcycle footwear, you can use them to ride a motorcycle!
Riding boots have a very specialized construction that can provide good protection for the ankles, feet and legs. In addition, they provide high comfort and better support for controlling the motorcycle (you can easily shift gears or brake pegs). This is necessary when you are riding a motorcycle at high speed and on uneven terrain.
But if you only use your motorcycle to ride around the city or town at a moderate pace, you may not need that much. And a pair of cowboy boots that I recommend as below should be enough for you to use for this purpose.
In fact, wearing cowboy boots for riding a motor is possible and they can offer relatively good comfort and protection for you on the road.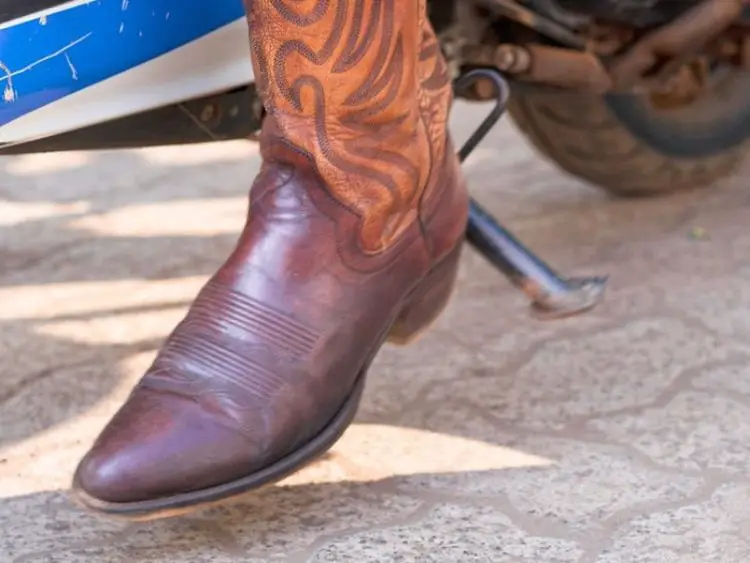 The fact has shown that many people use cowboy boots for riding motorcycles. Cowboy boots have heels to rest on the pegs. They also provide good ankle protection, so they will work well for riding a motorcycle.
The construction of cowboy boots can also be considered sturdy as they are made from 100% leather (in fact, the origin of cowboy boots is work boots so they certainly have good durability and protection).
In the past, cowboy boots were also born with a high structure to protect farmers from other pests such as small snakes and scorpions. Amazingly, this tall structure can also protect riders from the elements such as rocks, thorns, or debris.
Cowboy boots with high shafts made from full-grain leather will surely protect your feet and legs from the engine heat.
Besides, they also have good resistance to severe weather. The weather conditions can not hurt you much and you can be guaranteed to be warm in winter and cool in summer. These are the essentials that riders often look for during long trips in unusual weather conditions.
Another highlight is that all "true" cowboy boots have no lace. You won't have to worry about it getting caught in your motorcycle's engine.
However, it is not that simple. Actually, it is difficult to ride a motorcycle while wearing traditional cowboy boots. This difficulty mainly comes from their original construction, which is the leather sole and leather heel.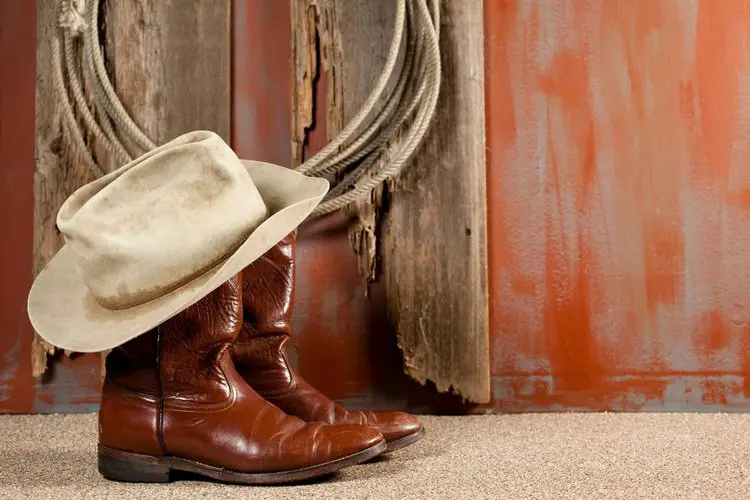 What kind of cowboy boots provide enough safety and comfort for riding a motorcycle?
Traditional cowboy boots often have leather soles. So their bottom is often slick, causing slipping off when riding. You don't want to slip and lay down a 700lb motorcycle.
To solve that problem, you should use modern cowboy boots with patterned or ribbed soles. Currently, there are many cowboy boots with rubber or synthetic soles that meet your requirements.
You also need to pay attention to the heel of cowboy boots. Since many cowboy boots also have leather heels with very slippery bottoms that can still prevent your feet from staying in place on the pegs. Plus, there are slanted heels with a height of more than 2 inches. These things make it difficult for you to shift while riding a motorcycle.
And here's your solution, if the heels of your cowboy boots are not too high (about 1 1/2 inches or less) and have flat bottoms with non-slip rubber heel caps, then you can rest your heels on the pegs and shift easily.
Nowadays, there are many cowboy boots with rubber heel caps to prevent slipping, you can easily find them. As for heel shape, the roper heel and stockman heel will meet the above requirements. These heel types are flat, wide and easy to balance to support shifting.
I also recommend using cowboy boots with a roomy toe box like round toe or square toe for riding a motorcycle. With such toe boxes, your toes will not be numb, instead, are more comfortable and feel the rear brake better every time you press.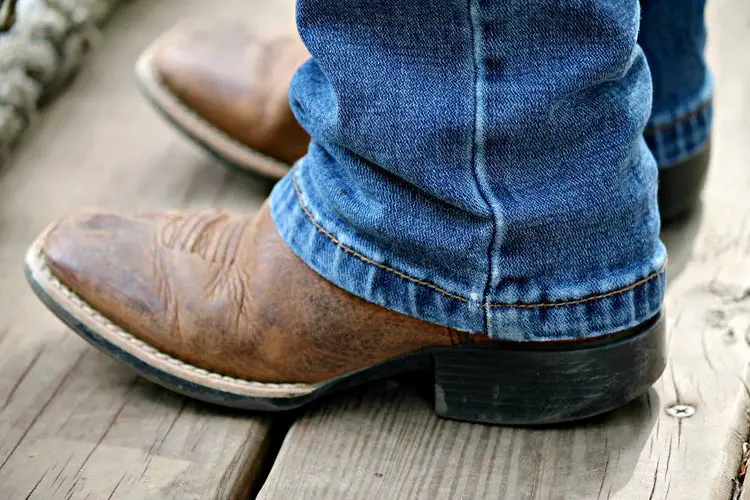 Some types of cowboy boots you can use for riding motors include stockman, roper, or western work boots.
In general, you can rely on cowboy boots for riding motors since they are very solid and safe. A good pair of cowboy boots can last up to 10 years, which proves they are safe and reliable enough to ride motorcycles.
Some comments about wearing cowboy boots for riding a motorcycle
"Back in the 80s I wore my cowboy boots on my bike. The shifter will mar/mark the toe on your left boot from the black rubber on the shifter. So best to use a darker color boot. I started wearing some black boots because of that. I did not worry about the soles much back then. I was in San Diego and it rarely rained at the time. But the leather soles can be a bit slick" – Victor Harrelson

"Yep. I ride my Harley dang near every day of the week and wear cowboy boots 100% of the time" – Victor Harrelson
My style! Motorcycle, Cowboy Boots and Denim
Update 2022

: Tom Cruise wears cowboy boots for riding motorcycles in his film
Well, I just got back from the cinema, and you know what movie I just watched? That is Top Gun 2: Maverick.
This movie is such a masterpiece that made us wait for 36 ​​years to enjoy part 2.
What excites me about this movie is that at the beginning of the movie, Maverick (Tom Cruise) uses a pair of cowboy boots to ride his motorbike on the airport runway.
Wow, can you believe that? This is really the clearest answer to the question of whether cowboy boots can be used to drive a motor. Sure!
Some of my friends say it's a pair of Tecovas boots. I'm not sure, have you seen Top Gun 2: Maverick? Let me know what brand those cowboy boots are!
The 3 Best Cowboy Boots for Riding Motorcycles
You've got the answer that cowboy boots can be used for riding, but you still haven't found the boots that really fit.
Don't worry, the following suggestions are for you.
1. ARIAT Men's Sport Patriot Western Boot
Last update on 2023-09-23 / Affiliate links / Images from Amazon Product Advertising API
The ARIAT Men's Sport Patriot is one of Ariat's very successful cowboy boots because they are incredibly versatile.
But the interesting thing here is that they have rubber soles with many textures and anti-slip functions. In addition, this rubber sole also does not wear (or very little) over time.
This is the most important thing about these boots, they make sure your feet stay on the pedal and don't slide out. In addition, their heels are not too high (1 1/2 inches) and have flat bottoms so they easily rest on pegs.
In addition, the tall construction and thick leather of the ARIAT Men's Sport Patriot also ensure your feet are well protected from the heat of the engine.
The square toe of these boots is also a highlight, it has plenty of room to ensure that the ball of the foot and toes are breathable and flexible to press the foot pedal during the journey.
Other advantages such as 4LR technology, or breathable mesh lining also ensure your feet are cradled and comfortable throughout the journey.
It also shows that these boots have also been used by many people for riding motorcycles, now it's your turn!
2. Ariat Hybrid Rancher Western Boot for Men
Ariat Mens Hybrid Rancher Western Boot Distressed Brown 10
WORKING AS HARD AS YOU ARE: These Ariat boots for men are designed to be hard-working and stirrup...
A BOOT FOR EVERY OCCASION: With their six-row stitch pattern and goodyear three quarter welt...
ALL DAY WEARABILITY: These western work boots for men provide excellent comfort, from dawn to dusk;...
Last update on 2023-09-23 / Affiliate links / Images from Amazon Product Advertising API
Another pair of cowboy boots you should consider if you want to wear for riding a motorcycle is Ariat Hybrid Rancher Boots. This is also one of Ariat's extremely successful boots because of their sturdiness, strength, versatility and coolness.
First, let's take a look at the outsoles again, they are made of rubber and are non-slip because of many grooves. This ensures your feet won't slip off the pedals.
In addition, the heel is just right, the bottom is flat, and there are also plenty of grooves that ensure the boots don't slip out of the pegs. That's easy to see!
And like many other riding pairs, these cowboy boots have heels and are made from a very durable material that is leather. Your feet won't burn in the summer sun or the heat of the engine.
The wide square toe of the Ariat Hybrid Rancher also ensures that the toes or the ball of feet are not numbed by the lack of room, but on the contrary, they are comfortable and flexible when pressing the pedals.
In fact, these boots have been used for motor riding and the results are good!
The cool look of these cowboy boots with stitching on the shaft also brings a unique look and feel while riding.
3. Durango Men's Rebel DB4442 Western Boot
Sale
Last update on 2023-09-22 / Affiliate links / Images from Amazon Product Advertising API
The last product you can consider is a pair of Durango cowboy boots. You will love their wild beauty and powerful structure. This is definitely a great choice in terms of looks to go with a Haley.
Not stopping at the appearance, Durango Rebel Patriotic Boots also offer great function and are very suitable for riding. The sole and heel of the boot are made of rubber with many grooves, so their anti-slip ability is guaranteed. Your feet will stay firmly on the pegs.
In addition, the roomy toe box construction along with the cushion flex insole will ensure your comfort in the toe, sole, and ball of the foot. From there, you can be more flexible when pressing or releasing the pedals.
Durango cowboy boots have always been famous for their high comfort and good durability. Therefore, your feet will not be attacked by the heat of the engine during the journey and always feel relaxed.
Is that enough to convince you?
Before you leave
In short, cowboy boots can be used for riding motorcycles, but you need to pay attention to these things: the soles must have a good grip and be made of rubber or synthetic.
Don't use cowboy boots with leather soles. The traction on leather is quite poor, so it is a bit difficult to ride the motorcycle when wearing boots with leather soles.
One thing for sure is that cowboy boots will give riders rugged and impressive looks that no boots can give them.
Howdy y'all, and welcome to From The Guest Room, your ultimate guide to all things Western! I'm Jay Gatz, a lifelong cowboy boot enthusiast with over 5 years of experience in the Western style world. I'm excited to share my knowledge with you and help you discover the perfect cowboy boots and western gear to elevate your style. Let's explore the rich history and timeless appeal of Western fashion together!