Most cowboy boots are very comfortable and highly appreciated when you use them for casual wear, work, etc.
However, there are also many complaints about cowboy boots making the wearer uncomfortable.
The causes are often various, but they mainly focus on the structure of cowboy boots. Using poorly structured cowboy boots can adversely affect your feet.
Today's article will go deeper into this issue. Let's take a look!
Are cowboy boots bad for your feet?
The answer is most cowboy boots are not bad for your feet.
Actually, judging whether a cowboy boot is bad for your foot depends a lot on the height of the cowboy boot heel and the purpose for which it is used.
Besides, the toe shape and sole of the cowboy boot also play an important role in your foot health.
So the answer is: it depends!
For instance:
Cowboy boots with low or standard heels (1 inch to 1.5 inches) are almost not bad for your feet.
But for cowboy boots with heels of 2 inches or more in height, using them improperly can cause bad effects on your feet.
Most traditional cowboy boots don't have good arch support to support the foot, especially for flat feet and high-arched feet. However, many modern cowboy boots have this feature.
The toe shape of cowboy boots comes in 3 main types: pointed toe, round toe, and square toe.
A pointed toe doesn't give your feet a lot of room, making it hard for them to breathe.
But boots with round toes and square toes are ideal for wearing all day long. Because they have a lot of room for the feet.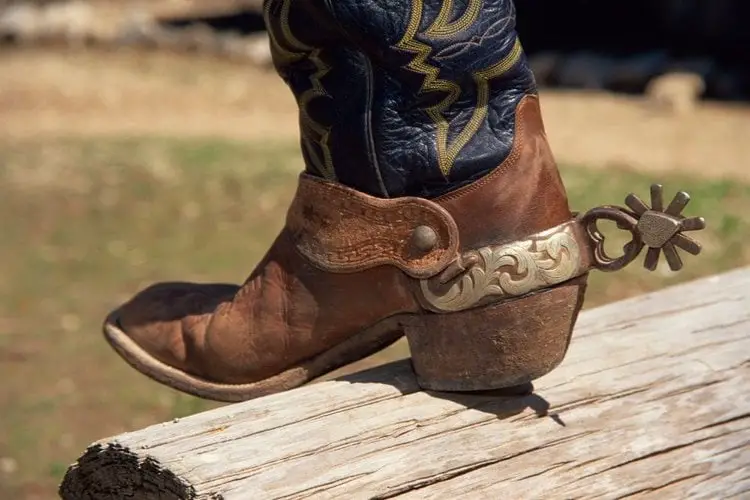 However, apart from the above, one thing is for sure: cowboy boots have a high shaft construction, are sturdy, and are made from 100% genuine leather.
They are perfect for protecting you from inclement weather, dangerous animals (small snakes, scorpions), construction debris, etc.
You can read about our analysis below.
1. Heels of cowboy boots
The human foot is "engineered" to ensure balance and weight control.
The weight of the human being put on the feet is mainly concentrated in the rearfoot and forefoot, and from there, the problem appears!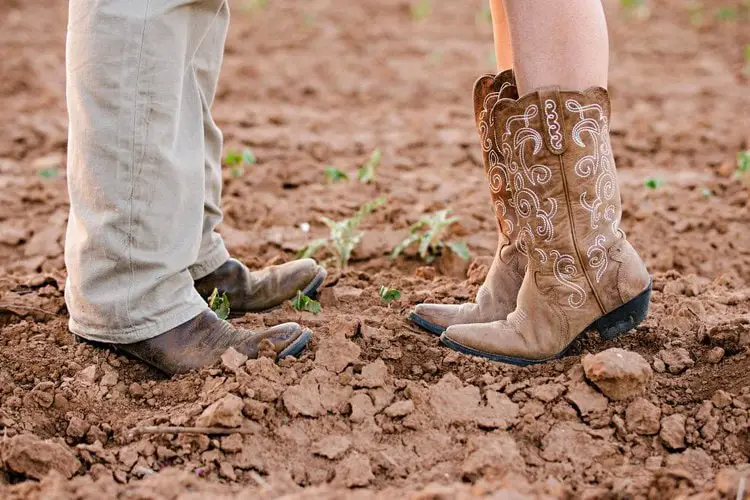 High-heeled boots and shoes will deflect the weight focused on the foot, which causes pain and discomfort.
What about cowboy boots?
Cowboy boots can be divided into 2 types of heels:
Type 1: cowboy boots with low heels and standard heels
Cowboy boots usually have a heel height of 1 inch to 1.5 inches. This is the most common height for the heel of cowboy boots.
These cowboy boots with such height usually belong to the product lines: walking boots, cowboy work boots, roper boots, etc.
These cowboy boots do not hurt the wearer's feet, they are designed to be perfect for those who want to wear cowboy boots to work all day.
Usually, these cowboy boots also go with a round or square toe shape, and they have a lot of room for your feet.
It can be said that this boot is completely harmless to your feet, they also protect your feet completely from the sun, rain, snow and still keep the smooth and safe.
Standard or low-heeled boots are suitable for those who like to work outdoors, go out, or wear them all day long.
Nowadays, it is very easy to find such cowboy boots in the market.
It can be said that this is a new generation of cowboy boots!
Best Work Boots for Farming and Ranching - Ranch Hand Tips
Type 2: cowboy boots with high heels
Cowboy boots with 2-inch heels or more are categorized as high heels. The problem will arise from here!
Some types of cowboy boots like riding cowboy boots and fashion cowboy boots typically have a heel height of 2 inches to over 3.5 inches.
You will also easily come across these two types of cowboy boots because high heels can bring the wearer confidence and a little bit more arrogance.
In addition, the high heel (about 2 inches) of cowboy boots also makes it easier for them to hook into the stirrup of the saddle to support the cowboy's balance. Traditional cowboy boots have this feature.
The weakness of high heels is also what we mentioned above. Cowboy boots with a 2″ or higher heel can put your weight on other foot positions instead of rearfoot and forefoot.
That will make you uncomfortable if you have to use high-heeled cowboy boots all day long.
In short, should you worry or not?
As long as you know how to use cowboy boots properly, in fact, you don't need to worry too much.
For example, cowboy boots with heels that are higher than 2 inches should not be worn casually and all day. You can wear them to the office because you just sit most of the time in the office. Or you can use cowboy boots with high heels to go to weddings, events, etc.
But wearing cowboy boots with high heels for fieldwork, gardening or construction work is definitely not a good choice for feet.
What you need to keep in mind when choosing cowboy boots is the use of each type of boot.
For everyday wear, cowboy boots with heels from 1 inch to 1.5 inches and a roomy toe box will be a better choice.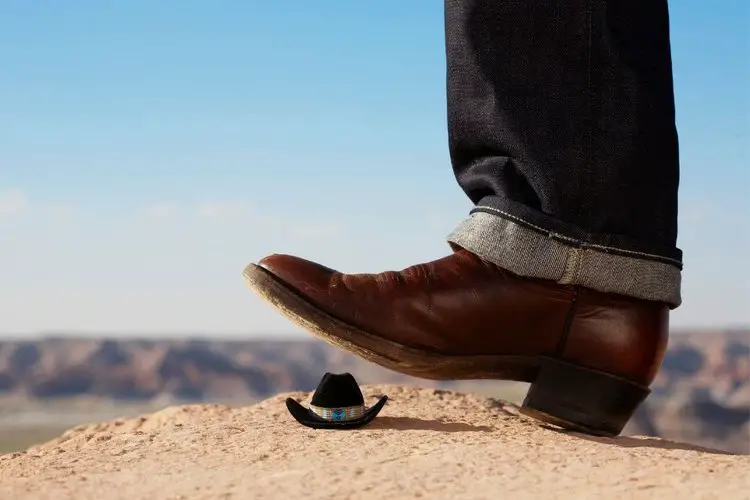 2. Toe shapes of cowboy boots
There are 5 different types of toe shapes that are pointed, snip toe, round toe, square toe and wide square toe.
Many people may wonder if the pointed toe of a cowboy boot is so narrow, will it make the foot uncomfortable?
I confirm yes, cowboy boots with pointed toes are quite narrow and can make it difficult for you to perform many activities that require a lot of movement.
Even though today's bootmakers have tried to overcome that weakness, the pointed toe is really not a good choice for hard work.
Pointed-toe cowboy boots may not be good for your feet, they can restrict blood circulation.
If used for hard work, I suggest you use cowboy boots with round toes and square toes instead of pointed toes, as they will give you more room and make your feet more comfortable.
And once again, we are back to the story of choosing the right type of cowboy boots for the right job.
If you use cowboy boots with pointed toes, you should use them for light work such as working in the office, going to parties, weddings, and especially horseback riding.
Finally, it would be unfair to cowboy boots if we don't mention safety toes.
Yes, many cowboy boots today are reinforced at the toe to ensure the safety of the wearers. And this feature is great for your feet!
3. The soles of cowboy boots
We can divide it into 2 types: inner sole and outer sole.
Suffice to say, traditional cowboy boots have flat soles and don't really offer good support for your feet.
For a long ago, cowboy boots have evolved and many modern technologies have been applied to support the arch, heel, and toe.
Today, modern cowboy boots use and develop a lot of foot support technologies, such as ATS from Ariat Boots, J-Flex® Flex Comfort System® from Justin Boots, etc.
Besides, many product lines such as cowboy work boots also have good arch support for people with abnormal arches (arches higher than normal).
Looks like you don't need to worry too much about the inner soles of cowboy boots.
If talking about weaknesses, then cowboy boots of some old brands have not been taken care of well enough in this regard.
Cowboy boots have 2 main types of the outsole, one made from leather and the other made from rubber.
Leather sole cowboy boots are the traditional type, as they can easily slide in/off the stirrup, helping cowboys climb onto horseback.
It can be said that each type of outsole will have different strengths and weaknesses, you can see more here!
Leather soles may be lighter and more breathable than rubber ones, but rubber soles are more durable and shock-resistant.
Besides, leather soles are very slippery which is convenient for line dancing and horseback riding but not for walking.
Rubber soles have a good grip for outdoor work. They are suitable for many different types of terrain but are not a good choice for dancing or horseback riding.
However, depending on how you use them, they will have different effects. But if you use cowboy boots for hard work, I suggest using rubber outsoles. And if you use cowboy boots casually, then I prefer leather soles.
Trust me, you will get good comfort from following this advice.
4. Fitting
The fit of cowboy boots will decide whether they are bad for your feet. Honestly, this relies on yourself more than on cowboy boots.
Here's a basic tip: cowboy boots need to fit snugly in the instep, have room in the ball of the feet, and need at least 3/4 inch from the toe to the end of cowboy boots.
That will make sure your feet are comfortable. And if you choose cowboy boots that don't fit well, it's definitely bad for your feet, no doubt!
Want more tips on choosing cowboy boots? Here's your complete guide!
Some tips for wearing cowboy boots without foot pain
Use socks with good arch and heel support
Use additional insoles with arch support
Use ball of foot cushions
Choose the right fit
Use the right types of boots for your job
Don't forget to break in cowboy boots
And read the article: How to Make Cowboy Boots More Comfortable?
Last update on 2023-05-27 / Affiliate links / Images from Amazon Product Advertising API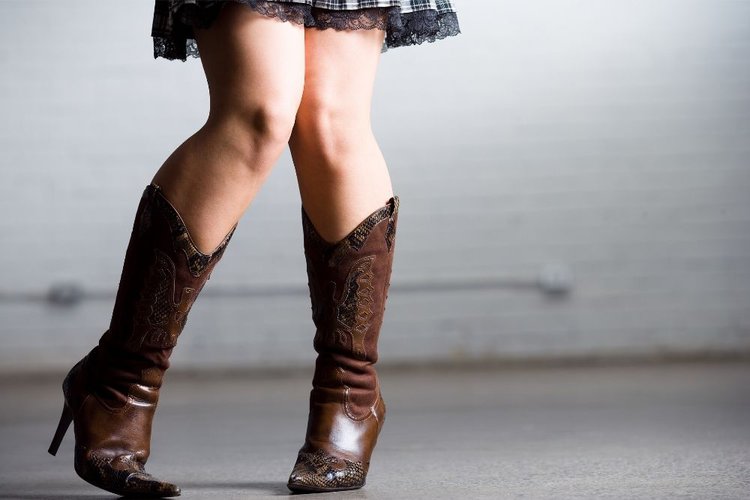 The bottom line
In short, cowboy boots will not hurt or damage your foot if they are used for the purpose it was born to serve.
You can't use Fashion boots with high heels 3.5″ or Riding boots to work on a gravel ranch and want to be comfortable all day.
Save special boots like Riding boots (or usually traditional cowboy boots) and Fashion boots for special occasions (night out, nightclub, pub, etc.). The places where you want to honor your beauty and your stunning boots
Cowboy boots don't hurt your back either, but they improve your height, gait, and back very well.
So don't worry, just relax, and enjoy the cowboy boots!
Confidence and swagger style like a cowboy/cowgirl will help you stand out as much as possible with cowboy boots.
Howdy y'all, and welcome to From The Guest Room, your ultimate guide to all things western! I'm Jay Gatz, a lifelong cowboy boot enthusiast with over 15 years of experience in the western style world. I'm excited to share my knowledge with you and help you discover the perfect cowboy boots and western gear to elevate your style. Let's explore the rich history and timeless appeal of western fashion together!