Traditional cowboy boots have high heels, pointed toes, and often do not have good arch support, so the question is: are cowboy boots bad for your feet?
Dusty, wild, and distressed cowboy boots have been a wave of popularity for years. Not only popular in the western United States, this fashion trend is also loved all over the world.
The color and design of cowboy boots are attractive, easy to match with any outfits, suitable for both genders.
However, there are still many people who dare not "try" to buy cowboy boots because of the fear that its special features may adversely affect their feet.
So, how does cowboy boots affect the feet? Let's find out.
Are cowboy boots bad for your feet?
The answer is most cowboy boots are not bad for your feet.
Actually, to judge whether a cowboy boot is bad for your foot depends a lot on the height of the cowboy boot heel and the purpose for which it is used.
For cowboy boots with low or standard heels (1 inch to 1.5 inches), they are almost not bad for your feet.
But for cowboy boots with heels of 2 inches or more in height, using them improperly can cause bad effects for your feet.
In addition to the heels of cowboy boots that can affect your foot (either in a good or bad way), cowboy boots that have these factors are good for your feet: protect your feet, ankles and most of your legs from rocks, spikes, and dangerous objects (snakes, scorpions …).
Also, cowboy boots that have good insoles with good arch support (most of them) can support people with flat feet or high arches.
Finally, cowboy boots have many types of toe shapes that are suitable for different types of feet: narrow, wide.
You can read about our analysis below.
1/ Heels of cowboy boots
The human foot is "engineered" to ensure balance and weight control.
The weight of the human being put on the feet is mainly concentrated in the rearfoot and forefoot, and from there, the problem appears …
High-heeled boots and shoes will deflect the weight focused on the foot, which cause pain and discomfort.
What about cowboy boots?
Cowboy boots can be divided into 2 types of heels:
Type 1: cowboy boots with low heels and standard heels
Cowboy boots with low heels and standard heels usually have a height of 1″ to 1 1/2″ for cowboy boots for men, and the height for women can fluctuate a little higher (about 2 ").
These cowboy boots with such height usually belong to the product lines: Walking boots, Work boots, Roper boots, Fowler …
These products do not hurt the wearer's feet, they are designed to be perfect for those who want to wear cowboy boots to work all day.
Cowboy boots with short and standard heels often have wide, flat and flexible outsoles, and can include square or round boot tips.
It can be said that this boot is completely harmless to your feet, they also protect your feet completely from the sun, rain, snow and still keep the smooth and safe.
Standard or low-heeled boots are suitable for those who like to work outdoors, go out, or wear them all day long.
Type 2: cowboy boots with high heels
As for men's cowboy boots, high heels can be identified as 2″ or more. For women, the height of high heels can often be higher than 3″ to 4 ".
Cowboy boots like Riding boots or Fashion boots often have such heels.
Fashion heels have a beautiful and aesthetic effect, Fashion Boots are usually only for women.
Riding boots are popular with men. Their high heels and the wide nook of the heels (the wider section attached to the sole) make it easy for cowboy boots to hook into the stirrup without slipping out. This creates balance and stability for cowboys when riding.
Besides, high heels have a beauty effect and balance when riding, high heels make the wearer look taller, look more confident and swagger like a real cowboy.
The weakness of high heels is also what we mentioned above. Boots with a 2″ or higher heel can put your weight on other foot positions instead of rearfoot and forefoot.
That will make you uncomfortable if you have to use high-heeled cowboy boots all day long
In short, should you worry or not?
Of course not,
Take a look at the uses and types of cowboy boots suitable for each type of heel, you will understand why there is no need to worry much.
The cowboy boots with low heels and standard heels (Roper, Work boots, Fowler, Walking) are all designed for people who wear them and work all day long.
And the line of cowboy boots with high heels (riding boots, fashion boots) is for those who do not use cowboy boots often.
They are beautifully designed and refined and get special features (balance and stability when riding).
So high-heeled cowboy boots are usually only used for a few hours (go out, nightclub, shopping center, on a motorcycle ride down street two-lane city lane …), or simply driving, or riding horses … generally for people who sit more than they walk.
What you need to keep in mind when choosing cowboy boots is the use of each type of boots
For instance, you can't use fashion boots with 3.5″ high heels and riding boots with 2″ high heels to work in the fields, which will definitely hurt your feet.
Obviously, the manufacturers have been very observant, right?
2/ Toe shapes of cowboy boots
There are 5 different types of cowboy boots that are pointed, snip toe, round toe, square toe and wide square toe ( Read more: Cowboy Boot Toe Types )
Many people may wonder if the pointed toe of a cowboy boot is so narrow, will it make the foot uncomfortable?
The answer is it won't hurt your feet… if you buy the right cowboy boots and the right size
Go to the Amazon site and look for the cowboy boots with the most 5-star reviews. Next, look for 1-star reviews of those products and read the reason
80% to 90% of those reasons come from buying the wrong size cowboy boots
Different brands of cowboy boots have a different size chart, so you cannot use a single size chart to select most cowboy boots from different brands.
Usually when buying a pointed cowboy boot, you should pay attention to the distance between your longest toe and the tip of the cowboy boot. That gap should fall into 3/4″ until 1 1/2″.
By doing this you will not be wrong in choosing cowboy boots, the tip of cowboy boots will not be narrow compared to the feet.
There are many useful tips to choose cowboy boots that fit with your feet, we have written here: What Size Cowboy Boots Do I Need?
To be honest, cowboy boots manufacturers are smart enough to spot the problems that traditional cowboy boots can bring to you.
Manufacturers have overcome that weakness, the traditional cowboy boots have been developed to have enough room inside to make your toes as comfortable and flexible as possible.
So don't worry!
What about cowboy boots with square toe, wide square toe and round toe? You don't have to worry about them, they are born to cherish and pamper your toes.
3/ The soles of cowboy boots
This is the best part of cowboy boots.
We can divide into 2 types of sole, inner sole and outer sole.
The inner sole of cowboy boots is now mostly soft and wide (but not all), very good support for the foot, helping the feet to be comfortable for as long as possible. (Very good for people with flat feet)
Today, cowboy boots use and develop a lot of comfortable foot support technologies, such as ATS from Ariat Boots, J-Flex® Flex Comfort System® from Justin Boots…
Besides, many product lines such as Workhog boots also have arch support for people with abnormal arches (arches higher than normal).
The nature of cowboy boots, traditional or innovative, is all about paying attention to outsole.
From the old days, the outsole of cowboy boots was made of leather, to ensure the smoothness and flexibility for cowboys to freely roam the vast grasslands.
Today, many brands of cowboy boots still maintain that tradition, and they also develop more product lines of cowboy boots with rubber outsoles, which are equally good, durable and flexible.
Tips for wearing high-heeled cowboy boots without foot pain:
The most popular products on the market that you can easily find and use to support when wearing cowboy boots
Use socks with good arch and heel support
Use additional insoles with arch support
Ball of Foot Cushions
Are cowboy boots bad for your back?
In addition to the fashion advantages of cowboy boots, they help the wearer feel taller. Science has shown that cowboy boots improve the user's gait / walk
Besides, the heel of cowboy boots is also proven to be very good for your posture, your back…
And yet, they bring confidence and swagger like a true cowboy.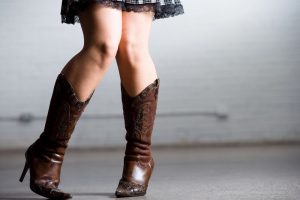 The bottom line
In short, cowboy boots will not hurt or damage your foot if they are used for the purpose it was born to serve.
You can't use Fashion boots with high heels 3.5″ or Riding boots to work on a gravel ranch and want to be comfortable all day.
Save special boots like Riding boots (or usually traditional cowboy boots) and Fashion boots for special occasions (night out, night club, pub,…). The places where you want to honor your beauty and your stunning boots
Cowboy boots don't hurt your back either, but they improve your height, gait, and back very well.
So don't worry, just relax, enjoy the cowboy boots!
Confidence and swagger style like a cowboy / cowgirl will help you stand out as much as possible with cowboy boots.