No matter how many years have passed, the style of the cowboys on the green meadow is always a highlight to conquer the love of women.
In the sunlight, nothing is more impressive than the wild style of cowboys, who have "killed" many hearts of countless girls.
Today, cowboy boots are not just for men, but they are also perfect choices for trendy and dynamic girls.
Even today more women wear cowboy boots than men, everyone loves its wild beauty.
But do you know how to wear these cowboy boots?
Keep reading to know how to get a real cowboy style.
How To Wear Cowboy Boots For Guys?
The way cowgirls wear cowboy boots is very different from cowboys. In general, women have more ways to wear cowboy boots than men.
We will show both cowgirls and cowboys how to wear cowboy boots properly with the most common combinations in different seasons…
Let's see.
What should women wear with cowboy boots?
For cowboy boots, women have more choices. Cowboy boots exalted the charm of women with high heels, perfect curves and nobility.
Besides, many boots are casual, convenient and sporty. They are indispensable fashion items in the wardrobe of women.
Let's see how to match your outfits with cowboy boots.
Skinny Jeans/Pants and Cowboy Boots
Like men's Jeans Bootcut, this type of pants is extremely suitable for women's cowboy boots.
Today, women's cowboy boots have more sophisticated and sophisticated stitching than men with bright colors and beautiful designs.
The appearance of skinny jeans is a great piece for these increasingly sophisticated and detailed boots.
The most important thing and the beauty of this combination are that you can tuck them into the shaft to easily show off your boots – delicate and seductive boots.
As far as we know, this combination is good for young girls who love the dynamism and style of fashionable cowboy boots.
Grading: 10/10
BootCut Jeans and Cowboy Boots
Needless to say, this combination is a classic. Whether combined with men's or women's boots, it results in a miraculous effect.
And with the familiar saying: "You just can't go wrong with the look". This combination will give you the freedom and comfort in coordination style: wild or elegant, sophisticated or simple. You can choose to have whichever style you want.
Grading: 9/10
Skirt and Cowboy Boots
If Bootcut Jeans have not given you the chance to show off your beloved boots, then mix cowboy boots with a skirt is the best choice.
With this style, young girls tend to like wearing a pair of bright and eye-catching boots. Obviously, this combo attracts a lot of attention, as it is a youthful and dynamic style.
Grading: 8/10
Dress and Cowboy Boots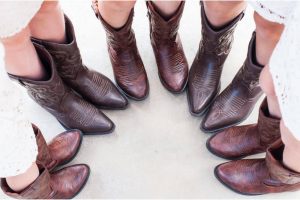 It sounds weird, but you should try it with your favorite dress. There is no better way to give your sophisticated and detailed cowboy boots a chance to shine when combined with a beautiful dress.
Believe me, go look in your closet. Pull out all your dresses, try them with cowboy boots. I assure you that this combination will not disappoint you.
This brings a very strange style and an extremely feminine appearance.
Read more: Best Wedding Dresses to Wear with Cowboy Boots
Grading: 9/10
Denim Shorts
Have you ever seen the movie "In your eyes"? In this movie, the Donna girl works in the bar wearing a pair of Denim Shorts with a western cowboy boot. She looks incredibly sexy!!!
This is a great and unique combination, Denim shorts, cowboy boots with style a button up shirt or down shirt
This combination is great for girls who are followers of the sexy and wild style.
Grading: 09/10
What should men wear with cowboy boots?
No frills, cowboy style is simply a combination of a pair of jeans and a shirt, dressed in a cow or leather jacket. Just like that, it is possible to exalt the masculine and strong masculinity of men.
When wearing cowboy boots, men tend to like simplicity and elegance, or attractive and wild style.
Here are some kinds of pants that fit cowboy boots.
Recommend:
Khaki pants and Cowboy Boots
You will have 2 classic fashion styles just in 1 coordinating way.
Classic cowboy boots and classic khaki pants
This is a great way to wear clothes and it is also an infallible choice.
Because of its dusty and strong characteristic color, Khaki has very few choices in work clothes.
Khaki pants are usually sewn with a slender shape, with details such as zippers, so they are best for relaxed breaks or outdoor activities.
This combination is sure to create a charming and wild style for you.
Grading: 9/10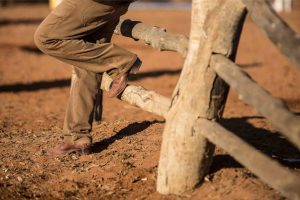 Golf Pants and Cowboy Boots
You might think, who would wear such goofy and silly looking pants as golf pants with cowboy boots?
But when you try this combo on, you will find it amazing.
You will be surprised because they are so light and also quite weird.
Despite being weird as it is, and it's still perfect with your cowboy boots.
This pair of pants is awesome when paired with boots.  They bring a bit baggy sense and comfortable feeling. What we love is that the pants don't hog the top of the boots too much.
With this combo, you will catch a lot of attention 😉
And just like Khaki pants, this combination creates a charismatic and wild style for you.
However, Golf Pants currently have developed pants which are very elegant and comes with a bit of office fashion. Therefore, it is not difficult if you want to choose an elegant style for yourself by combining cowboy boots and golf pants.
Grading: 8/10
Bootcut Jeans and Cowboy Boots
Pants made from Denim fabric – a fabric with a rough surface, slightly hard but extremely durable – the material that is so familiar to us. From a kid, a young boy, who went to work, to even the middle-aged gentleman – who has ever owned a few jeans?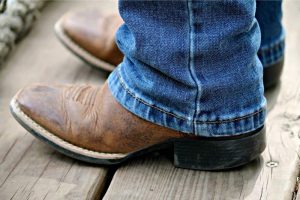 And you know what, these pants were born to be worn with cowboy boots. And I can say that this is the main reason why jeans exist in this world.
For the structure, these pants are tighter up on the leg and then wide to the end. Then, the top of the boots will have more room. It means you just cannot go wrong with these pants.
Read more: Best Jeans to Wear with Cowboy Boots Mens
Depending on the color you mix, Bootcut Jeans goes with cowboy boots can give you both styles: wild or elegant, it's up to you!
Grading: 10/10
Not Recommend For Men
Skinny pants/Jeans and Cowboy Boots
This combo is kind of weird. If you wear a pair of western cowboy boots, the pattern on the boots' shaft will print on your pants.
If you're not the type of person who likes to tuck your pants into boots, this type of pants is absolutely not suitable for wearing cowboy boots.
By the way, suppose that you tuck your pants into cowboy boots. As for women, it might be very beautiful, but for men, it is not necessary at all.
Shorts and Cowboy Boots
Absolutely not suitable for wearing cowboy boots. Just like skinny pants, it may be suitable for women, but not for men.
As men wearing it, you guys will look like a superman with a pair of underwear on the outside 😉
Jogger Pants and Cowboy Boots
For those who do not know, Jogger Pants is a type of pants that is a mix of Sweat Pants and Khaki Pants. It's just a hybrid…
They have an elastic band around the waist and also around the ankles. Because of that, you have to tuck your pants into cowboy boots. It is very difficult to pull them over. If you can put them over, it will be quite weird, for the same reason as Skinny Pants.
What do cowboy boots say about a man?
Cowboy boots: Weeds in the wild West
People with childhood attached to cowboy Lucky Luke would not be strange to cowboy boots.
This boots type is most commonly used in the Western United States in the early years of turmoil. It was tight enough to keep the shepherds warm in the cold night, and thick enough to protect cowboy feet.
On the outside, cowboy boots are very different from normal boots. They are as high as half the calf, with many decorative details.
Sometimes, cowboy boots also have more spur on the heel, making every step sound like a unique song.
Associated with history, cowboy boots carry a whole history of resounding and dreaming about an independent America. Therefore, these western riding boots are something that lies between the boundaries of clothing, folk art and popular culture.
A little prickly personality creates a wild look. Boots are like real men in fashion. He is sophisticated enough to accompany suits. But he is also strong enough to turn the wearer into a warrior.
After leather shoes, boots are probably the richest and most complicated accessories for men.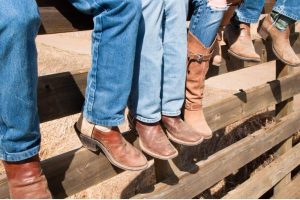 However, no matter how diverse boots are, they are divided into two basic types. The first type can pair with smooth and gentle leather to wear with a suit, casual pants or jeans. This includes Chelsea, Captoe, Wingtip, Chukka or Jodhpur Ankle boots.
The second group is a collection of rough guys, hiding under a rough cover like Cowboy, Harness, Desert, Combat or Workboots. As the name implies, these boots are more applicable than beauty, and should only be worn by men because they exude a manly scent.
Do you wear socks with cowboy boots?
We think wearing socks is essential
1: Cowboy boots are very sturdy and quite thick compared to other types of shoes. Therefore, they make you feel sweaty in the foot when wearing long. For that reason, wearing socks prevents your boots from being "Foul"
2: Another use for socks: if you mistakenly buy a pair of cowboy boots bigger than your desired size, you can wear a thick layer of socks to solve the problem.
3: If you wear cowboy boots without socks, make sure it's a good pair of boots. Because if the boots are not good enough, rough leather boots can adversely affect your feet.
Can you wear cowboy boots in the summer?
Not only winter, but summer is also a great time for women to put on fashionable and dynamic boots.
For example, for women,
Recommended type of boots
Short Cowgirl Boots: Booties & Ankle Boots
There is nothing better than wearing a pair of short boots in the summer. Cool, luxurious, noble.
Combine them with jeans or a fancy dress and beat the summer heat. You will definitely enjoy a delightful summer!
Besides sports shoes, an indispensable accessory for girls in the summer trips is short boots. With soft leather material, the continuous movement from one place to another will no longer be a worry of women.
It is a mistaken notion that boots should only appear in the autumn-winter season because when combined with jeans, crop top with long lace cardigan jacket, you will immediately become a summer lady. Dynamic and sexy!

The work boots
With a special design that helps you feel comfortable going to work all day long. The bottom of the boots is quite low, the heel is made of rubber. Moreover, the boots usually have rounded toe.
What a great design for a pleasant summer, isn't it?
Here are some good combinations:
Cowboy boots and dresses
A feminine and creative style, take out any of your favorite dresses, try it with cowboy boots, you'll be surprised.
This combination will keep you cool throughout the summer while emphasizing femininity. Shine your way despite the bright summer sun
Cowboy boots and shorts
This is a classic combination of summer: cowboy boots and shorts.
Believe me, you certainly cannot be wrong with this choice, sexy, dynamic, eye-catching…
Combining cowboy boots with a crop top or a button-up shirt or down shirt is a really great choice.
Skirt and cowboy boots
This combo is perfect for girls pursuing whether the cool or gentle style. It's all fine! A jean skirt comes with a pair of brown cowboy boots creating an active trend.
Otherwise, long & maxi skirts (or even short skirts) go with dark cowboy boots or white ones bringing the vintage style. With this elegant combination, you're totally a girl of the summer!!
T-shirt, skinny jeans and cowboy boots
A T-shirt comes with a skinny jean is a basic combo for any occasions. Adding cowboy boots, you're really swagger! It sounds plain, but this neat and decent combo is a cool choice for going picnics or hanging out in the summertime.
What are you waiting for? Pull out your common T-shirt and jeans and try them on!!