Hey there, fellow fashion enthusiasts, are you ready to two-step into a world of style that's as timeless as a classic country song?
Cowboy boots have found their place in the hearts and closets of both men and women, transcending their Western origins to become a trendy and versatile fashion staple.
Whether you're a city dweller or a country lover, these boots are the perfect way to add a dash of cowboy cool to your wardrobe.
In this article, we've rounded up not just a few, but more than ten basic outfit ideas that'll have you looking sharp and stylish in your cowboy boots. So, dust off those boots and let's hit the fashion trail together!
Basic Outfit Ideas To Style Cowboy Boots for Men
This guide covers a range of styles, from the classic ruggedness of jeans to the refined sophistication of dress pants and suits. It's designed to provide men with straightforward, stylish outfit ideas that enhance the distinct appeal of cowboy boots.
Whether you're aiming for a casual look or dressing up for a more formal occasion, this guide offers versatile suggestions that go beyond the basics, ensuring that cowboy boots can be a stylish and functional part of any man's wardrobe.
Jeans – Bootcut Jeans, Straight-leg Jeans and Cowboy-cut Jeans
"Hey, any of us know that jeans are the best accessory to wear with cowboy boots, do you know anything else?"
Yes, jeans are the best pants to wear with cowboy boots, but do you know what types of jeans to wear with cowboy boots aside from bootcut jeans?
I'll let you know! And why you should choose them?
1. Bootcut Jeans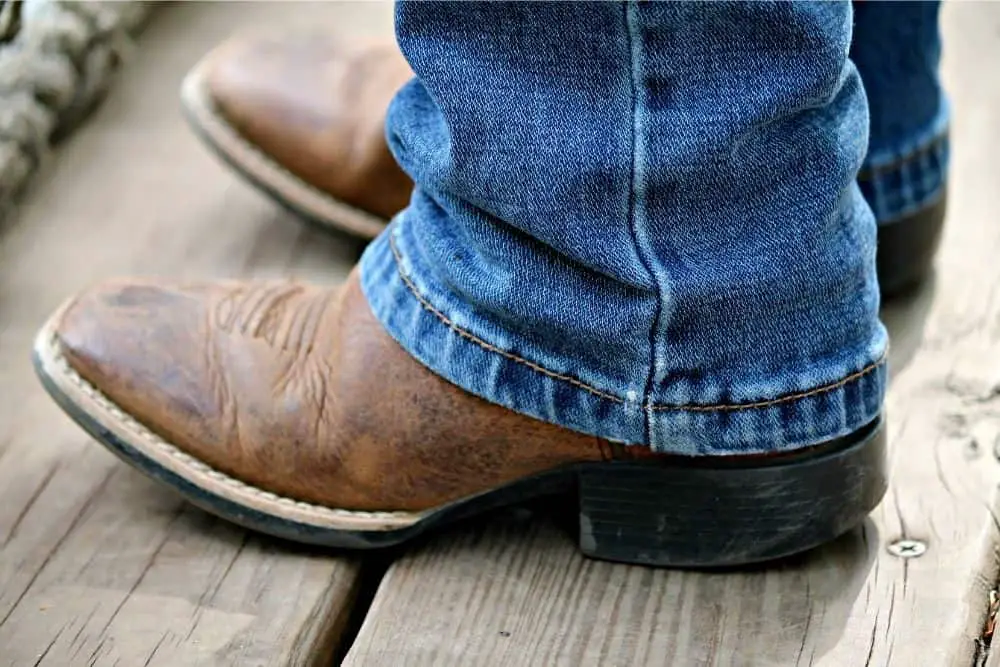 Jeans worn with cowboy boots are definitely the best combination life has bestowed on cowboy boots fans.
One of the jeans that is the best match with cowboy boots ever is the bootcut jeans. You can't go wrong wearing bootcut jeans with cowboy boots.
The first thing is that bootcut jeans have enough room at the bottom for you to tuck the cowboy boot's shaft inside.
In addition, boot-cut jeans have a wide bottom and narrower upwards, which will not cause the V-shape of the collar cowboy boots to print on the surface of the jeans.
From the knee, the bootcut jeans hug the wearer's body (hips, buttocks, thighs), creating a classic liberal look! And that's exactly what you look for in cowboy boots.
2. Straight leg Jeans
These jeans are characterized by a consistent leg width from the hip down to the ankle, creating a 'straight' silhouette.
Unlike skinny jeans or flared styles, straight-leg jeans do not taper or expand towards the bottom. This design makes them a universally flattering choice for a wide range of body types.
When paired with cowboy boots, straight-leg jeans offer a distinct style. The jeans can comfortably sit over the shaft of the boots, allowing the boots to be partially visible.
This pairing is perfect for those who prefer a more understated look where the boots complement rather than dominate the outfit. It's a great way to showcase cowboy boots in a more subdued, sophisticated manner.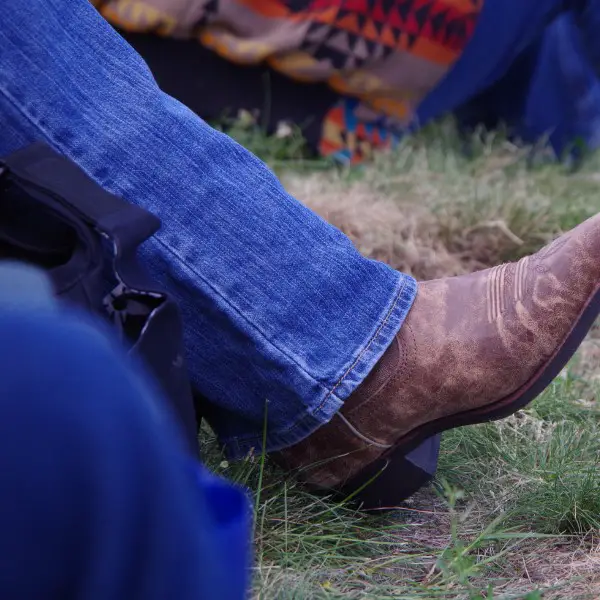 This combination moves away from the traditional cowboy look to something more refined and polished. It's the kind of outfit that suggests a man who knows his fashion but also values class and subtlety.
However, there's a key detail to remember when opting for straight-leg jeans with cowboy boots: ensure the jeans have enough width at the bottom.
This is important because you'll need to comfortably fit the shaft of your cowboy boots underneath your jeans.
Jeans that are too narrow at the bottom won't work well, as they'll bunch up awkwardly over your boots or simply won't fit over them.
So, look for straight-leg jeans that offer a bit more room at the bottom hem. This will allow you to tuck the shaft of your boots in smoothly, ensuring a neat, sleek look that's both stylish and comfortable.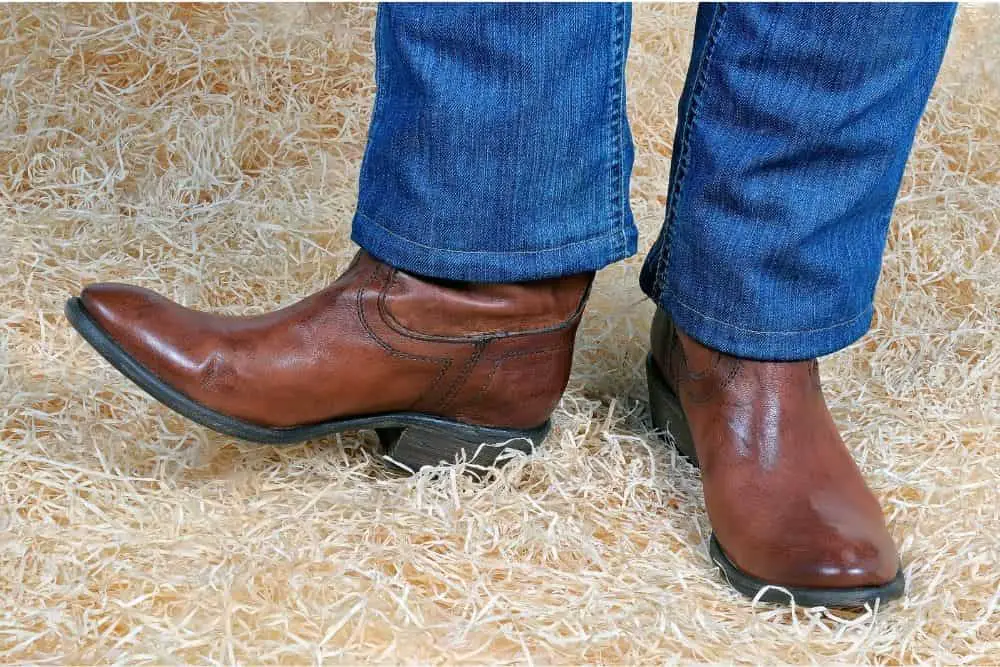 3. Cowboy cut Jeans
What did I mention earlier? Along with cowboy boots, there are innovative accessories that can elevate your look, one of which is cowboy-cut jeans. These are modern jeans specifically designed for those who love to wear cowboy boots.
At first glance, cowboy-cut jeans may seem similar to bootcut jeans, but it's important not to mix them up. The key difference lies in the size of the bottom hem.
Cowboy-cut jeans are slightly narrower at the bottom compared to bootcut jeans. However, they're still designed with enough width to comfortably accommodate the shaft of your cowboy boots.
So, what's the appeal of cowboy-cut jeans? They offer a youthful, free-spirited, yet classic aesthetic. This style bridges the gap between traditional cowboy attire and contemporary fashion, making it a perfect choice for the modern wardrobe.
And if you think cowboy boots are not quite the trend among younger folks, think again. Pairing cowboy boots with cowboy-cut jeans is an excellent way to demonstrate how this timeless footwear can be stylishly relevant today.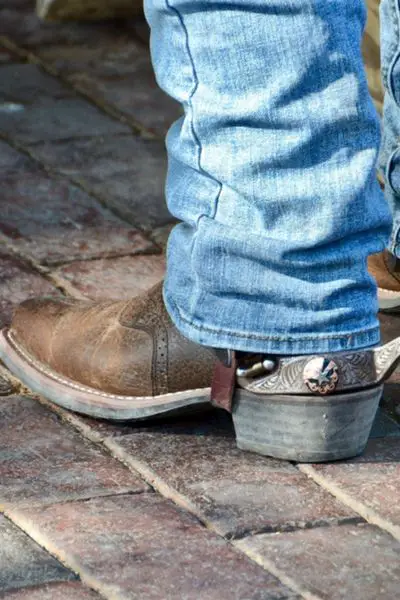 It's all about how you wear them — blending the classic charm of cowboy boots with the fresh, liberal vibe of cowboy-cut jeans can create a look that's both unique and appealing.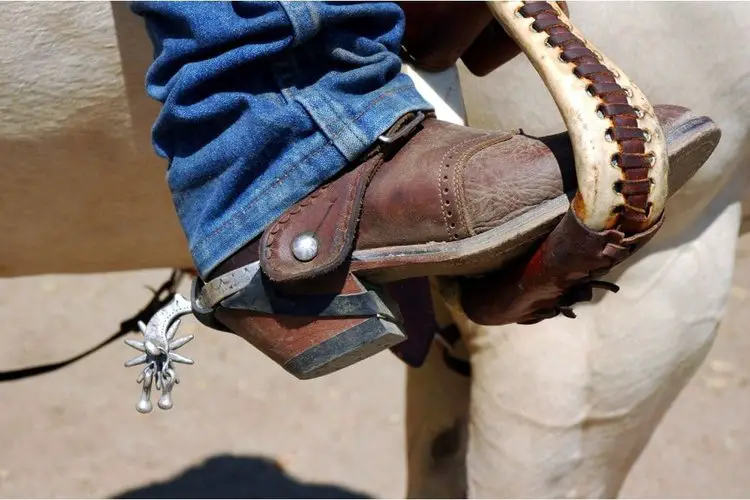 4. Types of Jeans Fit your Body Shape
No need to be rigid, the most important thing is to find the right jeans for your body and cowboy boots that fit them! Want some examples?
If you have a skinny body, you will need slim-fit jeans (slim-fit bootcut, slim-fit cowboy cut,…) to flatter your body. Because they hug your butt, thighs and hips fairly.
Trust me, you will look extremely handsome and dashing when wearing such an outfit.
But what if you are overweight? Then the regular fit or relaxed fit will be a great choice, in terms of comfort and appearance.
Be flexible! Money and choice are yours!
Khaki Pants
Khaki pants are another essential addition to your wardrobe that will solidify your status as a true cowboy in the eyes of onlookers!
While khaki jeans fall under the category of jeans, they present a vastly different aesthetic compared to regular colored jeans, especially when paired with cowboy boots.
If you're aiming for a look that's rugged and weathered, then khaki jeans combined with cowboy boots are your go-to choice.
There's something uniquely appealing about the combination of khaki pants and cowboy boots.
The dusty, rough texture of khaki fabric adds a layer of untamed, masculine charm to your overall appearance. It's a look that speaks volumes about the wearer's strength and gentlemanly demeanor.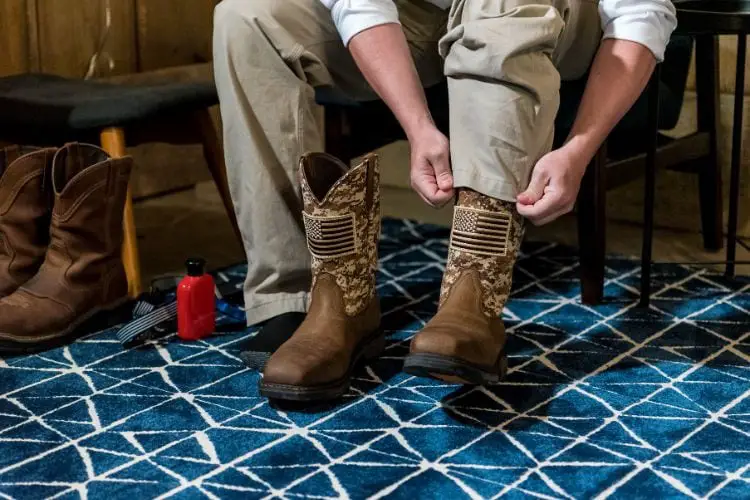 So, why not experiment with this style? Pairing khaki jeans with your favorite cowboy boots can transform your look, giving you an air of rugged sophistication that's hard to miss.
It's a fashion statement that effortlessly blends the wild spirit of the cowboy with a polished, mature vibe. Give it a try and feel the difference it makes to your cowboy ensemble!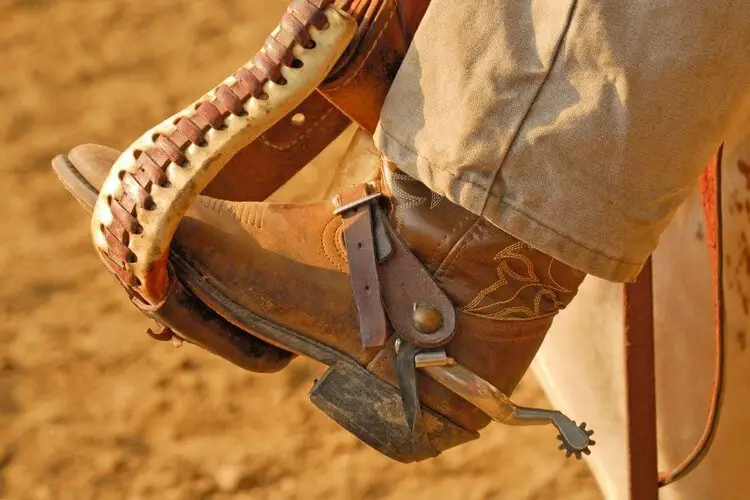 Dress Pants
Gone are the days when cowboy boots were solely associated with dusty ranches and sun-soaked fields.
Don't be taken aback if you spot someone heading to their office sporting cowboy boots and dress pants. This combination has emerged as a stylish and sophisticated choice in contemporary fashion.
Today's cowboy boots have diversified far beyond their traditional roots. They now come in a variety of styles and are crafted from numerous materials, catering to a wide range of purposes beyond the ranch.
This evolution has made them a versatile choice for various settings, including professional environments.
Imagine pairing a sleek pair of lizard cowboy boots with sharp dress pants. The result is an outfit that exudes elegance and sophistication.
It's a look that breaks the mold, blending the rugged charm of cowboy boots with the polished finesse of formal attire. Why not embrace this trend?
It's a perfect way to make a bold fashion statement that respects both tradition and modernity.
Suits
Nowadays, the world of cowboy boots has evolved significantly, embracing both polished finishes and luxurious exotic leathers. This evolution has opened up new possibilities for pairing cowboy boots with formal attire.
Many contemporary cowboy boots, boasting a polished finish or crafted from high-end exotic leathers, seamlessly complement the classic suit for a formal look.
These sophisticated boots bring a touch of elegance and uniqueness to your formal wear, making them a fantastic choice for occasions that call for a suit.
Whether it's a business event, a wedding, or any formal gathering, cowboy boots with a polished finish or made from exotic materials like caiman, ostrich, or lizard leather, add a distinguished and stylish flair to your ensemble.
Gone are the days when cowboy boots were relegated only to casual or rugged outfits. Today, they stand as a testament to versatility in fashion, effortlessly bridging the gap between the rustic charm of the West and the polished sophistication of formal attire.
So, for those looking to make a bold style statement at their next formal event, consider pairing your suit with a pair of high-quality, polished cowboy boots.
Jackets – Leather or Denim
Wearing a jacket with cowboy boots is a style must. When it comes to selecting the perfect jacket to complement your boots, leather and denim are your go-to choices.
These materials not only enhance the cowboy aesthetic but also add a layer of rugged sophistication to your overall look.
When opting for a leather jacket, it's advisable to steer clear of overly shiny options. Instead, embrace jackets in distressed, tan, or brown hues.
These colors offer a more authentic, worn-in feel that pairs beautifully with the natural ruggedness of cowboy boots. They also provide versatility, easily matching a wide range of boot styles and colors.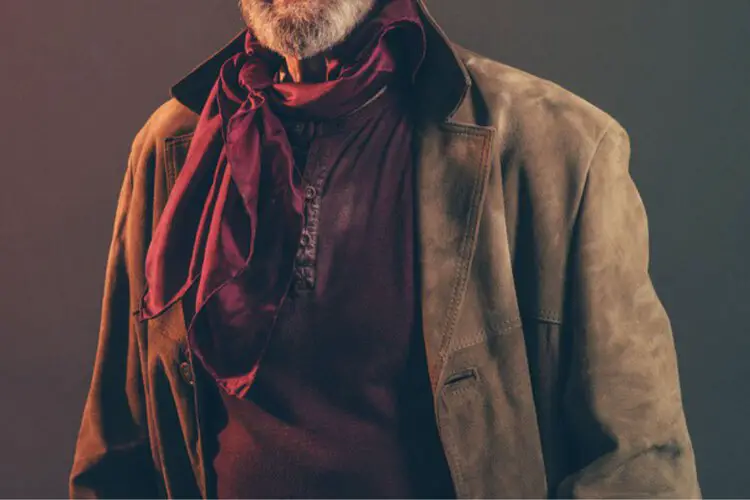 Denim jackets are another excellent choice, especially when you want to create a cohesive look. Try matching the color of your denim jacket with your jeans for a coordinated, stylish outfit.
This classic combo exudes a timeless Western vibe that's effortlessly cool.
And remember, if you're headed to a Rodeo, your jacket is an essential part of your attire. Leaving it behind is a missed opportunity to showcase your complete cowboy look.
A jacket not only adds to the aesthetic but also provides practicality, keeping you comfortable and in style whether you're spectating or participating in the event.
T-shirts or Shirts
When it comes to pairing tops with jeans (or khakis, dress pants) and cowboy boots, simplicity is key. Opting for a straightforward shirt or T-shirt can create an effortlessly stylish look.
There's no need to overcomplicate your outfit with overly elaborate or brightly colored tops. Instead, think minimalistic.
A clean, simple shirt or T-shirt allows your cowboy boots to stand out and be the focal point of your ensemble. This approach not only makes for an easy-to-put-together outfit but also emphasizes a classy, understated style.
Remember, elegance often resides in simplicity. By choosing uncomplicated, less busy clothing, you let the quality and style of your boots and pants shine, reflecting a sense of sophistication and understated confidence in your fashion choices.
Basic Outfit Ideas To Style Cowboy Boots for Women
From the casual charm of jeans and shorts to the feminine grace of dresses and skirts, this guide showcases how cowboy boots can be paired with different types of attire.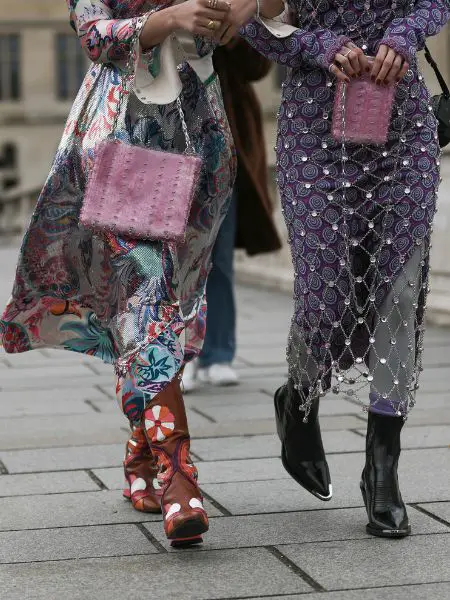 The key message is versatility: women have the freedom to wear virtually anything they desire with cowboy boots.
Whether it's for a casual day out or a more dressed-up occasion, cowboy boots offer a unique blend of style and comfort, making them a versatile addition to any outfit.
This guide is designed to inspire women to experiment with their style, confidently pairing their favorite cowboy boots with a wide range of clothing options.
Jeans – Skinny Jeans, Bootcut Jeans, Short Jeans, Flare Jeans
Jeans are the love of cowboy boots, jeans are always the number one priority for both men and women.
1. Bootcut Jeans
And once more, the spotlight returns to bootcut jeans as the ideal choice for women looking to pair something with cowboy boots.
These jeans are expertly designed to flatter the figure, hugging the hips, butt, thighs, and the upper calves, before gracefully flaring out from the knee to the hem.
This unique cut not only ensures a seamless fit over your cowboy boots but also accentuates your curves in a stylish and attractive way.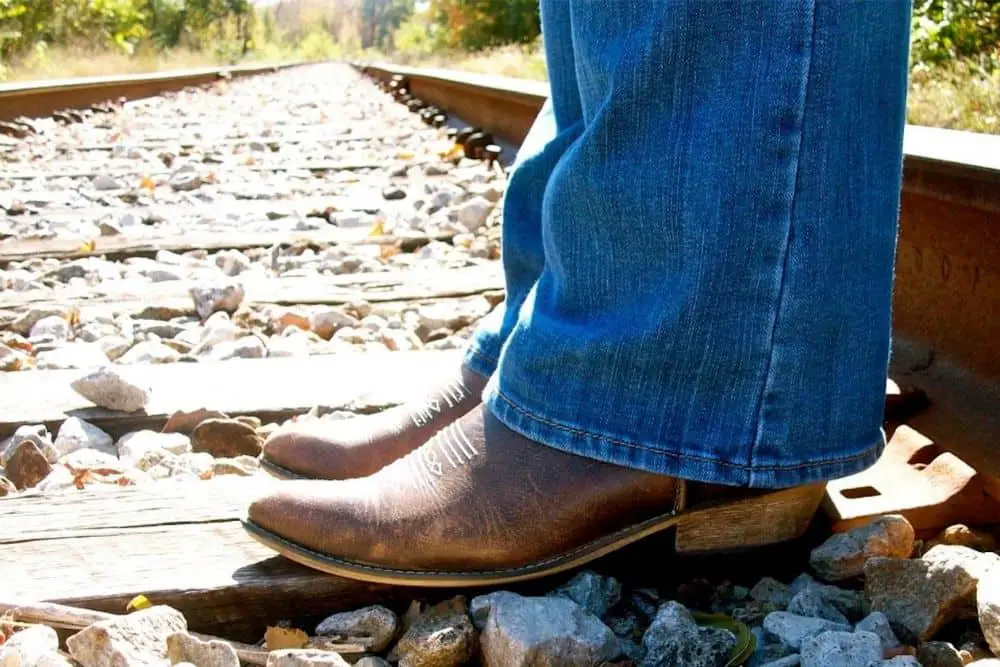 The design of bootcut jeans makes them exceptionally compatible with cowboy boots.
Their slight flare at the bottom provides enough room to easily tuck in the shaft of the boots, yet the fit through the top half of the jeans highlights your silhouette.
It's this perfect blend of practicality and style that once again cements bootcut jeans as the ultimate go-to for women pairing their outfits with cowboy boots.
Time and time again, bootcut jeans prove themselves to be the reigning champion of denim, especially when it comes to complementing the classic appeal of cowboy boots.
2. Skinny Jeans
Indeed, it's almost a given that every girl's wardrobe includes a pair of skinny jeans. And for good reason – the combination of skinny jeans with cowboy boots is a recipe for a look that's youthful, vibrant, and captivating.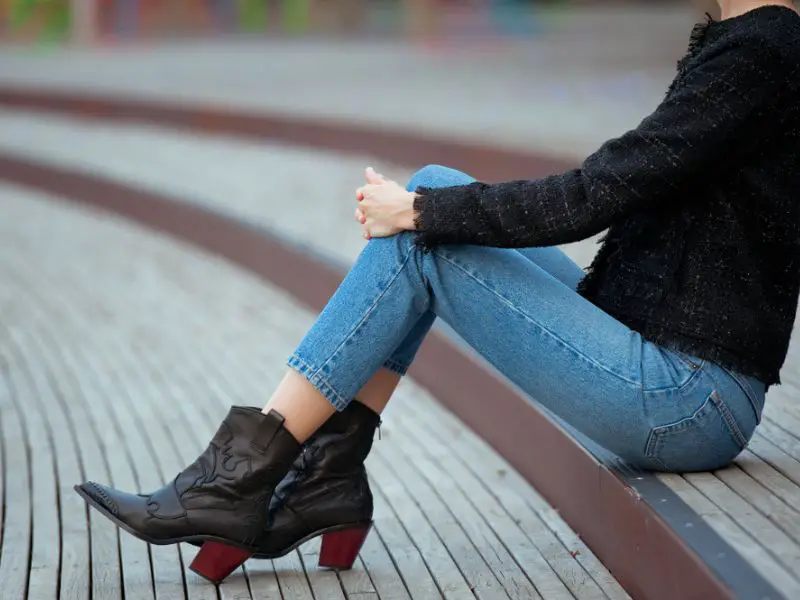 Skinny jeans offer a snug fit that showcases your silhouette, and when tucked into cowboy boots, they create a sleek and seamless appearance.
This pairing is not just about style; it's about making a statement. It speaks to a sense of boldness and confidence.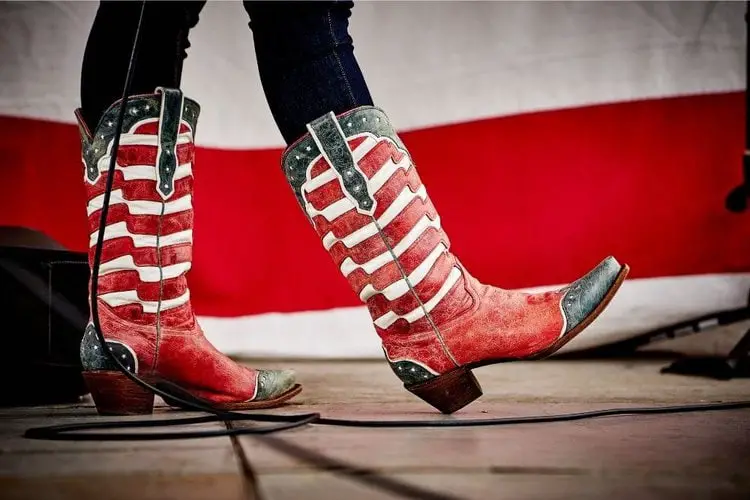 So, if you're pondering over what to wear for a day out, look no further.
Simply pull on your skinny jeans, tuck them into your cowboy boots, and you're set to turn heads as you stroll down the street.
It's an effortlessly chic ensemble that's bound to draw attention and admiration.
3. Short Jeans
Pairing short jeans with cowboy boots is a style choice that exudes charm, youthfulness, and allure. This combination strikes a perfect balance between casual and chic, making it a popular choice for those sunny days out.
There's something inherently confident and trendy about this pairing.
The short jeans highlight the legs, while the cowboy boots add a touch of boldness and a dash of classic Western flair. It's a look that's both eye-catching and comfortable.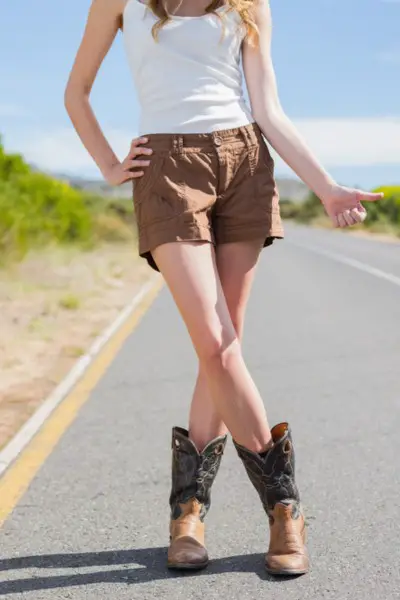 I'm convinced that many girls won't think twice about choosing short jeans to wear with their cowboy boots for a day out.
This outfit captures the essence of youthful beauty and freedom that so many young women embrace.
4. Flare Jeans
Flare jeans or wide-leg jeans are making a significant comeback in modern fashion. When paired with the right top, like a cozy sweater or an elegant blouse, they can carve out a stunning urban style that's both trendy and sophisticated.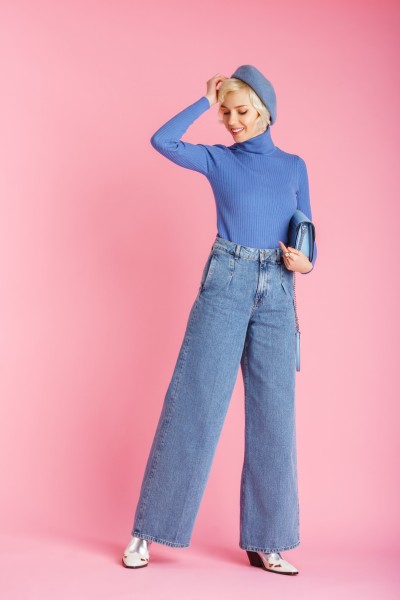 These types of jeans, known for their wider leg opening and flare, offer a refreshing contrast to the more commonly worn skinny jeans.
The flare at the bottom of these jeans adds a unique visual interest to your outfit, and when combined with cowboy boots, the look takes on a new dimension.
The boots peek out subtly from under the flare, adding a bit of Western charm to the ensemble.
What's especially great about flare or wide-leg jeans is their versatility. Pair them with a simple sweater for a casual, laid-back vibe, or dress them up with a blouse for a more polished, chic appearance.
They are perfect for creating a variety of looks, from a relaxed weekend outing to a more put-together style for an evening in the city.
Dresses
Styling a dress with cowboy boots is a quintessential aspect of basic Western style, effortlessly blending femininity with rugged charm.
This combination is crucial as it embodies the spirit of the West – a harmonious mix of elegance and toughness.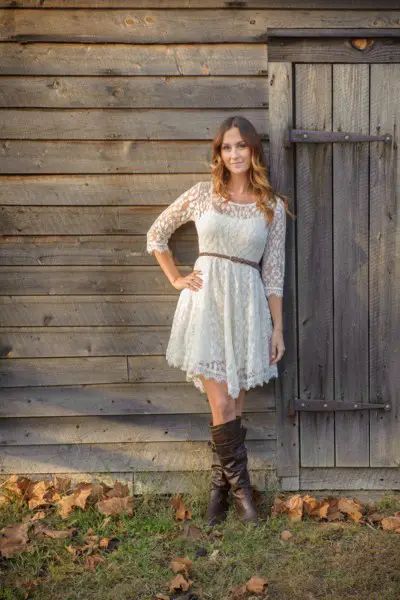 A dress softens the bold statement of cowboy boots, creating an iconic look that is both stylish and grounded in Western tradition.
It's a timeless ensemble that celebrates the heritage of the West while remaining fashionably versatile and approachable.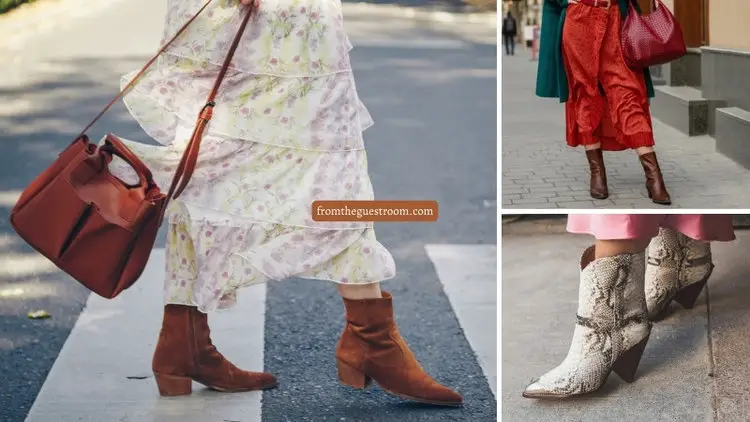 Line dancing, weddings, parties, etc. cowboy boots and dresses can be found everywhere.
The feminine dress and cowboy boots will definitely make everyone fall in love.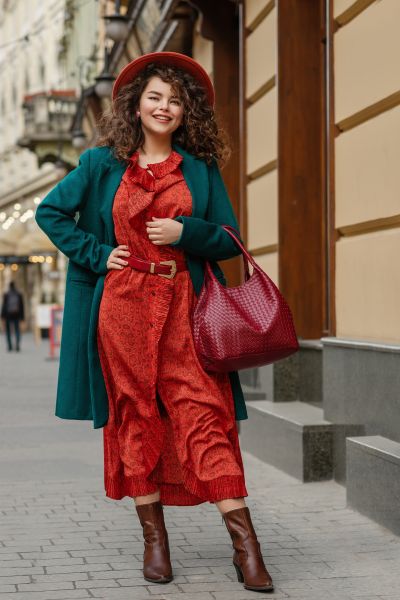 Tea-length bridal dresses, mini dresses, A-line dresses, midi dresses, maxi dresses and 1950s-style short dresses can be the main focus of this classic combination!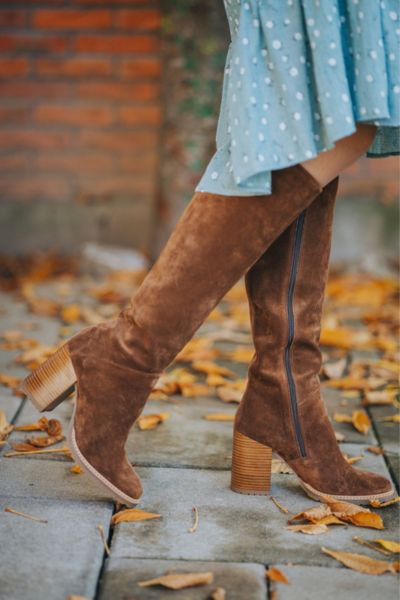 Skirts
Incorporating skirts into Western style with cowboy boots is essential for achieving a classic and versatile look.
This pairing effortlessly merges the boldness of cowboy boots with the femininity of skirts.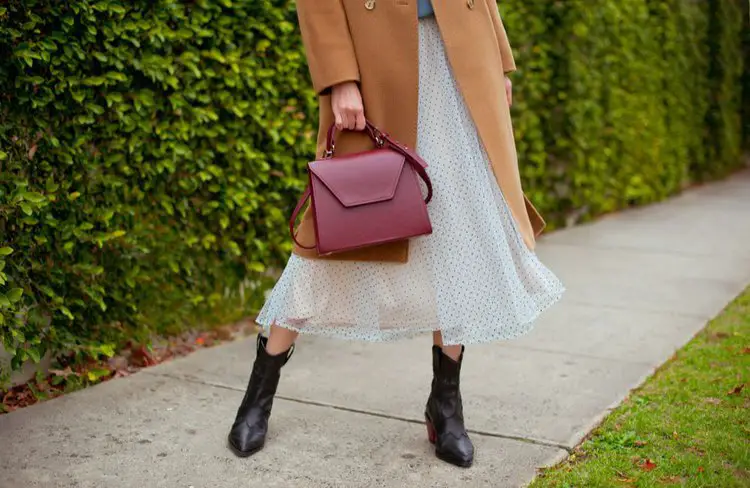 Whether it's a flowing maxi skirt or a playful mini, adding cowboy boots creates an outfit that is deeply rooted in Western fashion yet adaptable for various occasions.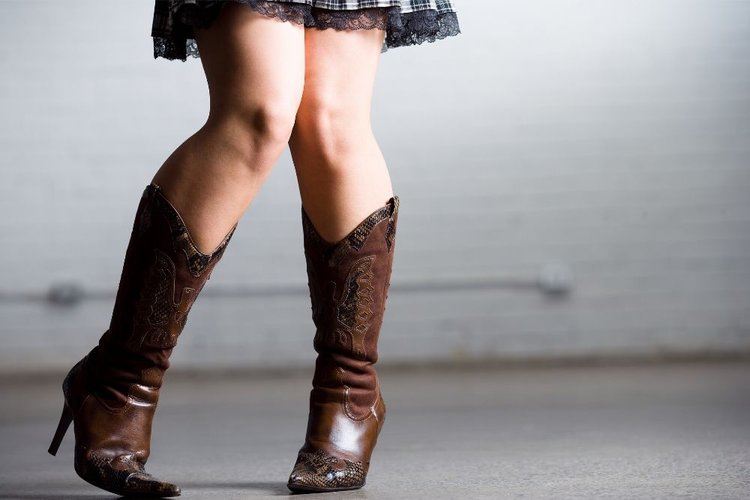 It's a timeless combination that captures the essence of Western elegance and resilience, embodying a unique blend of strength and grace.
Whatever is in Your Wardrobe
The beauty of cowboy boots, especially for girls, is their remarkable versatility. The options for pairing these boots with different pieces from your wardrobe are virtually endless.
My advice? Dive into your closet and experiment. Try on your cowboy boots with various outfits – you might be surprised at the plethora of stylish combinations you'll discover.
Leggings, for instance, paired with cowboy boots create a sleek, modern look that's both comfortable and chic.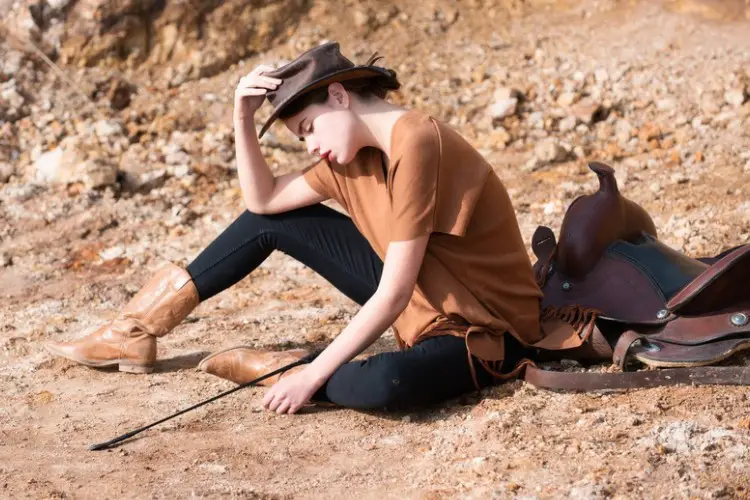 Shorts offer a playful, casual option, perfect for warmer days or a relaxed outing.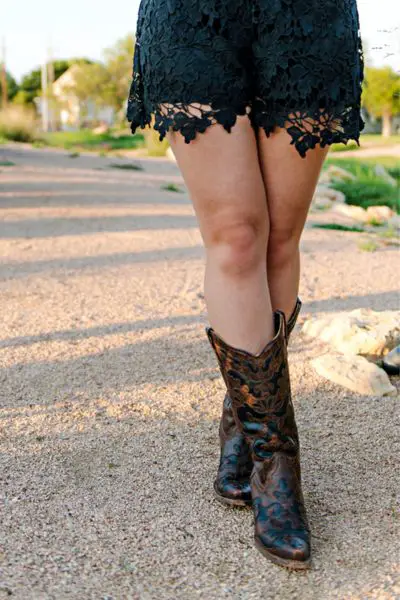 And don't forget about flare pants, which can add a touch of retro flair while perfectly complementing the boots' distinctive style.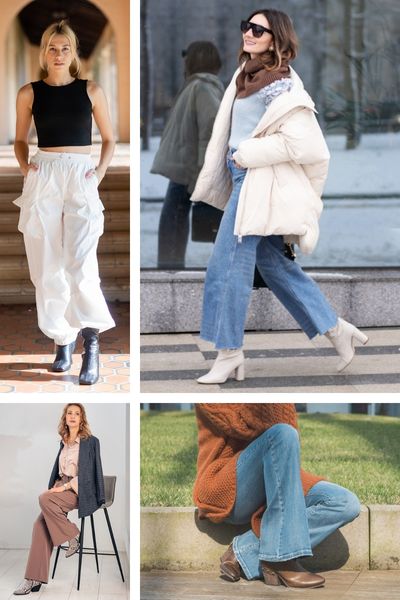 Each of these choices, from leggings to flare pants, has the potential to be exactly what you need for a fresh, fashionable look.
Cowboy boots have a unique ability to transform an outfit, elevating everyday pieces to new heights of style.
So, take a chance, mix and match, and watch as your cowboy boots breathe new life into your wardrobe staples.
Related Questions
1. What do Cowboy Boots Say about a Man?
Cowboy boots say much about a man's character — they symbolize liberty, allure, and confidence, occasionally tinged with a hint of arrogance. These boots empower men to stand out, embodying the courage to think differently, speak boldly, and act decisively.
More than just footwear, cowboy boots are a statement piece for their wearers. The elevated heels add to the wearer's stature, projecting an air of pride and self-assurance.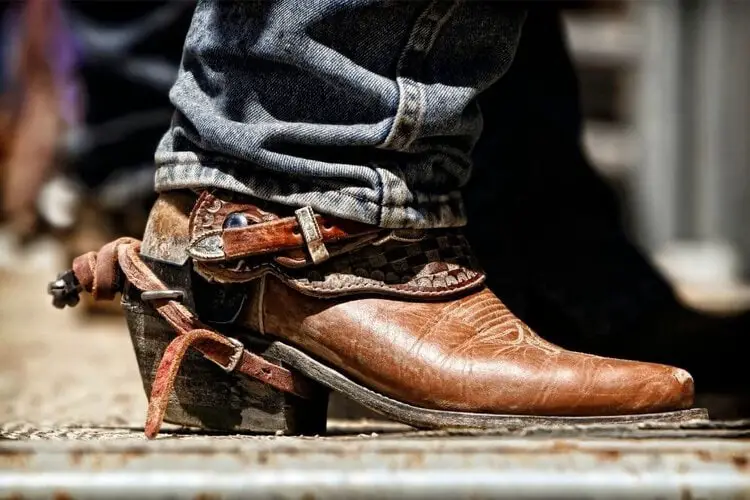 However, it's crucial to remember that true pride and confidence come from within. Cowboy boots are merely instruments that help men express their inherent qualities and showcase their unique personalities.
Not everyone embraces standing apart from the crowd, and not all have the boldness to seek distinction. But for those who do, cowboy boots are a confirmation of their individuality and a testament to their willingness to be different.
They offer a distinctive blend of poise, coolness, and a touch of nonchalance, all without creating barriers in social interactions. This is the subtle artistry that cowboy boots bring to their wearers.
Moreover, cowboy boots represent more than just style; they are a manifestation of beauty, history, and a bygone era. They carry stories and traditions, making them not just a fashion statement, but a piece of cultural heritage.
2. What Not to Wear with Cowboy Boots?
Not as lucky as women who can wear anything with cowboy boots, men need to be more cautious!
They can't wear skinny jeans and shorts with cowboy boots like women. Also, guys won't put jeans inside cowboy boots, which is the matter.
To explain this, skinny jeans and shorts are not a good choice when worn with cowboy boots for guys. This combination doesn't give men the style they want but rather takes away their manliness, arrogance and balance. Sounds bad, isn't it?
Besides, men should not put their pant legs inside cowboy boots. But if your work nature requires you to do this (horse riding, farming and ranching, etc) then you can do this tucking thing. But believe me, that combination isn't that good in terms of fashion.
3. Where Should Jeans Fall on Cowboy Boots?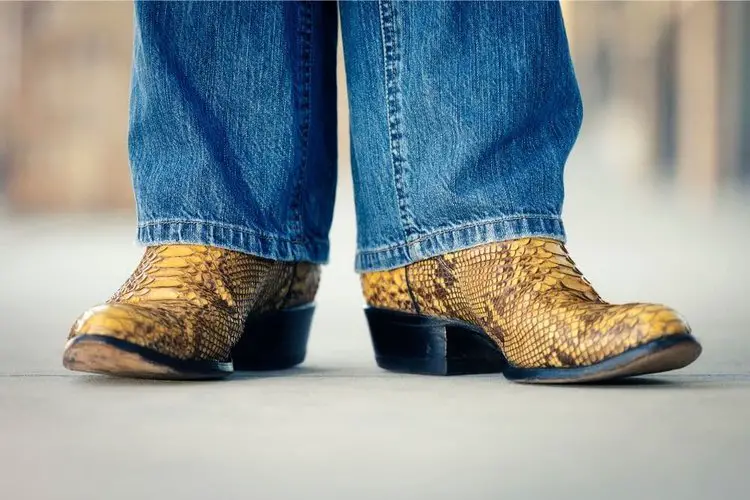 For the best look when wearing jeans with cowboy boots (bootcut jeans, straight-leg jeans, cowboy cut jeans, etc.), your jeans must cover their entire shaft.
Cowboy boots have a much higher shaft than other boots (11 inches to 14 inches), so you'll need a pair of jeans that are longer than usual to fully cover the shaft.
The jeans should fall on foot (vamp) on the cowboy boots, slightly longer to cover the foot of the cowboy boots a little.
That will definitely give you a nice look!
4. Do Cowboy Boots Look Good on Guys? Why do Guys Wear Cowboy Boots?
That's for sure, cowboy boots definitely look good on guys, if you are a man, you must have a pair of cowboy boots in your house.
Why? Cowboy boots have all accents in their structure: high heel, unique shaft, vamp motif, beautiful toe shapes (pointed toe, round toe, square toe,…), and leather sole with great click-cluck sounds.
That structure adds height, confidence, and a little swagger for your own style.
Cowboy boots not only give a sharp look but also provide mental excellence to the wearer – a real cowboy lifestyle.
But as we said, cowboy boots alone can't give you all. You are the one owning those styles and charisma, and cowboy boots are just the tools for you to show off.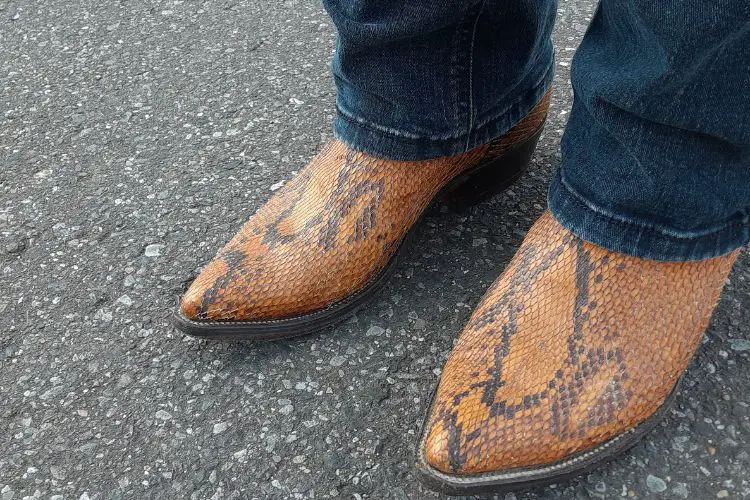 5. Why do Cowboys Wear their Pants in their Boots?
Because when a cowboy stuffs the pants inside the cowboy boot, the boot protects the pants from getting torn or dirty, muddy, etc.
Also, when riding, your pants can tear and get stuck into the saddle's stirrup, causing them to tear more and put the cowboy in danger. Tucking cowboy pants into the boot can prevent this problem.
Cowboy boots with a sturdy and tall construction can protect cowboys and their pants from negative effects.
But as we said, when it comes to fashion, it's not a good idea to put your pants in cowboy boots.
6. Do Guys Wear Cowboy Boots Over Jeans?
When it comes to fashion terms, absolutely NO, guys don't wear cowboy boots over jeans.
Unless you ride a horse or work and want to protect your jeans from mud or debris, you won't wear cowboy boots over jeans.
When you slip your cowboy boots into jeans, you will have a sharp look, but if you do the opposite, you will be like a teenage boy wanting to show off yourself. That's not the purpose of wearing cowboy boots.
7. Should you Wear Socks with Cowboy Boots?
You should wear socks with cowboy boots as they can bring you many benefits.
Many types of socks today have very good arch, heel and toe support. This allows you to easily break in cowboy boots without going through the frustrating process.
Besides, the heavy work you are doing also becomes more comfortable when supported by socks. Many socks are moisture-wicking to keep the feet dry and comfortable all day long.
In short, you can have many benefits when wearing socks with cowboy boots.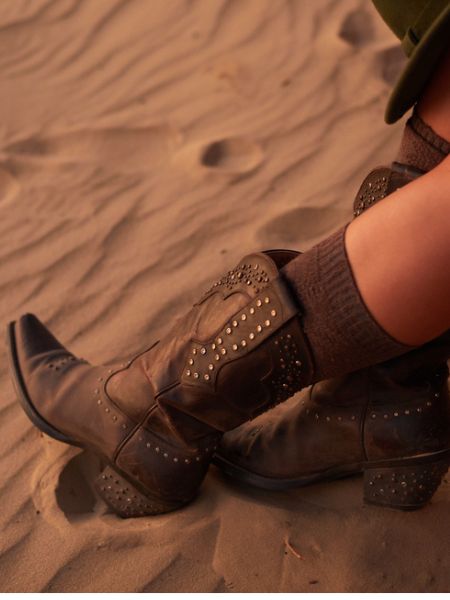 Before you leave
Don't put limits on your imagination; let it soar. Embrace the freedom to pair your cowboy boots with anything that you feel looks best. It's all about wearing what makes you feel confident and true to yourself.
Remember, it's when you feel at your best that you can tackle any challenge, no matter how daunting it may seem. Trust in your style, step out with confidence in your cowboy boots, and you'll be unstoppable.
Wishing you all the best on your fashion journey with your trusty cowboy boots by your side!
Howdy y'all, and welcome to From The Guest Room, your ultimate guide to all things Western! I'm Jay Gatz, a lifelong cowboy boot enthusiast with over 5 years of experience in the Western style world. I'm excited to share my knowledge with you and help you discover the perfect cowboy boots and western gear to elevate your style. Let's explore the rich history and timeless appeal of Western fashion together!