Cowboy boots bring a unique and liberal lifestyle and are an accessory that expresses Western historical, cultural and human values.
It's no coincidence that cowboy boots have been around for centuries and have always appeared in movies ever since.
Today, cowboy boots are not only for horse riding, ranch and farm, but also unique fashion items for your style and your mind.
However, the beauty of cowboy boots will not be complete if you do not know how to match them properly.
How to wear cowboy boots for guys? The answer will be very interesting, newbies cannot miss it!
What do cowboy boots say about a man?
Liberty, attractiveness and confidence, sometimes a little arrogance – all of these things are what cowboy boots offer for a man.
With cowboy boots, men won't hesitate to show that they can make a difference, dare to think, dare to say and dare to do! That's what cowboy boots say about men!
Cowboy boots are always an interesting companion for their owner, like the height of the heels makes the wearer look proud and confident.
The truth is, you can't find pride and confidence from cowboy boots, but it's your instinct to bring these qualities. Cowboy boots are just the tools to help you show off your personality.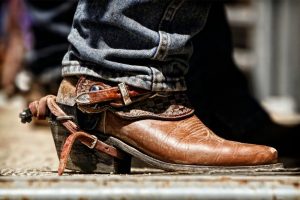 Not everyone likes the difference, not everyone dares to do different things, but you are different, you dare to do that, to show your personality and to stand out from the crowd! And cowboy boots confirm that.
People wearing cowboy boots often have a poise, coolness, a bit of recklessness, but do not bring distance between your relationships, which is the art that cowboy boots give you.
Also, cowboy boots are the embodiment of beauty, history and era.
How to wear cowboy boots for guys?
When matching with cowboy boots, there are accessories that make classic combinations,  while some can create unique coordination for a striking look.
On the other hand, some items when going with cowboy boots can become a fashion disaster.
Let's explore more!
Jeans – bootcut jeans, straight leg jeans and cowboy cut jeans
"Hey, any of us know that jeans are the best accessory to wear with cowboy boots, do you know anything else?"
Yes, jeans are the best pants to wear with cowboy boots, but do you know what types of jeans to wear with cowboy boots aside from bootcut jeans?
I'll let you know! And why should you choose them!
Bootcut jeans
Jeans worn with cowboy boots is definitely the best combination life has bestowed on cowboy boots fans.
One of the jeans that is the best match with cowboy boots ever is the bootcut jeans. You can't go wrong wearing bootcut jeans with cowboy boots.
The first thing is that bootcut jeans have enough room at the bottom for you to tuck the cowboy boot's shaft inside.
In addition, boot cut jeans have a wide bottom and narrower upwards, which will not cause the V-shape of the collar cowboy boots to print on the surface of the jeans.
From the knee, the bootcut jeans hug the wearer's body (hips, buttocks, thighs), creating a classic liberal look! And that's exactly what you look for in cowboy boots.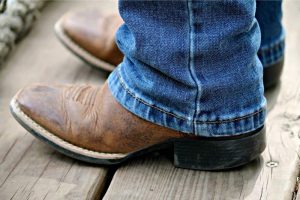 Straight leg jeans
If you already have 10 pairs of bootcut jeans to wear with cowboy boots at home and wanna try a new style, why not try straight leg jeans?
You will be completely different when you match straight leg jeans with cowboy boots, because that is the look of a mature and polite man.
Well, keep in mind that you need to look for straight leg jeans with a wide bottom to insert cowboy boots shaft into.
Cowboy cut jeans
What did I say? There are creative accessories to go with cowboy boots and give a cool look.
That is cowboy cut jeans, the modern jeans developed to serve owners of cowboy boots.
Their appearance is quite similar to bootcut jeans, so don't get confused.
Cowboy cut jeans have a smaller bottom than bootcut jeans, but don't worry, they still have the right width to insert the cowboy boot shaft in.
What will you get from cowboy cut jeans?
That is a young, liberal yet classic beauty.
Cowboy boots are not favored by young guys? No no, let's show them how you wear this wonderful footwear with cowboy cut jeans!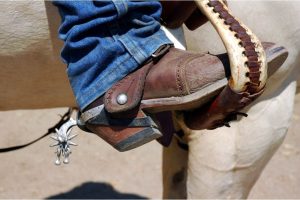 Types of jeans fit your body shape
No need to be rigid, the most important thing is to find the right jeans for your body, and cowboy boots that fit them!
Want some examples?
You have a skinny body, you will need slim fit jeans (slim fit bootcut, slim fit cowboy cut,…) to flatter your body. Because they hug your butt, thighs and hips fairly.
Trust me, you will look extremely handsome and dashing when wearing such an outfit.
But what if you are overweight? Then the regular fit or relaxed fit will be a great choice, in terms of comfort and appearance.
Be flexible! Money and choice are yours!
Khaki Pants
Khaki pants are the next perfect creation you'll need if you want others to call you a true cowboy!
Khaki jeans are also jeans, but khakis jeans and ordinary colored jeans bring two completely different feelings when worn with cowboy boots.
If you want an absolute distressed look, then nothing can give you better than Khaki jeans and cowboy boots.
A dusty and wild touch of khaki pants will give the cowboy a more masculine and gentleman look.
Let's give it a try!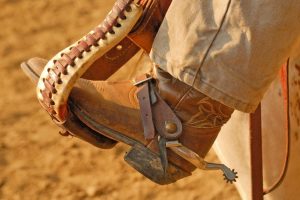 Dress pants
No more rolling around on sunny and sandy ranches, don't be surprised if you come across someone coming to their office in cowboy boots and dress pants. Because that combo is a wonderful creation.
Today's cowboy boots have evolved into many different types, with many various materials to serve a lot of purposes.
A pair of lizard cowboy boots paired with dress pants for an elegant look! Why not?
Don't tell your wife what I showed you!
Suit
Many people have asked us the question: "Can I wear a suit with cowboy boots?". Well, it's definitely no problem.
The best proof is looking at the terminator Arnold Schwarzenegger.
Without a doubt, caiman cowboy boots, lizard cowboy boots, ostrich cowboy boots, nice polished cowboy boots, etc. All of them are perfect for a suit.
This combination will create a real gentleman!
Jacket – leather or jeans
You cannot lack a jacket when wearing cowboy boots.
Don't hesitate when choosing a jacket, just pick one made from leather or jeans!
Do not choose too shiny leather coats, instead, it is better to go for distressed, tan, brown colors. Or choosing a jeans jacket with the same color as the jean pants.
Never go to Rodeo if you forget your jacket at home!
T-shirt, shirt
No need to be too fussy, a simple shirt or T-shirt to combine with jeans (or khaki, dress pants) are all you need.
Do not choose clothes that are too fussy or colorful, think simple, since your class sometimes just lies in simple things!
How to wear cowboy boots for women?
There are many, many different kinds of accessories women can wear with cowboy boots. The limit is only your imagination!
Why do I say that, here's why:
Jeans – skinny jeans, bootcut jeans, short jeans
Jeans are the love of cowboy boots, jeans are always the number one priority for both men and women.
And once again, bootcut jeans will be the jeans that girls should look for.
Bootcut jeans hug the hips, butt, thighs, 1/3 calves and gradually widen from there to the bottom. That makes it easy to keep cowboy boots shaft into your pants, but still show off your sexy curves.
Once again, bootcut jeans affirm that they are always the king of accessories when it comes to the companion of cowboy boots!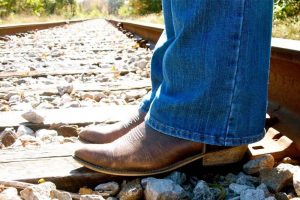 There isn't a girl closet that doesn't have skinny jeans, that's for sure.
Look no further, skinny jeans and cowboy boots are enough for a youthful, energetic and attractive look.
Tuck skinny jeans in cowboy boots and go down the street, all eyes will be on you!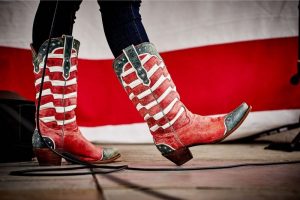 Charming, youthful, and attractive – that's the result when combining short jeans and cowboy boots.
I'm sure that girls will never hesitate to wear short jeans with cowboy boots on the street, since this coordination has all the elements of beauty that young girls are always looking for.
Dress
Line dancing, weddings, parties,… cowboy boots and dresses can be found everywhere.
The feminine dress and cowboy boots will definitely make everyone fall in love.
Tea-length bridal dresses and 1950s-style short dresses can be the main focus in this classic combination!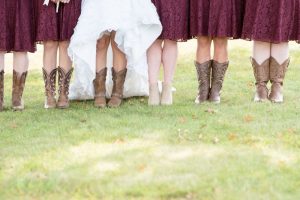 Skirt
Not only create a gentle style like a combination of cowboy boots and dress. If you want, a skirt and cowboy boots can completely bring you any style, whether sexy or gentle feminine.
And as I said, what's important is your imagination!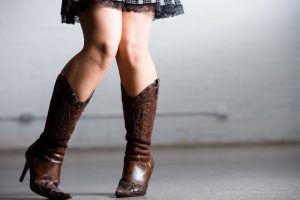 Whatever on your wardrobe
In fact, girls have a lot of options to wear cowboy boots. Pull all your clothes out and try them on with cowboy boots, trust me, you'll have tons of options.
Legging, short, flare jeans, etc. All of them could be what you're looking for!
Other problems
There are lots of ways to wear cowboy boots for a fine look. However, if you don't know how to match it right, they can become fashion disasters.
This could bring a horrible experience to your day. So, be careful and take your time!
What not to wear with cowboy boots?
Not as lucky as women who can wear anything with cowboy boots, men need to be more cautious!
They can't wear skinny jeans and shorts with cowboy boots like women. Also, guys won't put jeans inside cowboy boots, which is the matter.
To explain this, skinny jeans and shorts are not a good choice when worn with cowboy boots for guys. This combination doesn't give men the style they want, but rather takes away their manliness, arrogance and balance. Sounds bad, isn't it?
Besides, men should not put their jean legs inside cowboy boots. But if your work nature requires you to do this (horse riding, farming and ranching, etc) then you can do this tucking thing. But believe me, that combination isn't that good in terms of fashion.
Where should Jeans fall on cowboy boots?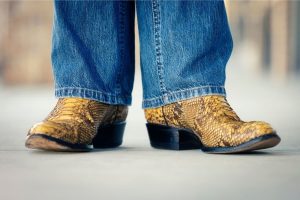 For the best look when wearing jeans with cowboy boots (bootcut jeans, straight leg jeans, cowboy cut jeans, etc.), your jeans must cover their entire shaft.
Cowboy boots have a much higher shaft than other boots (11 inches to 14 inches), so you'll need a pair of jeans that are longer than usual to fully cover the shaft.
The jeans should fall on foot (vamp) on the cowboy boots, slightly longer to cover the foot of cowboy boots a little.
That will definitely give you a nice look!
Do cowboy boots look good on guys? Why do guys wear cowboy boots?
That's for sure, cowboy boots definitely look good on guys, if you are a man, you must have a pair of cowboy boots in your house.
Why? Cowboy boots have all accents in their structure: high heels, unique shaft, vamp motifs and beautiful toe shapes (pointed toe, round toe, square toe,…) and leather sole with great click-cluck sounds.
That structure adds height, confidence and a little swagger for your own style.
Cowboy boots not only give a sharp look, but also provide mental excellence to the wearer – a real cowboy lifestyle.
But like we said, cowboy boots alone can't give you all. You are the one owning those styles and charisma, and cowboy boots are just the tools for you to show off.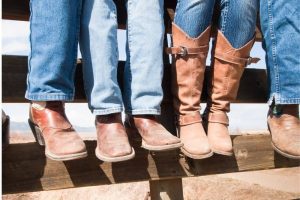 Why do cowboys wear their pants in their boots?
Because when a cowboy stuffs the pants inside the cowboy boot, the boot protects the pants from getting torn or dirty, muddy, etc.
Also, when riding, your pants can tear and get stuck into the saddle's stirrup, causing them to tear more and put the cowboy in danger. Tucking cowboy pants into the boot can prevent this problem.
Cowboy boots with a sturdy and tall construction can protect cowboys and their pants from negative effects.
But as we said, when it comes to fashion, it's not a good idea to put your pants in cowboy boots.
Do guys wear cowboy boots over jeans?
When it comes to fashion terms, absolutely NO, guys don't wear cowboy boots over jeans.
Unless you ride a horse or work and want to protect your jeans from mud or debris, you won't wear cowboy boots over jeans.
When you slip your cowboy boots into jeans, you will have a sharp look, but if you do the opposite, you will be like a teenage boy wanting to show off yourself. That's not the purpose of wearing cowboy boots.
Should you wear socks with cowboy boots?
You should wear socks with cowboy boots as they can bring you many benefits.
Many types of socks today have a very good arch, heel and toe support. This allows you to easily break-in cowboy boots without going through the frustrating process.
Besides, the heavy work you are doing also becomes more comfortable when supported by socks.
Many socks are moisture wicking to keep the feet dry and comfortable all day long.
In short, you can have many benefits when wearing socks with cowboy boots.
Before you leave
Don't be too hard on your imagination, let them fly. Feel free to wear everything with the cowboy boots you think are the best.
Only when you feel you are the best, you can get things done no matter how hard or difficult it is.
Good luck!