Cowboy boots are the ideal footwear to protect you from harsh and extreme weather, terrain and environment.
Why did I say that? Because they have a tall shaft with a sturdy structure that not many other types of boots have.
However, due to their structure, cowboy boots give people a lot of problems when the summer comes!
Many newbies of cowboy boots often have the same question: Are cowboy boots hot in the summer?
It's an important question, because in the summer, cowboy boots with a height up to more than 14 inches seem not a good choice.
Do you want to know about the truth? I will tell you right below.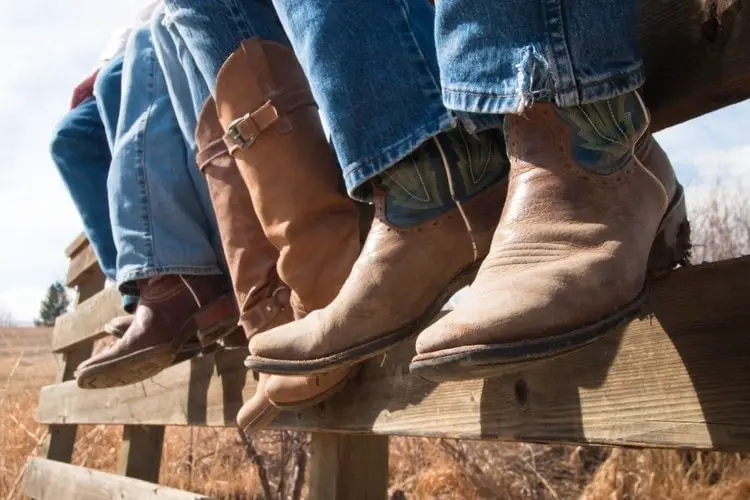 Are Cowboy Boots Hot in The Summer?
Well, I just thought I'd write this post today – in July 2021, it's one of the hottest days in the Northwest I've ever experienced with a temperature over 45 degrees Celsius.
If you don't know, these days, when you look at the temperature map, the image of Canada and Western North America is full of red color. You will feel boiling when going outside!
Canada 'heat dome' leads to record temperatures, as climate crisis makes extreme heat more common
This is one of the worst days because my blog is not visited by anyone.
It seems that on these hottest days, people don't think of wearing cowboy boots, or a more optimistic thought is that no one wants to step out of the house in such weather. So they don't think of putting on a pair of sandals let alone boots.
Okay, that's enough for blabbering!
In fact, I'm not sure wearing cowboy boots on the hottest day is a bad idea, therefore, I lean towards my optimistic thinking.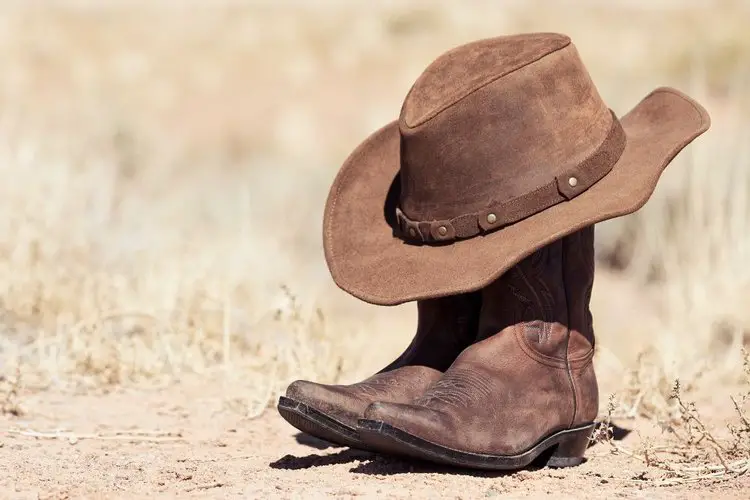 Tall shaft
If you are working outdoors on the hottest day in the summer, you will know one thing for sure, cowboy boots with more than 11 inches in height will protect you perfectly from the sun on the field.
Cowboy boots with a tall structure will be the shield to protect you from heat, ensuring you won't feel uncomfortable.
But, it only works when your job is outdoors. Only when working outdoors, you feel the protection of cowboy boots from the heat of the sun are something to dream about.
If you wear cowboy boots for fashion, not function, yes, I confirm that cowboy boots can cause heat for your feet!
Therefore, whether cowboy boots are hot or not depends on what you use them for.
It's not hot if you work outdoors because of its great protection. But, it can cause more heat for casual wear than other footwear.
If you want to wear them every day in summer, I recommend cowboy boots with roper style. If you are a woman, then a western bootie will be a good choice. They have a low construction that will keep your feet cooler.
Linings
One of the most important parts of cowboy boots to make your feet and legs cool is lining.
Most cowboy boots have leather or fabric linings, both of them can offer good breathability and moisture-wicking (fabric may absorb moisture better) for your legs.
But, honestly, on the hottest days, no matter what material the lining is made of, it won't stop your feet from getting hot. It just makes you feel better but does not completely cool down the heat for sure.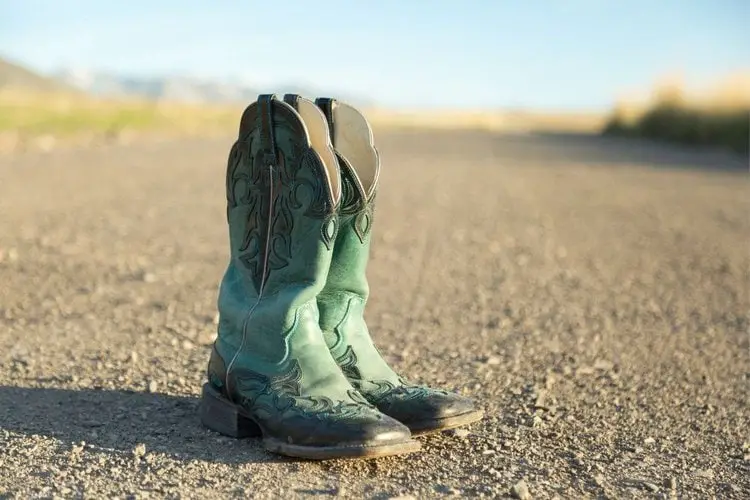 Soles
Insoles have the same (or almost) function with lining for the hottest day, they can be breathable and moisture-wicking to keep your feet dry and comfortable.
Insoles of cowboy boots are often made from leather or fabric like lining, therefore, your feet will feel cool in the summer.
However, I advise you to stay away from inserting extra plastic insoles. That would cause disaster.
Between leather and fabric, what is better for summer? Just scroll down, I have the comparison below for you.
All of us know today's cowboy boots have an outsole made from rubber or leather (traditional).
I have two options for you:
If you wear cowboy boots for working outdoors, then cowboy boots with rubber outsoles is the best way to go.
If you just wear cowboy boots casually, then you should choose leather sole cowboy boots.
Why? Rubber soles will protect your feet better from the heat on the farm, your feet will be safe.
But if you wear cowboy boots casually, leather sole cowboy boots will be the better choice for your feet with moisture-absorbent and breathable features.
Upper material
Cowboy boots can be made from a ton of different materials, but some types of material will be the best choice for summer.
Many materials have very good breathability along with durable factors such as ostrich leather which will make your feet cool but don't get damaged by the heat of summer.
Goat leather is also a very beloved material in today's cowboy boots world. It has a beautiful natural appearance and especially contains many large pores. That's why goat leather is very breathable and makes you more comfortable in the summer.
In fact, goat leather cowboy boots are my number one choice in the summer. I have a pair of The Earl goat leather boots by Tecovas. It has a roper style so it comes with a low construction, plus a leather sole and leather lining to provide me with very high comfort in the summer.
Cowhide is the most popular material that is used for cowboy boots. They are very durable and strong to withstand the strong heat and protect your feet.
However, leather is leather, it can be full-grain leather with breathability, but it's not good enough. 
Leather still makes you feel hot in the extremely hot weather. And right now (when I write this article), in July 2021, at a temperature of more than 45 degrees Celsius, I don't wear cowboy boots.
That's my personal opinion, actually, I'm not going outside in this weather without my car!
What cowboy boots are suitable for Hot Summer?
Okay, now we will choose the best cowboy boots for the hottest summer in the history of America.
What feature of cowboy boots can cool down the heat outside to protect your feet?
We will list all the features that can make cowboy boots as breathable as possible!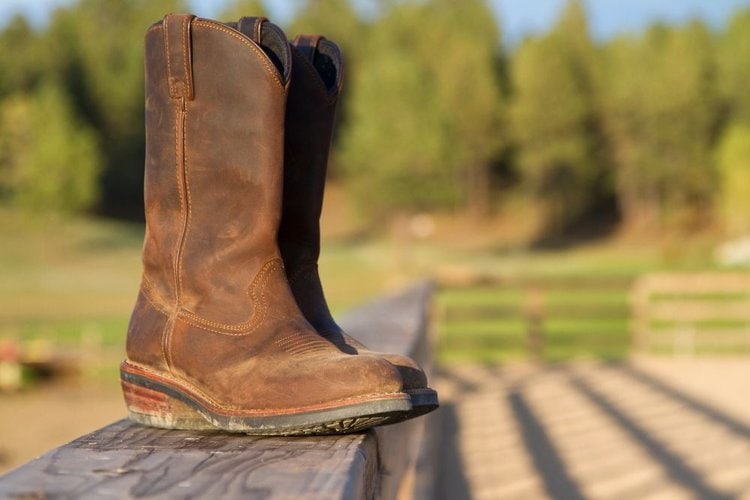 Structure
It is recommended to choose cowboy boots with a tall shaft (more than 12 inches) to protect your legs and feet from the heat while working outdoors.
For casual use, cowboy boots with roper style or ankle cowboy boots (for women) seem to be the better choice to keep your feet cooler.
Besides, I prefer leather lining to fabric, even fabric has better moisture wick. Just a personal opinion, I feel leather lining is cooler than fabric in the hot summer.
Many people might disagree if they have sweaty legs, but I have never worn cowboy boots without a pair of over-the-calf socks. They keep my leg dry and comfortable, and most importantly, your skin will not be irritated!
Last update on 2023-09-22 / Affiliate links / Images from Amazon Product Advertising API
Similarly, when it comes to insoles and outsoles, I choose leather! Most cowboy boots with leather insoles and outsoles are traditional styles. Therefore, they will come with lemonwood pegs.
(For those who don't know, lemonwood pegs are used to connect the insole and outsole of cowboy boots. They are good at absorbing sweat so they are cooler than metal pegs.
I also prefer cowboy boots with lemonwood pegs for the summer. As when they get wet from your perspiration, they can stretch along with the leather upper. So, your boots will last longer and hold their shape better.)
As a result, all the soles of cowboy boots are very breathable so they can give you the best comfort in the summer.
Rubber outsoles can protect your feet from the heat of the road, but they are not breathable. For casual use, you will feel hot in them.
You should only use rubber outsoles for working in the field or similar conditions where you need the protection the most.
And the last thing about the structure of cowboy boots, this may cause controversy!
Personally, I like to wear cowboy boots with more room at the toe and the ball of the feet. So I like to use cowboy boots with round toes and square toes rather than ones with pointed toes.
You may not want to feel constrained in the hot weather. So cowboy boots with pointed toes may not be a good choice.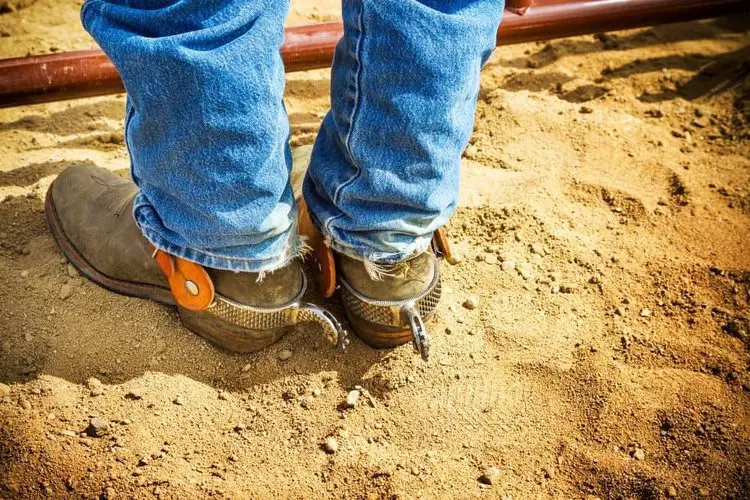 Material
Cowboy boots must be made of pure leather, 100% full grain leather, because this type of leather is very durable and strong but still remains breathable. And say never to synthetic leather.
Along with cowhide, you can use cowboy boots made of Ostrich leather or Goat leather. Yeah, they are extremely breathable.
Ostrich leather is not only very breathable but also durable. And goat leather has many pores that can be breathable even better than an ostrich.
So, there will be 3 types of leather for cowboy boots that are the best for summer: cowhide, ostrich and goat.
Cowhides will be the best leather for outdoor work, because they are durable and affordable with moderate breathability.
Ostrich leather is durable, too, but they are way more expensive. And goat leather also costs more than cowhide too. So, these two types of boots are more suitable for casual use than heavy work.
Don't use cowboy boots made from "ocean leather" such as stingray or shark. And neither elephant leather.
Why? They can be very durable, scratch-resistant and water-resistant very good, but they are not breathable for sure.
To know more about different properties of different types of leather, you can read more here!
Some other materials that may not be a good choice for summer are snakeskin and lizard leather. These 2 types of material are very easy to dry and crack if you don't condition them often to keep them with good moisture.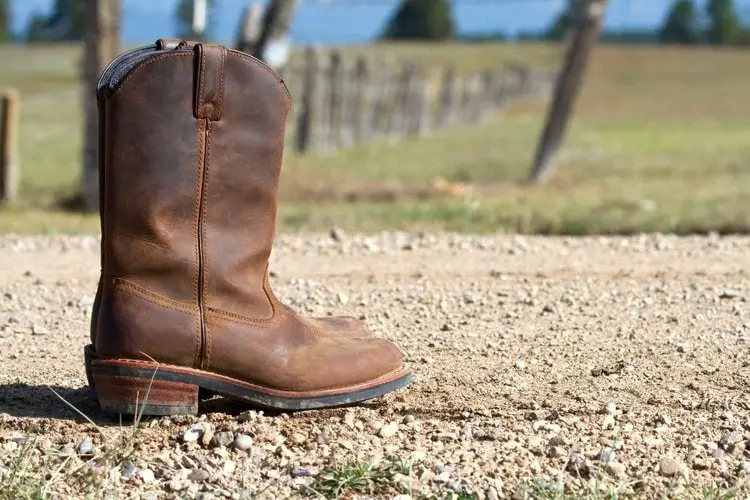 Cowboy boots that fit well
Fit is the last thing you need to notice when choosing cowboy boots for hot summer.
Cowboy boots that fit well will allow air flow and make your feet feel cooler, they should not fit snugly in every place.
For instance: cowboy boots just only fit snugly at the instep, but they need to have space for your ball of the feet and enough room for your toes.
Cowboy boots have space at the ball of the feet and your toes will comfort you a lot because they won't rub your feet and have enough room for air to come in.
Besides, I recommend you choose cowboy boots not too snugly around the calf. They should be a little loose for your calves to breathe well.
Just follow that guide, I believe you can wear cowboy boots comfortably in the hot summer.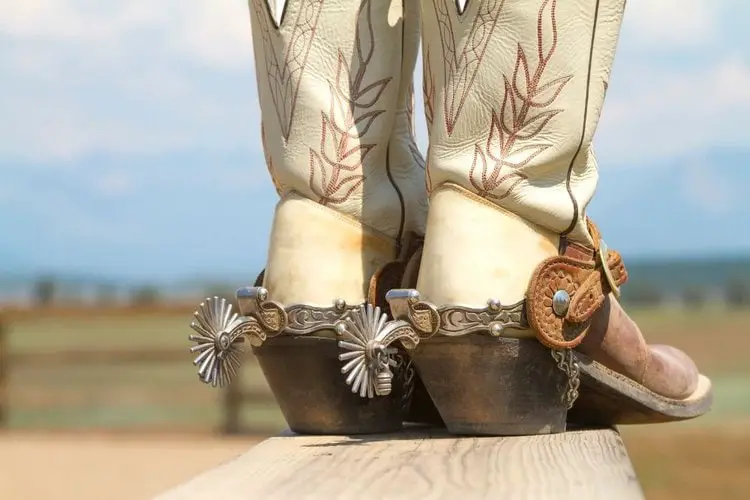 Conclusion
To sum up, the exact answer for the topic: Are Cowboy Boots Hot in The Summer is:
Yes, cowboy boots can make you feel hot in the summer if you intend to wear them casually, because leather is leather, it is not breathable enough to keep your feet cool.
Still, cowboy boots can be the best choice to protect you from the summer heat if you wear them for outdoor work due to their study, tall, strong structure and leather material.
And what cowboy boots will be suitable for each purpose above?
If you wear cowboy boots casually in the summer, you should choose the one with leather lining, leather soles at mid-calf shaft height (or ankle height for women). And the material of the upper should be cowhide, ostrich or goat leather.
If you wear cowboy boots for outdoor work in the summer, you should choose boots with leather lining, leather insoles, rubber outsoles, mid-calf height, and made from cowhide.
And don't forget to choose cowboy boots that fit well with your feet to make your feet cooler. Only snugly fit at the instep, have room at the ball of the feet, the toes and slightly loose at the calf area.
It's everything you need to know!
Howdy y'all, and welcome to From The Guest Room, your ultimate guide to all things Western! I'm Jay Gatz, a lifelong cowboy boot enthusiast with over 5 years of experience in the Western style world. I'm excited to share my knowledge with you and help you discover the perfect cowboy boots and western gear to elevate your style. Let's explore the rich history and timeless appeal of Western fashion together!