Cowboy boots from the 18th and 19th centuries were primarily designed for horseback riding. However, their purpose has evolved over time, expanding beyond equestrian activities.
In contemporary times, cowboy boots are no longer confined to a single domain; they make appearances in various settings that might seem unrelated. You'll find them on farms, in offices, on catwalks, on the streets, in bars, at weddings, and more. The versatility of cowboy boots knows no bounds.
Yet, it's important to note that cowboy boots designed for farm work differ from those meant for casual strolls or formal occasions. This underscores the significance of understanding the distinct types of cowboy boots and how to select the right ones.
This article aims to guide you on where and when to wear cowboy boots, the diverse purposes they serve, and the appropriate types to choose.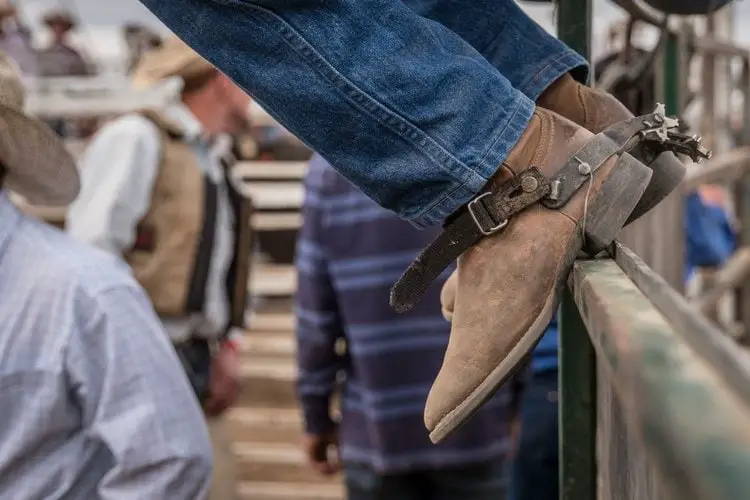 Key takeaways:
Modern Adaptations: Today's cowboy boots feature improved designs like square toes and rubber soles, making them comfortable for walking and other activities. Cowboy boots have evolved from their horseback riding origins to become versatile footwear suitable for various occasions.
Functionality: Cowboy boots find their place on farms, construction sites, offices, and even formal events, showcasing their adaptability.
Safety and Support: Specialized cowboy work boots offer safety features like steel toes, non-slip soles, and arch support for different work environments.
Fashion Forward: Cowboy boots aren't just functional; they've become fashion icons, appearing on catwalks and adding flair to everyday attire.
Diverse Material: Exotic materials like caiman and ostrich skin elevate cowboy boots' elegance, making them suitable for weddings and formal settings.
Embrace Variety: Embrace the diverse styles, functions, and possibilities of cowboy boots to match your unique preferences and passions.
Personal Enjoyment: Whether for line dancing, motorcycle riding, daily wear, or collecting, cowboy boots offer something for everyone's taste and interests.
1. Walking
The myth that cowboy boots should only be used for horseback riding makes many people hesitate when buying them for casual use like walking.
In fact, cowboy boots these days have "evolved" a lot. The structural changes in cowboy boots make them the best choice for walking, namely:
Square toe: cowboy boots with square toes will have more room for your toes, making the wearer more flexible and comfortable.
Rubber / synthetic sole: The sole of modern cowboy boots is made from rubber or synthetic materials with higher strength and better grip to walk without losing balance.
The insole has better support: While traditional cowboy boots do not really have good support for your feet at the arch and heel, today's cowboy boots do.
Those are the three main reasons why you absolutely can use cowboy boots for walking. You can find plenty of roper style and stockman style cowboy boots that can help you walk very well.
Read more: Best Cowboy Boots For Hiking
2. Horseback Riding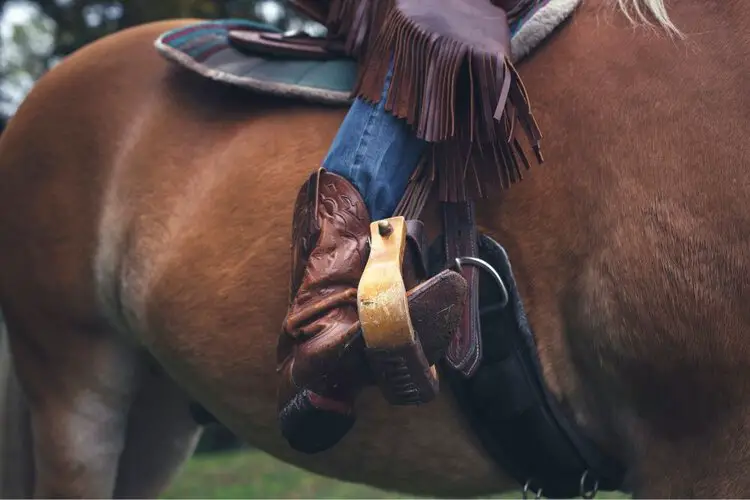 This is the original reason for the appearance of cowboy boots. Horse-riding cowboy boots typically feature a pointed toe and slippery outsole structure, which allows the cowboy's feet to smoothly slide in and out of the saddle's stirrup.
Meanwhile, the high heel (more than 2 inches) acts as a hook so that cowboy boots can stay still on the stirrup without slipping forward.
Today, many people still prefer these traditional cowboy boots, because, in fact, the leather sole looks more elegant and refined than the rubber sole or synthetic sole. The high heels also give the wearer a more swaggered look, along with a proud click-cluck sound.
However, traditional cowboy boots can be a great help for horseback riding but are not a great choice for casual use (walking, jogging).
Since they have quite slippery outsoles, high heels will affect your balance. The pointed toes are also quite narrow and lack room which makes your feet uncomfortable. If you are a newbie, then be mentally prepared for that.
3. Construction Sites
You don't get it wrong, cowboy boots can be used at construction sites that are full of dangers. But, there is only one type of cowboy boots that is eligible for this condition: cowboy work boots (western work boots).
Cowboy work boots can be said to be a hybrid of cowboy boots and work boots, so they can protect you very well with safety toe (composite or steel toe), anti-puncture, non-slip outsole, sturdy structure, etc.
In addition, cowboy work boots also provide great support to the foot with their waterproof features, good arch support, etc.
With cowboy work boots, you can completely rest assured to work at the construction site without fear of objects falling on your feet or being damaged by scattered nails.
4. Farm & Ranch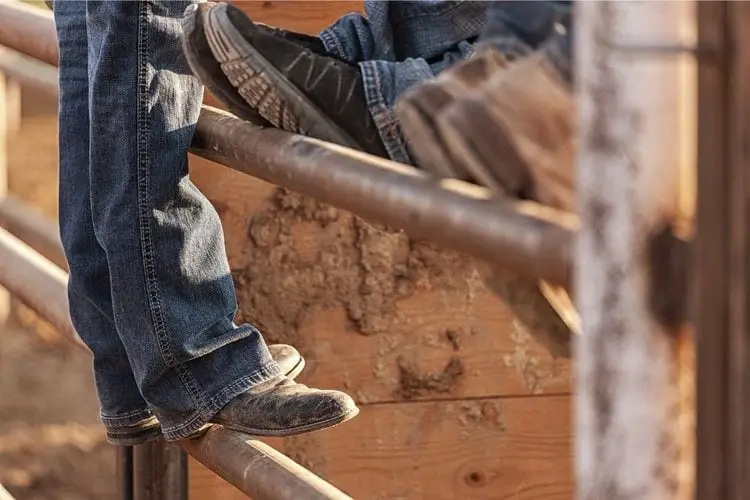 Cowboy boots also often appear on sunny and windy farms.
A good pair of cowboy boots are usually made of full-grain leather. That's why they are very durable and supple but still soft enough and breathable.
Besides, cowboy boots are 11 inches to 14 inches in height and water-resistant (some boots are waterproof).
These factors help cowboy boots protect your feet from adverse effects of weather, temperature, environment, terrain, etc. Along with that, they offer a very high level of comfort.
For these reasons, cowboy boots are the most preferred choice for farming and ranching.
We recommend using modern cowboy boots, as they often provide greater comfort with more protection. They will be your perfect companion all day long.
5. Offices
From endless meadows to modern buildings, cowboy boots can be found anywhere. Simply because cowboy boots are the fashion product from the endless creativity of boot makers.
Cowboy boots have many different designs and looks, you can completely wear caiman cowboy boots with a business suit to go to work, why not?
In addition to the wild style, many cowboy boots with elegant and modern looks are such a great choice for the workplace.
I like to use lizard boots with leather soles to go with my office suit, what about you?
6. Motorcycle
This will continue to be a controversial topic for those who like traditional cowboy boots. Many say that the outsole of traditional cowboy boots is too slippery and your feet will slip off the pegs.
Yes, but that's the story of traditional cowboy boots, modern cowboy boots with non-slip outsoles can give you good security and your feet can stick on the pegs easily.
Besides, cowboy boots with a sturdy structure, water-resistant (or waterproof) feature, high-quality materials, etc. Cowboy boots can provide both great protection and comfort while riding a motor.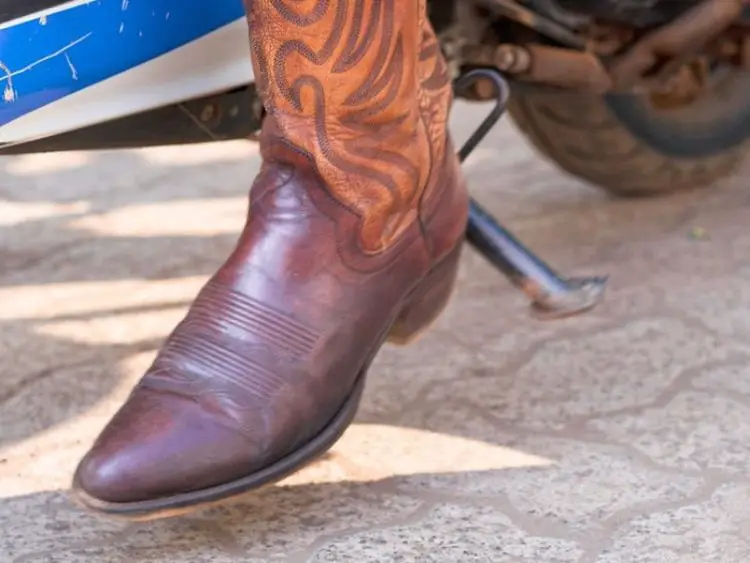 7. Wedding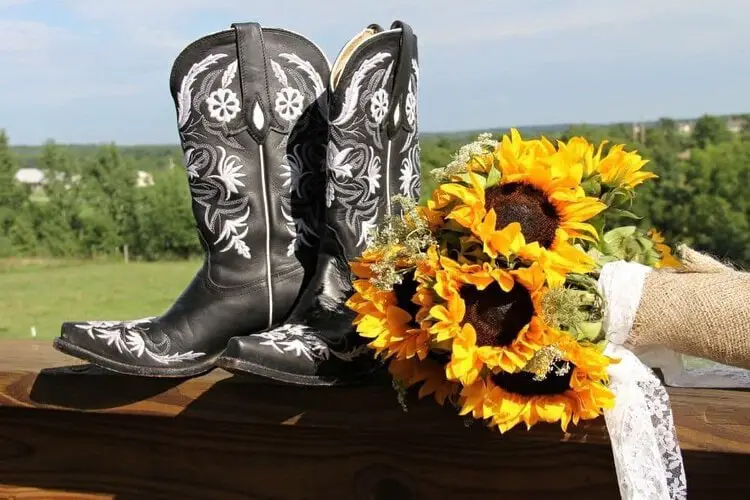 Many people wonder if cowboy boots can be used in sacred weddings. Perhaps they think that cowboy boots only appear on a ranch or on horseback, and these boots only have a wild and dusty appearance.
But they are totally wrong, it seems that they probably haven't seen caiman, lizard or ostrich cowboy boots in their life. These cowboy boots are not inferior to any dress boots in your house!
Cowboy boots not only have a wild look, but there are also many pairs of boots that have a luxurious, noble, and seductive look.
And of course, cowboy boots can be present at the wedding at Buckingham Palace.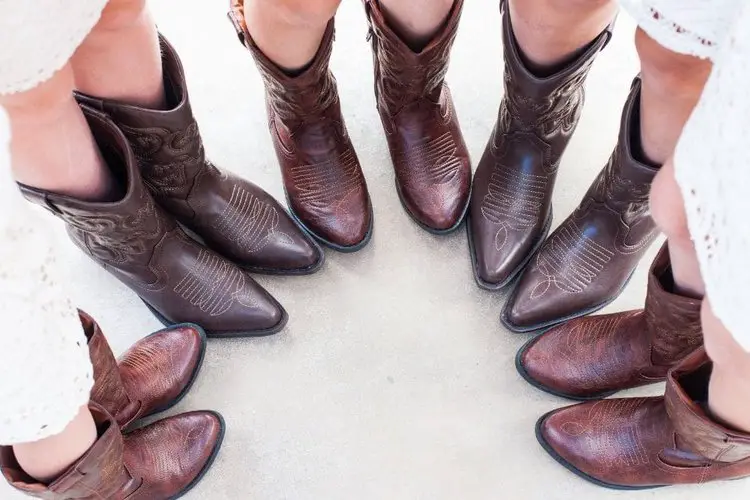 8. Line Dancing
It would be an omission without mentioning line dancing, you can't perform skillful dances without a pair of cowboy boots.
The reason cowboy boots are an integral part of line dancing is that they can hold up well with high shafts. Besides, leather soles help you make spinning or kicking smoother.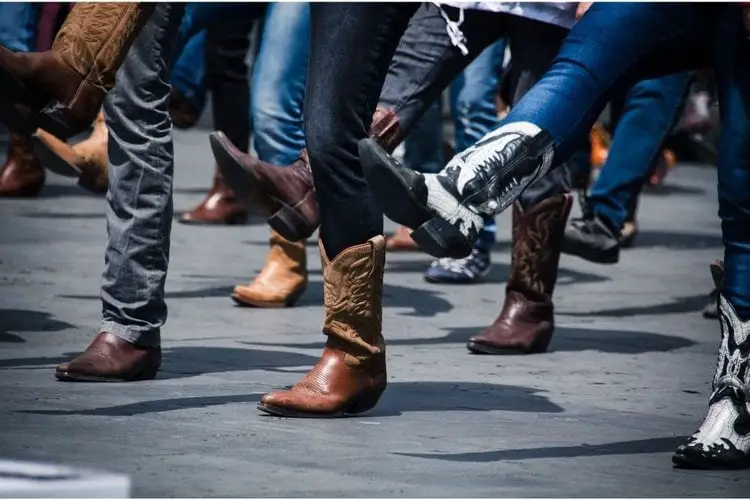 In order to do line dancing, your cowboy boots also need a required feature which is smooth soles.
Yes, cowboy boots' outsoles have to be slippery for you to be able to perform line dance perfectly.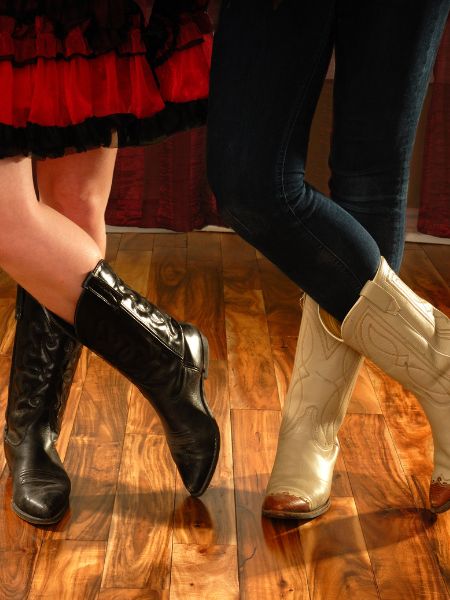 9. Catwalks
Cowboy boots are not only outstanding in function, but also in fashion. Therefore, there is no shortage of catwalks with their presence.
A variety of cowboy boots have appeared on international fashion catwalks, they show off their beauty with beads, fringes, outstanding shafts with artistic stitching, etc.
Overall, due to the diversity in design, appearance and structure, cowboy boots have become a contemporary fashion icon and are popular all over the world.
10. Everyday Wear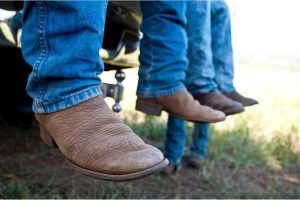 Sometimes, you just want to wear cowboy boots for no reason. Simply wear them every day, go down the street, hang out with friends, flirt with your neighbor (if you're single), go to a pub, etc.
The truth is you don't have to wear cowboy boots for a specific reason.
You can wear cowboy boots just because you love them, love the history and culture they represent and enjoy the delicate stitching on their shafts and vamp. That is enough!
Some Last Words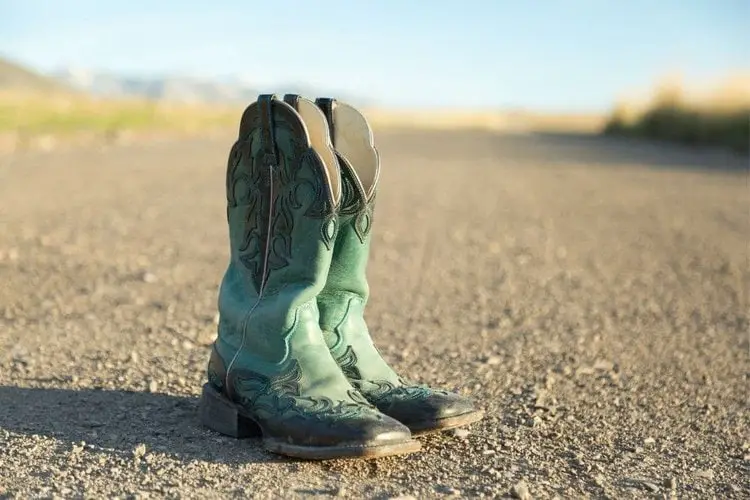 Contemporary cowboy boots have transcended their equestrian origins, becoming adaptable to a wide array of lifestyles. Whether it's for work, leisure, or self-expression, there's a cowboy boot for every occasion.
Embrace their versatility and leverage the benefits of modern designs to cater to your unique preferences and passions. Best of luck on your cowboy boot journey!
Howdy y'all, and welcome to From The Guest Room, your ultimate guide to all things Western! I'm Jay Gatz, a lifelong cowboy boot enthusiast with over 5 years of experience in the Western style world. I'm excited to share my knowledge with you and help you discover the perfect cowboy boots and western gear to elevate your style. Let's explore the rich history and timeless appeal of Western fashion together!