Cowboy boots with high heels, pointed toes, and slippery leather soles seem not to provide enough comfort, balance, and protection for you to use on the farm work.
This is not my personal option. This false notion comes from many people who don't really know about cowboy boots.
Today, I will change your mind by telling you why cowboy boots are the perfect choice for farm work!
Shall we?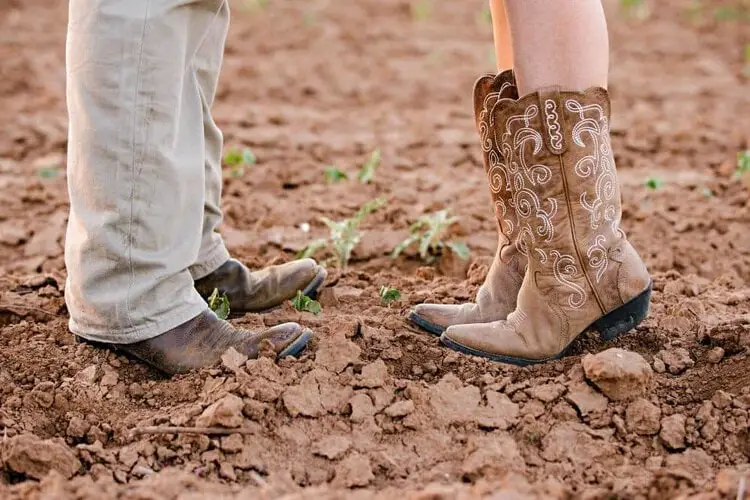 Are Cowboy Boots Good for Farm Work?
Yes, cowboy boots are the perfect choice for farm work. They were born to serve farm work.
Don't think about cowboy boots with high heels, narrow pointed toes, or slippery outsoles anymore, that's a very very old story.
Modern cowboy boots are improved and way better than you think!
They have a tall construction, short heels, rubber non-slip outsoles, premium materials, etc. to offer excellent balance, stability and protection for your feet while farming in the harsh terrain/environment.
Let me show you more below!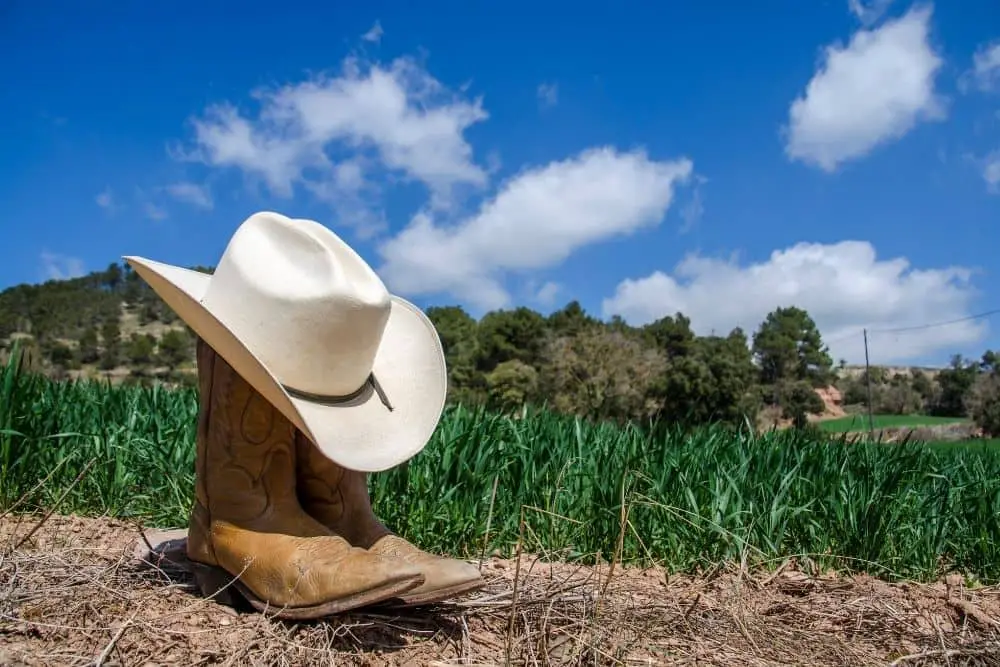 Pros
Tall shaft / tall construction
Cowboy boots with a height of more than 11 inches (and can be up to 16 inches) are perfect for covering your entire calves. They are a superior shield to protect your feet and legs compared to any type of boots out there.
When doing farm work, you will face dirt, mud, and water, and what you need are boots with enough height to protect you (feet and almost entire legs), and cowboy boots can fulfill this criterion.
Besides providing good protection, a tall construction offers your feet enough warmth in the winter and cool in the hot summer days.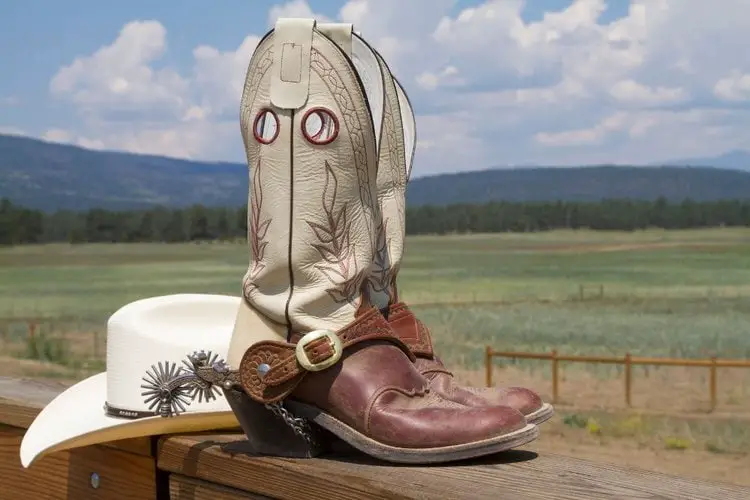 Besides leather soles, today's many cowboy boots come with rubber soles with extremely good traction. This is such a notable feature!
You will need cowboy boots with non-slip outsoles to have a good balance in different terrain, from wet to sandy conditions.
Many cowboy boots today have durable rubber outsoles with different treads to bring the wearer the best balance.
Moreover, the tread of cowboy boots is often not too deep, therefore, you won't have much trouble cleaning the mud off.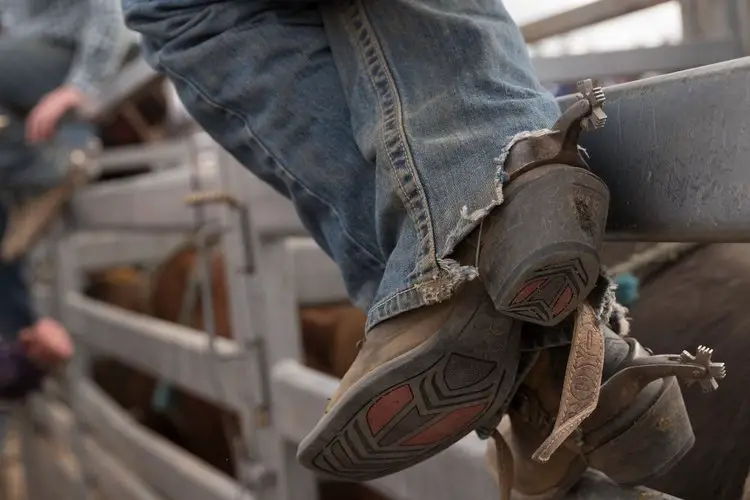 In fact, many long-time fans of cowboy boots don't have much trouble when wearing leather soles cowboy boots for farm work.
But if you are a newbie, there are many cowboy boots with rubber soles in the market that can serve you well.
Cowboy boots with slippery leather soles still can serve you well on the farm as they are flexible, breathable, and lightweight.
But they can't last long as rubber soles and don't have good traction.
In addition to pointed toes or round toes, cowboy boots now also offer square toes or wide square toes.
This means cowboy boots have more room for your feet – your toes can wiggle and comfortable inside the toe box.
One thing is for sure, all of us need boots that provide enough comfort for farm work so cowboy boots should have extra room to fulfill that need.
It comes true! Most cowboy boots today are optimized for farming and ranching, especially cowboy work boots, they have a wide toe box to offer extra room for your toes.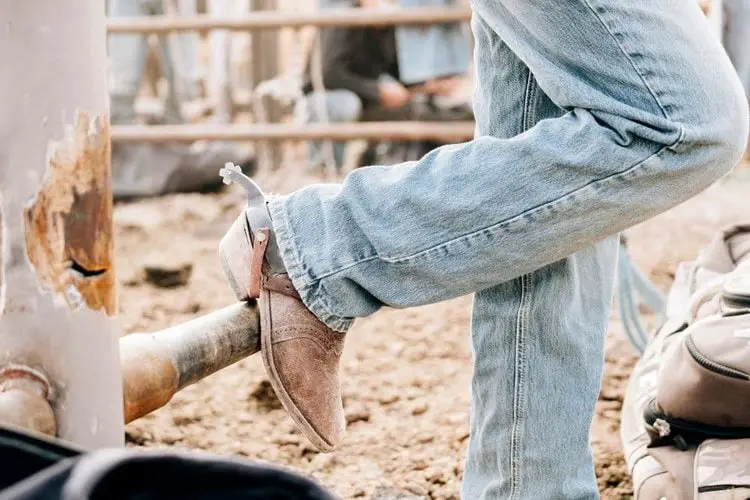 "Cowboy boots with short heels? No way!"
Don't think cowboy boots only have high heels, modern cowboy boots can give you more balance and stability than short heels.
Modern cowboy boots (such as western work boots, roper boots, or stockman) do not only serve to ride horses but also other work such as farming, ranching or construction.
Therefore, today's cowboy boots come in both the high heel and short heel versions.
Modern cowboy boots with a heel height ranging from 1 inch to 1.5 inches will provide good balance compared to traditional cowboy boots (trad cowboy boots have heels with more than 2-inch height)
Besides, the short heel of cowboy boots often has a wide and flat shape, therefore, it can provide very good stability.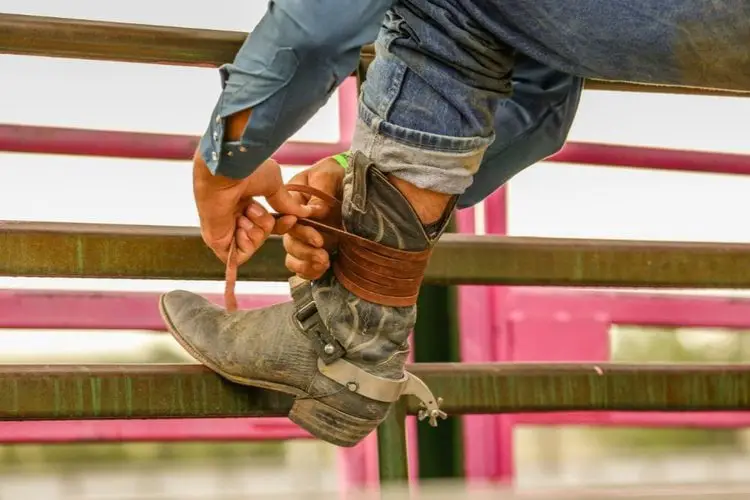 Sturdy and durable structure 
Another outstanding feature of cowboy boots is that they have a very sturdy and durable construction.
Cowboy boots, if well maintained, can last for more than 10 years. This is a dream lifetime compared to other types of boots. And it's reliable proof of the durability of cowboy boots.
All good cowboy boots are premium leather – the material makes up a sturdy structure that can withstand harsh weather and conditions such as rain, snow, hot sun, etc.
And we can't miss the rubber outsoles with better durability and strength.
Leather soles need to be resoled every 2 years, but with rubber soles, you only have to resole them after 5 or 6 years.
Besides, rubber soles cowboy boots are way more sturdy and stronger than leather soles, they can bear water or mud (a nightmare of leather soles) without any problem.
Water-resistant/waterproof feature
Most cowboy boots are water-resistant, that is for sure because it's the original nature of leather, especially full-grain leather – the primary material for making cowboy boots.
Some other cowboy boots are reinforced with layers of protection on the surface, which makes them totally waterproof. Say goodbye to the fear that water can make your feet wet and uncomfortable.
Besides, as I said above, rubber outsoles are also waterproof to turn cowboy boots into impenetrable shields.
One more important thing that I really like about cowboy boots is that they don't have tongues, laces, eyelets or anything like that. So water doesn't have a chance to penetrate through such vulnerable parts.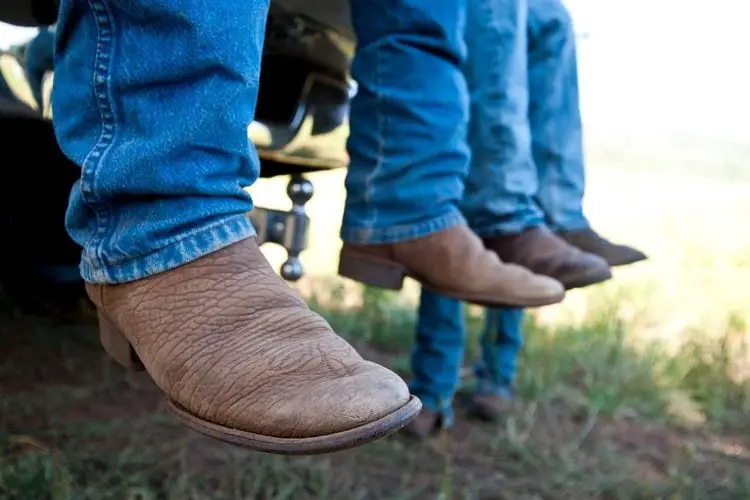 This is obvious when you look at the construction of cowboy boots.
Cowboy boots nowadays have safety toes, and they can protect the wearer as well as work boots at the construction site with their steel toes or composite toes.
If you are a cautious person and want to get the highest safety when farming, then you can absolutely find steel-toe or composite-toe cowboy boots anywhere on the market.
Besides, many cowboy boots with steel shanks offer more stability and protection for your feet, no more worries that sharp objects might hurt your feet.
Some cowboy boots meet ASTM standards for impact resistance and compression resistance – the requirements for construction footwear. This feature is what careful people are eager for.
Agricultural machinery, hoes, shovels, etc., or anything that can hurt your feet will be almost harmless when you wear boots with safety toes that meet ASTM standards.
A boot with a safety toe can withstand the impact of 75-foot pounds and resist compression up to 2,500-foot pounds.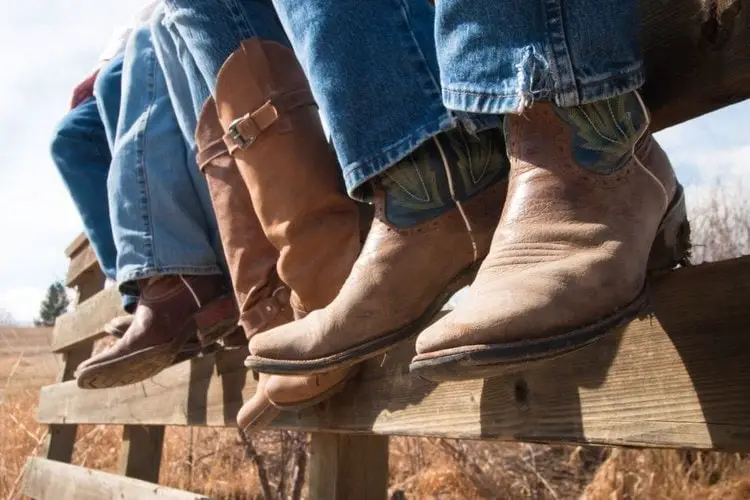 Insoles of modern cowboy boots not just have flat surfaces, they offer a very good cushion to support arches, heels, and toes.
For instance, Ariat with ATS technology, Durango with flex cushion insoles, etc. all can provide very good support for your feet, even if you have a high arch or flat feet.
Many advanced technologies can reduce foot fatigue and absorb impact for better comfort while you work all day.
Along with insoles, the lining of cowboy boots can provide breathability and ventilation for all-day farming. This is also a necessity you should look for in boots.
The lining on cowboy boots can absorb moisture well, keep your feet always dry and clean, and eliminate foot health risks.
For me, cowboy boots are easier to clean (especially cowboy work boots) than other work boots.
Because they don't have shoelaces, tongues, or eyelets – which are the hardest parts to clean.
If you own a pair of waterproof cowboy boots, they are even easy to clean, just spray water directly on the surface of the boots, done!
You don't have to spend a ton of time lacing your cowboy boots like other boots.
I believe that you can put on cowboy boots faster than other boots with long laces and a ton of eyelets.
Just put your hand on the pull straps, pull them up so that the cowboy boots can slip into your feet, and you're done!
And you will have an extra 10 minutes for lunch and coffee.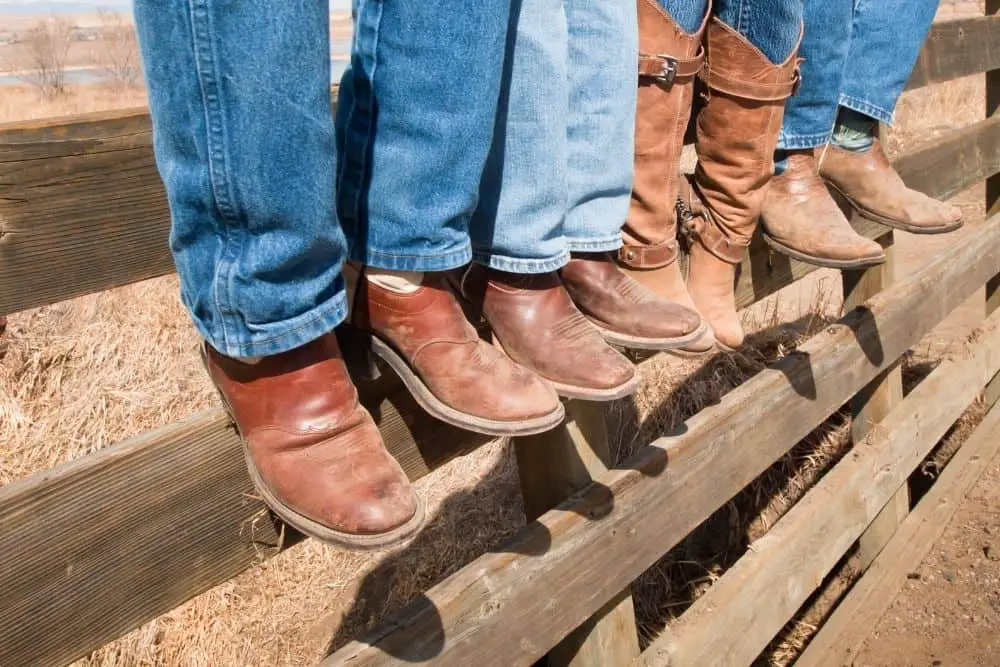 Cons
Many stitching throughout the boots
Cowboy boots often come with many patterns made of many colors stitching in the shaft and vamp, therefore, you will take much time to clean when the stitching sticks on mud.
Usually, you will need a colored pencil to recover the original colors of the stitch. We have very thorough instructions about how to clean stitching on cowboy boots here!
After a period of using cowboy boots, the waterproof ability can disappear, and you will have to recover this ability.
This is not a big deal, just apply some mink oil or beeswax after cleaning cowboy boots, then your cowboy boots can withstand any attack of water.
Why do farmers wear cowboy boots?
This is another question that many people ask us.
Cowboy boots can provide very good protection, balance, comfort, flexibility, and convenience for farmers.
Besides, they are very durable and strong that can withstand extreme weather and harsh environment, terrain, and conditions.
And I can assure you, cowboy boots are the greatest type of boots for farmers.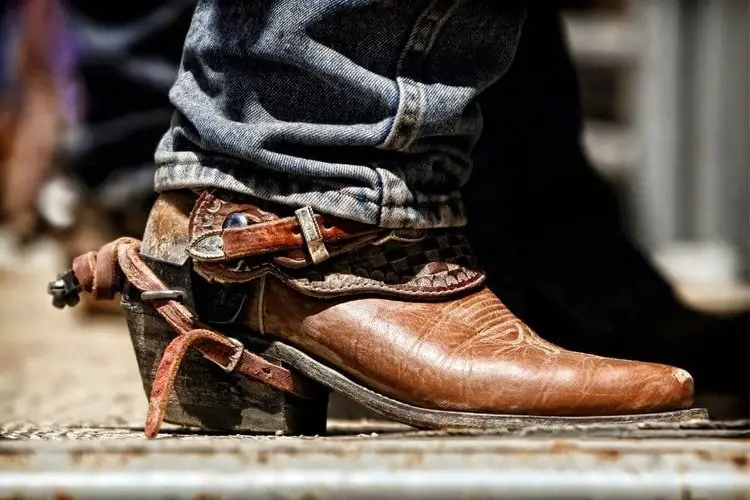 Protection
Cowboy boots give the best protection for farmers due to their tall construction (11 inches to 14 inches). They can protect the farmer from the attack of mud, dirt, water, debris, hot sand, rain, snow, etc.
Moreover, their rubber outsoles are puncture-resistant.
Many types of cowboy boots offer safety toes (composite or steel toe) to prevent the feet from agricultural machinery, hoes, shovels, sharp objects, etc.
Cowboy boots get a sturdy and strong construction as they are entirely made of full-grain leather, your feet will be safe and sound!
Nowadays, many cowboy boots are reinforced at the heels, toes or shanks better with steel or composite. And many of them meet ASTM safety standards for footwear.
Balance
Most cowboy boots for work today are designed with short heels, so they will enhance your balance very well compared to other traditional cowboy boots.
Moreover, thick rubber outsoles with many tread patterns (but not too deep) deliver good traction, making farmers stable in any terrain without sticking too much mud on the surface of their boots.
You will need cowboy boots with non-slip outsoles to climb into the plow, and now you have rubber outsoles.
Comfort
Most cowboy boots nowadays integrate many advanced technologies to provide the best comfort for farmers.
There are ATS technology of Ariat and Cushion Flex insoles of Durango, to name but a few.
Today's cowboy boots have cushion insoles to support the farmer's feet very well at the arch, heel, and toe.
Along with a breathable lining that can absorb moisture well, cowboy boots truly offer great comfort for the wearer.
As I said above, cowboy boots with a tall structure can keep you warm in the winter, cool in the summer and clean under the attack of mud, dirt, or sand.
All of these things deliver the best comfort than other boots.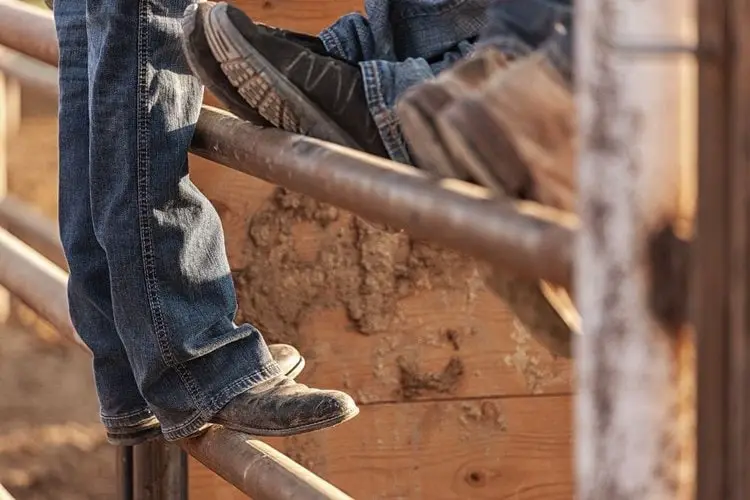 Flexibility
Modern cowboy boots with rubber outsoles have better traction compared to leather ones. This will bring farmers more flexibility on different terrains.
Besides, rubber outsoles also have good flexibility. And as far as I know, rubber outsoles are even more flexible than leather soles.
What more? Cowboy boots hold up very well at the leather around the calf. This is due to their straight and tall shaft.
However, the downside is the weight of cowboy boots. Yes, cowboy boots are heavier than other boots because of their tall structure. This might weigh your steps down and reduce your flexibility a bit.
If other boots have a weight of around 2 pounds, cowboy boots are almost twice as heavy as those boots.
Durability
A high-quality pair of cowboy boots are made from the most premium full-grain leather. Hence, they are very durable and can withstand external forces (harsh weather, environment, terrain) very well.
Full-grain leather is very durable and tough. A good pair of cowboy boots can last for more than 10 years if given proper care.
If you use cowboy boots for hard work like farming all day, they can last for more than 4 years, and I'm sure that not many work boots in the world can reach that lifespan.
Cowboy boots are such a perfect choice for farmers, aren't they?
Convenience
For me, I love to use cowboy boots for farm work because they are easier to clean than other boots with eyelets, laces and tongues.
When working on the field, you will be faced with (wet) mud, sand, or anything else that can stick in eyelets, laces and tongues. And you will have to spend a considerable time removing them.
Some western work boots with waterproof ability are even easier to clean, just spray water directly on the surface of the boots and you are done.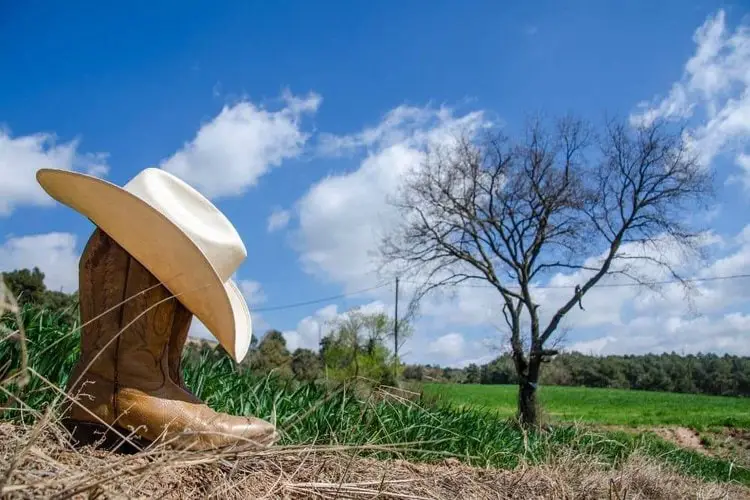 Besides, with that "simple" construction, you can save a lot of time putting on or taking off cowboy boots.
Why? Because it won't take time to tie or loosen the laces (cowboy boots don't get any). Just slip your feet on the boots, put your hand on the pull straps, and here we go!
Usage
In addition to working on feet, many farmers in the past also worked on horseback to herd cattle – they are cowboys.
Traditional cowboy boots with the following structure can help cowboys have good balance and stability on the horseback:
Pointed toes and slippery leather outsoles to easier slip into saddle stirrup
High heels to firmly hook into the saddle stirrup
No laces to prevent getting stuck on the stirrup
High shafts to hold up and protect better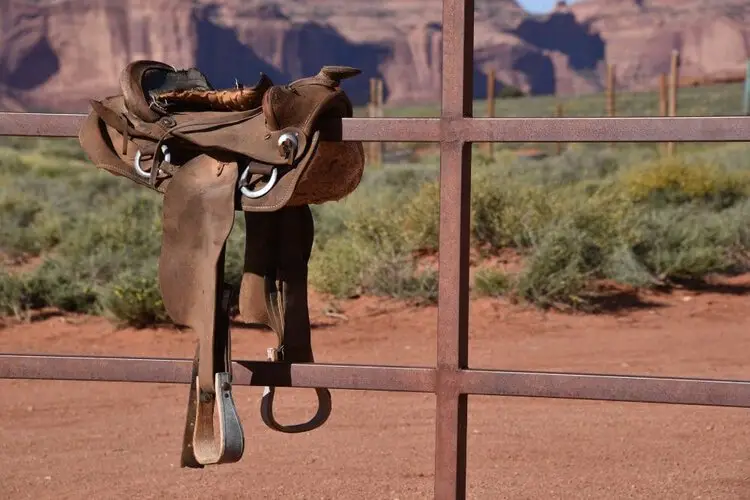 However, their drawback is the stitching on the shaft. You will have to spend too much time recovering the color of all the stitches.
Cowboy boots nowadays have many different styles that are suitable for both working on your feet and horseback.
Determine your purpose, tell me in the comment, and I will tell you what style of cowboy boots you need.
Want to know more about cowboy boots that are good for farm work? Scroll down!
Editor's rating
| | |
| --- | --- |
| Features | Editor's rating |
| Protection | 🌟🌟🌟🌟🌟 |
| Balance | 🌟🌟🌟🌟 |
| Comfort | 🌟🌟🌟🌟🌟 |
| Flexible | 🌟🌟🌟 |
| Durability | 🌟🌟🌟🌟🌟 |
| Convenience | 🌟🌟🌟 |
| Usage | 🌟🌟🌟🌟 |
How to choose the best type of cowboy boots for farm work?
For farm work, I really love to use western work boots, stockman and roper boots.
All 3 types of these boots have some structural similarities as follows:
A short heel that enhances balance and stability better while walking
The upper has durable, sturdy and strong for the best protection
Thick rubber outsoles with not too deep tread provide good traction, flexibility and durability but don't stick too much mud
Toe shapes are square toe or round toe to provide extra room for your feet
Advanced insoles with good cushion offer support for arches, heels, and even toes
Water-resistant/waterproof structure makes them last longer and easier to clean
Not too much stitching – it takes less time for cleaning
Not too tall (around mid-calf) nor heavy like other cowboy boots
Out of the 3 types of boots, my favorite is western work boots.
Besides the above features, western work boots can have steel or composite toes/shanks for better protection.
This construction absolutely brings peace of mind while working.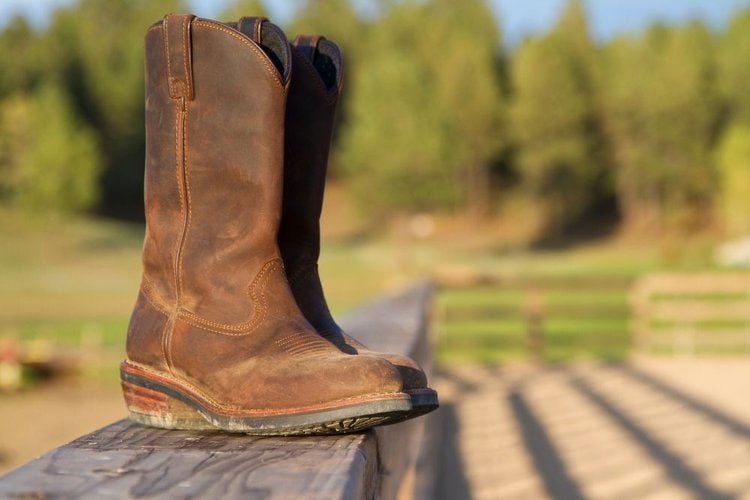 What types of cowboy boots are not good for farm work?
Honestly, I'm not using traditional cowboy boots for farm work on my feet.
Because the high heel, slippery leather outsole and pointed toe are not ideal for hard work on the field. Let's break it down:
High heels can't bring the best balance for working all-day
Slippery leather outsoles are less flexible while working and farming (that's my personal option) and are not durable or waterproof like rubber soles
Pointed toes make me feel constrained while working hard. I need extra room at the toes.
Traditional cowboy boots have too much stitching to clean after work
For me, traditional cowboy boots are more suitable for a night out, riding a horse, or sitting in a farm truck, backhoe or cultivator than for hard work on your feet.
Top 3 Handpicked cowboy boots for farm work
What cowboy boots are good for your farm work? I will bring you the 3 best options!
1. Ariat Men's Workhog H2O 400g Composite Toe Work Boot
Ariat Mens Groundbreaker Wide Square Toe Work Boot Brown 10.5 Wide
WORKS AS HARD AS YOU DO: The Groundbreaker by Ariat are made for the long haul: strong, sturdy and...
THE SUPPORT YOU NEED: The Duratread outsole is both oil and slip resistant and the 90-degree heel...
EVERYDAY COMFORT: Along with the 4LR (Four Layer Rebound) technology for added comfort, these men's...
Last update on 2023-09-22 / Affiliate links / Images from Amazon Product Advertising API
One of the most comfortable cowboy boots for farm work I will suggest to you is Ariat Men's Workhog H2O 400g Composite Toe Work Boot.
Workhog boot line is one of the most successful cowboy work boots of Ariat, that success came from the material, structure, technology, etc.
First, these boots are made from 100% full-grain leather. But unlike other boots, the upper is made from suede. This provides better comfort since suede is more breathable than leather.
Besides, suede is tougher than leather and can withstand the attack of mud, dirt, sand, and harsh conditions better.
The shaft of these boots is not too high, just reaches your mid-calf, making these boots lighter than other cowboy boots. And it is easier to put on or take them off.
Their heels have a height of just 1 inch, the wearer can have great balance compared to traditional cowboy boots with high heels.
Besides, these boots have rubber outsoles with not-too-deep tread patterns, which offer good traction while not sticking the mud too much. These soles are durable too, no doubt.
When working on the farm, you may not need cowboy boots with steel toes like working on construction sites. But the safety toe is better for your feet anyway.
These boots have soft toes, but they are safety toes and ASTM-rated, what can you expect more than that?
4LR (Four Layer Rebound) technology, mesh lining and 90-degree heel will deliver better stability, and comfort for your feet, heels and legs.
These boots have simple patterns on the shaft and less stitching on the vamp, you won't have to spend much time cleaning every stitch throughout the boots.
Many people said that these boots are perfect for the farm, especially with the very high level of comfort they offer.
Besides, they provide excellent protection for your feet, toes, legs and soles.
On the flip side, some wearers complain that these boots are not good for rocky terrain as they don't have good ankle support.
I don't really agree with this complaint, these boots are not hiking boots or military boots, they are a pair of cowboy boots!
2. The Midland Cowboy Work Boots from Tecovas
It is not difficult to recognize Tecovas as one of the very famous cowboy boot brands in recent years. Today, Tecovas not only is the first choice for exotic boots fans, but the brand also starts to release cowboy boots for hard work with unmatched quality.
The Midland is one of those durable, high-quality and good-looking boots that we'd love to talk about.
Made from thick bovine leather, The Midland cowboy boots are very resistant to external forces, thereby supporting your feet well during working on the farm.
In addition, that feature also helps The Midland provide enough warmth in the cold season as well as protect your feet from the harsh summer sun.
Oil- and slip-resistant Vibram sole ensures a good grip when you go on wet farm terrain. In addition, this is also a very necessary feature when you drive trucks or specialized engines because your feet need to lie neatly and firmly on the pedals.
This is really a good boot for all seasons and all jobs on the ranch.
The boots offer great comfort with broad square toes with plenty of room for the foot to breathe, while weatherproof seams also add durability to The Midland.
Great arch support is also a feature that most Tecovas boots possess. It will reduce the pressure on your feet when walking or standing all day on the farm.
3. Irish Setter Work Men's 83910 Marshall 11″ Pull-On Steel Toe Work Boot
Sale
Last update on 2023-09-22 / Affiliate links / Images from Amazon Product Advertising API
With the rugged structure and strong appearance, when I first looked at Irish Setter Work Men's 83912 Marshall boots, the first thing I thought about was that these boots could crush everything on the road.
100% premium leather is the must-have in any good cowboy boots, and of course, these boots possessed that.
But it does not stop there, the leather surface is reinforced with a protective layer to make these boots waterproof. Therefore, you will no longer be scared of water, rain or snow while wearing them.
The heels of these boots have a standard height of 1.5 inches. I love that height because it provides good balance and stability for farmers.
Likewise, these Irish Setter boots with rubber outsoles and tread patterns can offer good stability while climbing on the plow.
These boots have a wide opening, therefore, they also fit well with wide calves. Besides, the shaft is not too tall, but still almost fits over your calves to protect them from mud.
Honestly, their steel toes are more suitable for heavy equipment, driving trucks or working on construction sites than for farm work.
But if you are a careful person and want to ensure your feet are completely safe, these boots are such an ideal companion.
They meet ASTM F2413-11 and  M/I/75/C/75 Electrical Hazard Safety.
In addition, these boots have lining throughout the boots to make them absorb sweat very well, your feet will be comfortable and breathable all day despite the heat from the weather or the plow.
Many said that these boots were roomy so that your toes could be flexible throughout the day.
Other people admitted that these boots offered very good comfort for all day working on construction sites. What do you think of using them for the farm?
Conclusion
I believe that you reach your final decision and have the answer to whether cowboy boots are good for farm work for yourself.
Again, tell me what your purpose is, and I will tell you what cowboy boots are suitable for your jobs.
Good luck!
Howdy y'all, and welcome to From The Guest Room, your ultimate guide to all things Western! I'm Jay Gatz, a lifelong cowboy boot enthusiast with over 5 years of experience in the Western style world. I'm excited to share my knowledge with you and help you discover the perfect cowboy boots and western gear to elevate your style. Let's explore the rich history and timeless appeal of Western fashion together!