In recent years, stockman boots have gained immense popularity among cowboy boot enthusiasts.
These boots offer a modern construction that provides exceptional comfort while adding a touch of coolness to the wearer's look.
Although some loyal fans of traditional cowboy boots may have reservations about this modern twist, stockman boots serve as a testament to the evolution of Western footwear.
If you're curious about these cowboy boots and whether you should add them to your collection, this article is here to guide you!
Understanding Stockman Boots
To grasp the essence of stockman boots, we'll explore their construction, historical background, suitable occasions to wear them, styling tips, and more!
Structure
Stockman boots, often referred to as cowboy work boots, are designed for both work and style.
Their construction features low, flat, and wide heels, ensuring stability and comfort throughout the day. The soles are typically made of durable and slip-resistant rubber, making them perfect for outdoor activities.
These boots offer a spacious toe shape, providing ample room for your feet and enhancing overall comfort. Like other cowboy boots, stockman boots boast a 100% leather upper.
Let's delve into the details:
A Fusion of Wildness and Masculinity:
Stockman boots exhibit the untamed spirit and masculinity of Western boots, coupled with the comfort and smoothness of work boots.
The shaft design often showcases vibrant and intricate cowboy-style patterns through detailed and colorful stitching.
Stockman boots stand out from other boot types due to their deeper scallops—a throat that extends further down the shaft.
Some stockman soles resemble those of work boots but are typically thinner. The heel of stockman boots is low, usually measuring between 1″ to 1.5″, with a squared-off shape.
Additionally, stockman boots sport a square or wide square toe, a prominent feature of Western boots. These design elements prioritize comfort, balance, and stability.
Many stockman boots also offer excellent arch support, making them popular among individuals with flat feet or high arches.
Given their design, stockman boots are not intended for those who prefer a sedentary lifestyle. These boots are meant for people always on the go.
Laredo womens Spellbound boots, Black/Tan, 9 US
Cody James Men's Stockman Cowboy Boot Broad Square Toe Copper
Durango Men's Premium Exotics Western Boot, Antiqued Saddle Ostrich, 7 Wide
Laredo womens Spellbound boots, Black/Tan, 9 US
Cody James Men's Stockman Cowboy Boot Broad Square Toe Copper
Durango Men's Premium Exotics Western Boot, Antiqued Saddle Ostrich, 7 Wide
Last update on 2023-09-26 / Affiliate links / Images from Amazon Product Advertising API
When should you wear Stockman boots?
Thanks to their durability, comfort, and versatility as a combination of Western and work boots, stockman boots excel in outdoor activities.
You can confidently wear them for various occasions such as travel, camping, climbing, picnicking, farm work, or even in the office. They truly offer remarkable versatility.
For picnics, farm work, ranch activities, driving, or traveling, stockman boots are an ideal choice.
Finding Stockman Cowboy Boots:
When it comes to finding the perfect pair of stockman cowboy boots, several renowned Western boot brands offer a wide range of options to cater to your preferences and needs.
Let's take a closer look at some of these famous brands and their distinct features:
Dan Post is a reputable brand known for its commitment to quality and craftsmanship.
Their stockman boots feature meticulous stitching and attention to detail, showcasing the wild and colorful patterns often associated with cowboy boots.
With Dan Post, you can expect a blend of tradition and contemporary style.
Ariat is another well-established brand that caters to the modern cowboy's needs.
Their stockman boots often exhibit a lighter color palette, perfect for those looking for a fresh and vibrant look.
Ariat places emphasis on comfort, incorporating innovative technologies into their designs to ensure all-day wearability.
Laredo boots are synonymous with ruggedness and durability. Their stockman boots exude a cool and edgy vibe, featuring dark hues and robust designs.
Laredo offers a variety of options for both casual wear and more formal occasions, providing versatility and style in one package.
Durango is a brand that stands out for its bold and impressive designs.
Their stockman cowboy boots boast a masculine and strong appearance, making a statement wherever you go.
With unique color combinations and a focus on quality materials, Durango offers a distinct choice for those seeking a standout look.
Exploring these reputable brands will give you a wide array of options to choose from.
Whether you're drawn to the vibrant colors of Ariat, the rugged appeal of Laredo, the traditional craftsmanship of Dan Post, or the bold designs of Durango, you can find stockman boots that match your personal style and preferences.
To find stockman cowboy boots, you can visit local Western wear stores, boot retailers, or even explore online platforms that specialize in cowboy boots.
Online shopping provides convenience and a wider selection, allowing you to compare styles, prices, and customer reviews from the comfort of your own home.
Remember to consider factors such as sizing, materials, and customer reviews when making your purchase.
It's important to ensure a proper fit and choose boots made with high-quality materials to guarantee longevity and satisfaction.
Styling Stockman Boots for Men and Women:
When it comes to styling stockman boots, both men and women have numerous options. Let's explore some ideas!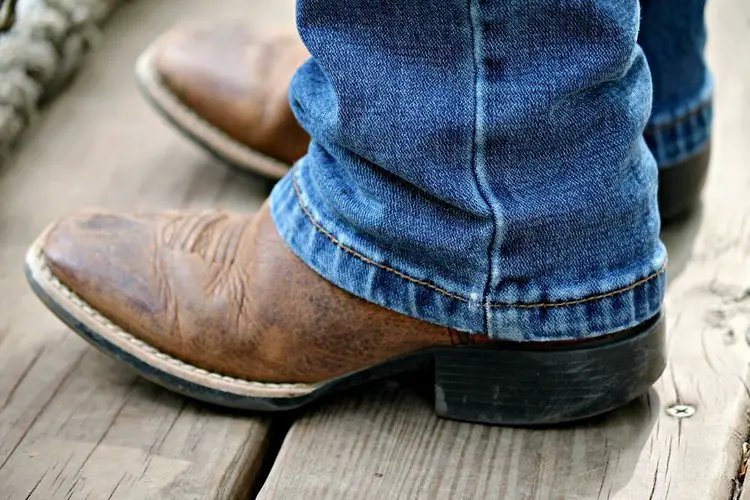 Styling Stockman Boots for Men:
The classic choice for styling stockman boots is to pair them with bootcut jeans.
These jeans are designed to fit narrow in the middle and flare out at the bottom, making them perfect for covering the stockman boot shaft.
This combination allows the shaft of the boots to peek out from underneath, creating an intriguing and masculine look.
Cargo Pants or Tactical Pants:
For a utilitarian and rugged aesthetic, consider pairing stockman boots with cargo pants or tactical pants. These pants offer functionality with multiple pockets and durable materials.
The combination of stockman boots and cargo or tactical pants creates a rugged and adventurous look, perfect for outdoor activities or casual outings.
Khaki pants complement stockman cowboy boots exceptionally well, exuding an authentic and rugged appeal.
Opt for slightly worn-out khaki pants to enhance the wild appearance that cowboy boots bring. This combination strikes a balance between casual and stylish, making it suitable for various occasions.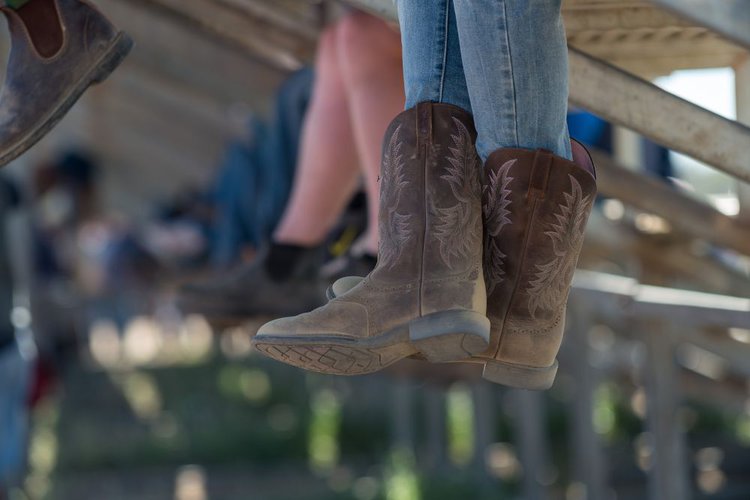 Styling Stockman Boots for Women:
Women can effortlessly style stockman boots with skinny jeans for a trendy and chic look.
Unlike men, women have the option to let the boots be exposed rather than tucking them into the jeans.
This combination highlights the contrast between the slim fit of the jeans and the bold presence of the stockman boots, creating a standout appearance.
Embrace your creativity by pairing stockman boots with dresses.
From flowy bohemian dresses to more structured designs, stockman boots can add a touch of Western charm to your feminine outfits.
Experiment with different lengths, patterns, and textures to find the perfect balance between feminine elegance and cowboy-inspired fashion.
Stockman boots offer women a wide range of options when it comes to pairing them with skirts.
A flowing skirt combined with stockman boots creates a captivating and eye-catching ensemble.
Whether it's a maxi skirt, a denim skirt, or a flared skirt, the combination of feminine grace and Western flair can make a lasting impression.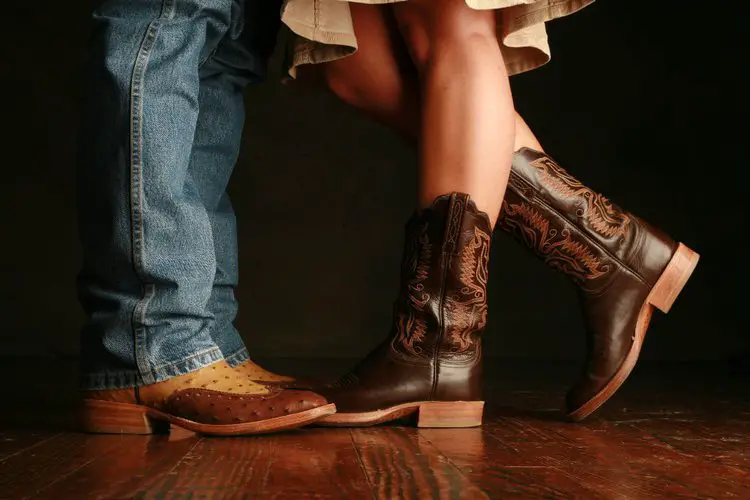 Remember, the key to styling stockman boots is to embrace the unique blend of ruggedness and style they offer.
Don't be afraid to mix and match different pieces from your wardrobe, allowing your stockman boots to become a statement piece that expresses your personal style and love for Western fashion.
By incorporating these styling suggestions into your outfits, you can confidently rock your stockman boots, whether you're attending a casual gathering, exploring the outdoors, or simply adding a touch of Texas charm to your everyday look.
Let your creativity shine, and let your stockman boots be a reflection of your individuality and adventurous spirit.
History of Stockman boots
The exact origin of stockman boots remains uncertain, but they have undoubtedly emerged more recently compared to traditional cowboy boots.
Traditional square-toe cowboy boots gained popularity in the last few decades, and as stockman boots predominantly feature square and wide square toes, we can deduce that stockman boots have emerged during this same timeframe.
Before you leave
In conclusion, stockman boots have become a beloved choice among cowboy boot enthusiasts due to their blend of comfort, style, and durability.
These modern cowboy work boots offer a construction that prioritizes both practicality and fashion, making them a versatile option for various occasions.
In the end, stockman boots stand as a testament to the enduring appeal and adaptability of cowboy boots.
Whether you're seeking a reliable work boot or a stylish statement piece, stockman boots offer the perfect blend of functionality, Texas charm, and rugged fashion that will make you stand tall in any setting.
So, why not lace up a pair of stockman boots and experience the comfort and style that embodies the true spirit of the West?
Howdy y'all, and welcome to From The Guest Room, your ultimate guide to all things Western! I'm Jay Gatz, a lifelong cowboy boot enthusiast with over 5 years of experience in the Western style world. I'm excited to share my knowledge with you and help you discover the perfect cowboy boots and western gear to elevate your style. Let's explore the rich history and timeless appeal of Western fashion together!