Most people always think of cowboy boots as one representing the wild of the west with their rugged and dusty style. That used to be true, but it's just "used to be".
Today, cowboy boots have evolved and are no longer just a type of work boots. Instead, many boots with a sleek, unique look were born and they can completely appear at the most luxurious weddings in the world.
Among them, can be mentioned cowboy boots made from exotic leather such as caiman, lizard, smooth ostrich, or sometimes plain leather such as bovine but well polished.
In this article, we will talk about cowboy boots for weddings!
Surely, it will convince you!
Can cowboy boots be worn to a wedding?
As mentioned above, you can now use cowboy boots for weddings. The most important thing that you have to pay attention to is what kind of boots are suitable for the wedding.
Today's cowboy boots do not merely work boots made from rough and hard leather, but they have put on new layers of clothes made from different types of exotic leather, more diverse and attractive.
For example, you should not use distressed boots to attend weddings in luxurious palaces. Instead, a well-polished cowboy boot with a refined look would be a more affordable choice.
Nowadays, you will easily find cowboy boots with a chic style made from caiman belly leather. I love those scales, rugged yet elegant.
Besides, boots made from lizard leather with a soft, sleek feel and unique textures are also great choices for dress pants or suits.
In the 21st century, many people wear cowboy boots with dresses or suits to attend luxurious wedding parties.
In fact, you don't necessarily have to look for expensive cowboy boots, it depends a lot on the type of wedding you are going to. If you attend traditional weddings with a classic style in the western countryside, a pair of goat leather boots is impressive enough. I've always loved the color and natural creases of these cowboy boots.
Finally, I recommend opting for traditional or roper-style cowboy boots. These are two types of boots with beautiful and elegant construction, which are very suitable for elegant style.
Cowboy boots with round toes tapering to the top, leather soles, and stacked leather heels are always good choices for a sharp look. Do not choose boots with stockman or buckaroo style – these styles are only suitable for outdoor work.
And that's all you need to pay attention to when choosing cowboy boots for the wedding.
The Best Cowboy Boots for Weddings You Will Love
Not many cowboy boot brands have the correct transformation to create cowboy boots that are beautiful and suitable for weddings. Most of them still stick with the wild style of the West.
However, among old cowboy boots brands, I found Tecovas to be one of the great boots manufacturers, their products are very suitable for weddings.
In Tecovas, you will find the presence of a classic style. But the creativity and sophistication of the craftsmen have created exquisite products with designs that no other dress shoes can match.
In addition, some brands such as Lucchese, Tony Lama, and Chisos are also notable.
And now my favorite boots to use for the wedding! Hope you can find something for yourself!
Men's cowboy boots for wedding
Depending on the type of wedding, let's choose for yourself an appropriate outfit.
For men, if participating in luxurious palaces, well-polished boots with suits or dress clothes will be a reasonable choice.
However, if participating in country weddings, a too polished look will not be appropriate. Instead, a nice pair of cowboy boots with jeans and a shirt should suffice.
Here are some options for you:
1. Best cowboy boots with jeans for a wedding: The Nolan by Tecovas
As a classic combination, jeans and cowboy boots always give the wearer a feeling of exclusivity, confidence, arrogance, and charisma. Therefore, if you bring a combination of cowboy boots and jeans to a wedding, no more worries about what other people think. Simply because that combination is perfect.
You can totally wear dark blue jeans with a pair of black lizard boots to every wedding because it's still a great pairing. However, you should still avoid wearing cowboy boots that are too rugged with faded jeans, because that look is only suitable for outdoor work, not for places where elegance is required.
Although this combination may not really be suitable for you to attend a wedding at Buckingham Palace, believe me, with this outfit, you can go to any wedding in the western countryside.
The Nolan midnight and bourbon lizard boots are the right choices. They have very elegant natural textures that are well-polished in the hands of the craftsmen of Tecovas. Their combination with jeans for a wedding is definitely fine wine.
The most important thing is not only in the beautiful lizard leather surface of The Nolan but also in the shape of these boots.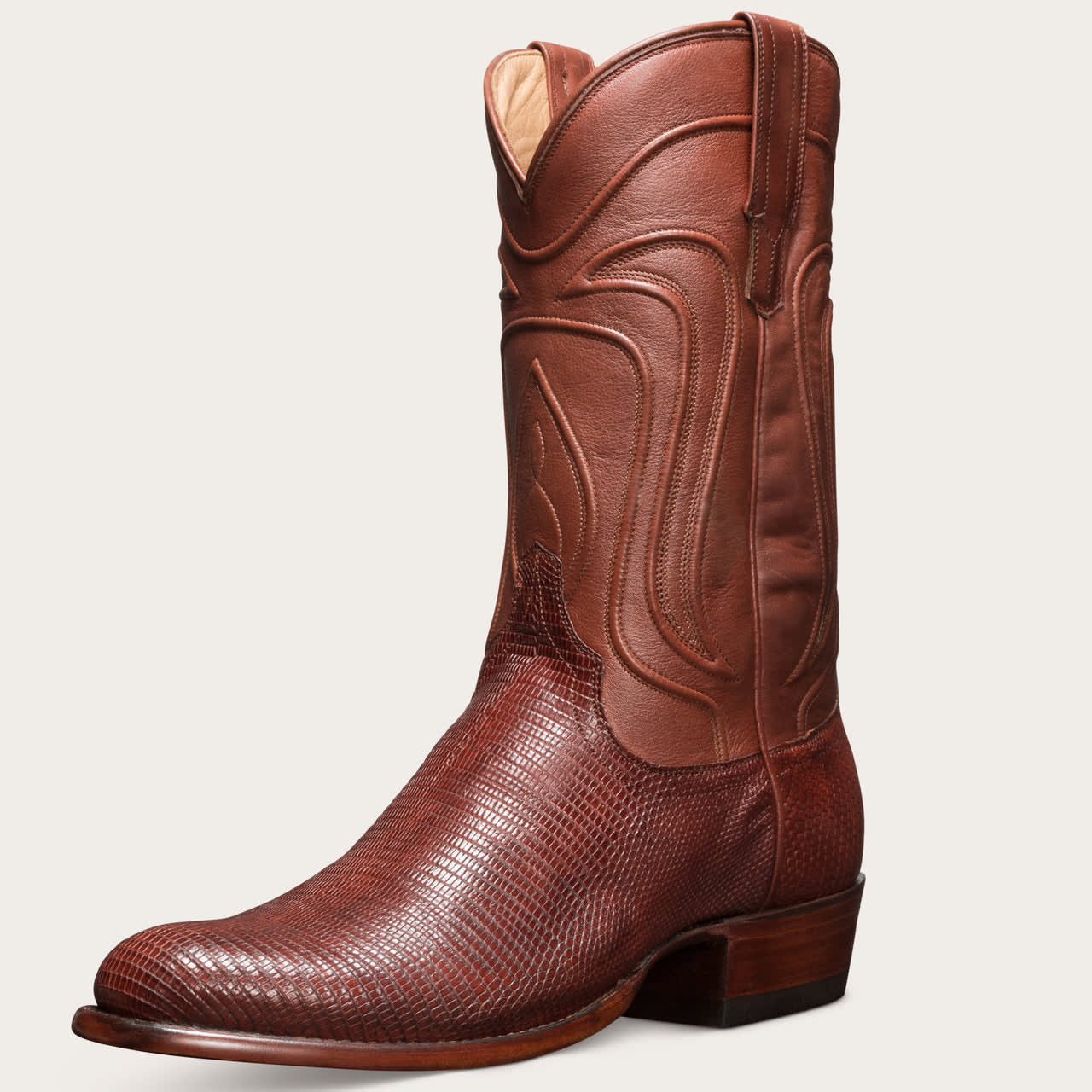 First, I really like its toe shape. The delicate round toe and slightly curved upward bring a sense of confidence to the wearer.
Next, comes the 1 1/2-inch stacked leather heel, which is just high enough to give you a tall look, while balancing you well on slippery floors. And I love the stacked leather design, in my opinion, this is the best heel design for cowboy boots.
The very thin leather sole makes the wearer's footsteps lighter and more elegant, not to mention the stunning click-cluck sound at every confident step.
Although we won't show off The Nolan shafts when wearing them with jeans, I do love the soft textures with the most attractive curves. Every time you take your boots off and put them in the boot rack, you will never regret buying them.
Just talking about their look is not enough, as the boots made from lizard leather are very soft and flexible. That makes you feel very comfortable.
Not to mention the leather lining also molds the feet very well. The leather sole also has good sweat absorption ability, guaranteeing comfort during a long party night.
The slim and elegant look of The Nolan is extremely suitable to wear with jeans. This is definitely a big win!
2. Best cowboy boots with dress clothes for a wedding: The Dillon by Tecovas
The Dillon will be the most comprehensive cowboy boot because it will help you to participate in every wedding around the world. Dressed in a timeless cowboy profile and wrapped in caiman leather, this classic yet classy look can conquer the world.
As I mentioned above, caiman leather is one of those amazing materials that will change your worldview about cowboy boots.
The Dillon with the main component is caiman leather, meticulously machined and well-polished, which is the most prominent feature. The scales that rise and shine as the waves of the sea blend with the natural wrinkles to bring elegance and uniqueness.
In addition to the beautiful surface, The Dillon also has a very nice round toe structure, tapering to the tip, neither too big nor too narrow. You'll also love the welt, leather sole, and heel of these boots as they blend in well with the upper.
The 1 1/2 inch stacked leather heel is one of the formulas for the success of Tecovas boots, they bring a sense of confidence to the wearer. Besides, the stacked leather design is also more special than the rubber one, it feels more sophisticated and classic.
If you are someone who knows about Tecovas boots before reading this article, then you will recognize this brand as soon as you look at the shaft. The graceful curves throughout the shaft are their own trademark.
These boots are not only beautiful, but you will also feel comfortable on your feet as Tecovas boots always have good arch support.
Besides, the leather lining molds the feet very well and has a smooth feeling. The leather sole and lining both have good moisture absorption to chase summer heat away.
Overall, the whole look of The Dillon boots goes well with any type of pants, dress pants or jeans!
That's why The Dillon can attend any wedding anywhere in the world!
3. Best cowboy boots with a suit for a wedding: The Marshall by Tecovas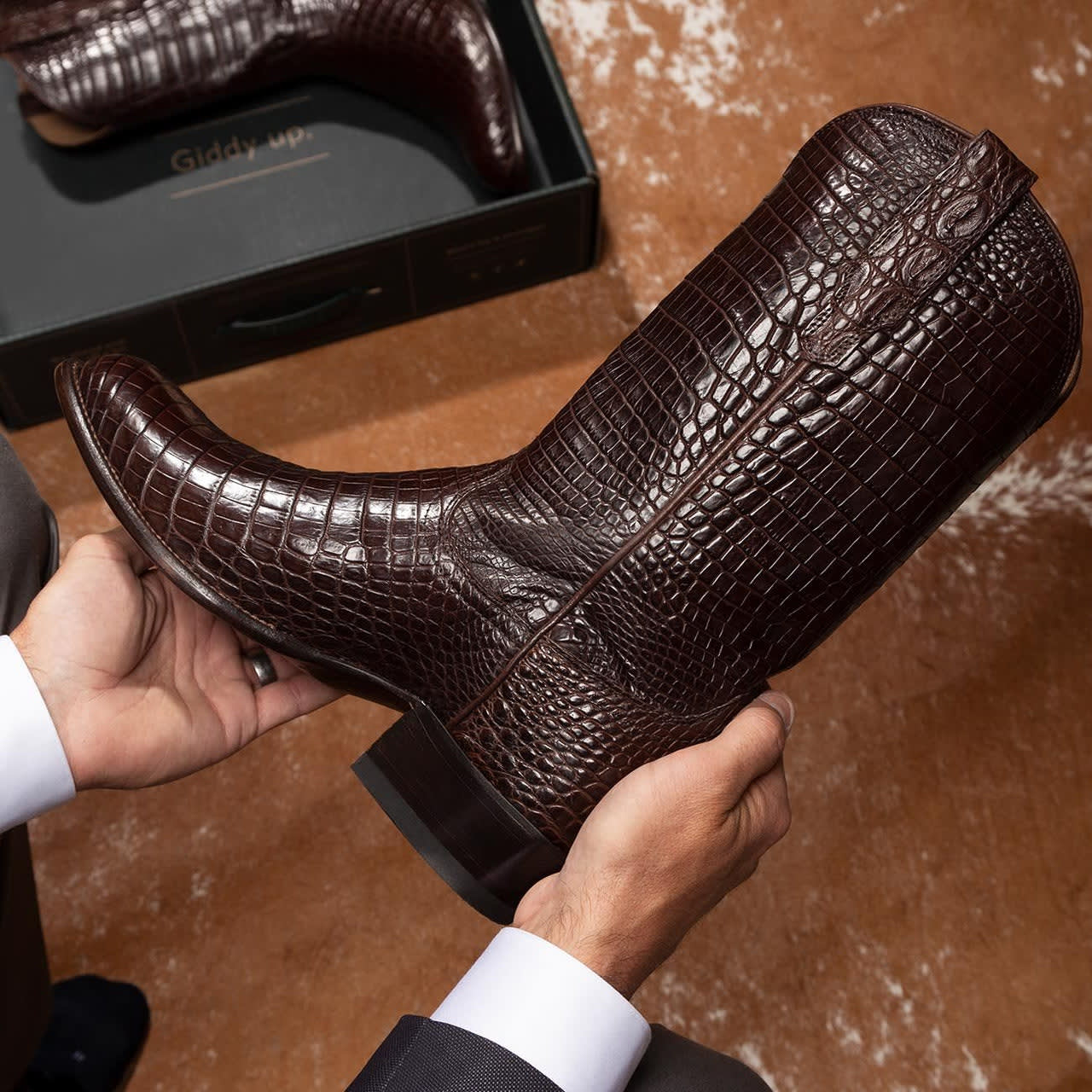 One of Tecovas' artistic pride lies in The Marshall. As one of Tecovas' greatest innovations, The Marshall will change your opinion about cowboy boots.
The sharp and elegant feel is your first impression when you look at The Marshall, no doubt, as it's the result of the meticulously handcrafted shape and highly polished alligator scales.
Unlike the caiman scales which are often rougher and more rugged, the Nile alligator scales in the hands of Tecovas craftsmen have a different, more attractive style.
The next highlight is the curves of The Marshall. Gentle but classy.
I love the slight upward curve of the toe, combined with the 1 1/2-inch stacked leather heel, these elements will make you look taller and more confident. Not to mention the thin and slightly raised leather sole at the tip is also very soft, not rough like rubber ones.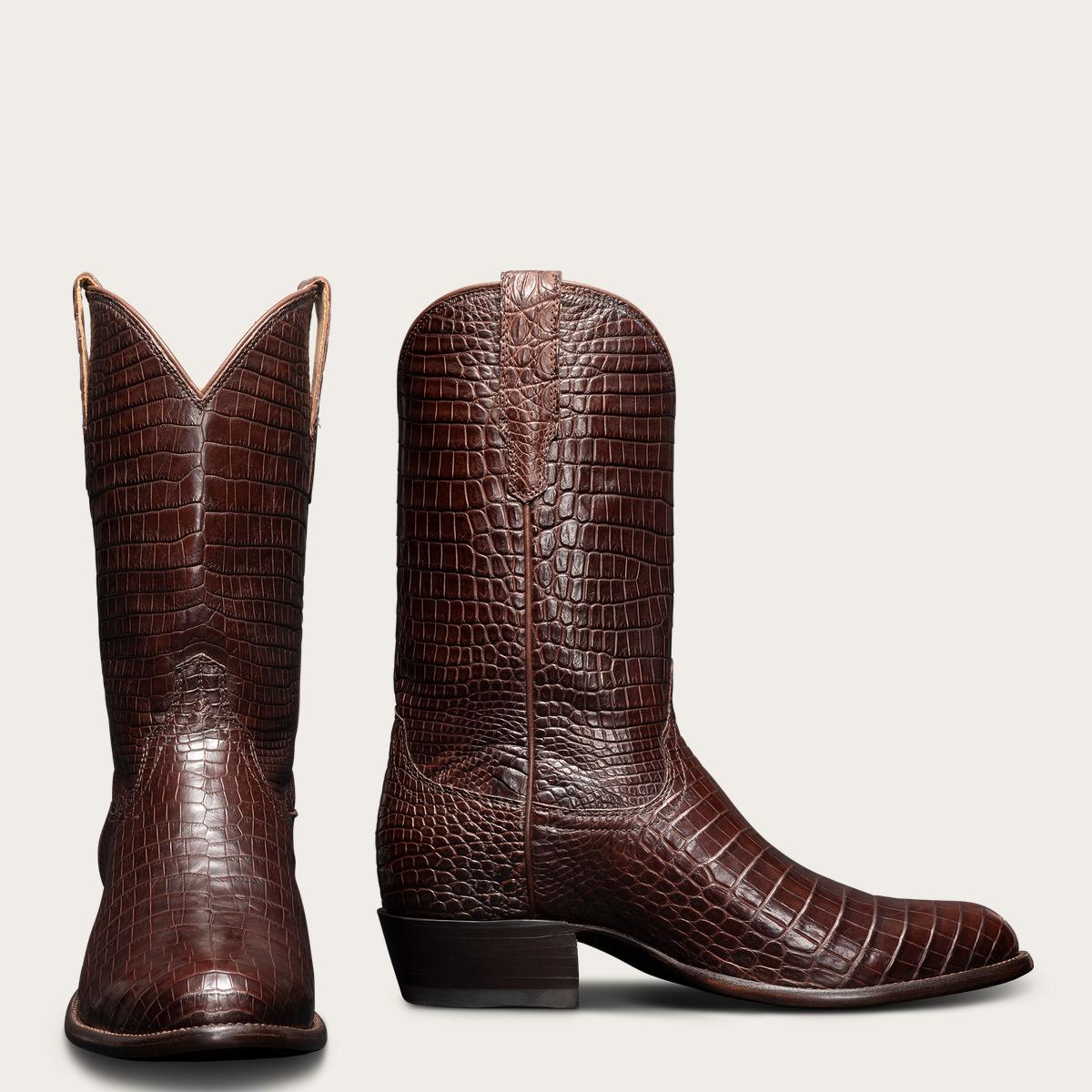 The next beautiful curve is the round toe, which is neither too wide nor too narrow, simply tapered enough to create an elegant look.
As one of the very nice boots that Tecovas has produced, The Marshall goes perfectly with a suit. Whether you're the guest or the groom, The Marshall is right for you, under palace lights these boots will shine like a star thanks to the superb polishing skills of Tecovas craftsmen.
Just talking about the appearance of The Marshall is really not enough, their interior is mainly made of leather (sole and lining) so they are very breathable and moisture-wicking.
Besides, The Marshall also fits very well with a very short break-in time. If you are familiar with Tecovas boots, then you will know that good fit and short break-in time are always their strong points.
You may be apprehensive about the price of these boots, but trust me, investing in The Marshall for a special day (or any occasion) is truly a worthwhile investment.
Besides, Tecovas customer service is very fast, if you have any questions, call them, you will have an answer in 1 minute.
Women's cowboy boots for wedding
Compared to men, girls have much more options with cowboy boots for weddings. Jeans, skirts, or dresses are all familiar choices that never get old.
However, it is the most important thing to have an outfit in good harmony. You should choose cowboy boots with a classic style or western booties because they are soft, feminine, and lovely, instead of boots that tend to be used for work with a big and rugged look.
Boots with narrow toe shapes, high cowboy heels, and leather soles are appreciated in this regard, they are more attractive and aesthetically pleasing.
1. Best cowboy boots with skirts for a wedding: The Josie by Tecovas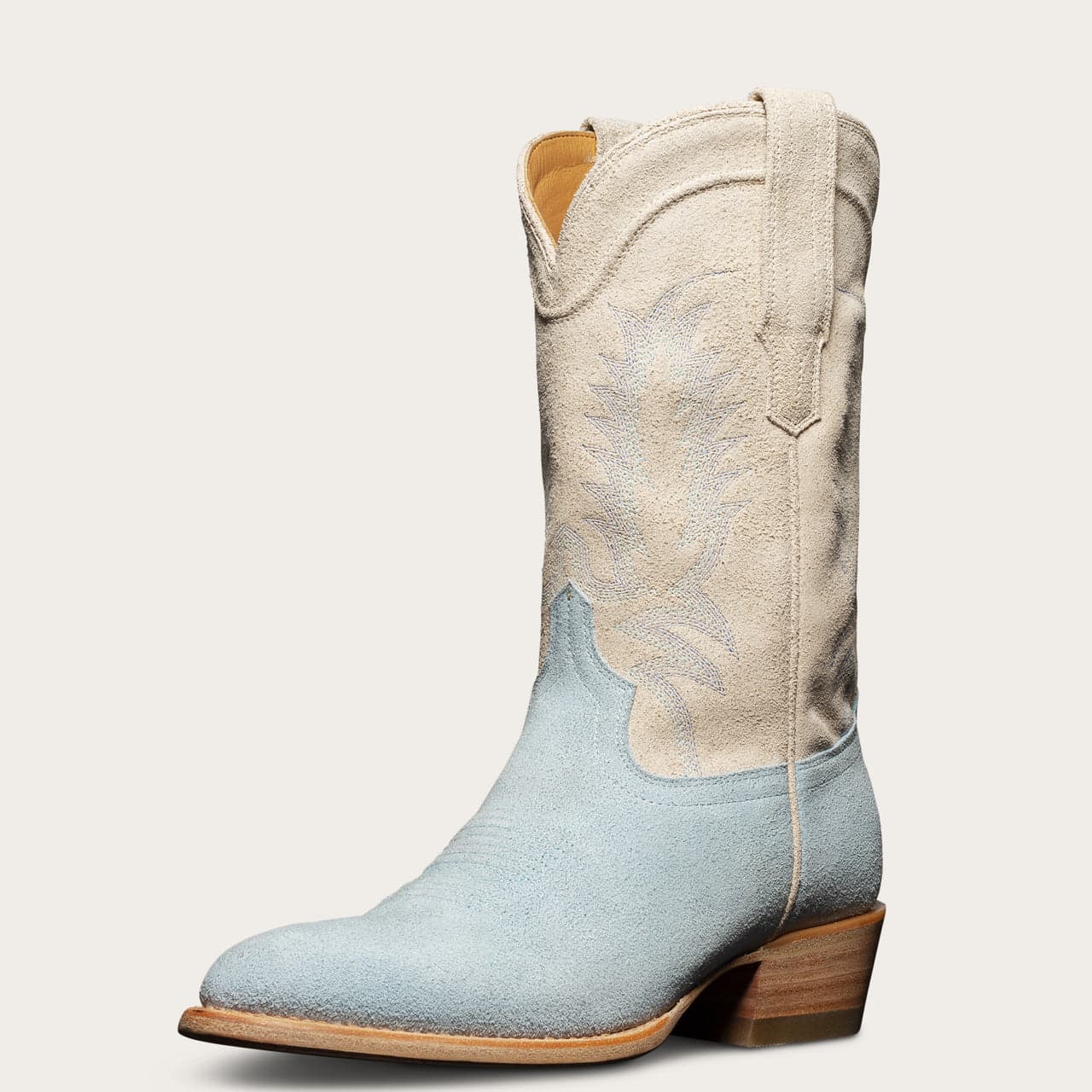 The Josie will be a big win when it comes to skirts for weddings! Just look at their color, structure, and style.
I love Tecovas' creation for The Josie as these boots still have a classic style but come in bright and cute colors. This will definitely be a breath of fresh air for your shoe cabinet.
First of all, suede is smooth and soft, bringing a light feeling to The Josie. Bright colors of the sky and clouds make The Josie a free and pure appeal.
The stitching patterns on the shaft and vamp are also bright in tone with the surface, so they don't feel cluttered or flashy.
The Josie is traditional with a round toe shape that tapers to the tip and isn't too wide – your feet will get a slim look. Meanwhile, the stacked leather heel and leather sole have natural colors that bring a sense of familiarity to the wearer.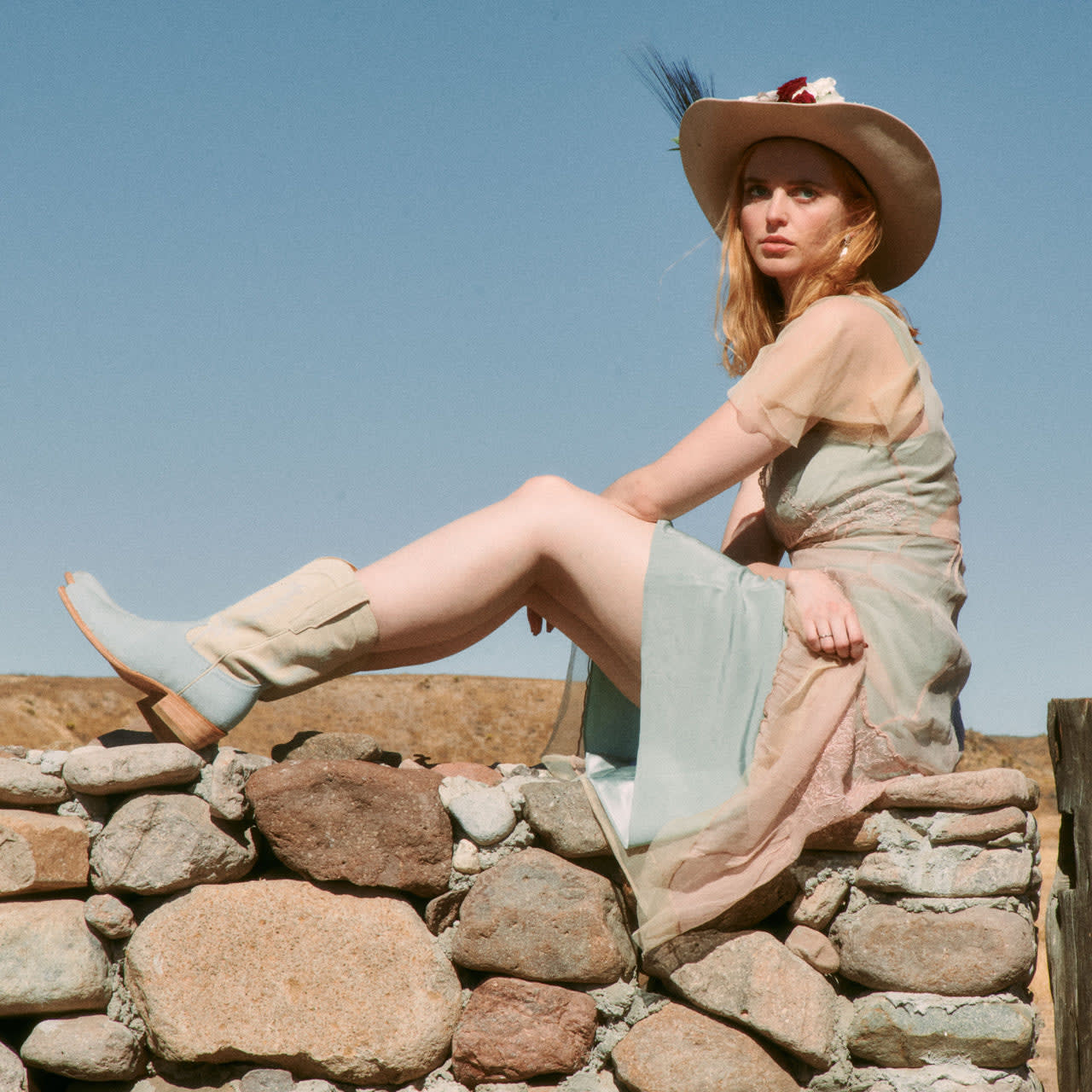 The 1 3/4 inch stacked leather heel makes girls look tall and confident, and with the cute image the boots give you, you'll stand out from the crowd.
Despite its bright and ethereal colors, with the traditional construction and wild texture of suede, The Josie still has a bold country vibe, not the luxury of caiman or lizard boots.
In general, this is a very suitable pair of boots for outdoor weddings or traditional weddings in the West.
In addition, these are very comfortable boots when made from suede, as it is softer, thinner, and more breathable than full-grain leather. This is a great material to deal with the western heat.
The Josie's interior is mainly leather such as leather lining and leather soles to ensure your feet are always cool because the leather has good breathability and sweat absorption. The Josie's bovine lining is especially very soft and molds feet, these boots will give you a wonderful experience.
2. Best cowboy boots with jeans (or any other pants) for a wedding: The Casey by Tecovas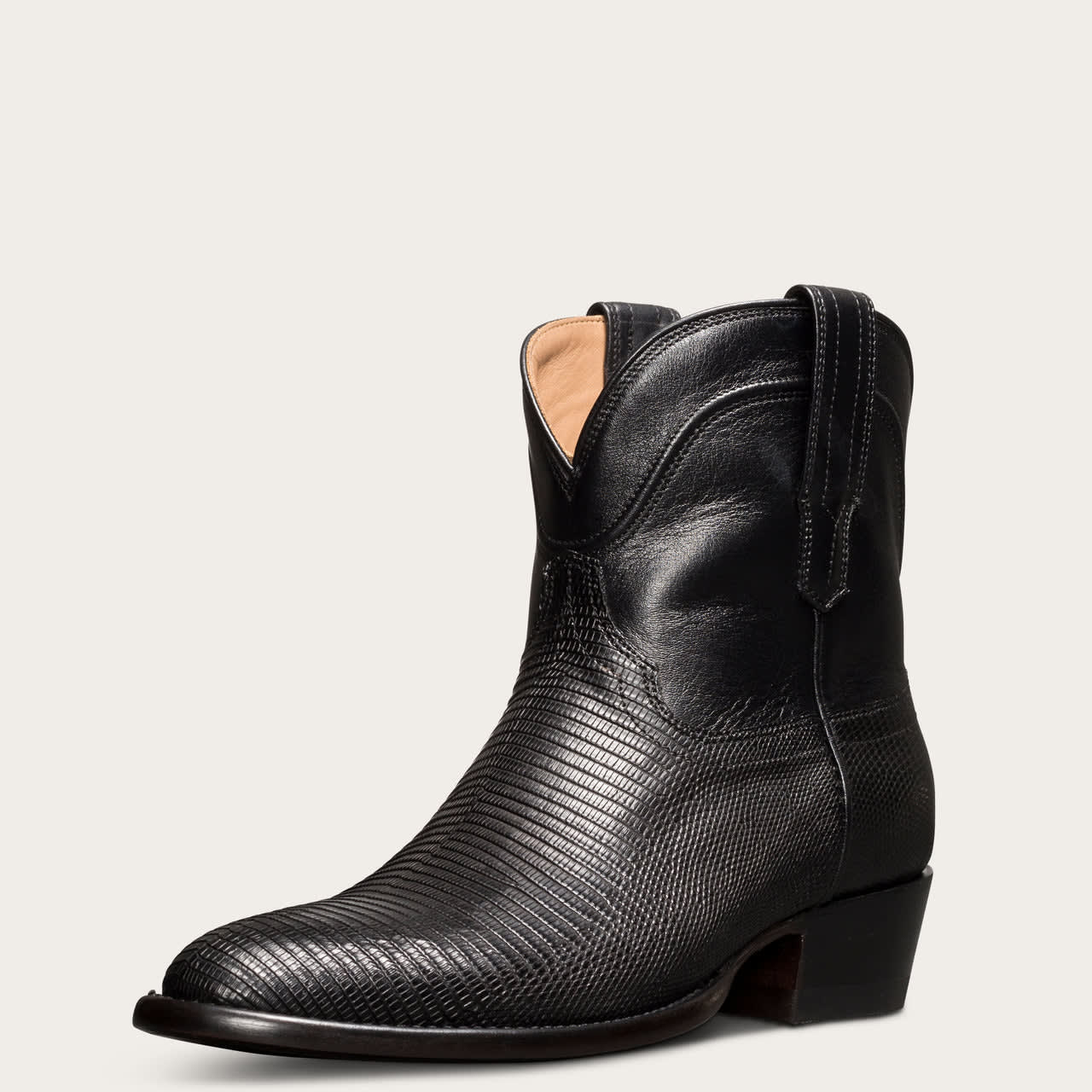 In fact, questions regarding whether cowboy boots should be taken to luxury places are not uncommon, we have dozens of different articles on the subject.
The common point of these articles is that I always give readers an example of a pair of cowboy boots made from lizard leather. Simply because the texture and color of lizard leather are excellent and suitable for any conference.
The Cassey is one of those things you need to pay more attention to!
First of all, The Casey's highly polished surface is perfect for flashy places like palaces or any party.
Besides, The Casey has a very uniform pattern, and I guarantee you can only find such a pattern in boots made from lizard leather.
You'll also love the 1 3/4 inch heel that makes you noticeably taller, along with the well-crafted round toe so your feet don't look big, on the contrary, they look slim and beautiful.
In addition, this heel height also creates a charming curve for the leather sole as they curve very sharply from the back to the tips (slightly curved upwards at the tip) and I have always loved that curve.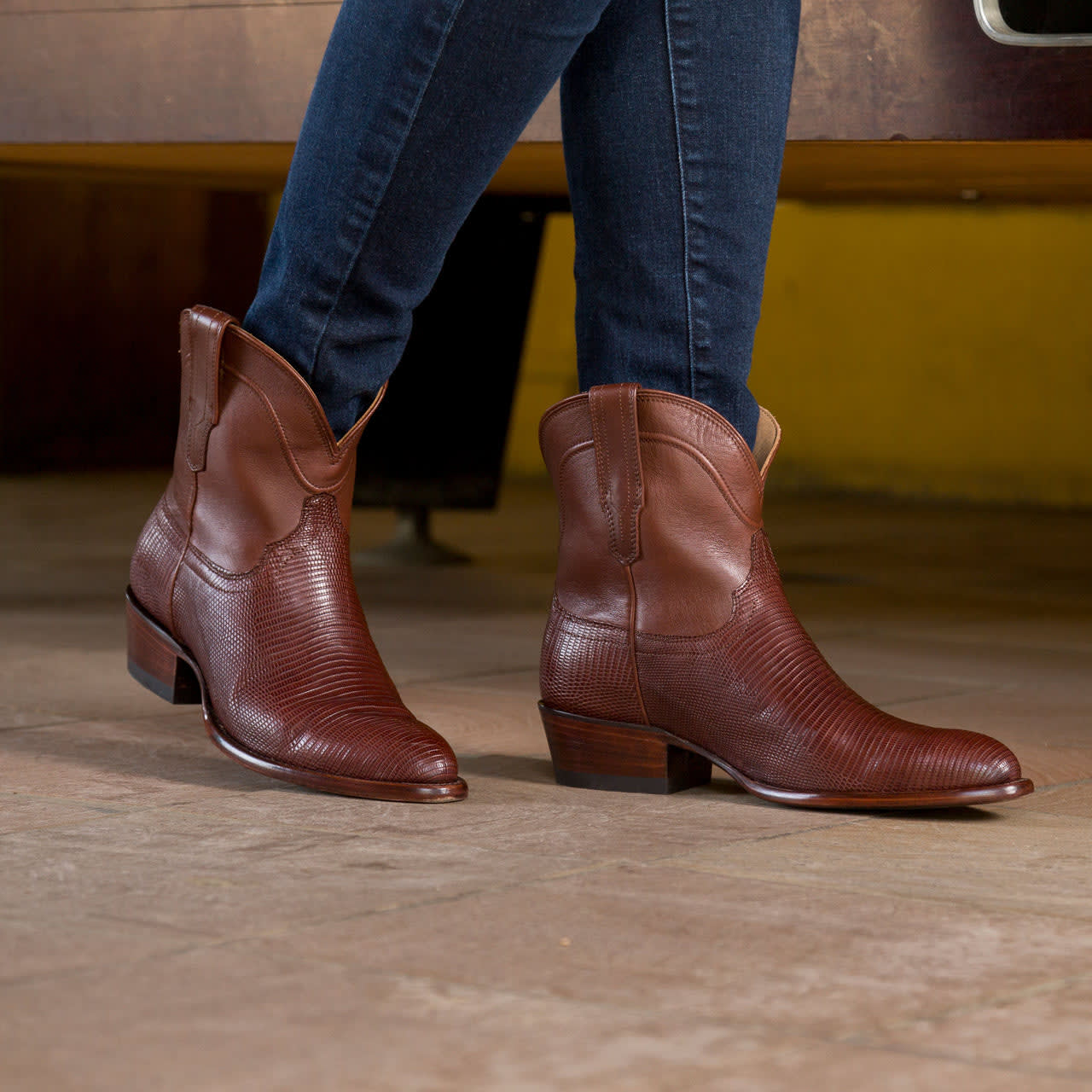 The colors of the leather sole, welt, heel, and upper are very similar from top to bottom.
Because of the above highlights, The Casey can completely be used to participate in any event without any problem. They go well with jeans to create a beautiful appearance from the hip to the bottom.
Besides jeans, I think dress pants or leggings can go well with them.
Another interesting thing is that for western booties like The Casey, you won't have any trouble putting on/taking off other traditional cowboy boots. It's annoying to wear tight jeans but always has to bend over to put on your boots, isn't it?
In addition to the impressive appearance and convenience, it is quite similar to other Tecovas boots when the interior is mainly made of leather, so their breathability and good sweat absorption are not undisputed.
In addition, The Casey also fits well and has almost no break-in time, not too surprising because this is a pair of Tecovas boots.
3. Best cowboy boots to wear with dresses for a wedding: The Jenny by Tecovas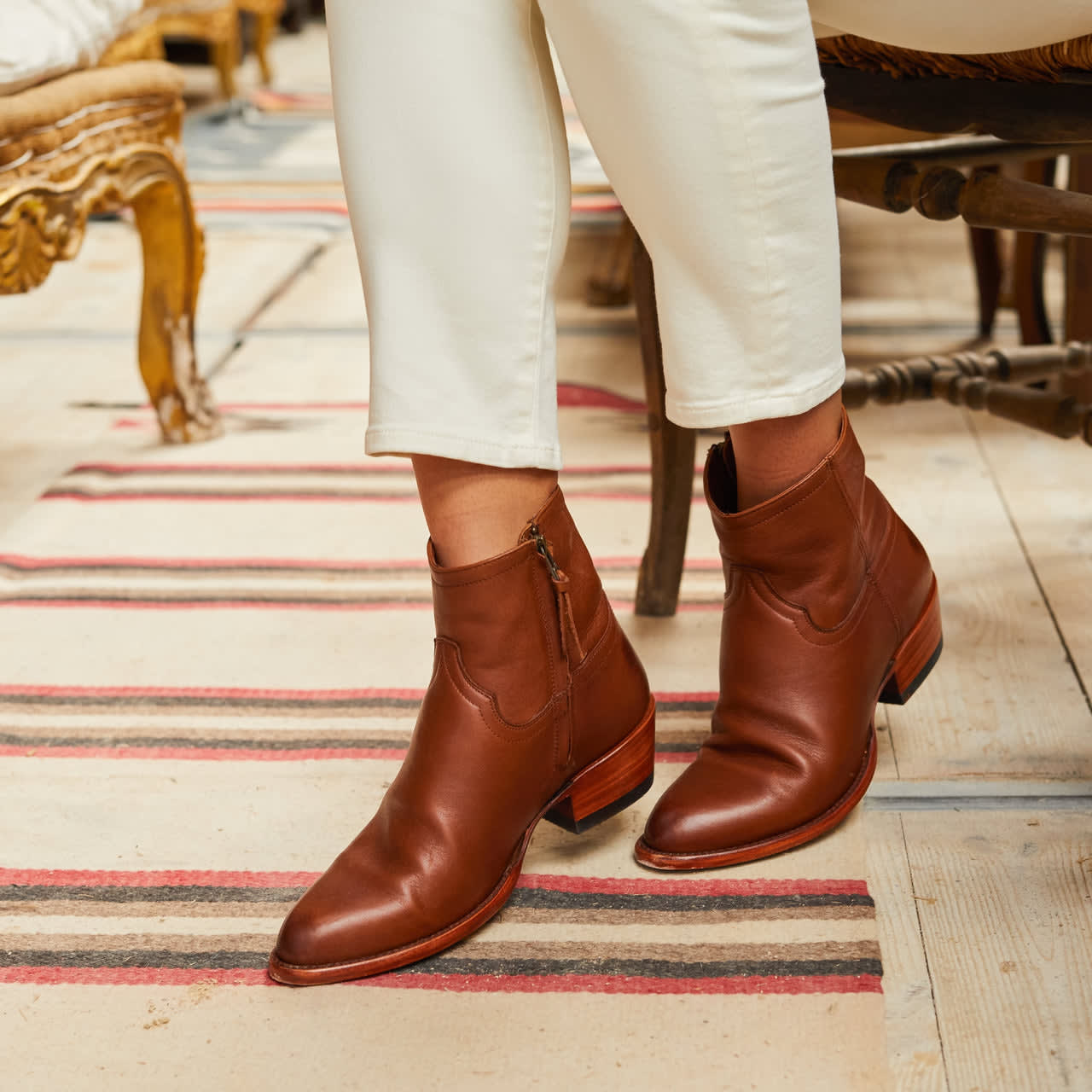 The Jenny will be a sophisticated choice to wear with a dress that gives a soft and feminine image to our girls.
Not made from exotic leather, The Jenny is still one of Tecovas' favorite female cowboy boots.
This is easy to understand when looking at its attractive calfskin surface. especially in the toe shape. The color darkens on the tip to give a charming appearance.
Classic in color but with a modern style, The Jenny should be among the best-polished boots in the world.
In addition to the beautiful surface color, The Jenny has other advantages such as a 1 3/4 inch stacked leather heel, thin leather sole, and round toe.
The stacked leather design is very popular in Tecovas boots because it is very stylish. 1 3/4 inch is a very standard heel height to give you a tall image but still provide a good balance when walking.
Round toe but quite tapered in tip provides a smooth feel to the eye, which makes your steps look lighter and more graceful.
And when this round toe is combined with a high heel, these boots give the impression of long legs.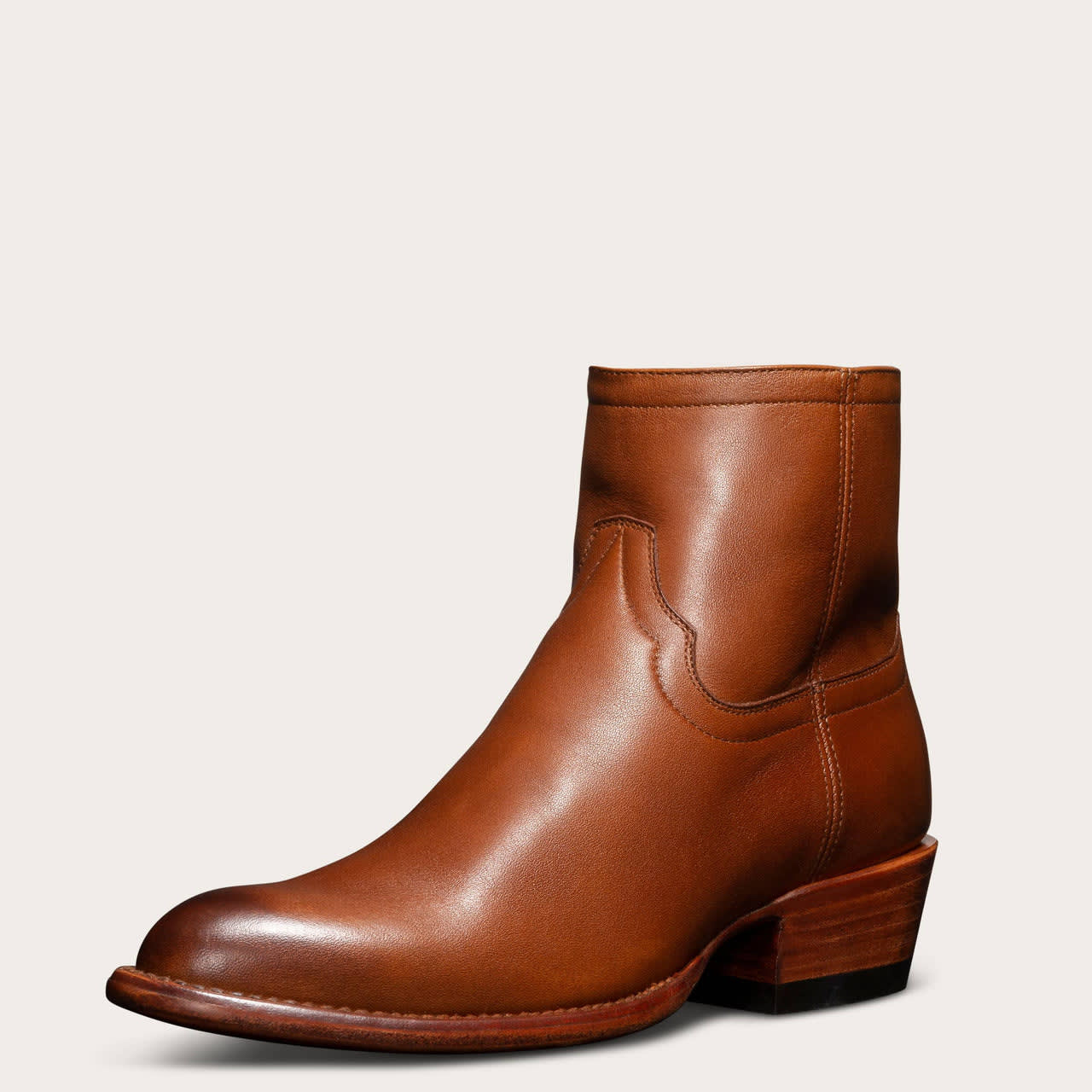 And like The Cassey, these boots have a height just around the foot, so you won't have much time or trouble putting on/taking off. And what's even better, The Jenny has extra side zippers to make it even smoother.
Impressive? But The Jenny still has another subtle feature that you'll love: the thin and soft fringe attached to the zipper creates a wonderful grace and softness with every step.
It is this gracefulness and softness of The Jenny that makes them a great companion with dresses to go to weddings.
Is that enough to convince you?
Before You Leave
Cowboy boots are definitely the best choice to accompany you to wedding parties.
However, the harmony between boots and outfits is a very important thing, you should make sure that you have chosen the right type of cowboy boots to accompany you to the wedding.
Cowboy boots made of caiman or lizard with a well-polished surface will be a wise choice to go to the palaces.
Cowboy boots with a natural look with natural wrinkles and attractive colors like goat leather boots will be a good choice to go with jeans to a western country wedding.
Traditional or roper-style cowboy boots will be aesthetic choices for parties instead of rugged boots that tend to serve outdoor work.
All those insights will ensure you stand out at any party, whether you're the groom, the bride, or the guest.
But if you, my reader, are the main character for the upcoming party, then I sincerely congratulate you!
Jay Gatz
Howdy y'all, and welcome to From The Guest Room, your ultimate guide to all things Western! I'm Jay Gatz, a lifelong cowboy boot enthusiast with over 5 years of experience in the Western style world. I'm excited to share my knowledge with you and help you discover the perfect cowboy boots and western gear to elevate your style. Let's explore the rich history and timeless appeal of Western fashion together!