Well, it's been a long and hard day on the farm, even though I just helped my father, I can still feel the leg fatigue creeping into every fiber of my body.
I think I walked more than 5 miles today in my cowboy boots, a long distance for someone who has been sitting still in the office for a long time.
Some of my friends don't think walking all day in cowboy boots is a good idea since these boots don't feel as comfortable as sneakers.
Well, that might have been a reasonable thought at some point 'in the past'.
Although cowboy boots were initially born to serve cowboys on horseback, this type of boot has grown and evolved over time.
One of their main developments is often the sole. Nowadays, if you pick a good pair of cowboy boots, you will feel very comfortable and soft at every step. Believe me, that feeling won't be inferior to any sneakers.
Today we will talk about using cowboy boots for walking all day. I will give you some offers that you hardly resist!
Let's go!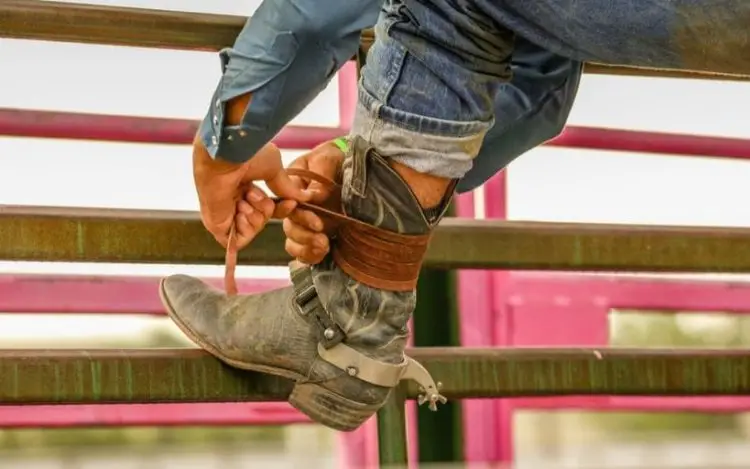 Are cowboy boots good for walking all day?
As I said above, bookmakers have equipped cowboy boots with a lot of different elements to support you for walking all day long.
First of all, many boots have a very good arch support structure. For example, Tecovas boots include shank and lemonwood pegs at the arch of your foot, this structure ensures your arch is cushioned.
In addition, some cowboy boot brands like Ariat have also applied high technologies like EVA midsoles to cowboy boots. EVA midsoles are very commonly used in sports shoes because they create very comfortable cushioning for the feet.
The above is very important if you want to wear cowboy boots for all-day walking. Cowboy boots with comfortable cushioning and good arch support will ensure that the pressure on your arch, heels, knees, and back is greatly minimized.
Most people hesitate to use traditional cowboy boots to walk all day because they had no cushion or arch support in the old days. Luckily, today's bootmakers are sophisticated enough to recognize this.
However, there are still many people who doubt that cowboy boots have a slippery bottom, a small toe box, and a too high heel so you can't walk in them all day.
Well, that's a true thought, but what you probably didn't know is that there are so many varieties of cowboy boots these days. Many cowboy boots have features that are great for walking.
What kind of boots are those?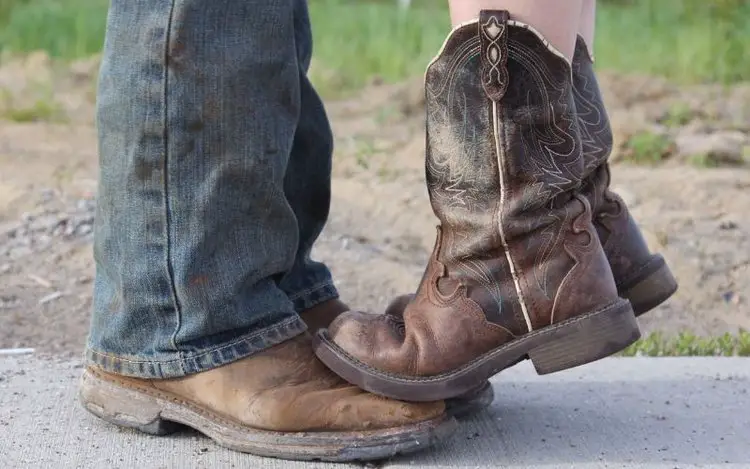 What cowboy boots for walking all day long?
When talking about cowboy boots, you often think of those with narrow pointed toes, slippery leather soles, and high heels (about 2 inches).
However, that is only the tip of the iceberg!
In fact, you can find modern cowboy boots that are very useful for walking. They do not appear to have any of the above weaknesses.
Today's cowboy boots come in a wider variety of toe shapes and provide more room in the toe box. For example, I often use a round toe or square toe to walk all day long.
In addition, round toe and square toe boots also have wider and flatter bottoms, so you will find it easier to balance when walking.
Besides, leather soles after a proper and reasonable break-in will reduce slippage and increase grip a lot. Or if you want to feel more secure when walking on difficult terrain (snow, rain), cowboy boots with rubber soles are for you, they are durable and very anti-slip.
And finally, you can completely choose the height of the cowboy heel you want. As for me, I like the 1 1/2-inch heel with a wide bottom. It is the heel height that ensures very good stability while still preserving the beauty and spirit of cowboy boots.
All of that, plus the good arch support in some cowboy boots like Tecovas, makes cowboy boots great casual footwear.
Several other factors explain why cowboy boots are great for all-day walking
In addition to the construction of cowboy boots, here are some basic factors I gathered during my long time wearing cowboy boots, the reasons why you should use them for walking all day.
First of all, it's comfortable regardless of the weather. A good pair of cowboy boots will ensure you are warm in the winter and cool in the summer.
I usually like cowboy boots with leather soles and lining for summer because they are breathable and absorb sweat well.
Meanwhile, cowboy boots with rubber soles and high construction can ensure my warmth better.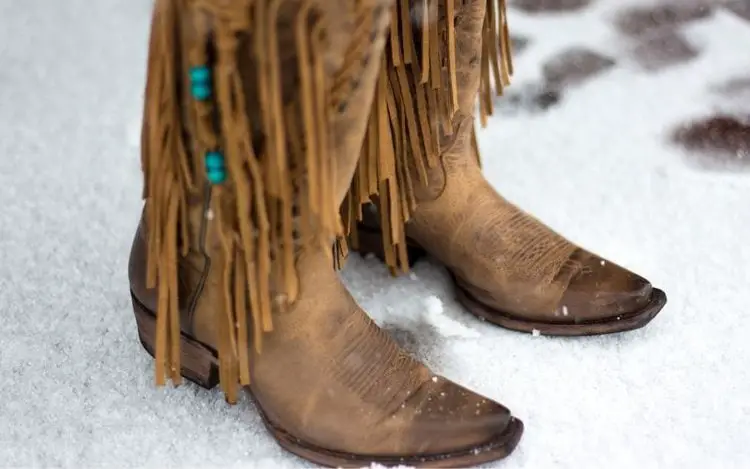 Some notes about the materials that make up cowboy boots
Cowboy boots made from exotic leathers are becoming increasingly popular, each with its own unique strengths. Capturing those strengths, you can find your best match.
For instance, I really like ostrich boots for walking all day because ostrich leather is extremely soft and durable. Ostrich leather contains more natural oils than other leathers so it won't dry out or break.
In addition, cowboy boots made from goat leather will be great for the hot season because they are very breathable. Goat leather possesses a lot of large pores.
Well, the theory part should probably stop here! Here are vivid examples of what I say!
The Most Comfortable Cowboy Boots for Walking All Day Long
Well, in order to find the most comfortable cowboy boots for walking all day, it's important to consider your intended use (work, outdoor, etc.), then the environmental conditions (weather, terrain).
Trust me, this greatly affects the selection of the most suitable cowboy boots!
I will try to give specific examples in the review so you can find the best boots for your purposes.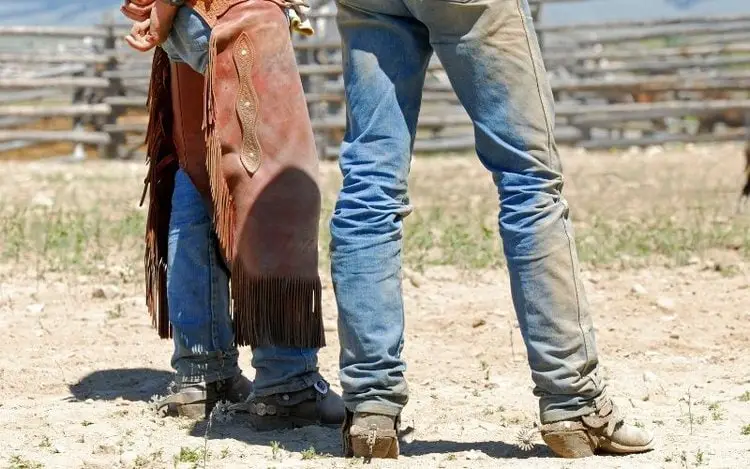 Men's Boots
The main customer of cowboy boots is men, so the category of cowboy boots for men is also more diverse in both construction and leather material.
Some nice and comfortable cowboy boots for all-day walking are boots with a roper or stockman style. Also, media cowboy boots are fine, but you should stick to my advice above.
1. The Duke cowboy boots from Tecovas
Now, let's come to the first pair of cowboy boots, which in my opinion, are the most comfortable for walking all day: a pair of bird boots.
I've always loved ostrich cowboy boots because they're super soft and comfortable – this is what you need most in this regard. Ostrich leather contains a lot of natural oils, so these boots are very soft and durable (not dry or cracked).
The Duke cowboy boots by Tecovas satisfy me in terms of construction, leather, and appearance.
First of all, The Duke ostrich boots possess all the outstanding features of ostrich leather that I mentioned above, they are very soft and have a very short break in time (almost none). Therefore, you will be able to comfortably put them on for the first time.
In addition, cowboy boots need to be really durable to serve you all day, and The Duke does a good job with durable ostrich leather. They do not dry out and crack like other leathers in hot weather.
Aside from the outstanding essence of ostrich leather, these boots are very well constructed to support you well for walking all day long.
The Duke boots carry a roper style, so they have a lower structure than traditional boots. The 10″ shaft won't get you in trouble every time you want to put on/take off the boot.
Now, let's look at the toe.
The round toe shape is not only beautiful, but it is also wide and has enough room for your toes to swing freely. In my opinion, this is very important, you cannot walk all day with your toes getting pressed.
Besides, The Duke roper-style cowboy boots with only 1 1/8 inch heels are also an advantage. The short height and the wide, flat bottom of the heel will ensure that your knee, arch, ankle, or back don't take a lot of pressure with each step.
This Roper-style round toe and heel also make the boot's bottom wider and flatter, which ensures you'll stay balanced and comfortable all day long.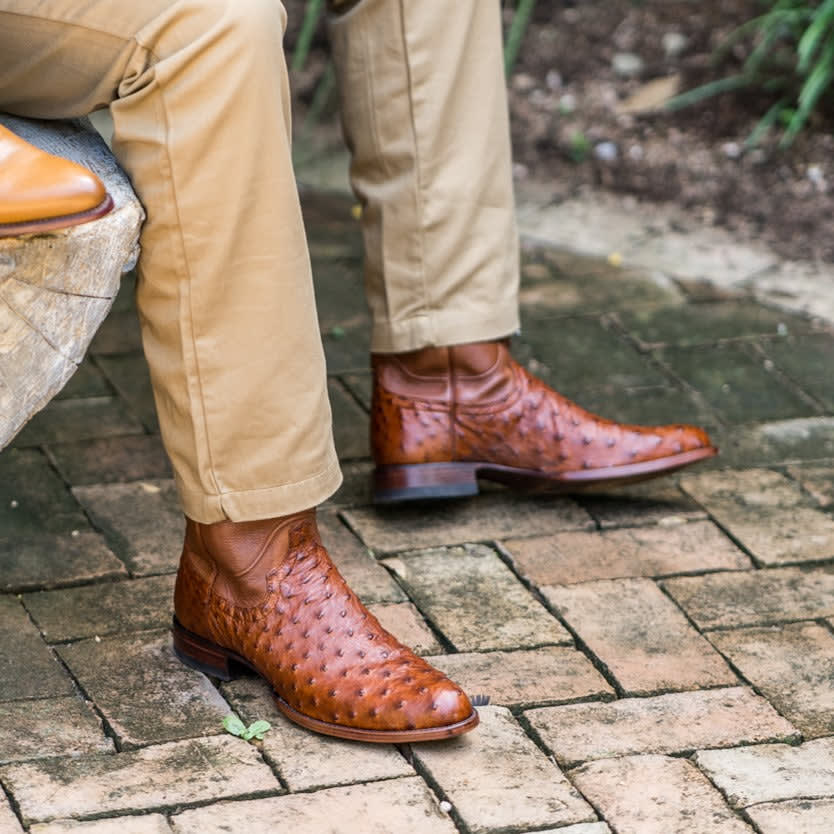 The Duke's leather soles are quite flat and can be a bit slippery at first, but as long as you break them properly (rub against the concrete surface), they will have a good grip. You can believe in a person with more than 15 years of wearing boots!
In addition to comfort, The Duke boots have a very good appearance with a unique bumpy surface of ostrich leather.
The color of these boots is also very bold, and not boring. Also, the look of The Duke boots is really a huge plus.
That's all the reasons why I put these boots at the top of our ranking of the most comfortable cowboy boots for walking all day!
2. The Earl cowboy boots from Tecovas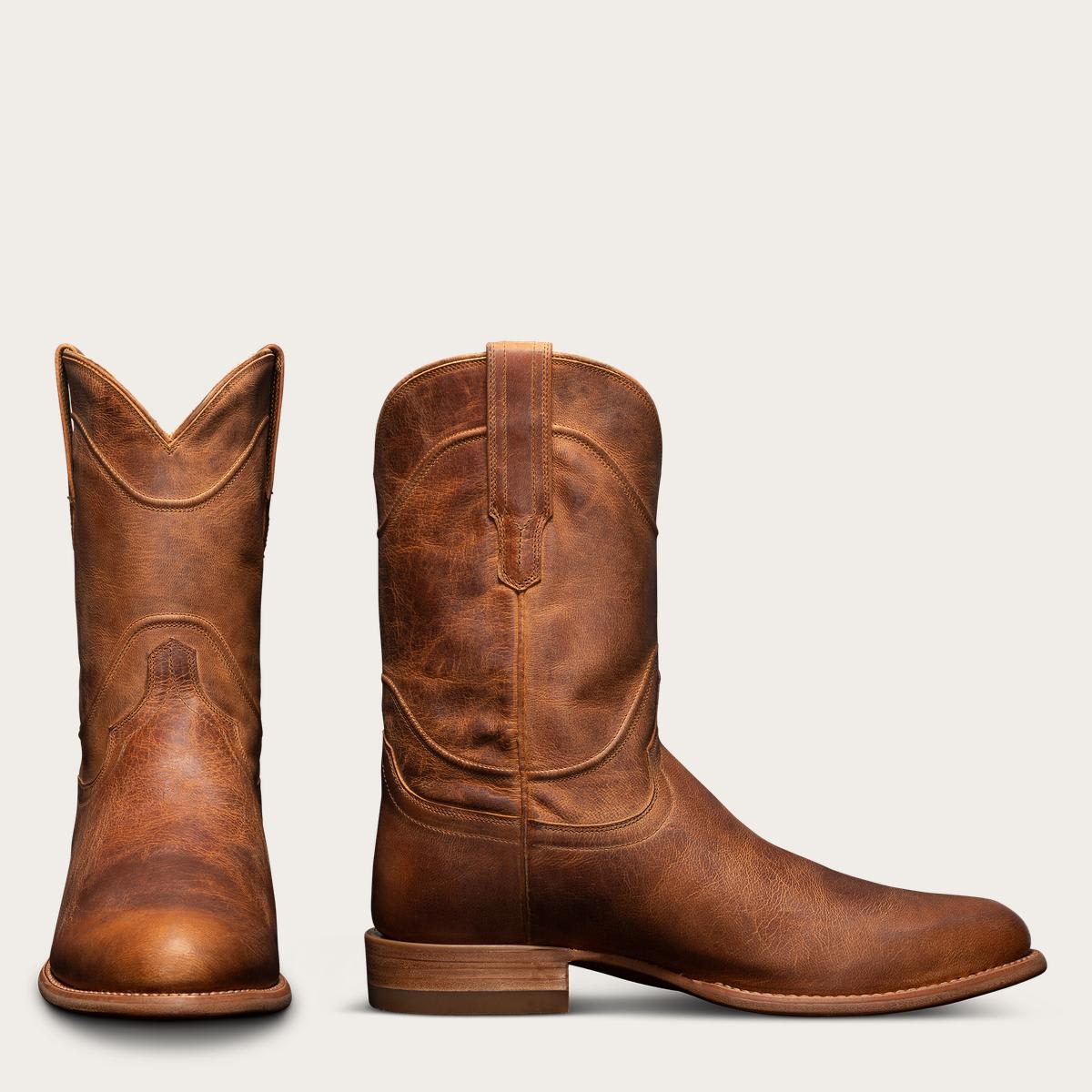 Whether cowboy boots should be worn in the summer is always a hot topic of discussion. Should we?
The answer is yes! If you have read our cowboy boots for hot weather article and decided to own The Earl goat boots from Tecovas.
The Earl goat boots have all the basics to cool down your feet and the hot season.
First of all, goat leather is extremely breathable because it has more pores than other types of leather. In addition, the leather lining and leather sole also absorb sweat well, you can walk all day without feeling hot.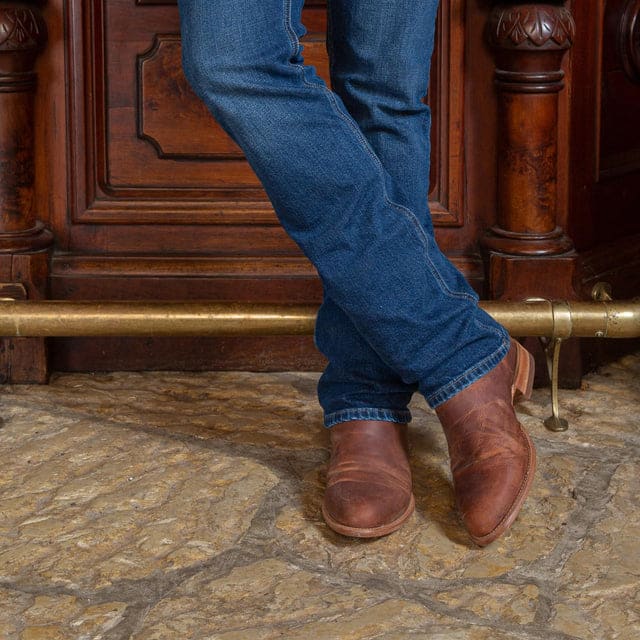 Besides, the shaft structure is a 10-inch high shaft (roper style) to protect you from the summer sun. Even so, they're still lower than typical traditional cowboy boots with shafts between 12 and 14 inches tall, so The Earl is lighter and better for all-day walking.
The Earl boots have a pretty wide round toe to satisfy you both in feel and look. Your toes will not be squeezed while walking.
Because the round toe and the bottom of the boots are quite wide, plus the flatness, short heel, and good arch support for easy balance on your feet without putting a lot of stress on your ankle, arch and back.
You will love the color and natural creases of The Earl, this is a natural and unique beauty of goat leather.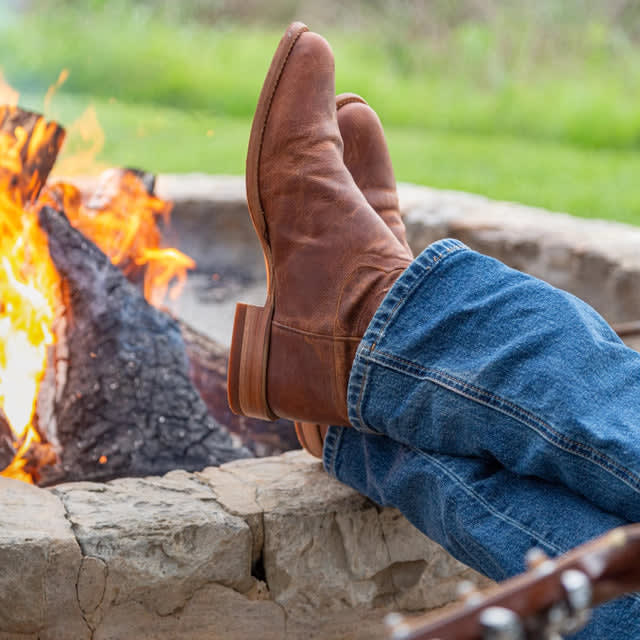 Well, these are really good cowboy boots for the farm this summer!
3. The Nolan cowboy boots from Tecovas
The next coolest cowboy boots for comfort that I would recommend to you are The Nolan lizard boots.
Lizard leather is also a very soft and flexible material, plus the natural uniform textures and elegant colors have made them a place in the hearts of cowboy boots fans around the world.
Just get your eyes on The Nolan, and you will fall in love!
Wearing a traditional cowboy profile, plus unique lizard motifs, I can describe The Nolan's look with a single word: sharp!
The round toe shape tapers to the tip and the soft, lizard textures make The Nolan so elegant and gentle.
In addition, the traditional cowboy heel with the same color as the upper and the standard 1 1/2 inch height will give you confidence and an attractive figure.
Not only that, the softness of the lizard leather, the round toe shape with lots of room, the good arch support and the heel that's not too high are all good features for you to walk all day.
In addition to the above-mentioned outstanding features, The Nolan boots are also considered to have a good fit and a short break-in period.
Overall, if you love traditional cowboy boots with an edgy look and high levels of comfort for walking, then The Nolan is for you!
4. The Jake cowboy boots from Tecovas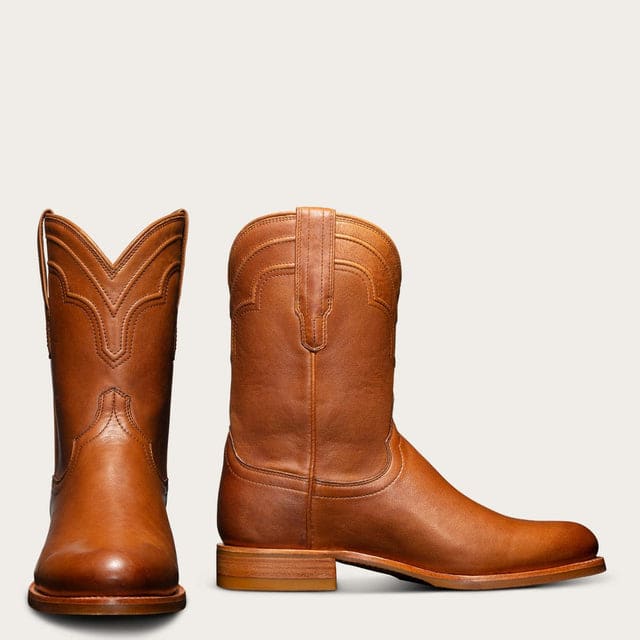 In fact, many people still prefer rubber soles to leather ones. Simply put, the rubber sole grips better on more terrain and makes it easier for them to balance.
If you are new to the cowboy boots world, then you should trust The Jake.
There are two things you, a newbie, will love about these roper-style cowboy boots. The first is a rubber sole that will ensure a better grip with every step.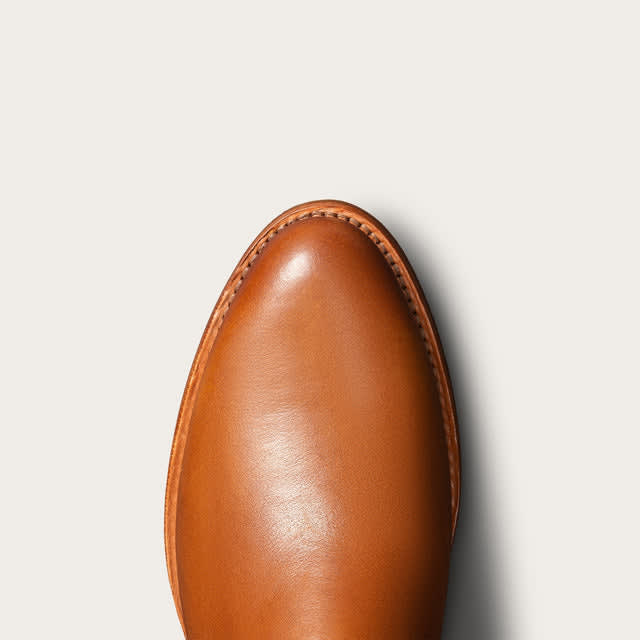 The second is that this boot type has a low structure (roper style), so it is light and easy to put on.
These are the features you should look for in a cowboy boot for all-day walking, especially during wet weather and slippery terrain.
A rubber sole that will have a better grip on wet terrain. Also, it is also more durable as it is not soaked by water.
If you use cowboy boots to walk in the snow, the rubber sole also has better insulation to keep you warm throughout winter.
The entire upper of these cowboy boots is covered with bovine leather, so it has good durability and also has certain water resistance. Plus the 10-inch shaft construction, you won't have to worry about being attacked by mud or rain.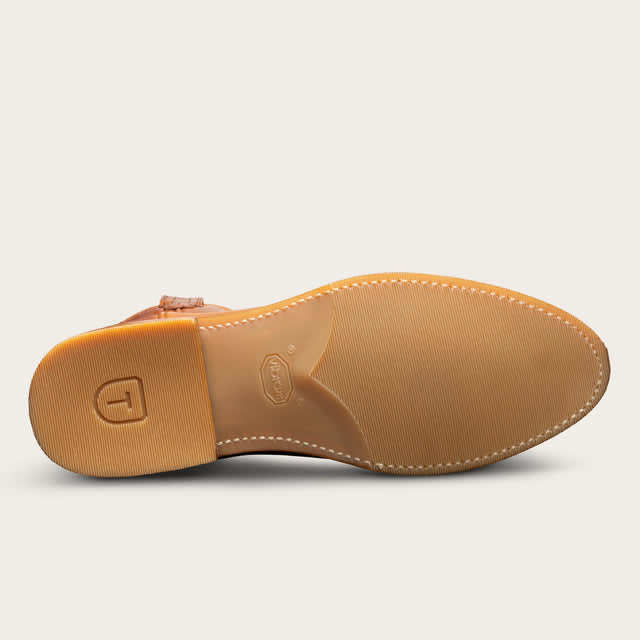 Although it sounds like work boots, The Jake boots can go far more than just the farm as they possess a clean appearance with a well-polished finish that makes them look appealing.
Possessing the familiar advantages that I have analyzed above such as round toe shape, short heel, light, and good arch support, The Jake can completely satisfy you in every step.
This is everything you need in a good walking boot!
5. The Knox cowboy boots from Tecovas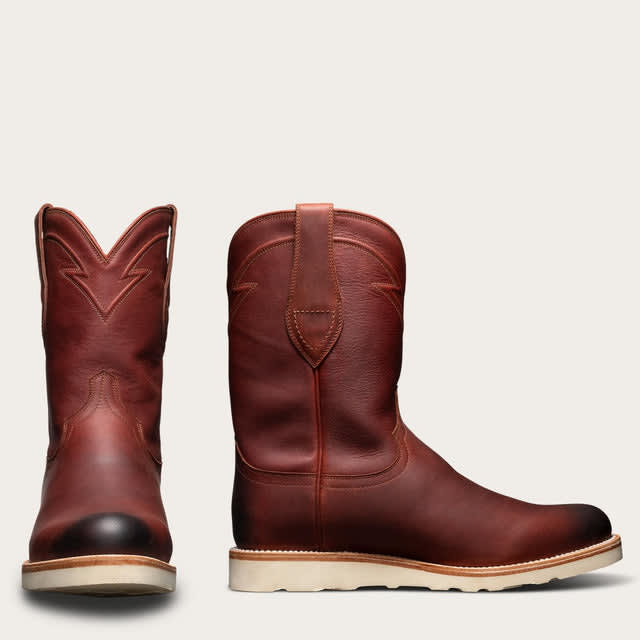 Although we often know Tecovas for their cowboy boots with classic style and color, sometimes you will still be surprised by their creativity.
Take a look at The Knox boots, you will immediately recognize the creativity!
Created for those who spend all day on their feet, The Knox boots feature unique and different soles as they offer good traction (lugs) and comfort (1-inch thick, good cushioning). Besides, this type of sole also prevents mud and dirt from sticking, so it can be a good pair of work boots.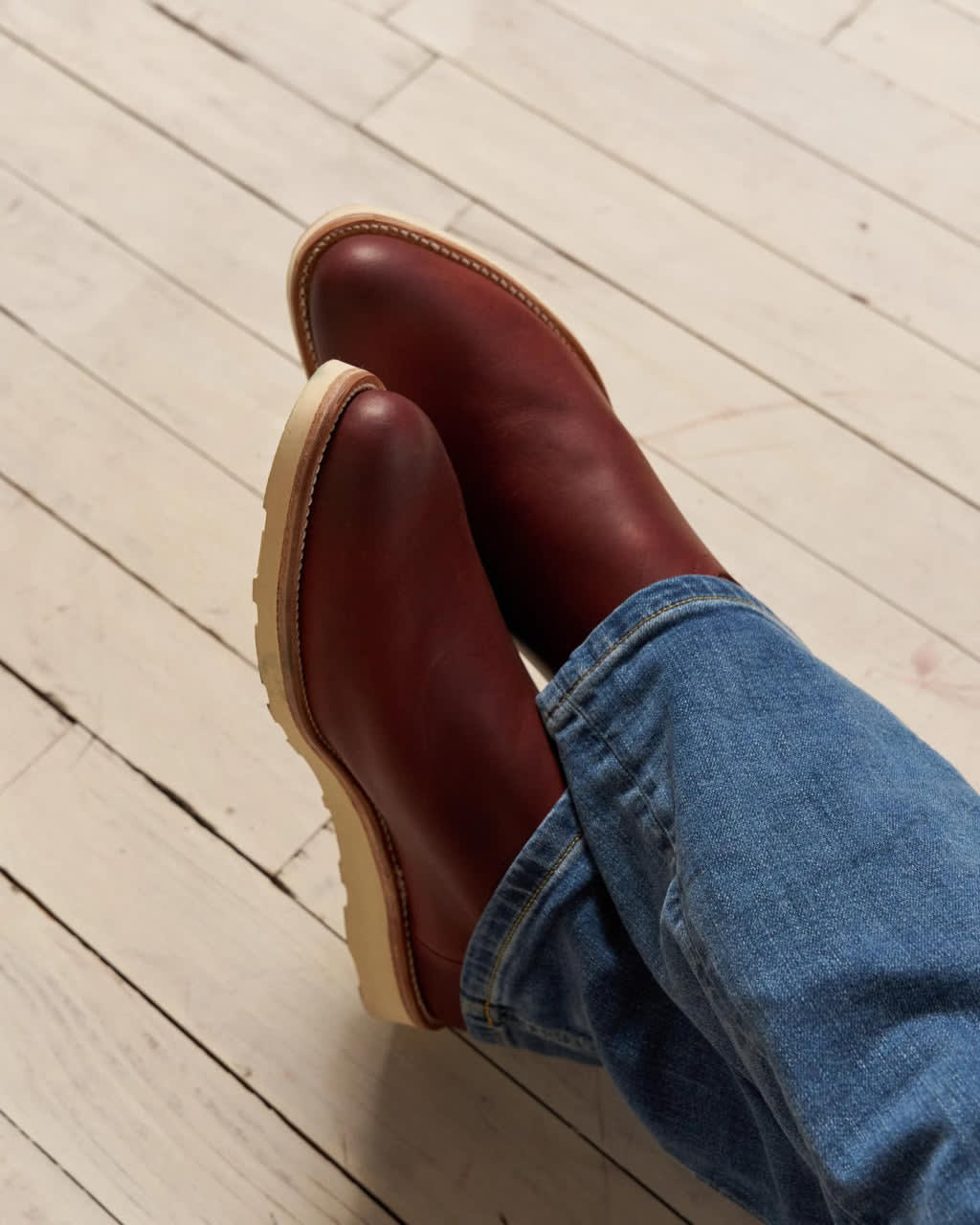 The boots are entirely made from bovine leather, so they have good durability and adequate water resistance. These will be what you need for the rainy or snowy season.
One thing you'll love about these cowboy boots is their dual, removable polyurethane insoles for good shock absorption, you won't get tired or sore after all day walking.
The lining is a basic feature that cowboy boots need, and The Knox boots have a leather lining that is good at wicking moisture and keeping you cool. In my opinion, I prefer leather lining to mesh because I feel it's cooler.
Finally, a familiar feature of Tecovas boots is that the round toe has enough room for your toes to wiggle around all day, which is also a big plus!
While you might think this boot should be for outdoor work, I think it does more because of the sleek surface. Try looking at The Knox boots with a more youthful style, you will feel it.
6. The Midland cowboy boots from Tecovas
These days, you'll easily see people in Texas using cowboy boots for outdoor work more than just ranch work. And most of those boots are called cowboy work boots.
Today, you will find a lot of cowboy work boots, the characteristics of these boots are very durable, strong, and support the feet very well for all-day work. I'm talking about The Midland by Tecovas.
Simply because The Midland boots are specially designed for hard work, they will satisfy you in terms of both comfort and safety.
The Midland cowboy work boots have thick soles with low heels, wide and flat bottoms with lots of grooves and lugs that ensure you're balanced and comfortable despite walking on any difficult terrain.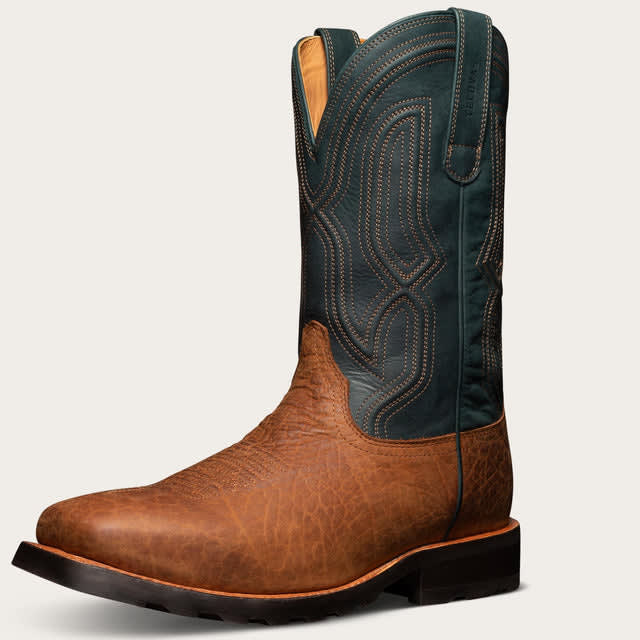 The next thing that makes these boots great for your feet is the shock-absorbing insole and good arch support. This greatly reduces foot fatigue and stress on the arch, ankle, knee, and back during a long day of walking.
Plus, a square toe shape offers a lot more toe room than a round toe, so your toes can breathe easily.
Made from thick bovine leather, it is very durable and can certainly withstand many different impacts or pressures. In addition, these boots are also quite water-resistant.
If you work with machines on the ranch often, then The Midland boots are a very reasonable choice.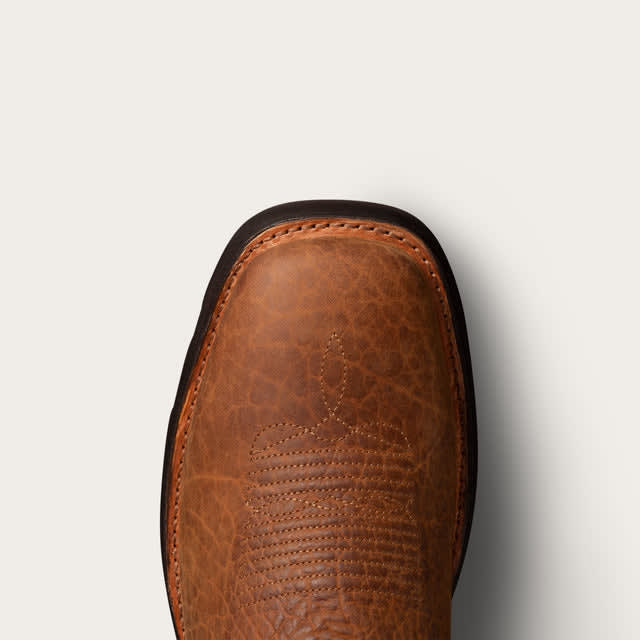 In addition to the good protection and comfort, The Midland has a tough and masculine appearance. I would love to wear these boots with a pair of jeans that also have a rugged look.
How about you?
Women's Boots
Choosing cowboy boots for women to walk all day is actually more difficult than for men. Because not only do they need to provide comfort, but they also need to be beautiful.
Most women's cowboy boots come with a narrow toe and high heel, which will make your feet look slimmer and longer. Unfortunately, that may not really be good for walking all day.
The good news is that although traditional cowboy boots have a rather high heel, they have a wide bottom so they don't put as much pressure on your arch, ankle, knee, or back as other high heels.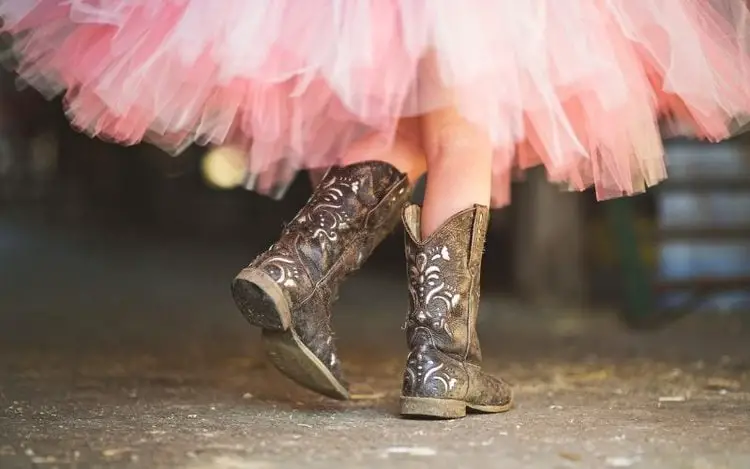 However, the heel of women's cowboy boots for walking all day should also be no higher than 2 inches.
Round toe or snip toe should be your choice, as these toe types provide more room than pointed ones but are still nice and slim.
I especially like the round toes of the Tecovas, they taper towards the tip for a sharp look.
Just some notes, here are some references for you!
1. The Jessie cowboy boots from Tecovas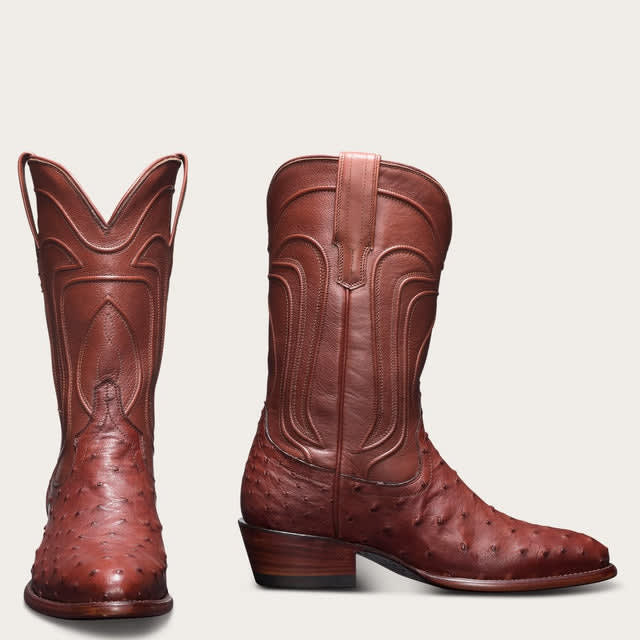 First, I'll start again with a pair of ostrich boots. If you haven't read the reviews above, the main reason I chose ostrich cowboy boots is that they're super soft.
Ostrich leather is one of the softest leathers in the world of cowboy boots because it has a lot of natural oils so it doesn't dry out and is very durable.
Just the above factor has met almost everything you need most to walk all day long.
The Jessie boots are not only excellent in material, but their construction is also great to serve you walking all day.
First of all, with the roomy round toe, combined with the softness of the ostrich vamp, you will no longer experience toe numbness.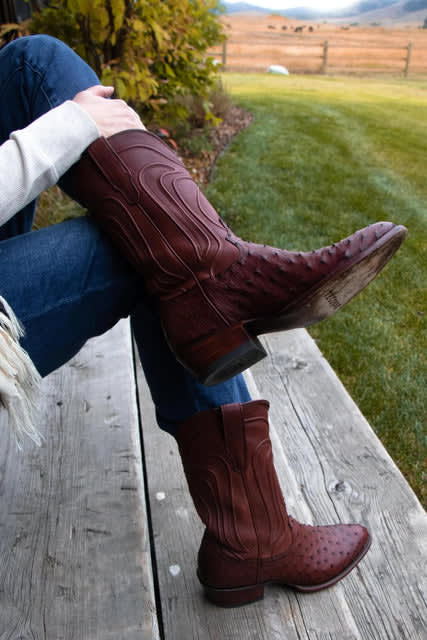 The heel of this cowboy boot is 1 3/4 inches tall but has a wide and flat bottom so the pressure on your joints is not much. On the contrary, according to many people, they are very comfortable to wear.
It must also be mentioned that the 1 3/4 inch heel ensures a beautiful and confident image for you due to its very good height. The heel color having the same tone as the upper also makes the overall boot look harmonious.
The Jessie boots with leather soles are a favorite of longtime cowboy boots fans, they are not only thin and beautiful but also help you feel your feet better with every step.
In fact, if you ask the US Marines, many people will choose minimalist tactical boots to be able to feel the terrain better and take more cautious steps.
The bottom of this boot is also wide and fairly flat, so you'll be well-stabilized while walking all day. In addition, like other Tecovas cowboy boots, The Jessie has good arch support to cushion your foot joints.
Besides the very good construction for walking, The Jessie boots have a very rich color and a unique bumpy surface, you will get a great look.
2. The Jamie cowboy boots from Tecovas
A pair of goat boots will be a great solution for your hot day. With many large pores, goat boots are always appreciated for breathability. And I'm talking about The Jamie.
As one of Tecovas' most iconic and beloved cowboy boots, The Jamie won't let you down with their high level of comfort and natural aesthetic.
Possessing all the advantages of goat leather mentioned above, The Jamie is an extremely suitable boot for those who work outdoors on summer days.
Not only stopping there but leather soles are also considered to be more breathable and moisture-wicking than rubber soles. This is also a huge plus to cool down your feet in the summer.
Besides the natural highlights of goat leather, the round toe box construction provides plenty of room for the toes.
The 1 3/4 inch heel is a bit high, but the heel is wide enough to provide a certain level of comfort and give a nice image to the lady.
Besides, you wouldn't be able to walk comfortably all summer without the padding around the calves, The Jamie's soft bovine lining does its job well!
The structure is good, and The Jamie's appearance is also great with the wrinkles and the very natural yet attractive color of goat leather.
The round toe is not too round and wide, on the contrary, its tapered shape to the tip combined with a moderately high heel makes your leg look slim and delicate, not big.
Those are all the best things cowboy boots for walking should have.
3. The Lucy cowboy boots from Tecovas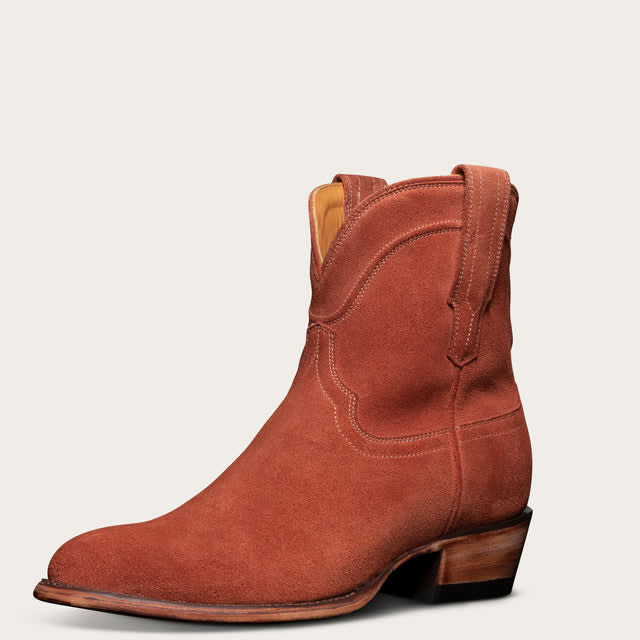 In addition to materials like goat or ostrich, you can also consider suede as a good choice for comfort. Suede is considered softer, and more breathable when compared to full-grain leather.
Besides, suede is also very durable as it is less likely to be torn or scratched. That is why it is often used as military footwear.
The Lucy suede boots will be a good choice for your purposes with all the above qualities.
Besides, The Lucy has a low and lightweight structure (western bootie) so you can put on them easily. These are two great things for casual wear.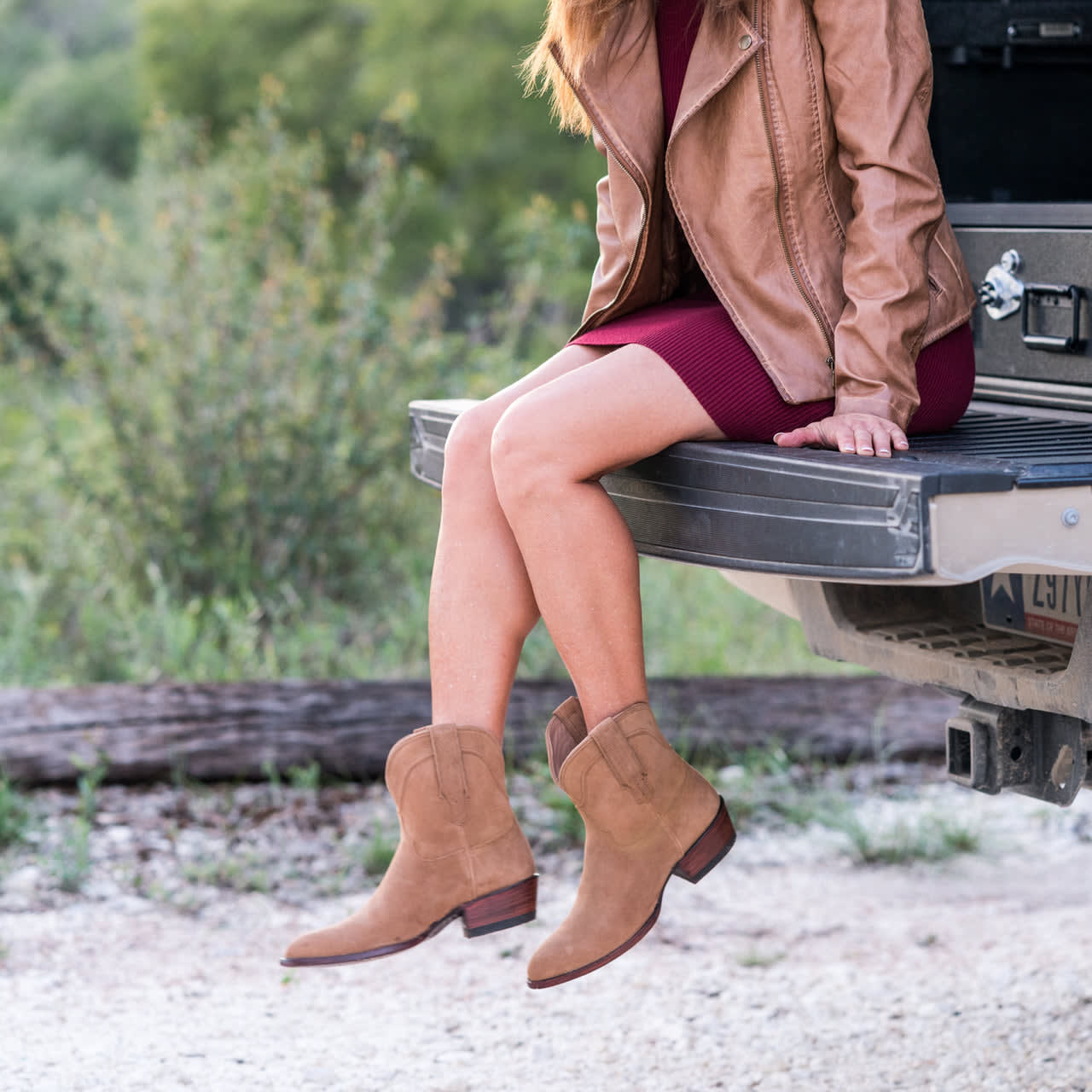 Round toe shape and wide heel bottom are factors that help you feel comfortable and balanced on your feet.
The Lucy boots should be worn in spring, summer, and autumn because they have leather lining and leather soles that are moisture-wicking and breathable.
Not to mention the structure of The Lucy is also low (only to the ankle) so the air is easier to flow into the boots.
However, The Lucy is not necessarily a good choice for winter because the low structure is difficult to keep you warm and the leather sole is quite slippery.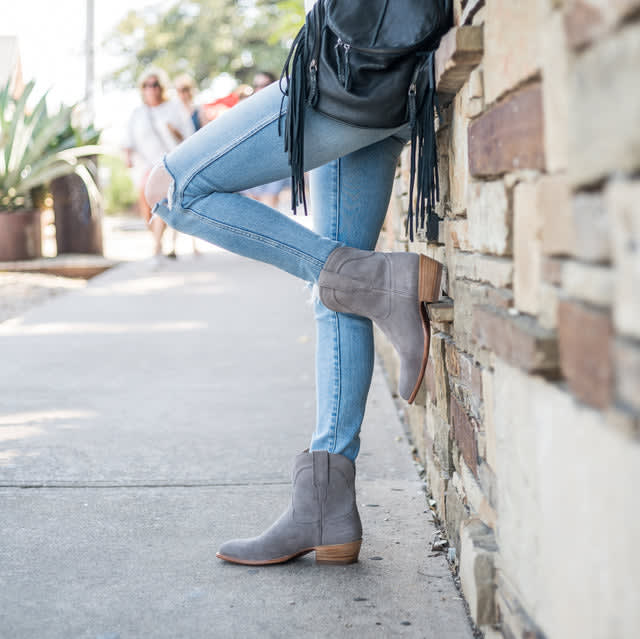 Besides the suitable structure for all-day walking, The Lucy features a distinctively soft surface created by the suede's napped surface.
With the slightly curved toe shape on top, plus the delicate slim leather sole and decent heel height, these boots are absolutely a good choice in terms of aesthetics for girls.
4. The Josie cowboy boots from Tecovas
Another pair of cowboy boots made from suede that will make you ecstatic with their lovely and liberal look is The Josie. If you don't like western booties but prefer traditional-style boots, then these are the boots for you.
The fuzzy suede leather combined with the desert rose color makes The Josie boots stand out even more. Softness and femininity are the right words to describe them.
Not only that, this softness is also a favorable condition for your feet to be more flexible and comfortable when walking.
In addition, suede leather is also usually thinner than full-grain leather, so it is more breathable. This leather type underwent many processing processes, so it is more durable and scratch-resistant. All of these are absolutely necessary.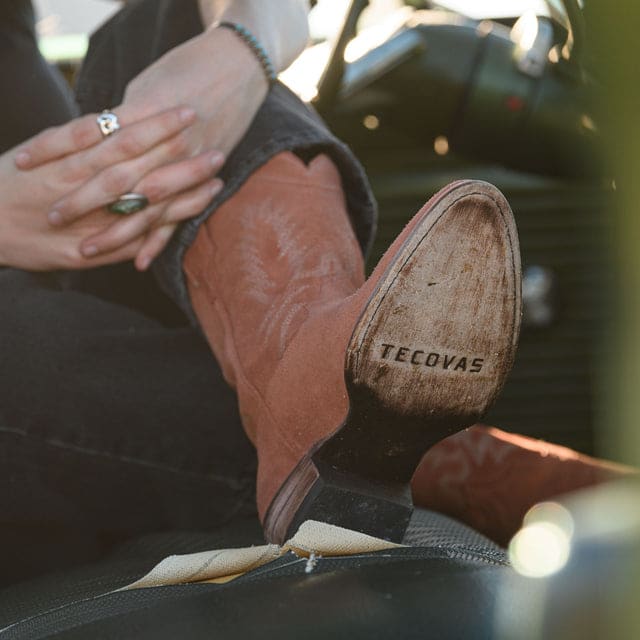 The Josie has a leather sole and leather lining that will keep your feet cool, not wet and uncomfortable – thanks to their good sweat absorption.
The 1 3/4 inch heel isn't too high to make you uncomfortable, but it's also not too low to make you look insecure. On the contrary, this is a pretty standard heel height for women.
The bottom of The Josie heel is also flat and wide, so it will be easy for you to balance and not put much pressure on the joints.
This round toe has aesthetic appeal and is a breakthrough for The Josie boots compared to other boots. They're not too narrow to make your toes numb, and not too wide to make your feet look big. For me, they are perfect!
Overall, The Josie has enough basic elements for you to comfortably walk all day in them. Plus, a few breakthroughs in the structure make their appearance so appealing.
Before you leave
It is safe to say that although there are many cowboy boots that can be used for walking all day, you still need to know how to choose the right ones.
Cowboy boots should have a roomy toe box and a heel that isn't too high (it shouldn't be over 2 inches), plus, they should provide good arch support as well as cushioning.
This can be difficult for you if you are a newbie. But trust my choices above.
Cowboy boots may not give you the same comfort as sneakers, but they provide you with the comfort of understanding, warmth, and peace of mind. This is something no other sneaker can do.
Good luck!
Howdy y'all, and welcome to From The Guest Room, your ultimate guide to all things Western! I'm Jay Gatz, a lifelong cowboy boot enthusiast with over 5 years of experience in the Western style world. I'm excited to share my knowledge with you and help you discover the perfect cowboy boots and western gear to elevate your style. Let's explore the rich history and timeless appeal of Western fashion together!