For starters, here are some criteria for buying a cowboy boot: good quality, long shelf life and easy maintenance.
In today's topic, we will talk about the waterproofing of cowboy boots. This is one of the most important considerations for choosing a good cowboy boot that lasts a long time.
Besides, whether cowboy boots are waterproof or not also affects the maintenance and preservation of our dear boots.
Let's start!
Are cowboy boots waterproof?
The answer is that not all cowboy boots are waterproof.
Men's cowboy boots – usually made of 100% leather, they are very firm, durable and resistant to most external forces.
Western cowboy boots are characterized by high shaft boots compared to other boots and made from high-quality leather. These boots protect the legs from the effects of weather, temperature, external forces and foreign objects.
The tips of cowboy boots are quite hard – protect the toes on gravel roads.
The sole of cowboy boots is very thick and less worn over time. It is great for protect your feet from slippery and oily surfaces. Also, high heel helps your feet fixed and straight on stirrup. (very good support for riding)
Therefore, there is no need to worry about the durability of traditional western cowboy boots, their water-resistance is usually very good.
Read more: Different Types Of Heels On Cowboy Boots 
Meanwhile, women's cowboy boots are made from suede, this skin is also very strong and durable, but they do not last as long as other skin types. (Suede is made from the underside of animal skin, so it is more flexible, softer, more comfortable, but not as durable as the outer skin.)
However, if a suede boot is exposed to a lot of water, it easily gets damaged. Especially when it is left wet or soaked for a long time, it is truly a disaster for your boots if not handled it well!
Therefore, for women's cowboy boots, or innovative cowboy boots made of suede, it is important to keep the boots stay away from water.
In short, for cowboy boots made from leather, there's no need to be so worried, but for cowboy boots made from suede, especially for female cowboy boots made from suede, let them stay away from water, avoid wearing them in the rain …
Before buying cowboy boots, especially those who buy online, remember to look over all reviews (5-star or even 1-star review).
Shops often have employees to answer customer questions on e-commerce sites, you should ask all the necessary issues before buying.
And remember, even if your cowboy boots are waterproof, but they get soaked heavily without proper care (like in the rainy season, winter …), your boots can be degraded quickly.
We have written in detail how to take care of cowboy boots here, take a look at it 😉
Should You Wear Cowboy Boots in the Rain?
Yes and No
Yes, because traditional cowboy boots are usually made of 100% leather. Therefore, they are very durable and can dislodge any negative effects from the outside (including dirt, sand, gravel, and of course the rain, snow…)
Besides, using a boot with rubber sole will prevent slip when raining. Also, you can confidently walk due to the absolute balance of rubber sole.
No, because of innovative, fashion-style boots that honour beauty, it's often less resistant to external impacts than traditional cowboy boots.
Stylized boots are often small, dynamic, easy to use and to coordinate with outfits. They are usually made of suede than leather. For the ones made of suede, they are very fashionable and comfortable but need to limit wearing in the rain.
If the sole is made of leather, rainy days would be horrible because of its slippery nature. Still, we have to admit that the leather sole somehow is really smooth and high aesthetic.
Limiting exposure to the rain does not mean you will have to store your boots in the closet during the rainy season. There are many ways to take care of suede boots before and after wearing them on rainy days, in that way, your boots can be increased the resistance in rainy, windy and snowy days.
For example, using a solution to protect suede boots before going out on rainy days. All the tips to help boots from being wet and to deal with damp, wet boots … are thoroughly explained here.
Can I make my leather boots waterproof?
The answer definitely is YES.
Currently, on the market, there are many leather care wax products of boots, they are born to support the leather of boots that are not waterproof.
But no matter how good the waterproof wax products are, we recommend that you take good care of your boots after coming home from the rain.
Keeping them dry, clean and keeping them upright for good looks are really essential.
How to use these waterproof wax products:
Step one:
Prepare a soft cloth (or 1 piece of rag) and 1 waterproof wax product.
Step two:
Get a little bit of wax on a soft cloth (or rag), polish your boots, pay close attention to the part where the sole meets the leather of the boots (goodyear welt) because this is the part that is often damaged by water. (See more details in the video above).
Step three:
Use a hairdryer, dry evenly where you have been polishing with wax. This will help dissolve the wax and penetrate the leather of your boots evenly.
Are cowboy boots good for snow?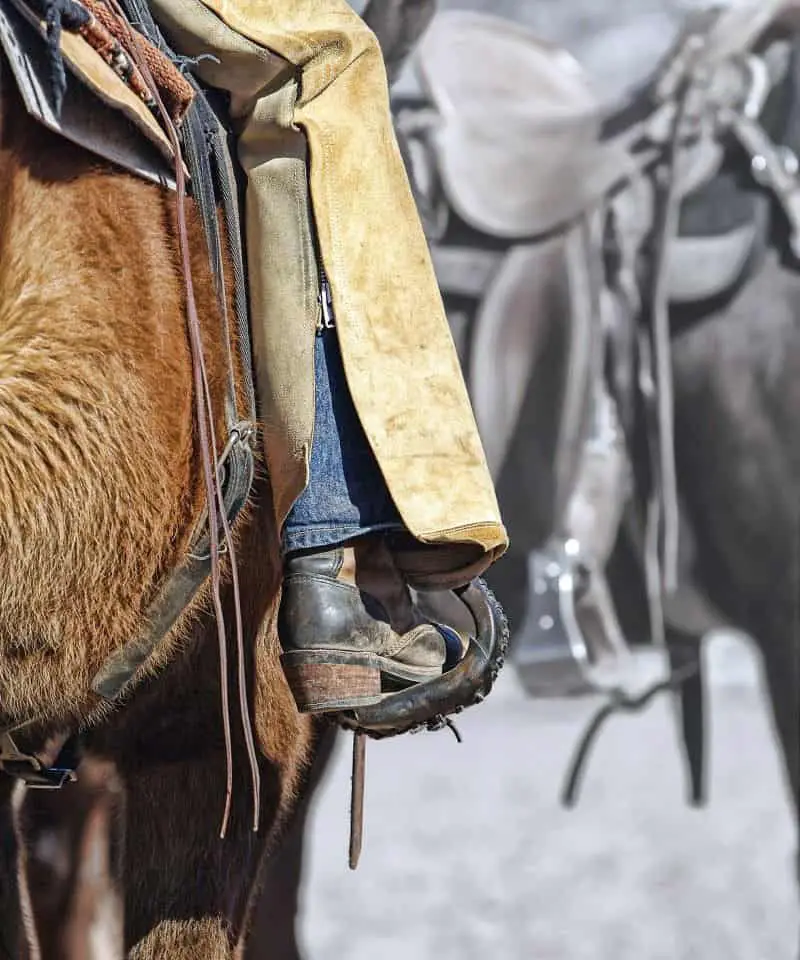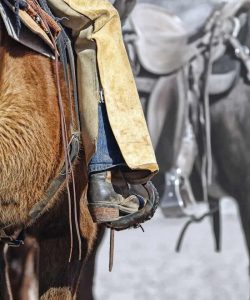 Cowboy boots are totally great for the winter.
As we mentioned above, the shaft of the boots is usually higher than the other boots, the tip of the boots is durable and firm, … all of which guarantee your legs absolutely warm.
Obenauf's Heavy Duty LP Leather Conditioner Natural Oil Beeswax Formula (8oz)
Leather conditioner cream with real beeswax and plant oils designed to melt when spread on by hand
Heavy Duty LP waterproofs and resists acids, petroleum, salt, and chemicals on leather work boots
Condition, restore dried and sun faded leather furniture and leather auto interiors
Complete leather care proven to resist scuffing, stitch tear, and cracking
Heavy Duty Leather Preservative is Made in the USA
However, please be aware that:
In the summer, you can immediately put cowboy boots in the closet without thinking. In the winter, such treatment with boots will make you quickly have to say goodbye to them…
Take good care of your boots as they will protect your feet from the cold winds during the harsh winter.
So, there are a few notes you need to know when wearing cowboy boots in the winter:
First:
Use waterproof wax to protect the skin of the boots against the destruction of winter moisture. (Scroll up to see more clearly)
Second:
In the winter you should use boots with rubber soles, avoid using leather soles.
Because the rubber sole has good adhesion to prevent slipping. On the contrary, if you use leather soles, your boots will be extremely soggy and slippery when you walk.
From our experience, if you wear a pair of Cowboy Work Boots, you don't need to worry about wearing them in the winter, because they seem to be born to challenge any kind of weather.
Meanwhile, boots that are aesthetic, handcrafted by some brands such as Tony Lama, Lucchese or Anderson Bean, it's best not to wear them in the winter. Because they are a real treasure, and should not be tested.
Read more:  Famous Cowboy Boots Brands
How do you protect cowboy boots from water?
It can be seen that water is the No. 1 enemy of all things made of leather, not just cowboy boots.
The fact that a pair of leather boots is wet but not handled properly can cause an unpleasant odor, or worse, be deformed and damaged.
Apart from the waterproof wax we mentioned above, there are a few more ways.
Usually we have 3 ways to protect boots from water:
Read more: Best Cowboy Boot Conditioners
1/ Sprayer protects suede boots from being waterproof.
For how to make suede boots waterproof, we have 2 basic steps:
Step 1:
Clean suede boots with specialized cleaning equipment. (We have detailed instructions here)
Note that you should use specialized cleaning tools, using other types of hygiene tools might ruin your boots.
TAKAVU Shoe Shine Kit (4PCS) - 100% Soft Horsehair Bristles Brush, Polish Applicator, Crepe Suede Shoes Brush, Microfiber Buffing Cloth for Shoes, Leather, Boot, Cloth, Bag
√ 4 OF PACK BRUSH KIT: Including 6.7" horse hair Shoe Shine Brush, Long Handle Shoe Polishing Applicator, Crepe Suede Shoes Brush, Microfiber buffing Cloth to meet your daily needs of different leather products for an amazing performance.
√ HIGH-QUALITY MATERIAL: Our Shoe Brushes are made of 100% Soft Genuine Horse Hair and imported beech wooden. Crepe suede shoe brush is gently and thoroughly remove soiling and stains,keep original texture and never harm your leather.
√ COMFORTABLE TO USE: Concave design make the brush easier to hold & move, handles keep your hand in a natural position to prevent fatigue, quickly clean and polish leather and suede.It is easier to clean all the small corners.
√ MUlTIFUNCTINAL APPILICATION: Using for your shoes, boot, leather, sofa, bed, sheets, gloves, coats, clothes, bags and more.
√ 100% RISK FREE PURCHASE: Providing you with the friendliest customer service is our number one goal. This is why we offer you a money back guarantee in case our Shoe Shine Brush Set does not live up to your expectations. Related: ugg dance handbag buff shiny
Step 2:
Spray a thin layer of suede boots protection solution to protect the leather surface of boots against water.
Remember to carefully spray on the goodyear welt.
Nikwax Nubuck & Suede Proof Spray-On 125ml, 772
Adds water Repellency to synthetic or leather footwear while preserving texture
Clean first with Nikwax footwear cleaning gel for best results
Manual or spray-on application
Recommend for use on all textured leather shoes, coats, and gloves; safe for GORE-TEX
Water based, biodegradable, and contains no PFCs, VOCs, optical brighteners, or added scent
2/ Mink Oil for Waterproofing and Conditioning Leather
Like other products, mink oil is easy to use. Besides, using mink oil for dark boots is even better.
Just clean your boots, put some mink oil on a soft cloth or a rag, and then polish around your boots.
That's it, very simple!
Read more: How To Care For Ariat Workhog Boots
3/ Waterproof rain boots covers
This product is suitable for dealing with sudden rains, just pull them out, wrap around your boots, so you can freely walk on wet roads without fear of rain.
USHTH Black Waterproof Rain Boot Shoe Cover with reflector (1 Pair) (Black-M(11.2inch))
♦[Quality PVC Fabric: All Angle Protections] - 100% high elastic PVC materials. 100% Solid Water, Oil, Dustproof & Anti-skid compatibilities.
♦[Portable Foldable and Reusable] - Every pair of shoes cover comes with a waterproof package bag, you can easily put them in your bag after use.
♦[Unique design] - 1. Safety reflector on heel ; 2. Comprehensive waterproof zipper.
♦[Fashion And Adjustable Design] - Fashionable sport style; Wide mouth design,easy to put on and off; Good elasticity of the surrounding on the top,convenient to adjust to the degree of tightness.
♦[Wide Applications] - You can wear rain snow shoes covers to do Cleaning Washing Cycling Motorcycle Traveling Camping Hiking Fishing Hunting Shooting Farming Painting etc.✮✮✮FREE exchange size and 100% money back guarantee if you are not satisfied✮✮✮
The bottom-line
In short, there are many different ways to protect your boots from sudden rain or snowy winters.
Here are some comparisons about these protection methods:
1 / Use wax to make boots waterproof
In our opinion, this method is the most effective, long waterproof period, can be used for both rain and snow days.
However, this method is more time-consuming than other methods, you have to do it in advance at home. In case you encounter sudden rains, it will be difficult for you to manage.
2 / Water repellent and dirt protection spray
This is a quick, easy, flexible way to cope with sudden rainfall, but this seems to be a less effective way of protecting the boots from getting wet. The protection time of this method is not as long as using wax or mink oil.
When you use this way, choose the good protective spray products, which are appreciated by people who have used them before.
3/ Use mink oil
Just like using wax, this method is easier, quite effective, not only effective in protecting waterproof boots, mink oil also helps your boots look newer and preserves the leather of the boots longer.
However, we think it is less effective in protecting waterproof boots like wax.
4/ Waterproof rain boots covers
Quite easy, fast and convenient, challenging any sudden rain. It almost protects the boots from the rain completely.
However, you will have to spend more room in your bag. Not to mention you can't "show off" your desired boots for everyone to see.
Besides, the higher cost compared to other methods of storage is something worth keeping in mind.
Read more: Comfortable Cowboy Boots For Flat Feet
Can Ariat boots get wet?
All boots can get wet …
However, we appreciate Ariat cowboy boots for its high-quality. Since Ariat boots are manufactured by industrial chains with high standards, their boots are truly durable and rarely encounter errors.
Besides, the two famous cowboy boots of this brand are Riding Boots and Work Boots, which are very durable, strong and comfortable.
You can rest assured when your Ariat brand boots face heavy rain or heavy snow.

And once again, we remind you that no matter how good your cowboy boots are, how long the boots can last depends on how they are stored and handled.
It is very important to take care of the boots before and after the rain.
Read more: Where are Ariat cowboy boots made?
Can I use olive oil on my cowboy boots?
The answer is YES, but we do not recommend using olive oil too much to polish leather cowboy boots.
For cowboy boots, you always want them to be shiny and attractive, no one wants to wear boring boots to go to the road.
Using olive oil can be a good way to make the boots shiny and newer. Remember to use it only in an emergency, do not use them regularly, especially don't apply olive oil too much in brown boots or it will discolor your leather boots.
In case you do not have special products to care for the leather boots. We still recommend that you clean and take care of them so they can shine instead of using other non-leather care products.
Sale
OrthoStep Black Boot and Shoe Cream Polish - Made in the USA
CLEAN, PRESERVE & RESTORE COLOR - Our unique cream polish is rich in natural waxes, oils and pigments that clean, preserve, and restore color to faded footwear and leather including purses, handbags, wallets, accessories and furniture. Step it up with OrthoStep!
IMPROVED BOOT & SHOE POLISH - This dynamic and fast-acting leather repair cream is designed to protect and rejuvenate all manner of shoes, boots and high heels. Breathe new life into your worn-out and well-traveled pairs instead of throwing them away.
INSTANT LONG-LASTING RESULTS - You only need a small amount to bring back your shoes' original color and hide surface scuffs on the leather. Our boot polish fills unsightly crack lines and restores damage from wintry conditions like wet, snow, salt and mud.
EASY MESS-FREE APPLICATION - OrthoStep shoe shine cream will make your old shoes and boots look like new again. It's easier to apply than a paste and much less messy than liquid polishes. You'll instantly notice significant improvement after just ONE application!
PREMIUM QUALITY - MADE IN USA - OrthoStep is proudly committed to the highest quality sourcing and manufacturing processes. Our premium leather shoe polish cleaner is safe and effective to use, even on expensive designer footwear. One jar lasts dozens of treatments!
Admittedly, olive oil is very versatile. It can be used for skin care, hair treatment, cooking but also … care for boots
Is Vaseline good for leather boots?
Just like olive oil, using Vaseline can make your boots instantly shiny, but we don't recommend using them regularly or it will affect the color of your boots.
If we have to choose between Olive and Vaseline, Olive oil is our pick.
Finally, you should use specialized products for leather boots so you can use it for a long time.
Read more: How To Wear Cowboy Boots For Guys
How often should I condition my cowboy boots?
The cowboy boots are designed to be very strong and durable, resistant to many external influences, rain, wind, snow and hot sun. However, this does not mean that they do not need good storage and hygiene.
For boots that are modern and stylized, it is not necessary to clean them very much.

But for the cowboy boots you use to work outdoors, they are often dirty and attacked by the effects of the weather, you should clean them regularly, right after returning home. Don't let dirt stay on your cowboy boots for long time.
Working boots often have very high endurance since the nature of their work needs those advantages. Don't be afraid to clean them often. That would be better for your cowboy boots than letting them suffer from dirt.
We have come up with many ways to take care of cowboy boots on the top, you can scroll up and check it yourself! <3
Read more: What Size Cowboy Boots Do I Need ?