One of the features that make cowboy boots stand out from the rest is their height.
In fact, there are very few high-heeled footwears that are as good as cowboy boots. Some of the high-shaft footwear you often see today may be variations of them.
There are many controversies raising the question of why cowboy boots are so high. Wouldn't that make them heavy and make it difficult for us to put on/take off them?
Well, in fact, the height of cowboy boots completely has its purpose. To understand that, we have to step back in time and dig to the root of why this type of boot was born.
Let's check it out!
Key Takeaways
Most cowboy boots are from 11 inches to 14 inches high. They protect the entire feet, ankles or calves of cowboys against bad external forces during work (thorn bushes, snakes, scorpions, etc.)
Some cowboy boots even have shafts as high as 16 inches, usually for better riding support as they can protect and hold up your feet better.
Wearing cowboy boots with a high construction ensures your feet are warm, comfortable or cooler against unpredictable changes of weather on the farm.
Cowboy boots are so tall: What are the reasons?
Looking back at the history from the late 18th century to the early 19th century, farmers in the western United States needed sturdy and durable boots to work on farms.
To solve that problem, cowboy boots were born. They give full protection for the feet and calves of users, so cowboy boots have a very high shaft compared to other types of boots.
With this high shaft, cowboy boots protect cowboys' legs from the adverse effects of external forces: sun, snow, sand, dirt, mud, debris, etc. And especially to avoid the attacks of many dangerous and poisonous animals such as snakes or scorpions.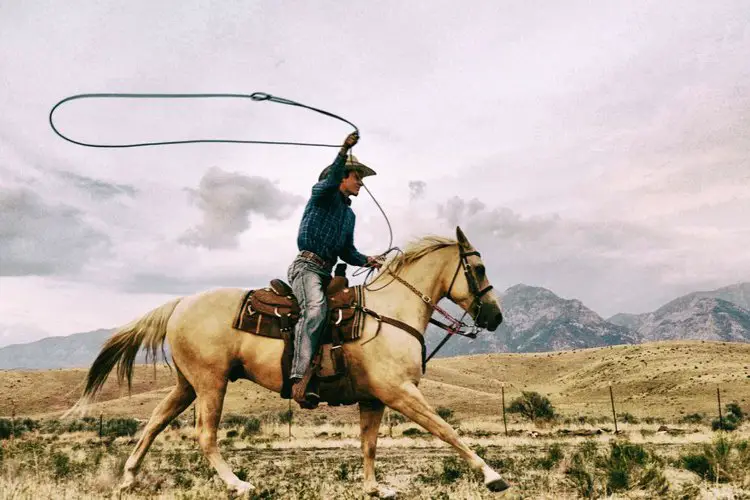 With a higher mid-calf profile, traditional cowboy boots can provide better protection than other boots.
Besides, the leather of traditional cowboy boots is thick, especially leather around the calf, to keep cowboys warm through the winter or keep them cool from the harsh sun. Weather issues are no longer a concern!
In addition, the high shaft helps cowboy boots hold cowboy legs better, ensuring cowboy boots don't fall off while the cowboy is working or riding. The leather around the calf slightly fit tight to the cowboy's legs, making cowboy boots hold up better than other types of boots.
Imagine that you were riding a horse with your shoes on the verge of falling off your feet, what could be worse than that?
In short, the reasons that cowboy boots are so tall are: ensure safety and flexibility for cowboys, protect cowboys from external forces (bad weather, dangerous animals, sand…) and make cowboys more flexible (as boots hold their legs neatly) while riding or working.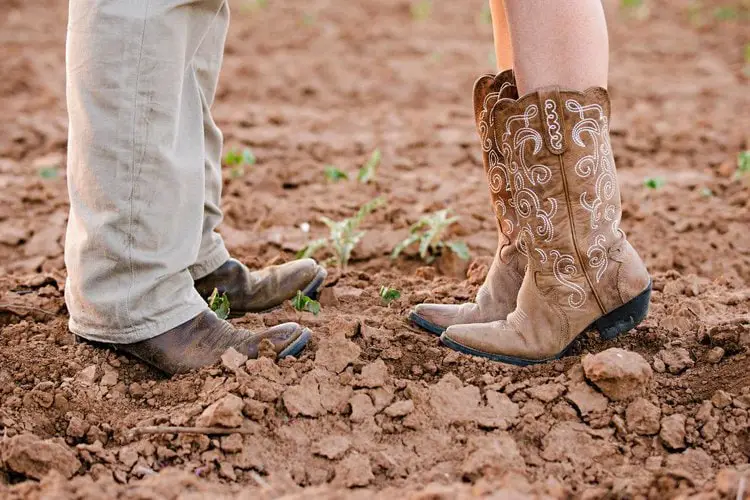 Later, the tall structure of cowboy boots accidentally makes a distinctive feature that these boots become one of the famous fashion accessories all over the world.
Today, you will see cowboy boots appearing everywhere and serving many different purposes, not just for working on the ranch.
What are tall cowboy boots called?
The highest cowboy boots are buckaroo boots, these cowboy boots have shaft height from 14″ up to 16″. These are very popular cowboy boots used in sports events and rodeos by equestrian athletes.
Cowboy boots with a shaft height to about mid-calf are usually western work boots or roper boots.
And types of boots with shaft height from 11″ to 14″ usually make up the majority, including traditional cowboy boots (riding boots), stockman, etc.
How tall should cowboy boots be?
Personally, I like the traditional values of cowboy boots, that's why the boots with a shaft height of about 11″ to 13″ are always my favorites. However, depending on your purpose when buying cowboy boots:
If you are an office worker and want to wear cowboy boots with suits, then roper boots with shaft height to mid-calf are a good choice.
If you prefer to wear boots for horse riding, then buckaroo boots with a height of 14″ to 16″ can protect you completely.
Or if you do heavy work or outdoor work, western work boots with shaft height to mid-calf are a good choice.
In general, in addition to work purposes, choosing cowboy boots with short, standard or high height depends a lot on your senses.
If you want more comfort in casual wear, the shaft should not be too high, roper boots with a 9-inch shaft are a good choice.
For jobs that require a lot of protection like construction sites, cowboy boots should be more than 11 inches tall for optimal protection, but it can make you feel a bit entangled when you want to put on / take off them.
Before you leave
One of the things we love about cowboy boots is that they are very different from other footwear. Their tall structure is what sets them apart.
In addition to the above characteristics, you see that the high shaft of cowboy boots is also a place for bootmakers to unleash their creativity and create many extremely impressive and unique stitch patterns.
Although the height of cowboy boots can sometimes be difficult to put on or take off or take care of them. These days, there are many useful methods and support products to solve those problems.
Owning a pair of cowboy boots, you will feel the full essence of a pair of leather boots!
Howdy y'all, and welcome to From The Guest Room, your ultimate guide to all things western! I'm Jay Gatz, a lifelong cowboy boot enthusiast with over 15 years of experience in the western style world. I'm excited to share my knowledge with you and help you discover the perfect cowboy boots and western gear to elevate your style. Let's explore the rich history and timeless appeal of western fashion together!