You may be surprised to learn that, following traditional cowboy boots, roper-style cowboy boots have become immensely popular.
Their appeal stems from their contemporary design, which offers enhanced comfort while preserving their timeless elegance.
One of the most appealing aspects of roper-style cowboy boots is their versatility, effortlessly complementing various outfits and serving multiple purposes.
Whether you need a sturdy pair for ranch work or a stylish option to wear with a suit, there are roper boots available to suit your preferences.
If you're curious to learn more about roper-style cowboy boots, look no further than this informative article.
What are Roper boots used for?
I think I'll start with this first, I want to give you an overview of Roper boots.
You often know cowboy boots with 2 main types, one for riding (traditional) and the other for walking (casual use). Then Roper boots can be suitable for both purposes.
The shaft of Roper boots is not as high as that of trad cowboy boots, it only reaches mid calf. So it's easier for you to put on Roper boots and don't get annoyed by the shaft being too high.
Besides, the heel of Roper boots is also only about 1 inch (lower than traditional cowboy boots). And what makes them suitable for riding and walking is that they have both block and slanted shapes.
The strength of Roper boots is that they can bring balance and stability and have more use than traditional cowboy boots.
In addition, Roper boots have a round toe with plenty of room in the toe box, which helps your feet breathe and stay comfortable.
Besides, you can easily use them for any purpose: farming, ranching, or office due to their various structure and appearance. They are surely a perfect fit for all of those jobs!
That's an overview of Roper boots.
What Are Roper Boots?
Let's go through some factors such as the history of Roper boots and their construction. Then, I will tell you some interesting things!
History of Roper boots
It's not easy to find an accurate source for the history of cowboy boot styles, but here is one of the most popular pieces of information about the history of Roper boots!
Originating in the 19th century, Roper boots have their roots in the UK, unlike most cowboy boots that trace their origin to the western United States and Mexico.
The founder of Roper cowboy boots was a war hero named Arthur Wellesley, who also served as the former Prime Minister of England and the 1st Duke of Wellington. Due to his significant influence, Roper boots are often referred to as Wellesley boots.
Initially, Wellesley wore Hessian boots, a type of military boot that shared similarities with cowboy boots as they provided excellent support for soldiers riding horses.
However, the Duke of Wellington desired a more unique version of these boots.
Consequently, he commissioned a local boot shoemaker to create a new and modified version of the Hessian boots, which we now recognize as Roper boots.
These boots feature a high-to-mid-calf design, crafted from soft calf leather with a pointed toe, fringe detailing, and a roughly 1-inch high heel. Since that day, Roper boots have gained popularity among both men and women, thanks to their sleek silhouette.
Today, Roper boots are regarded as an excellent fusion of western and dress boot styles.
Ariat Ropers are Cheap, Simple and Better than the Rambler
Structure of Roper boots
It can be said that the Roper boot is a combination of two bloodlines: Western boots and Dress boots.
This half-breed bears the breath of the wild west of America, Mexico, and the beauty of England.
These things bring many breakthroughs in the design of Roper boots.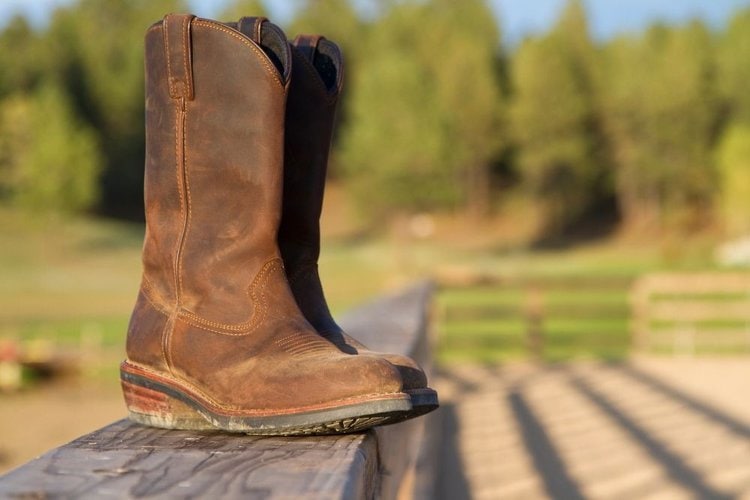 Shaft
Roper boots are generally taller than dress boots but shorter than cowboy boots. Its shaft is usually half the height of your calf. Sometimes, the height of the shaft is just above the ankle. (The height of the shaft from the heel mostly falls from 7″ to 10″)
Roper shafts retain the characteristics of cowboy boots: diverse stitching patterns (usually the bootmaker's "signature"), pull straps, etc.
Besides, its shafts are often wider than those of other boots. So, Roper boots are very suitable for people with wide calves.
Heel
Similar to its shaft, the heel of Roper boots is almost always lower than that of other traditional cowboy boots (Wellesley can't bring high heels to battle anyway).
Roper boots have low heels and standard heels, most heels of roper boots are from 1″ to 1 3/8″ in height.
Usually, you will see cowboy boots with heels with a block or slanted shape. And Roper boots have those heel shapes.
This is understandable since the original purpose of Roper boots is for both riding horses and walking on your feet.
Ariat Heritage Roper Western Boots
Sole
You'll find roper boots with fairly flat and wide outsoles. It is the result of low heel height and wide toe shape. This is the reason why among different types of cowboy boots, Roper boots are always at the top of the boots that provide the best comfort.
No different from ordinary cowboy boots, Roper boot outsoles are also usually made from two main materials: rubber or leather.
Toe Shape
You may know the round toe as the original toe shape of Roper boots, but nowadays boot markers are so creative that you will find many roper boots with square toes.
To spot them, look at the height and shape heel along with the shaft height of your boots.
Material
The materials that make up today's Roper boots are very diverse, from cowhide to exotic leather.
You will easily find Roper boots made from ostrich, lizard, caiman, and many other materials.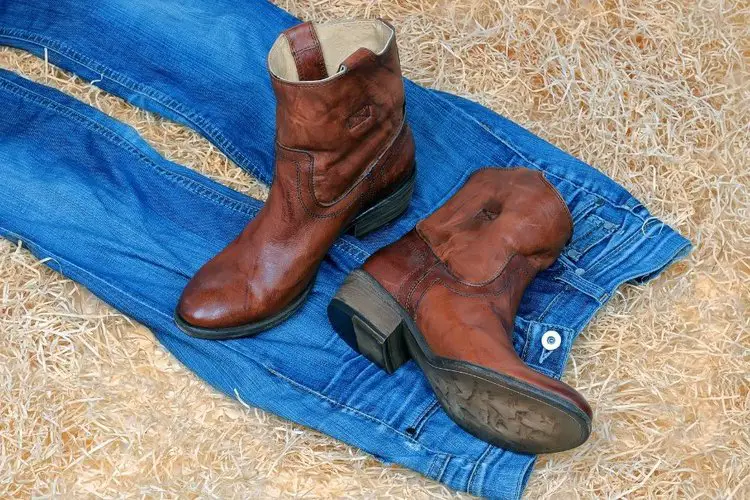 Are Roper good boots?
Roper style cowboy boots have many advantages over traditional cowboy boots, especially in terms of convenience and use.
Regarding convenience, due to the short shaft, roper boots are suitable for many different types of calves, both narrow and wide. As they only reach the mid calf, it does not affect the fit between the boot and the mid calf much.
Besides, due to the low construction, it is also easier to put on / take off roper style cowboy boots than the traditional ones.
The round toe shape construction provides more room for the toes, while the lower heel and wide bottom ensure you're more balanced. Therefore, roper boots provide more stability and are more suitable for casual wear or outdoor work on feet than compared to traditional cowboy boots.
The roper-style cowboy boots also offer various materials for different styles, from distressed cowhide or ostrich to elegant lizard or caiman belly. You have plenty of choices for your purposes.
On the other hand, roper boots do not give you the same height and confidence as traditional boots (because of their short heels). Their round toe isn't as sharp as that of traditional ones (roper boots' toes are wider towards the end, while the traditional ones are tapered towards the end).
Overall, Roper style cowboy boots have very impressive features, so they are definitely a good type of boots that you should own!
In fact, after the traditional cowboy boots, the roper style boots are the most popular boots in the cowboy boot world.
What's the difference between Roper and cowboy boots?
Traditional cowboy boots

Roper boots

Shaft height
11 inches to 15 inches
8 inches to 10 inches
Heel height and shape

1.75 to 2 inches
Slanted shape

Around 1 inch
Block and slanted shape

Toe shape

Mostly pointed toe and round toe
A quite narrow toe box

Mostly round toe
Have room at the toe box

Outsole
Narrow and tapered toe
Flat and wide
Price
Higher than roper boots
You know!
Usage
Mainly for horseback riding
Riding, walking, casual wear…
Why are they called Roper boots?
Because the original purpose was roping cattle, these cowboy boots are called "Roper" boots, some call them cowboy boots with Roper style.
Now, you'll see them appear in more places than just on horseback. People usually wear them everywhere such as on the dance floor (for line dancing,) or for farming, ranching or office.
How do you wear Roper boots?
Like all cowboy boots, jeans will be the best choice.
Here are some of my suggestions!
Bootcut jeans, bootcut jeans, and bootcut jeans! It is the number one priority to go with Roper boots or general cowboy boots.
Bootcut jeans have enough space at the end so you can tuck the Roper shaft into your pants. The middle part of these pants fits you snugly for showing your masculinity.
Besides, Roper boots with Khaki or Suit pants are also good choices. You can buy yourself a jean jacket and cowboy hat to wear with Roper boots – this is a classic combination for cowboy boot lovers.
If you like youthful style, wear Roper boots with Khaki pants and a sports jacket.
Read more: How To Wear Cowboy Boots For Guys
All of the clothes you think of.
Skinny jeans, bootcut jeans, skirts, dresses, denim shorts … All of them are perfect to go with Roper boots and you get a combo challenging all kinds of weather.
It can be said that women have more choices to combine their clothes with Roper boots or any cowboy boots.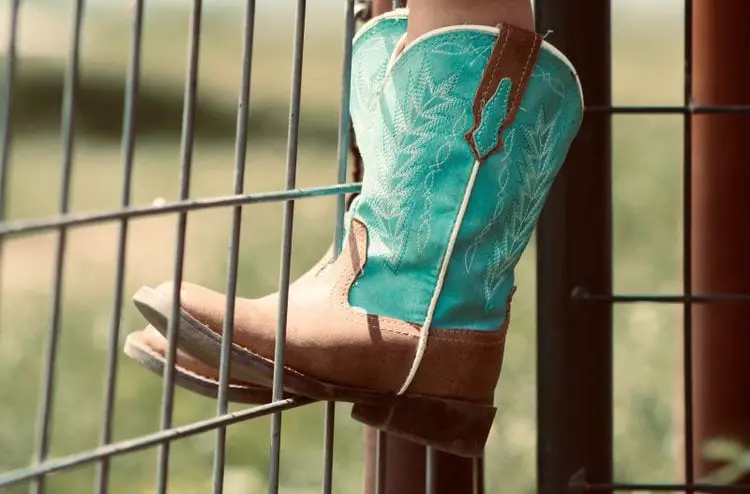 Where are roper boots made?
Roper boots are made in many places in the world, to make it short:
If you look for handmade Roper boots, they usually are made in the US (El Paso or Mercedes of Texas) or Mexico. Meanwhile, Roper boots are also made in China.
There are many different brands selling Roper boots, such as Ariat, Roper, Lucchese, Tecovas, etc.
As for Ariat and Roper, their products are often made in China. However, their main product lines or craft products are made in the United States.
Lucchese and Tecovas are well-known brands of handmade boots, they produce cowboy boots and Roper boots in the US or Mexico.
Before you leave
Hope you can distinguish Roper boots among different types of cowboy boots.
All in all, they have a lot of benefits, especially if you need to find a type of cowboy boots with multiple functions.
Do you still have questions? Let us know in the comments!
Howdy y'all, and welcome to From The Guest Room, your ultimate guide to all things Western! I'm Jay Gatz, a lifelong cowboy boot enthusiast with over 5 years of experience in the Western style world. I'm excited to share my knowledge with you and help you discover the perfect cowboy boots and western gear to elevate your style. Let's explore the rich history and timeless appeal of Western fashion together!