Roper boots! A brand name is not new to Western cowboy boots fans. But for those who have just been exposed to cowboy boots, it seems Roper boots is still a strange name.
Today we will share some information about Roper boots.
Let's check it out!
What Are Roper Boots?
History of Roper boots
Appeared in the 19th century, Roper boots originated from the UK compared to the origin of most cowboy boots (the western United States and Mexico).
The founder of Roper cowboy boots was a war hero, Arthur Wellesley. He is also the former Prime Minister of England. Because of his great influence, Roper boots are also often called Wellesley boots.
What's interesting is that when Duke Wellesley joined the British army, he ordered shoemakers to create a unique pair of boots for him. This boot is a high-to-mid-calf boot, made of soft calf leather with pointed toe, fringe around and about 1″ high heel. And from then on, Roper boots (Wellesley boots) have become useful partners for the British army.
Today, despite no longer appearing in wars, Roper boots have evolved and become popular fashion products for both men and women.
Design of Roper boots
It can be said that Roper boot is a combination of two bloodlines: Western boots and Dress boots.
This half-breed bears the breath of the wild west of America, Mexico and the beauty of England.
These things bring many breakthroughs in the design of Roper boots.
Besides, it also overcomes many weaknesses of the other two types of boots above. For example, it serves a variety of purposes, can be used in both summer and winter, easy to put on, durable, long-lasting. Most of them do not have shoelaces…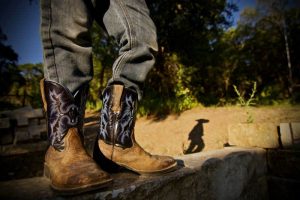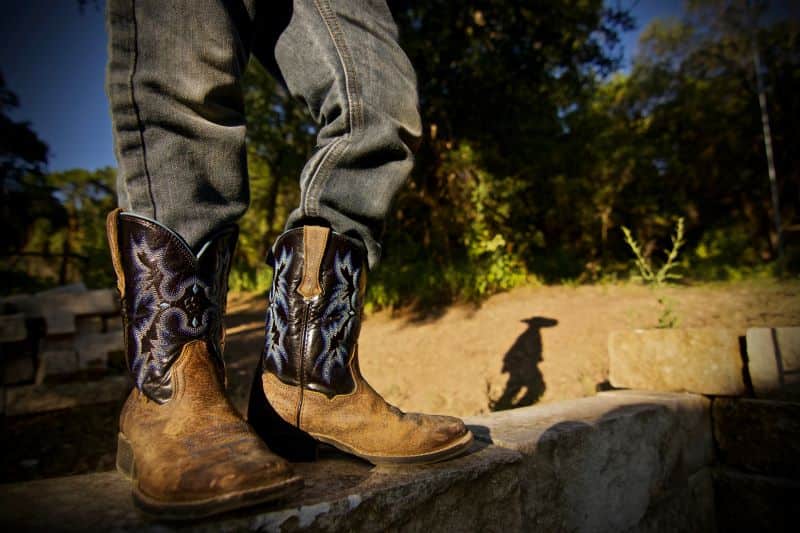 Shaft
Roper boots are generally taller than the dress boots but shorter than cowboy boots.
Its shaft is usually half the height of your calf. Sometimes, the height of the shaft is just above the ankle. (The height of the shaft from the heel mostly falls from 7″ to 12″)
Roper shafts retain the characteristics of cowboy boots: interwoven patterns, unique colors and highlights.
Besides, its shafts are often wider than those of other boots. So, Roper boots are very suitable for people with wide calves.
Heel
Similar to its shaft, the heels of Roper boots are almost always lower than that of cowboy boots (Wellesley can't bring high heels to battle anyway).
Following the evaluation of different types of heels of cowboy boots, Roper boots have low heels and standard heels, most heels of roper boots are from 1″ to 1 3/8″ in height.
Besides, most Roper boots have heels 90 degrees perpendicular to the ground (There are many types of cowboy boots with back heels inclined 60 to 70 degrees to the ground).
Sole
Roper sole is probably the most prominent part of it, especially the insole.
Wide and Flat – these are the two words that best describe the insole of Roper boots. Roper boots accept any kind of foot since they are absolutely comfortable and flexible.
Why do we say Roper sole can accept all kinds of feet? Because its wide and flat sole nature is very suitable for people with unusual feet such as flat feet and wide feet.
The roper outsole is similar to cowboy boots: rubber outsole, leather sole …
Read more: How To Care For Ariat Workhog Boots
Toe Shape
The toe shape of Roper boots is the same as the toe shape of cowboy boots, including pointed toe, snip toe, round toe, square toe and wide square toe. But the specialty of Roper boots is round toe.
According to our research, Roper boots for women are mostly round toe. Meanwhile, for men, there are square toe and round toe boots.
How do you wear Roper boots?
For men
Bootcut jeans, bootcut jeans and bootcut jeans! It is the number one priority to go with Roper boots or general cowboy boots.
Bootcut jeans have enough space at the end so you can tuck the Roper shaft into your pants. The middle part of this pants fits you snugly for showing your masculinity.
Besides, Roper boots with Khaki or Suit pants are also good choices. You can buy yourself a jean jacket and cowboy hat to wear with Roper boots – this is a classic combination for cowboy boot lovers.
If you like youthful style, wear Roper boots with Khaki pants and a sports jacket.
Read more: How To Wear Cowboy Boots For Guys
For women
All of the clothes you think of.
Skinny jeans, bootcut jeans, skirts, dresses, denim shorts … All of them are perfect to go with Roper boots and you get a combo challenging all kinds of weather. It can be said that women have more choices to combine their clothes with Roper boots or any cowboy boots.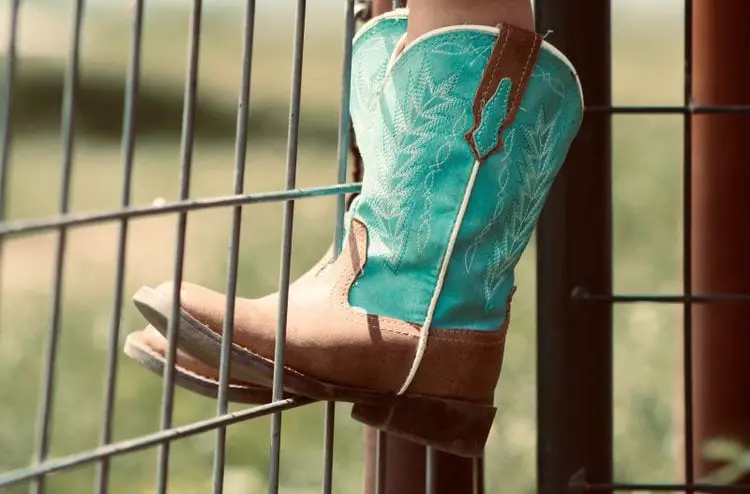 Are Roper good boots?
Through what you read above, the answer is definitely YES.
Obviously, we can see one thing about the design of the Roper boots – they are extremely easy to use.
Whether you have normal feet or flat feet, wide feet or big calves, Roper boots still please your feet.
The top features of Roper boots are comfort and flexibility. In our other articles about flat feet or wide feet or big calves, we also recommended using Roper boots because of their versatility.
Besides wonderful usages, the appearance of Roper boots is also incredible.
Their beauty is the wilderness of the western United States and Mexico (the origins of cowboy boots) and the classic of England.
The classic and contemporary quintessence blends in Roper boots.
Read more: Comfortable Cowgirl Boots For Wide Feet
Top 7 Best Roper Boots for Men
1/ Ariat Men's Heritage Roper
These Roper boots from Ariat are the standard of modern Roper boots. Keeping the traditional beauty of Roper boots, but it gets many creative designs for your new style in 2020.
Pros:
Leather lining
100% Leather
Diverse designs
ATS technology for comfortable foot support
Improved foot and back pain
Cons:
2/ Roper Men's Jagger
If you want to find true Roper boots, then look for the brand… Roper – they all have what you need. As for Roper Men's Jagger, it is handcrafted with meticulous and sophisticated design. With excellent durability, this boot will satisfy even the most demanding customers.
Pros:
Leather outsole
Breathable leather lining
Comfortable insole
Fit immediately
Distressed color
Cons:
There are few color choices
3/ Roper Men's Basic
A classic design and classic color of cowboy boots are placed in this Roper Men's Basic. The color is impressive and easy to mix and match. The design of this boot is wild and strong. Such a masculine boot for your wardrobe!
Pros:
Rubber sole
Padded comfort insole
Textile lining
Synthetic ostrich toe
Cons:
Leather of boot is a bit stiff
4/ Roper Men's American Patriot
This boot is best for patriots as its shaft featured the US flag. This pattern is a simple decoration but it never gets old, right? Overall, the color of the US flag is truly beautiful for any items. Love it!
Pros:
Handmade
Flexible sole
Soft and perfect fit!
Padded insole
Cons:
Not as durable as other boots
5/ Roper Men's Undercover
Roper Men's Undercover Western Boot has a simple yet sophisticated design. It gives you a smooth and luxurious impression, imbued with the British nature but still retains the breath of the wild American West. It is a pretty decent boot!
Pros:
Leather sole
Cushioned insole
Leather lining
Fit good
Cons:
Avoid water or it will discolor
6/  Roper Men's Loaded
Unlike the above boots, Roper Men's Loaded gets American cowboy boot style than England's Dress Boots.
This is a great choice for masculine people who follows independent and liberal styles.
Pros:
Breathable leather lining
Leather sole
Comfort insole
No need to break in boots
Durable
Cons:
7/ Roper Men's Score Western Boot
This boot gets a black vamp and shaft. The full black color gives you a classic cowboy look. Its leather is shiny bringing the royal appearance for the wearer. Such a choice for gentlemen!
Pros:
Suitable for your styles
Comfortable cushion
Non-marking outsole
Concealed carry system
Cons:
Top 7 Best Roper Boots for Women
1/ Roper Ladies Kennedy
For a luxurious and elegant look, Roper Ladies Kennedy is a great choice for you to attend events, weddings or parties. It is a must-have item in your wardrobe!
Pros:
Padded Comfort Lining
Suitable for people with wide calves
Cushioned textile footbed
Fit as expected
Cons:
2/ Ariat Women's Unbridled
You are a cute and feminine girl, you like simplicity and not fussy, then Ariat Women's Unbridled is best for you. This accessory complies with your style and shows your personality.
Pros:
Duratread outsole
Full-grain leather upper
Fit: As expected
Suitable people with wide feet
Cons:
3/ ARIAT Women's Heritage
Like ARIAT men's Heritage, ARIAT Women's Heritage is the standard of Roper boots but for women. Bearing a mixed typical bloodline of England, Mexico and the United States, it makes you stand out in the crowd.
Pros:
Rubber sole
Leather lining
ATS Technology comfortable foot support
Smooth and luxurious leather
Cons:
Slightly tight at ankle if wearing thick socks
4/ Roper Women's American Beauty
Roper boots with the American flag pattern are very popular in the Roper brand. Simple and powerful, just like the American style.
Pros:
Leather sole
Full grain leather upper
Pull straps for easy entry
Vintage look
Cons:
Pretty wide for people with small ankles
5/ Roper Women's Metallic Underlay Western Boot
This boot is more of a cowboy style. Despite being a Roper boot, its features lie in the symbolic beauty of Western America. What's more, it carries the breath of the Wild West.
Pros:
100% Leather
Soft support insole
Long-lasting
Very striking pattern
Suitable for people have high arches
Cons:
6/ Roper Women's Crossed Out
The boots feature prominence in sparkly beaded motifs formed in a cross shape on the shaft and vamp. The light brown leather background both accentuates the cross and creates an elegant appearance. All of them create a gorgeous boot.
Pros:
Lightweight
Soft support insole
Very comfortable
Cute and stunning looks
Cons:
Slightly wide with people with narrow feet
7/ Roper Women's Amelia
Do you remember that some Roper boots are slightly taller above the ankle?
This boot is one of them. However, don't confuse them with ankle booties, Roper Women's Amelia is not so cute like that, they are much wilder. This boot is for girls with strong personalities.
Pros:
Flexible sole
Padded insole
Still comfortable for people with high arches
Wild style comes with adorable feeling
Fit well for wide feet
Cons:
Slightly wide for people with narrow feet
[FAQ] What's the difference between Roper and cowboy boots?
We will show you the 3 biggest differences between Roper boots and cowboy boots: Design, History and Price.
Design
Here is a comparison table about the design of Roper boots and cowboy boots (including two main types: Riding boots and Western boots)
You may not know: Riding boots is a traditional cowboy boot.
| | | | |
| --- | --- | --- | --- |
| Design / Types | Riding boots | Roper boots | Western boots |
| Height of shaft | High shaft (at least mid-calf) | Low shaft (above the ankle to the mid calf) | High shaft (at least mid-calf) |
| The height of the heel | High heel (about 2" or more) | Low heel (about 1" or less) | Standard heel (over 1") |
| Toe shape | Pointed & Round toe | Round & Square toe | Round & Square toe |
| Boots materials | Leather (Cowhide, snake, crocodile, ostrich…) | Leather (Cowhide, snake, crocodile, ostrich…) | Leather (Cowhide, snake, crocodile, ostrich…) |
| Different things | Heels inclined to the ground | Heel vertical to ground level | Heels inclined or vertical to the ground |
Note: the features listed above are "common" in these boots, not all boots have those characteristics.
In addition, the sole of Roper boots is also considered to be flat, wider than that of other boots.
History
Cowboy boots come from farmer needs in the western United States and Mexico.
They need sturdy, durable and affordable boots to work on farms. Besides, the boots need to be balanced and comfortable when riding horse, walking …
Those are the reasons that traditional cowboy boots were born.
Unlike traditional cowboy boots from the United States and Mexico, Roper boots come from the UK (as mentioned above).
Initially, the purpose of the Roper boots is not to serve farm jobs, but to serve wars.
British soldiers need sturdy shoes to protect their feet when fighting. They need flexible footwear with easy on/off (short shaft). Also, the sole and heel of boots must be flexible to move (low heels and wide sole). That's why Roper boots are made.
Read more: Most Popular Womens Cowboy Boots
Price
Usually, most cowboy boots are more expensive than Roper boots. Looking at the comparison table above, you may notice that cowboy boots cost more material (leather) than Roper boots.
Because leather is the main part of Riding boots and Western boots, their designs come with higher shafts and heels. Definitely, they cost more leather than Roper boots.
It is understandable that Roper boots are affordable since they are covered by less leather than cowboy boots.
Before you leave
Those are the differences between Roper boots and cowboy boots. However, it is fairly stated that Roper boots and cowboy boots still share the same features rather than differences.
The same features include:
Higher shaft than normal shoes
Impressive motifs on shaft and vamp
Made of leather
Durable and strong
Boots with high heels
The sole is wider and flatter than other types of shoes
These characteristics are usually only available in cowboy boots and Roper boots.
Currently, cowboy boots and Roper boots have grown a lot. It frequently appears in international fashion. Many people consider Roper boots as a type of cowboy boots (roper-style (short) cowboy boots), this is probably not wrong, though.
Where are roper boots made?
Roper boots are made in many places in the world, to make it short:
If you look for handmade Roper boots, they usually are made in the US (El Paso or Mercedes of Texas;…) or Mexico. Meanwhile, Roper boots are made in China.
There are many different brands selling Roper boots, such as Ariat, Roper, Lucchese…
For Ariat and eRoper, their products are often made in China. However, their main product lines or craft products are made in the United States
Lucchese is a well-known brand of handmade boots, they produce cowboy boots and Roper boots in the US.