Today, many people are still afraid to wear cowboy boots to luxurious places, because they think cowboy boots are just for farm work and not gorgeous enough.
Wrong! It's the old story of some old man. Today's cowboy boots are not as they think anymore!
Why? I will tell you below!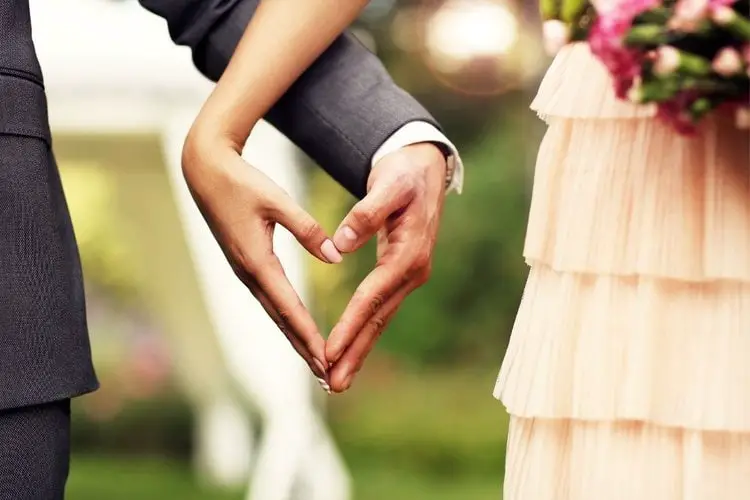 Is it OK to Wear Cowboy Boots to a Wedding?
Yes, you definitely can wear cowboy boots to a wedding.
But not all, you need to know what types of cowboy boots can go with a wedding.
Many people still think cowboy boots only have a distressed and wild style, so they cannot go to luxury places like Buckingham Palace. This is a false notion!
Nowadays, cowboy boots come in many different looks and styles to serve many different purposes, not only for riding horses or farm work.
You will easily see cowboy boots in Western Country Wedding worn by the groom, bride, bridesmaid or groomsmen. These cowboy boots can have many styles from distress to elegance.
Some cowboy boots made from exotic leather such as caiman, lizard or regular leather such as cowhide (well-polished) still can be used to go to any wedding in the world, not only in the country wedding.
Some Brands (Ariat, Soto, Old Gringo) even produce cowboy boots that are exclusively for brides at weddings with bright tones and floral motifs.
Just make sure you don't wear cowboy boots the wrong way, like a groom putting his pants in the cowboy boot shaft.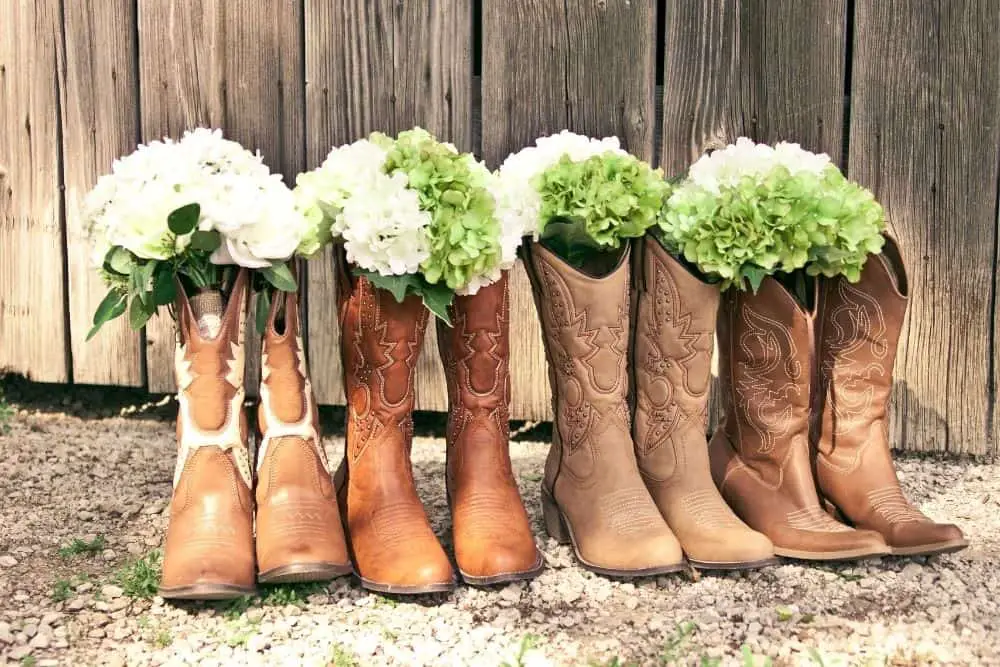 What Types of Cowboy Boots Are Suitable for Weddings?
Cowboy boots have many different styles, but:
Cowboy boots for the wedding should have a delicate, sophisticated, luxurious and polite look.
If you are a man (groom, groomsman, guest), some cowboy boots made from exotic leather such as caiman, lizard or regular leather such as well-polished cowhide leather can be a great choice to go with a suit or dress pants.
It will bring you a perfect gentlemen's look and you can absolutely wear this combo everywhere!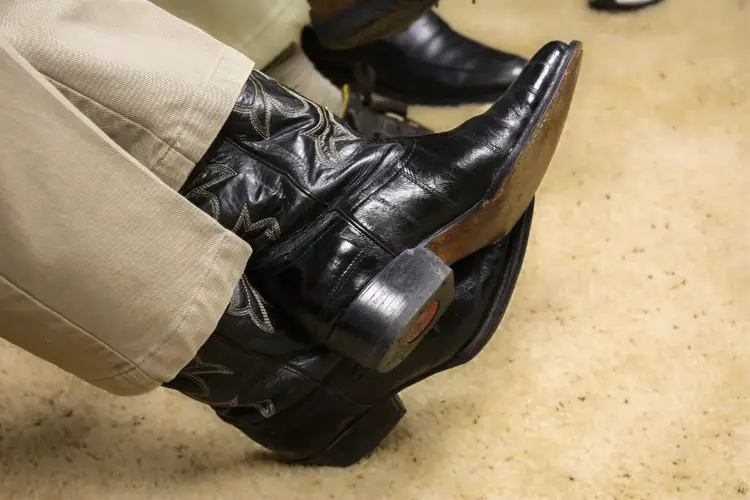 Besides, I prefer wearing cowboy boots with leather soles. I love leather soles with a delicate and unique appearance!
Cowboy boots can come with 1.5-inch or 2-inch high heels for a more confident, arrogant and masculine look.
How about women? What types of cowboy boots are suitable for them to wear at weddings?
It depends on what you imagine! I firmly believe that!
Cowboy boots with a distressed style or a luxurious look may not be too important.
You can wear every style of cowboy boots to the wedding, just make sure they combine well with your outfit!
The most important thing is to create harmony for the overall outfit.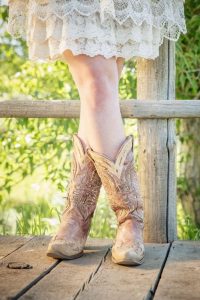 For instance: 
Classic-style cowboy boots with floral motifs and multi-color stitching can be a great choice with tea-length bridal dresses.
Distressed-style cowboy boots can perfectly go with 1950s-style short dresses
Goat leather cowboy boots with a chic look are a great companion for dresses on a wedding
However, from my view, I like to wear cowboy boots with high heels (2 inches or more), pointed toes or round toes.
These cowboy boot structures offer you a confident and girly style.
Likewise, leather-soled cowboy boots with slippery surfaces will help you easily perform skillful dance moves at weddings (especially western country weddings).
How to Wear Cowboy Boots to a Wedding?
The outfit to wear with cowboy boots to a wedding plays a big role!
For men, well-polished cowboy boots should go with polite and elegant pants – they can be dress pants.
What do you think about caiman or lizard cowboy boots that go with a suit? I think it's a great idea!
Both above styles will give you a gentlemanly and polite appearance without worrying about looking country.
But if you attend a country wedding, the style should not be too luxurious, I firmly believe it!
You can only get the most confidence when you "dress in the right way" in the "right place".
For a country wedding, just wear cowboy boots with jeans and a polite shirt, it is a simple yet cool combo!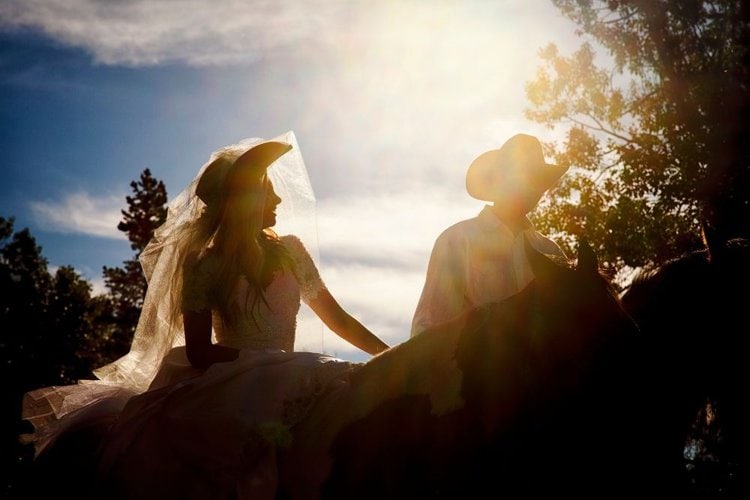 The principle of wearing the right clothes in the right place also applies to women.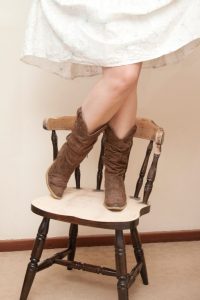 You can wear everything with cowboy boots from jeans and leggings to dresses and skirts. But the important thing is how you match your clothes and footwear to get harmony for the wedding style.
For example, at a country wedding, you only need a tea-length lace dress in a soft green tea color paired with a pair of cowhide cowboy boots, and that's enough to show your gentle and lovely style.
But if you join a luxury wedding, you may need glitter cowboy boots with a bright-colored skirt. Then, wait to see how feminine and elegant you get!
What Not to Wear With Cowboy Boots to a Wedding?
As I said above, cowboy boots can be great accessories to go with you to any wedding, but you need to know some rules.
This principle applies to men: don't wear cowboy boots with short or skinny pants, or you will become a fashion disaster.
Besides, remember one more thing, never tuck your pants into cowboy boots!
If you want to know more, I have this exclusive post!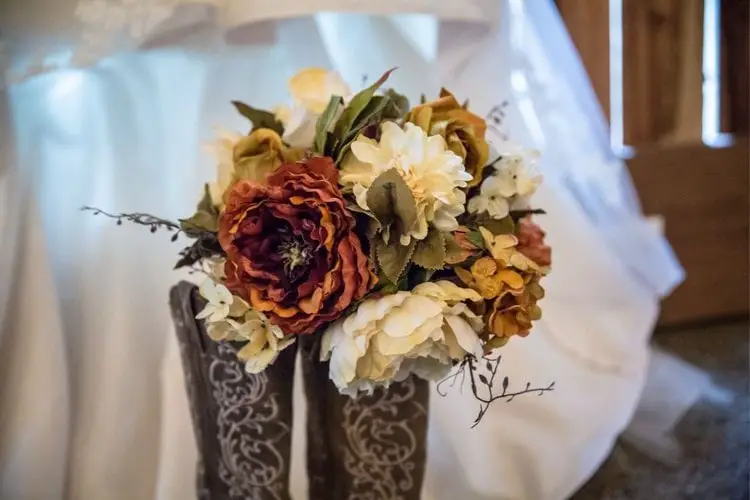 What Types of Cowboy Boots Should Not Be Worn at the Wedding?
Cowboy boots come in many different styles, and some types of cowboy boots should not appear at the wedding.
Typically, wearing cowboy work boots is not a good idea when you go to church, ceremony or palace.
The style, look and structure of cowboy work boots are too rugged and not suitable for these places at all.
The stage to show off their rough beauty is the construction site, farm or ranch, absolutely not a wedding place.
So, don't make this mistake!
Top 4 Picked Cowboy Boots for Wedding
Okay, just plain words may not be enough, here are some illustrations to show you why cowboy boots are the perfect match for wedding days!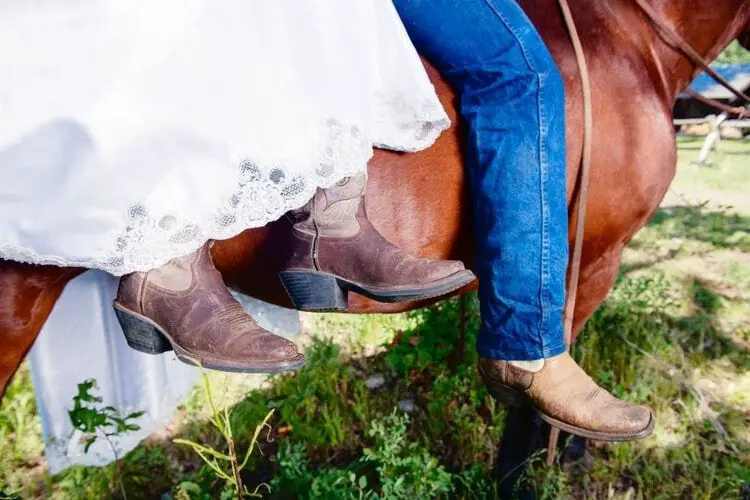 1. Corral Women's Circle G Distressed Bone Dragonfly Embroidered Cowboy Boots
Last update on 2023-09-26 / Affiliate links / Images from Amazon Product Advertising API
Do you remember that I said some cowboy boots are specially launched for wedding days?
Here is it: Corral Women's Circle G Distressed Bone Dragonfly Embroidered Boots will be the best choice for a wedding ceremony! They are also perfect for the bride!
These stunning boots have a gorgeous distressed leather upper that is handcrafted by one of the most skillful bootmakers in the world, Corral!
Besides the gorgeous distressed leather upper, the main highlight of these boots is floral motifs and flying dragonflies in pure gold color for an impressive contrast.
I really love the slightly curled-up toes as they can boost the confident look of the wearer.
In addition, leather soles will provide greater stylishness than rubber soles. Yes, leather soles can give you a gentle and soft walking gait.
But just saying about the look of these boots may not be enough, you will love the smooth leather lining and cushioned leather footbed because it gives you the best comfort.
However, you may need to pay attention to the fit of these boots, some said these boots are not fit true to size and pretty narrow!
If you have wide calves, you may need to consider the size of these boots.
2. HISEA Cowboy Boots Women Western Boots
Last update on 2023-09-25 / Affiliate links / Images from Amazon Product Advertising API
Okay, another cowboy boots for women, but these boots are not only suitable for the bride but also suitable for guests or bridesmaids.
I fell in love with the shape of these boots right the first moment I saw them! I can assure you, HISEA Cowboy Boots Women Western Boots Cowgirl Boots Ladies Boots can enhance the beauty of your lovely feet.
I like the 2-inch heel of these boots, it makes you look taller and more confident but not uncomfortable during the party.
The curl-up toe is the next highlight of these boots. I like cowgirl boots that have curly pointed toes, they look so feminine!
Classic western embroidery throughout the shaft and vamp is the perfect signature of the bootmaker, and it creates a great unique look for these boots.
How about comfort? Soft synthetic lining with moisture-wicking ability is their pride, along with cushioned insoles, you can rely on these features.
The flexible wooden outsole is a feature that you will rarely see on today's cowboy boots.
But you will love this outsole – its slippery surface and gorgeous sound are just perfect for dancing at a wedding.
3. Dan Post Boots Mens Milwaukee Cowboy Boots
Last update on 2023-09-25 / Affiliate links / Images from Amazon Product Advertising API
Okay, how about cowboy boots for men? What do I have for you? It's one of the most successful products of Dan Post, Milwaukee Round Toe Western Cowboy Boots!
These boots have a luxurious and polite look while retaining the classic style of traditional cowboy boots, that's what you will love!
Not too fussy, but still show the class! That is the best description of these Dan Post boots.
All-over mignon leather is the main material making up these boots. This leather along with tonal stitching on the shaft and vamp gives a unique look.
Besides, these boots are well made, therefore they are very very durable.
Overall, these boots have classic style but reach a new level thanks to the master skill of Dan Post bootmakers, and I love that!
These boots will work well with bootcut or cowboy-cut jeans to shine at the wedding. They are not inferior to any pair of luxurious dress boots.
These boots can go well with anything in your wardrobe including jeans, dress pants, or a suit. Anything!
Many wearers said these boots provide great comfort right out of the box, thanks to cushioned insoles and lightweight structure.
I can't see any weakness in these boots, do you think so?
4. Ariat Men's Relentless Elite Western Cowboy Boot
ARIAT Men's Relentless Elite Western Boot
ATS technology for stability and all-day comfort
Anatomically-engineered Pro Performance insole
DualPro features a leather outsole with direct-injected TPU pods in key wear zones to enhance...
Last update on 2023-09-25 / Affiliate links / Images from Amazon Product Advertising API
I always love cowboy boots made from cracked but well-polished cowhide.
If you match them with any outfit, it will be a weird but unique combination to make you stand out from the crowd.
Just look at Ariat Men's Relentless Elite Western Cowboy Boot and imagine how they shine on the wedding day.
Gorgeous boot shafts with contrasting colors from the leather and stitching are the first thing you need to pay attention to, Ariat always surprises me with their creativity.
But, I love the cracked yet well-polished leather at the vamp most, just try it and you will know why I said that!
Also, you will love the way these boots go great with dark blue jeans or any dark-colored pants in your house!
Leather sole, undershot heel and wide square toe are other highlights to complement the look of these cowboy boots! And you will be mesmerized by this beauty!
The technologies applied to the boots are similar to many other Ariat cowboy boots, the most outstanding technology is ATS.
Along with leather lining, these boots provide the greatest comfort for you.
But here's the new feature! DualPro technology will enhance the durability of these boots. Let's experience it yourself!
Besides, these boots can fit well with wide feet, and for those who have wide feet out there, these boots are for you!
Before You Leave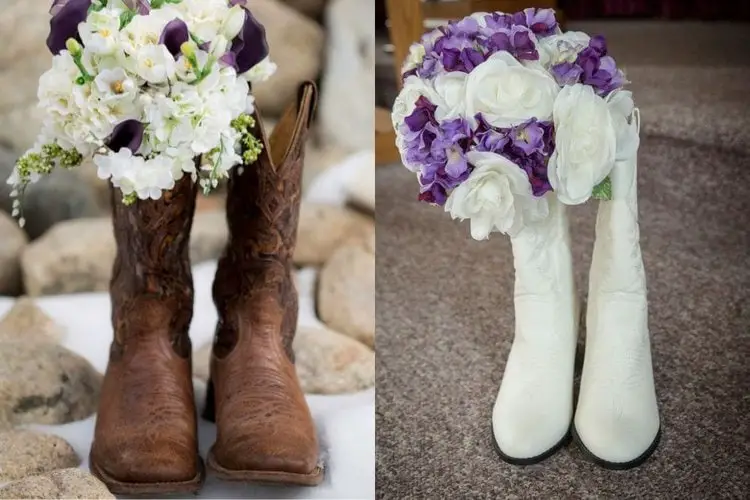 Do you get your own answer now? Yes, you can wear cowboy boots to any wedding in the world.
Just make sure the overall outfit is harmonious and the style of cowboy boots is suitable for the place you go. This is the most important thing.
Good luck!
Howdy y'all, and welcome to From The Guest Room, your ultimate guide to all things Western! I'm Jay Gatz, a lifelong cowboy boot enthusiast with over 5 years of experience in the Western style world. I'm excited to share my knowledge with you and help you discover the perfect cowboy boots and western gear to elevate your style. Let's explore the rich history and timeless appeal of Western fashion together!