In my years of wearing cowboy boots, I have heard many interesting and contradictory arguments about cowboy boots.
Some do not think cowboy boots can go with an expensive suit to participate in luxurious wedding ceremonies.
Meanwhile, others are not really clear about their true purpose in this modern era, when human riding is no longer popular.
Recently, I received a question about whether cowboy boots are suitable for ranch work? For that reason, today's article was born.
The article will give you the clearest and most accurate answer!
Do cowboy boots make good work boots?
As one of the sturdy construction boots, cowboy boots can definitely be used as work boots.
In fact, even though horseback riding is no longer popular today, cowboy boots are still a popular choice among ranchers. And if you've been to Texas ranches, it's not hard to come across cowboy boots.
Most good cowboy boots are made from 100% leather, combined with a high shaft structure (more than 11 inches), they are very sturdy and offer good protection for the wearer.
For example, cowboy boots can keep you warm in the winter as well as keep you from the intense summer heat.
Besides, the interior of traditional cowboy boots is mostly made of leather, so it is quite breathable and absorbs sweat well. Your feet can stay comfortable all day!
Traditional cowboy boots cannot guarantee 100% protection for ranchers from many risks from machines or equipment related to ranch work. However, you can find many new types of cowboy boots that are reinforced more firmly at the toe, sole, or heel – they offer a much higher level of safety.
Most of today's ranchers prefer to wear new cowboy boots because they withstand punctures, scrapes, or cuts better than traditional ones. And I usually call these cowboy work boots.
In addition to the above advantages, one thing that I like about cowboy boots for ranch work is their convenience.
The main reason is that I don't have to spend a ton of time cleaning the laces due to the laceless construction of cowboy boots.
Besides, in fact, the time I put on a pair of cowboy boots is faster than other boots since I don't have to tie laces. You also don't have to worry much about the laces getting caught in the engine when working.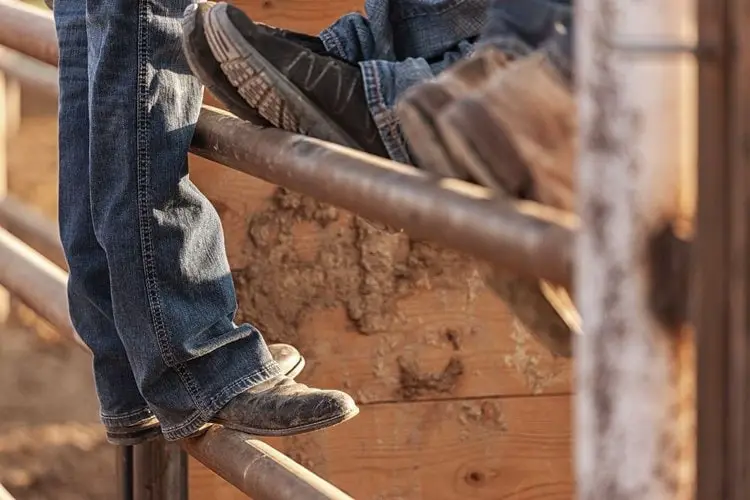 What cowboy boots can be used for ranch work?
Choosing the right cowboy boots for ranch work actually depends a lot on the actual job you do on the ranch.
I will show you some examples.
Choose cowboy boots according to job characteristics:
If your main job is not as heavy as cleaning the barn, milking the animals, trimming, or combing the cattle, then you really don't need to look for cowboy work boots. Just the traditional cowboy boots are enough, however, it is better to choose waterproof boots that provide a high level of comfort.
The good news for you is that while most cowboy boots are not waterproof, they are quite water-resistant in their nature (because they are made of 100% leather).
I suggest you choose cowboy boots made of ostrich leather, as these are extremely soft and very durable boots.
However, if the job requires you to drive heavy trucks and tractors to deliver food and animal goods, the story may be different.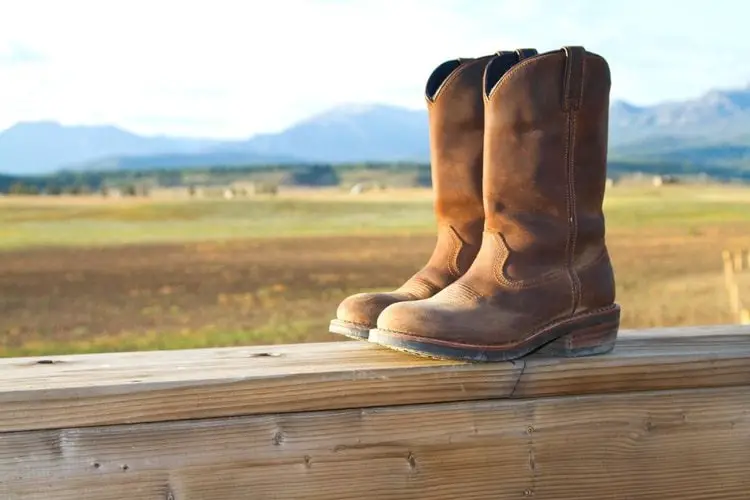 You will need cowboy boots that have some variations on the toe and sole.
Instead of using a pointed toe with a narrow toe box, (which could result in cramping your feet), you should use a round toe or square toe with more room. This will make sure your toes are more comfortable and you can feel the brakes better.
Besides, a rubber sole is way better than a leather sole, boots with good grip will help in pressing the brake. The leather sole is not really good due to its slipperiness while the rubber sole is better with anti-slip function.
In addition, when working in a heavy environment with many sharp or hard objects, rubber soles are also more puncture resistant than leather soles, they will save you one day. In addition, with better shock absorption, the rubber sole also ensures you keep good stamina and is less prone to fatigue at the end of the day.
You can also use leather soles, but only use them for light tasks such as milking goats, cleaning barns, or collecting firewood. Leather soles are a good choice in this case as they are usually lighter, more flexible, and more comfortable when compared to rubber ones.
In fact, truckers today use cowboy boots for work very often due to the boots' protection against engine heat or cold weather. Besides, they are also very comfortable for long trips.
If you do maintenance on ranching equipment and vehicles regularly, you'll need boots that are sturdy and can withstand compression, cuts, and punctures. I suggest you choose boots made of cowhide or bull hide.
Although ostrich leather is very durable and comfortable, when working in environments with a high risk of collision injuries, bull hide or cowhide boots are still preferred.
If you're more careful, you can also use cowboy boots reinforced at the toe with steel or composite.
Choose cowboy boots according to weather and environment:
As one of the important factors, weather and environment should always be carefully considered, especially for outdoor work like ranch.
Many people don't think cowboy boots should be worn during the hot season, which may be true in some cases, but is completely wrong when it comes to ranch work.
Cowboy boots can protect your feet from the summer sun very effectively with their tall construction. Leather or mesh lining can completely cool your feet as it is very breathable and sweat absorbent.
Cowboy boots are made from many different types of leather these days, but when it comes to boots for hot weather, I strongly recommend boots made from goat or ostrich leather.
Goat leather is one of the most breathable leathers I've ever seen as it has much larger pores than other types of leather.
Besides, ostrich leather is also very breathable owing to many pores. It also contains more natural oils than other types of leather, so it is softer, and less prone to drying and cracking in hot weather. It won't take you too long to moisturize.
Leather soles are a good choice over rubber soles during this time, as they are more breathable and moisture-wicking. So if your job is not too heavy, then leather sole boots are a good suggestion.
Summertime is the time when the ranch is most active, from early morning to late evening. So choosing a pair of footwear that is really comfortable for the whole working day is very important. You don't want your feet to get burned in the sun while mowing hay.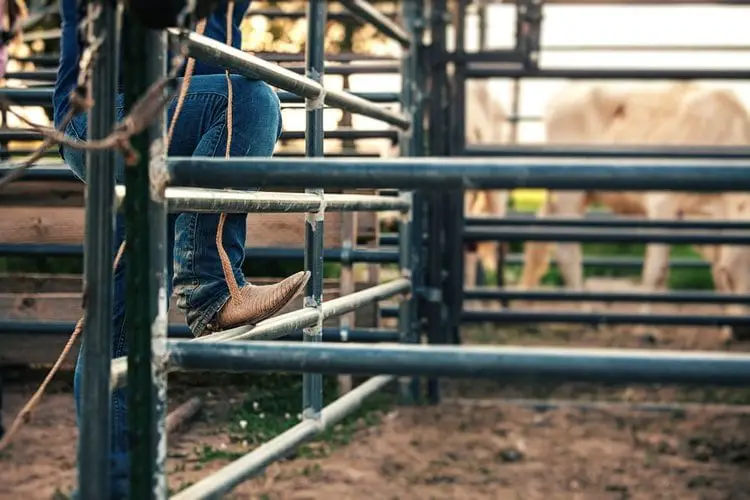 Fall is also the time when you have to collect and chop firewood, prepare animal food for the winter or conceive cows. In general, these jobs are not too special to need cowboy work boots, just make sure they can provide a high level of comfort for you. A pair of traditional cowboy boots is enough.
In addition, you will also need to maintain your machinery, equipment, and vehicles in the fall to ensure they can still function well after winter, or you will need to repair or build a new solid fence before the cold comes.
This has a lot to do with the specific nature of pretty heavy work. So choose your boots the way I mentioned above – you'll need a sturdier pair of boots.
Meanwhile, in the winter, the ranch is not really active, the main job is just to keep the cattle warm, feed the cattle daily, etc. In general, the work is not too heavy, so there is no need to have a special requirement for cowboy boots.
Cowboy boots themselves can keep you warm, but if you want more peace of mind, a pair of thick and above-the-knee socks will be a reasonable addition.
Furthermore, cowboy boots for winter ranch should be equipped with a waterproof feature and rubber soles. Waterproof boots will keep you warmer and drier while the rubber sole ensures that the cold of the snow doesn't penetrate, plus these soles are more anti-slip.
Spring will be the busiest time when you have to do almost all of the above. You will have to farm, feed animals, graze calves, take care of calves, repair damaged fences due to snow season, etc.
Therefore, a versatile pair of cowboy work boots are more suitable, choose sturdy and strong boots made from cowhide, bull hide, or. In addition, boots should have a rubber sole, low heel, wide toe box, etc. to ensure maximum comfort.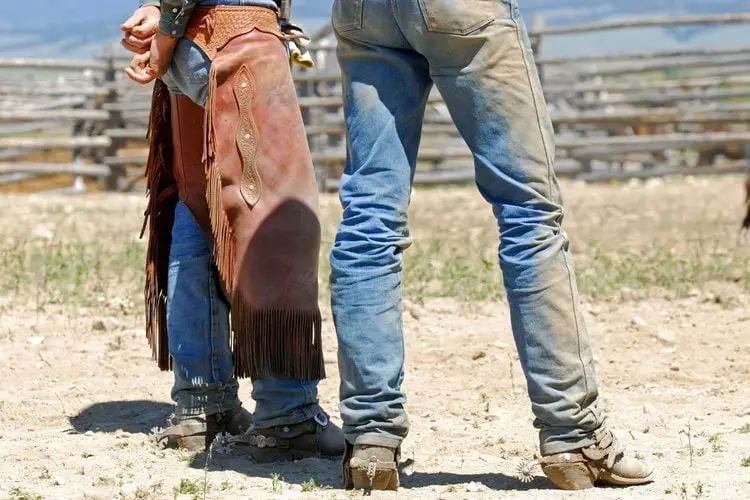 There are a few caveats that you shouldn't use cowboy boots with too much colorful stitching on the shaft and vamp. As it will take you a lot of time to recover their color from the mud on the ranch.
Besides, cowboy boots with snip toes or pointed toes and heels that are too high (more than 2 inches) are also not appreciated because they will make you uncomfortable.
A pointed toe or snip toe has too little room at the toe box, while a heel that is too high puts extra pressure on your feet, hips, back, and knees.
The 5 Best Cowboy Boots for Ranch Work
Well, you now know how to choose a good and suitable pair of boots for ranch work.
Now it's time to find your match, I will recommend the boots that are rated as very good for work.
I'll break it down into categories according to the highlight features of each boot.
Check it out!
1. Best ranch cowboy boots for overall:

The Midland
I'll start with the most versatile cowboy boot for ranch work, The Midland by Tecovas. With these boots, you can do anything on the ranch without any problems.
The first thing to mention is the material that makes these boots, which is bovine or bison leather, these are two types of leather that are very resistant to shocks and different forces.
Not to mention, The Midland leather is thick and sturdy, your feet will be better protected!
In addition, you can use this boot in slippery places (like barns or on wet grasslands) and use it for driving trucks (without slipping off the brake) because it has a slip-resistant Vibram sole.
Those are the two basic and necessary elements to make a pair of cowboy boots for ranch work.
Talking about the durability of this boot, it endures well as bovine and bison are two very resistant materials. Besides, rubber soles are also much more durable than leather ones.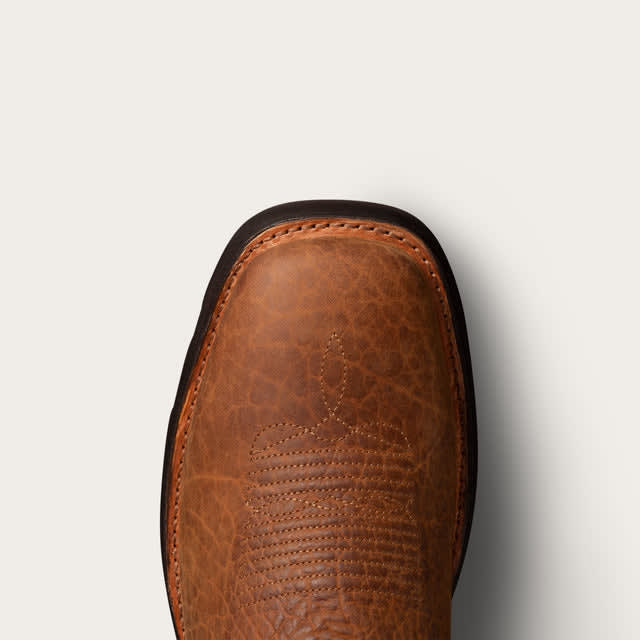 However, in my personal experience, my Midland boots have a few small cracks (not deep) on the side of the rubber sole. Some of my friends say it's okay, I haven't found the problem yet, but it looks like we'll need to be aware of this.
Most people often choose cowboy boots with reinforced or hidden seams because this area easily gets broken and hurt while working. The Tecovas Midland boots have weatherproofed seams so they are much more durable than regular cowboy boots.
Finally, the big takeaway of The Midland is that it provides a very high level of comfort with the roomy toe box (thanks to the broad square toe).
In addition, comfort also comes from the good balance provided by shock-absorbing rubber soles which have a flat and wide bottom.
Rubber soles with enough thickness keep your feet from hot summer road surfaces or engine trucks.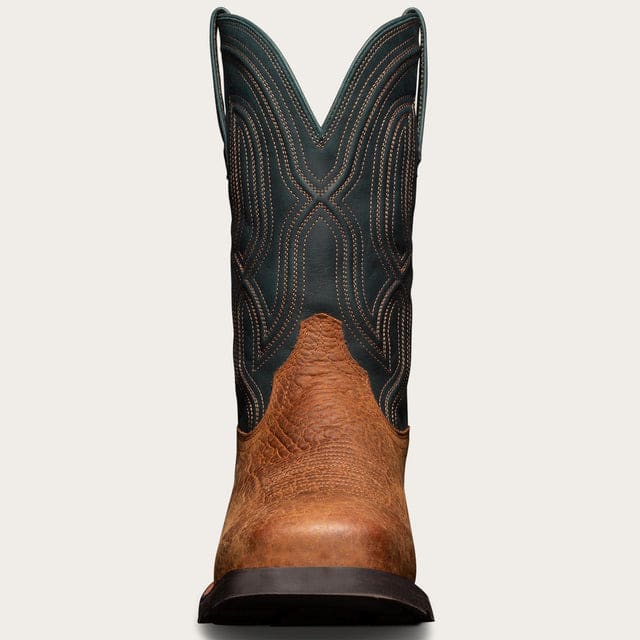 Usually, people hesitate to wear cowboy boots to work (for newbies) because they can get hot due to the high shaft, but I don't think so, these boots have a leather lining that can absorb sweat well. Your feet will always be dry.
And those are all the best things you should look for in a pair of work boots. You will need The Midland for 4 seasons on the ranch.
2. Best ranch cowboy boots for light work (clean the barn, collect firewood, trim or comb the cattle, milk the animals): The Wyatt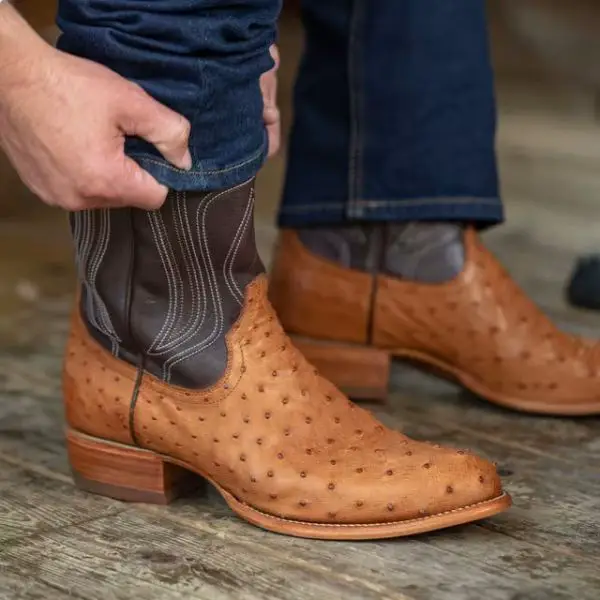 I love using ostrich boots for ranch work, of course for non-heavy jobs, because ostrich leather is incredibly soft and durable. I can wear them all day to wander around gathering firewood or milking goats.
The Wyatt ostrich boots by Tecovas are the best choice I've found! Made from full-quill ostrich leather, The Wyatt boots are soft, highly breathable and durable.
I often wear The Wyatt as a summer casual wear because of the comfort it offers, you won't need a pair of heavy-duty boots to do tasks like milking, trimming animals, or cleaning barns, stables and sheds. But you will need the highest possible comfort.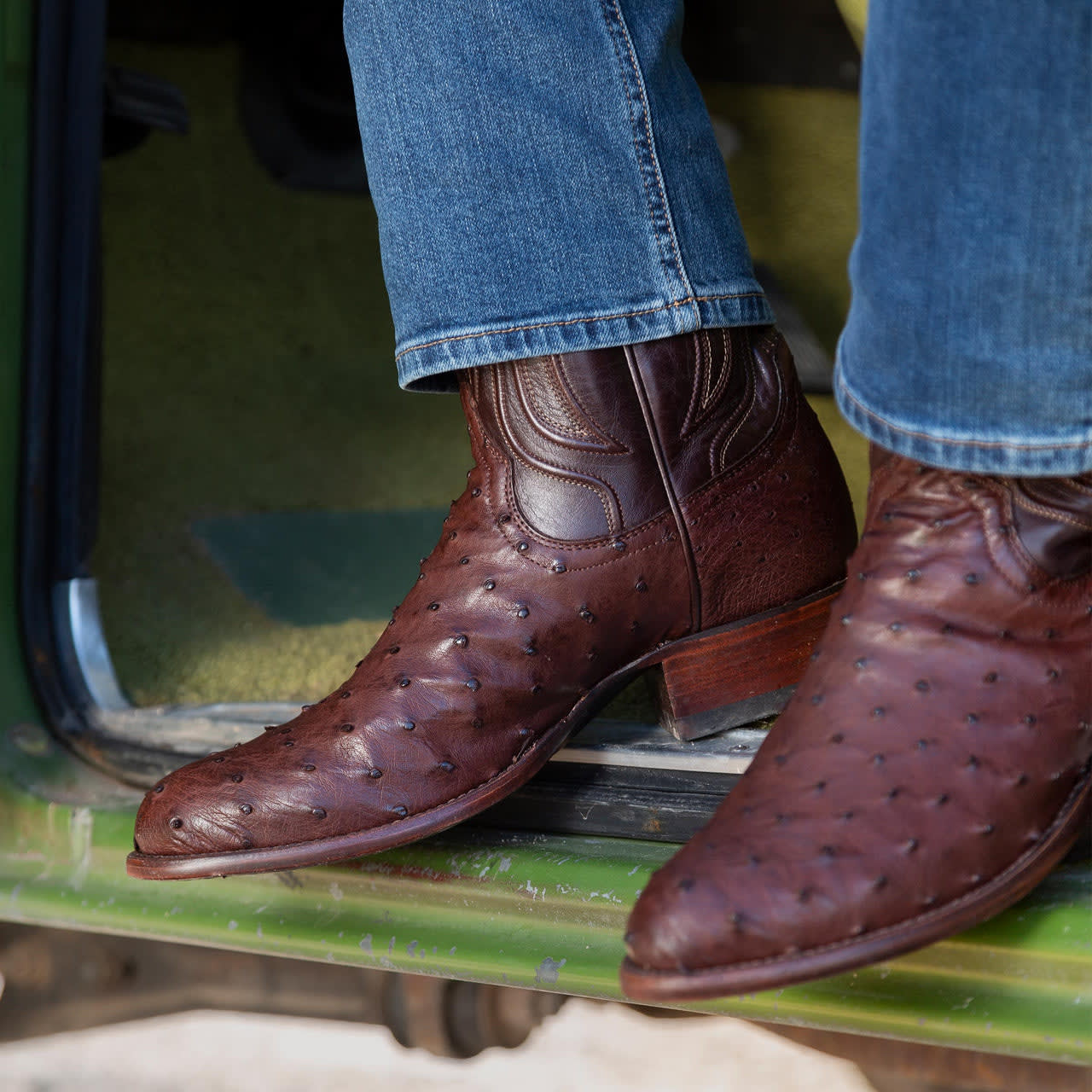 In addition, The Wyatt by Tecovas also has a wide toe box with a traditional round toe. They are not as spacious as The Midland's broad square toe, but they are still roomy, soft and comfortable.
The Wyatt owns a leather sole, not a rubber sole, so it breathes and absorbs sweat better, your feet will be drier. In addition, the leather sole is also lighter and more flexible.
However, there is a problem that the leather soles are quite slippery when working, you should remember to break them up by sanding on the concrete to increase the grip for each step.
Carrying a classic cowboy shape, The Wyatt boots also have a very beautiful appearance, not only because of the unique bumpy surface but also the rich color.
The heel of The Wyatt cowboy boots is 1 1/2 inches high and has a stacked leather design for a sharp look. They also give you a nice and confident gait without losing your balance.
In fact, you can wear The Wyatt in all 4 seasons because they are very cool in the summer but still keep you warm in the winter (not too much snow). However, I usually avoid using it on rainy days because water can affect the leather sole and you also do not get a good balance.
Those are just some considerations based on my experience with cowboy boots in general, the choice is yours. But I love The Wyatt boots!
3. Best ranch cowboy boots for heavy work (driving, wood splitting, maintenance of equipment and vehicles): The Bandera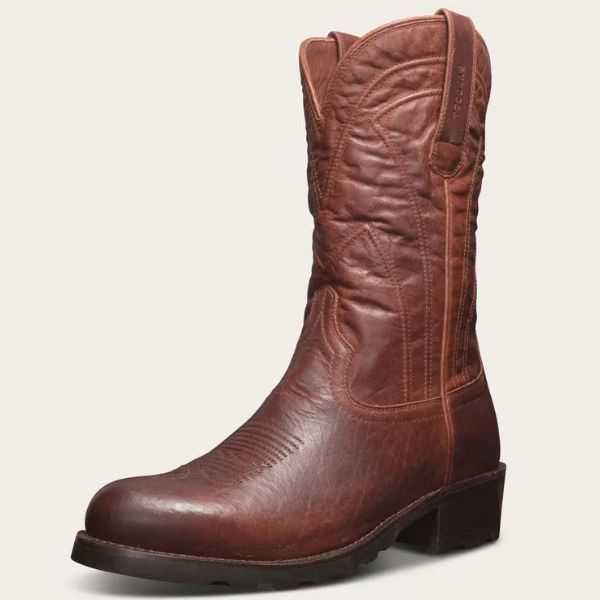 Ranch work is a combination of many different jobs, and certainly not just milking or trimming cows. But having to deal with large and heavy machinery is not uncommon.
In fact, no matter what job you do, if it involves mechanics, you should be careful with your feet. Many unfortunate accidents have happened. A friend of mine experienced leg surgery when a large wrench fell on his leg.
The Bandera boots from Tecovas should be your choice if you are in charge of the maintenance and repair of machines, engines, and mechanical equipment.
Made from thick oiled bovine or bison leather, The Bandera has better resistance to pressure and impact than regular cowboy boots.
Vibram rubber soles provide slip resistance and are also thick and sturdy enough to not be penetrated easily, which are two very good features when you're driving a tractor. Because they will make your feet firmly grip the brake pedals but without fatigue or pain from constant pressing.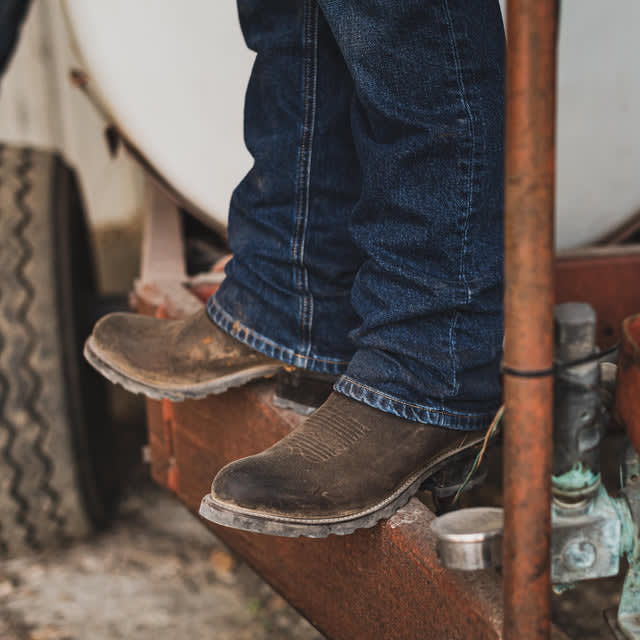 In addition, the stacked leather heel with a 9mm rubber cap is also the feature that makes The Bandera extremely suitable for winter or wet, nasty weather with excellent grip.
The construction of the boots is 12 inches high so it can protect your feet against the high temperatures of the engines.
In addition, the boots also ensure that your feet are dry when they are quite water-resistant. The boots are also reinforced with weatherproof seams.
Overall, you can rest assured that The Bandera boots can handle almost all the work on the ranch with high safety.
Talking about its comfort, the boots also provide a high level of comfort for all-day work with the shock-absorbing insole, and leather lining that can absorb sweat well.
Tecovas boots also have good arch support, which is essential for people with foot symptoms like flat feet or high arch.
The look of these boots is very rugged and suitable for casual work, but don't bring them to the party.
Overall, The Bandera will give you really good satisfaction in terms of feeling when you squander all day for ranch work.
4. Best ranch cowboy boots for hot weather:

The Earl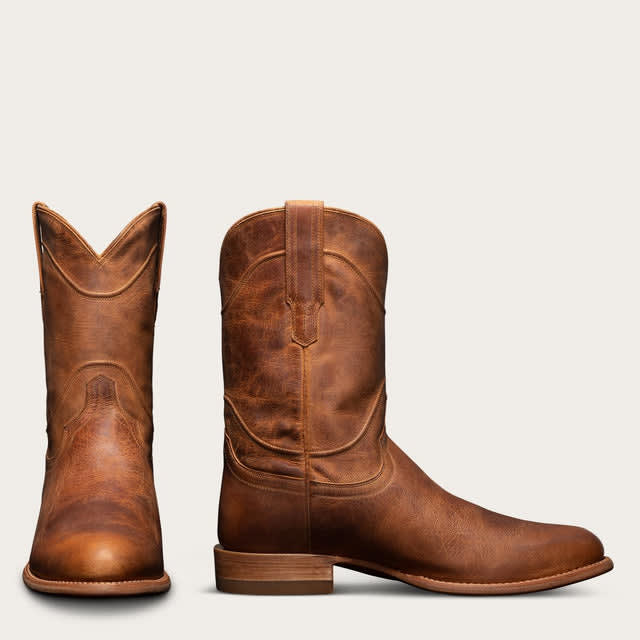 In search of boots for the summer or hot seasons, I'm always looking for goat boots. As explained above, goat boots have large pores so they are much more breathable than other leather boots.
The Earl cowboy boots of Tecovas will make you happy when goat material creates boots that are not only cool but also naturally beautiful.
As one of the great pride of Tecovas, The Earl cowboy boots with traditional style has conquered many workers, among them are ranchers.
In addition to the emphasis on materials that I have explained, The Earl cowboy boots are the perfect choice for most jobs on the ranch such as repairing fences, mowing the grass and fields, or even horseback riding, etc.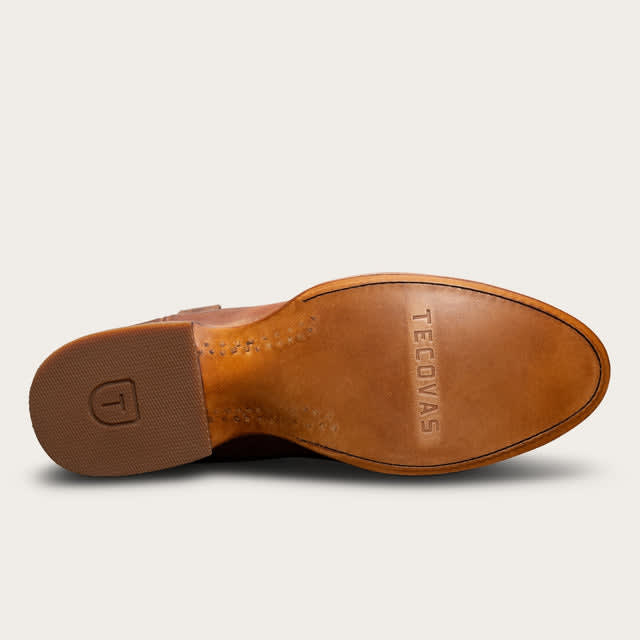 One of the reasons I say The Earl is also good for riding is because it has a round toe and a leather sole. These 2 factors will make it easy to get the boots on and slide and stirrup the saddle quickly and easily.
However, if you are not riding, but driving trucks, I do not recommend using it because the leather sole is slippery so it will not be able to grip the brake pedals well.
Besides, the "thickness" of the boots as well as the leather sole is not really strong enough for heavy-duty jobs.
However, the biggest highlight of The Earl boots is that they are extremely comfortable and flexible for light or not too heavy work on the ranch.
Leather soles ensure boots are light, breathable, and wick moisture away from the soles of the feet better than rubber ones. A 1 1/8 inch heel is also the standard heel height to ensure you stay well balanced.
The round toe has lots of room, so your toes won't cramp or overlap.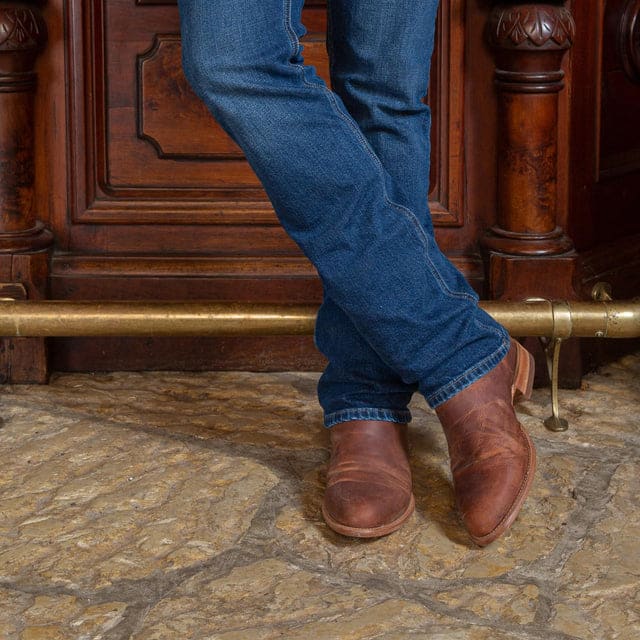 Plus the good height (10 inches) will protect the legs against the summer heat effectively, 10 inches is not too high to cause you much trouble when putting on / taking off boots.
Finally, the stunning look of The Earl really captivated me with the color and natural wrinkles of the goat leather. You won't find this beauty anywhere else!
5. Best ranch cowboy boots for wet, nasty weather:

The Prescott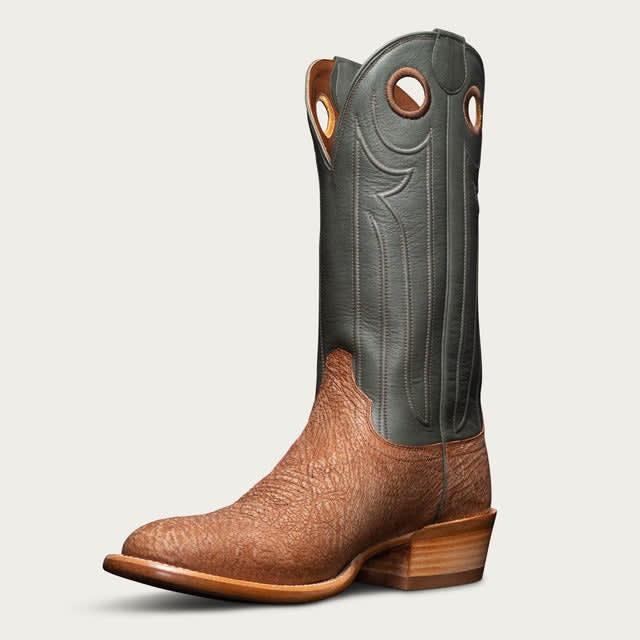 Many different types of leather make great cowboy boots in this world, different types of leather make various super products.
When it comes to cowboy boots for wet and nasty weather, you definitely think of a pair of boots that are waterproof. Shark leather should be your choice.
Tecovas left The Prescott shark leather cowboy boots on the list of ranch wear for some reason. Because this is very durable, hard, rough, and especially waterproof leather.
Some say shark leather is stronger than bovine, so you have almost no doubt about The Prescott's protection.
Because of that feature, your feet will stay dry and warm in The Prescott boots on rainy days.
Many people don't usually use leather soles for hard work because they wear out easily and need to resoling more often than rubber ones. But The Prescott has a butyl-treated leather sole for added strength and durability, so don't worry.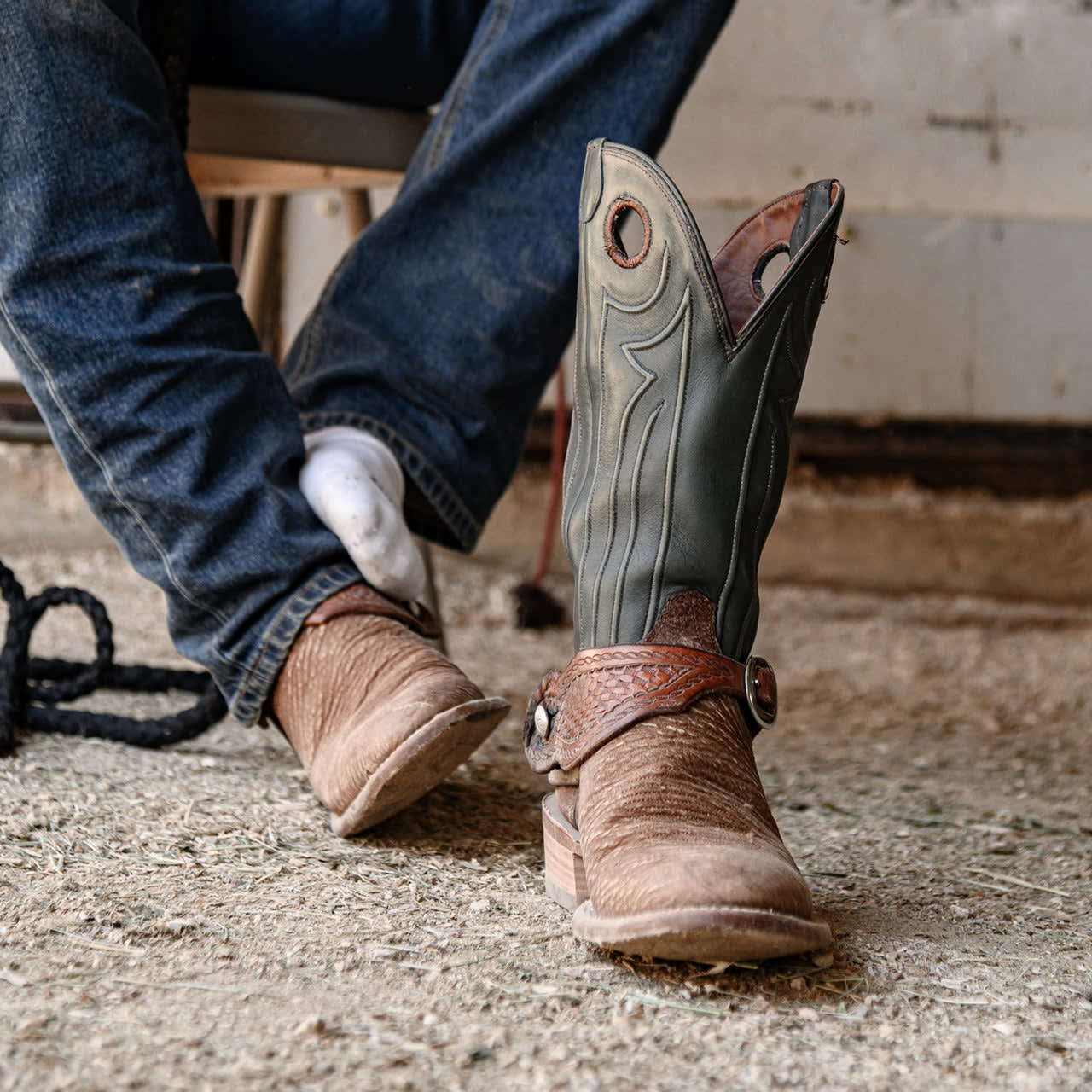 Classic round toes are a typical feature of many Tecovas boots, and they're great for giving your toes more room. In particular, The Prescott toe room is wide, not tapered to the tip.
In addition, familiar features such as leather lining and leather sole also provide a high level of comfort.
But don't forget to break in leather soles to increase grip before starting to use them. As the leather sole is very glossy and slippery at first.
As long as you break in the leather sole properly, it, plus a rubber end cap, will ensure enough traction for you to work comfortably.
Again, I love the natural beauty of Tecovas boots. The rough and dry look of The Prescott shark boots is a natural feature that creates their beauty, not the sophistication from the hands of the craftsman.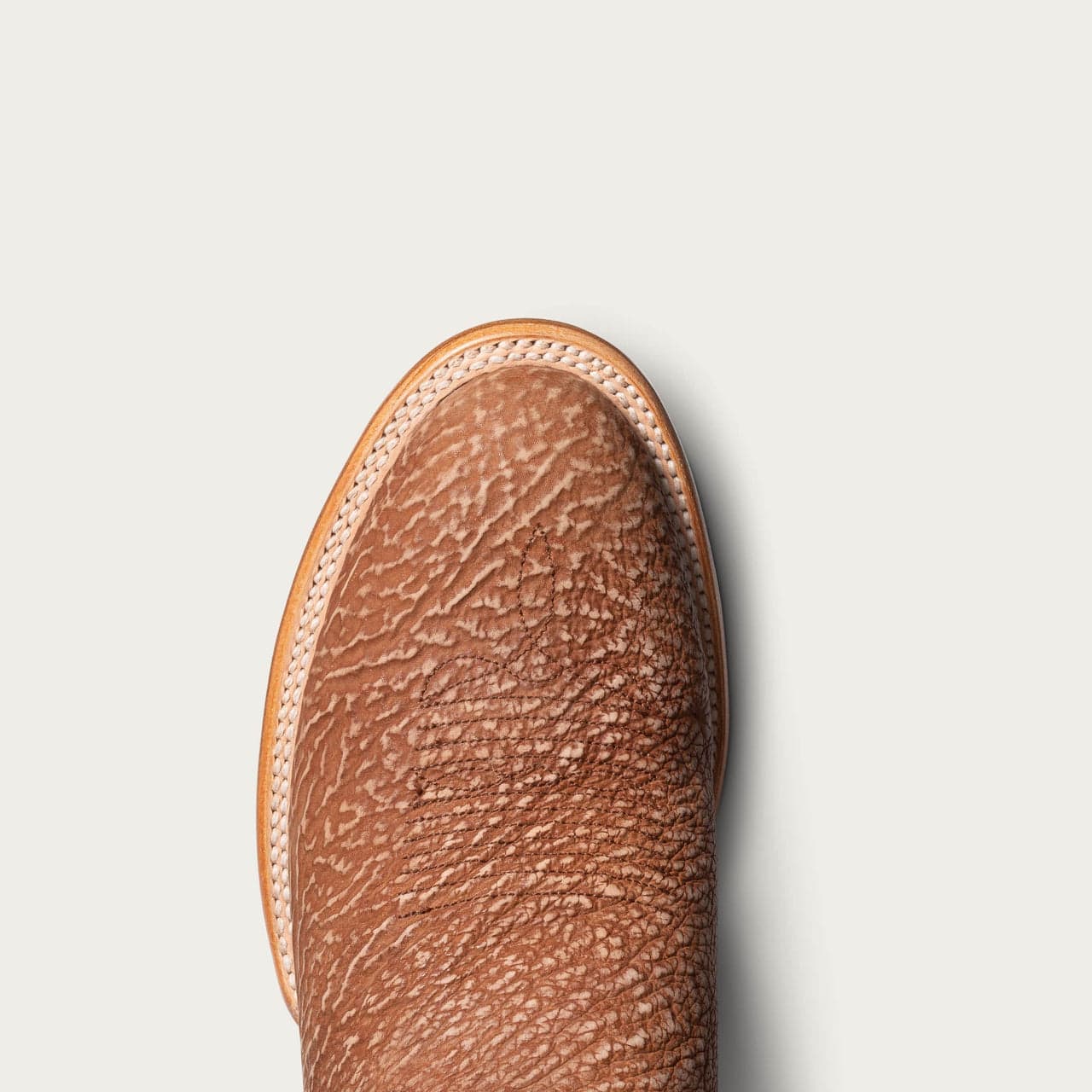 While these boots are for work and not really for fashion, trust me, you'll make others wonder when you put them on!
Before you leave
Am I missing something?
Cowboy boots are absolutely perfect for ranch work as they provide all the essentials: safety, comfort, convenience, and sometimes beauty.
Ranch work has many different types of work, and so do cowboy boots, determining the right boots for the type of work on the ranch is important.
Cowboy boots can be classified according to the material they are made of, or the new technology that today's bootmakers have put into them, etc. Please read my instructions above carefully.
I like goat boots for summer, ostrich boots for casual wear, shark boots for the rainy season, and cowboy work boots for spring.
How about you? Please comment to let me know what you think!