In today's modern era, our work environments have evolved from farms to include office buildings and formal settings.
However, as a devoted fan of cowboy boots, you might find yourself wanting to wear them everywhere, even to the office or indoor workplaces.
The question that often arises is whether cowboy boots can truly be considered formal attire.
If we were to turn back the clock to the last century, it's safe to say that cowboy boots wouldn't have been deemed formal wear. But as time passes, things change, and that includes cowboy boots.
Today, bootmakers have introduced a wide array of boot styles, infusing creativity and incorporating various materials and accents into their designs. As a result, cowboy boots have become more versatile and adaptable.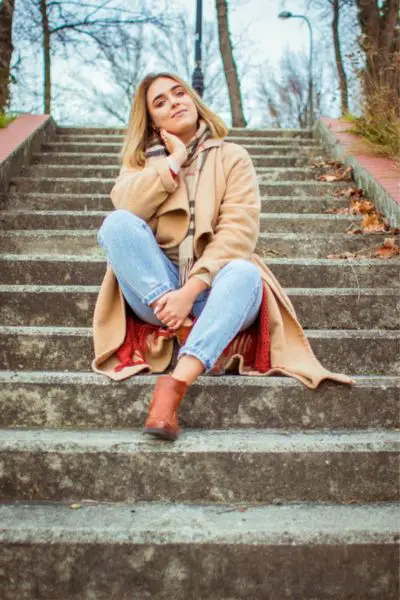 If you're keen-eyed, you've likely noticed people confidently donning cowboy boots with suits or dress pants in business casual settings.
In fact, it seems that the 21st century is witnessing the resurgence of formal cowboy boots!
Without further ado, let's explore the characteristics of cowboy boots that make them suitable for formal occasions.
Key Takeaways:
Cowboy boots have diversified in the 21st century, with many boasting a formal appearance indistinguishable from dress shoes.
Not all cowboy boots are designed with formality in mind, so selecting the right pair is essential.
Many cowboy boots with an elegant and formal aesthetic have become popular choices for office wear, weddings, and more.
Can Cowboy Boots be Formal?
In the present day, you'll discover an extensive selection of cowboy boots, each featuring unique construction and materials, and most notably, varying degrees of formality.
You can find cowboy boots that exude a highly formal vibe, thanks to their use of exquisite exotic leathers such as smooth ostrich, caiman belly, blue alligator, or lizard.
Additionally, cowboy boots made from goat leather, cowhide, or bull hide with a meticulously polished surface offer an exceptionally formal image.
These boots are on par with, if not surpassing, expensive dress shoes in many respects.
Modern cowboy boots serve as outstanding accessories for men when paired with chinos, dress pants, slacks, or suits.
These combinations effortlessly blend formal style, allowing the wearer to confidently attend luxurious weddings or elegant workplaces.
Cowboy boots have transitioned from being merely rancher's gear to encompass various styles suitable for formal settings. This includes traditionally structured cowboy boots and the more refined roper style boots.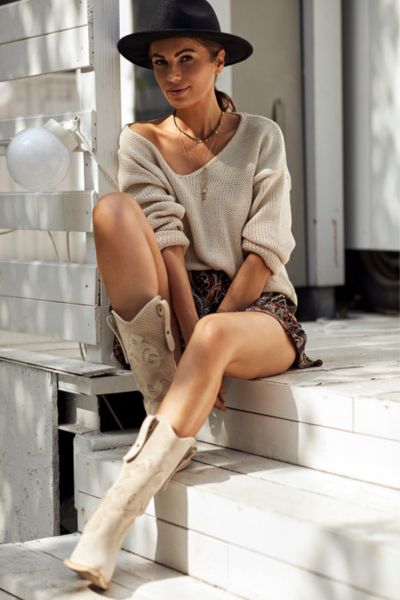 Women's cowboy boots, on the other hand, have seen extensive development, offering a wide array of colors and styles.
Unlike men's cowboy boots, which often come in classic shades like brown and black, women enjoy the freedom to choose from a broader spectrum of colors, including white, yellow, red, orange, blue, and black.
Moreover, women have a plethora of options when it comes to cowboy boot styles for achieving a formal look. While men typically opt for round-toe or square-toe designs, women can choose from a variety of styles, including round-toe, snip-toe, pointed-toe, and O-toe.
As a result, women can confidently pair white cowboy boots, which feature a snip toe and high heels, with elegant outfits, achieving a formal look that stands out.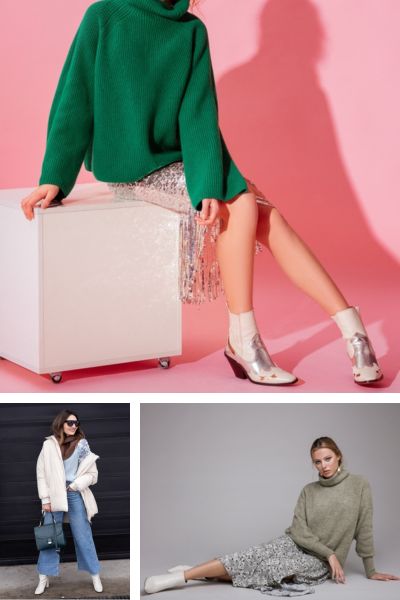 In fact, women can effortlessly wear cowboy boots down the street with fancy dresses, encountering no style obstacles whatsoever.
Furthermore, our ladies have even more versatility at their disposal as they can opt for ankle western boots or western booties to complement skirts, dresses, or jeans, creating a formal look that's both stylish and versatile.
However, it's crucial to exercise discretion when selecting cowboy boots for a truly formal appearance.
Many cowboy boots retain their traditional rugged charm, making them unsuitable for highly sophisticated ensembles.
As previously suggested, opt for cowboy boots with a glossy surface or crafted from exotic leathers.
A glossy finish exudes a clean and polished look, while leathers like caiman and lizard add a distinctive touch. Alternatively, suede ankle boots, when appropriately styled with dresses, can also contribute to a formal look.
Moreover, coordination is key to achieving formality. Ensure that your entire outfit complements each element in terms of color. Avoid overly vibrant hues as your primary tone, as they tend to undermine the formality.
To create a sophisticated appearance, strive for an elegant yet straightforward ensemble – no fuss, just finesse!
Here are some tips for both men and women looking to incorporate cowboy boots into their formal attire:
Outfit Ideas: Elevating Your Formal Look with Cowboy Boots
In this section, we'll explore how cowboy boots can elevate your formal wardrobe, providing a distinctive and stylish edge.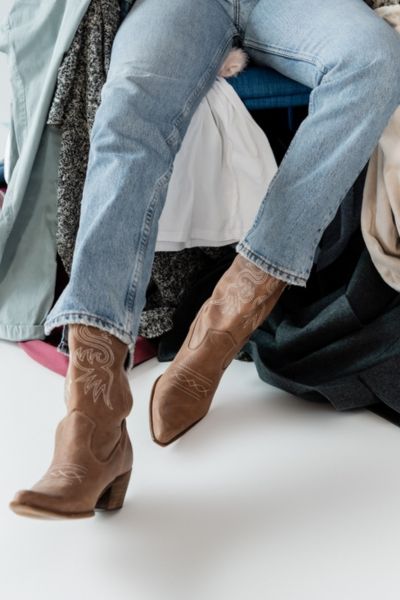 1. Classic Western Elegance with Jeans
This outfit style combines the timeless charm of cowboy boots with formal elements, creating a refined and sophisticated look.
It involves pairing cowboy boots with classic formal wear, such as a dress shirt, blazer, and well-fitted jeans.
This style evokes the spirit of the American West while maintaining a level of formality suitable for various occasions, from semi-formal events to upscale dinners.
For this classic style, the combination of jeans and cowboy boots takes center stage.
This pairing forms the foundation of the style, creating a harmonious blend of Western charm and formal sophistication.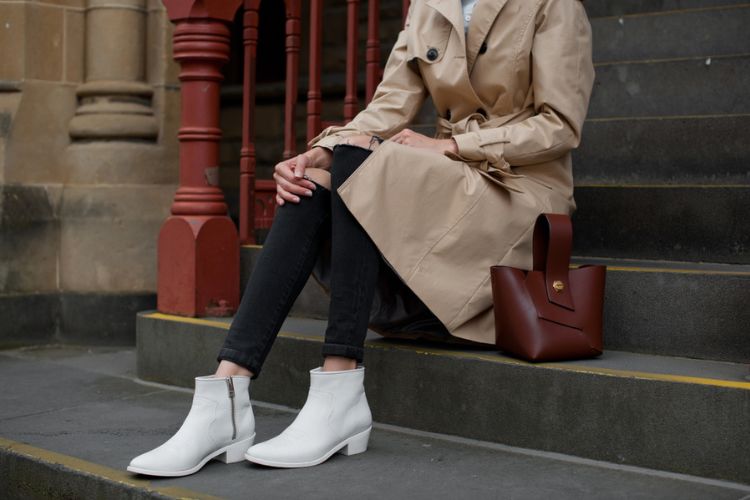 If you're aiming for a bold yet sophisticated look, consider combining black skinny or slim-fit jeans with white ankle cowboy boots.
To complement the boots' earthy tones, go for a dark brown leather bag. Elevate the outfit's formality by adding a beige blazer.
This combination exudes elegance and suits a variety of formal settings.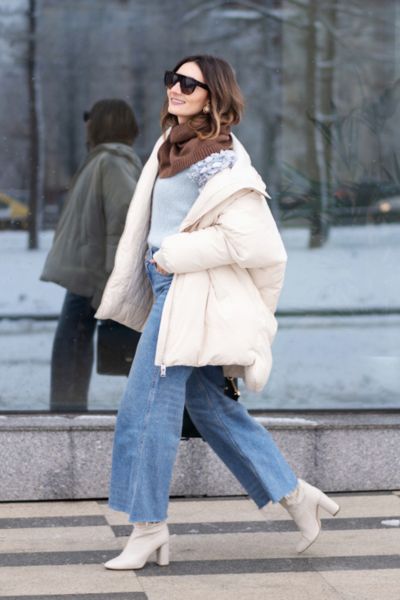 Now, for a trendy city style, opt for flared jeans paired with a cozy sweater. To add a fashionable twist, don pointed-toe, high-heeled white cowboy boots.
Layer up with a winter coat to stay warm and enhance the overall sophistication.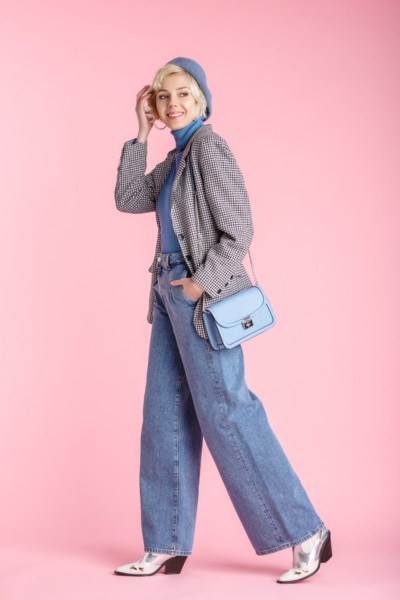 This ensemble is perfect for city dwellers who want to infuse urban fashion with a Western flair, making it ideal for stylish nights out or city events.
2. Boho Chic with Dresses
This fashion style draws inspiration from bohemian and hippie influences, combining free-spirited, relaxed elements with a touch of elegance.
It's characterized by flowing silhouettes, intricate patterns, and a mix of textures and accessories.
This boho style allows you to create a unique and sophisticated look that stands out while maintaining a sense of comfort and individuality.
The blending of casual and formal elements in this style offers a refreshing take on traditional formal wear.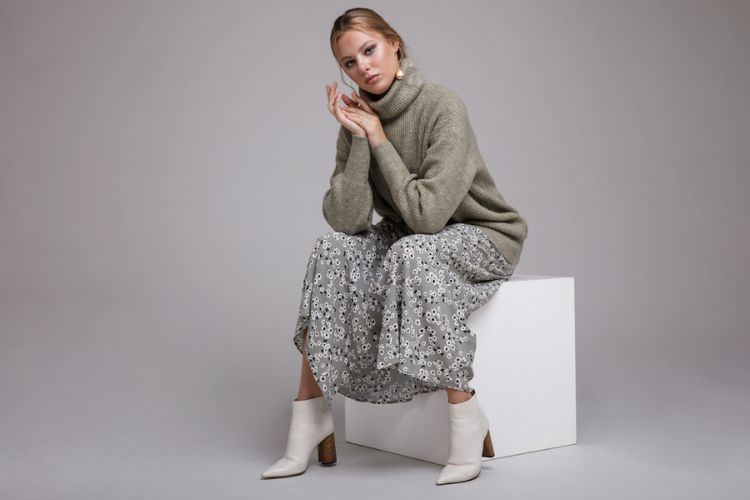 For an eye-catching formal style, consider pairing grey maxi boho skirts with pale green tightly knitted sweaters.
To highlight your look and draw attention to your footwear, opt for white ankle cowboy boots with high heels and pointed toes.
This harmony creates a stunning visual impact that's perfect for formal occasions such as weddings, or concerts.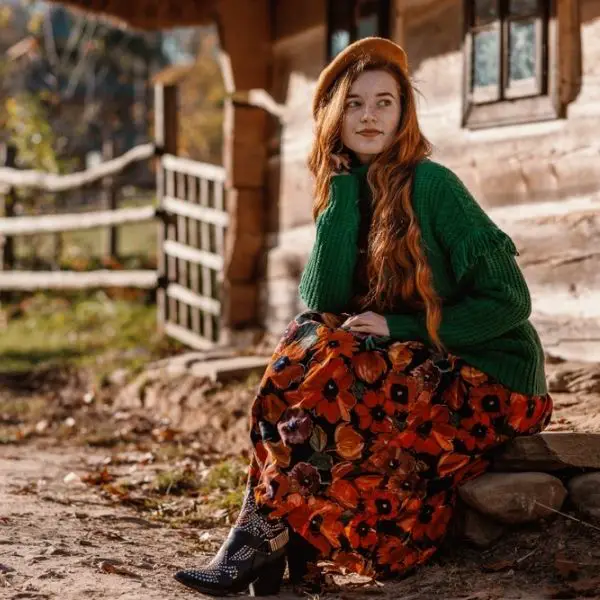 Elevate your formal attire with a red maxi dress featuring a black floral pattern. Enhance the ensemble by choosing black cowboy boots with pointed toes and high heels.
Top it off with a light green wool coat and a stylish beret for a chic and sophisticated look that combines boldness with elegance.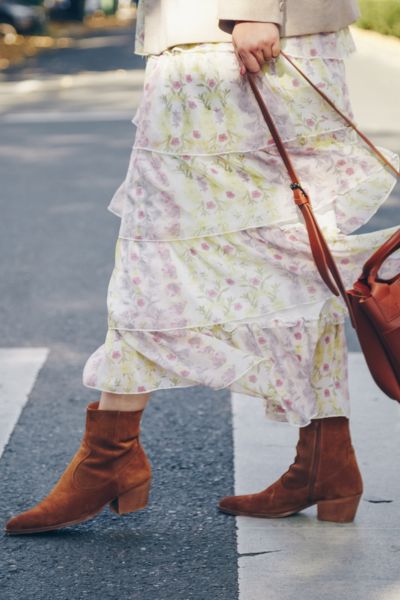 For a graceful and feminine formal style, embrace the charm of layered boho maxi skirts. These skirts, with their flowing layers and intricate patterns, create a striking focal point for your outfit.
Elevate the overall look by adding a trench coat or a tailored blazer, which adds a touch of sophistication.
To complete this stylish ensemble, slip into ankle suede cowboy boots, a choice that seamlessly blends the bohemian aesthetic with a hint of Western flair. Carry a leather handbag to enhance the outfit's elegance and functionality.
Now, you have completed that formal and chic look!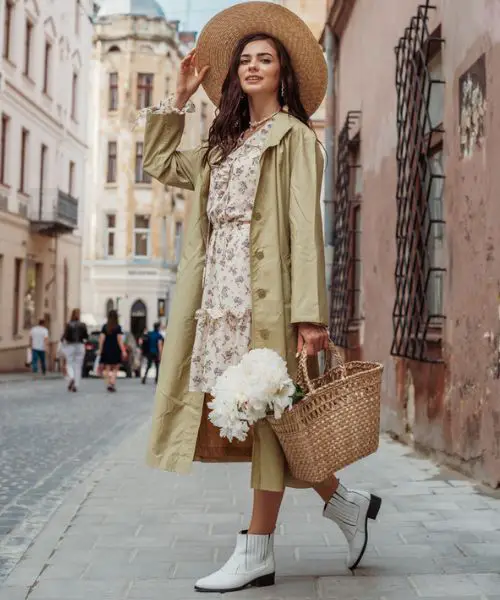 Achieve a unique and stylish formal look by selecting a light-shaded layered boho midi dress as your focal point.
Add a beige blazer for a touch of formality. Complete the ensemble with a wide-brim hat and white ankle cowboy boots.
You can wear this outfit to any formal events such as weddings, western parties and the like.
3. Urban Style with Blazer
Urban style is characterized by a modern, city-inspired aesthetic. It often incorporates sleek and tailored pieces that exude sophistication and versatility.
This style is well-suited for a formal look because it combines urban elegance with contemporary fashion, allowing you to make a statement at formal events while staying true to your city-inspired fashion sense.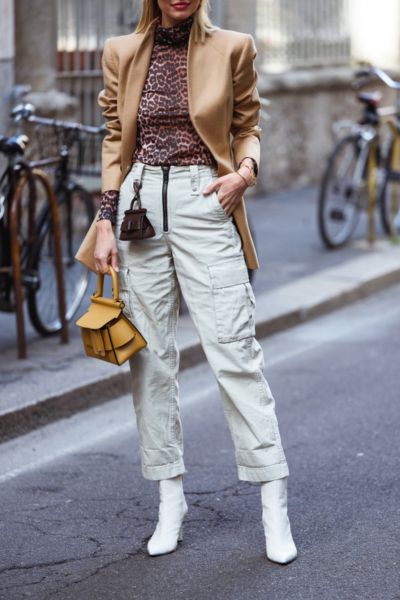 For a sleek urban formal look, start with white ankle cowboy boots that add a touch of edge.
Layer on a classic trench coat, a timeless piece that instantly elevates your style. Pair the coat with stylish beige cargo pants and a well-fitted long-sleeved top.
Complete the ensemble with a chic handbag, which not only adds functionality but also enhances the overall urban sophistication.
This outfit blends Western elements with urban flair, making it a perfect choice for various formal occasions.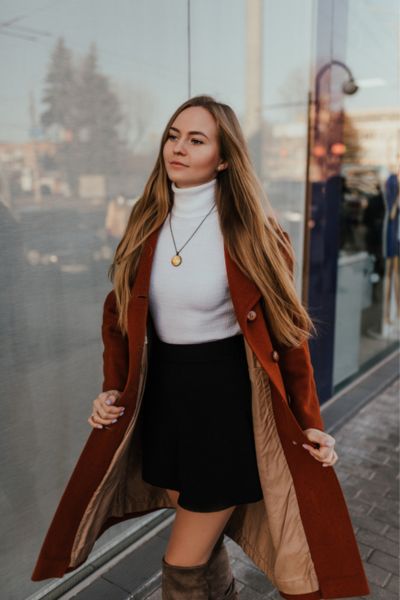 Create a unique and chic formal style by combining black shorts with a white sweater.
Elevate the look with over-the-knee light brown cowboy boots that make a bold statement. Layer on a long dark red hue blazer for a touch of formality.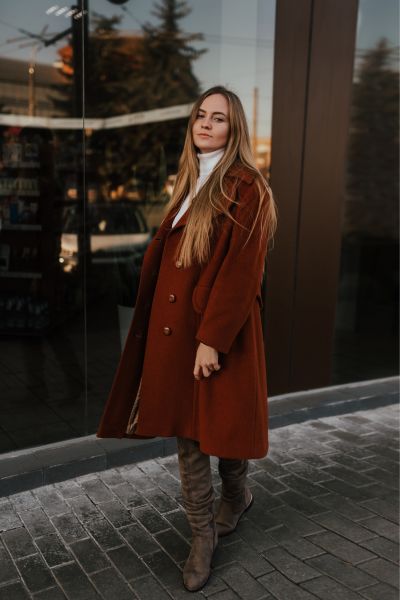 Accessorize with a necklace to add a stylish finishing touch. This outfit combines the casualness of shorts with the elegance of the blazer and cowboy boots, resulting in a fashionable urban formal look.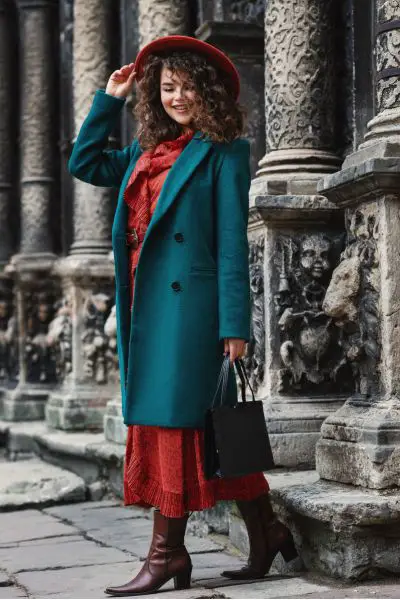 Achieve a striking formal appearance with a red maxi dress that exudes confidence and sophistication. Layer a green blazer over the dress to add a touch of formality and a stylish color contrast.
Complete the look with brown pointed-toe high-heeled cowboy boots that offer a Western twist. Top it off with a wide-brim cowboy hat for a bold fashion statement.
This outfit combines urban elegance with Western flair, making it a standout choice for formal events.
With these outfit ideas, you can make a memorable impression at formal events while staying true to your city-inspired fashion sense.
4. Monochromatic Elegance:
A monochromatic style is a fashion approach where you base your entire outfit on a single color or color family.
It's well-suited for a formal look because it creates a sense of cohesion and sophistication.
By using various shades and tones of a single color, you can achieve a timeless and refined appearance that's perfect for formal occasions. It's a style that exudes simplicity, yet it can make a powerful fashion statement.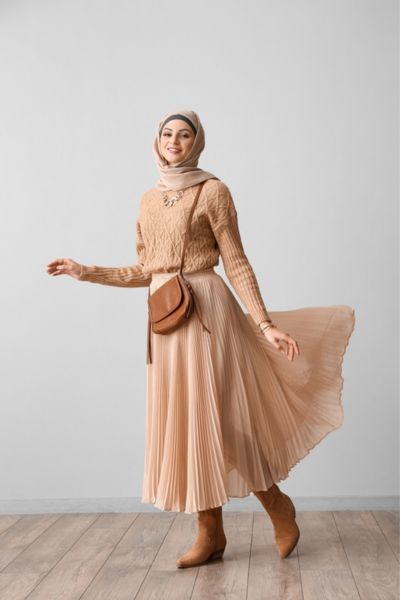 For a monochromatic elegance look, start with a brown-shade sweater as your centerpiece. Pair it with a maxi skirt in a complementary shade of brown. This combination creates a seamless and stylish appearance.
To complete the monochromatic theme, choose a matching brown sweater to layer over your sweater for added warmth and texture.
This layered look not only enhances the elegance but also provides depth to the outfit. The result is a sophisticated, coordinated ensemble suitable for formal events like festivals or weddings.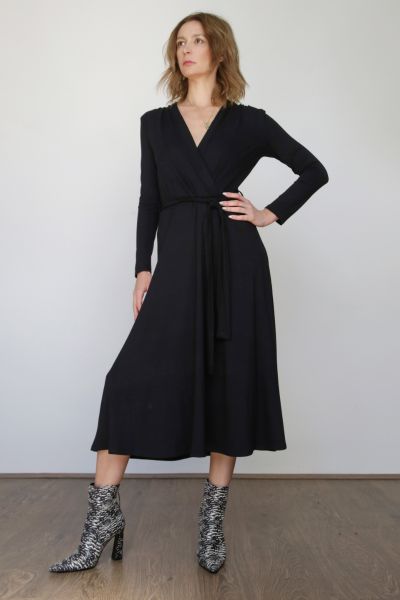 For a striking monochromatic effect, go for a black midi skirt as the focal point of your outfit.
To add a touch of boldness and texture, opt for snakeskin cowboy boots with a black pattern. These boots bring a unique twist to the monochromatic theme.
By combining these elements, you create a sleek, all-black ensemble with a hint of intrigue, making it an ideal choice for formal occasions where you want to make a stylish statement (like office).
5. Date Night
A date night outfit is all about creating a stylish and eye-catching style perfect for a romantic evening out.
These ensembles combine elements of sophistication and charm, allowing you to express your unique style while leaving a lasting impression on your special someone.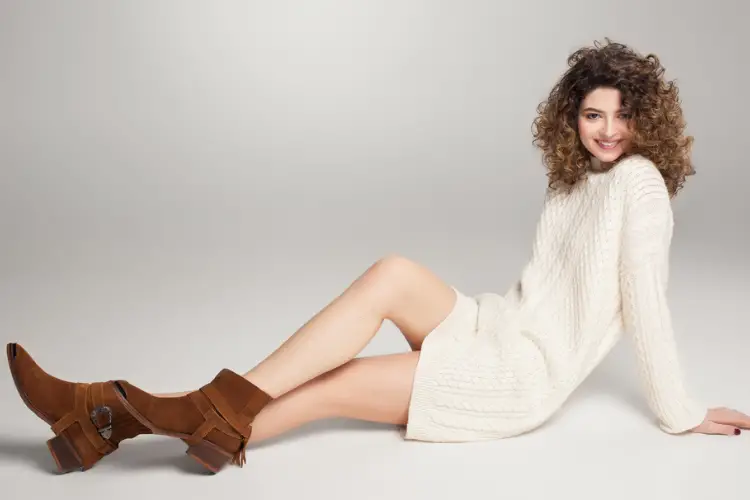 For a captivating date night look, choose a white sweater dress paired with brown ankle suede cowboy boots featuring a concho strap.
The white dress exudes an elegant and understated charm, making it an ideal canvas for your outfit.
The brown boots with a concho strap add a hint of Western allure and a touch of playfulness to the ensemble.
This combination creates a stylish and memorable look that's sure to delight your date night.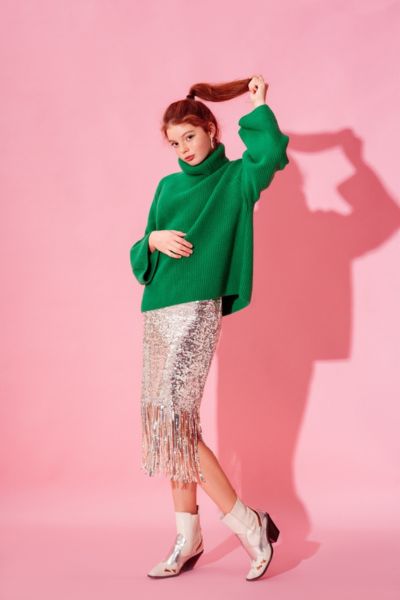 For a chic and dazzling date night appearance, start with a green knitted turtleneck sweater featuring wide sleeves. The rich green hue exudes warmth and sophistication. Pair it with a sequin skirt that adds a touch of glamour to your outfit.
Complete your look with stylish white ankle cowboy boots, which bring an unexpected twist to the ensemble. The fusion of green and white offers a striking and memorable appearance that's perfect for a romantic night out.
Before you leave
Before you head out, remember that while not all cowboy boots are suited for formal occasions, you can readily find sophisticated and elegant options in today's market.
Cowboy boots continue to evolve in their construction and design, with numerous reputable bootmakers like Tecovas, Chisos, Ariat, and more offering a wide selection to meet your needs.
The perfect pair of boots for your formal occasions is just a search away!
Howdy y'all! I'm Grace, a Western style enthusiast with over 5 years of experience. From cowboy boots to western gear, I'm passionate about all things Western and dedicated to helping you find the perfect style to suit your taste. Join me and my fiancé Jay Gatz as we explore the rich history and timeless appeal of Western fashion together!