One of the things that many people often think of cowboy boots is that they are distressed footwear. They only appear on the ranch and serve cowboys.
Even so, the variety of styles of cowboy boots today gradually reshapes those thoughts, you will not only see distressed boots but instead, extremely elegant and sophisticated boots.
If you don't believe me, go to Tecovas' website to see their cowboy boots, and you'll understand!
In fact, cowboy boots today can totally be used as dress shoes, they can go with different types of elegant, chic outfits.
Although not all cowboy boots today have such a clean style, I believe that once you see them, you will have to change your mind and enjoy them.
This article will tell you why cowboy boots are now perfectly acceptable as dress shoes and some things you need to keep in mind!
Sounds good?
Key takeaways
Today, you can absolutely find elegant and luxurious cowboy boots that are similar to a pair of dress shoes.
Wearing cowboy boots with dress pants, chinos, suits, or business casual today is no longer strange. In fact, many people enjoy wearing this style.
However, not all cowboy boots can replace dress shoes, you need to know how to choose the right boots and how to wear them.
Wear Cowboy Boots as Dress Shoes: Is It Acceptable?
If you haven't really paid attention to the cowboy boot world for a long time (more than 10 years), you may assume that is a "No." However, if you look at the change in the world of cowboy boots in the past few years, you will have the answer: it is totally acceptable to wear cowboy boots as dress shoes.
The creation of recent bootmakers (such as Tecovas, and Chisos) has brought an awe-inspiring style to cowboy boots and made them as elegant as dress shoes.
For example, Tecovas, although their boots still retain the classic look and traditional beauty, you will find a very modern style hidden inside. They are very luxurious and attractive like a pair of dress shoes.
The success of Tecovas boots mainly comes from the good workmanship as well as the variety of materials that make up their boots.
You can find cowboy boots in Tecovas with luxurious looks like dress shoes made from caiman, blue alligator, lizard, and smooth leather.
Or more simply, boots made from bovine but well polished still give the same look as any elegant dress shoes.
In addition to a stylish surface, with diverse materials, the construction of today's cowboy boots has also been tweaked to better suit the popular taste.
Today, you'll find the construction of some cowboy boots very stylish and approachable, not as rugged as in the past.
For example, cowboy boots today can have narrow round toes which are a very soft and delicate toe shape, and they are easy to go with dress pants.
Along with that, high heels (about 1 1/2 inches) will make you look taller and more confident. The combination of high heels and narrow round toes makes your feet look slim.
The heels of cowboy boots (riding heels or roper heels) are also very beautiful to wear with business suits without more creativity from the bootmakers. A stacked leather heel will be a really good choice for you!
In fact, wearing cowboy boots as an alternative to dress shoes to go to the office for many years is no longer strange in the world of cowboy boots.
With the cowboy boots mentioned above, you can completely wear them with suits, business casual, dress pants, etc.
I love wearing my caiman boots with suits, while my friend chooses a pair of lizard boots to go with chinos. The results really exceeded our expectations!
In short, with a variety of styles and great development, cowboy boots have given you an extra choice in addition to dress shoes to match different types of elegant outfits.
Even so, it's hard to say that all cowboy boots can replace dress shoes. You need to have a flair for realizing this!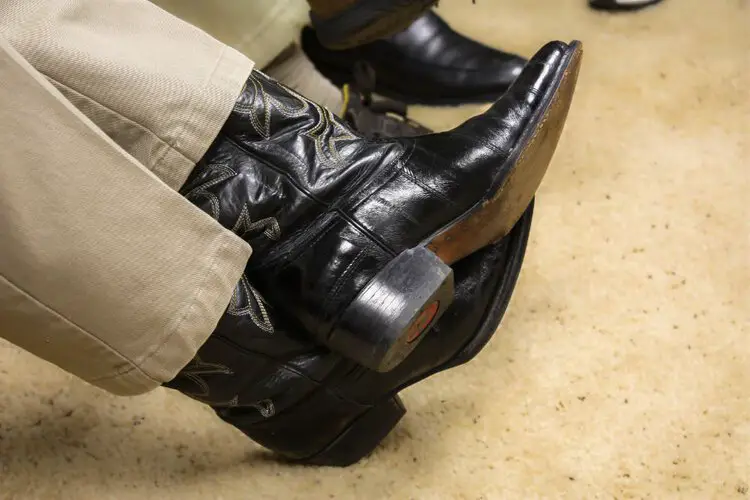 Some notes when choosing cowboy boots to replace dress shoes
In fact, cowboy boots today have quite a few styles, for example, I will divide them into 3 main styles: distressed, elegant and casual wear style (like dress shoes).
If choosing a pair of cowboy boots to replace dress shoes, you should avoid boots with cracked leather, reflective or colorful, flashy style, etc.
Use your senses to evaluate those things, it is important that the look of the boots you find is simple but still exudes class.
For example, the two colors you should stick to are brown and black, they have a classic style and clean look. Also, cowboy boots should be well-polished to create a polite look.
Overall, it's not that hard to do, as the difference is pretty obvious.
Also, you can check out some of our articles on how to wear cowboy boots as dress shoes here!
In addition, you should learn how to wear cowboy boots with dress pants to create a clean look.
Make sure to choose pants with bottom legs that are wide and long enough to cover the entire shaft of the boots. I have an article about this problem here, in case you're wondering, check it out!
Before you leave
I believe that once you step on the Tecovas website, you will be glad that you have more options to wear with suits instead of dress shoes at home.
You can absolutely wear cowboy boots as a pair of dress shoes, as the growth in style of cowboy boots is very respectable these days. They can offer luxurious and elegant styles.
A pair of cowboy boots made from smooth leather ostrich go with dress pants, a brown belt, and a shirt to work. Why not?
Howdy y'all, and welcome to From The Guest Room, your ultimate guide to all things Western! I'm Jay Gatz, a lifelong cowboy boot enthusiast with over 5 years of experience in the Western style world. I'm excited to share my knowledge with you and help you discover the perfect cowboy boots and western gear to elevate your style. Let's explore the rich history and timeless appeal of Western fashion together!