It is undeniable that cowboy boots originated in the countryside because, in essence, they are a pair of work boots for ranchers. Therefore, many people still think that cowboy boots are only for people in the countryside.
In addition, cowboy boots are also commonly known for their distressed looks and extreme wild style. They are not really suitable in formal places such as cities or offices.
Well, the above all sounds very familiar, but you're wrong, or you're just not a big fan of cowboy boots. Because if you've been in love with cowboy boots for the past 20 years, you will know that they have changed.
Those changes make cowboy boots don't just appear in the countryside regions of the American West, but you can see them all over this country.
And that is also the main content of today's article, we will tell you why you can wear cowboy boots even if you are not from the country.
Let's check it out!
Key takeaways
You can absolutely wear cowboy boots in the city, not just in the countryside. You just need to choose the right cowboy boots.
These days, it's easy to find formal cowboy boots to wear in chic places in the city.
Formal cowboy boots appeared in recent years and go with many different outfits to create various styles. So they can appear anywhere in the United States.
I'm not country, so, can I wear cowboy boots?
In fact, the development in the structure of cowboy boots today makes their style also change a lot. Many people in the cowboy boot world admit that those changes are a good thing, they make cowboy boots closer to the masses and bring more creative styles.
Today, you can see cowboy boots with beautiful round toes (like a pair of dress shoes) and extremely classy and elegant exotic finishes (can be made from the lizard, caiman, or smooth ostrich).
All of that has formed many new notions about cowboy boots. Since then, people have come up with many new styles in which cowboy boots are mainstream. They no longer just have wild and distressed styles.
Many people in the city today are very fond of using cowboy boots with a well-polished surface, which can be made from exotic leather as mentioned above, or simply cowhide. All of them can be worn with suits, dress pants, chinos, or slacks to go to the office every day.
That said, you can absolutely wear cowboy boots without having to be country, but you need to choose the right type of boots to match your style.
We have researched and written many different articles on using cowboy boots for business casual, suits, dress pants, chinos, etc. You can find out more about them by typing the keywords on the search bar.
But the common point of the above articles is that they all bring an elegant style to the wearer, which eliminates the notion that cowboy boots are only associated with a country vibe.
As for style, men need to keep a clean look. They often prefer to wear cowboy boots with the shaft tucked into dress pants.
So, to ensure the best look, make sure your pants have enough room in the bottom legs with the right length.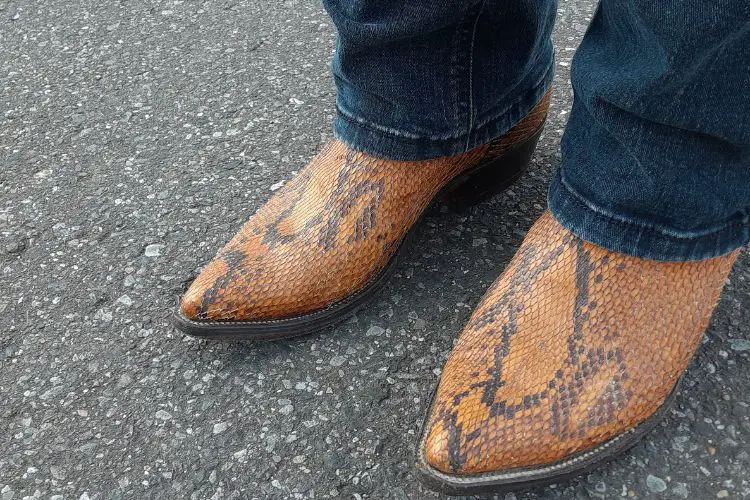 Meanwhile, for women, cowboy boots are not only classic beauty, but they are also a trendy fashion accessory rich in creativity and color.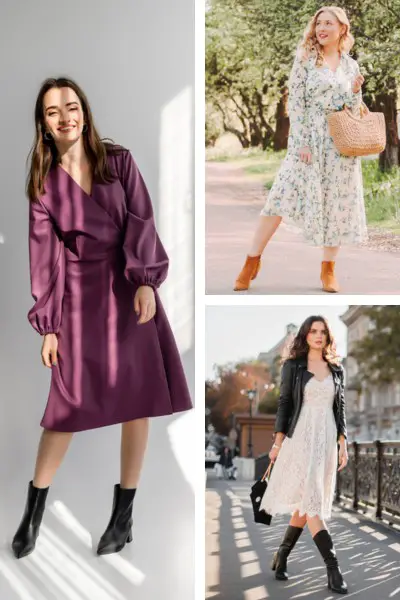 You can come across many girls on the street wearing a pair of colorful cowboy boots with a fancy dress. It's such a unique and glamorous style, isn't it? It's definitely a bond style to go beyond the countryside!
The style of cowboy boots greatly affects the overall style of outfits. Today, with the creativity that bootmakers put into boots, you have more than one choice to wear them as they can show up in more places than just the country.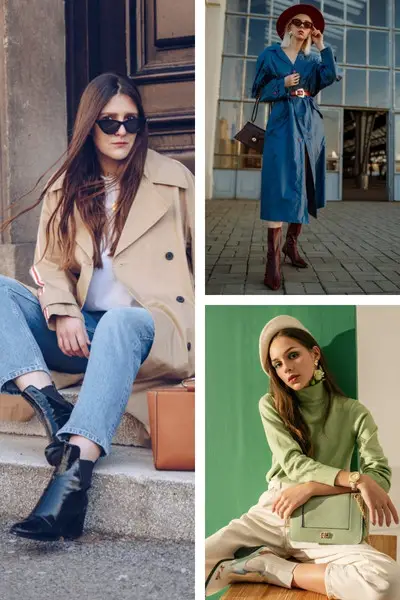 Nowadays, you can easily find nice and sharp cowboy boots in some brands such as Ariat, Chisos, and Tecovas to try with many outfits. From there, you can find the right style for you without necessarily being country.
However, do not forget to pay attention to the whole ensemble. A good outfit is one that suits your destination and purpose.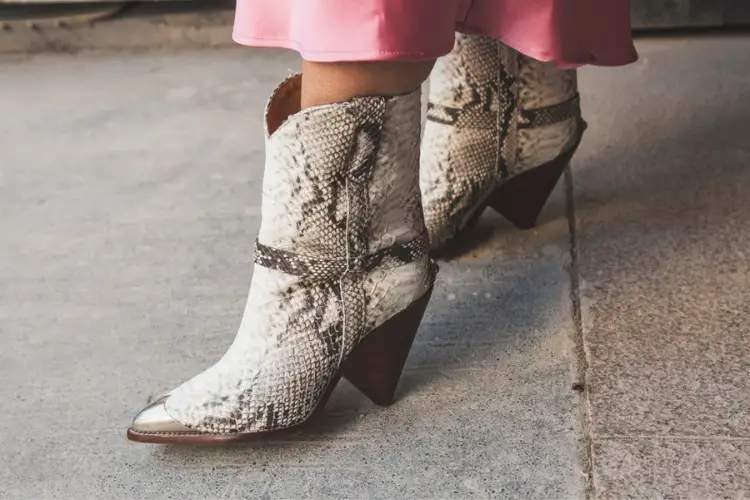 Also, pay attention to the color or textures of cowboy boots to match your demands. It is important that your ensemble has harmony on the whole.
A pair of square-toe red cowboy boots with a sweater dress may not be the right choice for office work. Please consider! I believe you understand that!
Before you leave
Although cowboy boots are considered one of the specialties that represent a classic culture, it is a mistake to think that they cannot bounce out of the country vibe.
Today's cowboy boots, with the creation of bootmakers, have become more and more diverse. You'll find many different cowboy boots that suit different occasions and styles, and you don't have to be country to wear them.
That's all you need to know!
Howdy y'all! I'm Grace, a Western style enthusiast with over 5 years of experience. From cowboy boots to western gear, I'm passionate about all things Western and dedicated to helping you find the perfect style to suit your taste. Join me and my fiancé Jay Gatz as we explore the rich history and timeless appeal of Western fashion together!