Most cowboy boots are made of cowhide because this is the most popular and easy-to-find leather in the western United States – where cowboy boots are born. Cowhide is durable, beautiful, and affordable, making it one of the best leather types to produce cowboy boots.
However, today's cowboy boots are increasingly developed and become more versatile, since then they also come in many new look. I'm talking about exotic cowboy boots!
With an attractive and unique appearance, any cowboy boot collector must have at least one pair of exotic boots in the house. Each type of exotic leather has its own nuance with distinct qualities and appearance.
If you like soft yet durable cowboy boots, the ostrich is the number one choice.
If you want to find the rare elegance in cowboy boots that are often considered rough, look for caiman cowboy boots.
Today, we will talk more about exotic cowboy boots. Also, there are honest reviews of 8 pairs of exotic cowboy boots that I love the most below!
Shall we?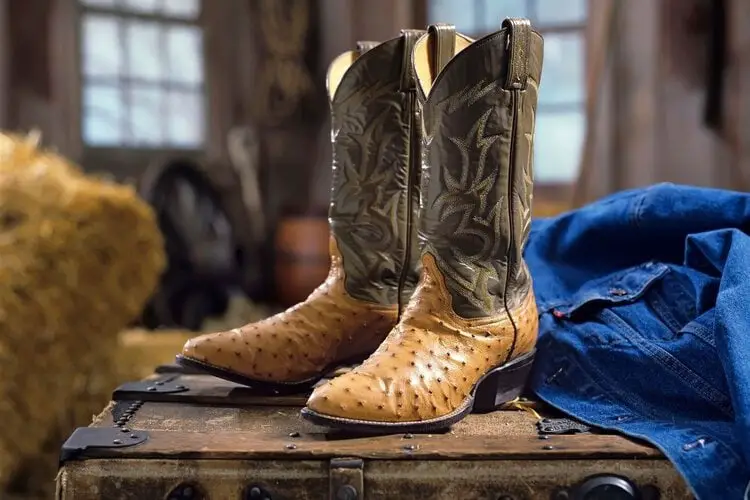 What are exotic cowboy boots?
Exotic cowboy boots refer to cowboy boots made from exotic leather, including crocodile, elephant, kangaroo, ostrich, shark, crocodile, lizard, stingray, etc.
Each exotic type has its own strengths and weaknesses:
Kangaroo leather has excellent durability, flexibility and toughness, but this leather type needs special maintenance and takes a lot of your time to care for them.
Ostrich leather is very soft, comfortable, and easy to take care of. Besides, cowboy boots made from ostrich leather have a very wild and unique beauty. But boots made from ostrich leather are usually more expensive than cowhide.
Lizard boots are incredibly soft and flexible, and with their unique texture, they're the perfect match with jeans or dress pants. However, they are often prone to drying and cracking, that's why you need to condition quite often.
Another ragged and rough leather type is shark leather. It is extremely resistant to water and scratches. However, this leather type is not breathable, which can be uncomfortable for your feet.
And there are many other leather types that make up unique cowboy boots, all of them are listed here!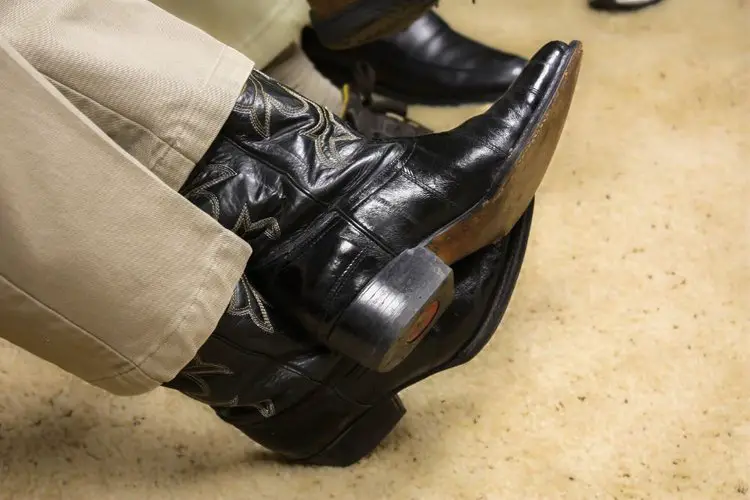 What is the best leather for cowboy boots?
The best leather for cowboy boots is the kind of leather that is right for your purpose!
Every time you buy a new pair of cowboy boots, you should determine what it will be used for.
If you need beautiful, elegant cowboy boots to wear with a suit, then the ones made from caiman leather are a great choice.
If you need soft, comfortable and wild-looking boots, why don't you choose ostrich cowboy boots?
If you need cowboy boots that can resist water or scratches well, the best option is to choose cowboy boots made from shark leather.
In addition, leather types such as lizard and snakeskin create unique cowboy boots.
Before purchasing cowboy boots, you should clearly define your purpose and know the pros and cons of each leather type. Then you can choose the best material for your cowboy boots!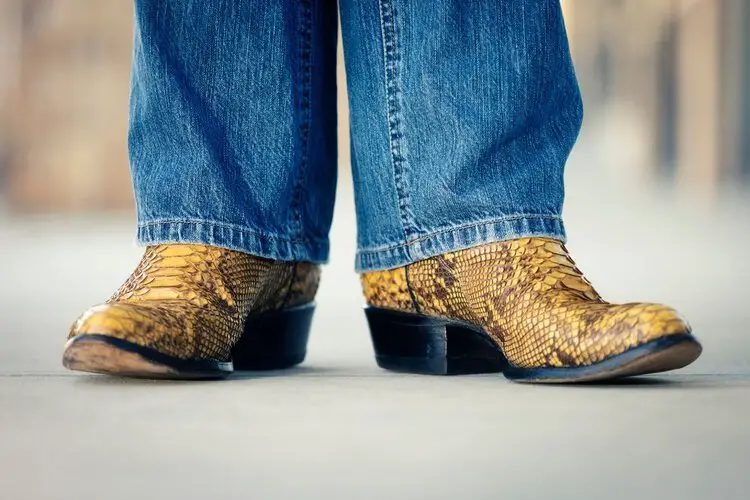 The 8 Best Exotic Cowboy Boots in 2023
Nowadays, it is not difficult to find cowboy boots in the market. But to make it easier, you should look to handmade boots that originate in Mexico, they have great exotic boots.
Tecovas, Lucchese, Chisos, etc are all big cowboy boots brands with traditional style but beauty and quality have been brought to a new level. These brands own beautiful cowboy boots made from caiman, lizard, and ostrich.
Here are my 8 favorite pairs of exotic cowboy boots!
1. The Wyatt from Tecovas
I'm pretty sure that many people who love Exotic cowboy boots will know Tecovas and it's usually their first choice.
Tecovas is well known as a brand that produces handmade boots with excellent craftsmanship. More importantly, most of their boots are made from exotic leather.
One of their standout boots is The Wyatt. A contemporary masterpiece! The vamp is made from ostrich leather so The Wyatt is very soft and comfortable. The bumpy leather creates a unique and unmistakable look.
Besides, the hand-corded calfskin shaft with its refined look, softness and short break-in time will leave you satisfied both in look and feel.
The colors of ostrich leather are usually pretty bland, but that's not the case with The Wyatt. They set themselves apart from the rest with rich colors.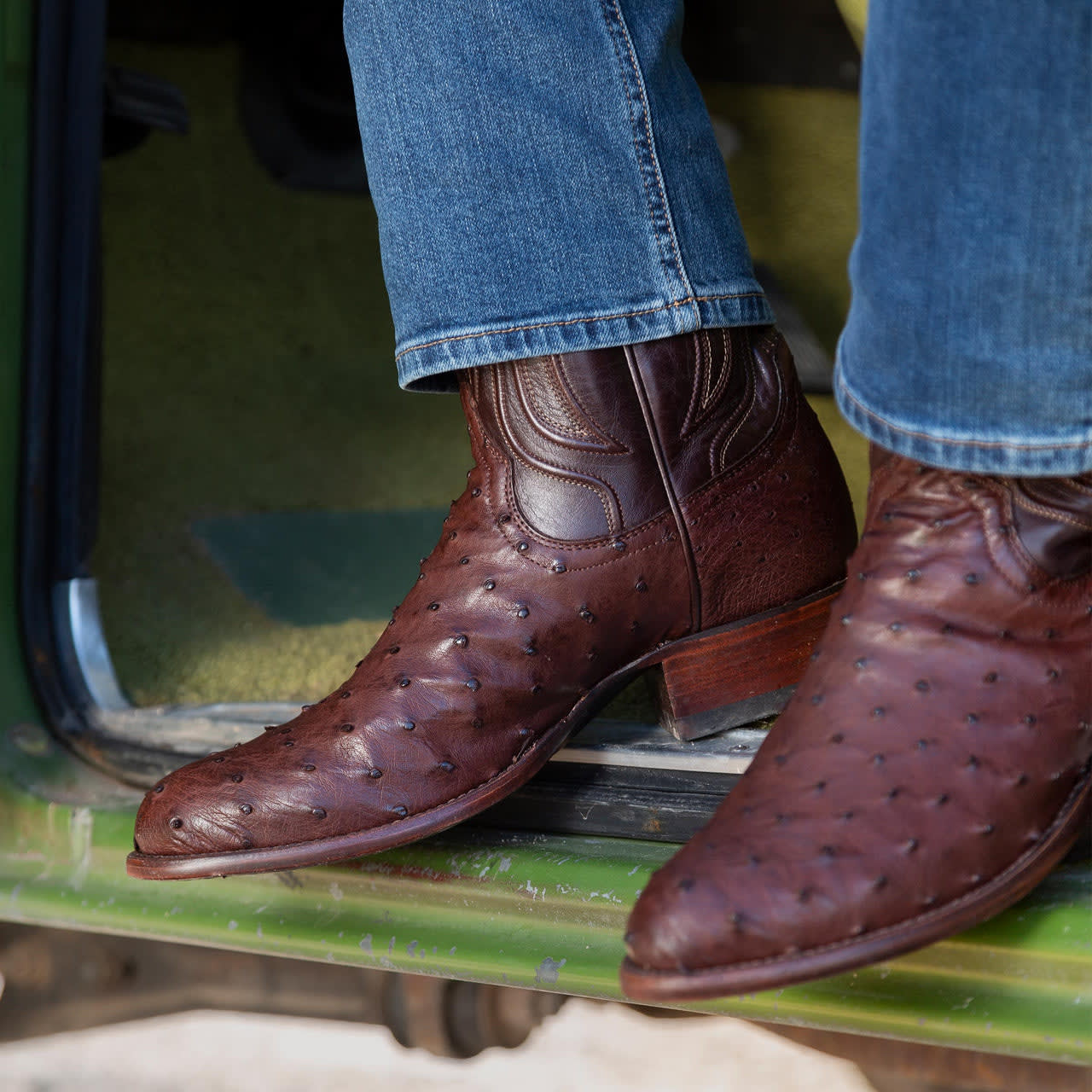 Carrying a classic cowboy shape, these boots are sure to be a big win for you!
2. Old Gringo Women's Feita Western Boot
| | |
| --- | --- |
| What we like | What we don't like |
| The Vamp made from Giant Gator | |
| Rugged and masculine look, make a great difference | |
| No break-in period needed | |
| Very comfortable and unique | |
An absolutely gorgeous work of art by Lucchese will light up your day! Lucchese Mens Malcolm Alligator Square Toe Dress Boots Mid Calf with its Giant Gator vamp is what sets it apart from the rest.
All die-hard fans of cowboy boots know that alligator boots are the most precious boots and they are always on the top of colectors' collections.
With these boots, you'll experience the wild yet sophistication of the distressed styled these boots have to offer.
Aside from the rugged look that alligator boots always have, the accented quarter stitching is a testament to the bootmaker's skilled craftsmanship.
These boots are very well made and offer amazing comfort. They are worth every penny you spend!
Last update on 2023-09-22 / Affiliate links / Images from Amazon Product Advertising API
3. The Nolan from Tecovas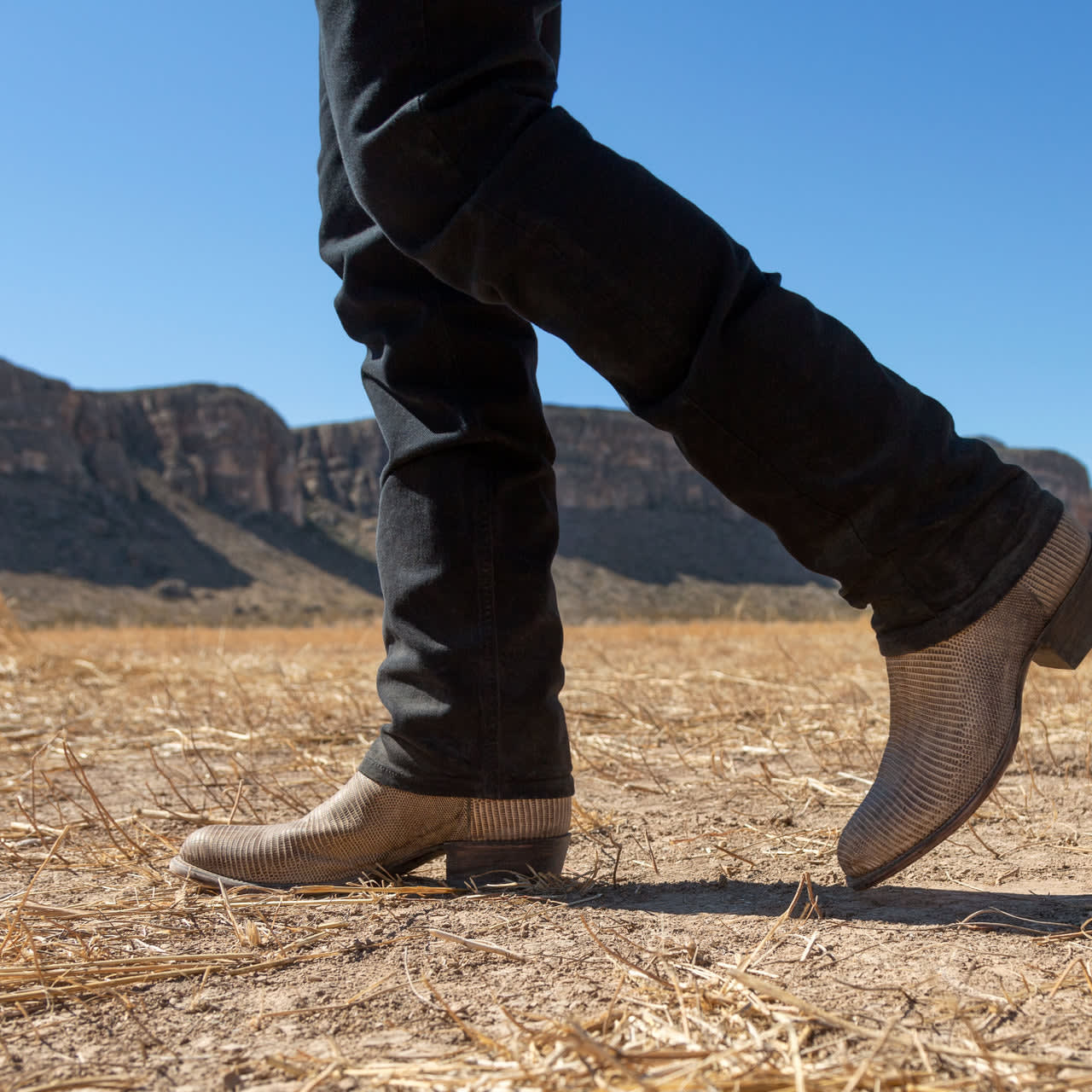 As one of the most innovative and successful product lines, The Nolan by Tecovas deserves to be the treasure of the cowboy boots world.
Made from lizard leather with amazing softness and uniform texture, lizard boots are sure to impress you at first sight.
The Nolan by Tecovas has the construction of a traditional cowboy boot, but the high craftsmanship taken to the higher level, notably its shape.
Round toe shape tapering to the tip delicately combined with a slight curve upwards, these boots make your legs look longer and sharper when paired with jeans.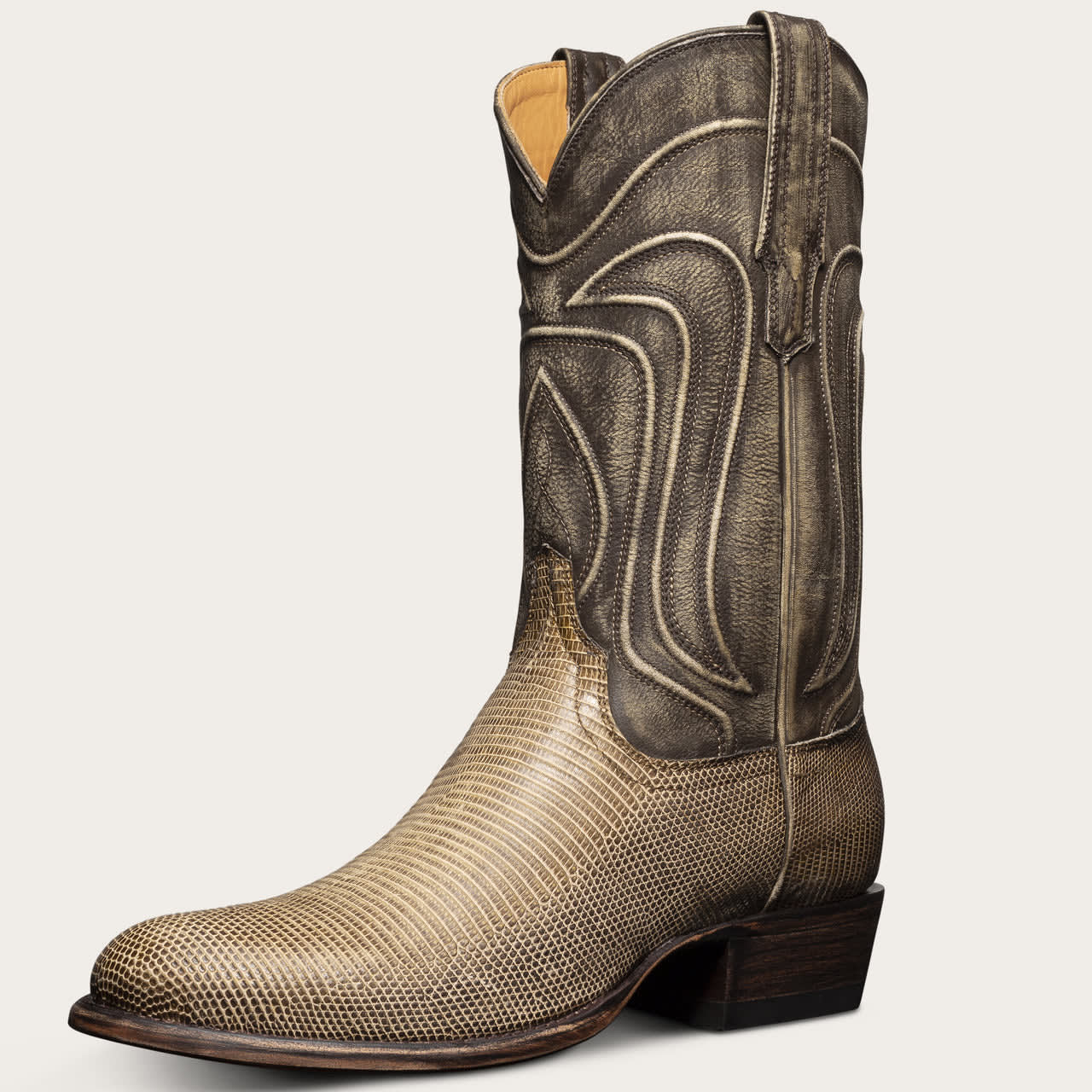 The 1 1/2 inch heel makes you feel taller, but not too tall, which is the standard height so you can work all day and still be comfortable.
The above structure combined with soft lizard leather and textures only lizards possess, become unbeatable.
These boots have many different colors that are enough to cater to many styles. From casual wear with jeans to an elegant look with a suit.
You will decide that style!
4. Dan Post Men's Alamosa
| | |
| --- | --- |
| What we like | What we don't like |
| Soft and flexible, comfortable | Not for high instep |
| Full quill ostrich vamp, leather sockliner | |
| Embroidered details, full-grain leather shaft | |
| Fit: True to size | |
We're back with a pair of ostrich boots, but this time it's not from Tecovas, but Dan Post.
Dan Post is one of the oldest manufacturers of cowboy boots with a traditional style and they also have a great line of exotic boots. Among them are Alamosa boots.
The entire vamp of this boot is made from genuine full quill ostrich. And here's more information for those who don't know, ostrich leather is considered one of the softest and most comfortable leather in the world of cowboy boots.
Besides, ostrich leather itself possesses more natural oils than other types of leather, so it has excellent durability because it is rarely dry or cracked.
That's why I like ostrich leather so much. Alamosa boots will be a great partner to support you for outdoor working when they have both good durability and high comfort due to good softness.
Alamosa also brings satisfaction owing to its unique and impressive appearance with bold and sharp colors.
In addition, the multi-room structure in the toe box (square toe) and stockman heel (easy to balance) will help you work all day long without worrying about the discomfort of cramped toes or heel pain.
Alamosa boots will please you both in the look and the feel.
Last update on 2023-09-23 / Affiliate links / Images from Amazon Product Advertising API
5. The Dillon from Tecovas
It would be no exaggeration to say that everyone should own a pair of cowboy boots made from caiman belly in the house.
And it would be no exaggeration to say that today, no footwear can beat caiman boots when worn with a suit.
And I'm also talking about The Dillon caiman boots by Tecovas. With an elegant look that still retains the wild roughness of the caiman scales, you'll fall in love by just looking at it!
Traditional in style but crafted by skilled hands, The Dillon caiman boots exude luxury in color, shape and spirit.
First of all, the delicate round and oblong toe shapes are even more prominent when adorned with elaborately polished scales.
The 1 ½" cowboy heel is also a great way to make you look taller and more confident when paired with a suit.
One thing I have to admit is that I like the signature textures on the shaft of Tecovas boots, they are soft and subtle. Although not many people show them when wearing these boots, every time I take these boots off, I always look at these special textures for a long time and admire them.
I've always preferred the leather sole over the rubber one, because it also has a sharper look, and that goes great with dress clothes.
Finally, I like the slight upward curve of the toe shape, which can be said to be the specialty of Mexican-style cowboy boots but has been moderated.
Like many other Tecovas cowboy boots, The Dillon is considered to be a very good fit, providing high breathability with the leather lining and taking very little time to break-in.
All the features from color, material to structure and fit have done their job very well and are blended together to create this super product.
6. The Earl Goat Boots from Tecovas
There is one type of boots that I love to wear in the summer – goat boots. These boots have large pores, so they are cool and breathable.
The Earl cowboy boots of Tecovas are such boots, they have breathable goat leather. Plus the leather sole and leather lining, your summer will be more pleasant than ever.
Like shark boots, goat boots also possess a very natural beauty with their the original color and wrinkles that you cannot find in other cowboy boots.
The Earl goat boots are one of Tecovas most successful products and you will be amazed when seeing the number of people who have bought them.
In addition to being comfortable and cool for the summer, these boots don't have a very high heel, just 1 1/8 inch. They also offer good arch support that your feet are very comfortable and not painful due to shock during work.
These are boots that are both beautiful and useful. What more are you looking for?
7. The Prescott Shark Cowboy Boots from Tecovas
As one of the proud products of Tecovas, The Prescott Shark cowboy boots will make you completely satisfied with their ruggedness, strength and durability for outdoor work.
The most outstanding feature of these boots is that they are extremely water resistant and highly scratch resistant. That is the original wonderful characteristic of shark leather.
In addition to the great original character, these boots are very well-crafted and have good arch support, which is not surprising since they are made by Tecovas. Therefore, you will be completely comfortable because it takes very little time to break in.
In addition, the boots have a sharp appearance with very natural rough, wrinkled and folded strokes that only shark leather has.
They are so unique! You can't go wrong with these boots!
8. The Austin Boots from Tecovas
The Austin boots from Tecovas are made for formal or casual wear, so at first glance, you can see the class they exude.
The key to their success is their material, alligator leather! Their scales feature a wild but classy and unique look.
In addition to that impressive essense, the boots get a glossy look, all thanks to the excellent polishing ability of Tecovas.
The construction of these boots is also stunning with the beautiful curves of the bottom (leather sole) and round toe shape.
The attractive stacked leather heel has a color harmony with the upper that you can't refuse.
The Austin boots will shine when you match them with a dress or khakis pants.
And, as always, Tecovas cowboy boots are handcrafted with great craftsmanship to bring superb comfort for all-day wear.
That's all you need in a pair of cowboy boots!
FAQ
What is the softest leather for cowboy boots?
Based on the reviews of many die-hard fans as well as cowboy boots collectors, ostrich leather is the softest leather for cowboy boots.
It is no coincidence that after cow leather, ostrich leather is one of the most loved materials for making excellent cowboy boots. Ostrich leather is very soft, comfortable, and flexible for the wearer. At the same time, ostrich leather is easy to take care of (clean, condition, polish).
As explained above, ostrich leather possesses more natural oils than other leather, so they are softer and less likely to dry out or crack. That explains their softness and durability!
Not to mention that because of the wonderful softness of ostrich leather, bootmakers love to use this material because it is easy to process.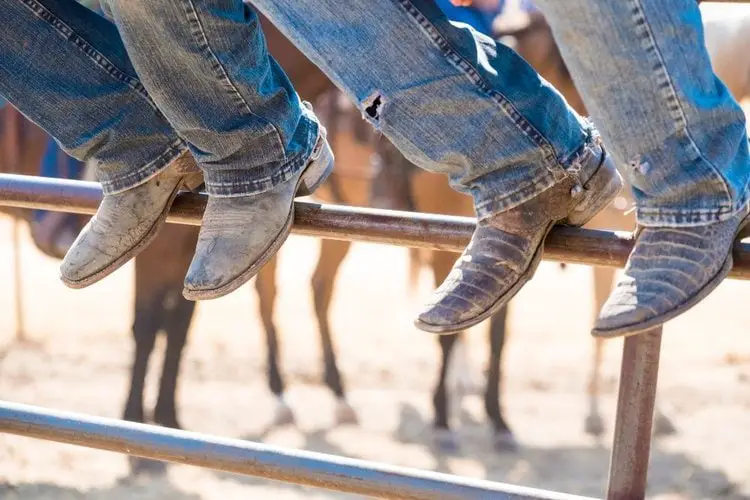 What is the toughest boot leather?
The toughest leather type for cowboy boots is kangaroo leather.
Bulletproof materials were made based on the structure of kangaroo leather. With a structure consisting of many fibers crisscrossing in different directions and tightly interwoven, this kangaroo leather creates the toughest cowboy boots in the world.
If you don't believe it, kangaroo leather is researched by many weapon manufacturers to produce bulletproof armor. Isn't it impressive?
If you need absolutely safe, supple, and durable cowboy boots, then kangaroo cowboy boots should be your choice.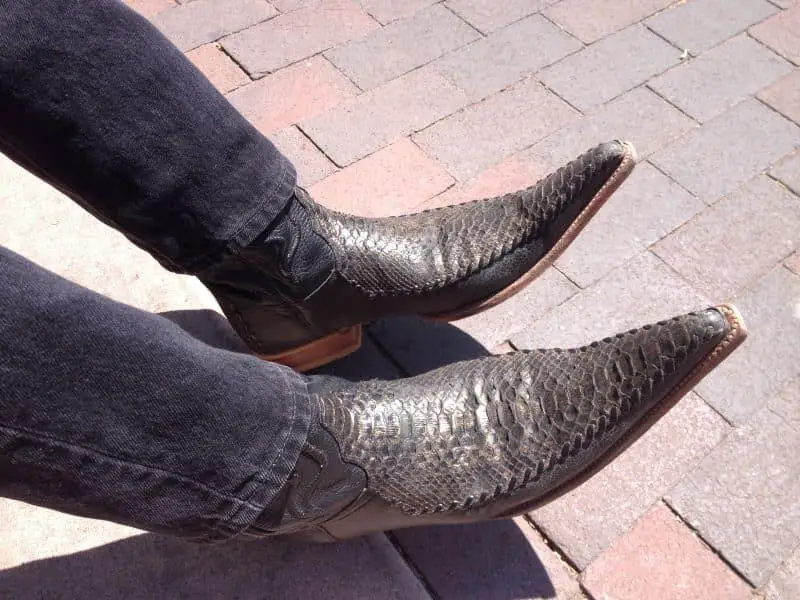 Before you leave
There are many different exotic leather types to create cowboy boots with different styles, appearance, quality, etc.
You should determine your purpose for using cowboy boots to choose the best boots for you (for fashion, working or traveling, etc.)
Each type of exotic leather will have different advantages and disadvantages, clearly defining your purpose will help you choose and get the best experience with cowboy boots.
Good luck!
Howdy y'all, and welcome to From The Guest Room, your ultimate guide to all things Western! I'm Jay Gatz, a lifelong cowboy boot enthusiast with over 5 years of experience in the Western style world. I'm excited to share my knowledge with you and help you discover the perfect cowboy boots and western gear to elevate your style. Let's explore the rich history and timeless appeal of Western fashion together!