The colors of your outfits always matter since they reflect your lifestyle and mood in most cases. This is even more important when it comes to cowboy boots.
Some of my friends have a rather extreme view of the color of cowboy boots that other people should wear. They even have an aversion to men's cowboy boots in flashy colors like bright blue, navy, or white exotic cowboy boots. They think this is too much for their eyes to see.
Well, personally, I am all good as long as the wearers can benefit from what they are wearing, no matter what color it is. When my 16-year-old son wore cowboy boots in the colors of the American flag, I was kind of "wow" (or probably "eww").
But I learned to respect other people's preferences better when my son said he was proud of the country's flag being dyed on the sort of American national footwear like cowboy boots. And he wore these boots during his exchange student trip to Singapore for a year.
Aside from national pride, the color of cowboy boots that you should choose to wear in everyday life needs to be based on the intended use of the wearer, which I will now come up with some ideas to discuss right away.
Let's dive in!
What Color Cowboy Boots Should I Get?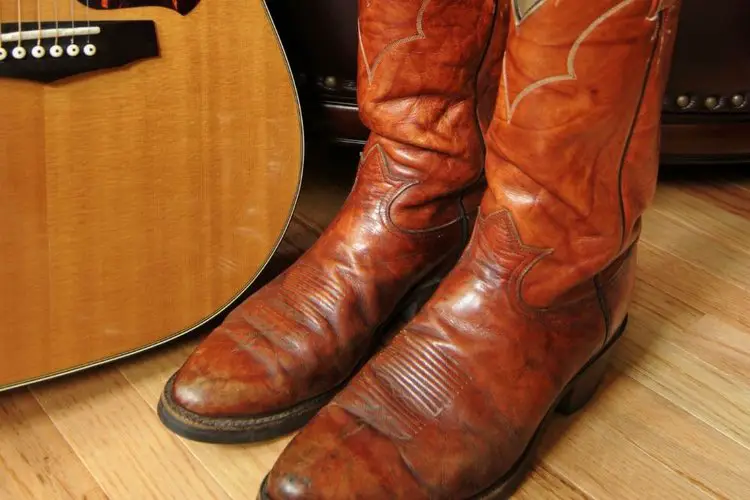 Cowboy boots are considered a chameleon in the footwear world. They won't stop you at any limit of creativity, flamboyance, or swagger.
You may rarely see cowboy boots in monochrome dark shades, but they can be a good choice for a professional business meeting.
If you only had one pair of cowboy boots, you should always choose the color of your cowboy boots based on the purpose of the most frequently worn activity. It could be working at the office or doing daily chores.
The basic colors like tan, black, or brown are always good to go. If you intend to buy many different cowboy boots for different purposes, you may want to check out my recommendations below.
Colors of cowboy boots for heavy abused manual jobs
There are a number of American men doing manual labor-heavy-abused jobs such as construction workers, farmers, or ranchers who prefer to wear cowboy boots as work boots throughout their long working days.
This is due to the fact that mid-calf cowboy boots are capable of providing comprehensive protection for the wearer's feet and ankles from injuries caused by foreign objects being thrown into their legs during work.
In addition, leather cowboy boots are also snake-proof and naturally water-resistant while working around bushes or wet mud. So what color should people doing this job choose?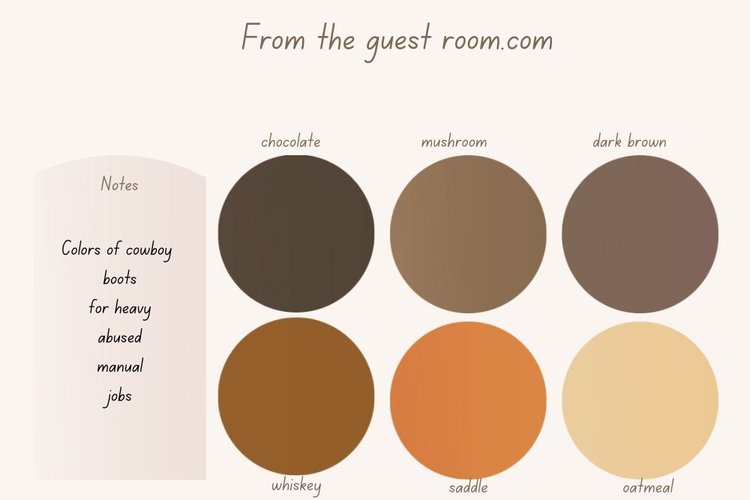 Natural Distressed Colors: This leather material has a color range that ranges from dark to light, such as:
Chocolate color
Color mushroom
Dark brown
Whiskey
Saddle
When it comes to distressed leather cowboy boots, you have more color options to choose from than you think. This leather line is also more durable when heat-treated for an aged and worn-out look across the entire surface.
This will ensure the beauty of the leather upper is still protected against the development of scratches or wrinkles over time due to friction or impact when working. These colors are also very basic and classic.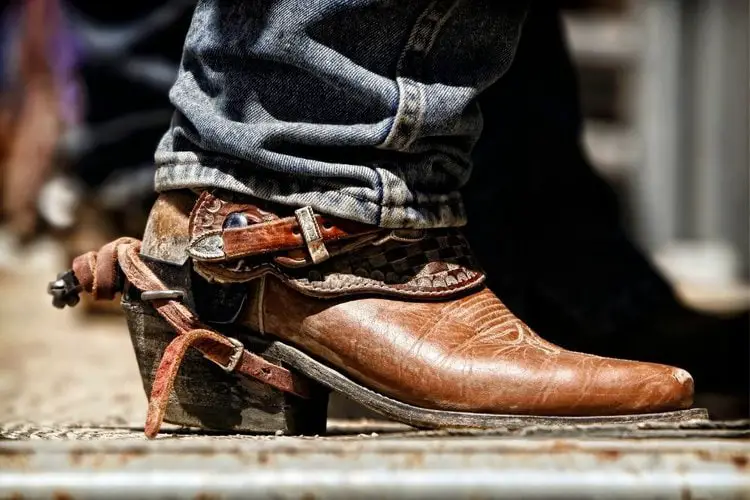 They go well with the majority of work uniform outfits. These colors are also unlikely to become discolored when they come into contact with colored coffee or sauces.
These are also the basic colors of leather polish that you can easily buy anywhere to recolor your cowboy boots.
These colors are also usually the natural colors of the leather after the tanning process. The shoemakers may use less dye, thus ensuring better durability of the material.
Pros:
Authentic and basic colors
They don't show dirt or mud
They are popular and easy to buy
They cover scratches well
They match the uniform
Hard to fade
Con: 
They can be quite a bit boring.
Colors of cowboy boots as indoor business attire
You'll have plenty of subtle and elegant color choices when it comes to picking cowboy boots to wear as part of your business attire. When working in an indoor environment, you may not be too demanding on the durability of the material.
This is because your boots will be less likely to be exposed to external agents that damage your leather cowboy boots. Your boots also won't fade quickly. You can choose colors for cowboy boots that are carefully and subtly dyed like the Cambrian palette below.
Ash
Cinder
Strata
Umber
Lava
Pompeii
Fossil
Vapor
Crater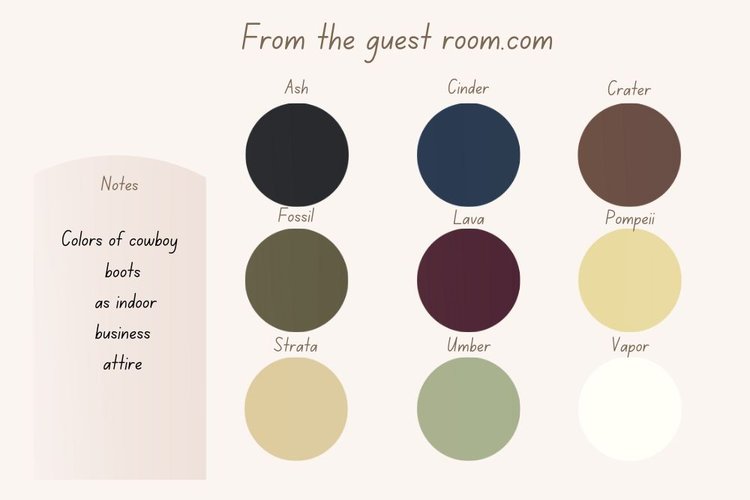 If you think ash is black, you're wrong! They are actually black but have a white sheen instead of a dark black as you might think. This is a pretty classy color.
All of the above colors require high dyeing techniques, including industrial chemicals and natural materials such as natural fats, oils, or vegetable agents.
So they don't give off the smell of industrial chemicals and still retain the natural leather scent—a polite impression you can make on your partner. Keep in mind that men can wear all the colors above, but preferably neutrals or dark shades.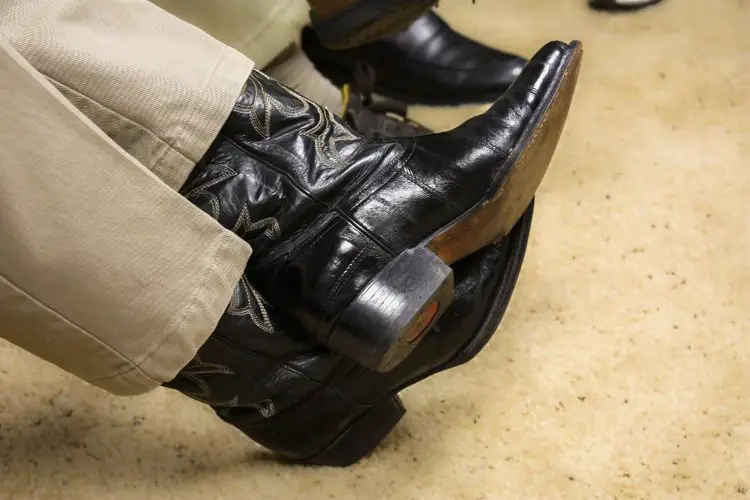 Lava and Vapor colors will be more suitable for women. While these colors are mostly neutral, they are all elegant (and rare). They have the ability to mix and match with any top, bottom, vest, blazer, or shirt for indoor work.
You will look elegant and classy in these tones without having to add too many accessories to your business attire. If you polish these colors, they won't be too shiny if that's not what you need.
Pros:
Polite, elegant and stylish
Doesn't fade easily
Suitable for all office parties
Fits all business attire types
Con: 
Limit the level of the shine of cowboy boots when polished.
Colors of cowboy boots for private occasions
The personalization of cowboy boots for personal occasions like weddings, anniversaries, or year-end family parties can be done with pretty flashy touches.
You almost don't need to follow any rigid rules at work about what you are required to wear. You can even transform yourself into a chameleon with your top, bottom, and footwear using three different color tones.
You can definitely do that, but personally, I don't quite recommend mixing all items that way, especially at your wedding or at big family parties at the end of the year. Some bright colors of cowboy boots you can choose from, for example:
Pink
Lime
Turquoise
Miami Pool Blue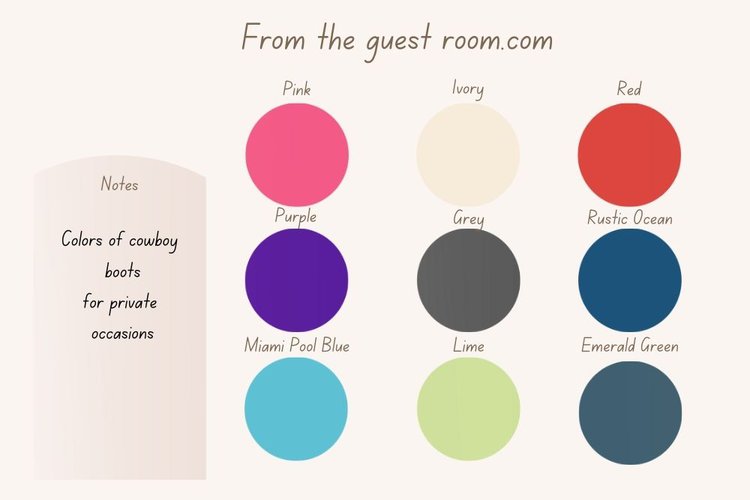 You may want to create a more polite and gentle impression with colors such as:
Rustic Ocean
Emerald Green
Indigo Blue
Red
Rustic brown
Ivory
However, these colors may require different industrial chemicals to create. They are likely to be more toxic to the wearer.
Overall, these are high-end colors and often have a hefty price tag. All of them are unique but equally elegant and sophisticated. Therefore, you may want to pair one of these colors with a ton-sur-ton dress or outfit.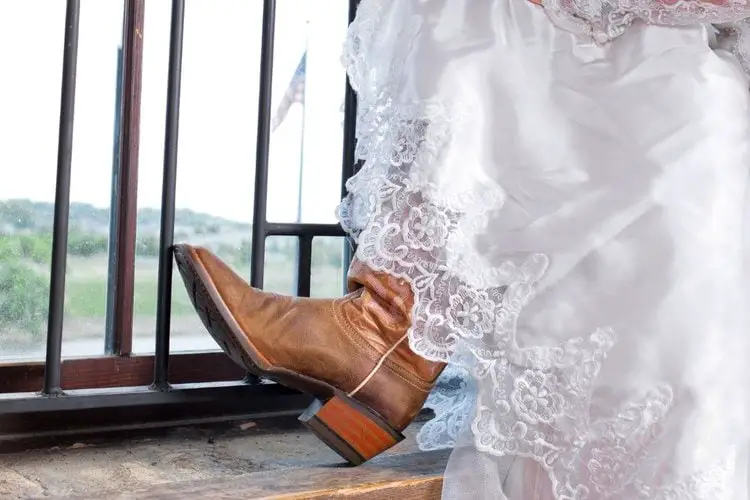 If you wear a white wedding dress, you can wear it in any of the colors listed above. If your wedding dress is colored, opt for solid ton-sur-ton or neutral cowboy boots. You may want a classic pair of velvet cowboy boots in one of the colors above. However, they can quickly pick up dust.
Men can own cowboy boots that are dyed in mixed colors. For example, the boot shaft is painted "Rustic Ocean," while the vamp and heel are rustic brown.
If you can customize your color choice, go for a bright color with a neutral color. This will make you look more elegant and polite.
Red cowboy boots are the best for Christmas night outfits.
Pros:
Excellent color for parties
Match with different outfit colors
They are not easily stained by stains
Cons:
The heavy dying process can release bad odors that are harmful to the health of the wearer.
It's picky to pair with ideal outfits.
Colors of cowboy boots for lavish vibes
It would be remiss if you went to the lavish colors of cowboy boots and forgot about the colors of the real exotic leather panels, making a pair of cowboy boots that can cost an arm and a leg.
High-end customers who often order exotic leather cowboy boots will never want to live a normal life. Their taste is more special and more extravagant than all of ours.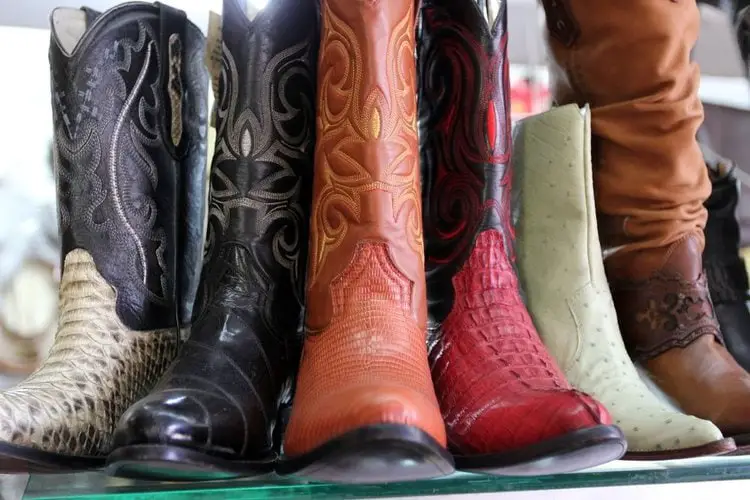 A friend of mine who is a cowboy boot maker in Georgia says that most people who order exotic leather cowboy boots will be interested in the color:
White
Kelly
Sky blue
Fuchsia
Petal Pink
Bone
Gerbera
Pistachio
These people are usually artists active in showbiz. They have a lot of money and they like different styles. Of course, that should be agreed upon by the stylist. But this color shows the novelty and eye-catching-ness of occupying the spotlight while on stage.
Exotic leather is also classy enough to spruce up any flamboyant outfit.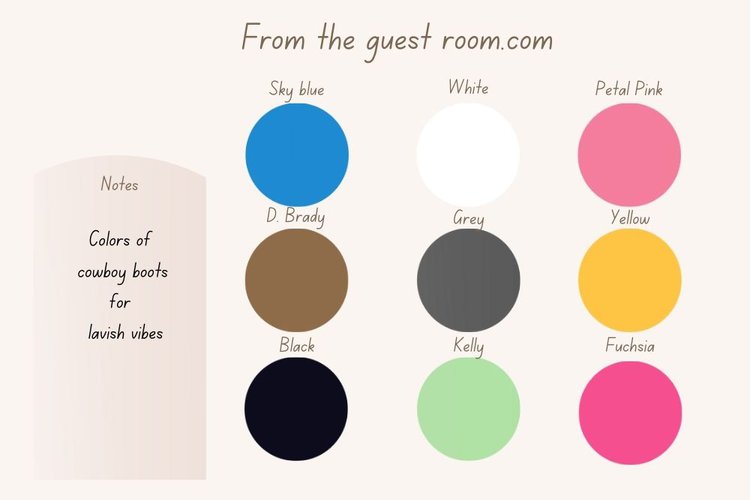 Some darker and more natural colors are preferred by successful business people, such as:
D.Cigar
Kango Taobao
Nicotine
D. Brady
Bordeaux
Barnwood
Black
Chestnut
Dark oryx
Gray
These colors on the background of genuine exotic leather bring an excellent sense of class and power. You can polish colored cowboy boots made of crocodile, stingray, or snakeskin, but you may not be able to do much with rough exotic leather surfaces like ostrich leather.
The class of this leather line is that no matter what color they are dyed, they seem to make a Rolex watch, Armani suit, or diamond ring more dandy and extraordinary.
Pros:
Expensive with an extremely dedicated finish
Show power and class
The right color for every expensive outfit
Con: 
Needs regular cleaning and maintenance along with exotic leather.
Colors of cowboy boots based on fashion styles
The colors of cowboy boots based on fashion styles should never be monochrome since there are thousands of styles out there. However, you need to choose the color of cowboy boots based on the color of the outfits that you will wear.
If you are aiming for a vintage, bohemian, or hippy style, the colors should be in the neutral range and you should add some rustic touches with an aged finish. The color should also not be glossy, but come with some matte finish, showing a dense vintage look.
You can combine it with a white chiffon skirt with nomadic motifs. In some cases, all you need is a boho necklace with one of these colors, cowboy boots, a real boho, and vintage vibes that radiate from you all over the air. These are the colors: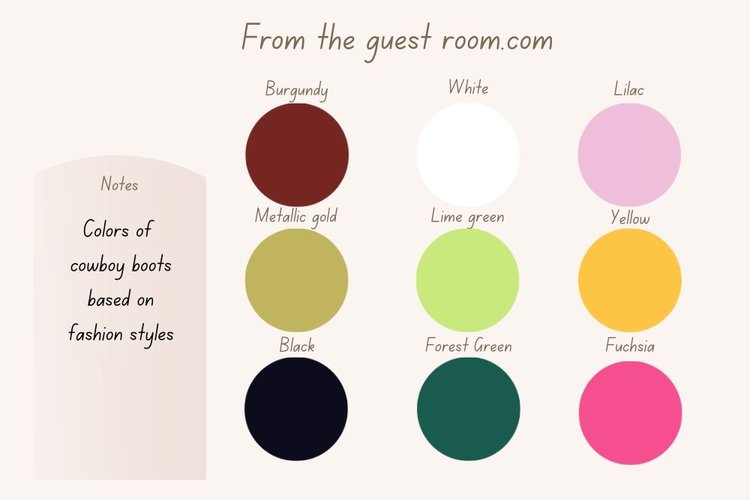 If your style emphasizes sophistication and classic elegance, you should go with a glossy finish and have dark shades of cowboy boots.
These are all colors that represent elegance, classicism and sophistication. They go well with any classic outfit whether you adopt the ton-sur-ton rule or not. These are the colors:
A mix of black and white
Turquoise
Forest Green
Even Jade (but not very often)
Asty's style is almost a mix of modern Boho and flashy colors. It allows you to mix any color together, even without rules, as long as it looks eye-catching (but if you follow the ton sur ton rule, your outfits will look more elegant).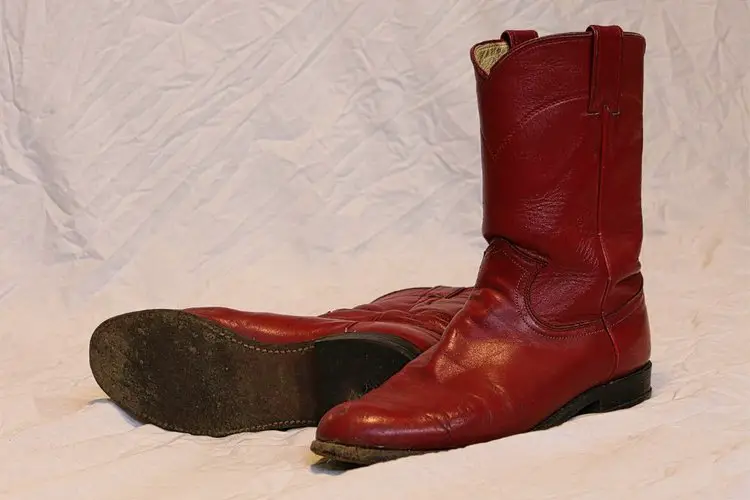 For example, the color of cowboy boots with this style will need to be as bold and bright as possible.
Lilac
Lime Green
Red
Fuchsia
Purple
Even dark yellow
Grunge style will probably want you to stick with super dark colors like dark black or dark brown. If you want to add some extra touches to your Grunge outfit, here are the colors you can go with:
Metallic Silver
Metallic gold
Forest Green
Pros:
A wide range of color choices
Fit well with the style
Con: 
It may require some special order to get one of these colors.
Can you wear black cowboy boots?
Yes, black cowboy boots are the most basic color that you can choose to put on with your outfits.
They are also suitable for any indoor or outdoor environment, but will not be too suitable for heavy-duty environments containing many industrial chemicals. This can fade your black cowboy boots quickly.
Besides, if you work in an office, you'll probably want glossy black cowboy boots rather than a matte finish. They give a more polite and professional appearance, especially if you work as a senior financial advisor or banker.
If your boots are exposed to dirt and stains, it's easy to remove them.
The black color is also great for making your legs look slimmer and more elegant. They also fit all kinds of outfits.
Final thoughts
You can have hundreds of color choices when it comes to cowboy boots. However, keep in mind that the brightest leather colors may require the use of a denser dye, which reduces the life of the material. Meanwhile, more natural colors like tan or brown will be more resistant and resilient to heavy abuse.
Howdy y'all, and welcome to From The Guest Room, your ultimate guide to all things Western! I'm Jay Gatz, a lifelong cowboy boot enthusiast with over 5 years of experience in the Western style world. I'm excited to share my knowledge with you and help you discover the perfect cowboy boots and western gear to elevate your style. Let's explore the rich history and timeless appeal of Western fashion together!