If you are a lover of cowboy boots and you feel most comfortable and confident in them, then you need not worry about whether cowboy boots can really be worn as business attire.
The answer is yes, cowboy boots can completely become a part of your business casual.
Back in the 80s and 90s, office clothes always imposed a certain "disaster" standard with a white shirt, black trousers, and a pair of lace-up western shoes.
But in this 21st century when creativity and style with politeness and confidence are highly appreciated values in business, cowboy boots are no longer strange items to many people when combined with their business clothes.
These days, business casual is no longer synonymous with being in a "disaster" look as before, it's more of an outfit that shows politeness and confidence.
And cowboy boots with the right combinations will surely bring you confidence, style, courtesy as well as comfort in business.
Can Cowboy Boots be Business Casual?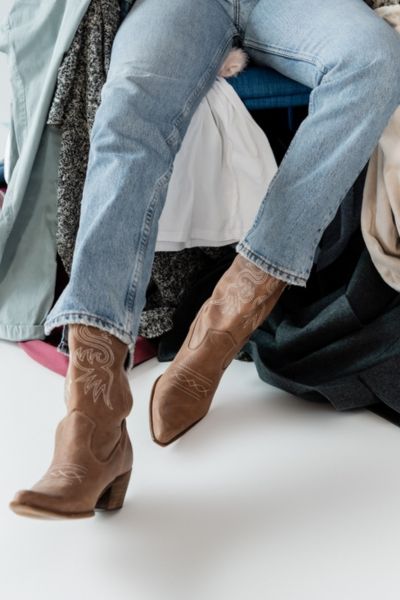 Yes, I firmly believe. Most of today's free trade businesses worldwide accept cowboy boots as part of business casual wear if you know how to include them right.
Unless you are working in government agencies, military, police, or security agencies who need to be provided with different types of suitable and highly protective footwear.
Remember, wearing cowboy boots with a distinctive V-shaped collar, wide shaft, and tapered wooden heels improperly with business attire could lead to awkward and embarrassing situations in a professional setting.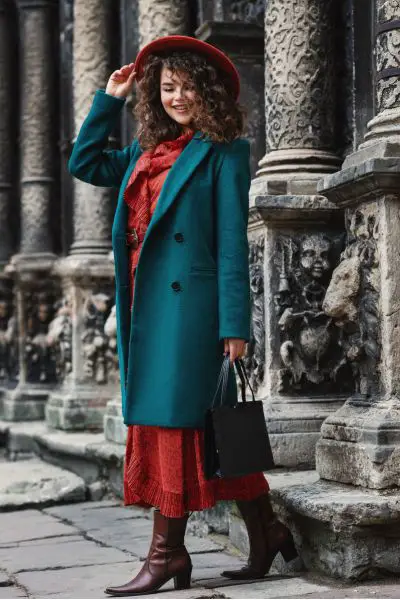 I hope no one will have to face that embarrassment in business but it's better to prepare for the worst scenarios by reading our complete and detailed instructions below:
Women Cowboy Boots Outfit Ideas for Business Casual
Honestly, women's business casual wear has a lot of different styles that match cowboy boots.
They also have dozens of types of pants that can easily conceal the boots inside without sacrificing styles. You can still reveal the boot's vamp that is made from genuine exotic leather in the most stylish and polite way.
The choice of pants/skirt is the most important decision to pull off cowboy boots, I believe. But we also come up with some women's work shirts for your overall look with cowboy boots.
When in office environments, we recommend hiding the boot shaft inside your pants for two reasons.
One is not to become too noticeable and distract others while working.
Second, leaving pants over the boots will make you look neater, more polite, and more organized in the eyes of most people. This creates a very good "first impression" in business.
Now let's take a look at these trousers and shirts that are perfect matches with cowboy boots.
1. Women Dress Pants
These are incredibly powerful trousers for any businesswoman on the go. Most women's dress pants have a slightly skinny-fitting shape and usually have a maximum length around the ankle.
They're crafted from a variety of comfortable, 4-way stretch materials that provide wearers with the desired freedom of movement as well as a lot of standing up and sitting down every day while at work.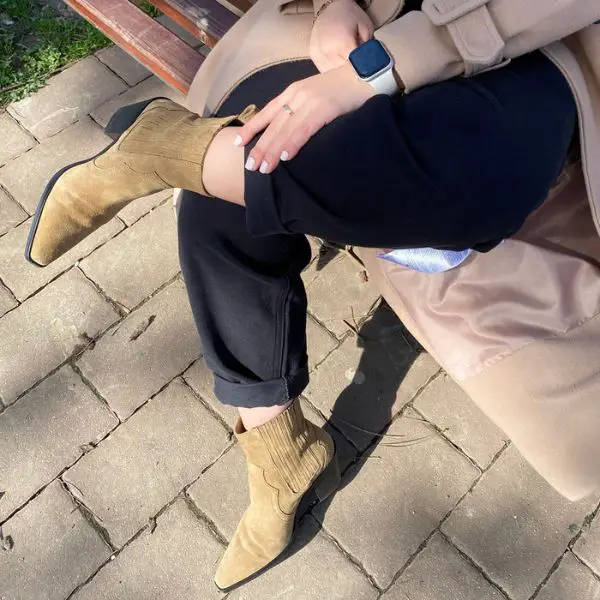 These pants come in a variety of colors and textures, from solid colors to stripes, polka dots, diagonal stripes, or checkers.
And the place where your trousers meet the legs is the real game-changer. Now is your cowboy boots' turn. I recommend wearing a pair of polished ankle cowboy boots.
You can choose for yourself a pair of cowboy boots with an upper made from crocodile or python skin with impressive natural leather textures.
If you wear dark dress pants with patterns on, it's better to choose a pair of black cowboy boots.
If you have pants in light solid colors like light brown or green, you can opt for tan or coyote suede cowboy boots or a pair of dark brown leather boots.
If your outfit is way too colorful, choose a pair of dark boots (like black or dark brown). If your outfit is quite monochromatic, you can choose boots that are 1-2 tones lighter than your overall outfit.
2. Skinny Trousers
Skinny pants have a shape in the eyes of many people that may not be too professional or polite. Their designs fit the legs tight and expose the full curves of the wearer's buttocks and legs.
If you don't pick the right type of pants with cowboy boots, then you can be considered rude when wearing skinny pants in business.
First, stay away from skinny pants made of super stretchy cotton that don't have obvious trouser lines. These pants are more like pajamas than to be worn to a meeting.
The thickness of the material also affects your overall style when wearing them. If it is too thin, the pants will not create a strong professional figure for the wearer.
Choose materials that are moderately thick and have a 4-way stretch. Stay away from satin or matte finish as they can show off your curves in a less subtle way. This will sometimes be quite embarrassing at work.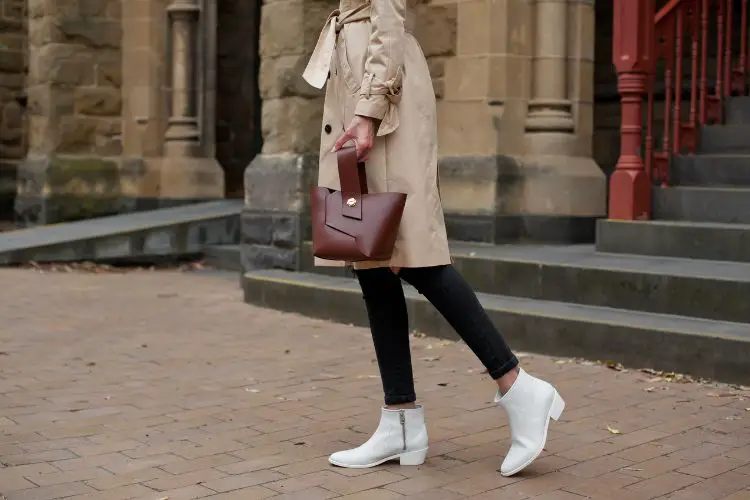 Most of us can't wear cowboy boots under skinny trousers because the width of the legs is relatively small.
So the smartest choice is to wear it with ankle cowboy boots. A pair of cowboy boots with a 2-inch heel in a traditional design will still look sophisticated.
I suggest you always wear black skinny pants. That way, you always look neutral on them as well as you can team well with light brown suede, polishable decent black leather, red chestnut leather, brown nubuck or even white cowboy boots.
If you don't feel very confident when showing off your full butt with skinny pants at work, an office women's suit/blazer that is as long as your butt or past your butt will be a great aid.
3. Wide Leg Trousers/Jeans
This type of trousers/jeans makes an excellent team with cowboy boots. Either long shaft or short shaft boots, it is all good.
A special feature of these pants is the two wide legs that gradually expand in the A-shape from the top down. Sometimes you will feel the pants are quite showy and don't hold up well.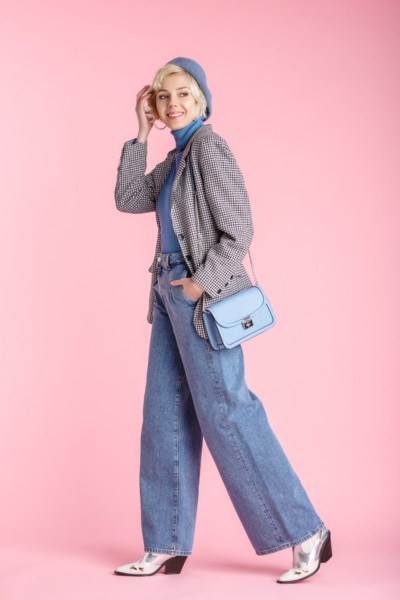 But the truth is, the pants often have a standard fit around the buttocks and hips along with the wide-leg shape that makes you look significantly taller and slimmer.
You can wear wide-leg pants with any type of cowboy boots for the office environment. It is all suitable when you can hide the boots under the pants in a very delicate way.
The loose design of the pants makes people not pay too much attention to the bulging boot inside, but only to the luxurious vamp that appears outside.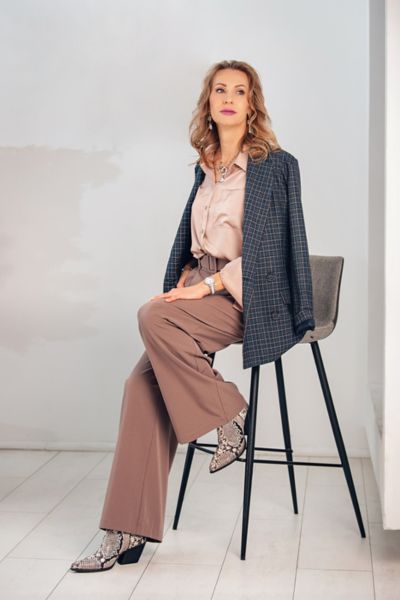 Let's just be the most prominent and powerful businesswoman with a pair of cowboy boots that have designed crocodile skin, python skin, or special textured leather vamp.
The slightly pointed toe design is also quite suitable for office environments as it will bring you a professional and elegant look. The heel height of 2-3 inches can make you look taller and prettier.
4. Straight Pants
The idea behind straight trouser pants is no different from wide-leg pants. The only difference is that these pants have a wide leg that goes straight down, instead of extending in an A-shape downward.
So the design of the pants is quite convenient and does not feel smudged or entangled but still makes the legs look slimmer and longer.
You can choose pants that are ankle-high or extend beyond the ankle.
Choose a pair of cowboy boots that are as tight as possible when worn with straight trousers. Due to the wide shaft, the possibility of revealing the bulging boots underneath the pants is quite certain.
Mix straight trousers with a pair of high-heeled cowboy boots from 2-3 inches. You should choose a small and elegant heel design that will help the overall body look taller and more refined.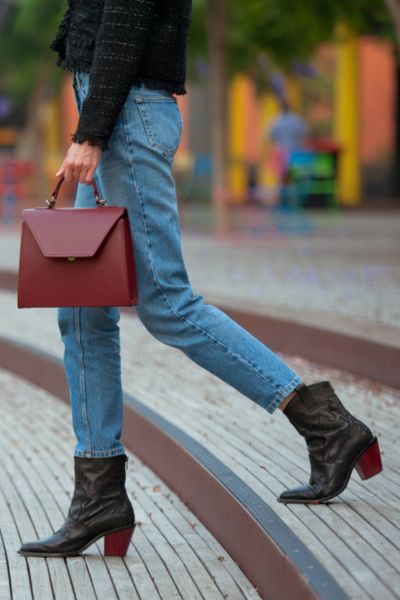 This pants design is quite popular with solid colors such as black, light brown, white, or blue instead of printed patterns on the pants.
The 3 safest and most agreeable colors of cowboy boots to wear with any straight trousers are polishable black leather/suede, brown suede/leather, and tan suede.
5. Bootcut Pants
Jean bootcut pants are a great combination with cowboy boots. But we barely wear jeans in a professional setting (without exception).
Therefore, if you really love this delicate and sexy trouser shape, you should choose for yourself black or white designs sewn on less stretchy fabric for business purposes.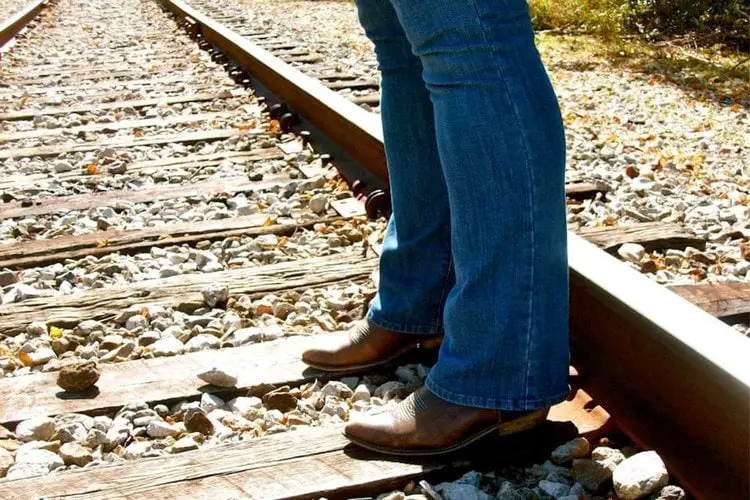 With black or white bootcut pants, you can team them with black, dark brown, or burgundy leather cowboy boots.
The vamp design once again becomes a game-changer to express your personality, style, and power. Choose pointed toes as they look sophisticated and are also more suitable for professional environments.
If your cowboy boots are too wide to fit inside the pants, there are two options for you. One is to choose a pair of 11-inch cowboy boots that hug your feet as much as possible.
The other is to go with ankle cowboy boots and you're free from the hassle of trying to keep your boots tucked under your pants at all times.
6. Midi Skirt Elegance
Midi skirts are a timeless choice for businesswomen who appreciate a touch of elegance. You can opt for a midi skirt in solid, neutral colors like black, navy, or gray.
Pair it with a stylish sweater that complements the color of your skirt. Look for sweaters with a polished appearance, such as those with a structured neckline or a tailored fit.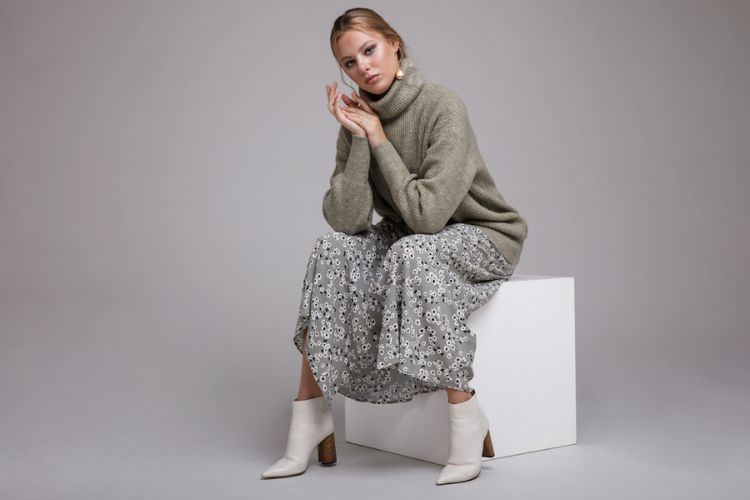 To keep warm and stylish, layer a cozy sweater over your skirt. Consider accessorizing with a statement belt to cinch the waist, adding a touch of sophistication to your outfit.
Complete this refined look with a pair of leather or suede cowboy boots that harmonize with the color of your skirt and sweater.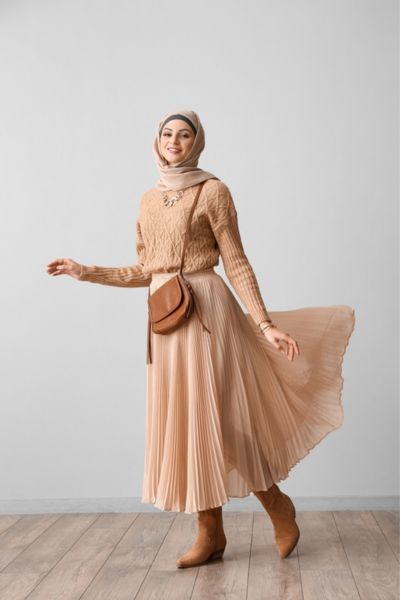 This combination exudes professionalism and style. Remember, when creating this outfit, stick to a color palette of two shades or less to maintain a polished appearance.
7. Maxi or Midi Dress Chic
Maxi/Midi dresses can also make a statement in a business casual setting. Look for a maxi or midi dress with a tailored silhouette, perhaps cinched at the waist with a stylish belt.
You can choose a solid-colored maxi dress, such as deep burgundy or a rich navy blue, for a more formal touch.
Pair your maxi dress with a stylish cardigan, blazer, or a light coat, depending on the weather and the formality of the occasion. These outer layers can add sophistication to your look while keeping you warm.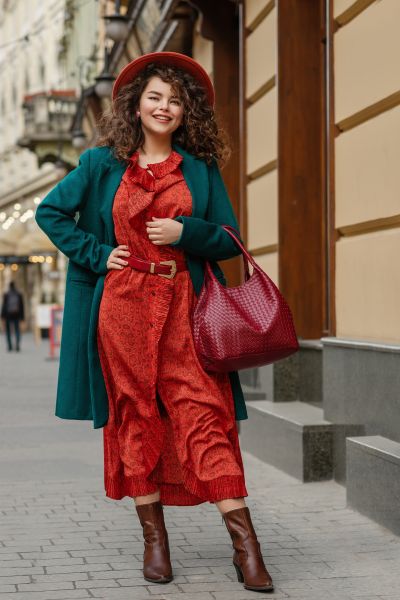 Pick a pair of coordinating leather or suede cowboy boots to complement the colors of your dress and outer layer. Remember, simplicity is key.
Stick to a two-color rule to keep your maxi dress ensemble sophisticated and business-ready.
This elegant combination allows you to maintain comfort, style, and professionalism in a business casual environment without the need for a blouse.
8. Split Skirts and Dresses
Split skirts and split dresses bring a touch of contemporary elegance to your business casual wardrobe.
Opt for a midi split skirt or a maxi split dress in solid, neutral colors like black, navy, or gray.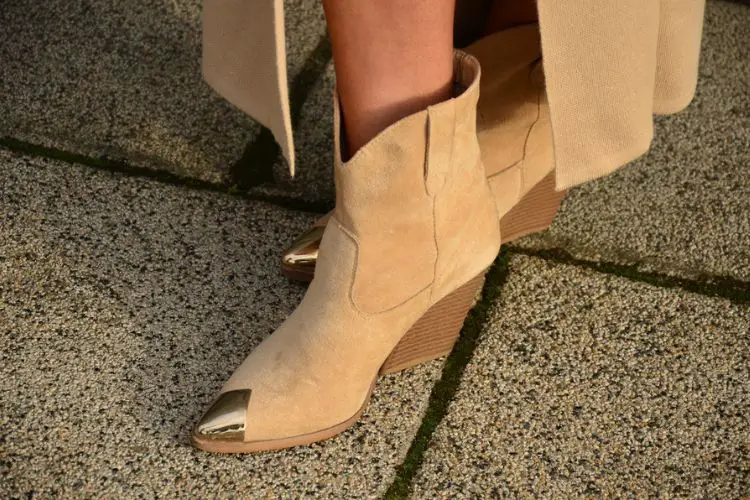 Whether you choose the split skirt or dress, complete your outfit with a pair of leather or suede cowboy boots that harmonize with the colors of your clothing.
Stick to a color palette of two shades or less to maintain a polished appearance.
The split in the skirt or dress adds a contemporary touch and a hint of movement, making your business casual style unique and refined.
9. Women Dress Shirts
This shirt type is one of the most common business attire for women. It appears with a noticeable button-up design. Women tend to wear slim fit or regular fit at work that can show their curves in a very professional way.
Besides, you can pick yourself collar designs that show better politeness such as spread collar, tuxedo, or oxford type.
If you are dressing up your office outfit with either dress pants or any kind of trousers we have mentioned above, it is perfect to match with white, black, and neutral-colored dress shirts.
Now, let's put them all together! We recommend mixing tops, pants, and cowboy boots in a ton-sur-ton fashion.
This means, there should be at least 1 seamless gradient between 2 of the 3 items to make the overall outfit more cohesive and beautiful.
For example, if you wear black leather cowboy boots, you should wear either a black & white dress shirt or something that is black attached to your shirt. You can wear it along with either black pants or other neutral/solid colors but you shouldn't go for more than 2 colors for the whole.
One more thing to keep in mind is that any kind of women's work shirt should be tucked inside the pants/skirts to make you look neater and more professional.
10. Blouses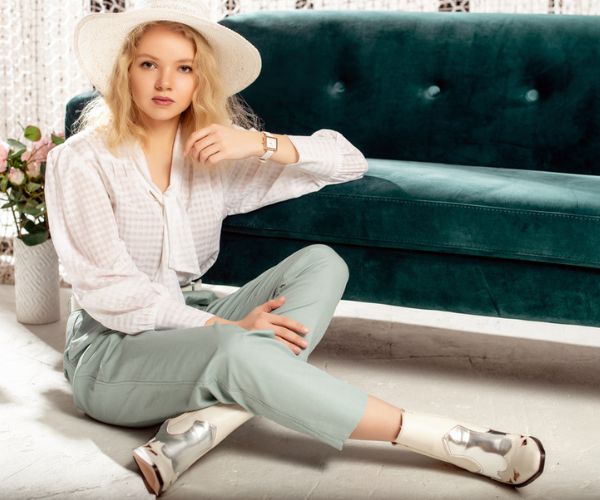 Many businesswomen love blouses as they are perfectly comfortable and stylish. These types of topwear represent the symbol of feminism and class.
You can either go with ruffles, laces, or asymmetrical details, as long as your blouses come with long sleeves and a proper closed collar design.
This type of shirt can be easily matched with dress/ straight /wide-leg/ skinny/ bootcut pants. If you go for black/white pants, it is all okay to team with either white/ black/ neutral/ solid-colored blouses.
In this combination, you can pick a pair of leather/suede cowboy boots that possess the same color as your blouses.
Don't forget the rule of not using more than 2 colors in total.
11. Sweaters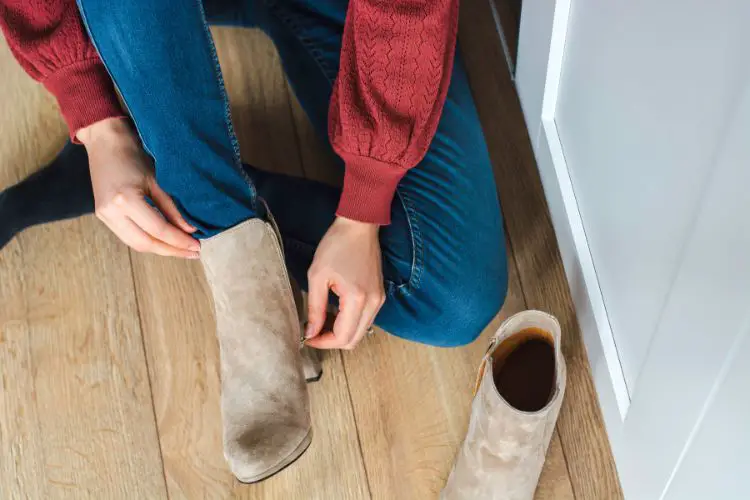 This item is indispensable for autumn or winter. If you are living in cold places, you probably will have to wear it more than 2 or 3 seasons every year.
Sweaters are usually machine knitted or hand-knitted from yarns.
You can wear the oxford style by combining a collar dress shirt on the inside and a round neck sweater on the outside, with cowboy boots of the same/closed color as the shirt. You will look extremely well-groomed and polite.
Always choose solid colors for work sweaters with a closed neckline and long sleeves. You usually won't tuck a sweater into your pants, so choose an appropriate length that makes you look professional and neat.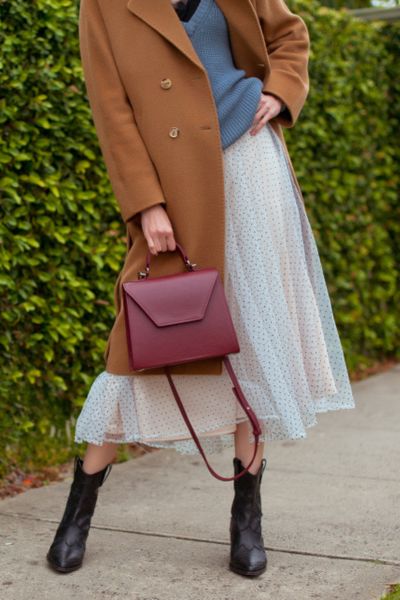 Also, here are some ideas for matching cowboy boots in the winter for women!
12. Women's Suit Set/ Blazers/ Jackets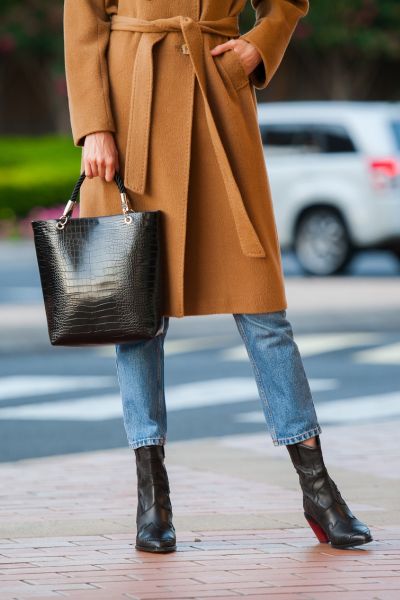 The women's suit set is perfectly professional. Sometimes, your suit comes with straight pants, sometimes dress pants or even bootcut pants but never skinny type. They are all good and make you look appealing and polite.
With this set, you don't need to spend time thinking about how to mix and match the colors. They are all in a set. Your job is to pick the right cowboy boots' colors to put them up together.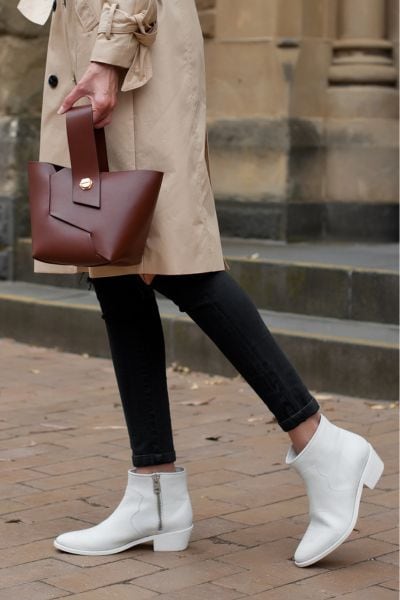 If you don't know which color is the best, simply just go for black/ dark brown/ dark chestnut boots.
Blazers have the most similar design to the suit. The biggest difference is the look of button-up lines on the front of the suit/blazer. But anyway, they are 99% the same, so you can mix them the same way with cowboy boots.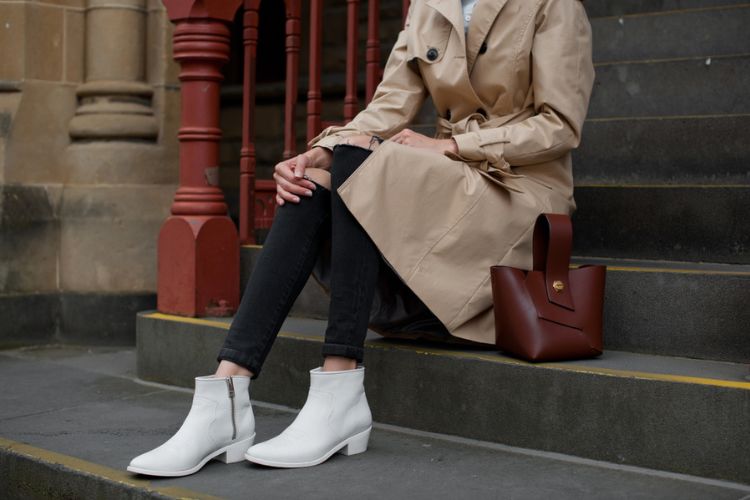 Jackets are another item for autumn and winter. Women tend to wear thin jackets more often than men, especially in the office.
Pay attention to the patterns, materials, and colors of the jackets. Keep in mind that minimalism is the key to business attire.
Let's just do ton-sur-ton between cowboy boots and other items properly.
13. Necklaces and Handbags for the Perfect Finish
Elevating your business casual attire is all about the details. To add a touch of sophistication to your outfit, consider the right necklaces and handbags.
Choose necklaces that strike the perfect balance between style and professionalism.
Delicate, layered necklaces with simple pendants can add a subtle charm to your look without overwhelming it.
For a bolder statement, opt for a single, elegant statement necklace that complements the colors in your outfit. Consider classic materials like gold or silver for timeless elegance.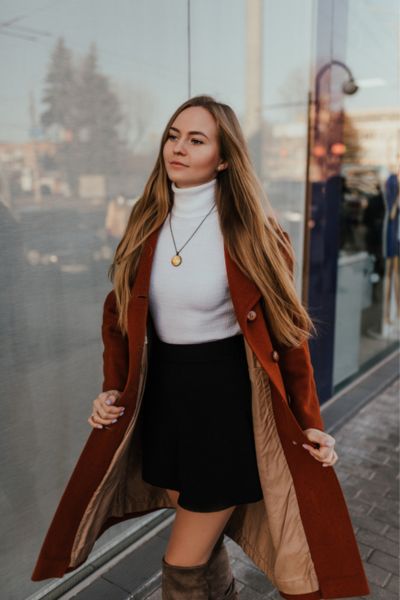 A well-chosen handbag can be both functional and stylish. For a business casual look, opt for a structured, medium-sized handbag that matches the color palette of your outfit.
Classic styles such as a purse, tote or clutch can effortlessly carry your essentials while maintaining a professional appearance. Ensure it's well-organized to keep everything you need at your fingertips.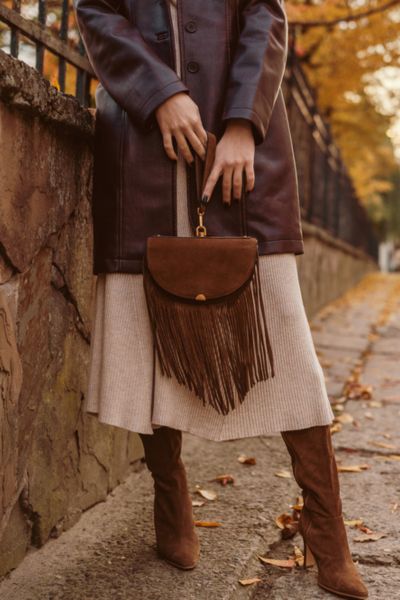 To tie it all together, select necklaces and handbags in colors that harmonize with your clothing. This harmonious pairing enhances the overall refinement of your outfit.
With the right accessories, you'll not only look professional but also feel confident as you go about your business, making a memorable impression in the world of fashion and the Western lifestyle.
What Types of Cowboy Boots for Women to Wear With?
There are a few small (but important) considerations when choosing cowboy boots for women's professional attire:
Express your personality through the pointed-toe design. This is acceptable.
Ankle cowboy boots will be a great decision if the tall-shaft cowboy boots are too difficult to hold inside the pants.
You can either tuck high-collar cowboy boots inside your pants or vice versa. This is acceptable as long as it has a properly well-groomed and ton-sur-ton look.
Go with basic and elegant colors such as black, brown, or chestnut. Suede is highly recommended.
Small, pointed heels that are 2-3 inches high can make your figure appear slimmer.
If your cowboy boots have wooden heels, use some rubber heel stickers to reduce noise when you walk your boots on the floor.
Men Cowboy Boots Outfit Ideas for Business Casual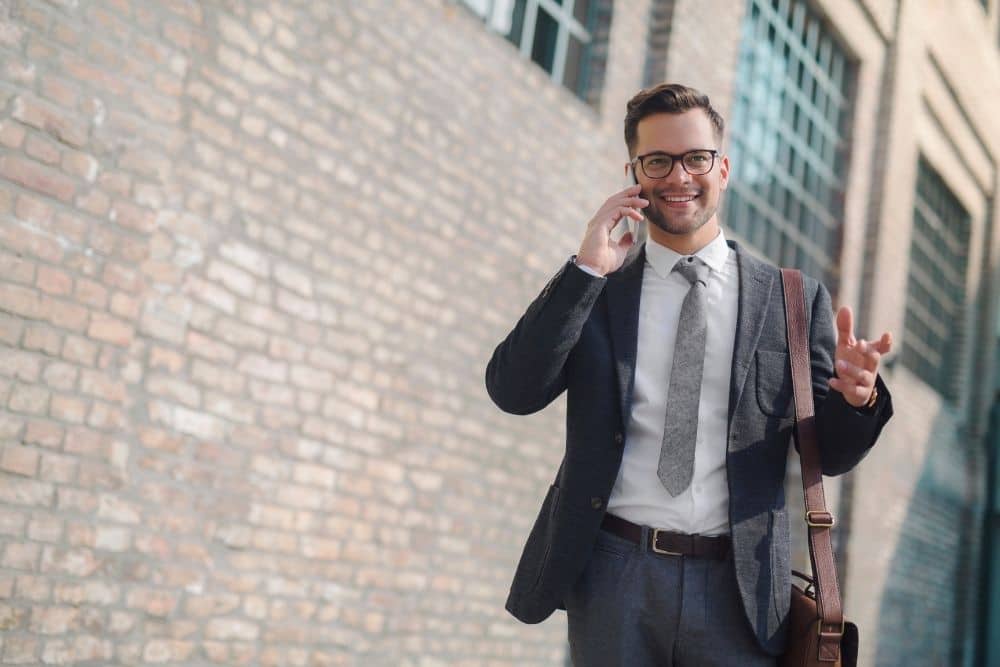 Just like with women, when combined with cowboy boots, pants are the most important item. If you've picked the right pants with your boots, it's easier to wear whatever tops you're wearing.
Men do not have too many choices in office style. Most often wear dress shirts and dress pants.
So how to be stylish but still polite when wearing cowboy boots? Here are the most suitable items for men when combined with cowboy boots in office style.
1. Khaki/Chinos Trousers
Khaki or chinos pants are very popular types of office pants for men. They are made from Khaki and chinos or are slightly modified to provide optimal absorbency and stretch for the wearer, especially in hot weather.
Most khaki pants come in solid colors such as light brown colors and variations while chinos come in a wider variety of colors such as black and brown.
These trousers are provided with a variety of fits from skinny fit, slim fit to loose fit. If you are wearing them with cowboy boots in business, it is better to find a way to tuck the boots inside the pants. So, we recommend regular fit, relaxed fit, or loose fit with straight legs.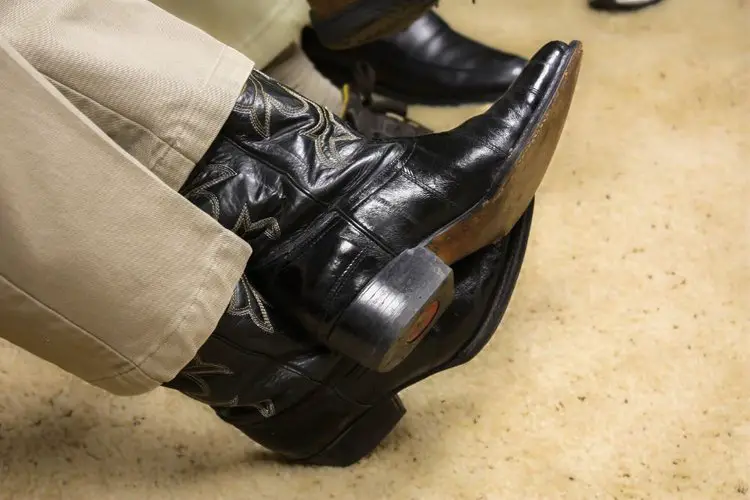 In addition, the choice of roper-style cowboy boots is considered more polite and suitable for business than high, small, and pointed heels. A heel height of about 2 inches is relatively ideal.
The design of the toe is also very important because it is the only style statement that lets others see how beautiful your cowboy boots are. Choose a regular square, wide square, and forties square toe design that will make you look taller and more refined.
Regarding the color of cowboy boots, you can choose from basic colors such as black, brown, or dark burgundy. But we recommend black and brown because these colors are quite easy to coordinate with other outfits.
2. Dress trousers
Dress trousers have a shape that is not too different from khaki pants with many similar fit styles. But dress pants are often made from more stretchy and absorbent materials with various patterns on the pants like dots or stripes.
Most dress pants are moisture-wicking and more comfortable than khaki/chinos pants in hot weather.
The general rule of thumb when wearing cowboy boots in a business casual outfit is to always hide the boots inside your pants. This will make your style optimal and polite. Your partners also don't lose focus or have certain prejudices because of your outstanding footwear.
The color of cowboy boots when worn with patterned dress pants should be black and solid brown, regardless of the color of the pants.
The recommended material for the boots is high-grade genuine leather that can get polished. A proper glossy look sometimes becomes a requirement in business uniforms or is for you to appear cleaner and more organized in a meeting with partners.
The 1 1/2 in block heel design is most appreciated because this is a common image that shows professionalism and integrity.
3. Dress shirts/Polo shirts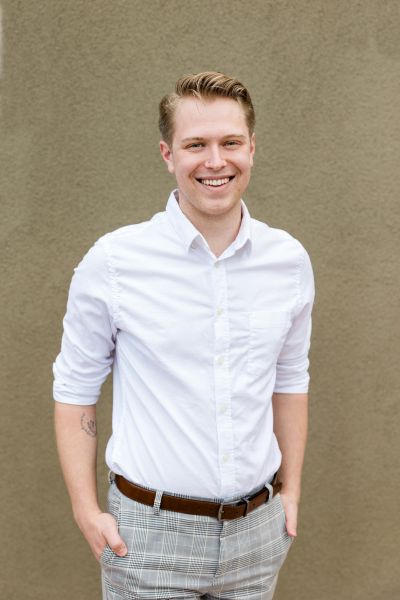 Most men wear dress shirts as business casual attire, especially if your work requires you to stay in the office for the whole 8 hours long. This type of shirt can give a little rigid look but also bring up a great professional appearance.
It may be difficult to figure out the differences between some dress shirts. The game-changer is about their collar design. You can either go for a point collar, club collar, spread collar, tab collar, button-down collar, or banded collar.
Besides, the shirts that possess a pocket on the chest will be a bit mature while no-pocket shirts are way more modern and energetic. Dress shirts are required to tuck inside the pants all the way.
Polo shirts with a very sporty look can be acceptable in some offices as long as the buttons at the collar are closed appropriately and politely.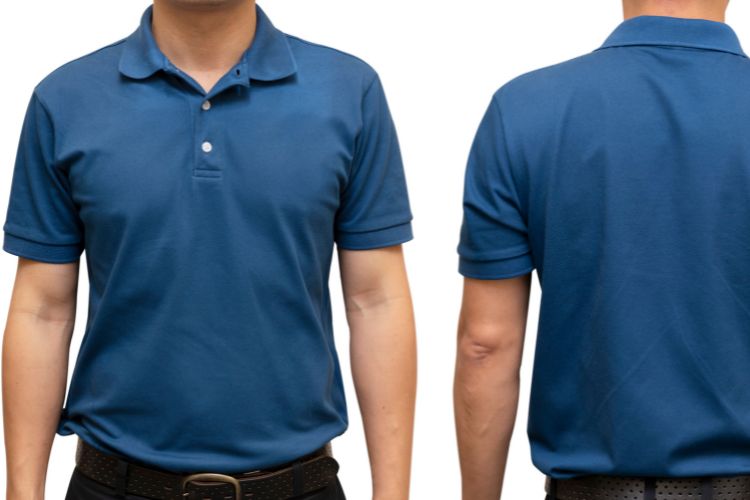 Many of you will match dress shirts/polo shirts with regular-fit or loose-fit dress pants as we've recommended above. Any outfit can match well with black/brown/Bunbury leather cowboy boots.
4. Men Suits/Blazers
Do you think you can't wear cowboy boots with business suits? Actually, you can!
Suits and blazers are one of the most welcomed business attire as they reflect real politeness and professionalism. You can wear either T-shirt or a dress shirt inside your suit/blazer but dress shirts are more appreciated.
In fact, suit pants are not much different from dress pants in terms of fit, materials, and how they can match a white shirt, vest and suit.
Most suit pants have a relatively straight leg and are a regular fit and a loose fit. So when wearing cowboy boots, you can easily hide the boots under the pants.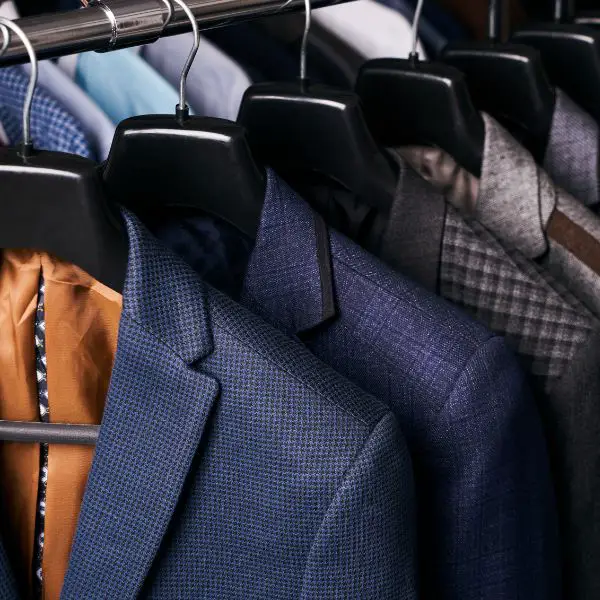 If you wear a black suit with a pair of polishable black cowboy boots that possess exotic snake or crocodile leather vamps, it will be extremely impressive and classy.
Light solid-colored suits can be matched better with dark brown, light brown, or dark chestnut.
If cowboy boots are 14-16 inches tall, which makes it more difficult to hide the boots, go for ankle height or mid-calf height styles.
Keep in mind that coordinating narrow-legged pants with tall boots can expose the bulging shaft underneath the pants.
This will make you look kind of weird. So, let's just pick boots with a shaft that hugs the legs as tightly as possible to make your overall look cleaner and more organized.
For more tips on mixing cowboy boots with your suits, check it out here!
What Types of Cowboy Boots for Men to Wear With?
Some important notes for men when wearing cowboy boots with office attire:
Always go with polishable leather cowboy boots, because a polished vamp and toe will always look as clean and shiny as possible.
Exotic genuine leather materials such as caiman, lizard or ostrich are always appreciated and show better power and class.
Roper or square-off heel design will look more professional and cause better sympathy.
Black, dark brown and burgundy colors are the standard colors for office style and can go well with any outfit.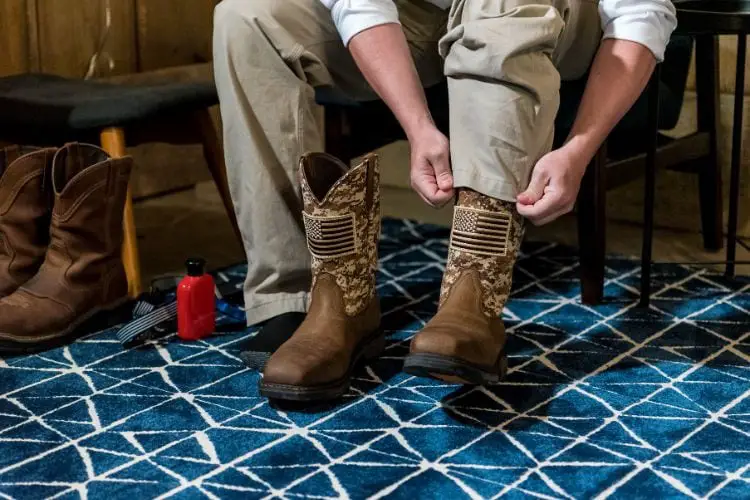 Wrapping it up
Personally, I feel cowboy boots are a great fashion item. If your job requires a lot of movement, cowboy boots provide durability and comfort beyond your expectations, for sure.
If you work in industries that require ultimate creativity, cowboy boots will be welcomed as worry-free business wear.
If you work in an environment that requires a high degree of seriousness, try to balance the way you dress and wear to have the most sophisticated, neat, and reliable appearance. Good luck!
Howdy y'all! I'm Grace, a Western style enthusiast with over 5 years of experience. From cowboy boots to western gear, I'm passionate about all things Western and dedicated to helping you find the perfect style to suit your taste. Join me and my fiancé Jay Gatz as we explore the rich history and timeless appeal of Western fashion together!