If you go around Texas and observe ranchers in the meadows, it's not hard to see them wearing cowboy boots for horseback riding or other purposes.
Yes, cowboy boots are one of the most important accessories for Texas ranchers. Today, though not all, ranchers still wear cowboy boots very often.
This is not surprising, you may feel the construction of cowboy boots is strange. But in reality, the benefits of cowboy boots for ranchers are huge.
Today, we're going to talk about ranchers and cowboy boots. After many centuries, why do cowboy boots still stand on the feet of ranchers?
Let's check it out!
Key Takeaways
Cowboy boots are still widely used by ranchers today in Texas.
Not only ranchers, but cowboy boots today also have many developments to make them accessible to the masses.
Cowboy boots provide many benefits to ranchers beyond their wild and unique beauty. This includes a high level of comfort and protection.
Cowboy boots now have many breakthroughs in structure and technology, so they are more comfortable and provide better protection. Since then, they have served more jobs on the ranch than in the past.
Are Cowboy Boots Ranchers' Footwear?
It should be made clear that cowboy boots are very popular among ranchers in Texas, not in the United States or around the world. People outside the Texas area still have many other options such as work boots, tactical boots, or military boots for ranch work.
One of the main reasons that Texas ranchers love cowboy boots is because it's a traditional type of boot.
Cowboy boots originated in Texas. They have changed and developed over time, and gradually become part of the culture of people here.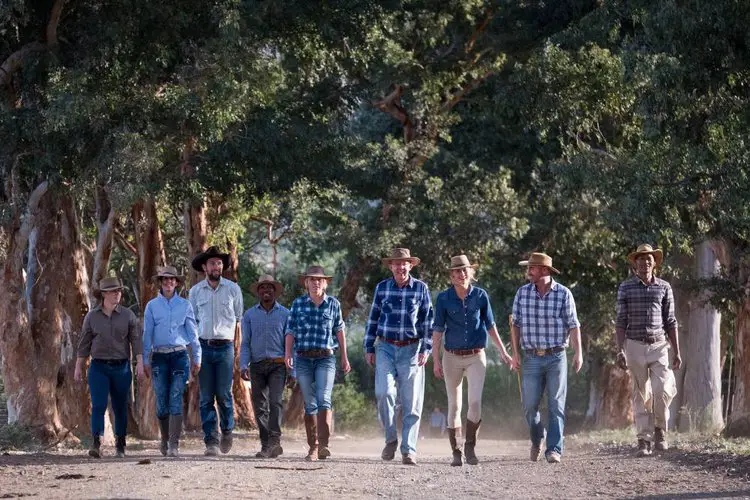 Cowboy boots are still popular among Texas ranchers not only because they are a traditional symbol, but also because they are really helpful.
In the past, the structure of cowboy boots was mainly to support ranchers in riding or herding cattle.
In our modern times, cowboy boots are improved day by day to better support the feet. Thereby, the ranchers can work on their feet more comfortably and safely.
Therefore, the position of cowboy boots has not faded over the years, but thanks to the developments in both structure and appearance, you will see not only ranchers but also office workers, truckers and construction workers all wear cowboy boots.
Or more simply, everyone uses cowboy boots just for casual wear.
Why do ranchers wear cowboy boots?
As mentioned, in the past, cowboy boots were primarily constructed to support cowboys riding horses to herd cattle.
They have some characteristics such as:
Narrow toe shape (round toe or pointed toe) to easily slide into the saddle stirrup.
High heel to ensure cowboy boots don't slide forward too much and fall off the stirrup (it can hook the stirrup when needed)
Smooth leather sole for sliding into the stirrup easily
High shaft (more than 11 inches) to protect the feet from dirt, thorns, hedges, dangerous animals (snakes, scorpions), and inclement weather. In addition, the high construction also helps cowboy boots hold up on the legs better and do not fall off when riding.
The entire structure of cowboy boots is made of 100% leather, mainly cowhide, bull hide, or goat leather. These leathers are very durable and highly resistant to external factors (rain, snow, sunlight, cold and hot weather).
These types of leather were cheap and easy to find in the past, along with a fairly simple structure, so the price of cowboy boots was also affordable.
Cowboy boots were cheap, easy to find, safe, and comfortable, which made them popular among ranchers in the past.
Although cowboy boots are highly effective for assisting the rancher in horseback riding, ranch work is not just about herding cattle. You also have to fix the fence, milk the cattle, chop wood, fix the machine, etc.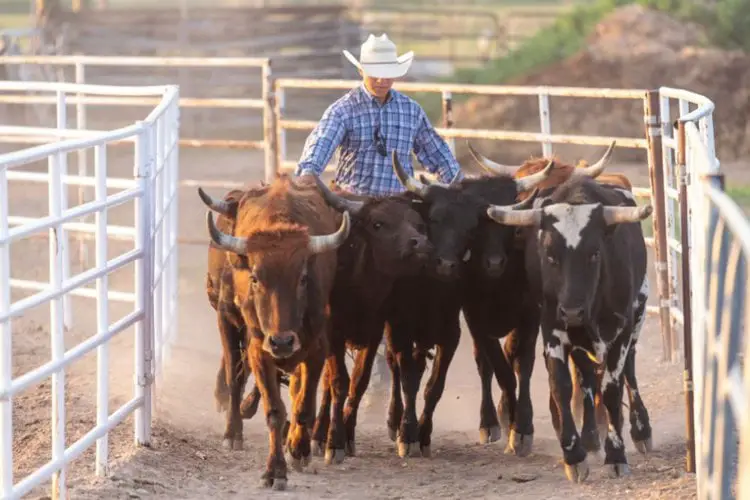 Besides, day by day, many other jobs appeared and gradually replaced horse riding, especially when machines now appear to be useful and increasingly popular to support ranchers.
Therefore, to serve the job, cowboy boots need to go beyond what they have achieved in the past because traditional cowboy boots are not friendly for walking, casual wear, or riding trucks.
Their heel structure is too high while the slick outsole reduces the stability and balance of the boots. Their narrow toe shape makes your toes numb from compression, and the soles of your feet are not well-cradled due to the absence of insoles or midsoles.
Therefore, to be able to serve ranch work nowadays, cowboy boots need to have better waterproofing, sweat absorption and protection while providing more comfort to walk on and more traction on the bottom.
And fortunately, many creative bootmakers realize that and produce such an amazing pair of cowboy boots.
Today, cowboy boots have many developments in construction. But in general, they are applied to more modern technology to help the wearer stand on their own feet rather than riding a horse.
You'll find cowboy boots these days with rubber soles that have multiple grooves on the surface for better grip. Rubber soles are also more durable, well-insulated, and can be said to be more comfortable than leather soles.
Cowboy boots also start to have an arch support function. For example, their toe boxes are wider (round toe, square toe, or broad square toe) to allow the toes to breathe.
Cowboy boots with lining, insoles, midsoles, shanks and short heels are also increasingly popular to pamper the wearer's feet better.
Some modern cowboy boots are even equipped with safety toes made of steel or composite. They are extremely strong against compression in case you have to work with heavy machinery on the ranch.
It's no surprise to find out that many cowboy boots these days are also equipped with good resistance to water, rain or snow. Cowboy boots now are a type of footwear all year round.
Another interesting thing is that cowboy boots are also made from many different materials, such as exotic leather. Ranchers in Texas love boots made from ostrich because they're incredibly soft, breathable, and durable.
The versatility of materials has created many unique and attractive properties that can conquer even fastidious ranchers.
All of that explains why cowboy boots still exist for ranchers until now. They can even serve more ranch jobs than in the past.
Before you leave
In general, whether in the past or present, cowboy boots are still very popular among ranchers in Texas.
If you're a rancher, even if you're not from Texas, I still recommend you try these boots once and feel them yourself. I guarantee you will be satisfied because cowboy boots are made for farm work.
Don't hesitate at all!
Howdy y'all! I'm Grace, a Western style enthusiast with over 5 years of experience. From cowboy boots to western gear, I'm passionate about all things Western and dedicated to helping you find the perfect style to suit your taste. Join me and my fiancé Jay Gatz as we explore the rich history and timeless appeal of Western fashion together!