When it comes to fashion, some items are like hidden gems, waiting to be discovered. White cowboy boots, often associated with a rugged Western charm, are one such treasure. But there's much more to these boots than meets the eye.
They're not just for line dancing or rodeo shows; they're versatile, dynamic, and can breathe life into your wardrobe.
In this fashion-forward guide, we'll explore the remarkable versatility of white cowboy boots for women.
These boots are not confined to a single look or occasion; they effortlessly blend with various styles, exuding a youthful and active vibe that's perfect for today's modern women.
Whether you're hitting the city streets, attending a casual brunch, or heading out for a night on the town, white cowboy boots are your go-to choice for an extra dose of style and flair.
So, if you're ready to explore the endless possibilities of these iconic boots, join us on this fashion journey.
We'll show you how to create captivating outfits that celebrate your unique style while embracing the spirited essence of white cowboy boots.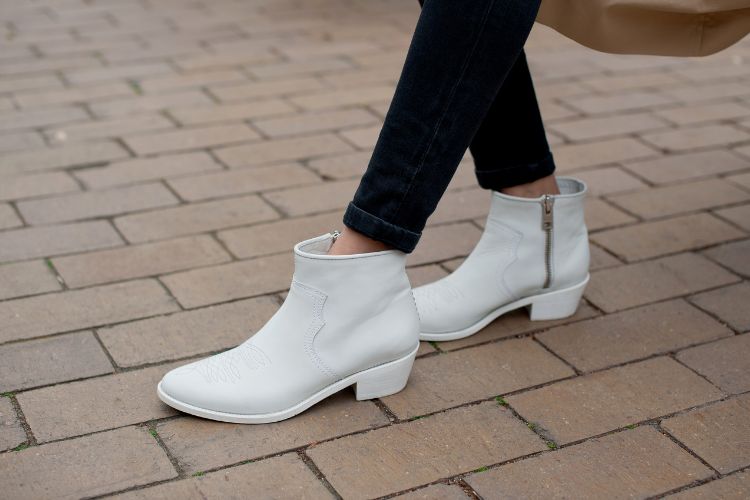 How Should You Style White Cowboy Boots?
When it comes to pairing your white cowboy boots, think of them as a blank canvas for your creativity.
They play well with earthy tones, giving you a down-to-earth, rustic charm. Want a pop of color? Bold hues can make your white boots stand out like stars in the night sky. It's all about the harmonious contrast!
White cowboy boots are your versatile sidekicks. They're ready for a daytime adventure in a boho-chic skirt or a night out on the town with a sleek dress.
Throw them on for a music festival, a casual brunch, or even a semi-formal event—they're game for anything!
For a laid-back day, opt for your favorite jeans—they cozy up to white cowboy boots like old friends. Feeling flirty? A flowy skirt adds a touch of whimsy.
Don't be afraid to mix and match—these boots love surprises.
The secret to making your outfit unforgettable? Accessorize, accessorize, accessorize!
Picture a stylish hat, a statement belt with a buckle that could tell a story, or layered necklaces that dance with every step.
Your white cowboy boots are your outfit's best-supporting actors, and accessories make them the stars.
Now, the above is just the beginning. When you're ready to dive into the nitty-gritty details and explore specific outfit ideas for different occasions, just say the word, and we'll embark on a fashion journey together!
Outfit Ideas with White Ankle Cowboy Boots and Jeans
To truly appreciate the art of styling white ankle cowboy boots with jeans, let's first explore some inspirational ensembles that capture the essence of urban chic.
1. Skinny Light Blue Jeans with High-Heeled White Cowboy Boots:
I absolutely love the classic combination of skinny light blue jeans and high-heeled white cowboy boots. It's a look that never goes out of style.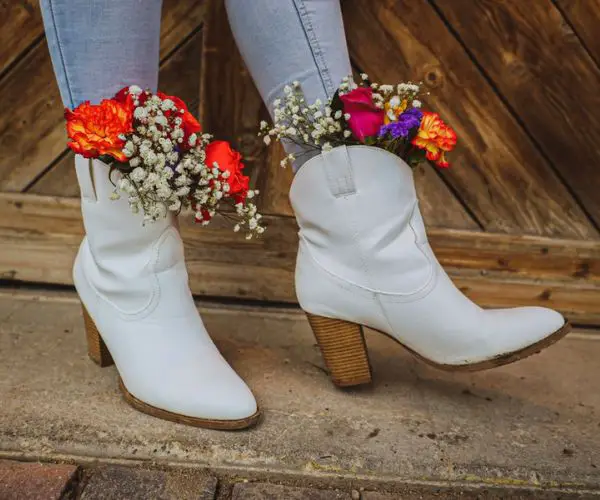 Those jeans create a sleek and flattering silhouette, and the high heels on the boots give me that extra boost of confidence.
I feel ready to conquer the city in this outfit, whether it's a night out with friends or a casual dinner.
2. Black Skinny Jeans with Cuffed White Cowboy Boots:
Here's a more relaxed yet stylish choice – black skinny jeans with my ankle white cowboy boots.
What I love about this look is that I don't tuck in the jeans; instead, I cuff them right above the boots. It creates a playful gap that draws attention to these fabulous boots.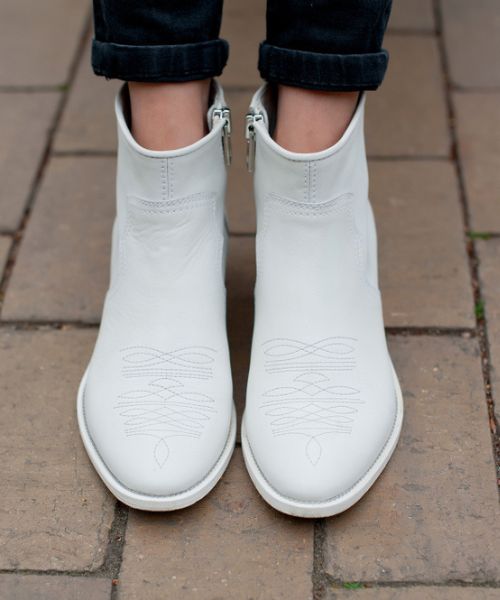 It's edgy and feminine all at once, perfect for a day of exploring trendy neighborhoods or meeting up with friends for coffee.
3. Loose Fit Jeans with Cuffed White Ankle Cowboy Boots:
For those laid-back weekends, I often opt for loose-fit jeans and cuff them to create a gap between the jeans and my white ankle cowboy boots.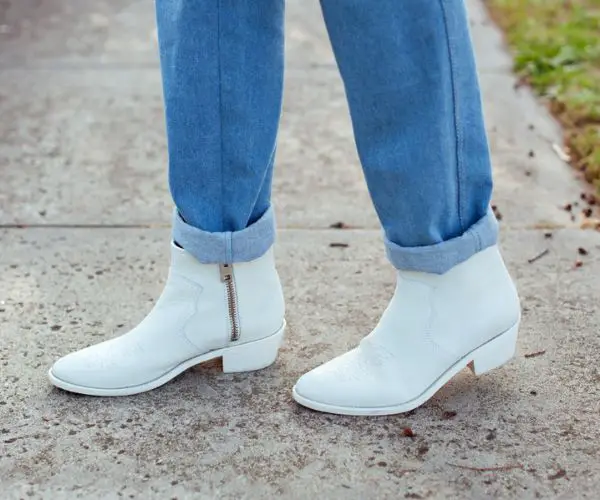 It's the ideal blend of comfort and style. This look is perfect for casual outings like brunch or a relaxed shopping spree.
I want to be comfortable, but I also want to showcase my unique style. That's why I love this style!
4. Jeans, Boots, Blazer, and Leather Bag:
When I want to add a touch of sophistication to my jeans and boots, I throw on a blazer. It instantly elevates the entire outfit. And to tie it all together, I carry a delicate brown leather bag.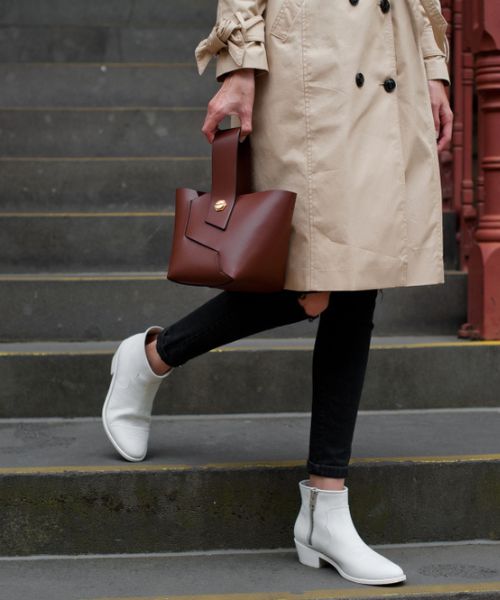 This ensemble is perfect for city strolls, casual business meetings, or even a lunch date. It lets me showcase my fashion-forward sensibilities while remaining approachable.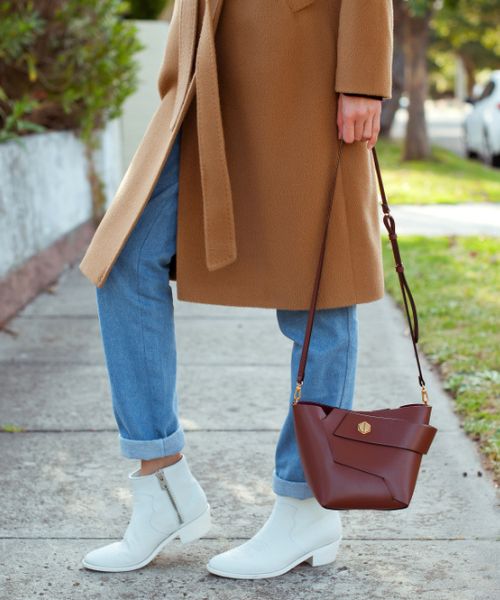 These outfit ideas truly highlight the versatility of white ankle cowboy boots in an urban setting, and they're my go-to choices for different occasions.
Styling White Ankle Cowboy Boots with Dresses
While jeans are a classic and popular choice, white ankle cowboy boots shine just as brightly when paired with dresses.
They effortlessly bridge the gap between comfort, formality, and casual elegance. Let's explore these delightful dress and boot pairings:
1. White Ankle Cowboy Boots with Floral Boho Dress
The first look exudes a sense of timeless elegance combined with boho charm.
Imagine white ankle cowboy boots paired with a boho dress adorned with delicate floral details. The dress falls just above the knee and features light layers at the hem, creating a breezy, ethereal appearance.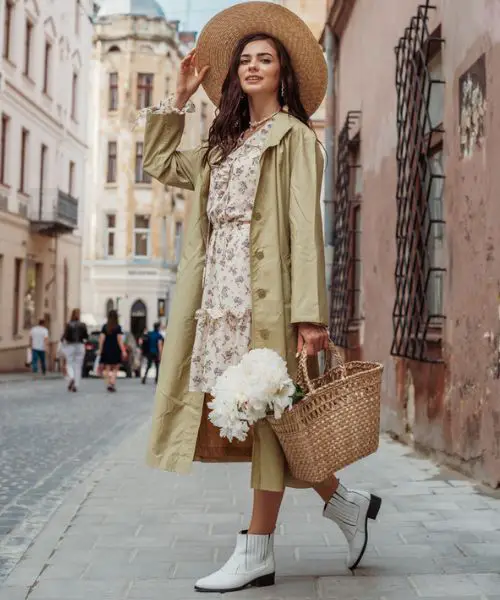 A neutral-colored blazer adds a touch of sophistication, while a wide-brimmed straw hat and a generously sized straw bag, complete with a blooming flower tucked inside, bring a light and feminine feel to the outfit.
This ensemble is perfect for those moments when you want to look elegant yet retain that bohemian spirit.
2. Ranch-Ready Adventure: White Cowboy Boots with Denim Overall Dress
For days spent on the ranch or outdoor adventures, consider pairing white cowboy boots with a denim overall dress.
The high-neck sleeveless top offers comfort and protection from the elements while maintaining a stylish edge.
The knee-high white cowboy boots not only complete the look but also ensure you're prepared for any terrain, whether it's sun, dirt, mud, or simply a cozy, active day outdoors.
This ensemble perfectly balances comfort and rugged style.
3. Town Daytime Chic: Mid-Calf White Cowboy Boots with A-Line Mini Dress
When you're out and about in town, a classic and versatile look awaits. Picture mid-calf white cowboy boots paired with an A-line mini dress in a pristine white hue.
This combination creates an effortlessly chic appearance, suitable for a normal day in the town.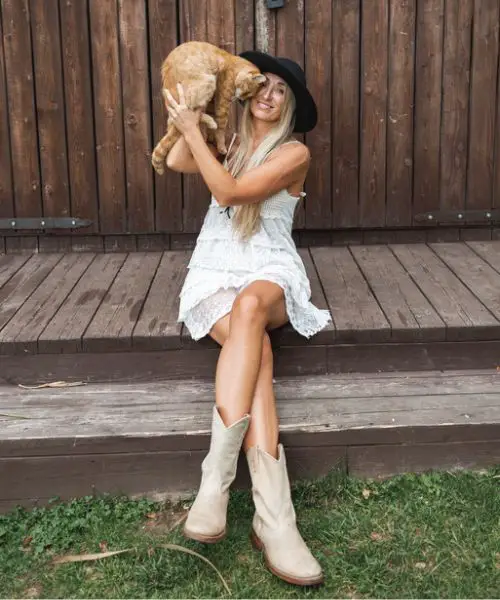 Whether you're running errands, meeting friends for lunch, or exploring local shops, this outfit ensures you're comfortable and stylish.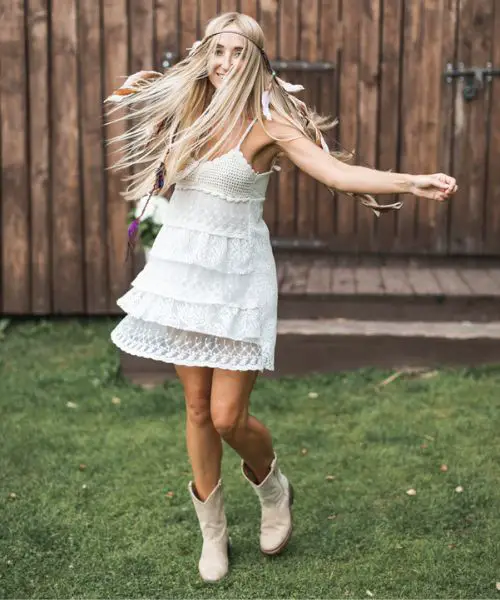 The mid-calf boots add a touch of Western flair to the classic mini dress, making it a go-to choice for daytime outings.
4. Knee-High White Cowboy Boots with a Fitted Black Dress
Imagine a striking contrast that merges urban allure with Western flair. A black fitted dress, slightly tight and falling above the knee, meets its perfect match with knee-high white cowboy boots.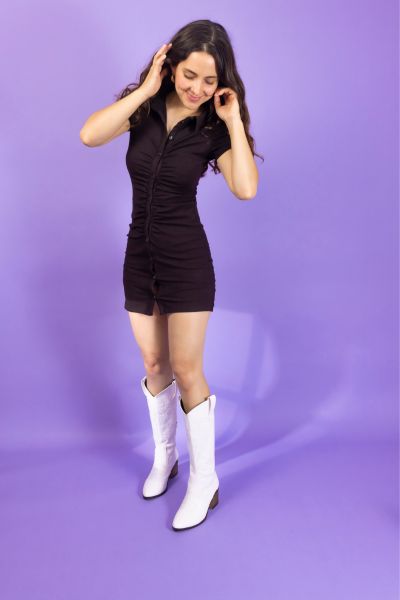 This ensemble embodies boldness and sensuality while retaining an urban edge. The fitted dress accentuates your curves, and the knee-high boots make a bold statement.
It's a captivating look for nights out on the town, special occasions, or when you want to exude confidence and style.
5. Maxi Dress with White Cowboy Boots for Casual Outings
For relaxed and casual outings beyond the city limits, simplicity and style still reign supreme. Imagine a girl donning a flowing maxi dress paired with white cowboy boots. This ensemble exudes effortless elegance and ensures you look chic and comfortable.
The maxi dress, with its relaxed silhouette and graceful flow, keeps you at ease while you explore the world outside urban landscapes.
White cowboy boots add a hint of Western charm to the outfit, making it perfect for leisurely days spent enjoying nature, wandering through quaint towns, or embarking on countryside adventures.
This look encapsulates the idea that you can seamlessly blend style and comfort, showcasing the versatility of white cowboy boots in a more laid-back, non-urban setting.
White Cowboy Boots and Shorts: A Bold and Versatile Choice
Cowboy boots, whether knee-high or mid-calf, bring a unique flair when styled with shorts. They not only elongate the legs but also offer versatility for a range of occasions. Let's explore how to make the most of this captivating combination:
1. Denim Shorts with a Sweater and White Ankle Cowboy Boots
Picture denim shorts paired with a cozy sweater and white ankle cowboy boots. This ensemble strikes a perfect balance between bold style and femininity.
The shorts showcase your legs, while the sweater adds a touch of warmth and sophistication.
The white ankle cowboy boots tie the outfit together, giving it a Western twist that's both fashionable and approachable.
This look is perfect for transitional seasons, casual gatherings, or those days when you want to feel chic and comfortable.
2. Denim-on-Denim Shorts with Knee-High White Cowboy Boots
For a bolder and more rugged take on the cowboy boot and shorts combo, envision denim-on-denim shorts paired with knee-high white cowboy boots.
This look exudes an urban edge that's perfect for concerts, adventures in the city, or a day of exploring.
The denim jacket adds an extra layer of style, creating a cohesive denim ensemble that's both fashion-forward and functional.
It's a go-to choice for those who appreciate a slightly edgier look while staying comfortable and trendy.
A Stylish Wedding Companion
When it comes to wedding attire, brides and bridesmaids often seek a balance between tradition and personal style.
White cowboy boots have emerged as a versatile and stylish choice for weddings, offering a blend of classic elegance and modern flair.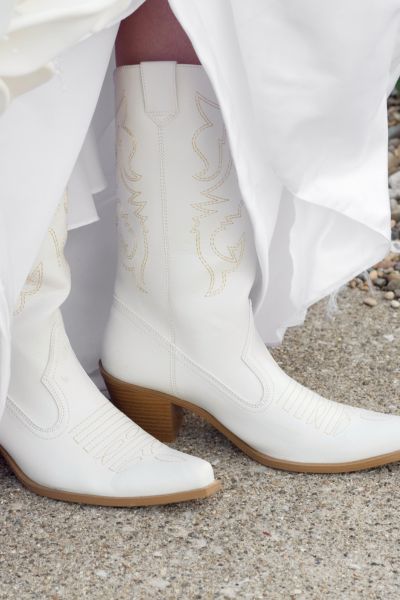 White cowboy boots are incredibly versatile. They pair well with various bridal gown styles, from boho-chic to vintage, and can be styled in countless ways.
White cowboy boots effortlessly infuse a rustic charm into wedding attire. They provide a unique twist on traditional bridal footwear, allowing brides to showcase their individuality.
Bridesmaids can also embrace the charm of white cowboy boots, creating a coordinated and stylish bridal party look. This harmonious choice adds a visual flair to the wedding.
Unleash Your Creativity: Style with Anything in Wardrobe
Fashion is about expressing yourself, and white cowboy boots provide a canvas for your creativity.
Instead of sticking to conventional pairings, why not dig into your wardrobe and discover new combinations that elevate your style?
Break the monotony of traditional office wear with a twist. Light-toned slacks paired with a matching light-toned t-shirt create a refreshing and stylish ensemble.
The addition of white cowboy boots adds a touch of flair and personality to your work attire.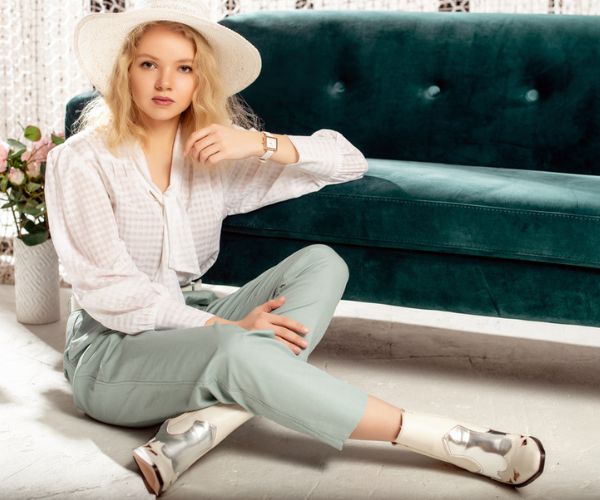 Consider this look for Casual Fridays or when you want to make a subtle yet fashionable statement at the office.
It's a clever way to blend professionalism with your unique style.
The key to fashion is experimentation and self-expression.
So, don't hesitate to raid your wardrobe, mix and match, and discover exciting new ways to wear your white cowboy boots.
Let your creativity run wild, and you might just stumble upon your next signature style.
Before you leave
As we wrap up this style journey, one thing becomes abundantly clear: white cowboy boots are more than footwear; they're a canvas for your creativity and a reflection of your individuality.
Whether you're donning them for a casual stroll, embracing the elegance of a wedding, or reimagining office attire, these boots effortlessly blend the classic with the contemporary.
So, the next time you stand before your wardrobe, remember the versatility and charm of white cowboy boots. Let your fashion imagination run wild, mix, match, and experiment.
After all, style is about expressing who you are, and with these boots, the possibilities are as boundless as the Western horizon.
Now, it's your turn. Go ahead, open your closet, and embark on your own style adventure with those white cowboy boots.
Unleash your creativity, step out with confidence, and let your unique style shine.
Happy styling, fellow fashion mavericks!
Howdy y'all, and welcome to From The Guest Room, your ultimate guide to all things Western! I'm Jay Gatz, a lifelong cowboy boot enthusiast with over 5 years of experience in the Western style world. I'm excited to share my knowledge with you and help you discover the perfect cowboy boots and western gear to elevate your style. Let's explore the rich history and timeless appeal of Western fashion together!