Cowboy boots have a history of more than 200 years. They were born and developed through the turbulent history of America. Cowboy boots are the beauty of culture, identity, and people in West America.
Nowadays, cowboy boots not only serve cowboys on large ranches but are also an expensive fashion product in the wardrobe. Using your creativity to style cowboy boots properly with different outfits can bring many different looks.
Over hundreds of years of development, many new types of cowboy boots have been born, and one of the best new cowboy boots is the ankle ones – the amazing gift for our ladies.
However, how to perfectly match ankle cowboy boots with your outfit is something that not everyone knows. But don't worry, it is much easier to style ankle cowboy boots with many types of outfits compared to traditional ones.
Today, we will show you how to wear ankle cowboy boots! Let's start!
How to Wear Ankle Cowboy Boots?
Ankle cowboy boots today are an indispensable choice for girls who love gentle beauty and femininity.
They are not only cute like regular booties but also offer classic beauty with easy-to-look and easy-to-match colors. At the same time, the delicate and elegant structure of the soles, toe shape, or extraordinary heels will enhance the beauty of the overall outfits.
Whether it's spring, summer, fall or winter, you can wear ankle cowboy boots for any purpose and any place!
1. Ankle cowboy boots with jeans
Just combine ankle cowboy boots with a simple pair of jeans, and you will have an outfit full of youthful and energetic style. This is a popular combination of young girls.
There are quite a few styles of jeans to wear with women's cowboy boots. You can absolutely choose bootcut jeans, skinny jeans, straight leg jeans, etc. Jeans and cowboy boots are a classic and inseparable combination.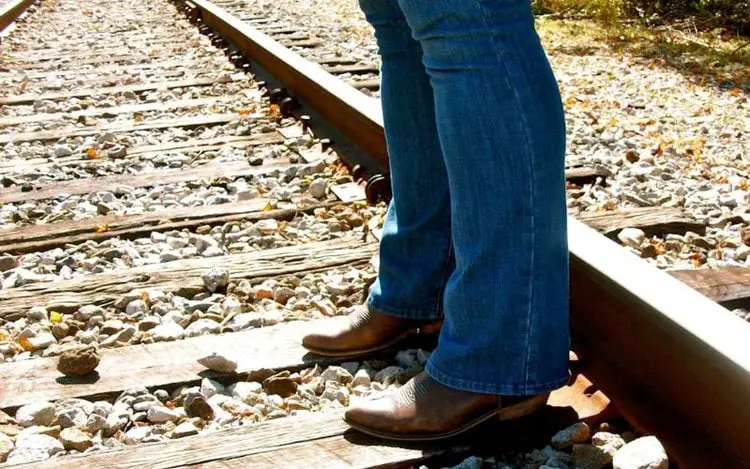 To complete your outfit, you can add a close-fitting long-sleeved T-shirt and a simple jacket.
If the weather is still chilly outside, mix your outfit with a stylish oversize T-shirt! Now, you can walk down the streets in the autumn confidently.
In addition to combining jeans and a long-sleeved T-shirt with ankle cowboy boots, you can also create a novelty by covering a thin sweater outside.
This outfit keeps your body warm while retaining the aesthetic look. A lovely wool scarf for this outfit is also a good complement for a late autumn day.
Besides jeans, leggings also have the same effect when paired with ankle cowboy boots. Give it a try!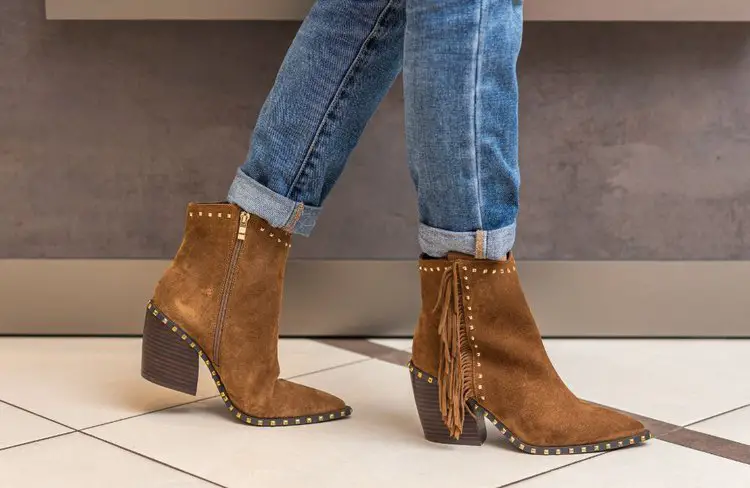 2. Ankle cowboy boots with a midi skirt
Midi skirt is a symbol of simplicity and femininity. It is also a great complement to ankle cowboy boots.
Ankle cowboy boots can go well with all clothing types, but these boots are especially suitable for midi skirts.
Long midi skirts have many types: from feminine spread midi skirts to slim midi skirts or split midi skirts.
If you have big calves and thighs that don't look good when wearing jeans, a spread midi skirt is a perfect choice for you. Not only that, wearing an oversize T-shirt can make chubby girls slender.
On the other hand, ankle cowboy boots with a slim-fit midi skirt or split midi skirt are for girls with slim and tall bodies.
Overall, ankle boots with a midi skirt are very effective in bringing femininity and sexiness.
Besides, I'm sure that you will look mature in this style. Therefore, if you don't want to look old, let's choose bright clothes with simple textures.
3. Ankle cowboy boots with a dress
It can be said that dresses matched with ankle cowboy boots are quite popular with many women.
This is also a perfect choice in the days of season transition. Dresses with small floral motifs bring a light, elegant and fragile feeling to others' eyes.
You can also coordinate this outfit with a long sleeve T-shirt, or a cardigan jacket.
However, to get the best effect, the shirt's color should be the same as ankle cowboy boots.
Wearing clothes with ton-sur-ton colors will give you a delicate and approachable appearance. You should avoid wearing garish colors.
4. Ankle cowboy boots with skirts
Ankle cowboy boots match well with different types of outfits. So do miniskirts.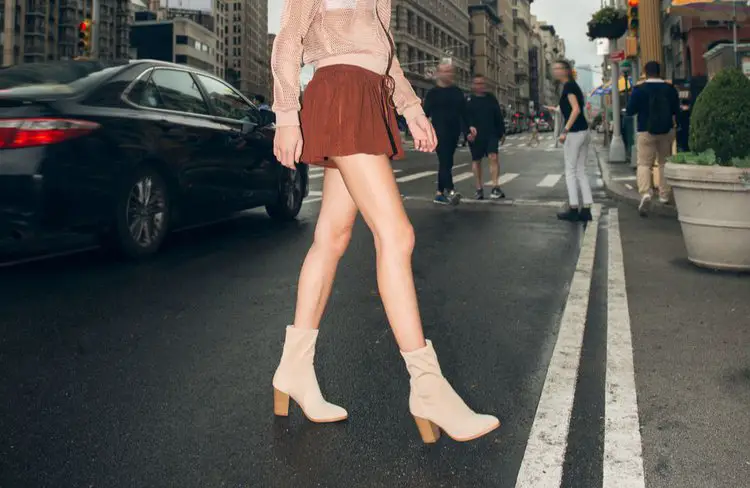 Don't think that ankle cowboy boots are only beautiful when paired with long skirts! A short skirt with ankle cowboy boots offers a very sexy and attractive appearance.
In addition, the set of clothes is very suitable to wear with ankle cowboy boots. It is best that your ensemble includes ton-sur-ton garments and accessories.
You can mix ankle boots with the A-line skirt, this will give your look a lift.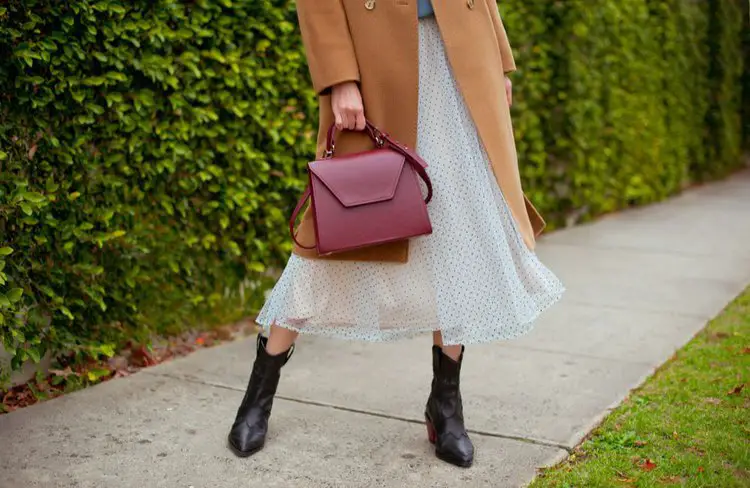 Overall, ankle cowboy boots are quite easy to match. When they come with skirts, you will be surprised!
5. Ankle cowboy boots with a long-sleeved coat
Another great idea for matching ankle cowboy boots that you can apply!
The long-sleeved coats (such as a wool coat or cardigan coat) are fashionable when going with ankle cowboy boots.
A long coat gives you a beautiful look and keeps your body warm. That's why this style is always women's favorite.
These are very popular outfits in the fall and winter (both functional and stylish).
However, pay attention to the length of the coat. Especially for chubby girls or have big calves, you should choose coats that should not be longer than the knee. This length can ensure you still look good, without creating a feeling of low height.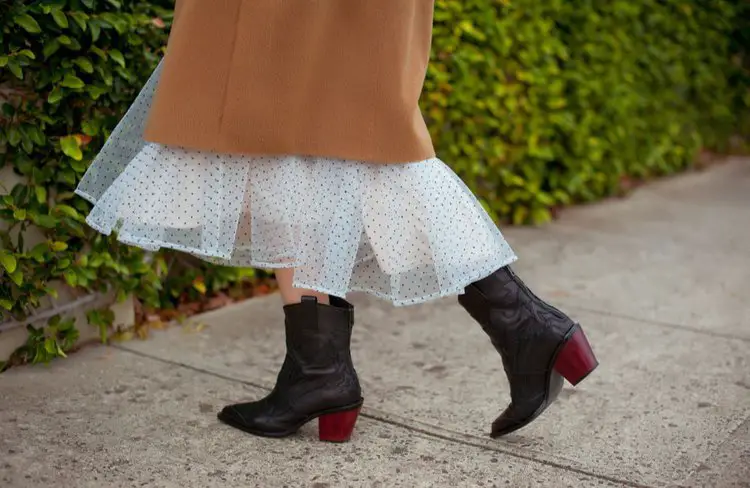 6. Ankle cowboy boots with short jeans or pants
Another style of coordination also makes many women excited by the sexy that it brings! That's wearing ankle cowboy boots with short jeans.
This combination can deceive the viewers and make you look taller in their eyes. A pair of denim jeans going with pointed-toe or round-toe ankle cowboy boots will be a great choice for that look.
Girls with long legs are also very fond of this style. Short jeans or denim jeans will honor their beautiful legs.
I believe many people will agree that this style is very sexy!
7. Try with everything in your wardrobe
In fact, it is no doubt that ankle cowboy boots are a wonderful creation. They are very easy to go with many different outfits.
You don't have to stick to any of my suggestions above. But you can open your wardrobe, and try out all the outfits you have.
I bet you'll be pleased to wear them with most of your outfits.
Conclusion
FromTheGuestRoom has just told you how to wear ankle cowboy boots beautifully.
These combinations are simple but bring lovely aesthetic effects for sure.
Hopefully, with this article, the girls will have more ideas to coordinate their costumes with ankle cowboy boots in a perfect and eye-catching way!
Howdy y'all, and welcome to From The Guest Room, your ultimate guide to all things western! I'm Jay Gatz, a lifelong cowboy boot enthusiast with over 15 years of experience in the western style world. I'm excited to share my knowledge with you and help you discover the perfect cowboy boots and western gear to elevate your style. Let's explore the rich history and timeless appeal of western fashion together!