Pairing cowboy boots with dresses is a timeless ensemble that effortlessly merges rugged charm with feminine elegance.
The beauty of this combination lies in its simplicity; a vibrant, uncomplicated dress paired with vintage-inspired cowboy boots can effortlessly transform your look into one that is both alluring and captivating.
Yet, not every pair of cowboy boots is destined to harmonize with dresses. With a plethora of styles to choose from, it's essential to discern which boots seamlessly complement your attire.
Today, join us at FromTheGuestRoom as we unveil a curated selection of the top 3 cowboy boots, specially tailored to accentuate your dresses.
Not only that, but we'll also guide you on how to masterfully don dresses with cowboy boots, ensuring a flawlessly captivating appearance.
Let's Dive In!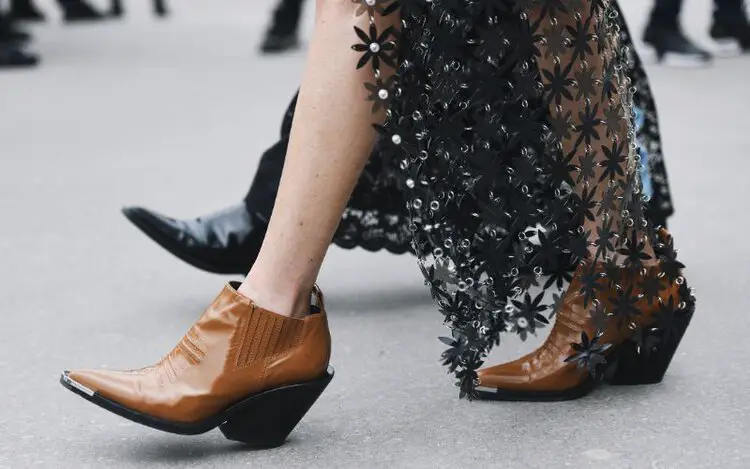 What Cowboy Boots look good with Dresses?
Within the realm of cowboy boots, a diverse array of styles awaits, each boasting its unique attributes. In the following sections, we'll provide insights into selecting the perfect cowboy boots to harmonize with your dresses, aligning flawlessly with your intended style.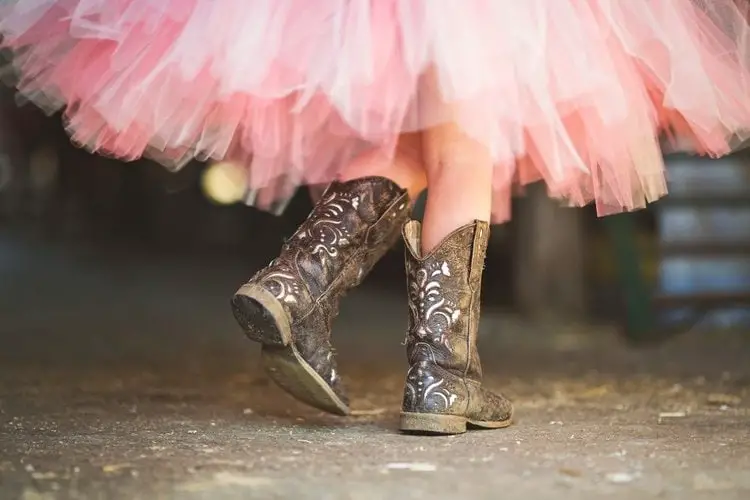 1. Traditional Cowboy Boots
Indulge in the elegance of traditional cowboy boots, distinguished by their elevated heels and pointed toes that exude a distinctly feminine aura.
When combined with dresses, these boots ascend to new heights of chic sophistication. Whether you're a bridesmaid, wedding guest, or even the bride, this pairing radiates charm.
The leather soles of traditional cowboy boots glide seamlessly, making them perfect companions for spirited line dancing. Picture a vivid red dress juxtaposed against these boots—your presence will illuminate any line dance event.
Furthermore, the heightened heel design of traditional cowboy boots bestows an air of confidence, elevating you to the stature of a true cowgirl.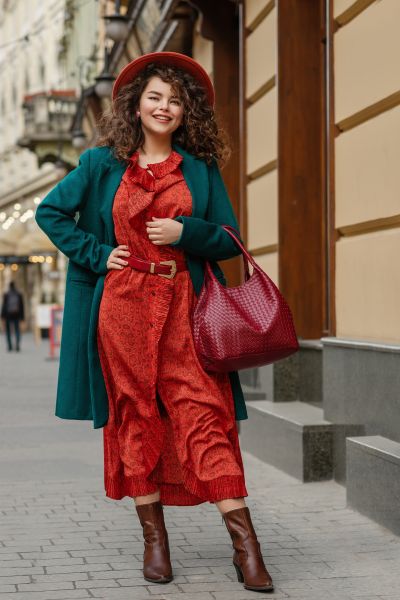 2. Short Cowboy Boots – Ankle Boots and Western Booties
Venture beyond the realm of tradition and explore the allure of short cowboy boots—ankle boots and western booties that gracefully grace your mid-calf or even lower.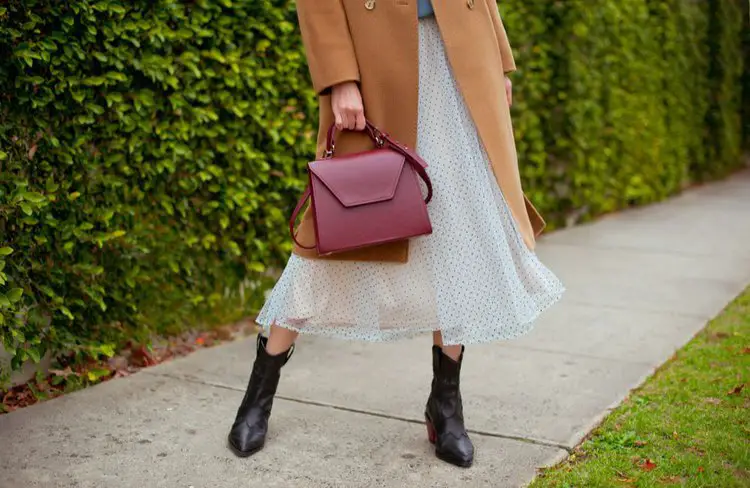 Embrace their versatility on sultry summer days, as they effortlessly fuse femininity with dynamic flair. These boots empower you to move with unbridled freedom and energy.
3. Roper Boots
Enter the realm of roper boots, an exquisite hybrid between dress boots and cowboy boots. With their round toes and low, wide heels, these boots offer comfort and style.
The modern allure of roper-style cowboy boots rivals their traditional counterparts, allowing you to pair them effortlessly with any dress in your wardrobe, yielding delightful surprises.
4. Cowboy Boots with Fringe
For those anticipating a western-themed wedding, opt for cowboy boots adorned with playful fringe. Perfect for line dancing soirées, these boots lend an irresistibly eye-catching touch to your moves.
Read more: Best Cowboy Boots for Line Dancing
Some cowboy boots should not be worn with dresses
While cowboy boots offer a myriad of choices to amplify your style, a few should gracefully bow out from the dance floor when dresses are in the spotlight.
Let's navigate through these less harmonious pairings and help you make the best fashion decisions.
1. Western work boots
While western work boots prioritize function over fashion, they can still accompany dresses, albeit not optimally. If you're sporting a simple dress for off-farm tasks, the combination can pass muster.
Yet, for more glamorous events, this pairing might leave you yearning for a more stylish alternative.
2. Stockman boots
Stockman boots, akin to their functional Western work boot counterparts, tend to favor robust functionality over elegance.
Their durable, rugged designs harmonize more seamlessly with distressed jeans than delicate dresses, creating a style dichotomy that's challenging to reconcile.
What dresses look good with cowboy boots?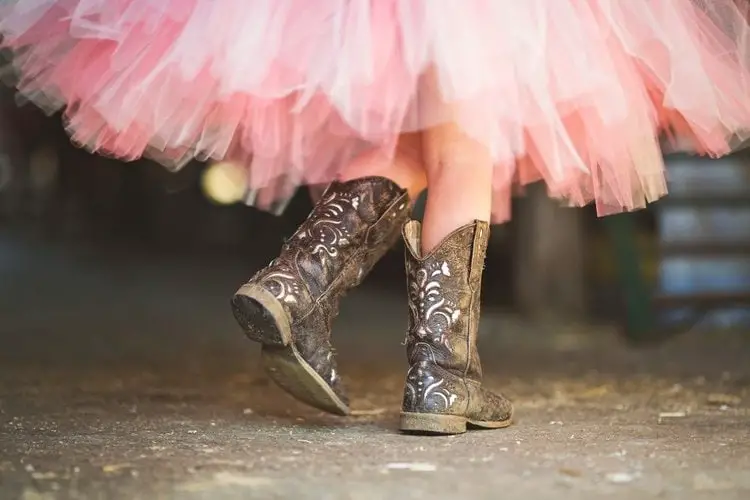 The synergy between dresses and cowboy boots thrives on one fundamental principle: revealing the front of the legs from the knee down. By adhering to this rule, you effortlessly showcase your boots in all their glory.
The world of cowgirl dresses embraces three timeless classics: the tea-length bridal dress, the 1950s-style short dress, and the front-tea-length dress. Each of these selections aligns harmoniously with cowboy boots, creating an ensemble that exudes both charm and charisma.
Curious to discover the 10 best dresses that perfectly complement cowboy boots? Explore our collection right here and embark on a journey of captivating style fusion!
The 3 Best Cowboy Boots to Wear with Dresses
Now that we've explored the nuanced dance between cowboy boots and dresses, it's time to unveil a carefully curated selection of the 3 best cowboy boots that will not only complement your dresses but also elevate your style game.
With these exquisite options at your disposal, you'll effortlessly achieve the quintessential fusion of rugged allure and feminine grace. Without further ado, let's discover the perfect pairings that will redefine your wardrobe's aesthetic.
1. The Daisy Cowboy Boots from Tecovas
Introducing The Daisy, a zip bootie that effortlessly marries classic charm with contemporary flair.
Its snip toe, 2 ½" angled heel, and distinctive toe bug (except in Sand Relic) radiate attitude and confidence in each step. An inside zipper ensures comfort, making this fusion of style and ease a perfect choice for pairing with dresses.
The Daisy's snip toe design adds timeless elegance, while the leather-wrapped angled heel elevates posture. The unique toe bug is a statement piece, speaking volumes about your style.
In Sand Relic Lizard, scales take center stage, lending a daring touch. The inside zipper guarantees effortless wear, creating a harmonious connection between comfort and fashion.
The Sand Relic Lizard variant features a captivating Goat Shaft, embodying the spirit of adventure for bold fashionistas. The lizard scales in Relic finish add captivating texture, blending seamlessly with various dress styles.
The Sand Relic Lizard color palette complements diverse ensembles, accentuating your style without overpowering it.
In essence, The Daisy delivers a perfect blend of sophistication and charisma, offering a versatile companion for dresses. Its unique features and ease of wear make it an ideal choice to elevate your fashion game with an edge of elegance.
2. Laredo Women's Maddie Cowboy Boots
Sale
Last update on 2023-09-27 / Affiliate links / Images from Amazon Product Advertising API
Discover the harmony of western allure and modern finesse with Laredo Women's Maddie Cowboy Boots. Crafted from distressed leather, these boots effortlessly unite tradition and contemporary style, making them an ideal choice for pairing with dresses.
With elegant stitching on the shaft, these boots infuse western heritage into your ensemble. This rustic charm complements various dress styles, whether for casual outings or formal events.
Designed for both style and comfort, the snip toe adds classic elegance that aligns seamlessly with dresses. The medium cowboy heel strikes the right balance, while a removable orthotic insert ensures all-day comfort.
From city streets to special occasions, these boots adapt effortlessly. The flight rubber outsole cushions each step, ensuring stability in various settings.
In essence, Laredo Women's Maddie Cowboy Boots perfectly enhance dresses. Their blend of western aesthetics and modern sensibilities transforms your dress ensemble with ease, striking the ideal balance between heritage and contemporary chic.
3. ARIAT Women's Dixon Western Boot
Ariat Womens Dixon Western Boot Naturally Distressed Brown 5.5
CUTE, CASUAL, COMFORTABLE: From the rodeo scene to mainstream, this gorgeously handcrafted heeled...
SLIP-ON PRACTICALITY; ALL DAY COMFORT: These casual booties for women have a cut out-side design...
EYE-CATCHING AND HAND-CRAFTED: With premium, full-grain leather, an all-over four-row stitch pattern...
Last update on 2023-09-26 / Affiliate links / Images from Amazon Product Advertising API
Discover the epitome of chic, comfort, and western charm with the ARIAT Women's Dixon Western Boot. Crafted from 100% leather, these heeled booties are a flawless match for dresses, seamlessly blending style with practicality.
Immerse yourself in the hand-crafted beauty of premium full-grain leather, adorned with a captivating four-row stitch pattern.
The meticulously hand-nailed and artfully color-stained leather outsole imparts a unique character, transforming these booties into a captivating expression of style with each step you take.
Elevate your dress ensembles effortlessly year-round with the Dixon Western Boot. Whether it's skirts or dresses, these versatile booties infuse your outfit with a hint of Western charm, making them the ultimate complement to your wardrobe.
In summary, the ARIAT Women's Dixon Western Boot is more than footwear; it's an embodiment of style, comfort, and western elegance. These booties perfectly harmonize with dresses, allowing you to express your unique fashion sense with grace and confidence.
Do ankle boots go with dresses?
Unveiling an undeniable allure, the fusion of ankle boots and dresses stands as a beacon of contemporary fashion. This dynamic pairing crafts an embodiment of modernity and elegance, a testament to the evolving taste of the new-age woman.
Short cowboy boots, a delightful surprise, find a natural harmony with dresses. A splendid choice for those enamored with western flair, yet seeking to sidestep the traditional country aesthetic, this fusion speaks volumes about merging distinct tastes into one cohesive ensemble.
Do boots look good with dresses?
Undoubtedly, the harmonious union of boots and dresses manifests an undeniable appeal.
An extensive spectrum of style possibilities exists when it comes to orchestrating this blend, whether it's the striking duo of knee-high boots accompanying short dresses or the captivating synergy of ankle boots harmonizing with midi dresses.
Classic pairings emerge, such as vintage cowboy boots paired with charming floral dresses, bestowing an air of timeless elegance.
The fusion of boots and dresses remains an effortless yet potent combination, offering a plethora of styles to cater to every taste.
With a dash of experimentation, your closet transforms into a canvas for captivating surprises, effortlessly achieved by pairing any dress with boots.
Can you wear boots with a dress to a wedding?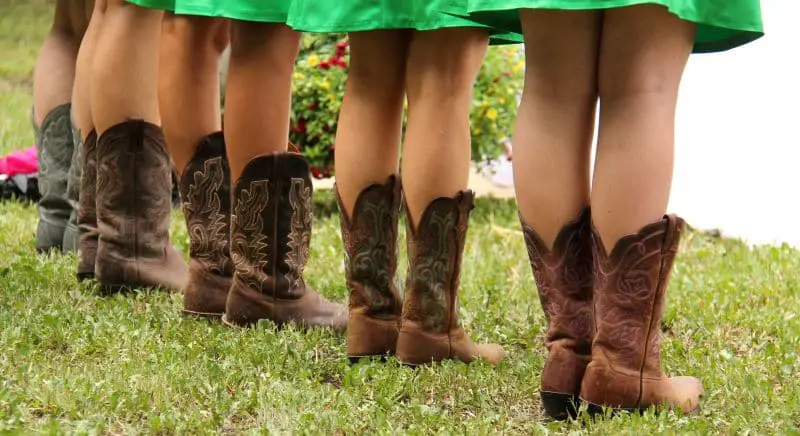 The fusion of boots and dresses transcends barriers, asserting its presence even at weddings.
Indeed, cowboy boots seamlessly complement dresses, proving to be a favored choice among many attendees at western-themed nuptials. This stylistic synchrony is particularly pronounced with traditional cowboy boots and classic western varieties.
As you embark on the journey to find the perfect dress-boot ensemble for a wedding, consider the timeless elegance of a tea-length bridal dress, the retro charm of a 1950s-style short dress, or the captivating allure of a tea-length front dress.
To navigate this fusion with finesse, explore our dedicated article on harmonizing cowboy boots and dresses for weddings!
Last words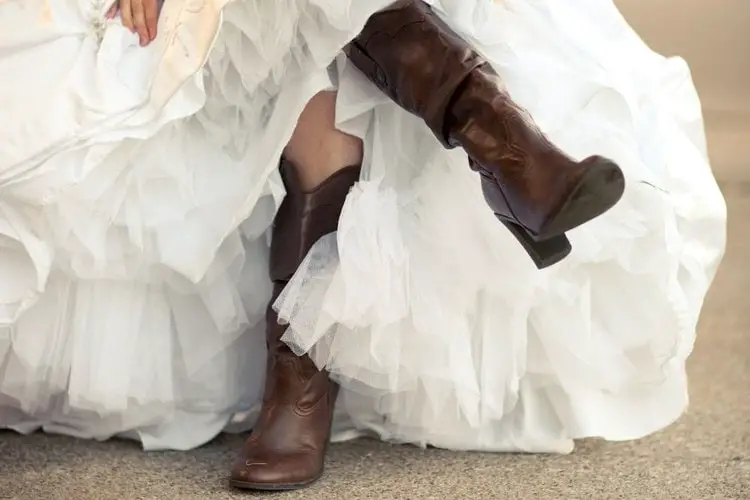 In the realm of dress ensembles, the right pair of cowboy boots stands unrivaled, etching a mesmerizing narrative of style.
Embrace this versatile look, as its potential knows no bounds—be it the grandeur of your wedding day, the professional aura of your office space, or the casual charisma of a neighborhood stroll.
Elevate your attire, exude your femininity, and let confidence be your constant companion. Remember, the world is your stage; strut forth with grace, and may the fusion of boots and dresses forever inspire your style journey.
Wishing you endless chic endeavors and a harmonious blend of rugged allure and delicate sophistication. Bon voyage on your style odyssey!
Howdy y'all, and welcome to From The Guest Room, your ultimate guide to all things Western! I'm Jay Gatz, a lifelong cowboy boot enthusiast with over 5 years of experience in the Western style world. I'm excited to share my knowledge with you and help you discover the perfect cowboy boots and western gear to elevate your style. Let's explore the rich history and timeless appeal of Western fashion together!