There is a lot of controversy going on around whether cowboy boots are better with square toes or pointed toes. And these controversies have never ended well.
However, the fact is that neither of those two toe shapes of cowboy boots is the most popular type today, it is the round toe that is the most trusted.
Among a collection of more than 9 pairs of boots in the house, there are 5 pairs of round toes. It seems that the round toe is the best and most perfect blend to neutralize these controversies. Everyone loves round toe cowboy boots!
And also because of everyone's love for round-toe shape, today's post will share 10 pairs of round toe cowboy boots that steal my heart!
Hope you will find yourself in this story!
Why do I love round toe cowboy boots?
As one of the followers of the cowboy boot world, I have never brought up the difference between pointed toe and square toe as a subject of controversy.
But honestly, I don't really own many pointed-toe cowboy boots. The fact that their tip is too pointed and curved upwards is really quite extreme for someone who likes a simple style like me.
There are more square toe cowboy boots in my house than pointed toe ones. Mostly used for outdoor work as they provide a high level of comfort for my toes.
But with round toe cowboy boots, they're a big part of my daily routine. They show up everywhere in my life, yard work, farming, driving, or sometimes I pair them with dress clothes to attend weddings.
The reason is that round toe cowboy boots can offer a more refined look than pointed toe and square toe ones but still provide very good comfort.
In fact, the round toe is also the traditional toe shape of cowboy boots and has been in vogue since the early days.
I'm not sure if round toe or pointed toe has existed before, but I know people prefer round toe these days. So don't worry about its spiritual value, because the round toe still has a classic in it.
So to sum up, here are the reasons why I love round toe cowboy boots: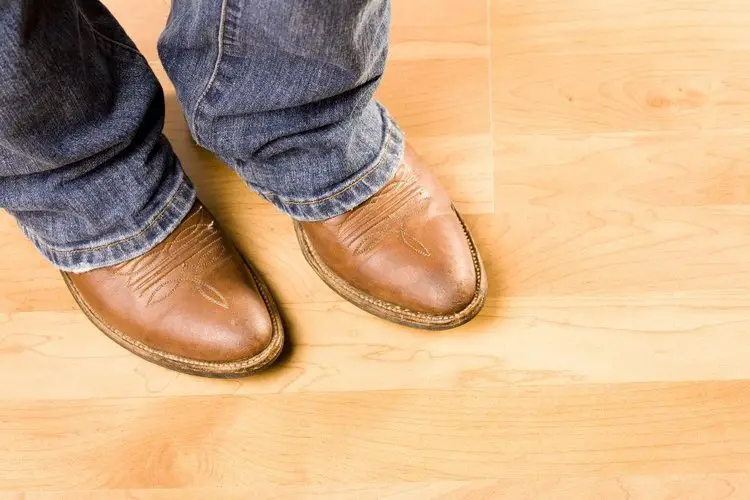 The Best Round Toe Cowboy Boots for You
Well, when I say round toe is the most versatile of the toe shapes, it doesn't mean you can comfortably use them for all sorts of things.
For example, you shouldn't wear a pair of rough and rugged boots to a wedding as well as use polished boots for farm work, that's pretty obvious! You need to choose the right cowboy boots for each purpose.
Besides, you should know which cowboy boot brands are famous for round toe boots with a sharp and sophisticated look. Me? I like Tecovas boots.
In general, there is no shortage of manufacturers selling round toe boots, but finding good ones is not an easy story.
Here are the boots and reviews based on my own experience!
Let's take a look!
1. Best Round Toe Cowboy Boots Overall
By my standards, a boot that is rated as good overall must meet the requirements of durability, beauty (especially round toe shape for this article), comfort and of course, versatility.
I like cowboy boots with a traditional or roper style and an exotic leather finish. The special and unique properties found only in leather such as ostrich or caiman can satisfy the specific requirements that I set forth.
Men's boots:

The Cole from Tecovas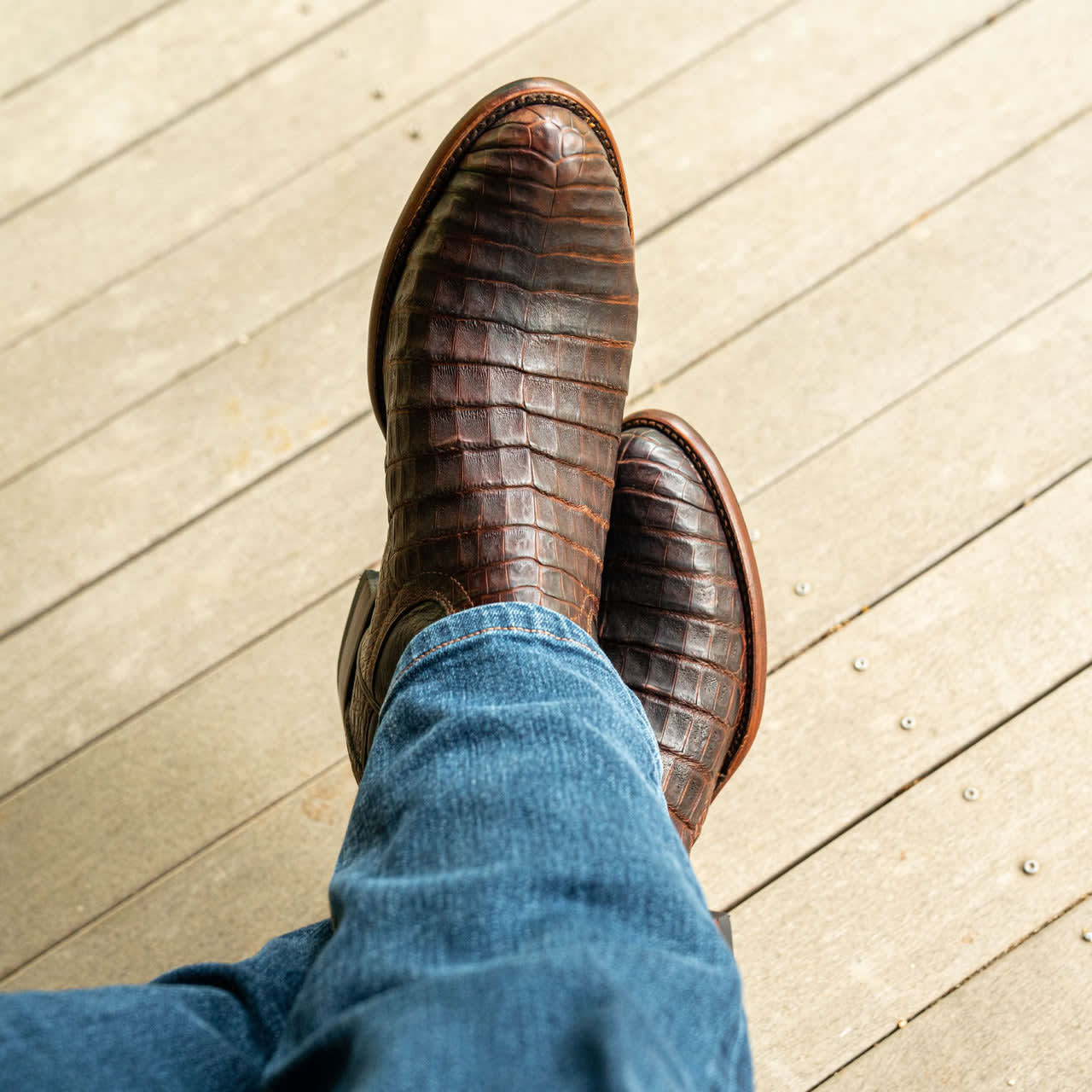 When looking for a finished creation of cowboy boots, I immediately think of The Cole by Tecovas.
The bold, rough and rugged feel that each caiman scale has, combined with luxurious and rich color, The Cole shows the beauty of time.
First and foremost, I like its round toe shape: subtle and appealing. Not too wide nor too narrow, the curve tapering from the ball to the tip is perfect to go with any pair of pants, even jeans or dress pants.
Besides, The Cole has a roper style with recognizable features in the heel, stitch and leather sole.
Roper heel with a height of 1.5 inches is the perfect feature that The Cole does not disappoint you either in fashion or function since it gives you considerable height and more confidence. Although I prefer a cowboy heel to a roper heel, The Cole's hand-shaped stacked leather heel offers a completely different style and experience, simple but more classy!
Meanwhile, the 1.5-inch heel also ensures good balance when you work or walk without experiencing foot symptoms.
On top of that, a leather sole always gives a thinner and sharper look than a rubber one, it is also more breathable and comfortable on hot summer days.
The leather sole combined with supple bovine lining and the low texture of the roper style offers good breathability, ensuring your foot won't be irritated or sweat a lot on hot days.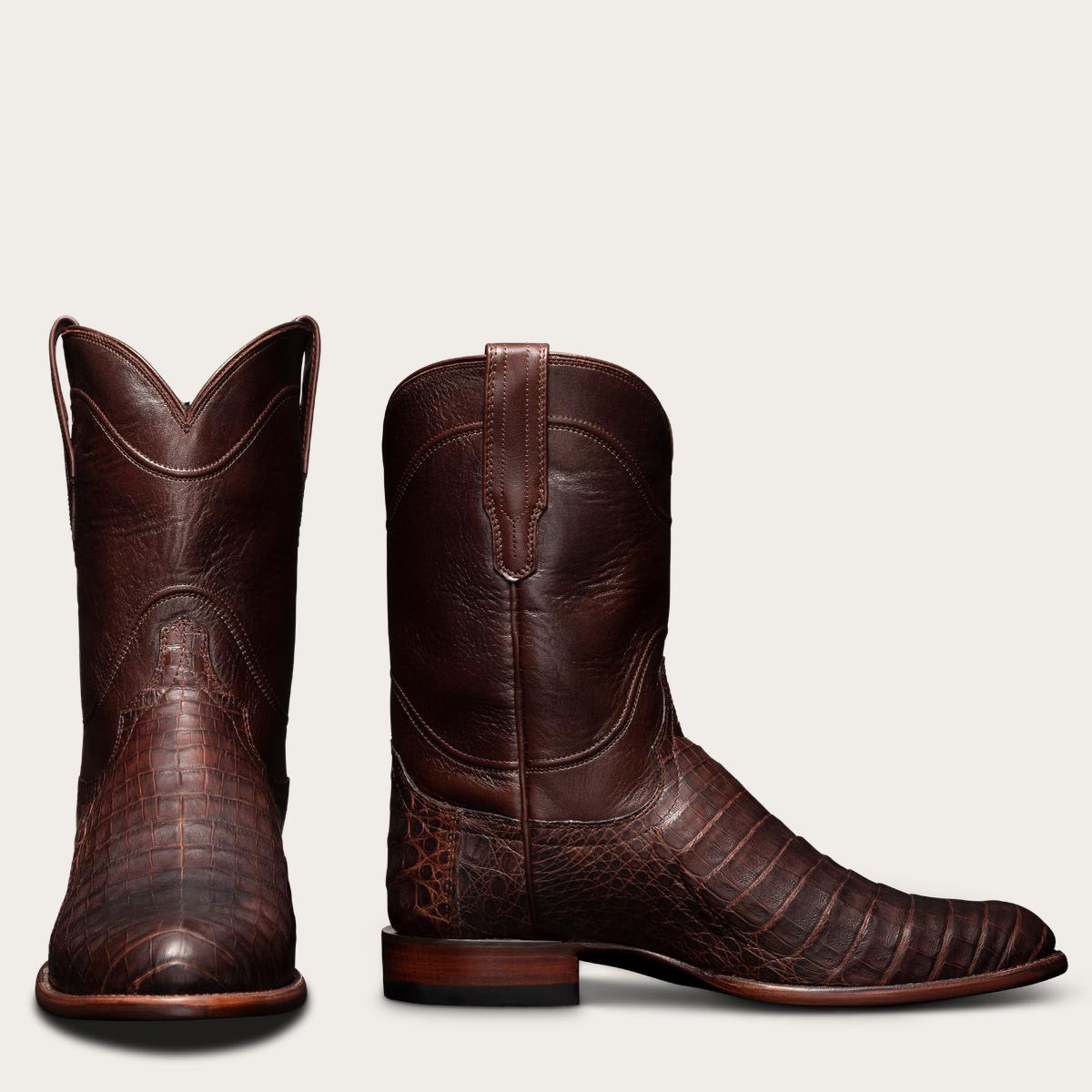 I have to say I really like the Tecovas signature motifs on the shaft. They are simple but when combined with calfskin's natural color and creases, still bring a classy vibe.
In addition, well-polished dark colors also give a masculine feeling but are not too rough. On the contrary, they give off a strange elegance. It seems the Caiman belly's scales have done their job very well.
Caiman belly is a very durable material that can keep you warm in winter and cool (heat resistant) in summer.
The Cole is also considered to have a very good fit and short break-in time. This is really familiar to Tecovas fans because their boots are always like that, comfortable right out of the box.
If you think these boots are more expensive than other boots on other e-commerce platforms, then you are wrong. The Cole may have a high price, but not that expensive.
As a pair of handcrafted cowboy boots made from caiman belly, I guarantee this is a bargain for whoever owns them.
Perfect in structure, appearance and price, it's not difficult when The Cole boots are the best round toe cowboy boots overall.
Women's boots:

The Josie from Tecovas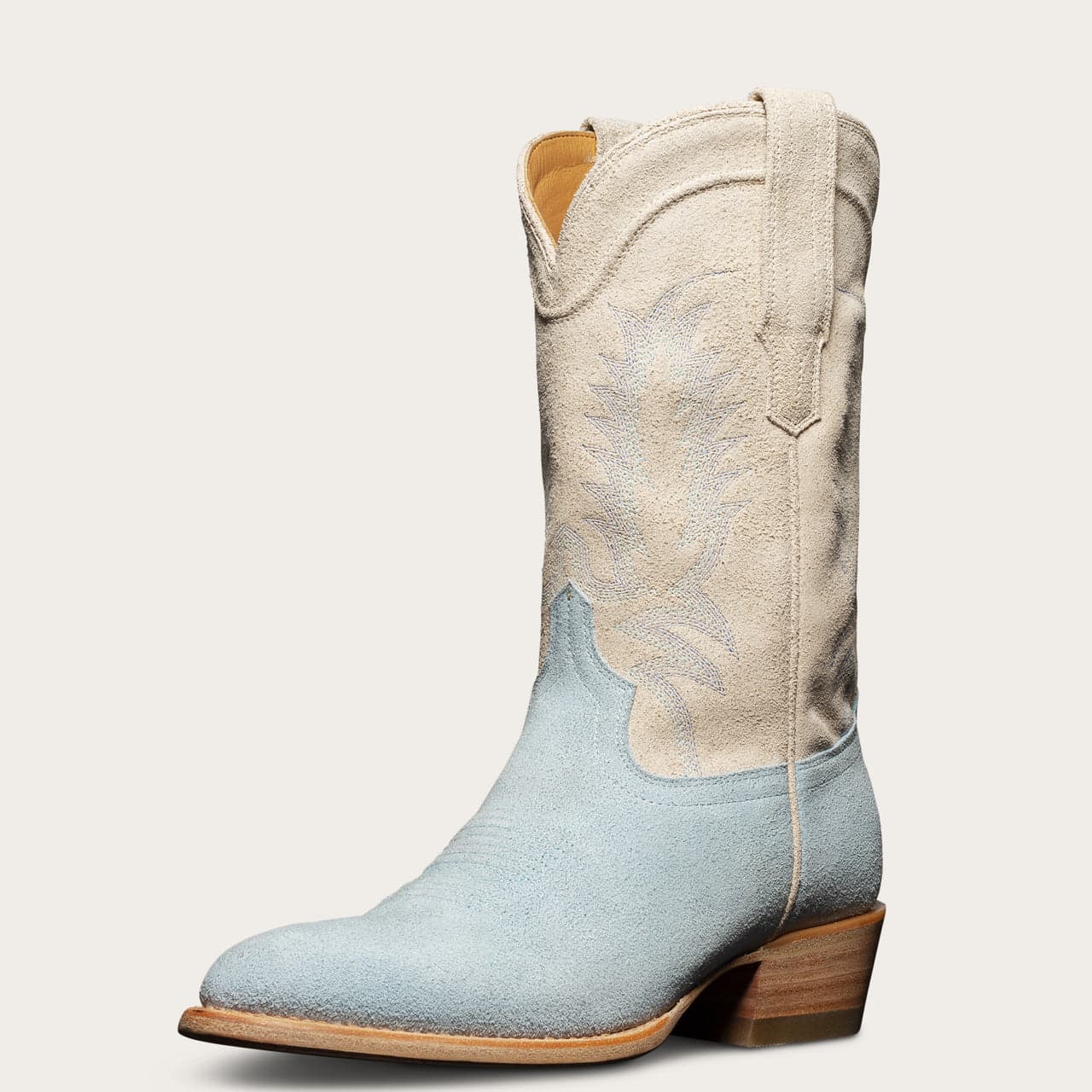 Although it is one of the new product lines, The Josie by Tecovas is a classic testament to the quality of their products: beautiful, soft and carefully crafted.
The Josie is made mainly from suede leather, providing a smooth and soft feel. Thus, it can accentuate the femininity and adorability of every girl.
With a classic cowboy boot style, The Josie offers the timeless beauty all girls seek. First of all, the stacked leather heel with a height of 1 3/4 inches brings a taller and more energetic image.
The tapered round toe design ensures your feet don't look too big, but on the contrary, it makes your legs slimmer and more beautiful.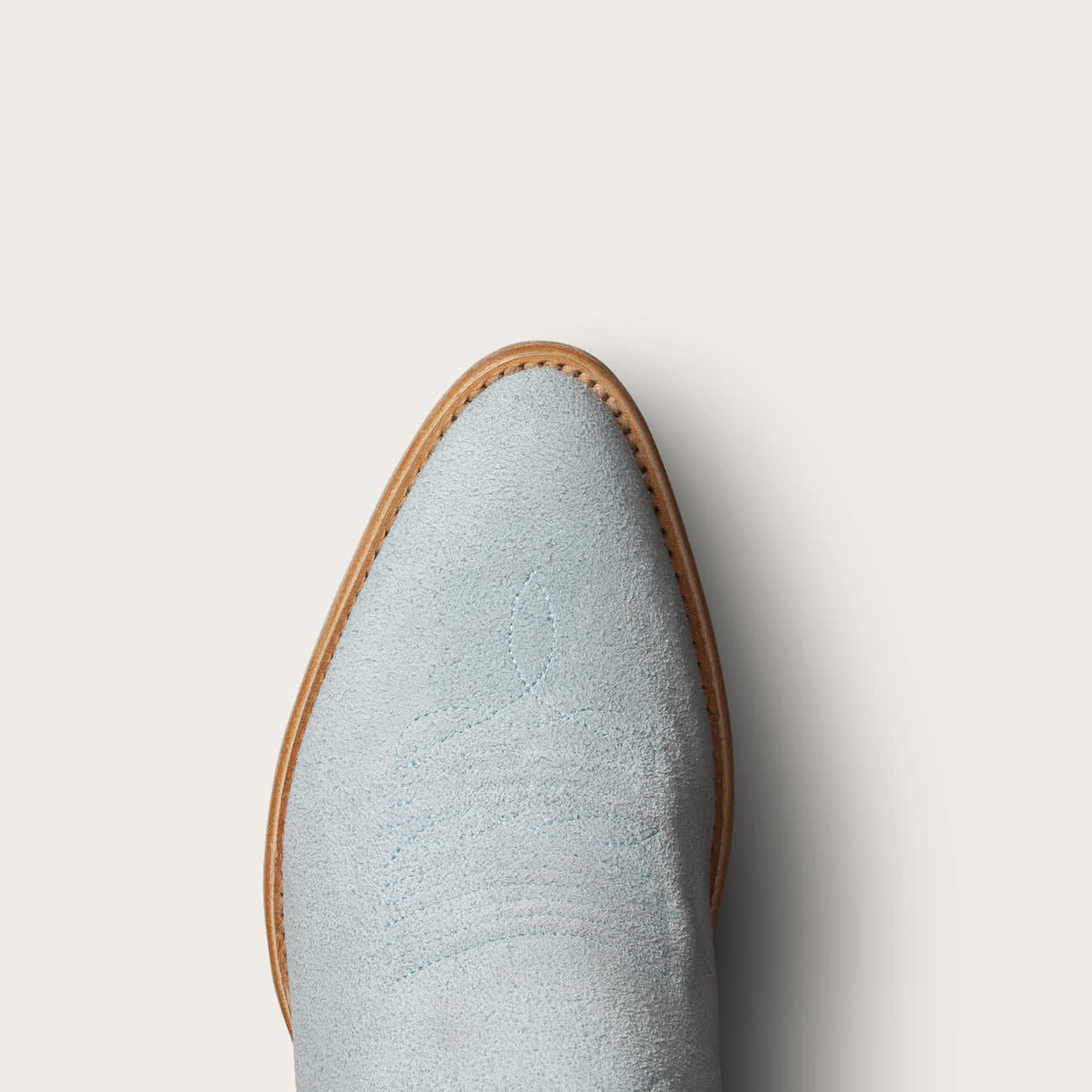 The thin, delicate, elegant leather sole along with beautiful curves from heel to tip greatly contribute to your feminine and seductive style.
Besides, the unique threading pattern on the shaft leaves a strong impression on viewers. This is very important since men often tuck the shaft of cowboy boots into jeans, while our girls often show it outside. So the shaft of women's cowboy boots definitely has to be nice, and The Josie provides that for you!
Suede, as you know, is a very soft material as it is thinner than full-grain leather, so it offers a more comfortable and breathable feeling.
Besides the good quality of the materials, the high skill of the Tecovas craftsmen creates a good fit for these boots as well as a very short to almost zero break-in time.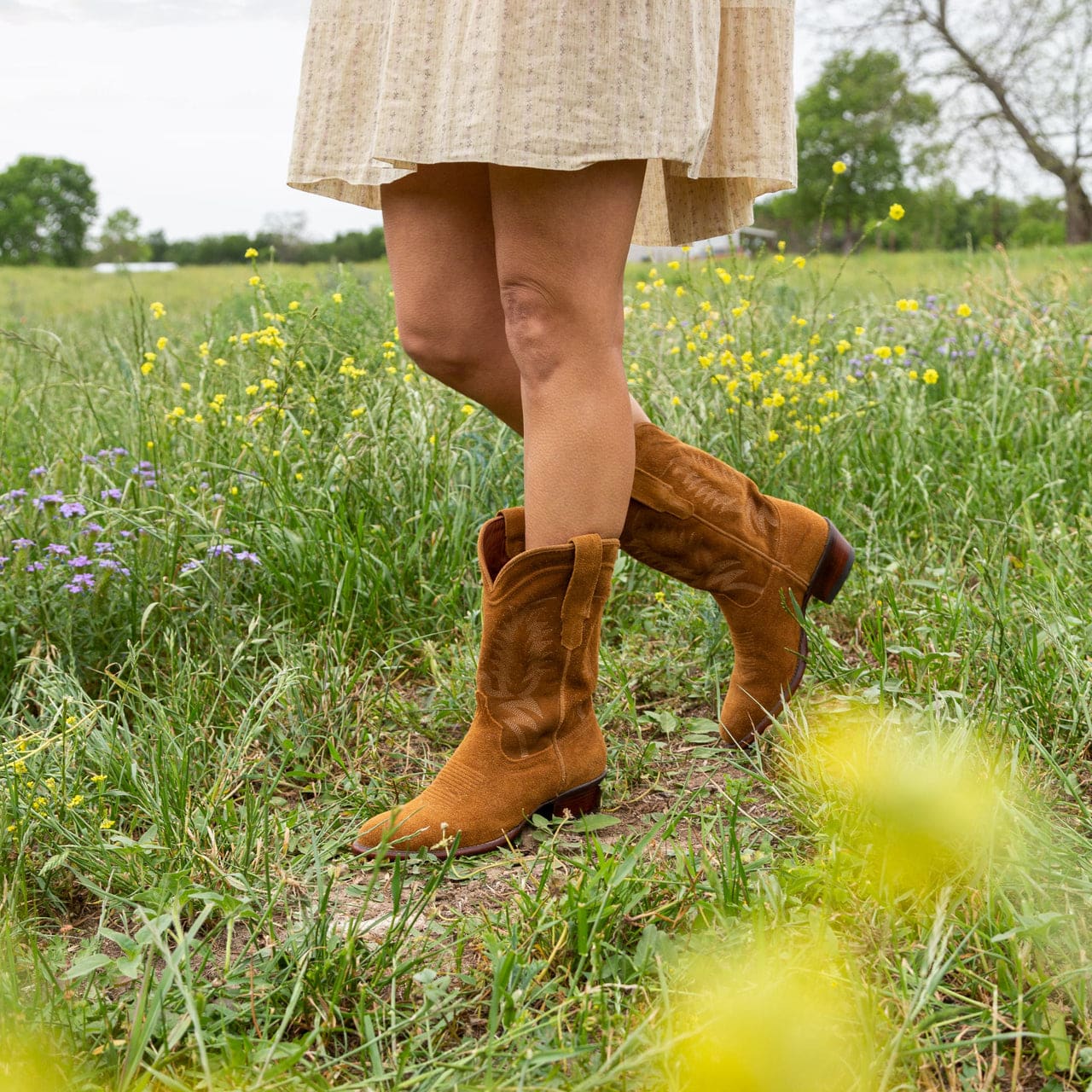 One last thing I like in The Josie is that it comes in many color choices to shape your style and offer the best choice. What do you like? A modern or classic style?
2. Best Round Toe Cowboy Boots for Working
There are two types of toe shapes of cowboy boots that are most commonly used in work, which are the round toe and square toe. Simply because these two toe shapes give more room and comfort for workers' toes than the snip toe or pointed toe.
If you notice, there are many cowboy boots with a number of enhancements appearing on different jobs these days, one of which is a very wide toe box reinforced with composite or steel.
Besides, cowboy boots can be combined with non-slip soles made from rubber and reinforced in other parts.
However, if you work on a farm, you don't need such heavy-duty boots because cowboy boots themselves are sturdy enough. The traditional round toe is enough. It doesn't need to be too wide, so it still gives you a nice look.
Men's boots:

The Jasper from Tecovas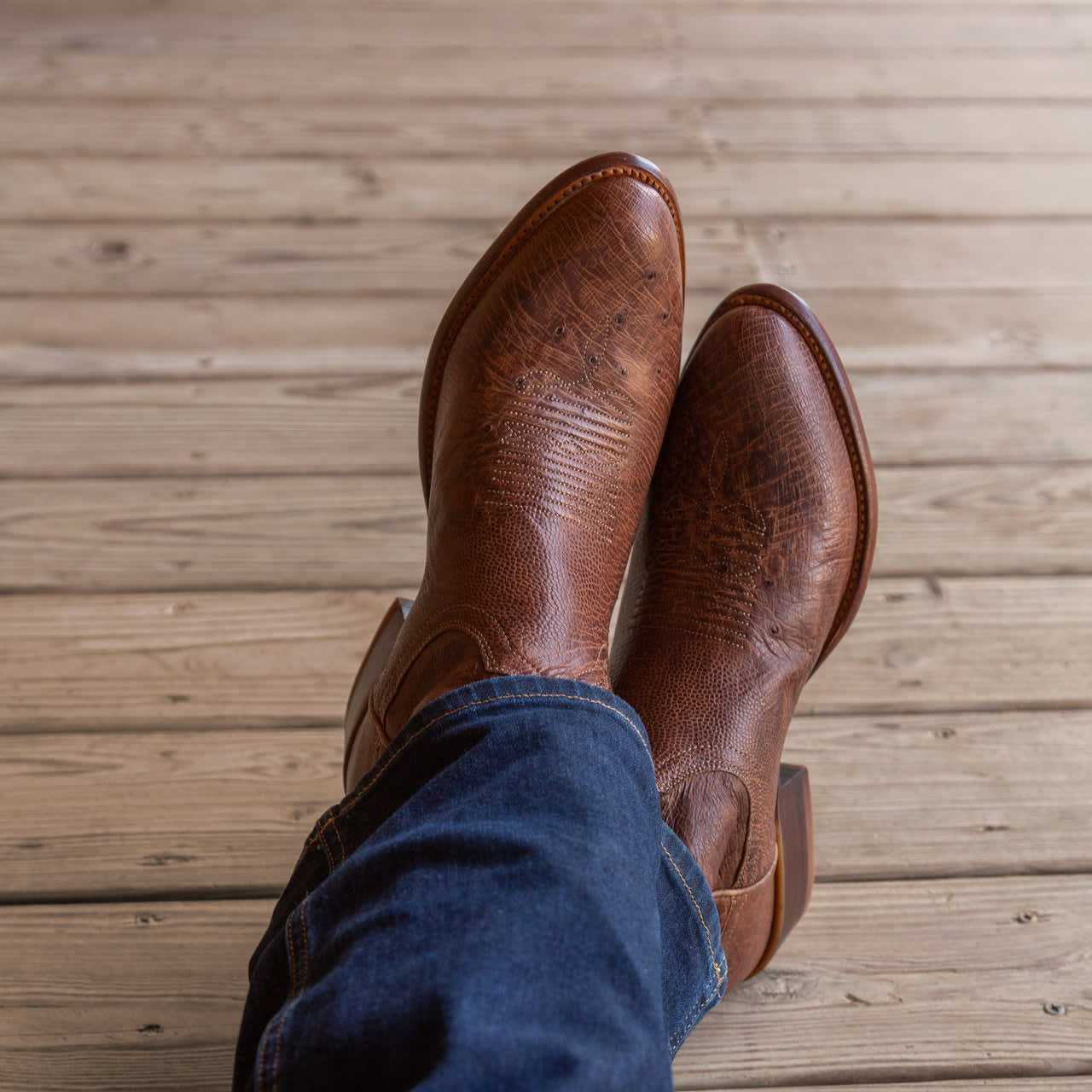 Well, when it comes to a pair of cowboy boots for farm work or yard work, it seems that the two basic elements that you will need are high comfort and durability. If so, ostrich boots are an ideal choice.
The Jasper ostrich boots by Tecovas are just what you've been looking for.
A very special property of ostrich leather is its high amount of natural oils, which prevent the boots from drying and tearing, thereby making them much more durable and softer than other leathers.
For that reason, The Jasper ostrich boots definitely satisfy the basic elements of a good pair of work boots.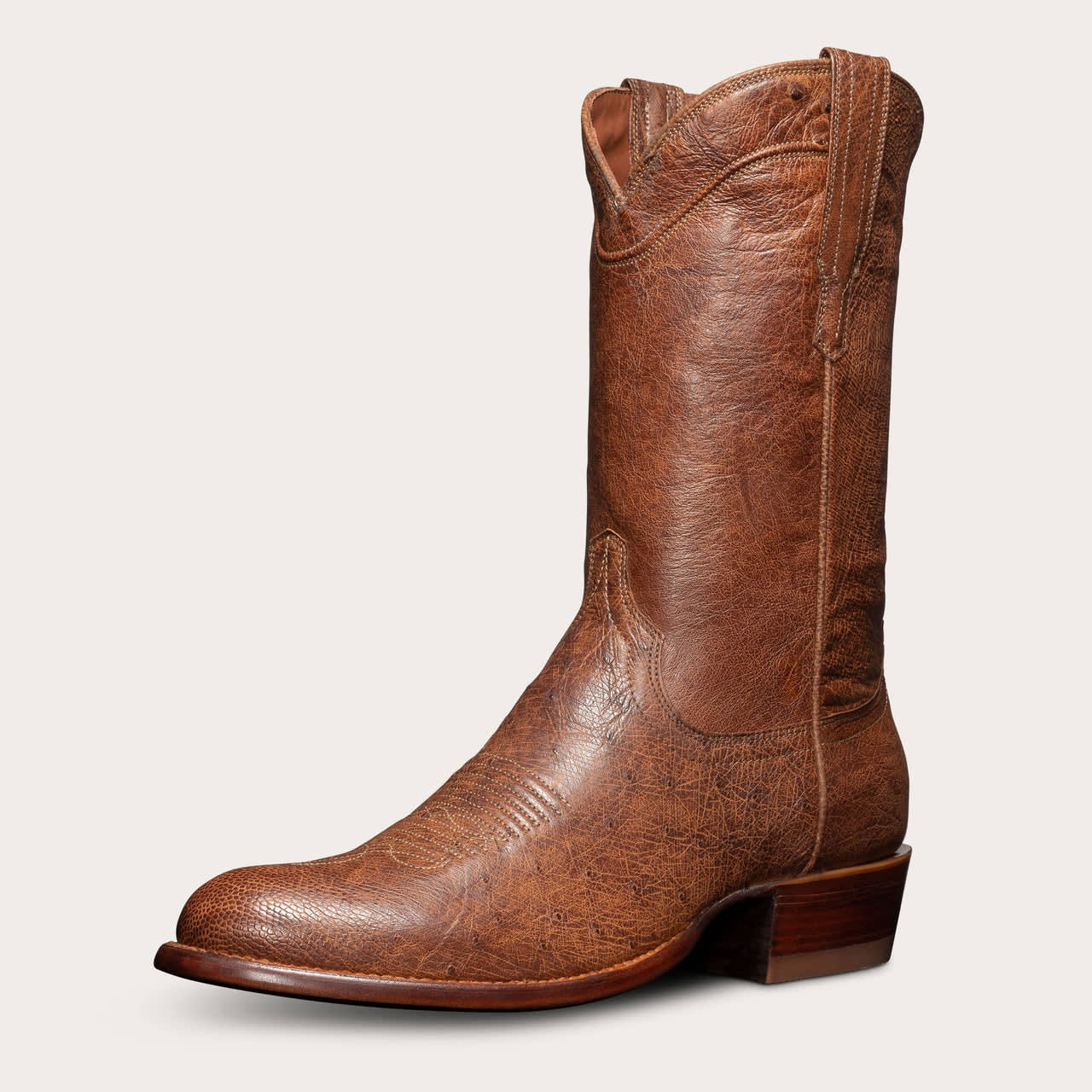 Aside from being great and comfortable, these boots also have unique lines – creases, natural roughness throughout the shaft to vamp. Incredibly sharp and enchanting, such a great look, isn't it?
In addition to the natural beauty, the rich color and the well-polished surface is also the highlight that contributes to the enchantment of these boots.
To increase the coolness when working on summer days, Tecovas equips soft bovine as a lining for the boots.
I love the stacked leather heel, leather sole and toe shape of this boot.
The stacked leather heel with a 1 1/2 inch height creates a heel-to-toe curve (slightly curved tip) when combined with a rounded toe tapering to the tip making the boots a great match for bootcut jeans.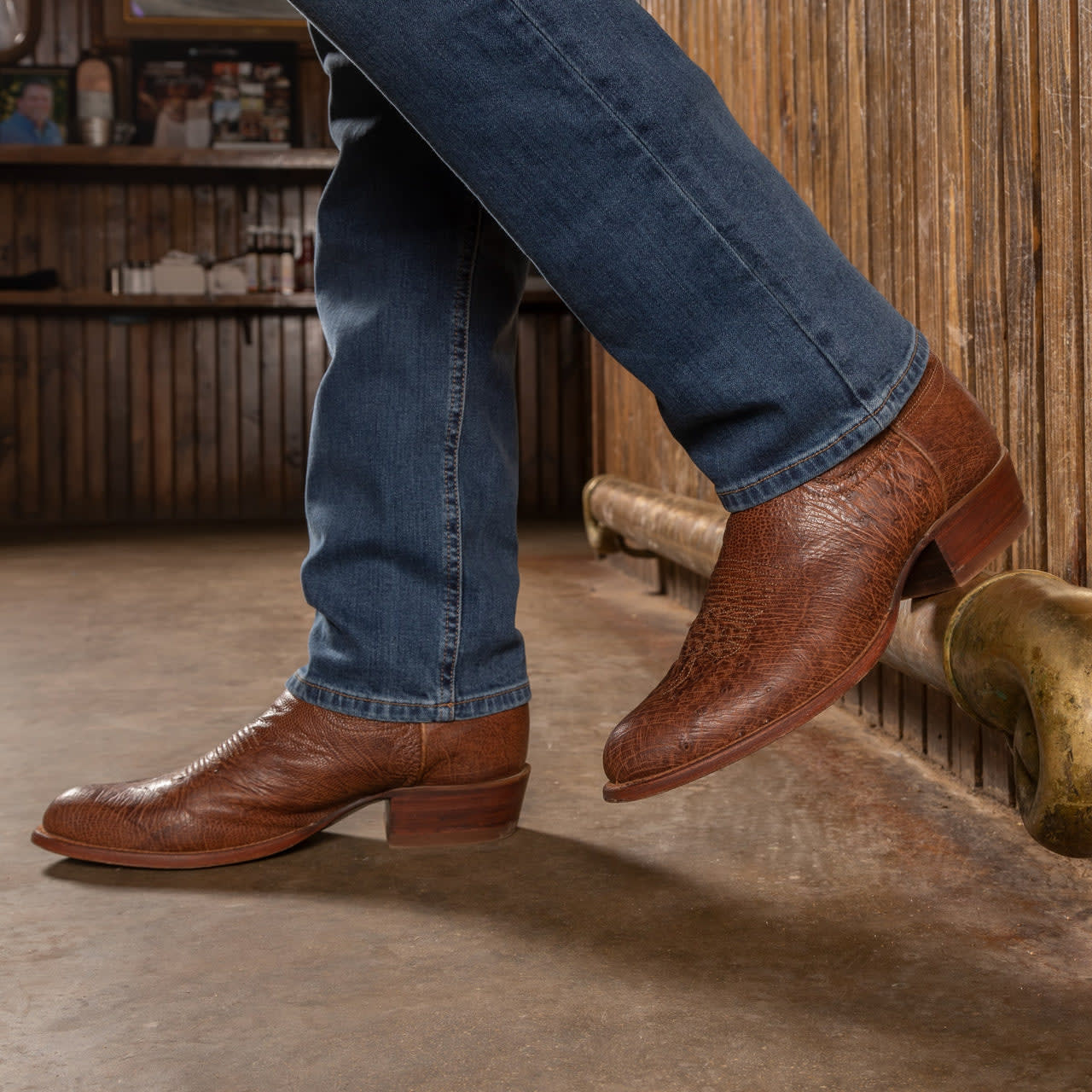 Durable, soft, beautiful and great to wear with jeans, you're seeing the perfect product for all your work!
Women's boots:

The Jessie from Tecovas
The standard that I set out for cowboy boots for working is not really much different from the boots above, which are comfort and high durability. That's why ostrich boots continue to be my next choice.
The Jessie with the bumpy surface of full-quill ostrich leather is more familiar to cowboy boot fans than The Jasper's smooth ostrich leather. But they still retain the best properties of ostrich leather: good softness and awesome durability.
The Jessie has the classic of traditional cowboy boots when possessing a round toe, classic angled heel and leather sole. I can say that this is quite a versatile boot, you can use it not only for working but also for casual wear or dancing due to its good look.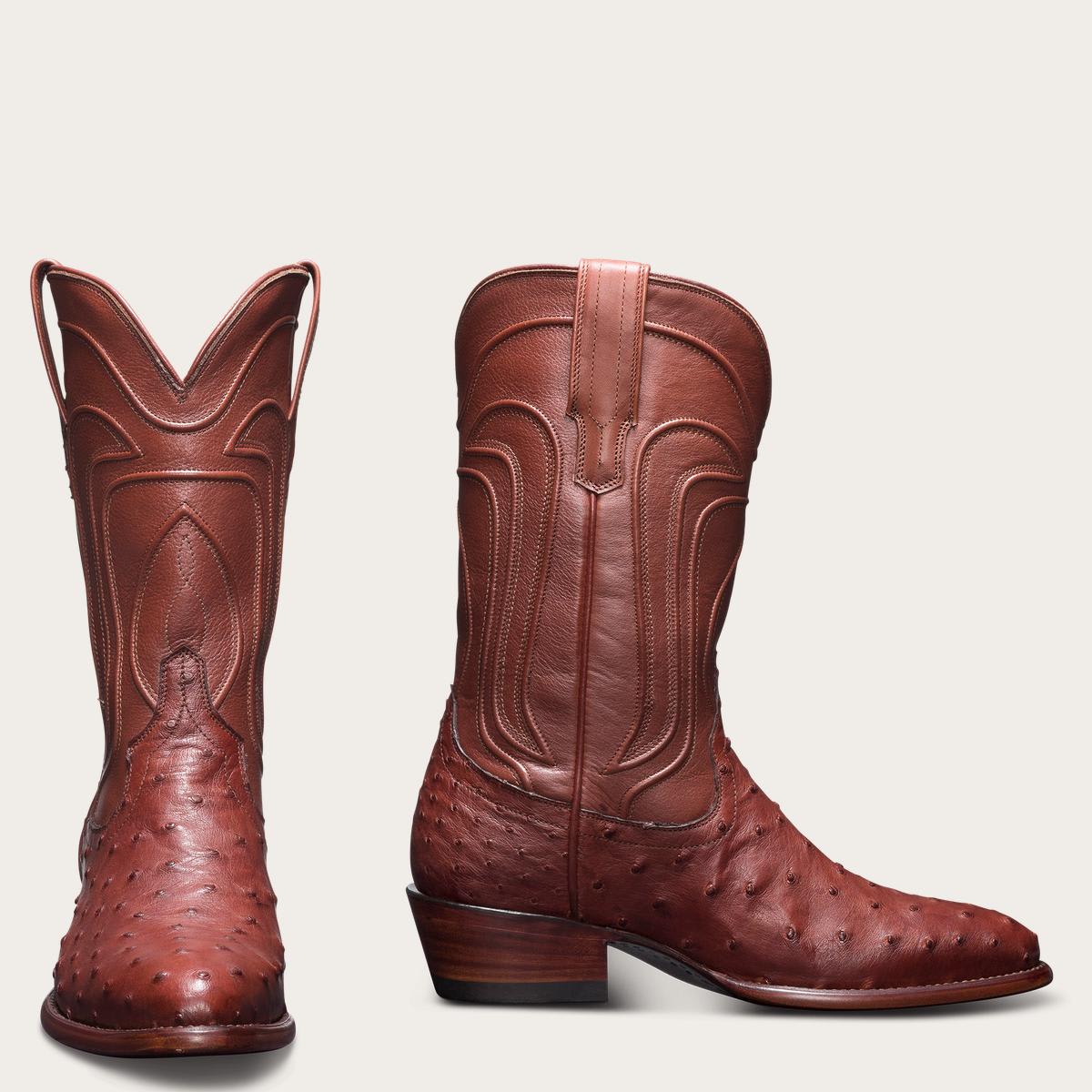 As one of the products of Tecovas, The Jessie certainly cannot lack the hand-corded details on the shaft. This is one of the great identifying features that only Tecovas has.
The curvy patterns on the shafts of The Jessie cowboy boots combine with the curves of the round toe and leather sole for a soft and elegant style.
Boots like The Jessie, will provide you with both emotional and visual pleasure. In addition to their good-looking appearance, they also provide a good fit as well as a very short break in time.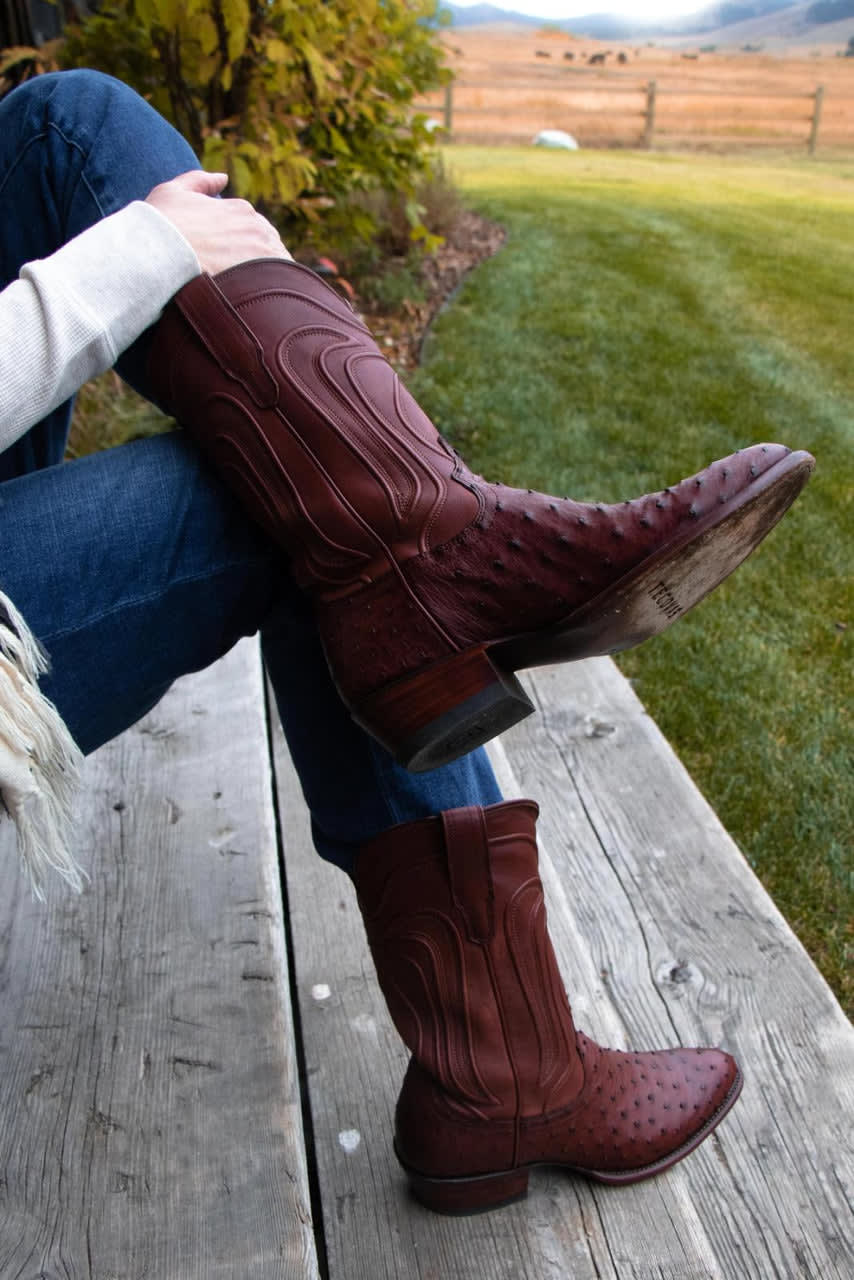 In fact, The Jessie is very suitable for outdoor work in the hot season because parts such as leather sole, lemonwood pegs or ostrich leather are all breathable materials.
You definitely won't go wrong with these boots!
3. Best Round Toe Cowboy Boots for Casual Wear
I'm pretty sure that if you asked 10 people what cowboy boot's toe shape they choose for casual wear, more than half of them would choose the round toe.
Chances are you don't want to appear in front of people every day with square toe boots because this toe shape is quite rough and lacks sophistication.
Meanwhile, a pointed toe is not necessarily a better choice in terms of aesthetics, as it often pinches your feet due to a narrow toe box.
A pair of round toe cowboy boots will support you in both ways, look and feel! They have a sophisticated appearance but still provide good comfort with lots of space.
Men's boots:

The Nash from Tecovas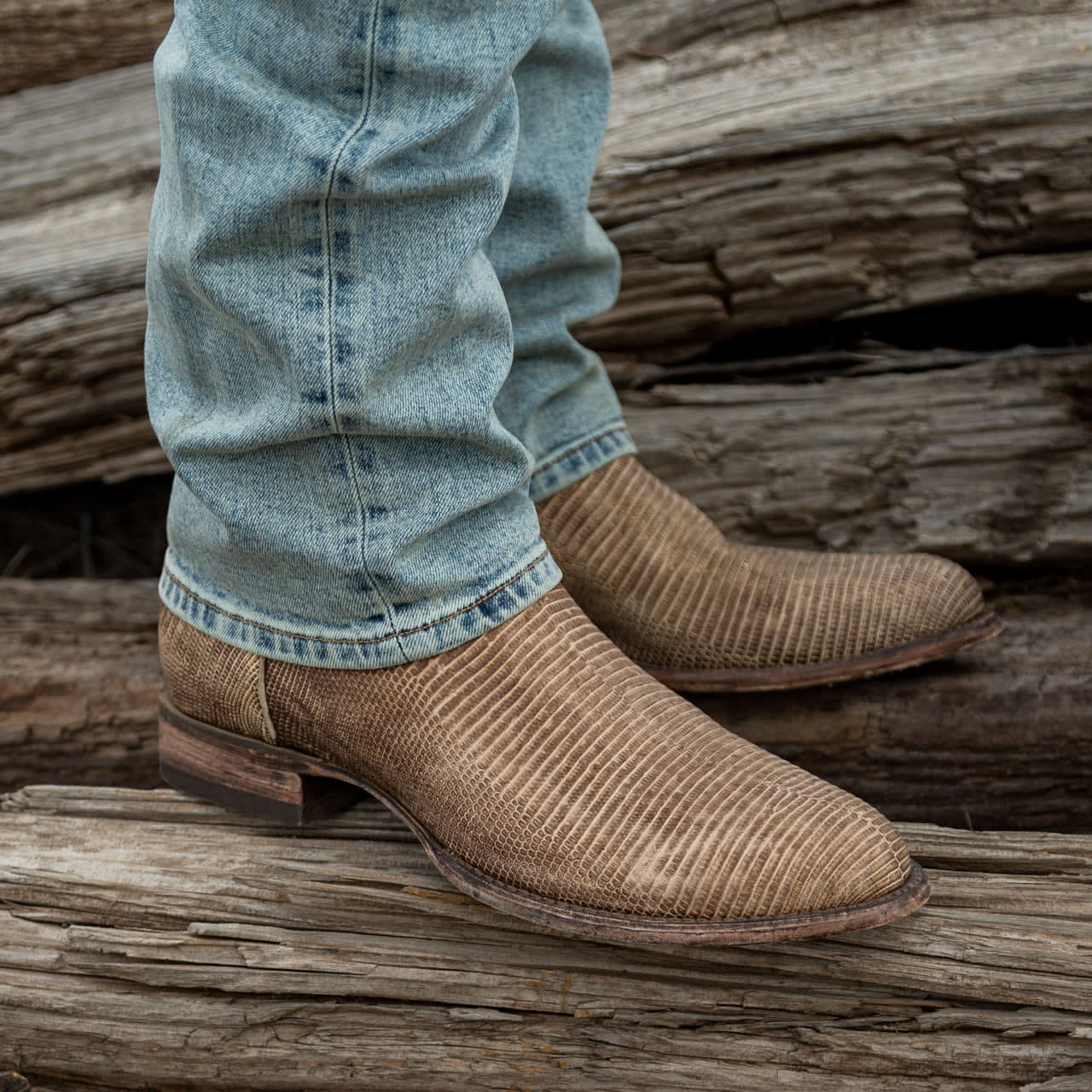 I'm not a fan of flashy colors for everyday outfits, I prefer simplicity and lightness. Besides, like many people, comfort and convenience are my priorities.
That's why my mind immediately comes to a pair of cowboy boots with a pleasant texture, a roper style (the reason will be detailed below) and a high degree of softness and breathability.
I found it, The Nash from Tecovas.
With an unpretentious look but still bringing a pleasant impression from the unique texture of lizard leather, The Nash is a great choice for you to wear with jeans, khakis or dress pants every day.
The Nash comes in a variety of colors to serve multiple purposes, this is its huge plus! I love to wear brown boots with khakis pants, how about you?
Also, The Nash has a roper style, which I like because its construction is a bit more comfortable than traditional cowboy boots.
Firstly, it comes with low and lightweight construction, you will easily put on/take off or walk in them without much trouble.
Besides, the low height (1 1/8 inch) roper heel with block shape also offers better balance than cowboy boots with too high heels. From there, your heels can get rid of the pressure from your body.
Roper style boots also feature a round toe that is wide enough to create plenty of room for the toe box. And especially, as many die-hard fans know, roper boots always give the wearer a graceful and leisurely feel.
No intricate detailing on the shaft, but The Nash always knows how to make an impression with a simple yet elegant style.
A highlight of comfort that you need to know is that lizard leather is so soft and flexible that you can walk in them comfortably day to day.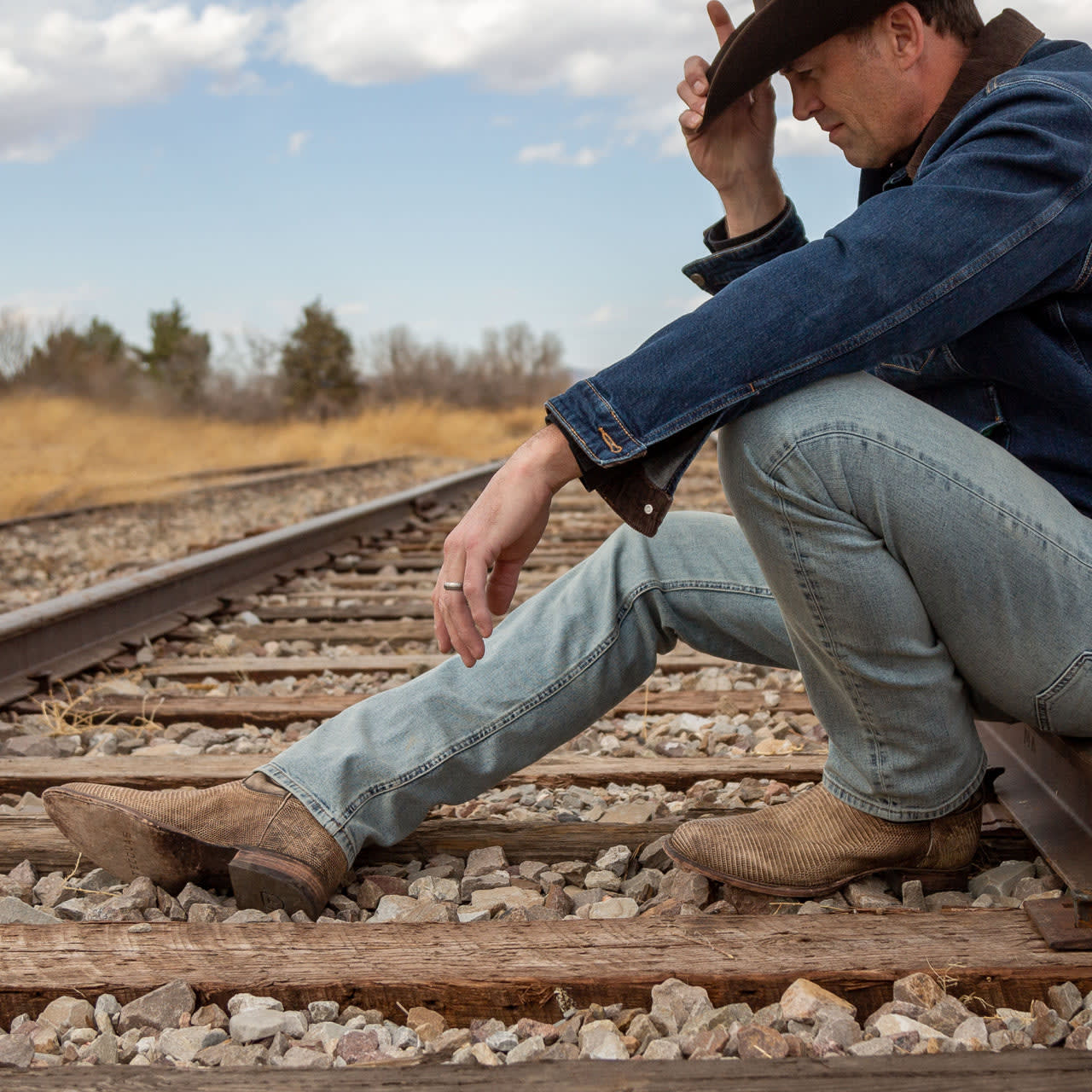 Besides the above impressions, it should be mentioned that the fit of these boots is highly appreciated, and the break-in time is very short to almost none. What could be more impressive?
If you are eager for ethereal beauty, and great comfort for daily wear, then The Nash is for you!
Women's boots:

The Penny from Tecovas
My wife is a person who loves convenience for everyday tasks, so wearing a pair of traditional cowboy boots is really not a good choice.
After a long search, she found The Penny from Tecovas.
The Penny has a relatively simple design in every detail, but it is beautiful and has many benefits in general. For example, the beauty of this boot mainly comes from the attractive natural color and creases of goat leather.
A little information that not many people know, goat leather is a type of leather that contains many wide pores, so it offers very good breathability compared to other types of leather. That's why goat leather often provides high comfort for everyday wear.
Besides, people also like its elegant and formal style. Even so, goat leather is usually affordable so it is very popular these days in the cowboy boot world.
The minimally embellished vamp of these boots will captivate you. The Penny boots are beautiful, but not too flashy and not too simple, and they're simply perfect for casual use.
The round toe of The Penny boots also offers a subtle beauty as it tapers to the tip, combined with the gentle curves of the vamp and leather sole, you will have a special charm when wearing them with any outfit. Whether it's jeans, dresses, or skirts, it's no biggie!
What I love most about these boots is that the stylish 1 3/4 inch stacked leather heel will add more height for you. Combined with the tapered texture of the round toe, it is guaranteed to make your legs slimmer and more beautiful.
Made from goat leather, The Penny does not need to spend a lot of time breaking in because they are naturally soft. You also don't need to worry about the fit, because Tecovas is highly appreciated for that as well as having a team to solve customer queries very quickly.
This is a great boot for all seasons, it can keep you warm in winter and cool in summer. However, be careful with leather soles because they can be slippery in the rainy or snowy season.
4. Best Round Toe Cowboy Boots for Dress Clothes, Business Casual
As I have written in many other articles, I realize that cowboy boots today have gotten rid of the rough look. Instead, they now can completely match with a suit, business casual attire, and dress clothes for formal wear.
Cowboy boots are dressed up with a more polished look, and especially boots made from exotic leather with a unique finish, are becoming more and more popular and interesting.
Get your eyes on cowboy boots made of caiman, lizard, well-polished cowhide, goat, etc. You will understand why I say that!
To my taste and understanding, even with elegant outfits, the round toe is still one of the most used toe shapes. It's partly because it avoids the roughness of the square toe and the odd look of the pointed toe.
Besides, sitting at the office all day also requires a pair of cowboy boots with high comfort, and the round toe boots offer that for the toes or the ball of the foot.
Usually, when choosing cowboy boots to wear with a suit, I prefer ones with a tapered toe that tapers from the ball to the tip. Besides, it will be better if they have a traditional profile.
How about you?
Men's boots:

The Marshall from Tecovas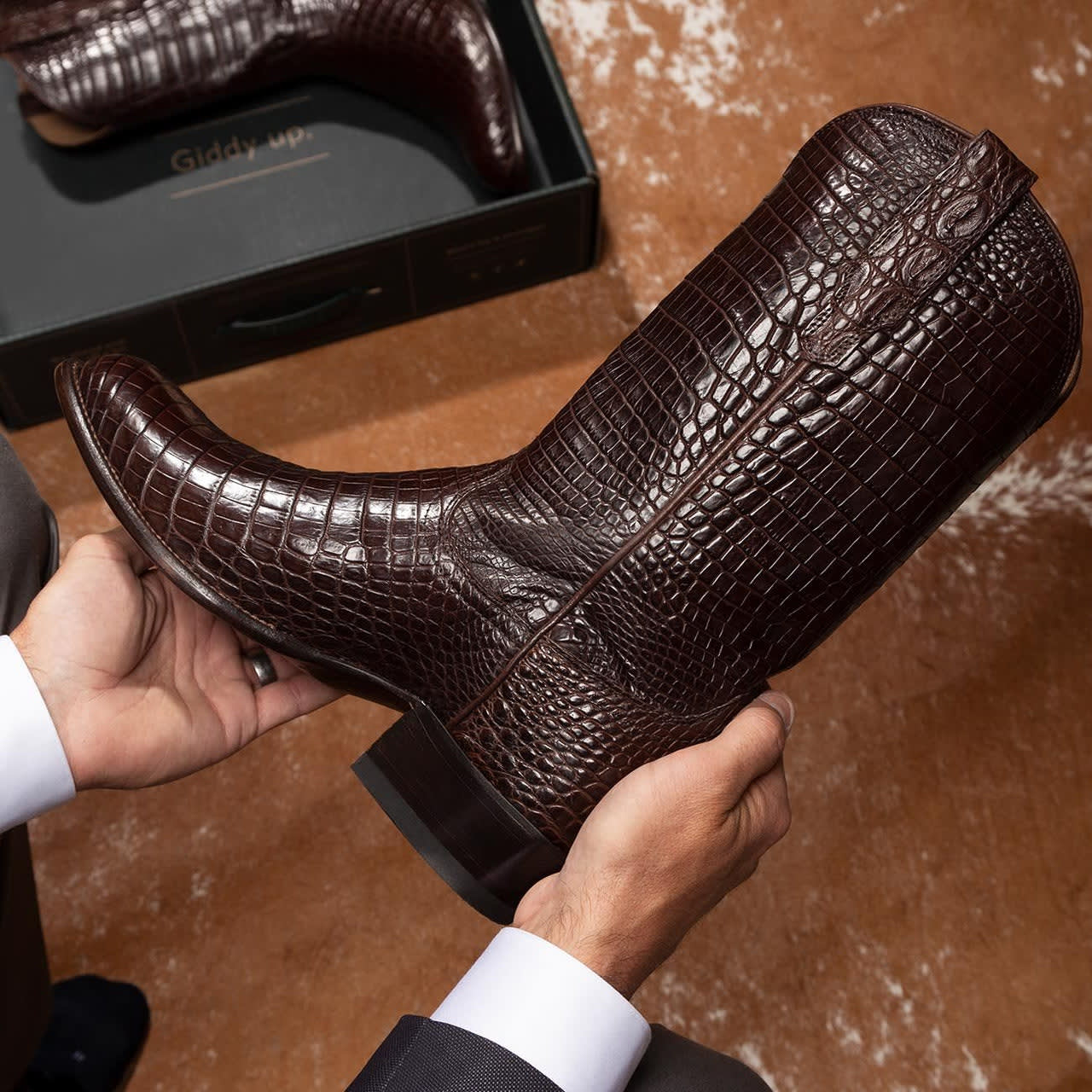 Crafted with an innovative spirit coupled with boundless creativity, The Marshall brings a new spirit to today's cowboy boots.
No longer carrying its dry and rough appearance, the scales of the Nile crocodile leather that form The Marshall are so well polished with skillful workmanship that you can see them glitter.
The Marshall boots have a traditional cowboy profile with a very standard design, and the 1 1/2-inch stacked cowboy heel brings you a confident and tall figure.
Meanwhile, the thin and curved leather sole adds to their sharp look. The slight upward curve of the toe shape makes The Marshall flexible and soft.
And the thing that interests you most: round toes, they are perfect! Contour your feet from the ball to the tip, these boots offer amazing sophistication and elegance. Yes, the round toe is not as extreme as the pointed toe and not as clunky as the square toe either.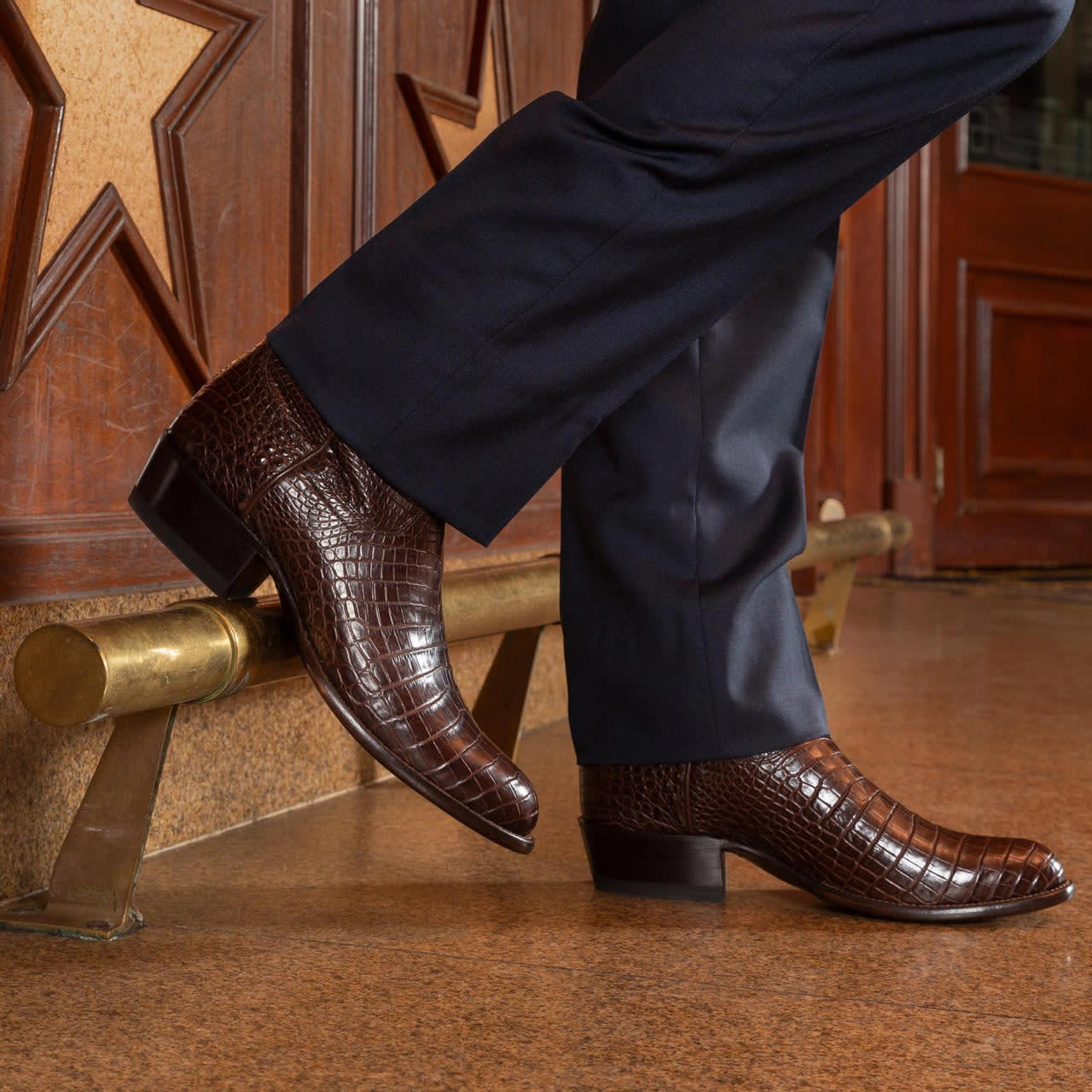 Overall, these boots are inherently expensive looking, everyone knows that when looking at the magical combination of the rich detailing of the materials.
Therefore, on any occasion you go with luxurious or elegant outfits, The Marshall can match them well.
So what about comfort?
Like many other Tecovas boots, these boots are highly appreciated for their fit. Besides, the smooth bovine lining also provides good breathability to the feet. You can wear such high boots all day without worrying about feeling air-tight or hot.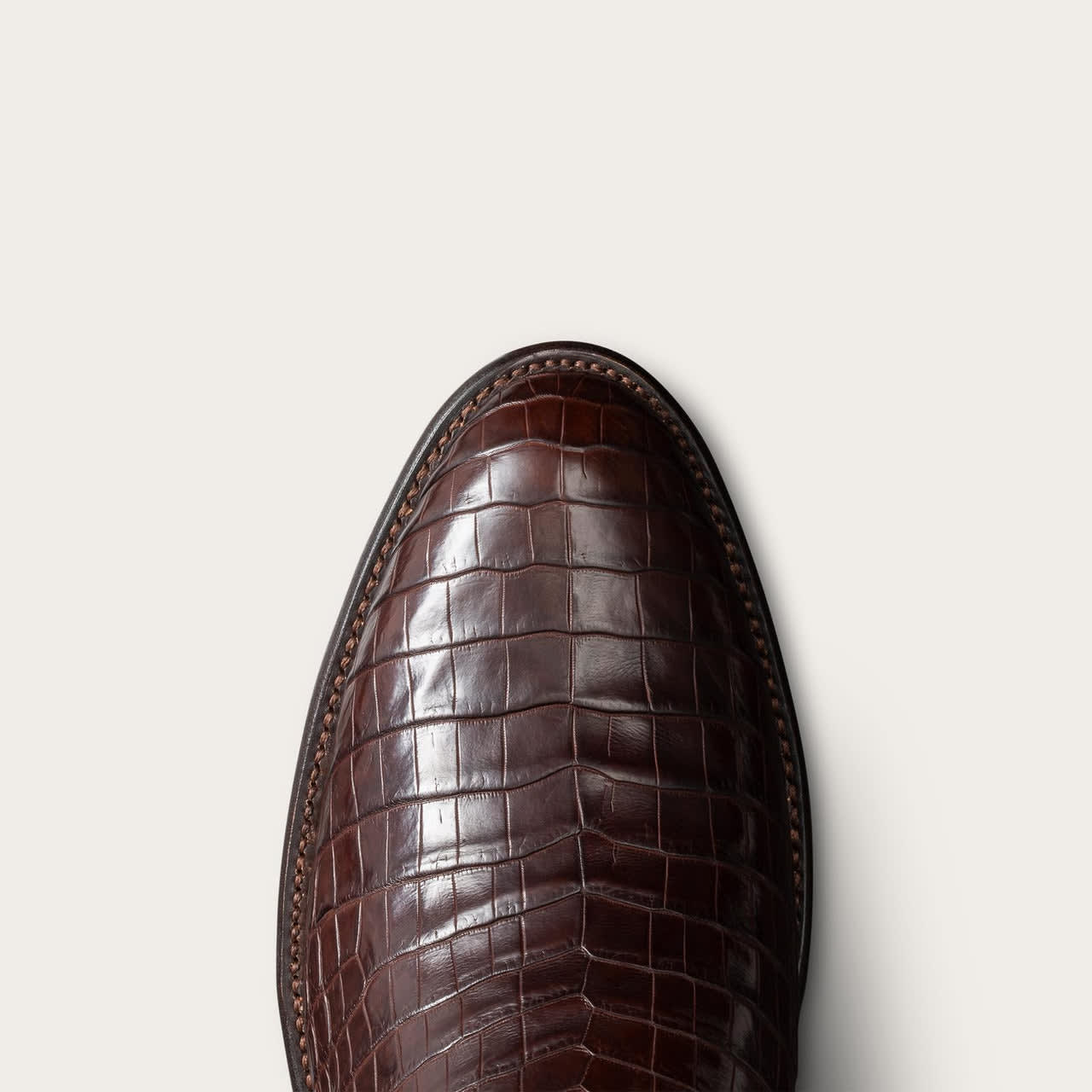 Tecovas boots usually take very little time to break in, and the same happens with The Marshall, you will feel comfortable right out of the box.
Here, The Marshall is a great investment for your closet!
Women's boots:

The Jenny from Tecovas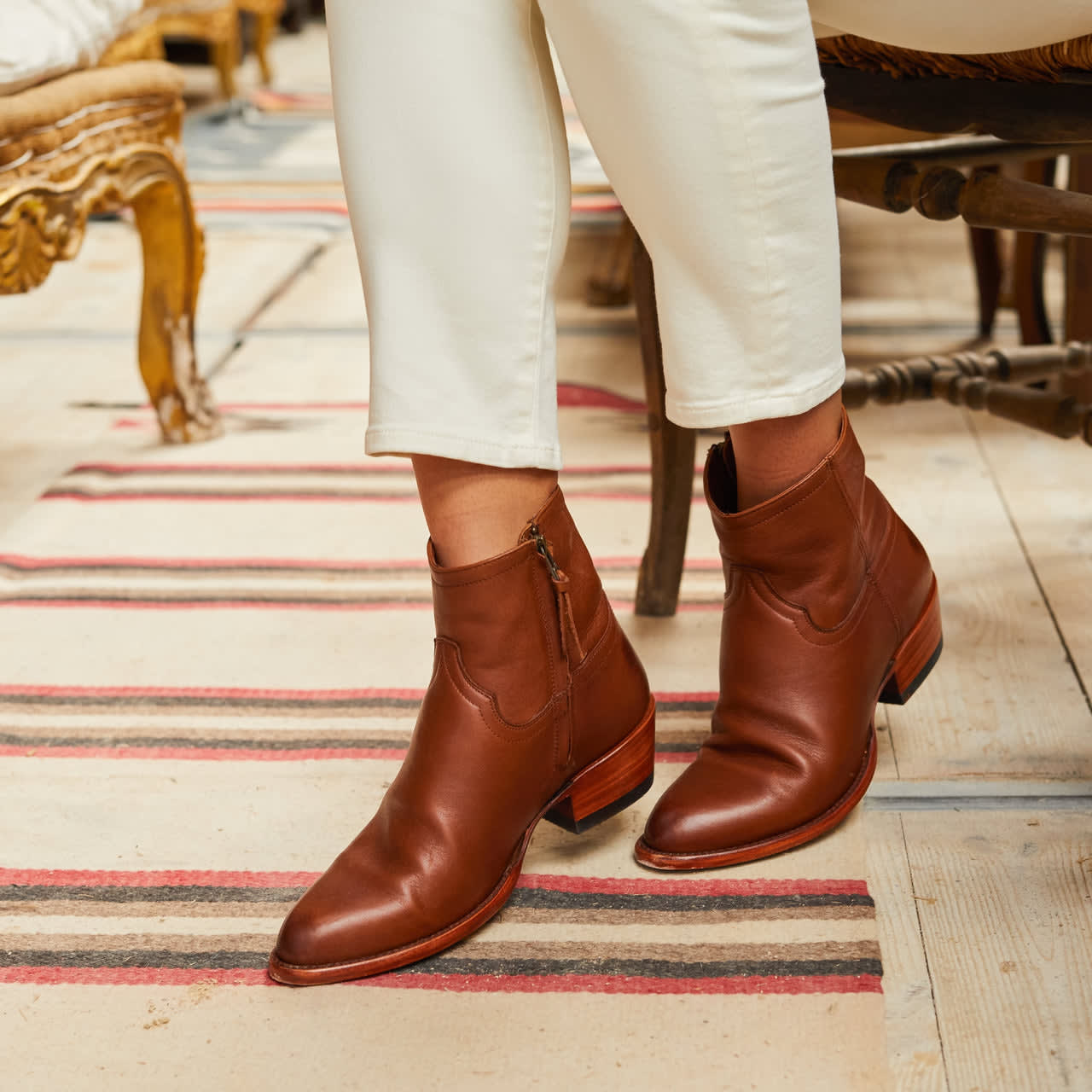 Made of suede for both a soft look and feel, The Jenny should always be the number 1 choice of our ladies.
The first contrast is that although this style has a wild color, it still gets an elegant and attractive appearance. And I'm pretty sure that the craftsmen of Tecovas have taken the quality of classic cowboy boots to another level.
First, look at their shape, and remember that no matter what boots you wear, their shape will largely determine the success of the outfit.
The first is the beautiful stacked leather heel with 1 3/4 inch height, which draws a beautiful curve from the back to the tip of the boots. That curve becomes even more ethereal and soft thanks to the delicate thin leather sole.
And you'll love those curves when viewing them from an angle or from the side. This style offers a perfect feminine look.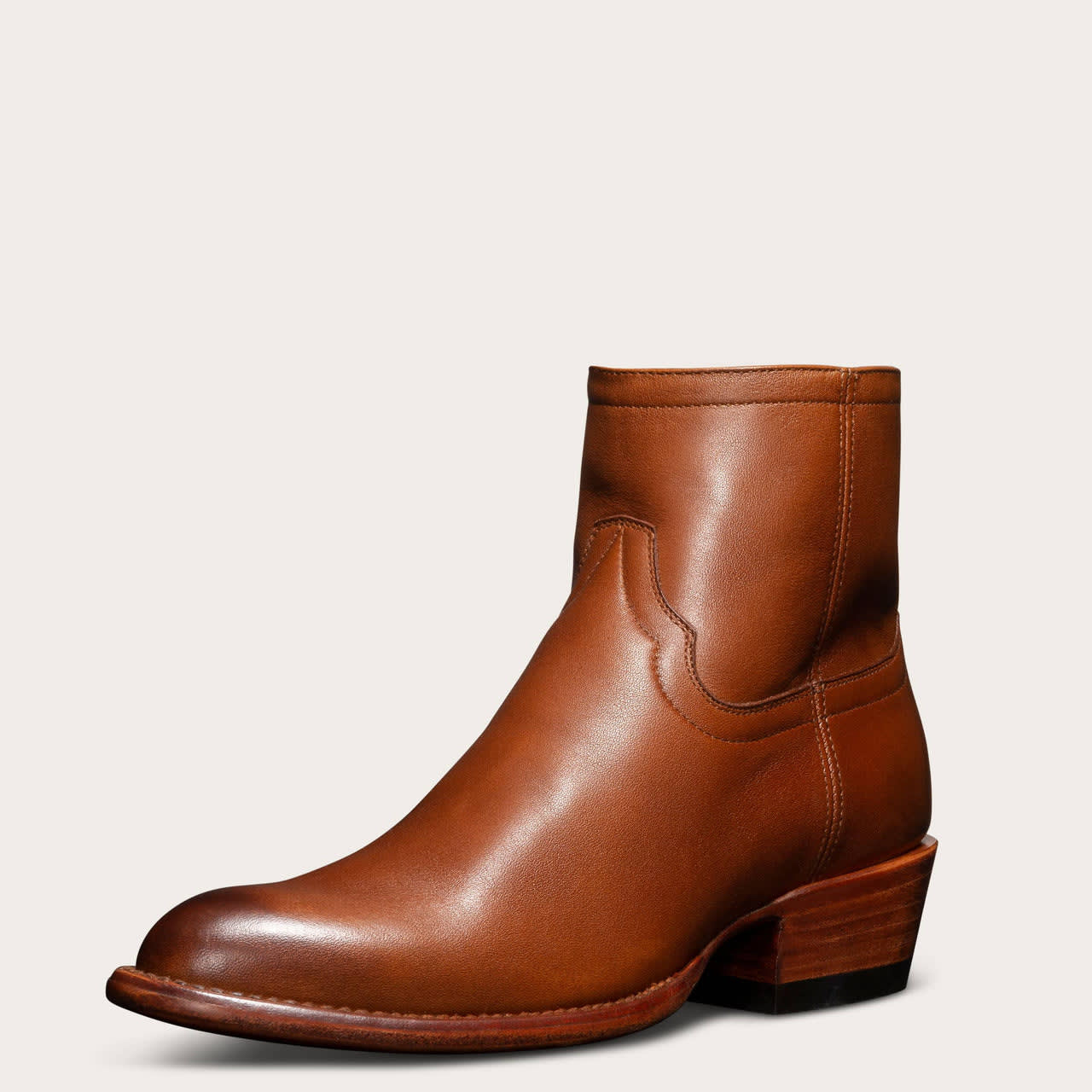 Secondly, the round toe has a gentle curve and isn't too wide, which ensures your feet don't look too big while bringing a long and slim effect to your legs.
The special thing is that the round toe is very well polished with even color and gradually darker on the tip and around the welt. My wife likes to wear sleek and elegant polished boots that can be worn with dresses or white skirts.
Thirdly, the boots' zippers are carefully covered with leather. A gentle fringe is attached to the zipper hook for a soft and lovely vibe.
Finally, the flat 6" shaft and vamp have no intricate detailing but they get beautiful color and well-polished surface, making The Jenny classy and suitable for the office.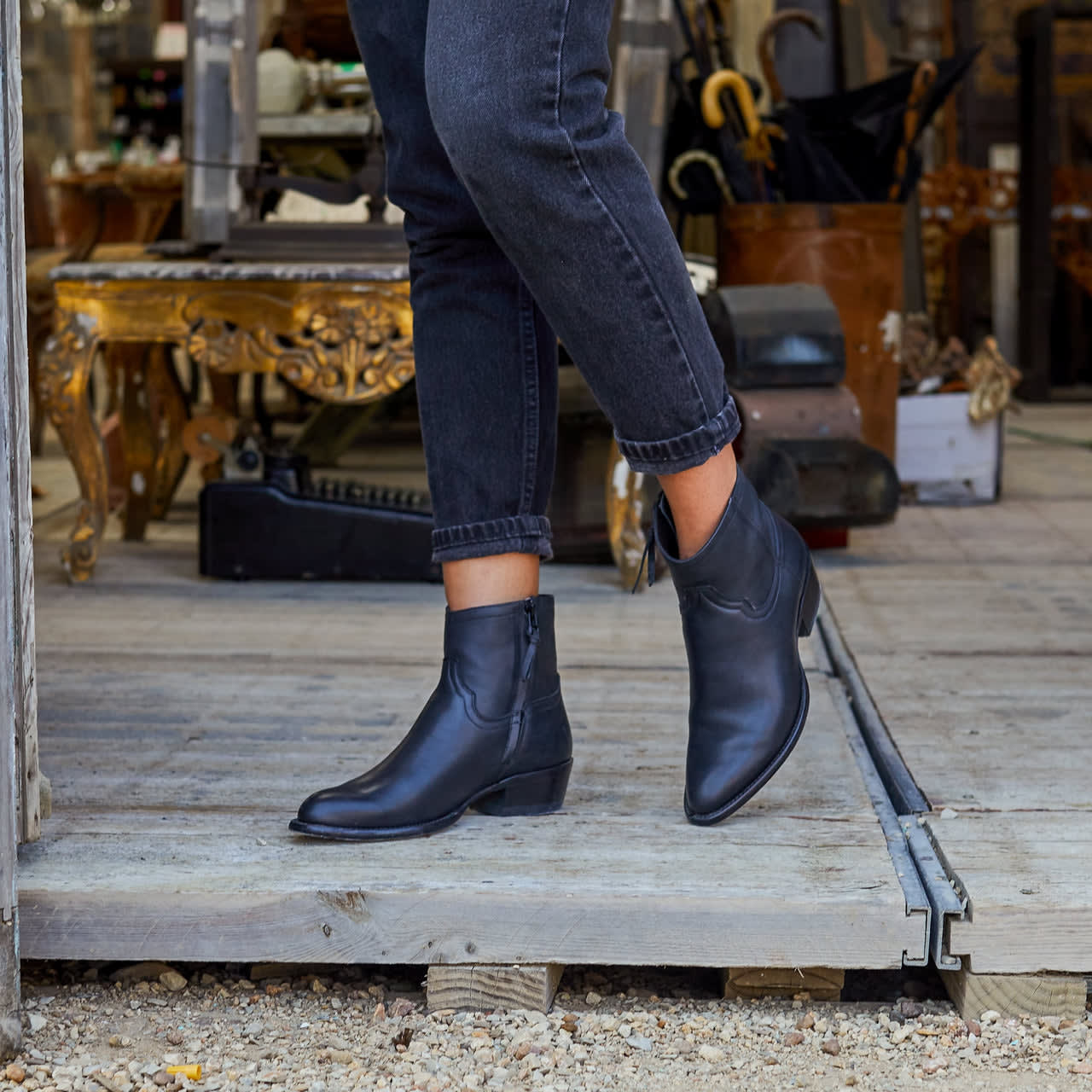 In addition to all the above-satisfying factors, calfskin as the main material also has good softness and molds feet well for a good fit after the break-in. I believe this break-in process is very short, which is one of the strong points of the Tecovas brand.
What are you waiting for?
5. Best Round Toe Cowboy Boots for Your Budget
You always know that a pair of cowboy boots are way more expensive than other footwear. This is not difficult to understand when they are made up of more materials for the tall structure.
Besides, some cowboy boots made from exotic leather are also very expensive since these materials are not easy to find and process (especially handmade).
Well, I'm not going to try to find cheap cowboy boots for this part. Instead, a pair of quality cowboy boots at a decent price is my preference.
Suppose a pair of cowboy boots with an acceptable price can last 7 or 8 years, while cheap boots can only survive for 6 months with much harm. The former is way better than the latter, isn't it?
Men's boots: The Wyatt from Tecovas
As I said above, ostrich boots are extremely durable boots because they themselves have more natural oil than other leathers, so they are softer and don't dry out or crack.
That's why I always look to ostrich boots as a bargain for my investments. And I chose The Wyatt by Tecovas.
It is no accident The Wyatt has become one of the most successful and loved products of Tecovas. You will catch impressive images in this boot, the color is just bold and sharp.
In addition, that color combined with bumpy leather is a unique feature of The Wyatt.
Carrying the classic cowboy shape, The Wyatt offers a beautiful look in the trademark positions of cowboy boots that are toe, heel and sole.
I love the round toe of these boots, it is nice with the right amount of curve, not too wide and not too narrow. Besides, the color of the toe darkens from the top to the welt for more depth.
Curves also appear in the thin leather sole, the undulating shape from heel to tip is ready to captivate anyone.
I am a lover of cowboy boots, among them, the stacked leather heel of Tecovas boots always has a special place in my heart as the look and sound they make while walking is gorgeous.
The Signature Tecovas hand-corded shaft is an unmistakable icon with subtle curves that flow throughout the shaft. I love it.
I'm sure a lot of people don't like that I put these boots in the best boots for your money section, but believe me, this is a bargain for a handcrafted pair of exotic boots. With its durability and glamor, this boot is definitely not expensive for its value.
Women's boots: The Jamie from Tecovas
I think I will solve your problem by looking further. A cheap pair of cowboy boots won't help your pocket problem, but a pair of boots that can do everything for you for 10 years will work out.
That's why I'm searching for an affordable, durable and versatile cowboy boot with timeless beauty – The Jamie by Tecovas.
One of the reasons I chose this boot is goat leather which is a luxurious and elegant-looking leather but at a very affordable price. Not to mention its durability, comfort and breathability (goat leather has a lot of large pores).
For me, boots like these can be used for multiple purposes: casual wear, office, dance, farm and ranch, etc. All is possible with The Jamie.
Carrying a traditional beauty, The Jamie with its beautiful and eye-catching appearance along with the natural color of goat leather is definitely a wise choice.
I love the natural creases on the shaft and the uneven color embellished on the vamp. Signature vamp stitching and hand-corded pattern on the shaft accentuate a classic yet soft feel with curvy details.
The ¾ Goodyear welt allows you to resole the boots whenever you want, which will save you a ton of money.
The round toe part of the boots is not too wide, but in return, it provides a good beauty for women's feet, as it is tapered and makes your legs look slimmer.
A butter-soft bovine lining is a great component of boots to provide you with great breathability. Thus, it is much more durable than mesh lining.
The 1 3/4" heel will be the number one choice to increase your height but still provide a good balance! In case you are a professional dancer, you can still dance and shine without any problem in these boots.
Durable, beautiful, versatile and stylish, everything you need to secure your wallet for years is here!
Before you leave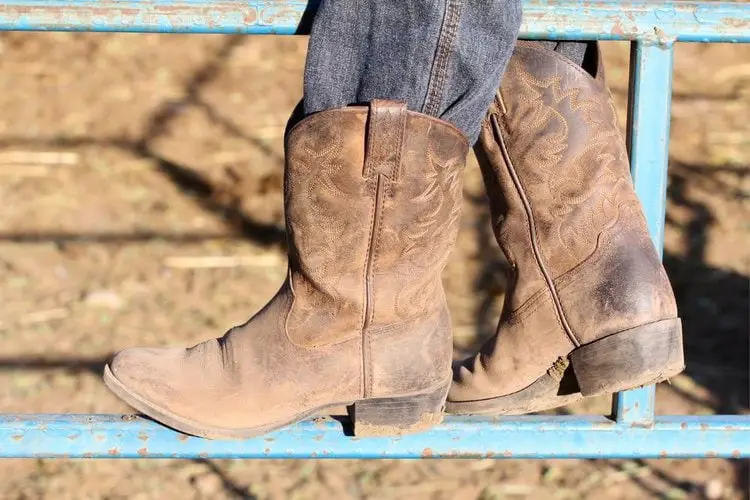 How do you feel? Do my round toe cowboy boots choices make sense? Let me know what you think in the comments section below.
People love round toe cowboy boots for their versatility, classic look and the great comfort they offer.
I can wear round toe cowboy boots anywhere and anytime with any outfit. That's what makes me love them the most.
How about you?
Howdy y'all, and welcome to From The Guest Room, your ultimate guide to all things Western! I'm Jay Gatz, a lifelong cowboy boot enthusiast with over 5 years of experience in the Western style world. I'm excited to share my knowledge with you and help you discover the perfect cowboy boots and western gear to elevate your style. Let's explore the rich history and timeless appeal of Western fashion together!