As one of the most loved cowboy boot brands in the contemporary world, Tecovas boots are always the ultimate choice that every man wants to own.
There's no doubt that no cowboy boots brand in the world can have boots with deep colors, sharp and delicate lines in each stitch like Tecovas.
Also, if I have to talk about their exotic boots, although they don't have many different types of boots, I must say they are extremely diverse in leather type.
Ostrich, alligator, caiman, or lizard, all turn out to be wonderful products in the hands of the most skilled craftsmen at Tecovas.
If you are a picky eater and want great quality boots handcrafted in Mexico from unique exotic leathers, then Tecovas is for you.
In your opinion, what are the best products of Tecovas in 2023? What was your best experience with Tecovas?
Here's our reviews of the 5 best Tecovas boots in 2023!
The 5 Best Tecovas Cowboy Boots | All You Need for 2023
Finding the best Tecovas boots isn't easy, it's pretty subjective! More importantly, most Tecovas products are of very high quality inside and out.
After wearing many different pairs of Tecovas, I discovered that each of them has its own strength that other pairs don't, for example, I prefer The Cole caiman roper boots to go with a suit rather than wearing The Duke ostrich boots for that match.
So in this review, I'm gonna categorize each strength of the Tecovas boots that I've worn!
Let's have a look!
1. Best Overall Tecovas Boots:

The Wyatt
Why is The Wyatt from Tecovas the first shot and the best boots I would recommend to you? Because it converges all three factors that will make you satisfied in terms of look, feel and your budget!
One of my favorite exotic boots is the ostrich boots, they are incredibly soft, supple, flexible but still very durable.
Besides, the unique bumpy surface of full-quill ostrich leather creates unmistakable looks!
If you're looking for a pair of boots for everyday wear, then ostrich boots should definitely be on your list of choices!
And for that reason, The Wyatt ostrich boots are just right for your needs.
Perfectly possessing the best features of ostrich leather that I have mentioned, combined with rich colors and delicately handcrafted stitches, The Wyatt ostrich boots quickly satisfy all die-hard fans of the cowboy boots world.
Besides the full-quill ostrich leather vamp, its shaft is made of calfskin which is soft and can mold your feet quickly. You will almost never have to go through a break in period.
One interesting thing is that, unlike other traditional cowboy boots, The Wyatt has a great cushion arch that can support you walking very well all day long.
Some people with high arches always have a hard time wearing traditional cowboy boots but they seem to have no problem with these boots.
Another thing worth noting is that these boots fit really well, and honestly, it's like custom made for me.
Above all, you don't have to worry too much about the size of your boots or your weird foot shape, because Tecovas customer support works great and fast.
I called them a few times with some return requests and sizing questions, and within 5 minutes of talking, the problem was resolved.
If you think Tecovas boots are expensive, then you are wrong. In the world of handmade Mexican boots, Tecovas boots are not expensive, yes, their price may be high, but not so costly.
If you're looking for boots that are cheap and lack the true spirit, look for Chinese machine-made boots, but that's not my choice!
Finally, some other basics you'll love about The Wyatt boots are the combination of a traditional round toe and a cowboy heel with a 1 1/2 inch high.
That means you still get the traditional look of cowboy boots combined with high comfort due to plenty of toe room and a decent heel height, so you can walk all day without any issue.
The Wyatt is a perfect companion for you!
2. Best Tecovas Boots to go with a Suit:

The Marshall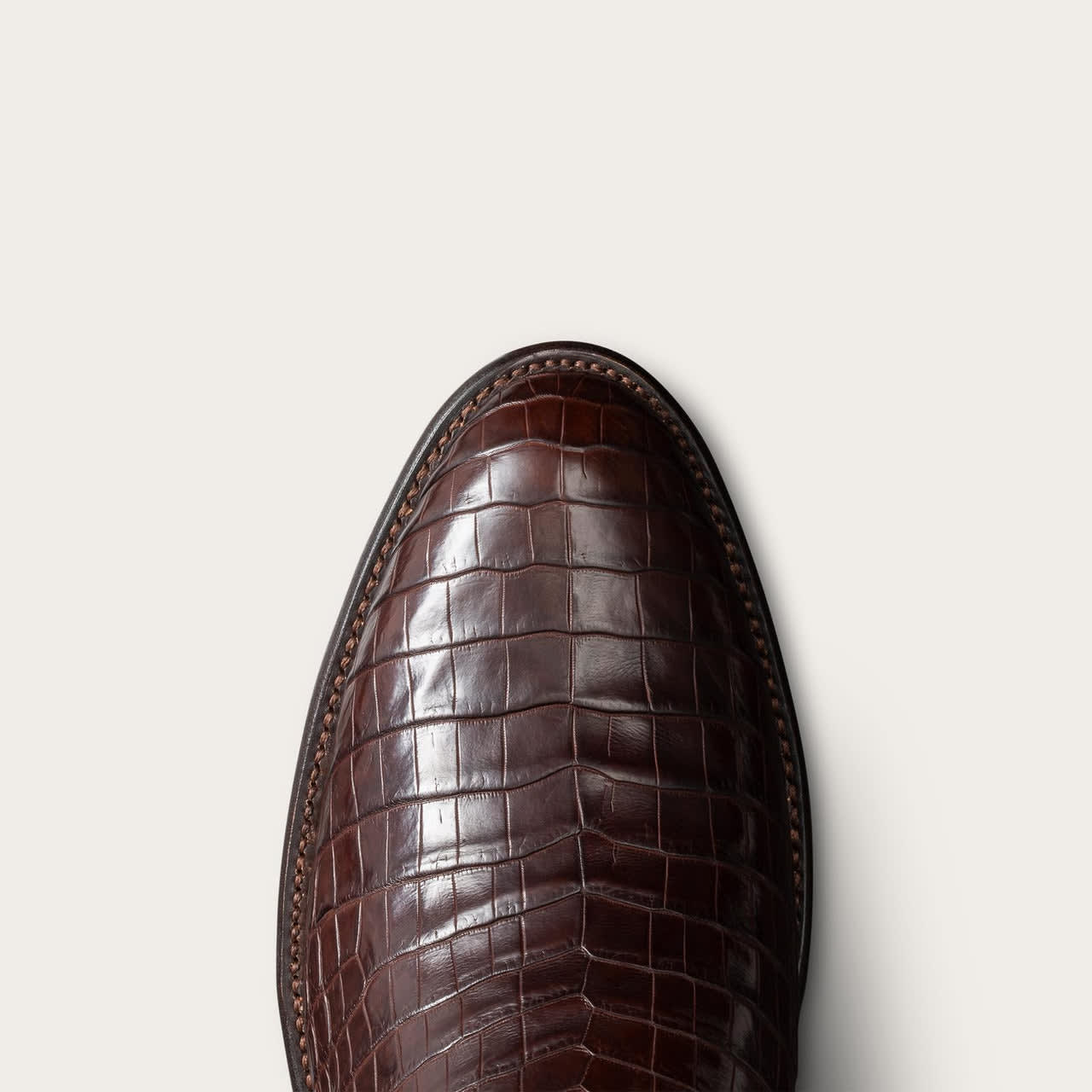 Something original, something unique, something classy! That's what you will get if you own The Marshall by Tecovas.
Speaking of structure, these boots have a traditional cowboy profile. But this traditional profile has been taken to the next level with a super-rich detailing Nile crocodile that wraps all around the boot.
Without a doubt, this is a masterpiece of Tecovas. Unlike the boots made from crocodile leather, which have a rather dry and hard appearance, The Marshall offers a smooth look thanks to a beautiful polish with a very uniform and luxurious color.
But don't worry, it still retains the original and unique crocodile leather.
The above partly explains why I chose these boots in the category of best boots to wear with a suit.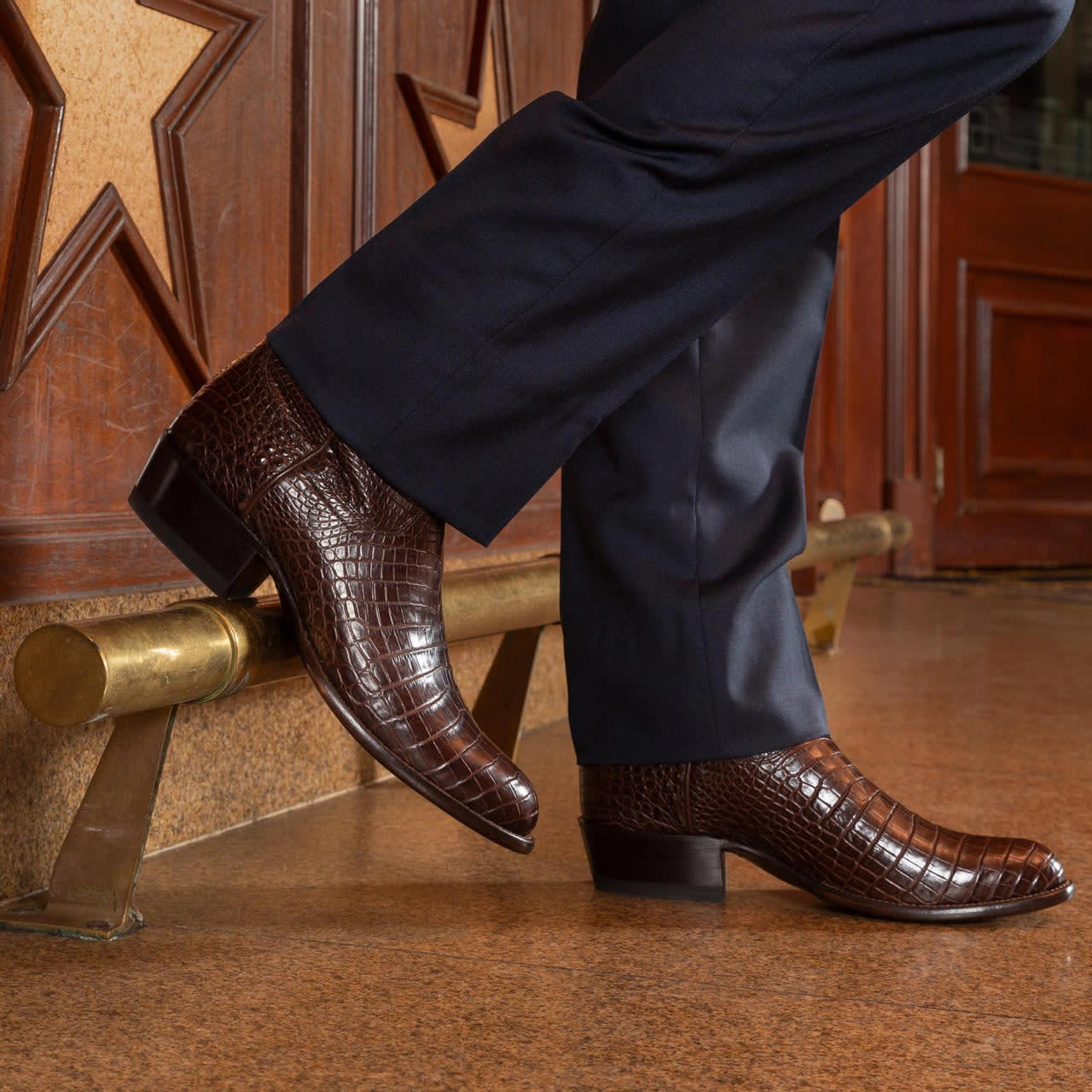 Besides the beauty of the original well-polished alligator skin, its noble coffee color works well with any luxury suit in the world, whether your suit is a black, deep blue ocean, white, or any color.
The Marshall exudes pure beauty with a traditional stacked leather heel 1 1/2 inches high and a rubber end cap. These features are enough to give you a tall look but not make you have trouble walking in the slippery palace.
In addition, the beautiful curve of the round toe from the top to the ball part is really eye-catching.
The boots feature smooth bovine lining with a glove-like fit for all-day comfort.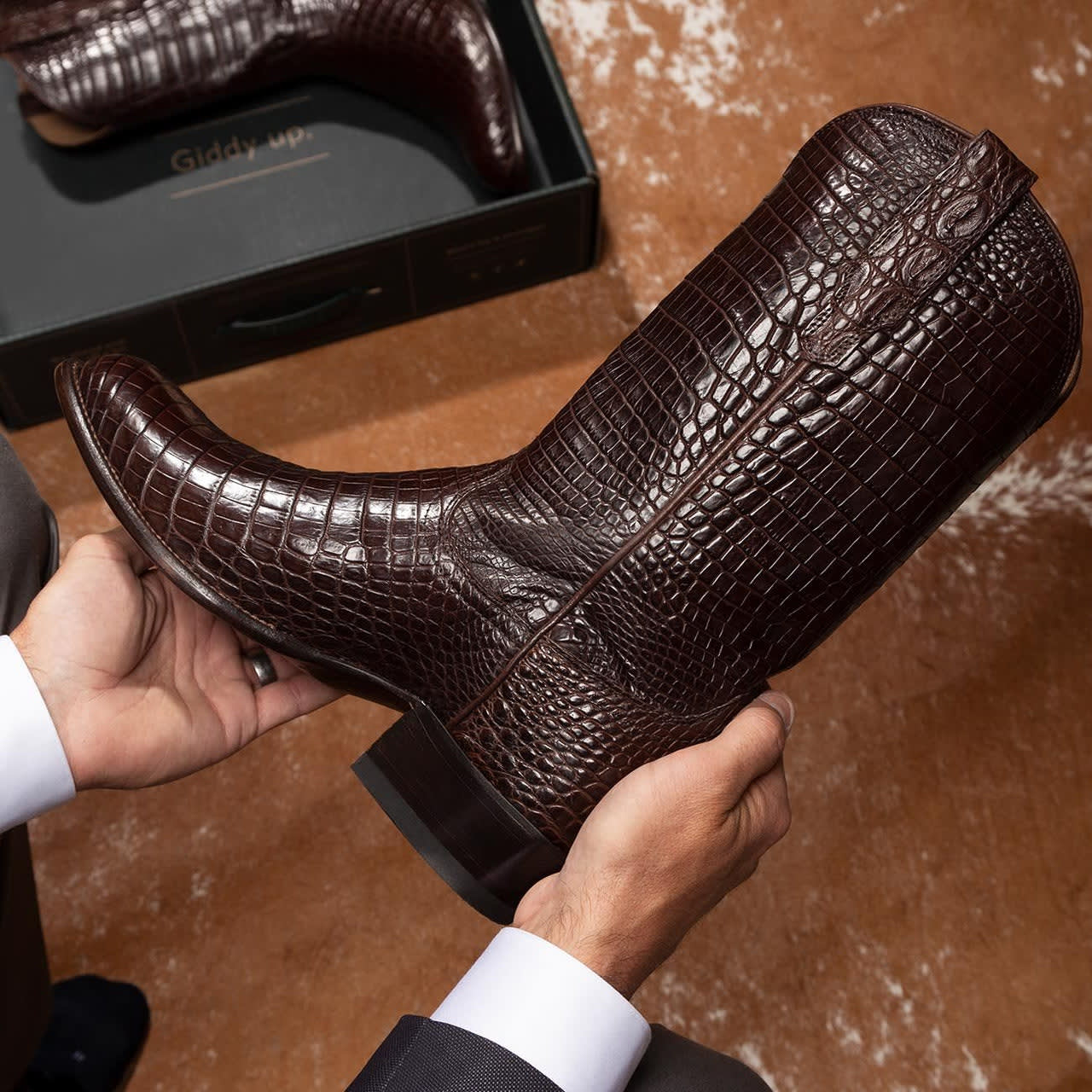 Another thing all cowboy boots lovers are always concerned about is the size and fit. And you know what? These boots are perfect.
The break-in time is very short to almost no break-in, you will feel comfortable right out of the box. If you still feel embarrassed about your big feet, just pick up the phone and call customer service, you will have the answer in a minute.
The only thing that you need to worry about here is the price! You should consult your wife a year in advance or prepare a very long and concise presentation.
3. Best Tecovas Boots to wear with Jeans:

The Nolan
Usually, when looking for cowboy boots to wear with jeans for a classic look, I usually look at the heel and toe shape, the two most important parts.
I want the heel of the boot to make me look taller and more confident, and I like the classic cowboy heel, but please, don't be too tall. Only about 1 1/2 inches should suffice.
Also, I like the toe shape of the boot which has a slight curl-up shape and a round toe (but the toe box should not be too big). This makes my legs look thinner.
Combine the above details with a pair of cowboy cut jeans by Wrangler, and no one can beat you!
And I found what I wanted, The Nolan Lizard Boots by Tecovas made me fall in love with every detail from the heel, vamp to toe.
The most important thing you need to know about The Nolan by Tecovas is that they look good with jeans because of their shape rather than just the color.
When it comes to colors, although they are all made from lizard leather, their three colors give three different looks.
Relic lizards give a rugged look (rare in lizard boots) because of their rough color but have the absolute charm of a dusty style thanks to their shape. This makes an impressive combination with a pair of dark-colored jeans
Bourbon and Midnight Lizard offer a different look, more commonly found in lizard boots, which brings a smooth and shiny vibe. With their well-polished surface, they will go great with any pair of classic blue jeans or dress pants.
When it comes to comfort, larger Varanus Salvator hides are used to bring out the best in lizard leather: soft and smooth!
One of the things I like most about lizard leather when used as a material for cowboy boots is that they have unique and extremely uniform textures. So many people like to use them for suits, not just jeans.
However, whether it's lizard boots made by Tecovas or any other brand, you should make sure you know how to take care of your lizard boots.
Lizard leather is very prone to drying and cracking. If you wear them often, I recommend you condition them at least once every 3 months. But if not too often, then every 6 months should be a good number.
Either way, The Nolan, one of the Tecovas darlings, will certainly not disappoint you either for visual or touch.
4. Best Tecovas Boots for Ranch and Farm:

The Stockton
Without a doubt, cowboy boots are among the most durable work boots in the world. With a solid construction of 100% leather, cowboy boots used as work boots can last 2 or 3 times longer than other types of boots.
Normally, I really like ostrich boots due to their softness and breathability, which contributes to their very high level of comfort. Not to mention the durability of ostrich boots! They are always at the top among the most long-lasting cowboy boot materials.
However, for working, endurance is not sometimes enough! You will need stronger boots than ostrich boots for ranch and farm with a lot of risk of falling objects, cuts, punctures, and scrapes.
That's why I chose The Stockton by Tecovas with a stronger material – bovine or bison leather.
It looks simpler than The Wyatt or The Cole, but The Stockton is what you look for in work boots.
The first is the roper shape with a low heel so you have a good balance when working. The round toe has a lot of room in the toe box so your toes can wiggle easily without being constrained.
Non-marking Vibram soles with high strength, good slip and puncture resistance will ensure your safety. In fact, for heavy and risky jobs, rubber soles are really a much safer choice than leather ones.
Bison or oiled bovine leathers with extremely durable properties, besides they are reinforced with a waterproof layer that will ensure your feet are always dry to deal with the hateful rainy seasons.
Leather lining is the next highlight, for those who don't know, I always like to use cowboy boots with leather lining for summer, they make me feel cooler than mesh.
In addition, these boots also have the ability to absorb shock, which is one of the rare features of cowboy boots.
If you're wondering why these boots have almost no texture on the shafts and vamps, the answer is that it saves you tons of time cleaning.
As one of the long-time lovers of cowboy boots, having to wipe out dirt from every stitch is such a nightmare, it took me more than 2 hours to do it. Believe me, work boots with too many textures are never a good thing!
Be as simple as The Stockton, that's what you're looking for!
5. Best Tecovas Boots for Driving:

The Knox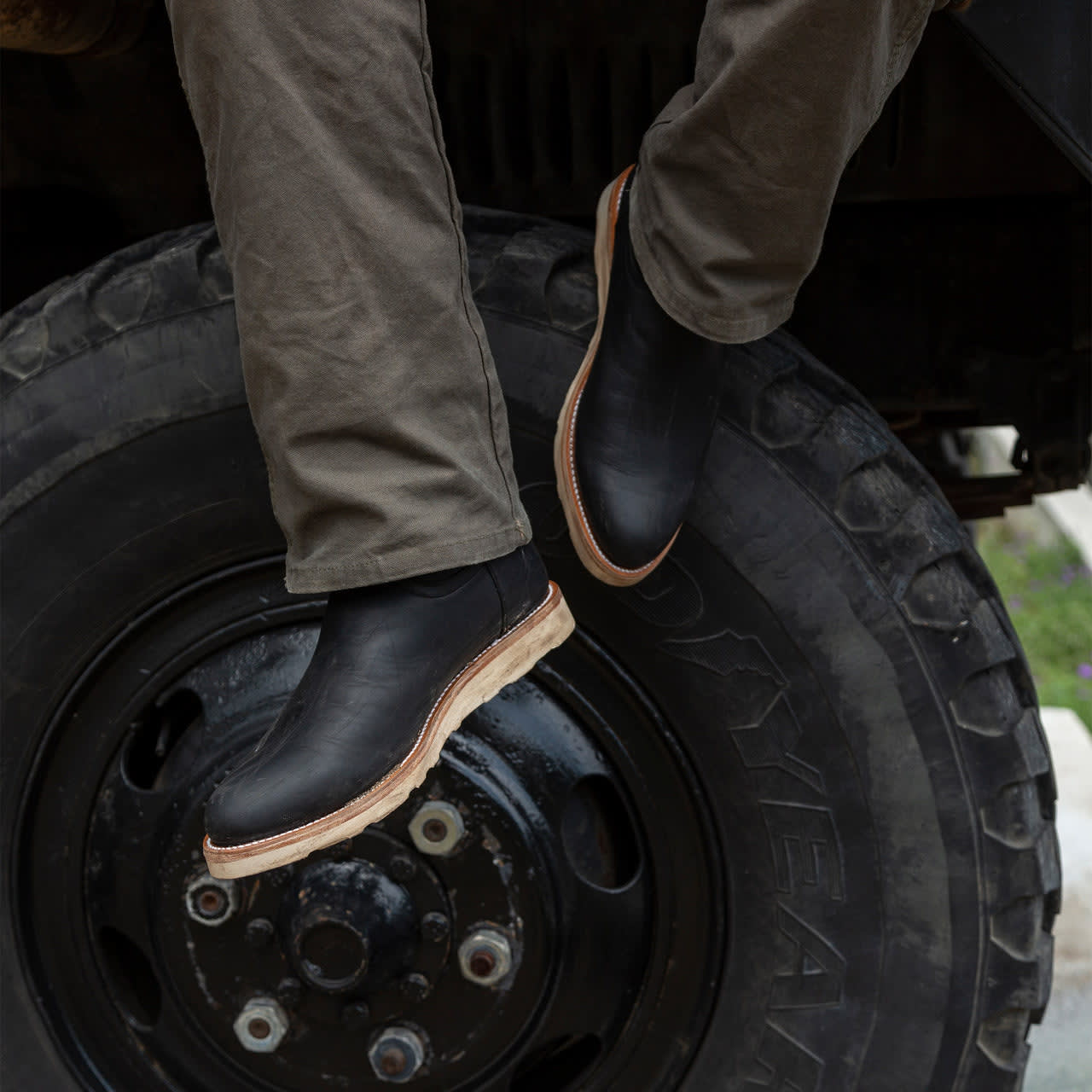 If you think cowboy boots are used mostly by people working on large farms, you may be wrong. Today, cowboy boots travel all over America thanks to truckers.
Truckers are one of the leading forces in using cowboy boots today.
In fact, traditional cowboy boots not only bring a lot of benefits to truckers but also trouble if you don't choose the right type.
For example, cowboy boots with a high build can protect you from the heat of a truck's engine. Besides, they can keep your feet warm in the winter and cool in the sunny season every time you step out on the road.
Besides, its durable and sturdy construction also ensures your feet are safe from scratching by the brake.
However, the fact that its shaft is too high can make you feel uncomfortable due to irritation during long rides. Besides, the slippery leather bottom can completely slip out of the brake when you are making a strong and urgent brake. It's not good at all!
Normally, people do not use shoes with high heels to drive heavy trucks. Because they greatly affect your flexibility when you step on the brakes or in the worst case, these boots make your feet get entangled in these brakes.
Finally, the pointed toe of traditional cowboy boots also often doesn't really provide enough room for your toes to comfortably breathe during long journeys.
Because of that, many people prefer to use sneakers made from synthetic fabric for driving, with flexible upper, non-slip outsoles and more toe room, which provide greater safety and comfort than traditional cowboy boots.
To overcome the above disadvantages, I recommend The Knox Roper Boots by Tecovas for you.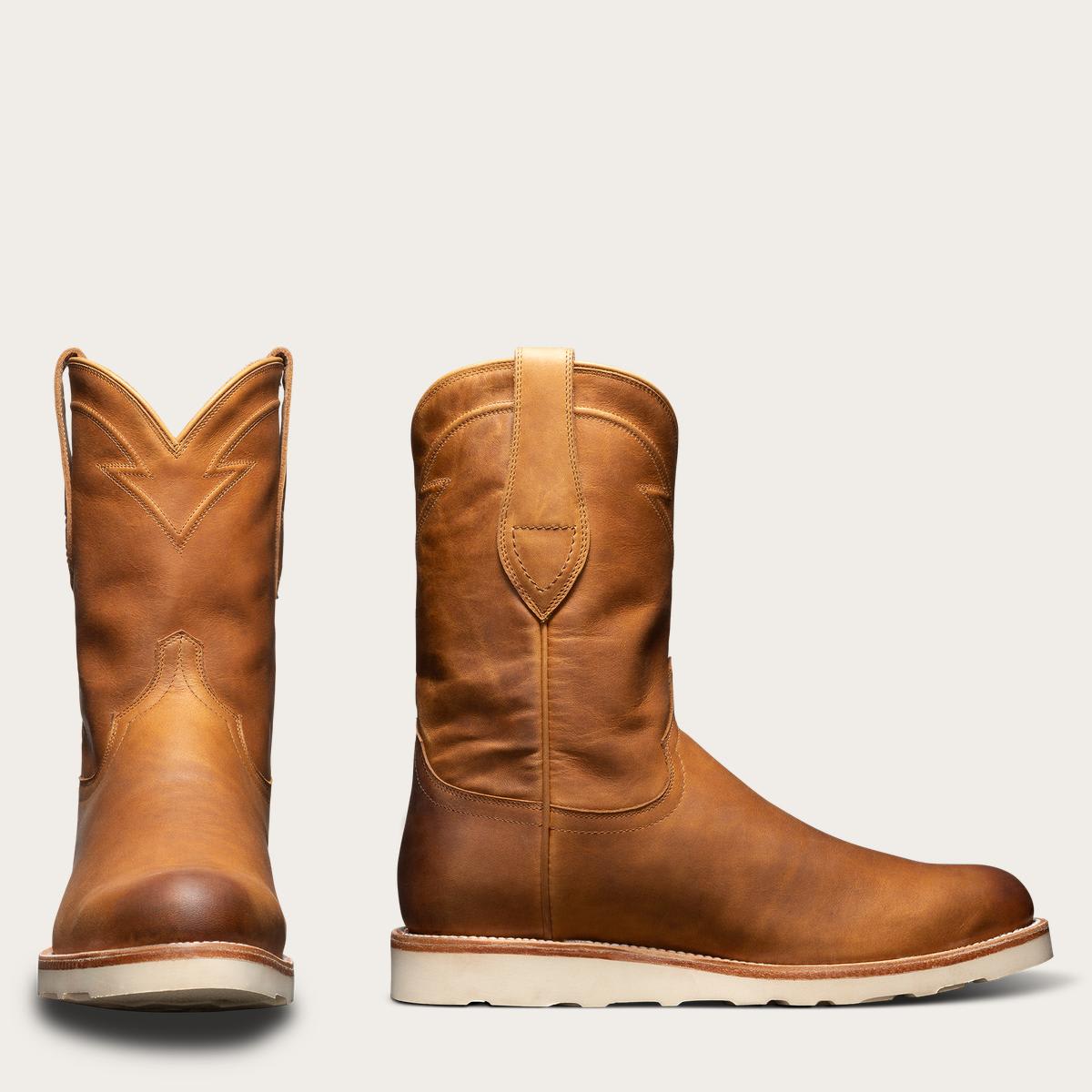 Sometimes, to ensure safety and comfort, you will have to sacrifice many of the traditional characteristics of cowboy boots such as leather sole, heel and narrow toe shape.
The Knox Tecovas boots are Roper style, so they're not too tall, only about 10 inches, which is a height that won't make you uncomfortable or hot during a long ride. But still enough to make you comfortable despite the change of weather or the heat of the engine.
Plus, the round toe shape also ensures your toes have plenty of room to wiggle, plus the 1″ wedge sole has low profile lugs enough to keep them flexible and won't slip when you hit the brakes.
Full grain bovine leather with rigidity ensures that your feet will not get scratched when hitting the car engine. Besides, it also protects your feet against the potential risks of the construction site.
Many people consider this to be one of the most comfortable roper-style cowboy boots that Tecovas has ever produced.
Yes, they have many non-traditional features, but for maximum safety and comfort, sometimes you need to make that sacrifice.
In fact, these boots still look nice for a modern style. Try to match them with a pair of light blue jeans, you will feel it.
The beauty of the shaft, vamp, toe shape of Roper style cowboy boots is still something very different, they are very subtle and elegant!
I love the inherent classicism of these boots, but I also love the modernity present in them!
Read more: Can You Drive in Cowboy Boots?
Before you leave
Just a few lines of my thoughts about the boots of Tecovas which in my opinion are the best, how about you? How was your experience with Tecovas? What do you like most about them and what do you think they need to improve?
Tecovas cowboy boots over the years remain a brand at a different level than the manufacturers today that have left the US and gone to another continent.
Tecovas boots have a variety of leather types and styles! And I can say that they have all kinds of boots to suit all your needs!
This legendary brand is always the dream of every young man across America! Not flashy sneakers!
Howdy y'all, and welcome to From The Guest Room, your ultimate guide to all things Western! I'm Jay Gatz, a lifelong cowboy boot enthusiast with over 5 years of experience in the Western style world. I'm excited to share my knowledge with you and help you discover the perfect cowboy boots and western gear to elevate your style. Let's explore the rich history and timeless appeal of Western fashion together!