In fact, many people don't really think cowboy boots will be suitable to wear in summer due to their high texture, 100% leather, and sturdy construction, all of which can make our feet sweat a lot. They think cowboy boots are just a good choice for fall and winter only!
That's a reasonable thought, but I'm pretty sure it's because you don't really understand cowboy boots.
For die-hard fans of the cowboy boots world, nowadays, it is very common to wear them in hot weather.
With outstanding development, cowboy boots today are made from different types of leather. Among them are very breathable ones like goat leather or ostrich, and that's the solution to your summer cowboy boots problems.
Besides, if it's not really hot, then the construction of traditional cowboy boots can really cool down the temperature very well with the leather sole, and leather lining.
I still often wear cowboy boots to run around on the farm because honestly, I feel comfortable in them.
When you wear a pair of slippers outdoors on hot days, your feet will burn. But a pair of cowboy boots make perfect armor to protect your feet.
Today, I will tell you why you need to own cowboy boots in the hot weather and which boots would be a good choice!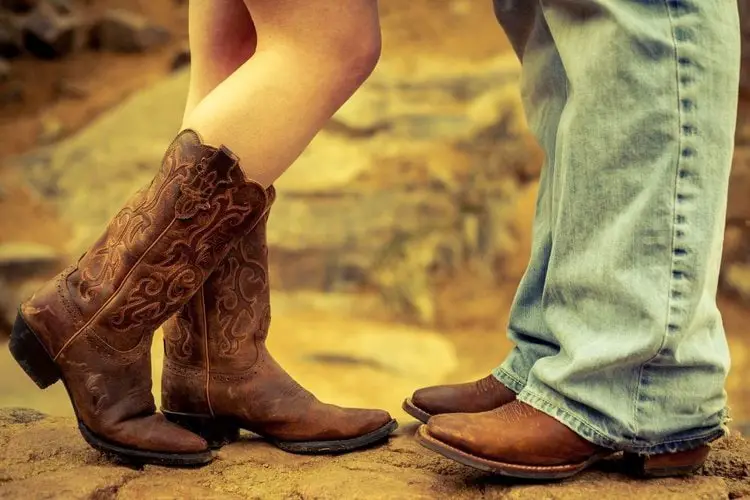 Are cowboy boots good in hot weather?
If you have ever read the article "Are Cowboy Boots Hot in The Summer?" For us, as I said, wearing high boots in the hot season has more benefits than not.
One of the main reasons for that statement is that cowboy boots can protect your feet from heat and sunlight much better than other footwear.
Especially those who often use cowboy boots for outdoor work, you'll need good protection against unpredictable weather changes.
Cowboy boots with a high shaft design and made from 100% leather can cover your entire feet and half of your calves, thereby helping them stay cooler without being exposed to direct heat.
Not to mention, the traditional cowboy boots have lining and soles made of leather. That makes these 2 parts of cowboy boots provide very good breathability and sweat absorption.
Cowboy boots can have a variety of impressive properties depending on the type of material they are made of. Today's cowboy boots are made of many different types of exotic leather.
For me, I love using ostrich boots for work in the summer, because they are very durable and comfortable.
Ostrich leather contains more natural oil than other leathers, so it is softer and doesn't dry out or tear as much. That's why ostrich boots are my favorite work boots. But the most special thing is that they have many pores to deliver great breathability. They will cool down your summer for sure.
Or, more budget-friendly, a traditional leather that is still popular for summer is goat leather.
Goat leather has the characteristic of being extremely breathable because they have much larger pores than other leather. Besides, it has a very beautiful natural color and wrinkles and a delicate appearance.
You see, cowboy boots are totally usable for hot weather, and they're actually better than you think!
What cowboy boots are best for hot weather?
As analyzed above, I suggest you use cowboy boots with interior and exterior components made from leather.
For example, I would choose boots with both insoles and outsoles made from leather, because they will be breathable and absorb sweat better than rubber or synthetic insoles.
Likewise, the leather lining would also be a better choice than the mesh one.
Besides, I also recommend using cowboy boots whose toe room is not narrow. I won't be using pointed toe or snip toe boots for the summer, instead, round toe or square toe ones will bring more room for my toes to breathe.
Don't ever touch synthetic boots in this case, they are extremely hot and will burn your feet even when the weather is not too hot. It is best to use cowboy boots made of goat or ostrich leather as they will ensure your feet stay cooler thanks to their inherent properties.
Some people are afraid that cowboy boots with too high shafts will make your feet hot, so I recommend you try roper-style boots or western booties (for women). These 2 types of boots have a very low shaft that is only high around the ankle.
One thing that not everyone knows is that you should choose boots with lemonwood pegs – which are used to connect the insole and outsole of your boots.
The reason is that on hot days, your feet will be very sweaty, causing the leather of the boots to stretch. If you choose lemonwood pegs, they will also stretch due to their sweat-absorbent feature.
The equal stretch between the leather upper and the lemonwood pegs will help cowboy boots hold their shape better, while also molding your feet better and ensuring you feel more comfortable.
Most cowboy boots these days feature metal pegs, which can be sturdy and durable for work boots, but their shape is susceptible to damage over time because metal has very little stretch.
There are a few things that you need to keep in mind, you should stay away from boots made from lizard leather or snakeskin.
These leathers are prone to drying out in hot weather. You will have to spend more time conditioning them.
Best Cowboy Boots for Hot Weather
Honestly, how cowboy boots are chosen depends a lot on your job requirements.
If you need a pair of cowboy boots for hard work, you should still use cowboy boots with high strength made from cowhide, have a rubber sole, and are reinforced at the toe.
Full-grain cowhide leather isn't necessarily uncomfortable (as it is still pretty breathable and sweat-wicking) and the rubber sole isn't that bad either. As cowhide leather can protect you from extreme heat as well as work pressures that can damage your feet like falling objects.
Rubber soles also give you better protection if you go to places with scattered spikes or terrain with many sharp rocks.
While ostrich boots may be more durable and comfortable, they may not be able to withstand impacts as well as cowhide.
It can be quite difficult to choose a boot that really fits the whole purpose, so I'll break it down into different categories. Hope it makes your choice easier!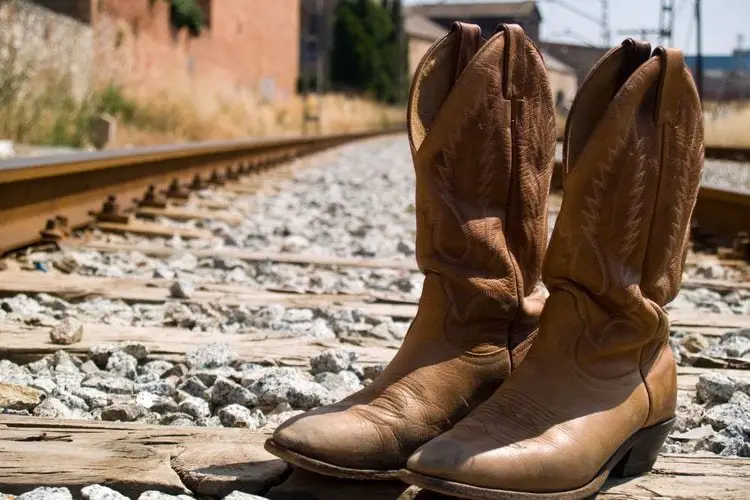 1. Overall
We'll start with the boots that I think are best for hot weather. These boots include almost all of the advantages mentioned above.
Their breathable, sweat-wicking material will make you comfortable and stylish. Also, these boots are reasonably priced and suitable for a variety of uses.
So what are those boots?
Men's boot: The Earl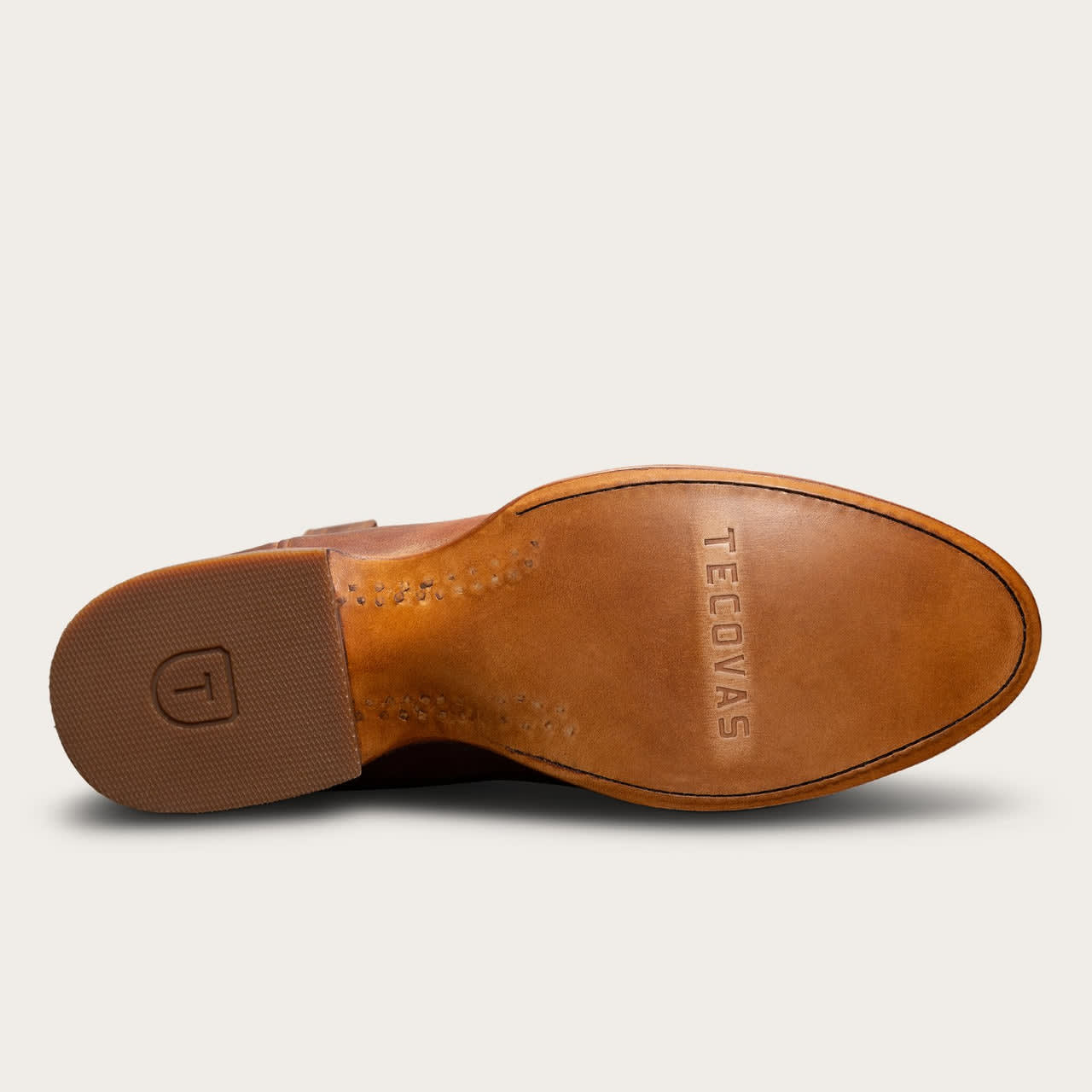 I love the Godfather's irresistible offers in the novel of the same name – And I'm also giving you a pair of boots you can't refuse for this hot season: The Earl from Tecovas.
As one of the most successful products of Tecovas, a brand loved by many in the world of cowboy boots, The Earl is just what you are looking for.
The first thing that makes you fall in love with these boots is the goat leather and roper style.
That means they are extremely breathable thanks to the large inbuilt pores of the goat leather. And roper-style boots with a low profile (10 inches) won't prevent your calves from getting fresh air.
Cowboy boots' leather soles, leather lining, and lemonwood pegs are also other interesting touches, they also ensure your feet stay dry due to their ability to absorb sweat well.
Lemonwood pegs also make sure your boots stay in shape and mold feet better due to their sweat absorption. Trust me, it definitely makes your feet more comfortable on hot days.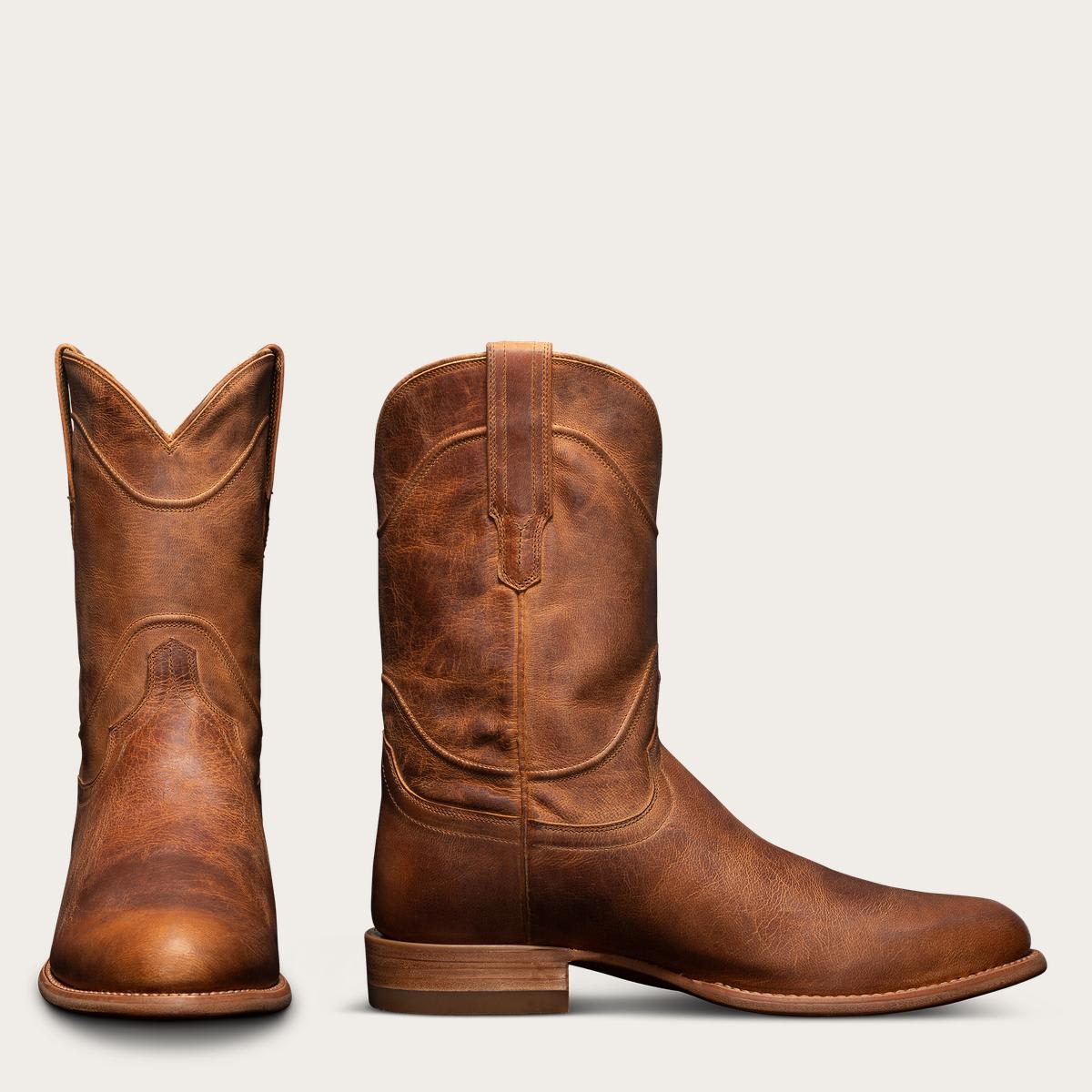 I love the round toe of Tecovas boots, and The Earl is no exception. They always have standard and perfect curves, and are neither too wide nor too narrow. Especially, they get a timeless look!
The structure of these boots is quite low and well-balanced, so you can completely use them for outdoor work.
Just look at its heel height, which is only 1 1/8 inches, plus the round toe to keep the entire bottom rather flat and wide. You are no longer worried about losing your balance while moving. That's why I like to use these boots to roam the field.
Only talking about the detailed characteristics but ignoring the overall look of these boots is a big mistake. Since they have a great look, I believe you can use them to go anywhere (western wedding, night out, etc.), not just on the farm.
These boots overall are embellished with the beautiful natural wrinkles and color of goat leather, plus the delicate leather soles and the perfect curve of the bottom from heel to tip. All put together to bring an extremely sharp and stunning image.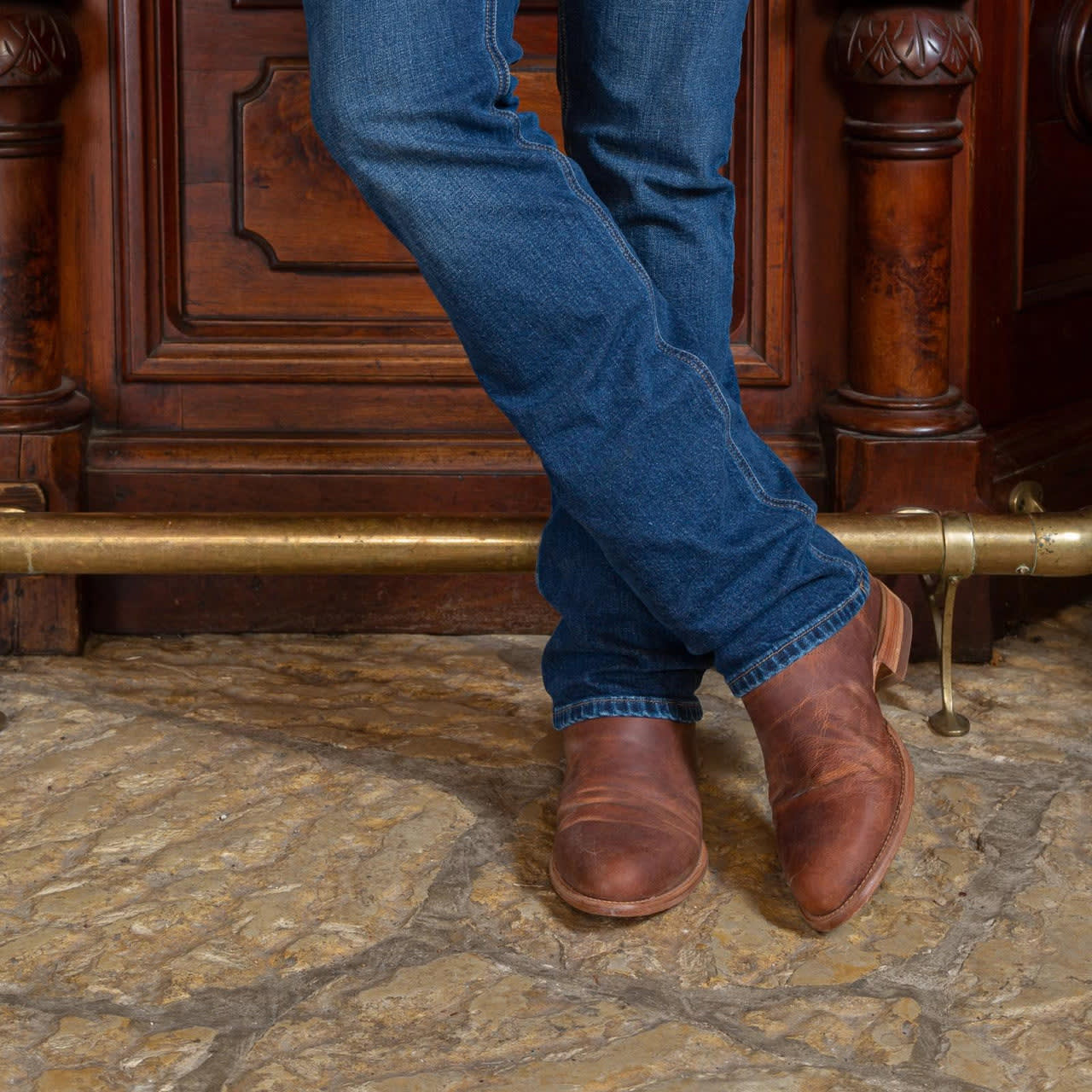 No need for the stitching on the vamp and shaft to add more embellishment, as I love the natural beauty of goat leather. In fact, having no stitch pattern is somehow a good thing, as you won't have to spend hours cleaning every single stitch.
Super comfortable, stylish, and multipurpose – The best cowboy boots for hot weather definitely belong to The Earl from Tecovas!
Women's boot: The Jamie
While there are some differences in style, The Jamie by Tecovas inherits almost all of the best qualities of the boots above.
Crafted from goat leather, along with parts such as the leather sole and lining, these boots are sure to cool off your summer heat.
Goat leather ensures that air can circulate in the boots thanks to its large pores.
Meanwhile, leather soles are also appreciated more than rubber ones in the summer because of their better moisture absorption as well as high breathability. The same comparison also applies to leather and mesh lining.
All of the above guarantees you one thing, you can't go wrong with these boots for hot weather.
In addition to a high level of comfort, The Jamie will also conquer you with the classic look of traditional cowboy boots but enhanced with soft textures.
These include the signature unique hand-corded pattern of Tecovas on the shaft. The soft and feminine lines flow all the way from the top down to the vamp with signature toe stitching. You will be mesmerized by them for sure.
The color of The Jamie boots is still mainly the natural color of goat leather mixed with stunning natural wrinkles. This is a timeless color – it's easy to go with any outfit.
This light magic color will also help you feel more relaxed on hot days.
The heel of the cowboy boots is a stacked leather heel with a 1 3/4 inch height that ensures your legs look longer, plus the rounded toe will make your feet look slimmer.
Thanks to the high heel, the bottom of the boots is more curved, making the boots softer and sharper.
This strength of the heel is also part of its weakness, you may affect your agility in some outdoor activities. The reason is that this height will challenge your balance and comfort more.
But overall, The Jamie will satisfy you in terms of look and feel, especially on hot days.
2. Comfortable and stylish
Most young people today think that cowboy boots are only for fall or winter because these boots have a very suitable construction to keep wearers warm.
That's not wrong, but not entirely true. If you know how to choose the right boots regarding construction and material, you can still use them for four seasons.
Suede and roughout leather have a very soft look and feel because they're usually thinner and have gone through a lot of processing.
That's why suede and rough-out leather will make your feet cool in the heat of summer. Yes, they are way more breathable than full-grain leather.
As I said above, goat leather or ostrich are very good at cooling your feet in the hot season. But if you don't like them because of the aesthetic difference between us, you should consider suede or rough-out leather.
Men's boot: The Johnny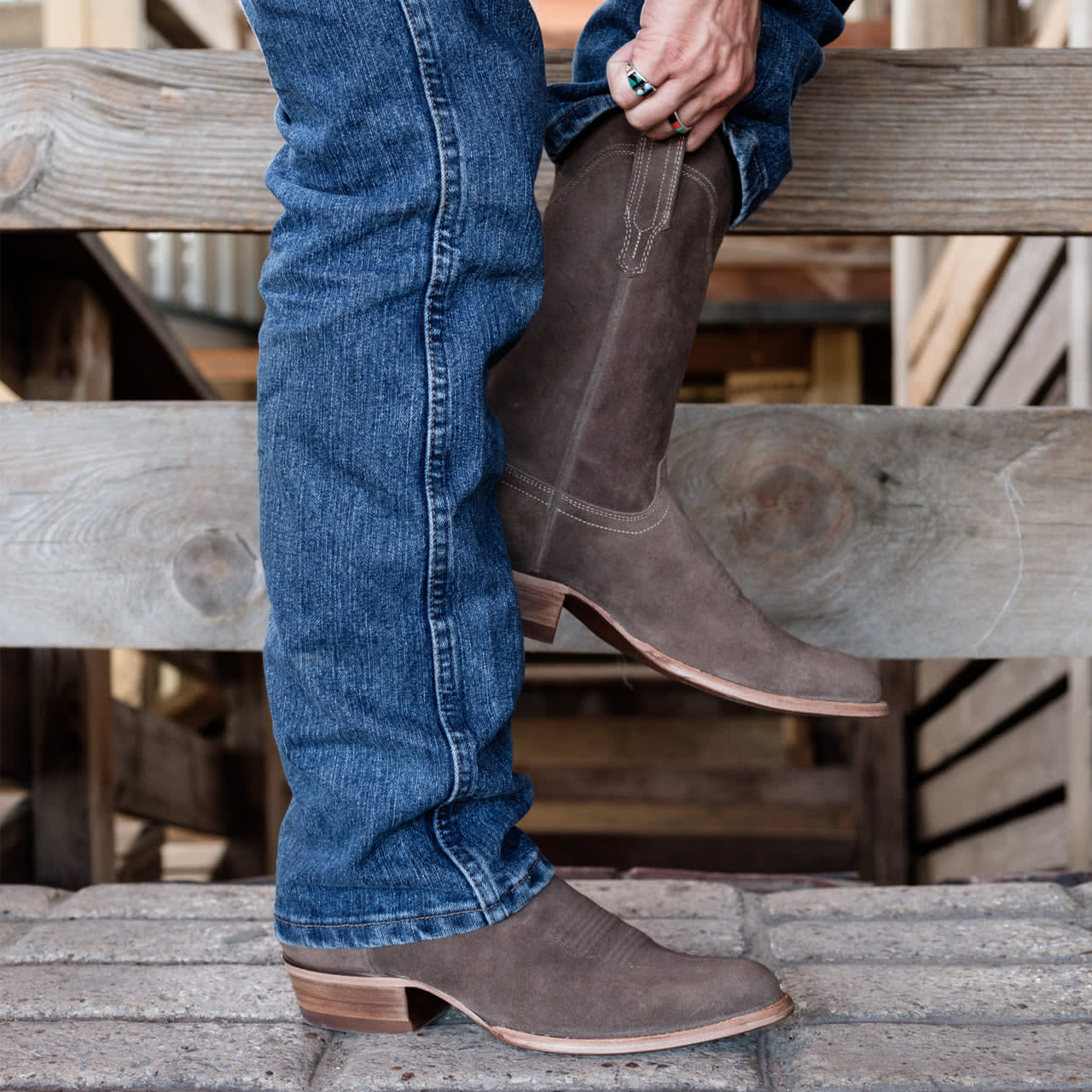 The Johnny cowboy boots will light up your day with a different, attractive look.
Crafted from roughout leather, The Johnny boots guarantee comfort even on hot days. Because of their thinness, they provide good breathability.
Besides, the familiar leather sole, lining, and lemonwood pegs always appear in Tecovas boots to ensure that the sweat from your feet will be well absorbed and keep your feet stay dry.
Okay, so what about their appearance? They style with a napped surface in honey color to give the wearer a distressed look.
The rough-out leather's unique texture and color aren't enough. The stacked leather heel is 1 1/2 inches tall and the toe shape curves slightly upwards, creating interesting curves at the bottom for a rather arrogant look. And I love that sharpness!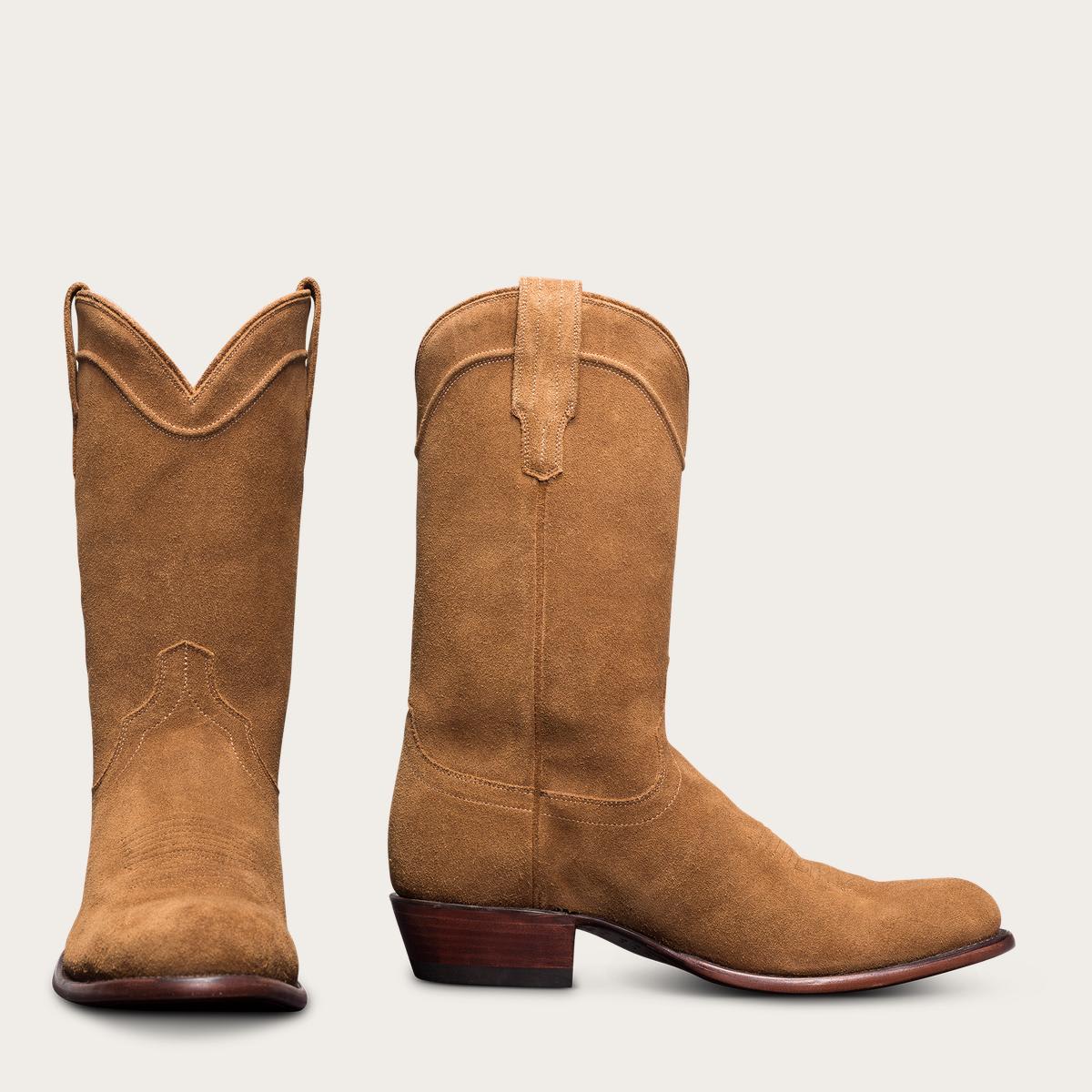 Although it is a very stylish boot with a novel look mainly from the napped surface, you can absolutely use it for outdoor work.
Since roughout leather offers great comfort in hot weather, it is very durable and usually has good scratch resistance. Tecovas also equips The Johnny boots with water resistance.
The stitch patterns of these boots are not really much and also facilitate you in working outdoors, you will save a lot of time when not having to clean too many threads.
I love wearing these roughout boots with a pair of faded blue jeans, how about you?
Women's boot: The Josie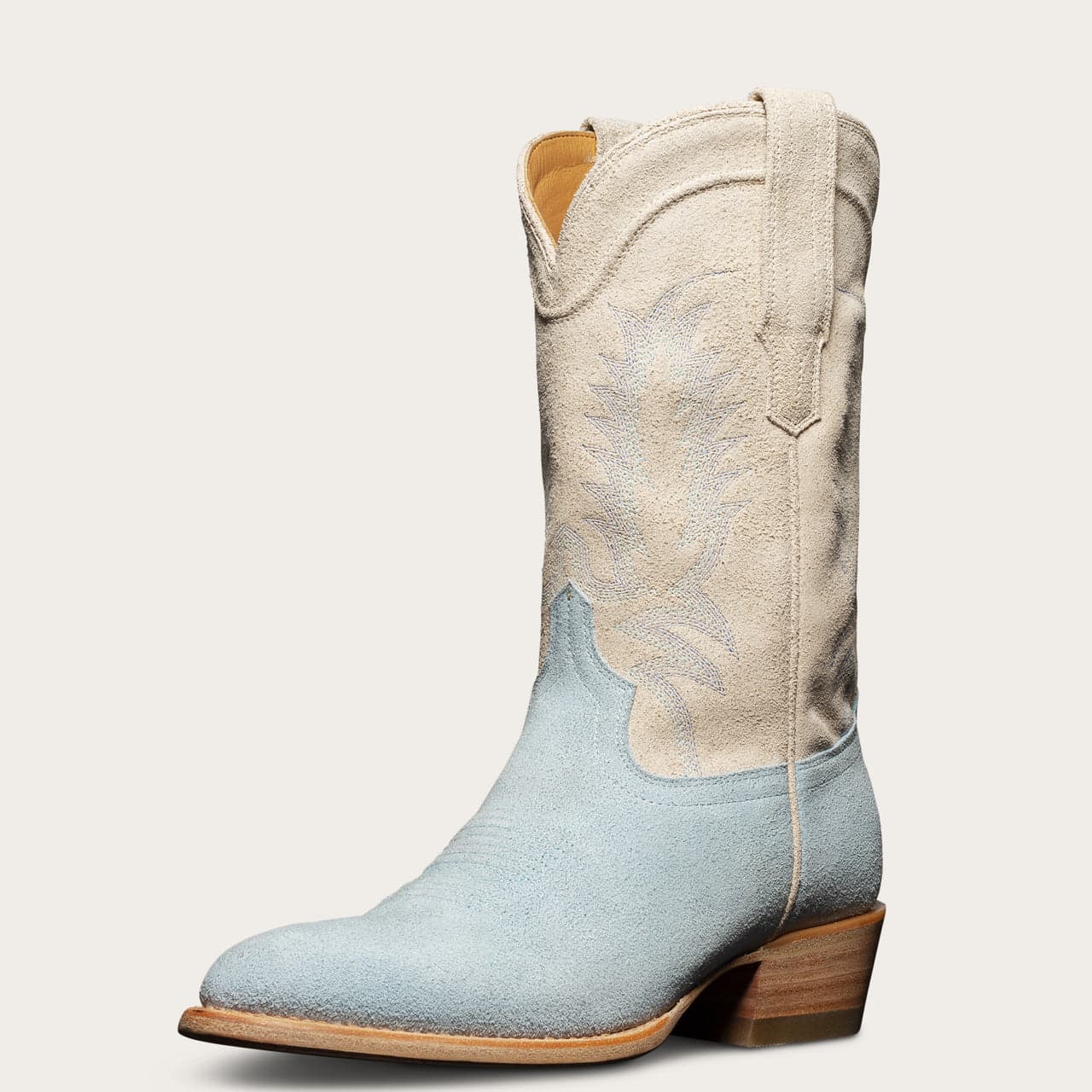 Most of the Tecovas cowboy boots have a classic look, but sometimes they also give us some new flavors, like The Josie.
The Josie has the traditional structure of cowboy boots, but it is worth mentioning that it is made of suede leather with extremely lovely and novel colors.
Tecovas cowboy boots have bold tones, but not with The Josie. This boot comes with the bright colors of the sky and clouds. This unique difference will definitely be the key factor in bringing memorable summer days for the girls.
For men who love simplicity and classics, this may not be an acceptable pair of boots, but trust me, girls think differently, they will fall in love with this novelty style!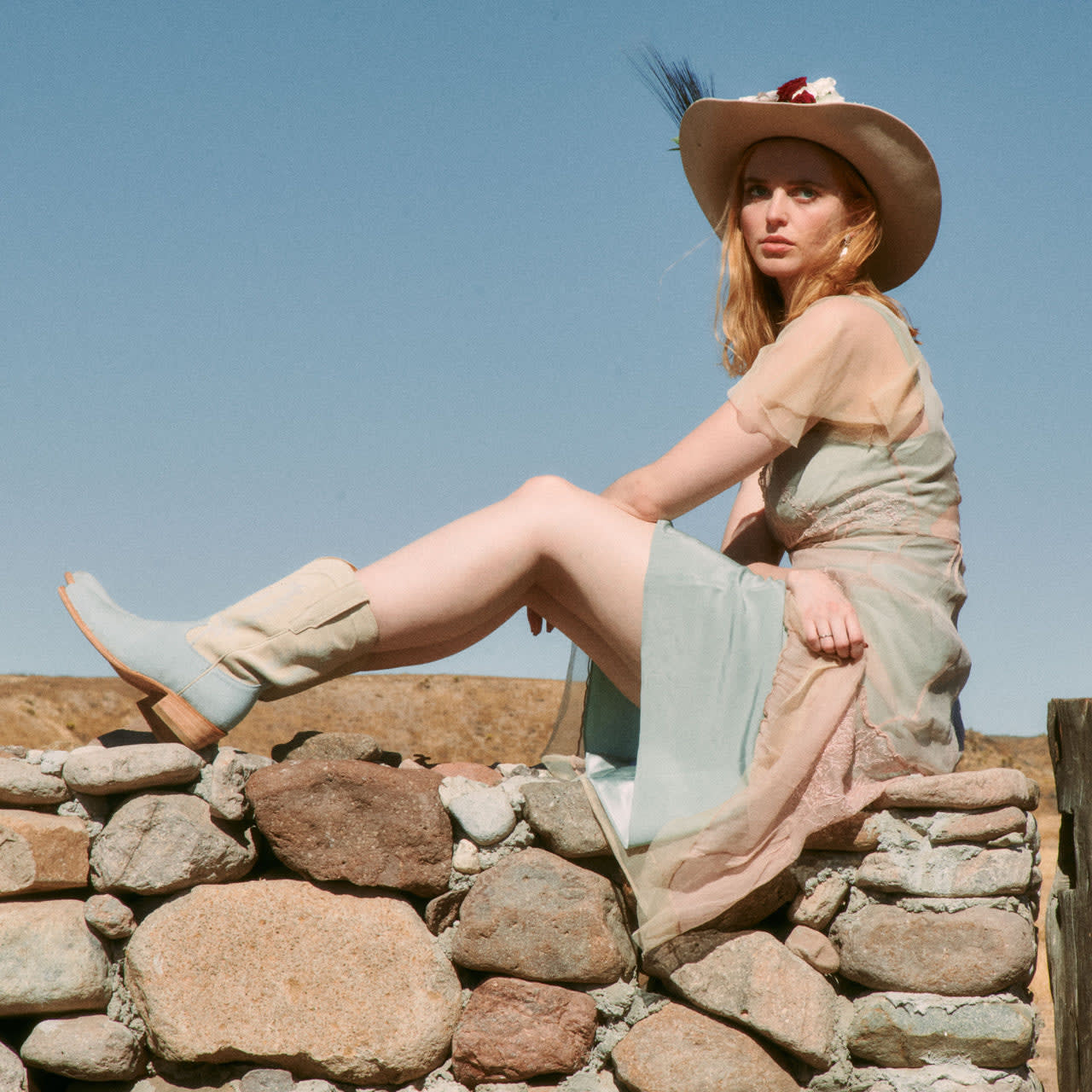 It is important that these boots still keep girls cool in the hot season because suede is soft and thin so it is more comfortable than full-grain leather.
The leather sole and lining are very sweat-wicking, and they also have a cooling feature to keep you away from harsh summer. And remember, leather soles are always cooler than rubber ones, while the leather lining is always more comfortable than the mesh ones (which absorb sweat).
The round toe also ensures your toes don't get tangled up because it has enough room for your toes to breathe.
Back to their shape, with a classic style, these boots from Tecovas won't let girls down as the stacked leather heel is 1 3/4 inch tall for added height. With the round toe tapering towards the tip, your legs will definitely look long and slim.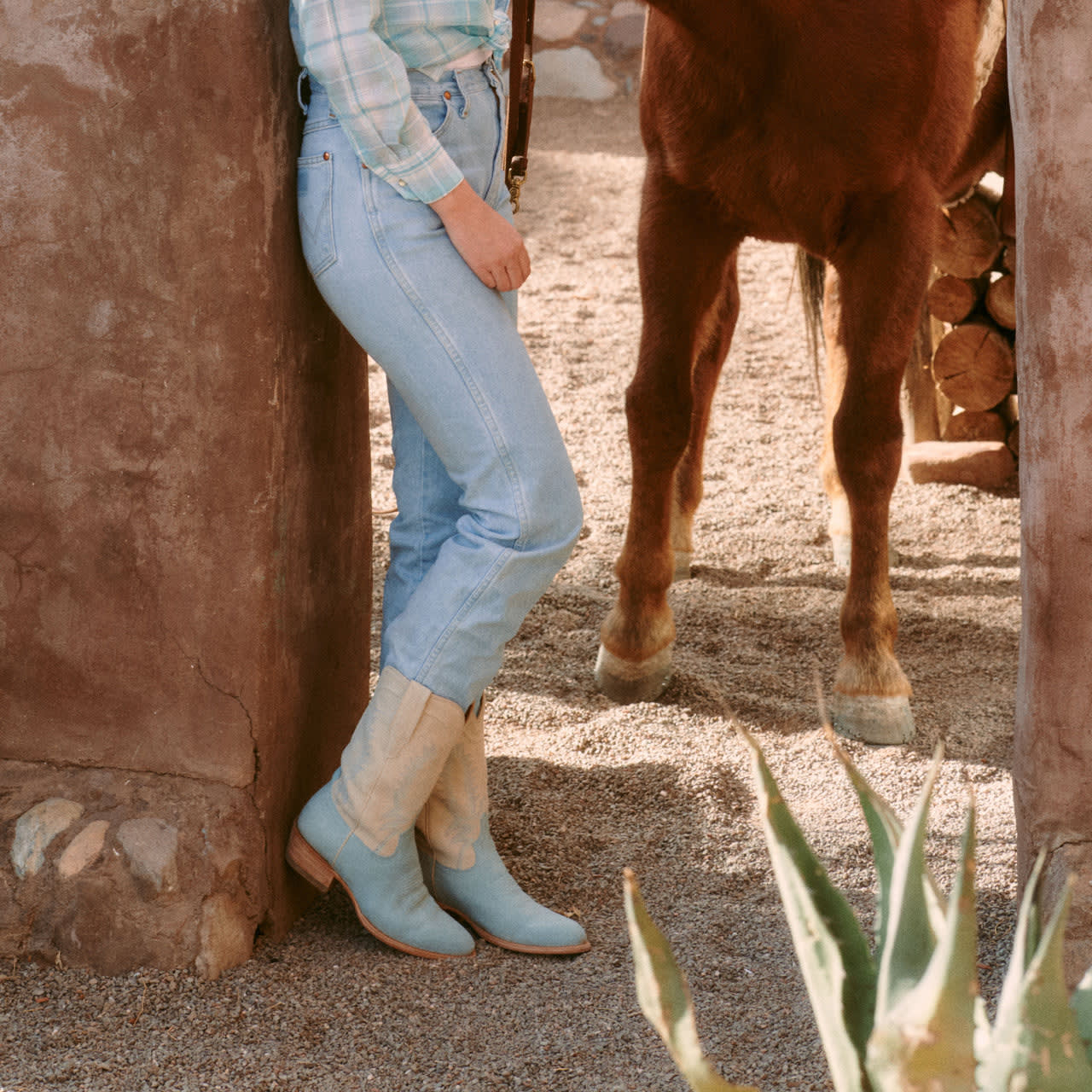 Like the boots above, these boots don't just own a good look but also have great durability due to the nature of suede. Along with the water-resistant surface reinforced by Tecovas, they will still be your trusted friend on the farm.
This will be an adorable new member of your cowboy boots family!
3. Outdoor Working
There may be a slight difference in the boots of this section because when choosing cowboy boots for outdoor work, you need to prioritize their protection for high safety.
For example, I really like ostrich boots as work boots because they're incredibly durable and comfortable. But using them for heavy work? No way.
The reason is that ostrich leather is too soft to withstand great forces. For example, when a stone falls on your foot, bovine leather will have better protection for you. It's thicker and sturdier.
Meanwhile, I would also choose boots with rubber soles, as they can ensure that your feet don't get punctured by sharp objects like nails or rocks.
Those are some of the differences! However, don't worry that they will make you feel uncomfortable. As a matter of fact, cowboy work boots' protection also includes preventing your feet from the attack of scorching summer heat. And I'm sure of it!
So which boots will meet my requirements?
Men's boot:  The Midland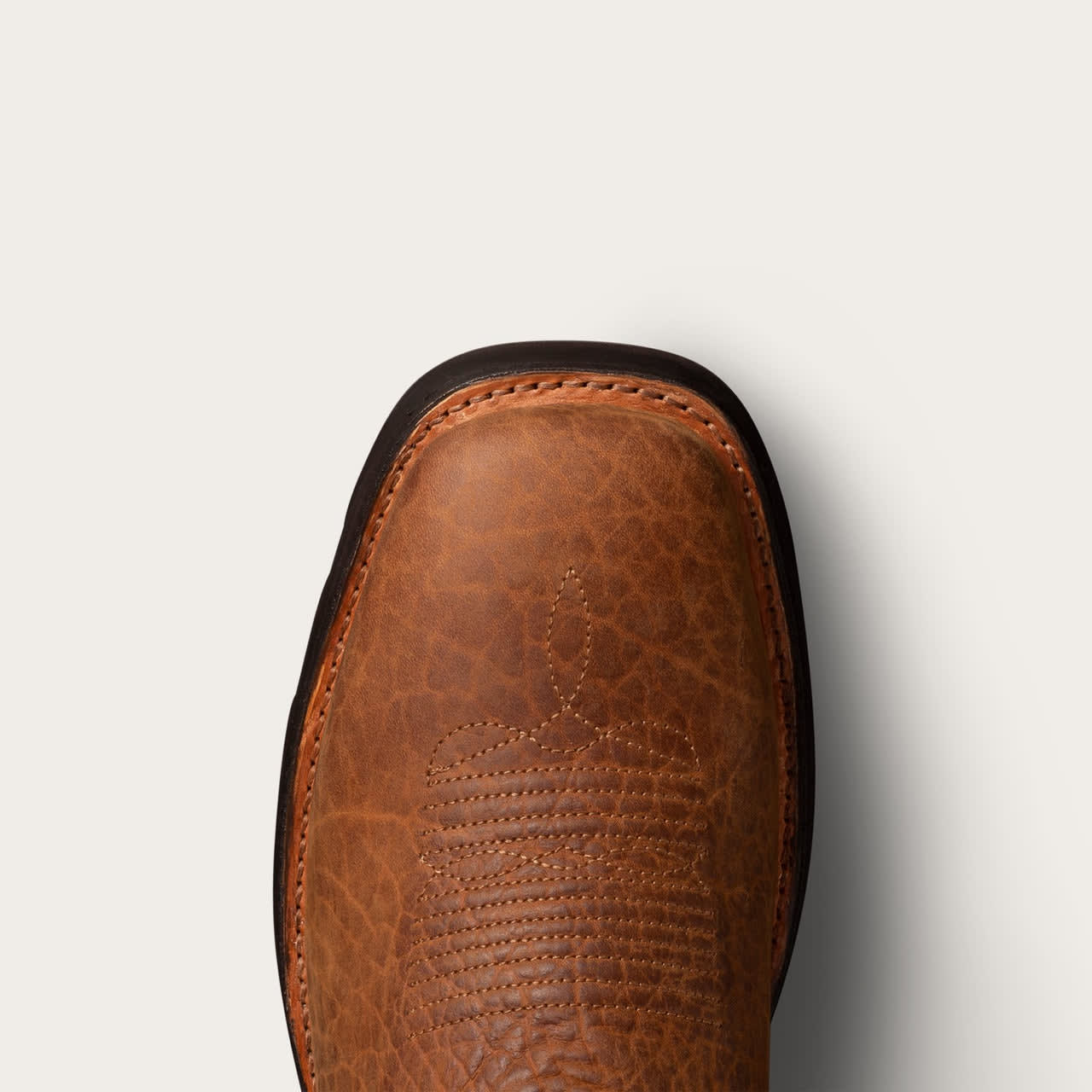 To really be able to fight on the farm with confidence, you really need sturdy boots. The Midland will be a choice that you should consider!
As one of the cowboy boots made for hard work, The Midland provides the wearer with the best protection.
The most noticeable feature is the oil- and slip-resistant Vibram sole. No more worry about sliding surfaces.
Besides, the rubber sole also has a good thickness to prevent punctures, ensuring your feet are not scorched by the heat of the road.
You'll easily find truckers wearing cowboy boots these days. And if you're one of them, the non-slip Vibram sole will ensure your feet stay flexible. And the most important thing is not to slip off the pedal every time you hit the brake.
Broad square toes always offer enough room for your feet. In fact, this is the perfect toe shape for outdoor work because they are extremely comfortable. Your feet can breathe well without being cramped.
As above, broad square toes are absolutely essential for truckers, because your feet will not get pinched. You will be more comfortable, and feel the brake better in the long run.
The Midland has a high construction with weatherproof seams for truly outstanding durability. Regardless of the high temperature of the weather or the sudden rain, you do not need to be too concerned.
Bovine and bison leather uppers are extremely durable and sturdy, they can definitely protect your feet no matter how hot and harsh the summer is.
Besides, they can also withstand good compression pressure, ensuring you do not get injured (or minimize injury) when something heavy falls on them.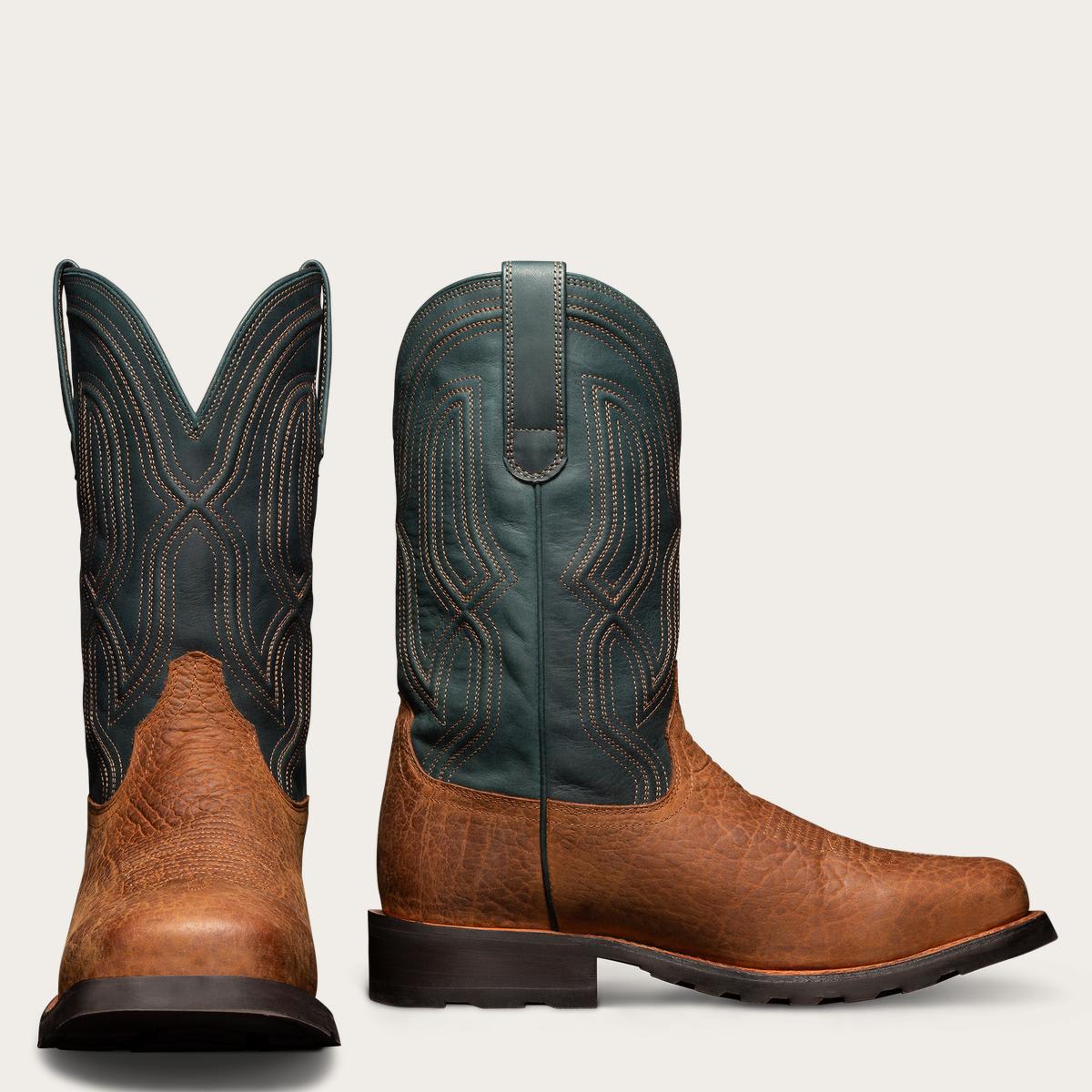 However, you should note that they do not have steel or composite toes, so I recommend not using them on construction sites. The Midland is more suitable for jobs like ranch work.
Actually, though these are work boots, they still get a really impressive look.
The construction of the boots gives them a very strong appearance, the natural creases of the bovine leather on the vamp are amazing.
The shaft of The Midland also has very rich colors and attractive sewing details of Tecovas.
Comfort, great protection, good look! What more can you expect from a cowboy boot?
Women's boot: The Jessie
Not many women need to do the heavy lifting like men, so I would choose cowboy work boots that are more about comfort and durability than protection for our ladies.
The Jessie boots are the most affordable choice when they give you adequate protection, a uniquely beautiful look and impressive durability.
The proof of what I just said is their full-quill ostrich leather construction. This type of leather is very popular in the summer because it is extremely soft, breathable, and especially very durable.
Because ostrich leather contains a lot of natural oils, they don't crack like snakeskin or lizard leather. You don't have to spend too much time moisturizing them.
The Jessie is such a pair of boots! In addition, with a traditional profile, these boots still give a good look to the wearer. The 1 ¾ inch stacked leather heel makes you look taller, combined with the subtle round toe to ensure your foot doesn't look too big.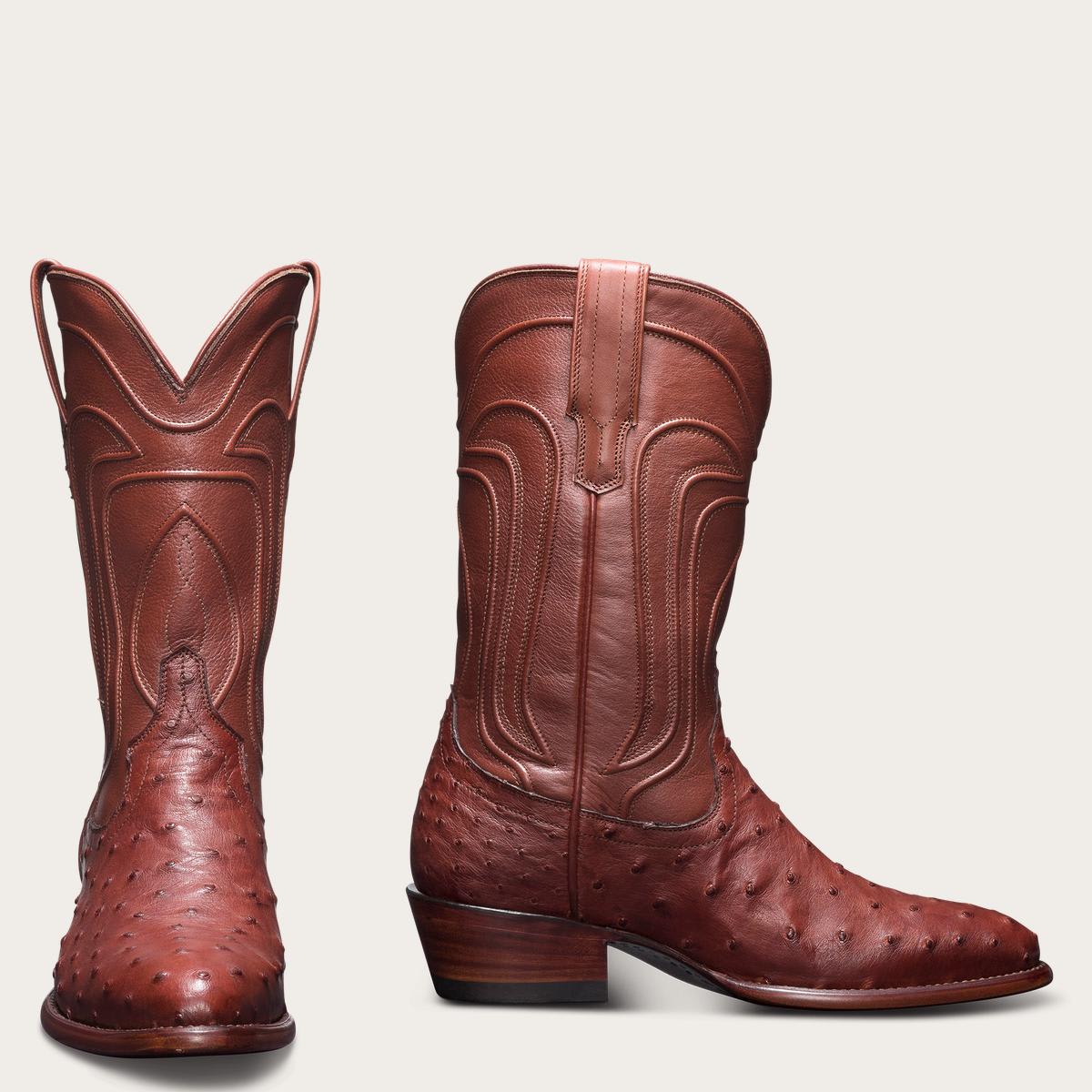 The tips of the boots curl up slightly, I love that feature, the boots will make you look more arrogant and confident.
The Jessie boots have bold colors, not faded, so you can completely match them well with different outfits, like jeans, skirts, or dresses.
However, you will hardly be able to do heavy work with these boots, because the high heel and rather slippery leather sole will limit your movement.
Put that small drawback aside, these are great boots that you can use for both outdoor and indoor work!
4. Casual wear
Well, to be honest, it's not easy to wear cowboy boots every day in hot weather. But it's not impossible, and as I said, ostrich or goat leather boots would be a great solution for you.
To increase convenience (easy to put on/take off), you can also choose roper-style boots. Nowadays, there are also many cowboy boots with side zippers.
My dad has been wearing cowboy boots all his life, whether roaming the farm or simply going to the grocery store to buy booze.
In fact, cowboy boots with interiors made entirely of leather actually feel very cool on summer days.
They may take a few extra seconds to put on, but in hot weather, cowboy boots are like an umbrella on a rainy day.
However, you should be careful not to choose boots with too flashy patterns. People around you may not like that, especially if they see you often.
Cowboy boots with a nice shape and material will be a better choice than boots that have intricate stitching.
Men's boot: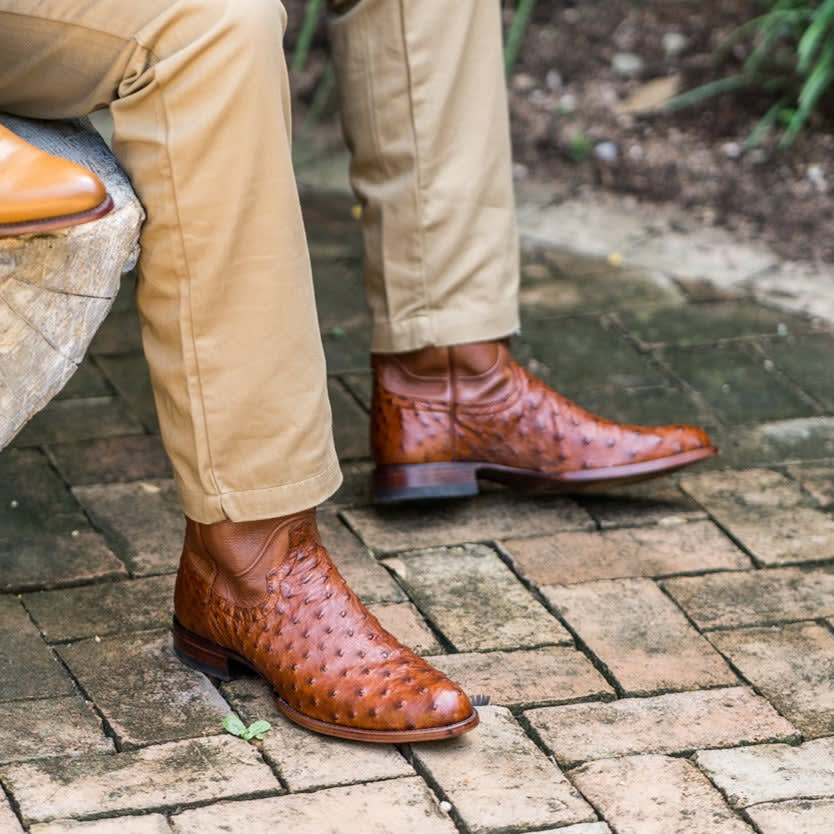 The Duke will be a good friend for casual wear on hot days. Simply because their construction is a masterpiece for comfort lovers.
Carrying a roper style with a low shaft construction (10 inches), the Duke doesn't take long to put on/take off. This is great for those who like to wear boots every day because it will save you a lot of time.
Besides, those who often wear boots and move will need high balance and comfort for each step. The Duke with roper style has a low heel and block shape that ensures you have good balance and feel easy with every step.
What you need to look for in any footwear to put on all day is high comfort. The Duke is made of full quill ostrich leather with softness and high breathability. Besides, they are lightweight due to their low construction.
The entire interior of The Duke is made of leather, including the sole and lining, so these boots are able to absorb sweat well.
Lemonwood pegs that connect the insole and outsole are also the highlight as they absorb your sweat better than the metal ones. They also have the ability to stretch at the same time as the leather when absorbing sweat, so The Duke can keep the shape well.
All of the above is a testament to the comfort of The Duke. So what about its appearance? I have always loved the unique bumpy surface of full quill leather.
Vamps don't need to be decorated with a lot of stitching, but the uniqueness of ostrich leather is enough for you to have an exquisite look. I really don't like fussy boots for casual wear.
The Duke's colors are also bold and sharp from shaft to vamp. You won't need to worry about these boots getting boring.
Is that enough to convince you?
Women's boot: The Lucy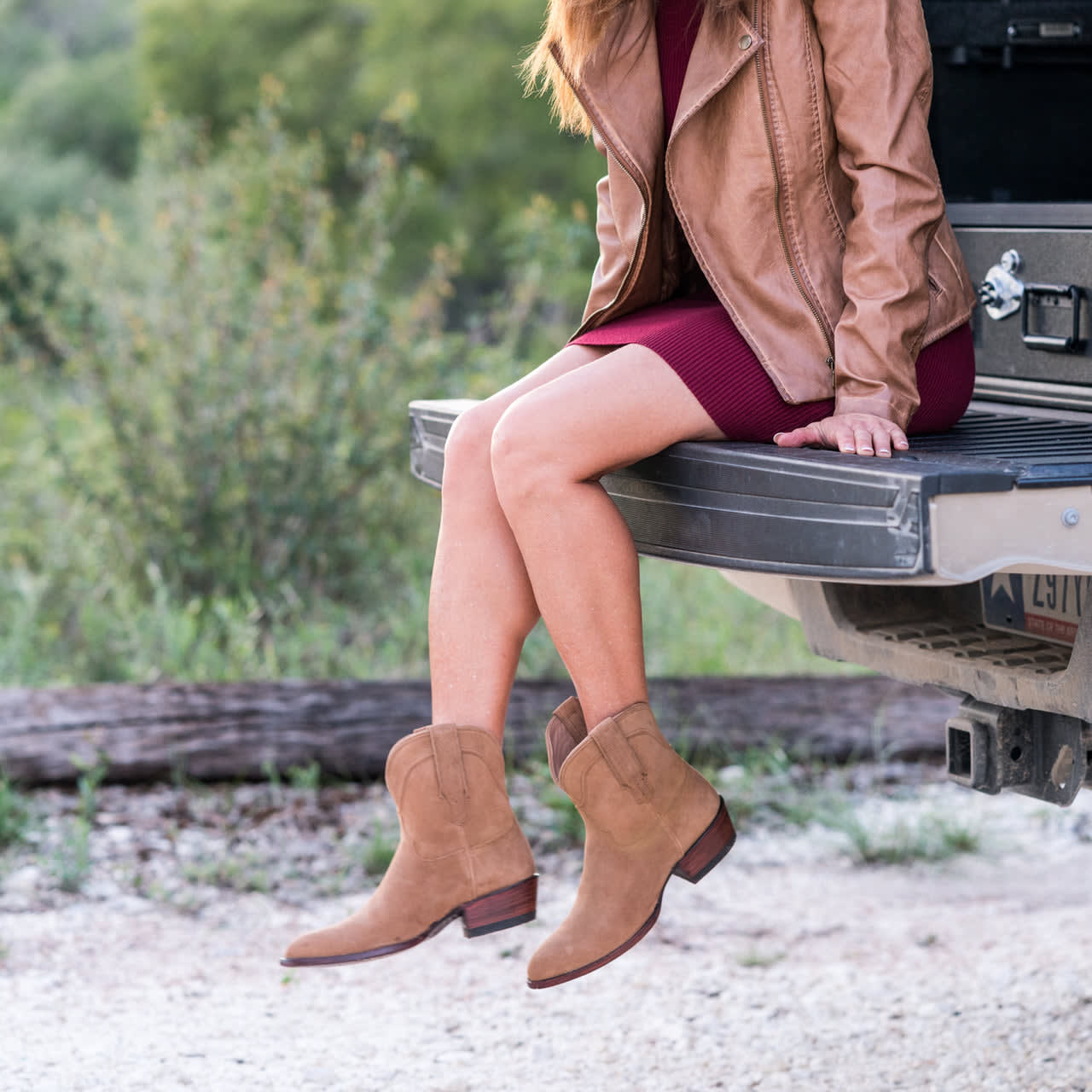 I will definitely choose a pair of ankle cowboy boots for girls this summer, this is an undisputed choice, especially for girls who like wearing boots casually.
The Lucy is my #1 choice at the moment and should be yours too. First, let's talk about its benefits in hot weather.
With the low shaft construction (around the ankle), you won't have to worry about them irritating your skin, especially when the weather is scorching.
What's even more important is that the entire boot is made of suede, which is thinner and cooler than full-grain leather. This is great for hot weather.
Butter-soft bovine lining and leather sole are all sweat-wicking and breathable materials that are perfect for casual wear.
Delicate round toe boots provide enough room for your toes not to get airtight. This is very important, as you don't want the space between your toes to get drenched with sweat.
That's all the comfort advantages I've found in The Lucy! What about its appearance?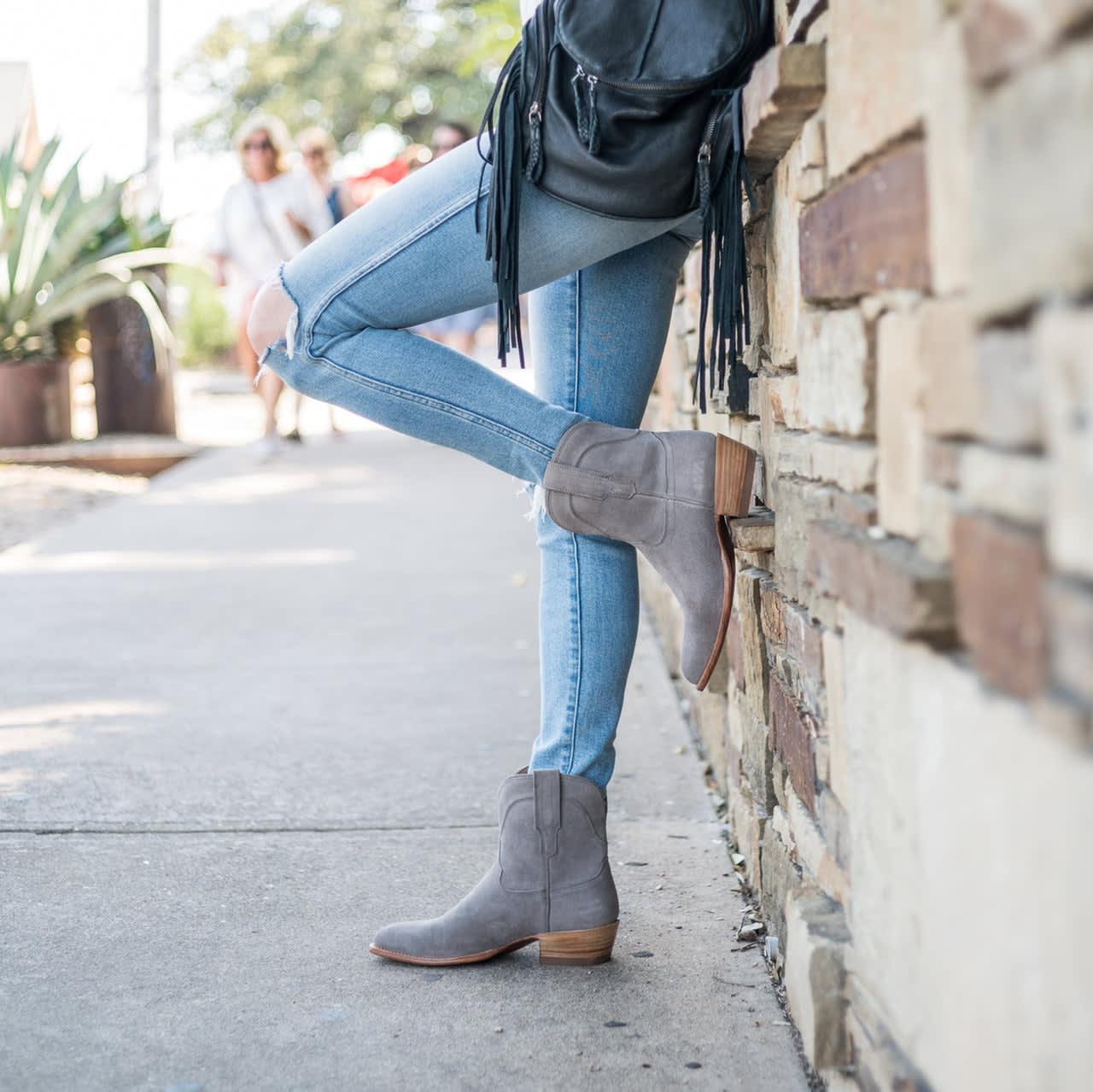 I love its simplicity! The beauty of The Lucy exudes through the shape and color of the boots, increasing the impression with a napped surface.
Its simple beauty is perfect for casual wear. Trust me, you won't need a fussy shoe with too many flamboyant patterns to meet people every day!
The Lucy gives you a beautiful, tall and confident gait thanks to the 1 3/4 inch stacked leather heel. The round toe tapers to the tip and is not too wide, which also creates slim feet.
Thin leather soles provide a softer and more refined look than rubber ones. Plus the soft suede look, your femininity will be enhanced multiple times!
Trust me, The Lucy won't let you down!
5. For Suits, Office Wear
Many people think that cowboy boots with dusty colors and rugged surfaces cannot match dress clothes. That used to be true, but not anymore in the 21st century.
These days, you'll be able to find great boots to wear to the office. For example, boots made from lizard or caiman leather.
Lizard boots with uniform textures and bright colors, while classy caiman boots exude through unique scales. All of these can go very well with your suit or dress pants.
As I said above, you should stay away from certain types of leather that easily dry and crack in the hot season. But in an office with air conditioning, this may not seem like much of a problem!
Still in doubt? Take a look at a few examples below:
Men's boot: The Cole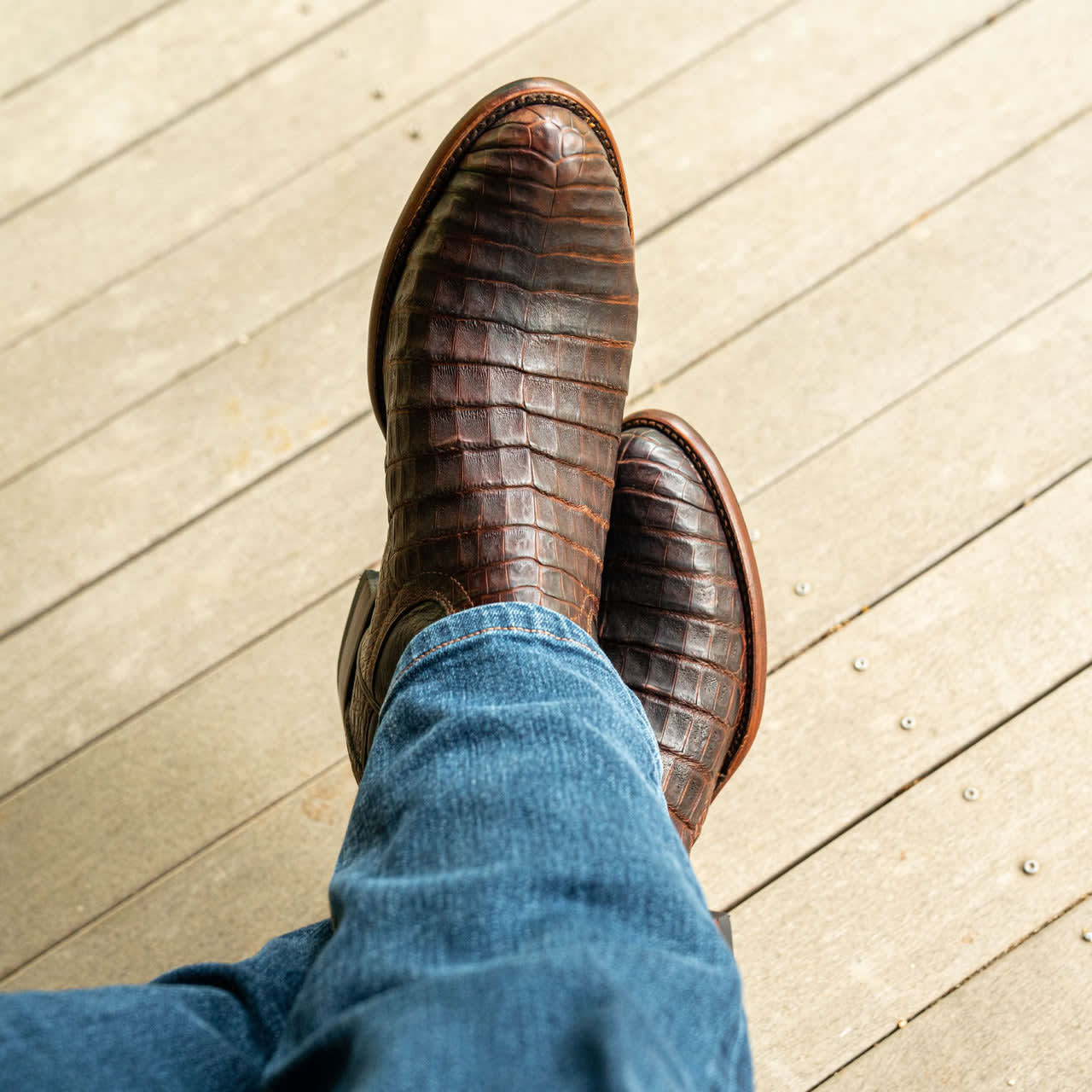 Look what I got here? Class often comes from footwear that many consider too rugged and lacks sophistication.
The Cole boots are one of my favorite cowboy boots, especially when I need something good enough to go with dress pants or a suit.
You can completely feel the classic and classy beauty of The Cole through every piece of its scales. Resonating with rich colors has made The Cole the number-one choice for elegance and luxury.
Nowadays, when it comes to boots to wear with suits, people (who really know cowboy boots) still think of roper-style first. This is also what The Cole boots own.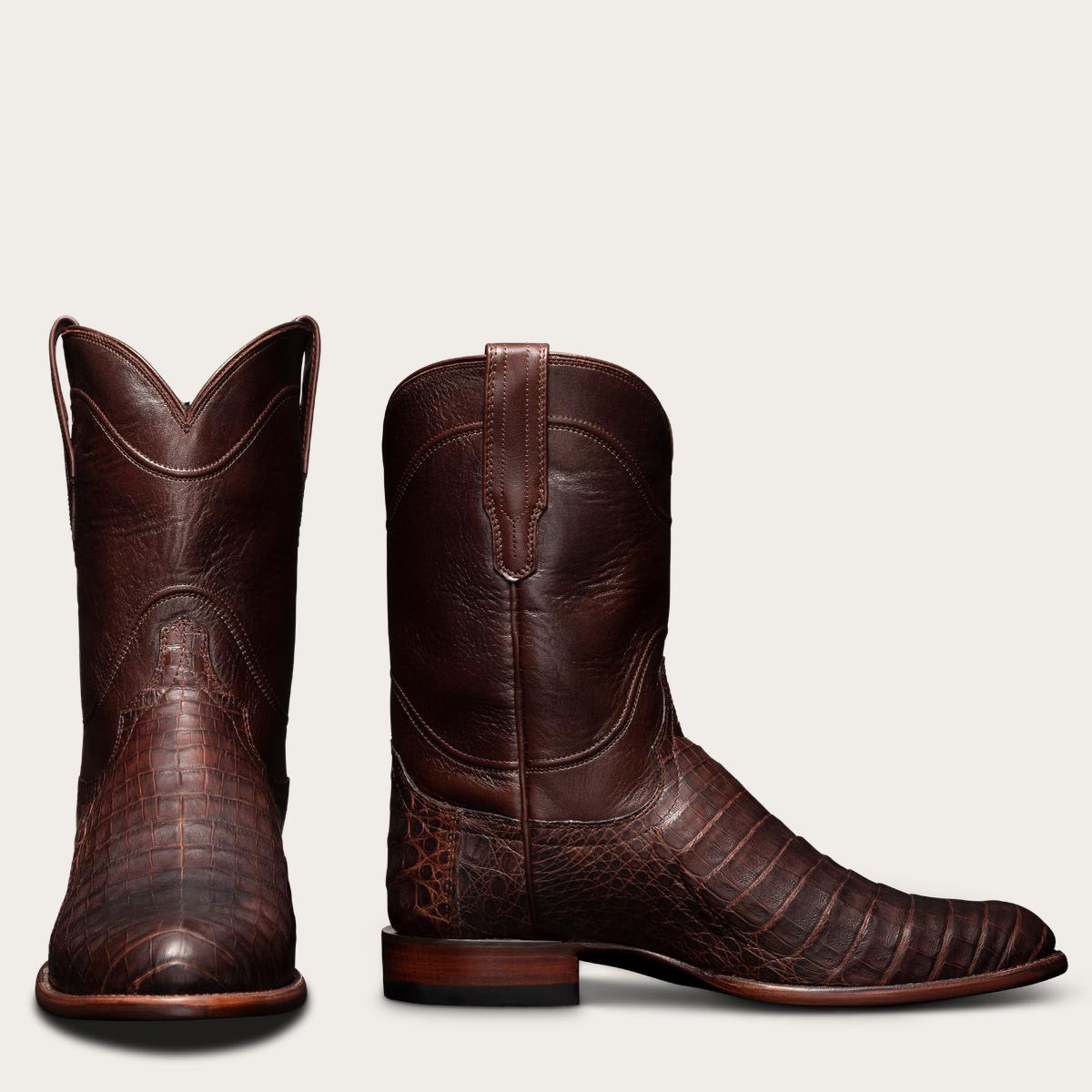 The round toe shape is handcrafted with a very sharp curve. I also love the leather sole as it is equally sharp. All of that creates a sophisticated look, not clunky like a pair of boots with broad square toes and rubber soles.
Possessing a roper heel that is only 1 1/8 inch, The Cole gives you the calm and mature look of a gentleman. Due to the color harmony with the upper and the stacked leather design, The Cole's heel still has a very attractive appearance.
However, all of the above can hardly be the main highlight because the color and texture of the caiman upper are so excellent. In addition to caiman leather making a very nice leather for the boots, we also have to commend the craftsmen of Tecovas, their workmanship is superb.
Although not as breathable as goat or ostrich leather, The Cole caiman belly leather boots still possess summer cooling features like a calfskin shaft and bovine lining. These are two very cool materials for the summer and have good sweat absorption.
Plus the boots have a shaft that's just 10 inches tall (roper style), so honestly, they shouldn't bother you with the heat.
I don't think we need to say too much about these works of art by Tecovas, because they are world-class!
Women's boot: The Daisy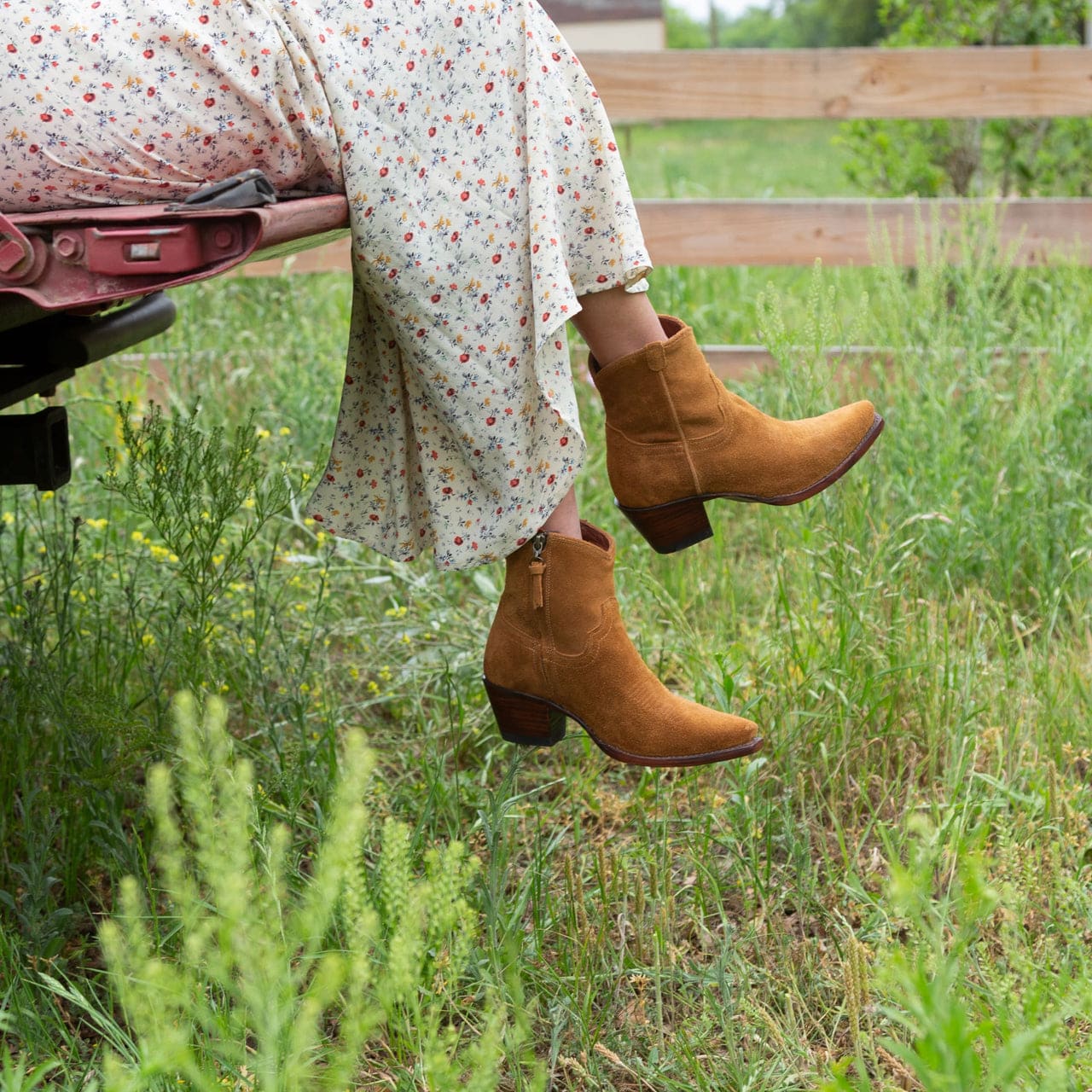 The boots of Tecovas all have one thing in common, that is, the timeless classic beauty. And so does The Daisy! Bringing in classic yet youthful beauty, The Daisy is definitely the number 1 choice for office girls this summer!
First of all, pay attention to its super cute appearance. Its feminine beauty comes from the gentle curves of the leather sole and toe shape combined with the soft fuzzy surface of suede.
Most office girls need boots with a high heel and a good shape, which reinforces the importance of The Daisy, as they have a beautiful 2 1/2 inch heel.
The combination of the high heel and snip toe of these boots makes your feet look slimmer and your legs look significantly longer.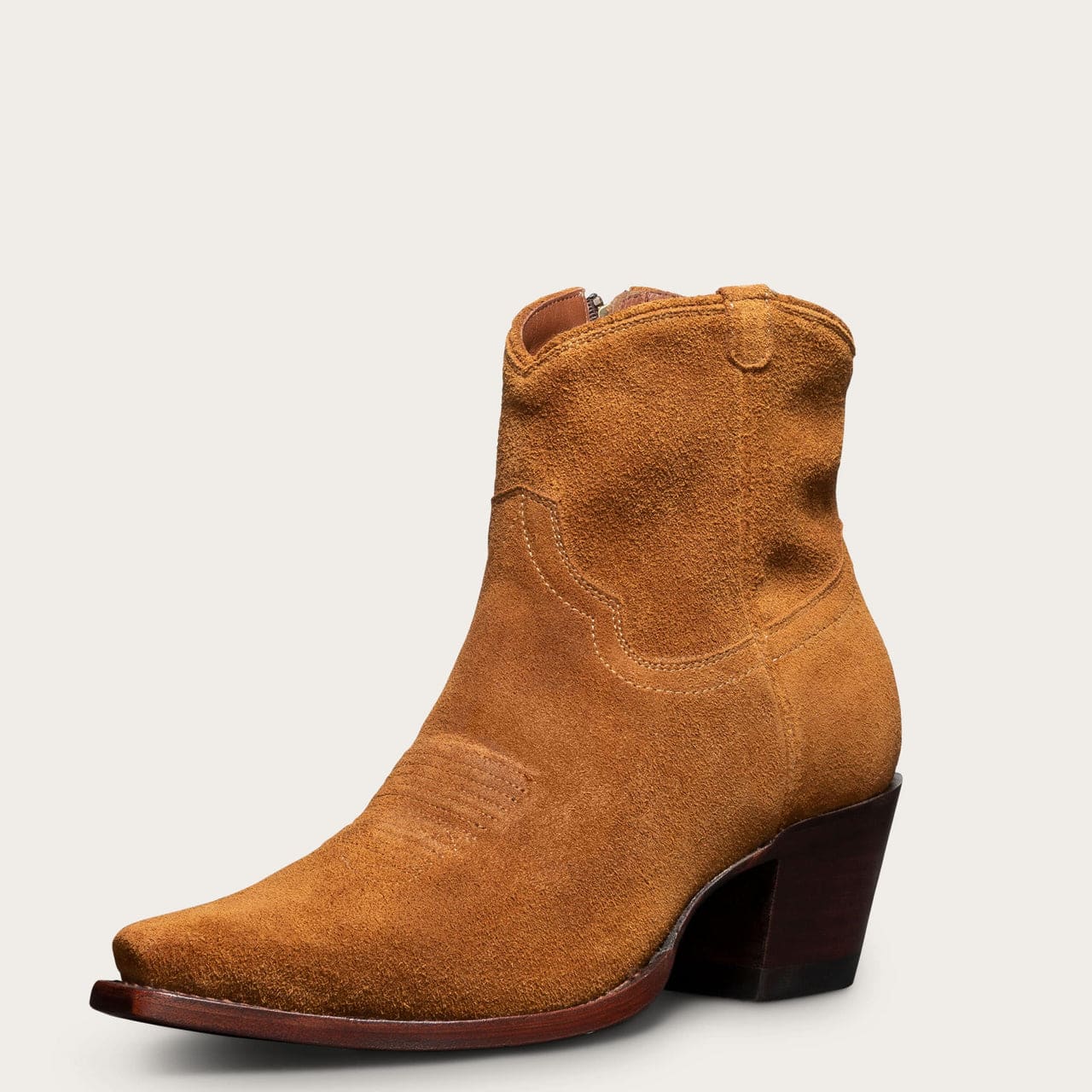 Subtle fringe is delicately attached to the zipper, adding a soft and light feel to the boots.
Whether it's dresses, skirts, dress pants, skinny jeans, etc. All can go with The Daisy.
That's all about the beauty of The Daisy, how about their comfort?
The interior of The Daisy includes leather lining and leather soles, so it has good sweat absorption, making you feel more comfortable, especially in summer.
Besides, snip toes also provide more room for your feet than boots with pointed toes. Your toes will have room to breathe without being suffocated or entangled.
However, the snip toe does not have as much room as the round toe, and high heels can make you feel uncomfortable if you need to walk all day long. Therefore, you should wear The Daisy boots all day sitting at the office, not going around too much.
Summary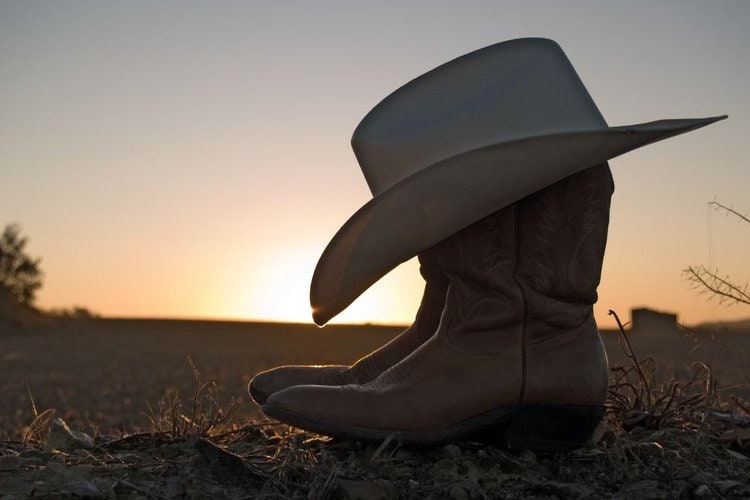 Today, cowboy boots not only appear on farms, but they appear in every corner of our lives.
Therefore, the boot makers have been sophisticated as they continuously produce boots that are more versatile and can be used in many different types of weather, whether it's rain, snow, or even hot weather.
Cowboy boots are quite tall and made from 100% leather, but they are not as hot as you think. Because leather still offers a certain breathability, especially goat and ostrich leather.
In addition, parts such as the leather lining and leather sole also absorb sweat well, ensuring you are always comfortable.
If you need heavy work boots on a sunny day, cowboy boots are also not a bad choice as they are a solid shield to protect you from the high temperatures of the environment.
Did all that make you feel secure?
Howdy y'all, and welcome to From The Guest Room, your ultimate guide to all things Western! I'm Jay Gatz, a lifelong cowboy boot enthusiast with over 5 years of experience in the Western style world. I'm excited to share my knowledge with you and help you discover the perfect cowboy boots and western gear to elevate your style. Let's explore the rich history and timeless appeal of Western fashion together!