One of the biggest controversies in the cowboy boot world is the square toe versus pointed toe one. It is brave of you to bring this comparison to the public, believe me, the outcome of the controversy won't be pleasant at all.
But, today I will try to be a bold person, to give you the fairest answer.
The article will offer comparisons in terms of comfort, looks, history, etc. of both square toe and pointed toe cowboy boots. Sit down, relax and enjoy it.
Let's start!
Note: We will have 2 short introductions about pointed toe cowboy boots and square toe cowboy boots.
But if you know it too well and don't care, skip the first 2 parts and get started with our main topic!
What is a pointed toe cowboy boot?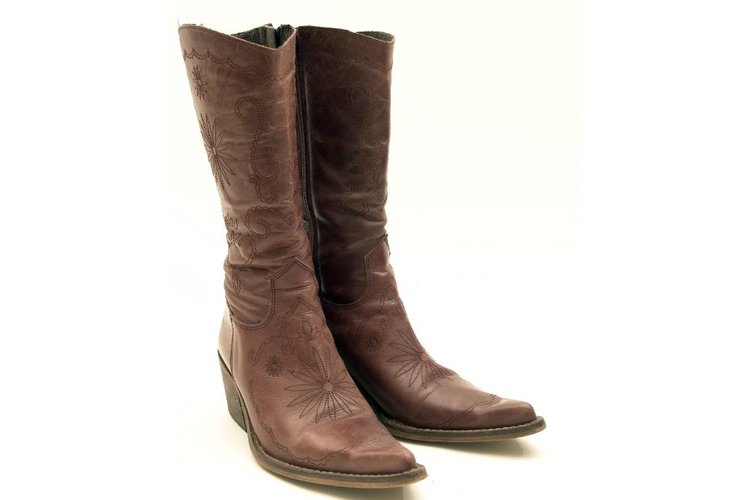 History
Pointed toe cowboy boots are the oldest traditional cowboy boots that were popular in the late 18th century early 19th century.
Since then they have become more popular and widespread among cowboys. Cowboy boots were used extensively in rodeos as well as night outs in the town.
These boots were experienced the turbulent period and development associated with American history.
Pointed toe cowboy boots are unlike the other boots because they are symbols of the popular culture of the American West.
Table could not be displayed.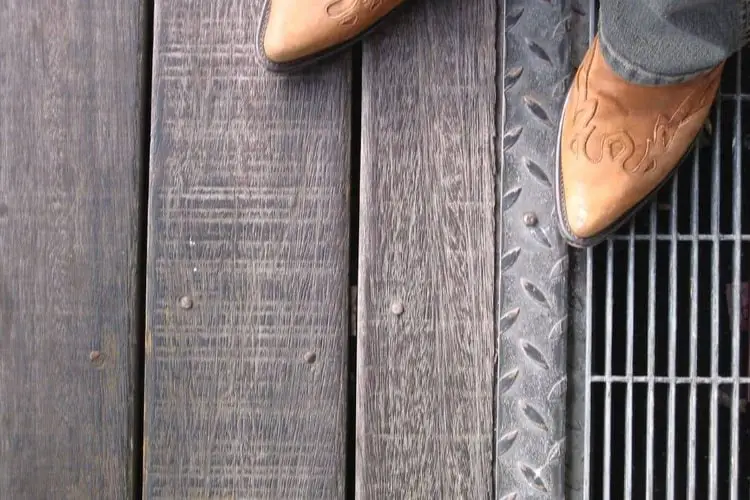 Pros & Cons
If you love western American history and traditions, worship the wild and distressed style of cowboys – this is the type of cowboy boots you are looking for!
As time passed, the world's fashion styles have changed a lot. For instance, pointy cowboy boots are used by women more than men.
With more stylized and innovative designs, pointy boots for women are more feminine especially with sexy curves of the curled up toe shape.
Today, cowboy boots have pointed toes that are not completely pointed, they are slightly rounded at the end. Because Americans think that style is quite extreme.
Men use pointed cowboy boots for their classic look. They are patriotic Americans and love the popular culture of the western United States.
In fact, to serve a fraction of the number of men (very demanding customers), these boots are designed to be eye-catching, sharp-looking, and mix modern and traditional styles.
Many people wonder if our pointy cowboy boots are uncomfortable and constrained for the toes.
The answer is yes. It is an old story, though. Cowboy boot manufacturers are smart enough to realize that!
Traditional cowboy boots are now very comfortable, they have enough room for the toes to be as flexible as possible.
One more point of the pointed toe for horseback lovers is that these boots are designed to support cowboys' feet to easily slip into the stirrup.
However, the weak point is…
Despite overcoming the aforementioned weakness, the traditional pointed cowboy boots are still unlikely to be suitable for people with wide feet.
They can make them uncomfortable because of the lack of room for the feet.
What to wear with pointed toe cowboy boots?
It is easy to think. There are skinny jeans, skirts, shorts or any kind of clothes you can imagine that you are going to be extravagant and attractive to go with these boots.
Tips: If wearing long pants like skinny jeans, you should tuck jeans into cowboy boots, which would be more beautiful.
It is more troublesome. Since it is not a good idea to match pointed cowboy boots with shorts, skinny pants, etc. We recommend Bootcut jeans, khaki or golf pants, instead. (For reasons, you can see here: How To Wear Cowboy Boots For Guys )
As for the bootcut jeans, it is a gift that God gave cowboys. It exists to go with cowboy boots!
Bootcut jeans tight up on the leg and then flare to the end, creating enough room to tuck your cowboy boots into the jeans.
(Remember that if women tuck jeans into cowboy boots, they look beautiful. However, it will be a fashion disaster if men do the same thing)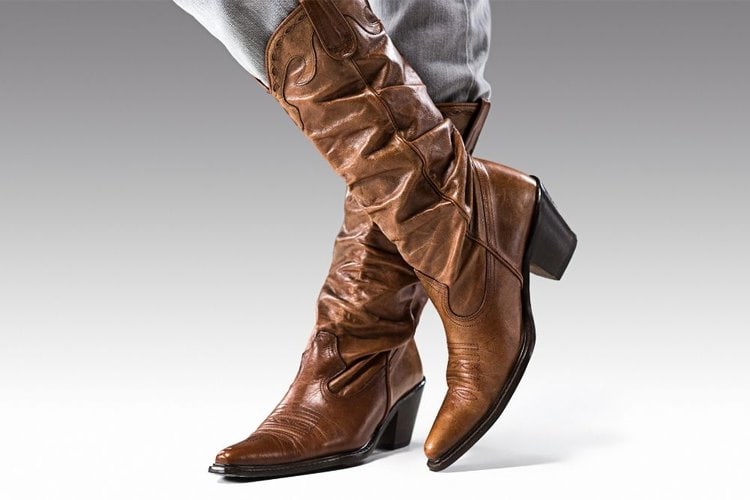 What is a square toe cowboy boot?
History
An opposite of pointed toe, it's square toe.
Although these innovative cowboy boots have recently appeared, they have created a huge wave of popularity in the United States and spread to the world with many outstanding and different features.
Ariat Mens Cowhand Western Boot Adobe Clay/Taupe 11
BMVY9 Mens Hybrid Rancher Waterproof Western Boot Oily Distressed Brown 7 Wide
Ariat Mens Rambler Patriot Western Boot Distressed Brown 10.5
Ariat Mens Cowhand Western Boot Adobe Clay/Taupe 11
BMVY9 Mens Hybrid Rancher Waterproof Western Boot Oily Distressed Brown 7 Wide
Ariat Mens Rambler Patriot Western Boot Distressed Brown 10.5
Last update on 2023-03-16 / Affiliate links / Images from Amazon Product Advertising API
Pros & Cons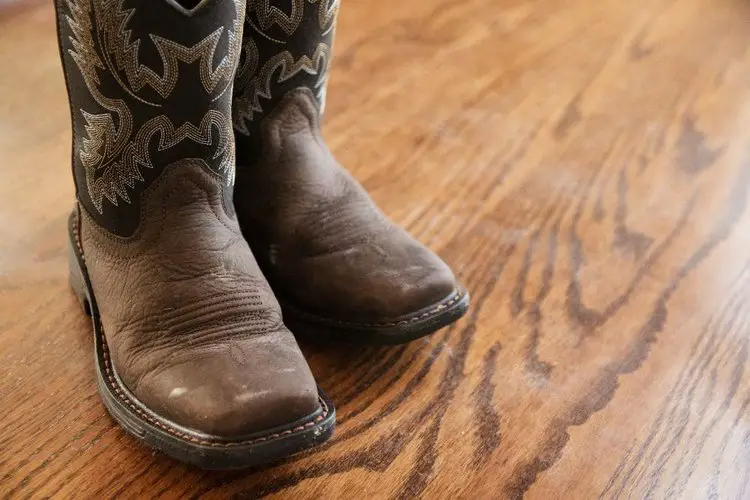 Contrary to the pointy cowboy boots, square toe cowboy boots – masculine and wild-looking designs – are very popular with men.
These boots are undoubtedly the target of true men.
To comfort for all types of feet and serve any purposes, square toe boot is designed to promote flexibility, durability and sturdy.
Boots suitable for those who like to "pack up and hit the road", especially with flat and wide outsoles, low heels.
A bit of dust and scratches will not make this type of boots worse, but it will give the person a cool and dusty look.
Square toe often appears in cowboy boots such as Walking, Workhog, Roper or Stockman, etc.
You can easily find square toe cowboy boots in brands such as Ariat, Durango, Roper, etc.
This toe is very popular with men, how about women?
The answer is the love of square toe cowboy boots has never been reduced for women since it was launched.
For stylish girls, wearing masculine cowboy boots is one of her choices.
Obviously, matching women's clothes with square-toe cowboy boots will be a bit more difficult than wearing pointed-toe cowboy boots.
One more thing we think is the small weakness of square-toe cowboy boots. According to our survey, square toe cowboy boots are… very difficult for traditional western fans to accept.
(Trust us, the survey has caused a lot of controversies).
Read more: The 10 Best Looking Square Toe Boots
What to wear with square toe cowboy boots?
For men, just like pointed toe, wearing square toe cowboy boots with bootcut jeans is the best match.
Besides, these square-toed boots are extremely suitable for Khaki pants – a pair of slightly old and dusty square-toe cowboy boots combined with Khaki pants will create a masculine, dusty beauty for adventurous girls.
How about women? Square toe cowboy boots are not only suitable for skinny jeans, but the combination of it and dress will do magic.
Do not forget to promote your imagination when you want to create a new combination of square toe cowboy boots with other types of things.
Creativity makes everything unique and interesting in life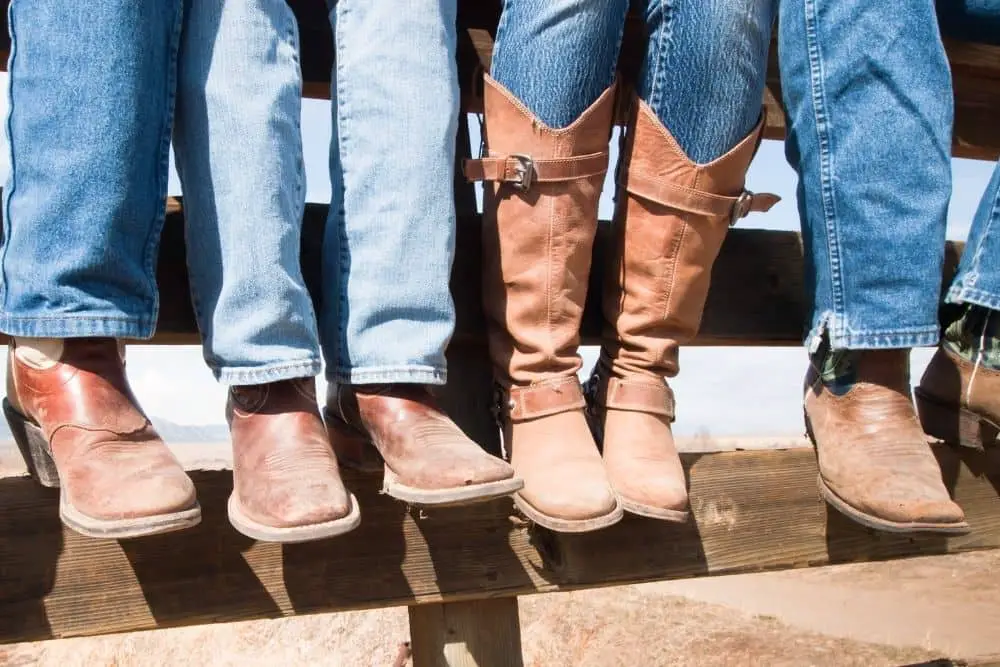 Difference between the pointed toe and square toe cowboy boots
Shape
The biggest difference between pointed toe and square toe cowboy boots is the toe shape.
Obviously, you can see that pointed toes are narrower than square toes. The shape of pointed toe tapers from the ball of the foot to the end.
Meanwhile, square toes are not like that, they do not taper but still widen and have a square shape at the end.
And as a result, square toe cowboy boots can provide more room for your feet than pointed toes.
Besides, pointed toe cowboy boots have the form that curls up higher than square toe cowboy boots. That can make you look more confident and swagger like a true cowboy.
The last thing is, square toe shape can serve more foot types than pointed toes, from narrow feet to wide feet.
Pointed toe cowboy boots may make people with wide feet feel constrained because of their narrow space.
The TRUTH about Square Toe Cowboy Boots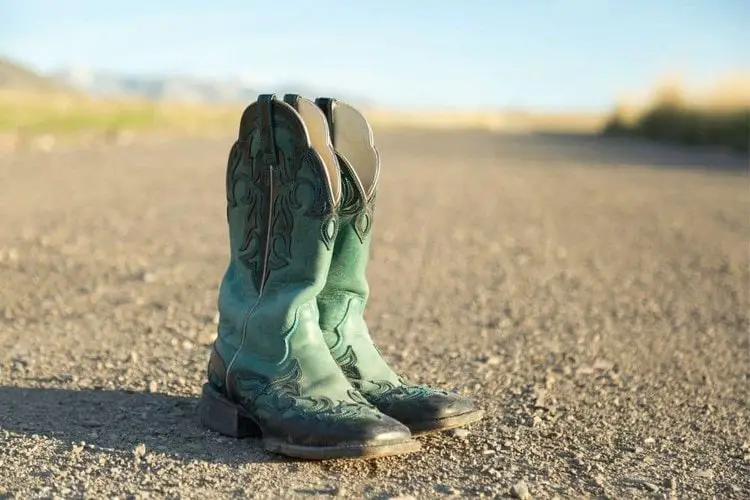 Function
The next difference between pointed toe and square toe cowboy boots is the purpose you use them.
People wear pointed toe cowboy boots for horseback riding, night out or catwalk. These toe types are often used for light activities or fashion purposes rather than heavy abuse, because they cannot provide better comfort for your feet like square toes.
The biggest advantage of pointed toes over square toes is that they are easier to insert into the saddle's stirrup. Better support cowboy balance on horseback.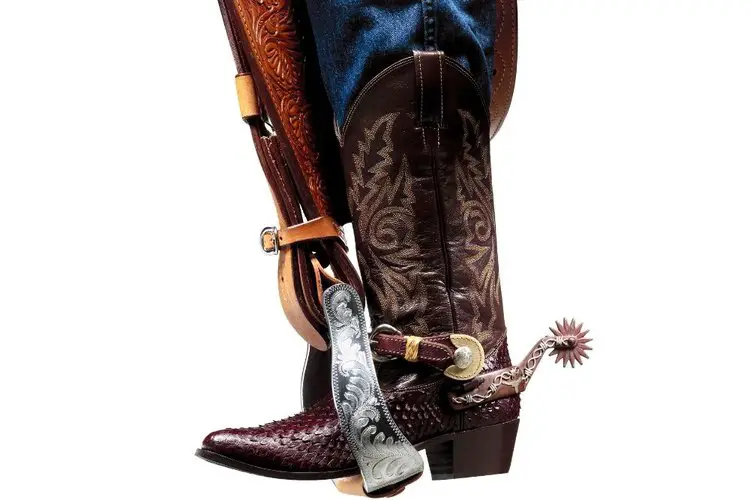 On the other hand, square toe cowboy boots can offer more comfort for wearers with more room, therefore they offer more function than pointed toes cowboy boots.
Nowadays, people wear cowboy boots not only for riding horses, farming, ranching, yard work, hiking, hunting and even construction sites. These jobs require people to stand on their own feet.
As a result, many wearers nowadays prefer square toe cowboy boots to pointed toe ones, as they can serve all the above work.
Some square toe cowboy boots today often have safety toes (steel or composite) for more protection. And that's why they appear on dangerous construction sites a lot of the time.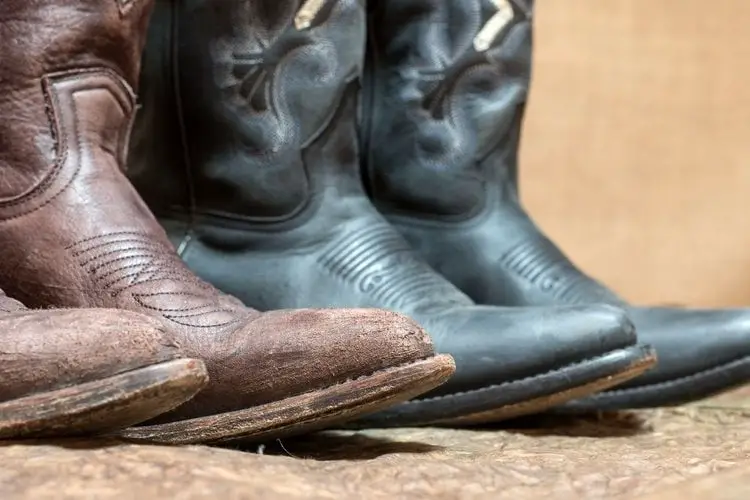 Cowboy Boots Square Toe vs Pointed Toe
Now, back to the main topic, we will try to make the fairest comment.
If we're wrong, let us know, we always welcome your response!
It can be said that the choice of cowboy boots with square toes or pointed toes should be based on many points of view, such as: appearance, function, style and fit.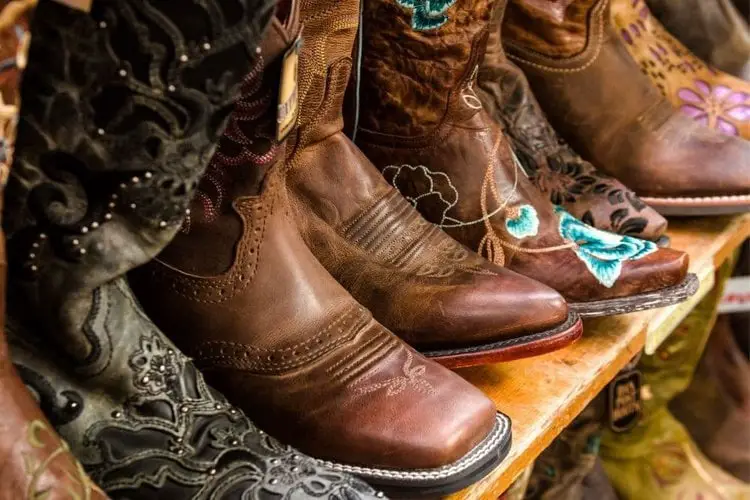 Appearance
The controversy between the fans of square toe cowboy boots vs pointed toe will never cool down.
But in general, pointed toe cowboy boots have a sharp and unique appearance.
Meanwhile, square toe cowboy boots bring a strong and masculine style.
Pointed toe cowboy boots appear with the look of classic, history and culture. Whereas, square toe cowboy boots are filled with classic style and modern flavors as well.
Function
If you like horse riding, cowboy boots with pointed toes are the best choice. They were born to serve cowboys riding horses.
The design of pointed toes makes cowboys easy to slip their boots in or out of the saddle's stirrup, which make cowboys perfectly flexible on the saddle.
However, when you choose cowboy boots for work (farming, ranching) or other activities (running, hiking, trekking), cowboy boots with square toes really give you more comfort.
Also, square toe cowboy boots have more room for your feet than pointed toe cowboy boots.
Square toe cowboy boots are more modern cowboy boots, so they are designed to provide comfort for a wide range of activities and different types of feet, especially wide feet.
In short, it is undeniable that cowboy boots with square toes are more versatile, more flexible and suitable for more jobs and activities than pointed toes.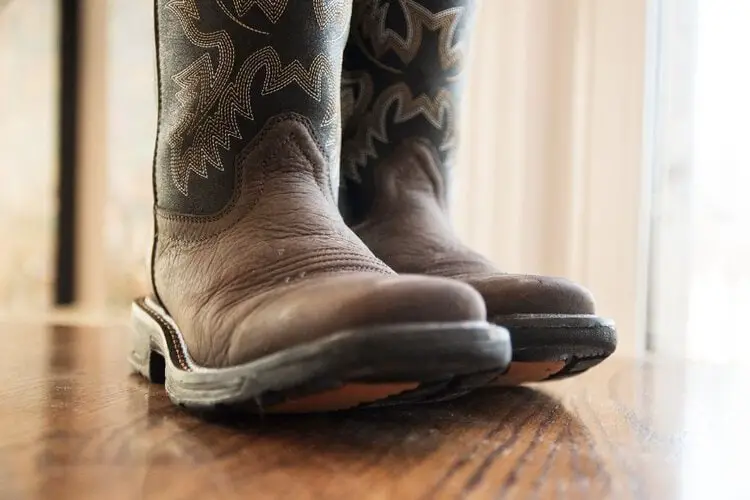 Style
For those who absolutely love the classic style and the beauty of history, I'm sure they will opt for pointed toe cowboy boots.
If you fancy the modern style but still love the groundbreaking beauty of classic cowboy boots, why not choose square toe cowboy boots?
However, we appreciate the style of pointed toe cowboy boots more. They are unique, rich in history and completely original.
Fit
To be honest, square toe cowboy boots fit better with a variety of feet (from narrow feet, normal feet to wide feet) while pointed toe cowboy boots are limited in some types.
That's not hard to understand since cowboy boots with square toes can provide plenty of room for your feet.
Pointed toes are suitable for narrow feet and normal feet, but they are obviously not a good choice for wide feet.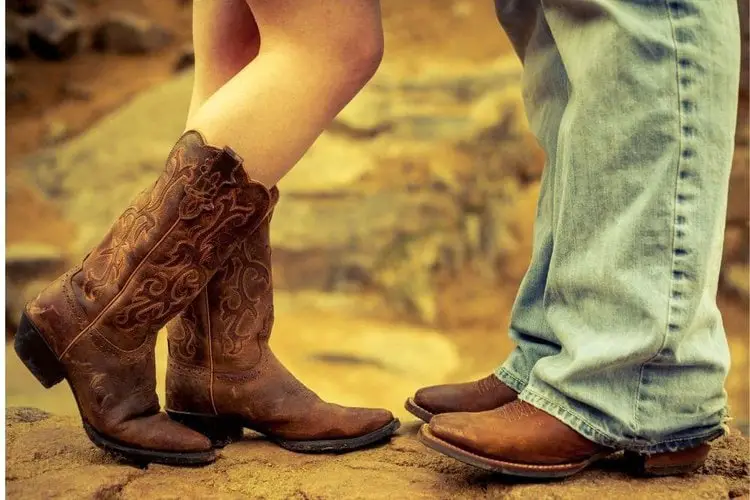 Comparison table of square toe cowboy boots and pointed toe cowboy boots
| | | |
| --- | --- | --- |
| | Square toe cowboy boots | Pointed toe cowboy boots |
| Appearance | ⭐⭐⭐⭐⭐ | ⭐⭐⭐⭐⭐ |
| Function | ⭐⭐⭐⭐⭐ | ⭐⭐⭐⭐ |
| Style | ⭐⭐⭐⭐ | ⭐⭐⭐⭐⭐ |
| Fit | ⭐⭐⭐⭐⭐ | ⭐⭐⭐⭐ |
Some comments on the topic: cowboy boots square toe vs pointed toe
"I have a few of most toe styles, 40 (+)

I am glad they have so many toe styles, depending on the skin, the color, the shaft height, and the look you are going for, all toe styles have a place and a use.

Be glad we can and have the choice to be independent of each other's choices!

It would be awfully boring if we all wore the same boot!

Then we wouldn't need this page because everyone would already have already seen what everyone else is wearing!

Choose your own style/toe ect, feel free to share!

I'll look! 👍"  – Dave Grogan
"I like all cowboy boots, but, to me, square (or the wide square) toe looks l like regular shoes to me. I don't/wouldn't notice them as cowboy boots, I would just think they are regular shoes." – Marc Kos
"Wide square and medium round are the only ones I wear. People on here will give you tons of s**t for liking wide square toe so be prepared for that. But wear what you like man. Its your money and your feet" – Nick Ryan
"I look at each boot and decide how it looks to me… It just depends on how the particular boot is presented, be it the colors or the leathers or the heels…" – Thomas Hanan
"I'm pointed toe all the way. I feel like square toe makes my legs look stumpy" – Jessica Strom
"The classic look of a pointed toe, will always be the look that we all want." – Armando Rodriguez
"Unlike the pointed toe and J toe and am a big fan of snipped . I have never owned a big square toe and like never will . Just not for me ." – John Woodrow
"Wide square only for me." – Brandon Urzendowski
"I only wear traditional cowboy boots. Have for fifty years" – Tim Garrison
"Snip or pointy first, but i like em all" – Monica Pena
"This is one of the very few occasions when I can use this term. I'm very excited…little nervous. I go both ways." – Michael Brown
"My toes are splayed out, I can only do square toe without breaking them" – Maulin Agrawal
"I personally prefer a wide square toe because of comfort reasons, BUT, the point of wearing cowboy boots it to find what you like and are comfortable with wearing." – Spencer Sonnier
"I have a variety of toes ranging from wide square to all the way up to a round toe." – Jeremy Parroco
"Well if we're able to be honest I despise square toe. I can't even tell you why I just cringe everytime I see a square toe. I think it's the ugliest kind of boot no matter what else it looks like, to me square toe ruins the look of any boot. That said pointed toe is pretty strange too. I love a good rounded point. Never ever square." – Caleb Buhr
"HATE square toe. I'll sell them but won't wear them" – Craig Clower
"I think there is a purpose for all toes. I love wide square with relax or extra relaxed jeans. Great for showing or rodeo settings. Round traditional toes for riding with a nice sharp heel and pointier for dressy occasions and slacks or dress suits. Now all can be interchanged, but looks best in the ways I said. My .02" – Derek Knight
"My work/casual boots are square toes, dress boots are medium round, which is my preference. For work I'm not too worried about what my boots look like." – John Kirby
"Not into square kind all and I don't usually go for the long pointy ones either. But to each his own and enjoy yourselves."
"As long as the toe isn't a foot past my toes then I'm ok with all." – Alan Eoff
"Pointed tend to look better, square tend to be more comfortable. I prefer round or J toe… I have all styles however" – Victor Harrelson
"My personal opinion is the square toe aficionado say wear what you like the rest say wear traditional toes. I always viewed square toe boots as work boots and do to this day." – Justin L. Williams
"It's all about comfort really. I don't cre for Square toe(just my preference) snip toe and J toe fit me best. I have tried a few round toe medium as well as the more pointy round toe. I do have a narrow square toe that fits well.but over all, they just are not as comfortable as the J and snip toe(for me). My wife loves her square toe." – Edward S. Sheffield
The bottom line
The survey results of many people's opinions about cowboy boots with square toe versus pointed toe are crazy. The quarrels between those who love traditional things versus new things are beyond our imagination.
Anyway, be yourself when you want to choose cowboy boots as confidence will bring beauty to cowboy boots and people wear them.
You are all lovers of the western cowboy's swagger style and confidence, show it! Be strong and keep your head up, stay confident with your chosen cowboy boots. Cowboy boots will naturally promote their beauty.
Do not allow any sarcasm or personal opinions of others to affect your selection. Because it is your money, your decision and your style.