Phew… What a busy autumn morning! So many leaves and debris in the garden, so many branches need to be pruned after 2 months and a lawn with tall grass. Not an easy task for the morning!
I'm sitting down in the wooden chair after 3 hours since 5 am, sipping tea, warming up by the fire with my dog Anna, and still haven't taken off my cowboy boots. Yes, it's the point, I'm still wearing my cowboy boots!
And I just came up with an idea, why not review this morning, about the experience of using cowboy boots for yard work?
I can say they are a good friend to help you do everything! And I will tell you why in more detail below!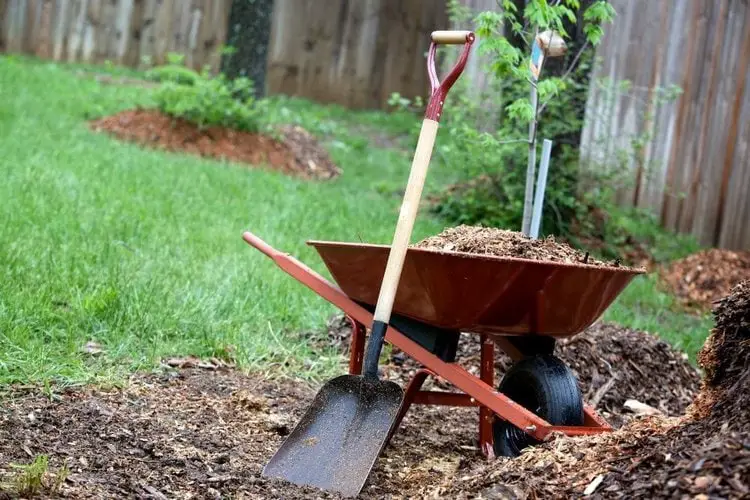 Are cowboy boots good for yard work?
Yes, cowboy boots are the perfect choice for yard work! If cowboy boots are not good for yard work, then no other boots in the world are!
What makes cowboy boots good for yard work?
When I work in my yard early this morning, it's quite cold and wet because of the temperature and the morning dew, but it's not a big problem while you are wearing cowboy boots.
Cowboy boots have good water resistance and have a high shaft made from full-grain leather. Their construction is perfect for a pretty cool and wet environment, they can keep you warm, dry, and bring perfect comfort. Such an amazing feeling!
Unlike the summer mornings when the weather is quite hot and dry, today I use cowboy boots with rubber outsoles. I have a good balance while working on wet and slippery grass because the rubber outsoles are anti-slip.
Besides, rubber outsoles are thick, waterproof and insulated, which keeps my feet warm and totally dry.
So, what type of soles I used for yard work in the summer? I prefer leather soles. I found out that my Tecovas cowboy boots with leather outsoles are very breathable and are the best choice for my yard work in the hot summertime!
Leather outsole cowboy boots may be quite slippery and cause much trouble for some new guys, but in the hot and dry yard, they are not causing any problem, they still have a pretty good grip.
In fact, that is the advice for someone new, I still use leather sole cowboy boots for yard work even in the wet yard. Why? What I love most is that leather soles are not stuck in too much mud. Thus, you can easily clean them.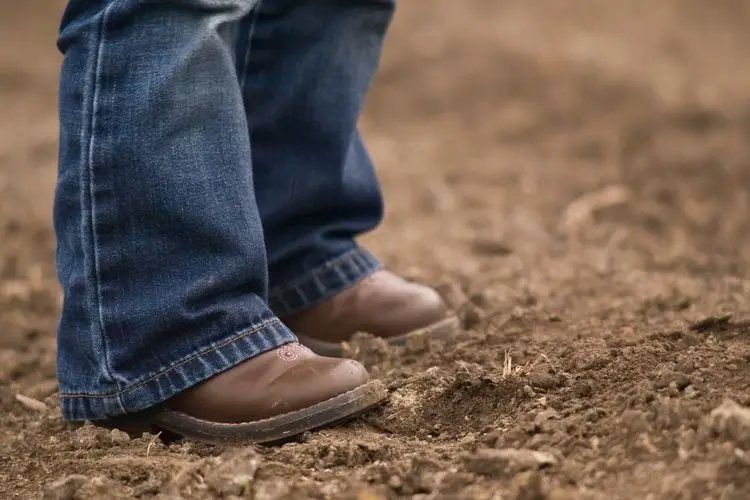 Another good point of cowboy boots when used for yard work is that they can protect you from debris and mud. The sturdy and high construction protects not only your feet but also your calves.
The next point of cowboy boots for yard work is that they are laceless – no place for mud to hide! You won't worry about lace getting stuck in the lawnmower engine.
The last good point of using cowboy boots for yard work is their durability!
I have been using cowboy boots for more than 12 years and have conquered not only light yard work but also heavy work like construction sites. I understand the durability of cowboy boots clearly
If you use cowboy boots just for yard work or casual wear, it's not a surprise if you use them for more than 12 years. Cowboy boots are super durable.
What are the limitations of cowboy boots when used for yard work?
How about the cons? What makes me uncomfortable using cowboy boots for yard work? Let's take a look!
One of the things that always makes you upset is cleaning mud on the upper of cowboy boots, especially in the colored stitches when they stick mud.
Cowboy boots are tall and have much stitching throughout the shaft, so you will spend a lot of time cleaning them.
I always spend more than 1 hour cleaning the stitching of my cowboy boots, it's such a tiring time!
Cowboy boots can resist water well, but they are not fully waterproof! So, if your yard has too many puddles after heavy rain, chances are your feet still get wet and uncomfortable.
So, if you are in that situation, try to waterproof your cowboy boots with mink oil, beeswax, or some leather conditioners before taking care of your yard.
Or you can choose some type of cowboy work boots that are fully waterproof. Bootmakers nowadays know what we need, so just walk around some e-commerce sites and you will find a ton of boots like that.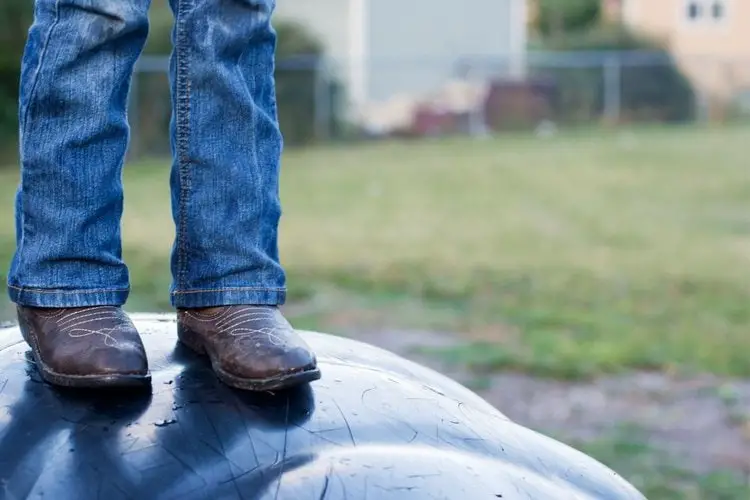 Make you feel hot in the summer
Another minus point when using cowboy boots for yard work is that they can make you feel hot in the summer, especially cowboy boots that are too high.
Leather is leather, they are not breathable like mesh, so if you wear them in the hot weather, your feet still get hot for sure.
In the hot weather, I often wear cowboy boots with a height only reaching the mid-calf.  This height helps me feel more comfortable than regular cowboy boots (usually higher than mid-calf).
To help you choose cowboy boots for hot weather, here is our advice!
What cowboy boots are good for yard work?
There are many types of cowboy boots that are good for yard work, but depending on the weather, terrain, and environment of your yard, you should choose cowboy boots that are following the guide below!
The height of cowboy boots
In the cold weather and wet, nasty environment, you should choose cowboy boots that are higher than the mid-calf to protect your feet and legs better.
Wet mud, wet grass, leaves and debris can stick to your feet and legs during work. Besides, your legs can feel cold in the early morning, so you should choose cowboy boots that are more than 11 inches high.
But in the hot weather, mid-calf height cowboy boots will be better, which can make your legs breathe. My other advice is, you should wake up early to do yard work, don't wait until the sun goes too high.
The outsole is the important thing that I want to mention here.
In a wet environment, it's better if you use rubber outsoles with a good grip! A good grip can bring you more balance when walking on wet grass.
But in hot weather and dry terrain, leather soles will be better! The leather sole is more breathable than the rubber sole. And it can make your feet cooler.
However, if you intend to climb the ladder to prune tall branches, then you should use rubber soles with good traction to ensure that your feet are firmly in place and do not slip off the ladder.
But if my garden has too much mud, I will choose leather soles because I don't want to remove every piece of mud from the groove of my cowboy boot soles.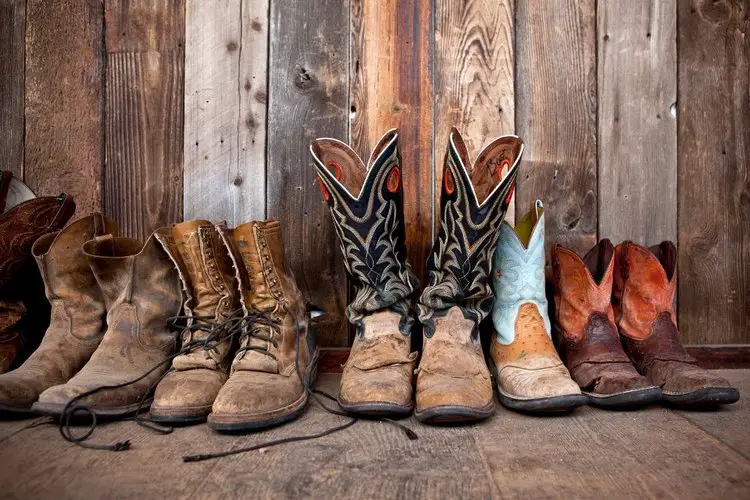 For working, I always prefer to use short heels to have more balance and choose a toe shape that provides enough room for my feet.
Therefore, I opt for cowboy boots with a heel height of no more than 1.5 inches. Their toe shape is a round toe or square toe.
Believe me, you will be more comfortable when using cowboy boots that possess those characteristics for any work, not only for your backyard!
I'm not really like using cowboy boots with 2 or 2.5 inches heels and narrow pointed-toe shapes for work. They do not give me the best comfort and stability. I know this can be controversial, but you can hardly deny it either.
Waterproofness (optional)
Most cowboy boots are water-resistant, but not 100% waterproof. For the yard work, I guarantee you will have to water the plants and the lawn a lot. That's why you need a pair of cowboy boots that are totally waterproof.
Regular cowboy boots can keep your feet dry and warm in the light rain or somewhere not too wet, but in heavy rain or under the heavy water tap, your feet still can get wet.
Come on, if you don't water any plants, you can't tell your wife you just finished gardening!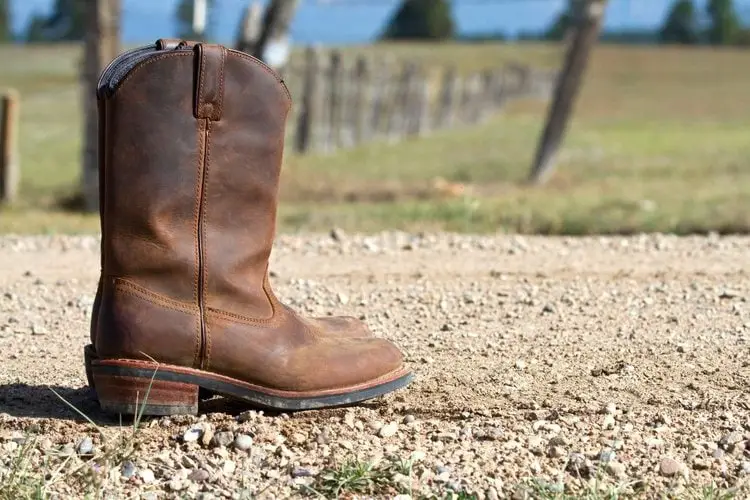 Less stitching and motif (optional)
One of the most annoying things in the world is cleaning the stitching of cowboy boots, and if it sticks to mud, it's even worse!
So, you should choose cowboy boots with not much stitching, or the stitching shouldn't have too many colors.
However, in fact, you will tuck the shaft of cowboy boots inside the jeans, so I think it does not make the stitch in the shaft of cowboy boots get dirty, just only the stitch on the vamp is affected.
I already have an article with detailed instructions on how to clean the stitch on cowboy boots! You should refer to it if needed!
Alright, it's some of my suggestions. If you come up with any ideas, tell me in the comment and we can discuss them!
What type of cowboy boots are good for your yard?
For work, I love using cowboy work boots (or western work boots). They have short heels, many rooms in the toe box (round toe and square toe), and some of them have sturdy construction with waterproof ability.
They can provide very good comfort, balance, and protection for any type of work.
In case you want to wear cowboy boots for working in the yard in hot weather, then Roper style cowboy boots with 8 to 9 inch tall, round toes and short heels will be a good choice. Try to find boots that have leather outsoles and you will have the best experience.
In addition, cowboy boots with stockman style are also on the list of my priorities! They have all of the above characteristics and their goal is to provide the best possible flexibility, comfort and stability to the wearer.
To wrap it up, cowboy work boots, Roper boots and Stockman boots are the best options for you.
Top 3 picks cowboy boots for yard work
Still don't know what type of cowboy boots are good for yard work? I have 3 gifts for you right below!
1. ARIAT Men's Groundbreaker Square Toe
Ariat Mens Groundbreaker Wide Square Toe Work Boot Brown 10
WORKS AS HARD AS YOU DO: The Groundbreaker by Ariat are made for the long haul: strong, sturdy and...
THE SUPPORT YOU NEED: The Duratread outsole is both oil and slip resistant and the 90-degree heel...
EVERYDAY COMFORT: Along with the 4LR (Four Layer Rebound) technology for added comfort, these men's...
Last update on 2023-09-22 / Affiliate links / Images from Amazon Product Advertising API
Okay, let's get started with a pair of cowboy work boots, their name is ARIAT Men's Groundbreaker Square Toe.
I can say these Ariat boots are good for work! They are durable with a wide toe box and short heel, combined with non-slip rubber outsoles to bring you comfort and stability to work all day in your yard.
The sturdy construction of these boots can protect your feet well. The cushioned insole and a 90-degree heel cherish your feet well. And the outsole, as always, offers a great grip.
Although these boots have a soft toe, they still meet ASTM standards. You may not want to use boots without steel toes for construction sites, but here is yard work, so I think it's great to give them a chance.
This boot is specially made for the hard-working man, thus there is no doubt about protection and feel!
Lastly, these boots have short height and simple stitching in the vamp. What does it mean? You will not spend too much time cleaning and you can use these boots comfortably in the hot weather.
2. Ariat Hybrid Rancher Waterproof Western Boot
Last update on 2023-09-23 / Affiliate links / Images from Amazon Product Advertising API
One of my favorite boots for working is Ariat Hybrid Rancher Waterproof Western Boot. Why? Because it's functional and fashionable!
I love this one, they have a cool look with a sharp shape and great pattern stitching in the vamp.
Regarding their function, you will know these boots provide great comfort with a very short break-in time. The 4LR footbed technology of Ariat played a huge role in that success.
And as we are looking for, these boots possess square toes and short heels to enhance stability while watering, mowing and pruning.
11.5″ is the perfect height of cowboy boots that you can use all the time for years. This height is not too tall nor too short to deal with summer and winter. You can feel good at all times.
Besides, these boots have the waterproof ability, your feet will totally dry and warm throughout the watering process.
The stitching in the shaft is so stunning, but the stitching in the vamp is simple, which is great for work! Just tuck your boot's shaft inside your jeans, and you will not waste your time cleaning them.
Well, I think that's some basic information for you to consider these boots!
3. Durango Rebel Frontier Distressed Brown Western Boot
Sale
Last update on 2023-09-23 / Affiliate links / Images from Amazon Product Advertising API
Let's come to the last one before saying goodbye, I introduce to you the brand that always brings amazing comfort for the wearer, Durango.
Durango Rebel Frontier is a cool companion for your yard work. Durango is very famous for their comfort, you can walk and stand all day in the boots without pain.
I myself possess many pairs of cowboy boots, but I can assure you, Durango boots are always my favorite. I love comfort!
With jobs like watering or cutting the grass in the garden, you will not need heavy-duty boots, comfort is a priority. That's why these boots should be taken seriously!
Although these Durango boots are not waterproof, their full-grain leather can help your feet stay dry in light rain or wet places.
Fiberglass shank can enhance stability for you while climbing the ladder and pruning the leaves. Rubber outsoles with grip will surely keep your feet stay firmly on the ladder.
Short but not too short, high but not too high, the heel of these boots can make you walk confidently while providing the flexibility for you to work quickly and comfortably.
The square toe shape has enough room for your feet and no worry about your feet getting constrained while working.
That's what I said, a good boot for yard work!
Before you leave
I'm really not sure if you can read this line or not, but if you did, thank you a lot.
All above is my experience with using cowboy boots for yard work and some of my advice. If you have another opinion, tell me in the comment, I appreciate it very much!
I don't think that any reason can stop you from buying a pair of cowboy boots for yard work!
So, make a decision and enjoy it!
Howdy y'all, and welcome to From The Guest Room, your ultimate guide to all things Western! I'm Jay Gatz, a lifelong cowboy boot enthusiast with over 5 years of experience in the Western style world. I'm excited to share my knowledge with you and help you discover the perfect cowboy boots and western gear to elevate your style. Let's explore the rich history and timeless appeal of Western fashion together!