One of the great things that cowboy boots offer us today is that they can serve so many different purposes. Gone are the days when cowboy boots were only used on farms.
Nowadays, you will see cowboy boots appear on the streets more and more. They are gradually becoming a familiar accessory for casual wear.
It's not rare to use cowboy boots daily but it's not popular in the cowboy boot world. That's why many people don't really know how to style cowboy boots casually.
Well, it's actually pretty simple once you get the hang of a few basic principles. An outfit that suits cowboy boots casually just needs to have elegance and a clean feel.
To learn how to style cowboy boots casually, let's explore together in this article!
Key takeaways
Your casual outfit should create a clean look, but not rustic or sloppy and don't show off.
Choose cowboy boots that have a simple yet comfortable, elegant style for casual wear.
When it comes to matching outfits, men still need to pay attention to some rules, while women have more freedom and choices.
Whatever the combination, it should create a friendly, close feeling with convenience because this is a true casual wear style.
What can you style with cowboy boots for casual wear?
Cowboy boots are traditional and historic accessories. For men, cowboy boots mean a clean look and classic style.
For casual wear, you should guarantee the above style. The overall outfit must have a perfect style, and maybe matching color.
Your casual clothes should not be gaudy in color, they should be consistent. It also shouldn't look too old, which will make them feel less elegant.
Fit is also something you should care about for casual wear. You won't want others to look at you and think that this guy is messy because of his oversized outfits.
There is a rule in the world of cowboy boots that men should remember. Regarding style, men do not tuck their pants into cowboy boots. Instead, they let the pants fit over the boot shaft.
That style will create a clean look. Also, you need to choose pants that have enough room in the bottom legs to do that, they should be wide enough and slightly longer than usual to cover the entire cowboy boots.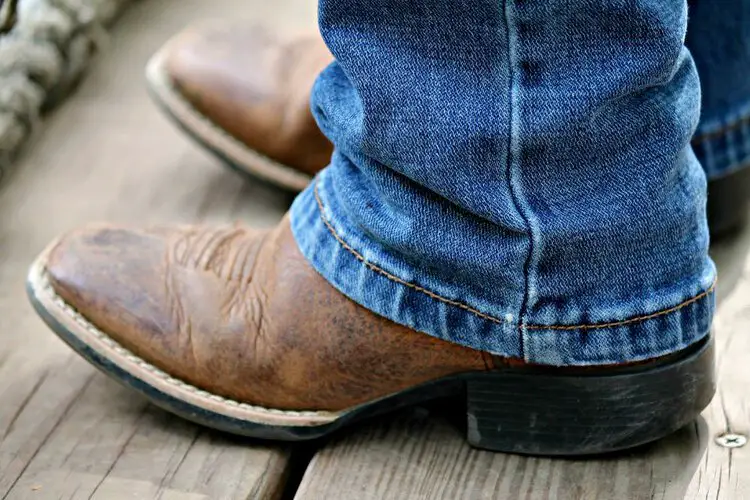 There are quite a few different outfits for you to go with cowboy boots. The classic options that come to your mind first must be jeans or khakis.
Jeans and khakis can completely go with cowboy boots for a classic and pleasant style. These 2 types of pants today appear anywhere in the world, not just ranch anymore.
Moreover, other options for you can be bootcut, straight cut, cowboy cut jeans (or khakis). Don't forget to choose the right fit for your body to flatter your figure.
For example, the slim fit will suit slim people, and stretch jeans (or khakis) are for those with large thighs. Relaxed jeans are great for a fat body while regular jeans are for people with a fit body, not too fat or thin.
For bootcut and cowboy-cut jeans, many people prefer to stack them with boots, while others prefer cuffed straight-cut jeans.
The same formula can be applied to cargo pants or tactical pants in case you're looking for something more novelty than khakis or jeans.
Cowboy boots for casual wear should have a plain color and style. You don't need to stand out all the time and attract all eyes. So cowboy boots with classic brown or black tones will be the appropriate choice.
You can choose cowboy boots created by bull hide or cowhide with smooth surfaces and elegant textures.
Or, boots made from exotic leather like ostrich or lizard are also good choices, they are both unique and elegant but feel good.
On the other hand, tops to go with cowboy boots should be simple and comfortable such as t-shirts or shirts.
Their style should be simple, I emphasize this because, with a classic fashion accessory like cowboy boots, they shouldn't go with flashy tops.
In addition, a leather belt with color-matching pants or cowboy boots is also a good choice to create harmony in the overall outfits.
Plain textures, simple colors (not many dazzling colors mixed together), gentle and elegant style. That's the key!
Personally, I love wearing cowboy boots, jeans, and polo shirts. This combination makes me elegant and youthful but still comfortable.
A few coats can also be a good addition to the outfit in case it is too sunny or too cold.
If you choose to wear a polo shirt like me, then a sports jacket is a great item to wear outside. It looks pretty youthful, right?
Meanwhile, the popular choice in the cowboy boot world is usually the leather jacket. It goes well with classic leather accessories like cowboy boots.
Jackets should also be dark or plain, not flashy. I would choose the black sports jacket and the brown leather jacket to harmonize the whole outfit.
If you intend to wear cowboy boots for business casual, the great thing is that many cowboy boots can now be worn with office trousers, slacks, dress pants, or suits.
As mentioned above, as long as you make sure your pants fit over shaft cowboy boots, you'll be fine!
In this regard, you will need to pay more attention to cowboy boots, their style should be elegant to suit the office.
This is often determined quite a lot on the surface of cowboy boots. Each type of cowboy boot material will bring different styles.
Cowboy boots that are well-polished or made from exotic leather such as lizard, smooth ostrich, caiman and blue alligator should be great options. Since they have a high level of elegance, the tone goes well with dress pants and exudes a chic vibe.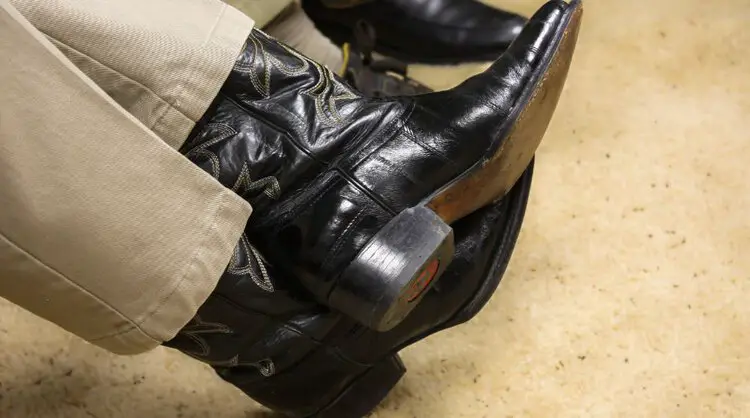 We have a few different articles on how to wear cowboy boots with work pants. You can see more below!
Choosing a suitable shirt to wear with cowboy boots for business casual should also be considered, shirts will be good choices.
If it's an ordinary workday with no important meetings, a shirt with jeans and cowboy boots is just enough.
Moreover, shirts should also have an elegant style with simple or no textures. Some checkered shirts are also good choices.
In general, keep the look simple but elegant! It's the look that goes with classic cowboy boots.
In addition, if you want to wear cowboy boots for outdoor work, cowboy boots and work pants are also a suitable combo.
At this point, you don't necessarily have to have a certain style, as outdoor work will need outfits that provide durability, safety, neatness, and high comfort.
If the nature of the job has some requirements, you should follow them. If it requires tucking your pants into the boot shaft, go for it. Safety in the workplace comes first, styling them doesn't matter.
Today, many cowboy boots have met ASTM standards, so they are fully qualified to appear in hazardous jobs such as construction sites.
Some notes for men when styling cowboy boots casually
As mentioned above, men usually don't show the shaft of cowboy boots, but completely hide them under the pants to get a clean look.
We have a pretty detailed post explaining that here!
Therefore, some types of pants that you should stay away from are skinny pants and shorts.
Skinny pants have bottom legs that are too narrow to fit the boot shaft. If you still wear them, the textures and V shape collar of the boots will be printed on the surface of the jeans.
Meanwhile, shorts, not to mention they can't cover the entire boot shaft, this type of pants looks too simple and funny to go with cowboy boots.
In addition, outfits to wear with cowboy boots for casual use need a high level of comfort. It should not interfere with your daily activities.
As for cowboy boots, I prefer ostrich boots or goat boots. Ostrich is very soft while goat is very breathable.
Knowing about exotic boots will ensure you have more options!
You should also consider the height of the heel, 1 1/2 inch heels should be the choice because they provide a nice look but still have good comfort.
Square toe and round toe are ideal choices for men when they have a strong look (square toe) and a classic look (round toe).
The pointed toe or snip toe that is too pointed or narrow may not be a good and popular choice today because they are quite extreme in style for men.
Traditional cowboy boots or roper boots are just great for men!
How Do You Style Cowboy Boots Casually for Women?
For women, things are simpler than for men when they want to style cowboy boots for casual wear. You don't have to cover the shaft of cowboy boots.
Therefore, besides the style suggested for men above, women can freely opt for skinny jeans or shorts to go with cowboy boots.
You can tuck skinny jeans into cowboy boots. This is a very common style and brings you a neat look.
Skinny jeans and shorts are all good choices to coordinate with a simple T-shirt for casual wear.
If you want an energetic look for the summer, choose a slightly longer T-shirt or oversized shirt, and tie the excess into a knot just above the belly button. That would make for a very interesting look.
In fact, girls can try on every piece in their wardrobe to go with cowboy boots to find the right match. Whether it's dresses, skirts, jeans, or shorts, it's all fine!
Because of that freedom, you can find hundreds of styling ideas through Pinterest.
Listen, I'm a man, so to be honest, picking the right style for women isn't really my strong suit. But I will do my best to give the best advice my wife has given me.
Firstly, casual wear is casual wear, let's put aside formal clothes in this case, or you might cause a distant feeling to others.
Simple colored skirts with decorative flowers would be wise choices, you can go for midi or boho skirts! They go well with ankle western boots or western booties.
Also, skirts like high and low skirts, circular skirts and straight skirts are fun choices for casual wear with cowboy boots.
Want more? Visit our article for more ideas!
Skinny jeans or shorts hugging the buttocks and a wide or oversized T-shirt can bring a youthful and neat style.
On the other hand, shirts to wear with skirts should fit tight to the body at least at the waist and belly to create a neat, not sloppy look.
Then, a little stylized blouse on the sleeves will make you fashionable and elegant.
The color of skirts should also be gentle and feminine. Don't be too flashy!
Dresses should also have a gentle and elegant style. You can choose mini dresses, A-line dresses, maxi dresses, sweater dresses, and pencil dresses to wear with cowboy boots and unleash your creativity.
We have a pretty thorough article on how to choose dresses to wear with cowboy boots here.
In general, women have a lot of choices for casual wear with cowboy boots. But the most important thing is still to create a friendly and pleasant feel for others. Don't wear dresses that are too fancy or distressed.
Cowboy boots for women are fashion accessories that are wonderful and easy to transform based on your feeling, personality, or mood.
Make sure your casual outfit with cowboy boots gives you not only comfort but confidence. Creativity is the key here!
Ladies should consider while picking suitable cowboy boots, as women's boots are quite diverse and have various color choices than men's
You don't want to attract too much attention for daily wear. Therefore, boots with classic tones (black, brown) should still receive a lot of priority.
Boots that are too bright and catch many eyes such as white, red, and yellow may not really be necessary.
The color of cowboy boots should match the ensemble, not destroy its harmony.
In addition to the traditional cowboy boots, ankle cowboy boots or western booties are both appropriate and stylish choices.
The high heels of cowboy boots often give a better look to a girl. But for casual wear, you should choose boots with moderate heels.
The heel at about 1 1/2 inches or 1 3/4 inches is enough to bring a good look without putting too much pressure on your joints.
Girls should also choose a round toe or snip toe for casual style instead of a square or broad square. The round toe or snip toe can make your foot look slimmer and taller, especially when combined with an adequate heel.
Before you leave
There are hundreds of ways to style cowboy boots for casual wear, you should try boots with different outfits to find the right style for your personality and fashion taste.
While men should heed some unwritten rules, women will have more choices and freedom. Brainstorm and get creative! Try on all the outfits in your wardrobe!
The standard style when wearing cowboy boots for casual wear is to be simple and neat with the right fit. Your ensemble should feel friendly, warm (if male), and gentle (if female).
That's all you need to know!