Everyone knows that cowboy boots always go hand in hand with jeans, because this combo has the hidden beauty of the wild and classic Western.
But what if one day you want to wear your cowboy boots to the office? What if your wild and distressed jeans are not right for the office? How can you resolve this problem?
Yes, you need a breath of fresh air to go with your cowboy boots, and that's khaki pants!
Khaki pants come in various styles: from wild, distressed to delicate and elegant. Besides jeans, khakis are definitely the pants you should consider first to go with cowboy boots.
Today, we will give you 10 best khaki pants for cowboy boots.
Shall we?
Can you wear khakis with cowboy boots?
The combination of jeans and cowboy boots gives you a cool and distressed look inspired by bold western style.
However, that style is not always suitable in places where it needs politeness and elegance, especially offices.
In fact, many people often take cowboy boots to their office, and the pants to go with cowboy boots are khakis, not jeans.
Unlike jeans, the combination of khaki pants and cowboy boots will give you a perfect casual look, plus a shirt for a polite and elegant appearance, why not?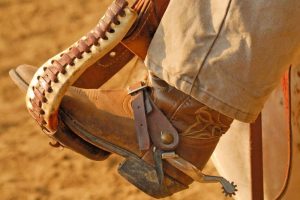 When coordinating with cowboy boots, khaki pants also have many colors to choose from such as dark khakis, desert sand, olive color,…
The most important thing when choosing khaki pants to go with cowboy boots is that the leg opening should be wide enough to tuck the shaft of the cowboy boot in.
You can choose khaki pants like straight leg, bootcut or cowboy cut to make sure they fit over cowboy boots.
Besides, you can choose elegant looking cowboy boots like caiman cowboy boots, or lizard cowboy boots to go with khaki pants. They are both great choices.
The 10 best khaki pants for cowboy boots
1/ Wrangler Authentics Men's Classic 5-Pocket Regular Fit Cotton
Wrangler, a name that is not unfamiliar to cowboys, we all know they have extremely beautiful jeans that go well with cowboy boots.
But not everyone knows that Wrangler khakis are super products until combining them with cowboy boots. Check out the Wrangler Authentics Men's Classic 5-Pocket Regular Fit Cotton!
Made from 100% cotton, the pants bring great softness and comfort to the wearer. They feature a well-ventilated and good fit, making your whole day a breeze.
Due to the denim cotton, these pants are very durable and hold up well. This will bring you flexibility during the day of operation.
In addition, the 5 stylish pockets accents make these khaki pants escape the monotony.
Moreover, the affordable price is also a big plus of these jeans.
2/ Wrangler Authentics Men's Classic Relaxed Fit Flex
Another pair of Wrangler khaki pants and also one of their bestsellers is Wrangler Authentics Men's Classic Relaxed Fit Flex.
These khaki pants provide comfort for the wearer, especially for those with large seats and thighs.
Besides, the material that makes up these khaki pants is flex denim. This material is very durable and comfortable that you can pleasantly operate all day. And it doesn't make you feel restless no matter how long you sit.
Additionally, with the reinforced stitching design, the pants are durable for you to run for long periods of time.
The pants accentuate good comfort and durability, and their five pocket styling gives a classic and sharp look.
You can absolutely use this khaki for restaurants or for business, as it is suitable for all!
I have pretty big thighs and hips (as a result of playing soccer) and these pants are always my saviors. They fit perfectly!
3/ Amazon Essentials Men's Slim-Fit 5-Pocket Stretch Twill Pant
A little bit away from Wrangler, we come with a pair of Amazon Essentials Khaki pants.
With youthful designs and colors, these Khaki pants definitely will give you a fresh look when combined with cowboy boots, no more worries about the countryside feeling.
With a good stretch for high comfort, these pants can follow you to the office, or parties with your friends.
Many have rated these pants as having bottom legs opening wide enough to insert cowboy boots shaft into. They offer you an elegant and youthful look.
In addition, the affordable price adds a plus point for these khakis.
However, since this is not Wrangler (a specialized brand for cowboy boots fans), you should carefully consider before buying, like you should check if the bottom of the legs is wide enough for you to insert the cowboy boots shaft inside.
4/ Dickies Men's Slim Taper Stretch Twill Work Pant
In addition to Wrangler, Dickies is also a very successful fashion brand and widely known by many cowboy boots fans.
I believe these khaki pants by Dickies brand will please even the demanding consumer.
They are khaki work pants, so their preeminent feature is high comfort and safety.
Also, these pants are made from flex fabric with moisture-wicking capabilities to help the wearer move easily. What I love most is that they are also anti-wrinkle with good anti-fouling.
In addition, these Khaki pants hold well around the butt and thighs for a neat and stylish look.
These pants have many features to support your work such as tunnel belt loops, deep and versatile pockets, a hook-&-eye waist closure.
They are really full of essential characteristics for your needs!
5/ Wrangler Men's Western Flat Front Relaxed Fit Casual Pant
Khaki pants with a flat front will give you a casual look – a great choice for you to come to the office every day.
Coming back to Wrangler, you will feel comfortable all day long with these khakis as they sit at the waist and relaxed at the thighs and buttocks.
Their highlights are wrinkle resistance and a flat front. Elegance will be on your look all day long. The pants are quite long to fit over your cowboy boots.
With a new style and a good fit, these jeans are worth every penny you spend.
6/ Wrangler Men's Retro Slim Straight Leg
Khaki straight leg pants are an interesting choice for cowboys because they give a simple yet masculine and classic fashion.
Continuing with the Wangler brand, one of their very popular Khaki pants is the Wrangler Men's Retro Slim Straight Leg Jean.
These pants feature a slim fit design around the thighs and buttocks with the fashion-forward style. They sit lower on the waist and give the wearer a tactile and visual satisfaction.
Have you heard of Retro style? It's the kind of style that any cowboy boot lovers must know, because this style gives a vintage yet modern look. Isn't it a great combination and harmony?
7/ Amazon Essentials Men's Expandable Waist Classic-Fit Flat-Front Dress Pants
Khaki pants with the flat front when paired with lizard cowboy boots are always undeniably elegant.
In fact, many people have commonly used this combination.
These are business pants. The first highlight is that the pants have a flat front design with glossy colors. They look elegant and courteous, right?
Besides, the expandable waist makes these khaki fit well, stretch in the waistband, not causing the wearer to feel cramped and uncomfortable.
One thing we've always loved about Amazon Essentials is that the price is always budget-friendly. You will get a lot more than you spend!
8/ TRU-SPEC 24-7 Tactical Pants for Men
What do you think of tactical khaki pants? They are quite an interesting choice to match with cowboy boots!
What's remarkable about "tactical" things is that they are lightweight, and so are these khaki pants.
Constructed of cotton and polyester, these pants give you comfort and stay in shape even when you're performing tough tasks.
With an adjustable slider waistband design, the pants look beautiful and fit perfectly, along with a deep, wide pocket for you to keep stuff.
In addition, these tactical khaki pants also repel water, along with knee pads and a YKK brass zipper. They are extremely safe and convenient for survival.
If you want to find a pair of khakis to go with cowboy boots this weekend, this one is what you are looking for!
9/ Dickies Men's Original 874 Work Pant
One of the greatest pride of Dickies is the Dickies Men's Original 874 Work Pant. These are must-have pants to wear with cowboy boots.
We're not exaggerating. Look at these Khakis, they have cotton / poly blend twill pants with the superiority of anti-wrinkle and stain resistance. That makes it easy to take care of them.
The flattering design brings a youthful and elegant look, this is the remarkable highlight of this pair.
These khaki pants hold well at the waist, fit well in the crotch and thighs, this gives you a youthful, neat look without looking baggy. Along with that, you will have comfort even when sitting for a long time.
Besides, another feature that makes you fall in love with these khaki pants is that they are very durable due to the high quality materials. Pants are able to keep creases after each wash, you do not need to spend too much time ironing.
In addition, these pants prove to be good not only for function but also fashion with pockets that are cut perfectly.
All you need in a pair of khaki to go to work in the office and cowboy boots are here, right here!
10/ Wrangler Authentics Men's Classic 5-Pocket Regular Fit Flex
Those looking for comfort in khaki jeans but still wanting a stylish look should look for regular fit pants made from flex denim.
These Wrangler pants fit well and hug your butt and thighs, and are flexible enough to keep you comfortable all day long as flex denim is the key material.
In addition, these khaki pants are also very durable to serve heavy duty hardware without experiencing any problems.
Like many Wrangler Authentics, these khakis with authentic 5 stylish pockets create a unique look that only Wrangler Authentics owners have.
What pants do you wear with cowboy boots?
Jeans are the biggest love of cowboy boots, in which bootcut jeans are the best companion of cowboy boots.
The bootcut jeans have a great structure, a good hug from waist to knee, but broader from knee to bottom, which is enough to cover the cowboy boots shaft.
Besides, straight leg jeans are also a great pick to wear with cowboy boots, they have a classic and polite look.
Also, some people with slim bodies prefer cowboy cut jeans which have a narrower bottom than bootcut jeans, but still large enough to tuck cowboy boots inside. This combination creates a youthful and neat look.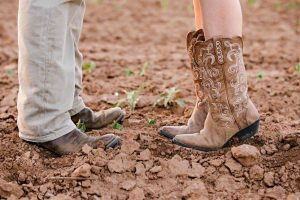 In addition to jeans, many people choose to match khaki pants to wear with cowboy boots.
Many khaki pants with cowboy boots will bring a distressed look to the wearer. Or, the combination can also bring a luxurious and sophisticated appearance.
It depends on the style of khaki pants you choose to wear with cowboy boots.
But it is important to choose pants with a bottom that is large enough to wear with cowboy boots, do not let the V on the scallop print on the surface of the pants, which is not good for fashion.
Besides, some choose to wear dress pants with cowboy boots while others enjoy wearing suits with cowboy boots to go to luxurious places.
For girls, they also have many choices of pants to go with cowboy boots, such as skinny jeans, leggings, bootcut jeans …
Anyway, the important thing is how rich your imagination is!
How long should pants be with cowboy boots?
Compared to wearing shoes or some other short boots (chelsea boots, chukka boots…), when you choose pants for cowboy boots, the pants need to be longer.
To explain this, you need to pick pants that are long enough to fit over cowboy boots. Because cowboy boots are 11 inches to 14 inches tall, if the pants aren't long enough to cover the boot shaft, it won't look aesthetic.
However, if you are female and like to wear skinny jeans with cowboy boots, it doesn't really matter how long the pants are.
Before you leave
Besides jeans, khaki pants are such a great choice for you to wear with cowboy boots.
You can choose khaki pants to wear with cowboy boots based on your style, as khakis are available in a variety of styles, from distressed to elegant.
What you need to do is to free your imagination, as the combination of cowboy boots and khaki pants will offer you unlimited options.