Well, what is the preferred outfit for a funeral? Yes, it should be elegant, formal and black. Sometimes, you think that can't be found in a pair of cowboy boots.
It might be true in the past when cowboy boots were the embodiment of distressed and wild style.
However, it is not right anymore in modern times. Now, you can absolutely find a pair of elegant cowboy boots to go with your outfits to the funeral.
Above all, since it's a formal ceremony, we need to be more careful to have the proper attire. So, let's see what we need to pay attention to when wearing cowboy boots to a funeral as well as how to style them with your ensemble.
Let's check it out!
Key takeaways
You can absolutely wear cowboy boots to a funeral, as they are now very diverse in styles, including formal ones for funerals.
Cowboy boots with dark colors like black and well-polished surfaces are go-to choices.
You need to style your cowboy boots well with the rest of your outfits to get the right style.
A funeral, above all, needs your heart, not an outfit. Wearing cowboy boots with a warm heart to the funeral is the best thing ever!
Wear Cowboy Boots to a Funeral: Is It Appropriate?
If there is one thing that needs to be clarified, first of all, we should know that cowboy boots in the 21st century have evolved and become more diverse in style.
If you want to attend a dignified funeral in a black suit, a pair of well-polished black cowboy boots is still a great option to wear with it.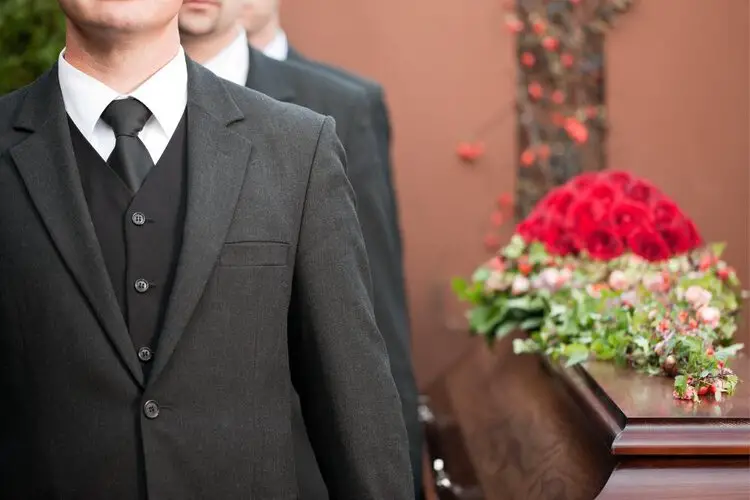 In addition, pants like chinos, and slacks are perfectly suitable to go with cowboy boots to attend funerals.
What if you go to a cowboy's western funeral? A pair of traditional cowboy boots with a dominant brown color made from cowhide (or bull hide), dark blue jeans, and a dark shirt is a classic choice.
Nowadays, people have more choices as exotic cowboy boots becomes more and more popular, they bring new styles and more choices. Cowboy boots made of caiman or lizard are other options for you.
In general, the variety of styles of cowboy boots today has almost broken the barriers of the old stereotype that cowboy boots cannot go to funerals.
Although the answer is that cowboy boots can be easy and suitable for funerals, you should still style cowboy boots with the right outfit.
As mentioned above, your outfit should be appropriate for each type of funeral. But one thing in common is, don't wear bright or colorful outfits. Instead, dark and melancholy colors should be the first choice to match the atmosphere of a funeral.
The color harmony of the outfits is also something that should be paid attention to! Choose a pair of cowboy boots with a plain yet elegant style to go with the outfit of the same style to attend the funeral. A pair of boots that are too wild, distressed or too flashy is a not good choice to go with a suit.
Besides, if you're a man, make sure to hide the shaft of cowboy boots under your pants for a clean look. This is also the standard style in the world of cowboy boots. If you're female, you don't need to care about that tucking thing!
As for men, make sure your pants have enough room to accommodate the entire shaft of cowboy boots. That is, make sure the length and width of the bottom legs have proper measurement!
Don't let the patterns of the shaft print on your pants because your leg pants are too tight. Otherwise, pants that are too wide will make you look sloppy.
For women, if you choose to wear cowboy boots in a style that shows all of your boots (like when wearing skinny jeans, skirts, or dresses), then you should choose cowboy boots in dark colors with simple stitch patterns and avoid brightly colored boots with colorful stitching.
A pair of python cowboy boots to go with a black dress or skirt is not a bad choice for a funeral.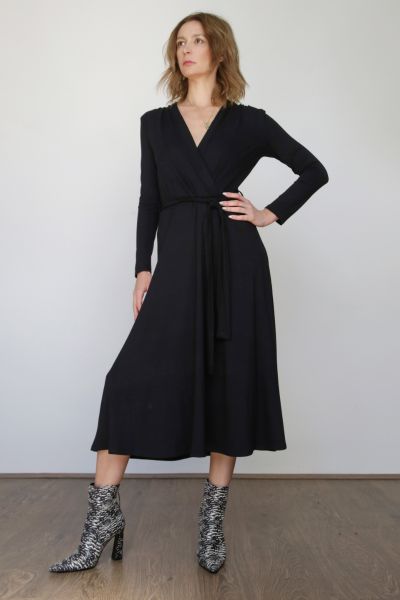 Another thing is to go to the funeral with a clean, well-ironed set of clothes. Just try to make yourself as neat and formal as possible!
Cowboy boots should be clean and well polished! Take your time, this is a ritual to pay your respect to the deceased.
Honestly, if you don't have the financial means to afford a really clean and standard outfit to be able to attend a funeral the way you want. Just pick out a top and pants that make you look best and give you the most confidence to go with cowboy boots. That's still fine!
Showing respect to your deceased is the most important thing!
I have never judged a person's outfit at a funeral, what I've noticed is the attitude towards the deceased. The funeral is a ritual that needs your spirit, outfits or footwear are just extras!
Before you leave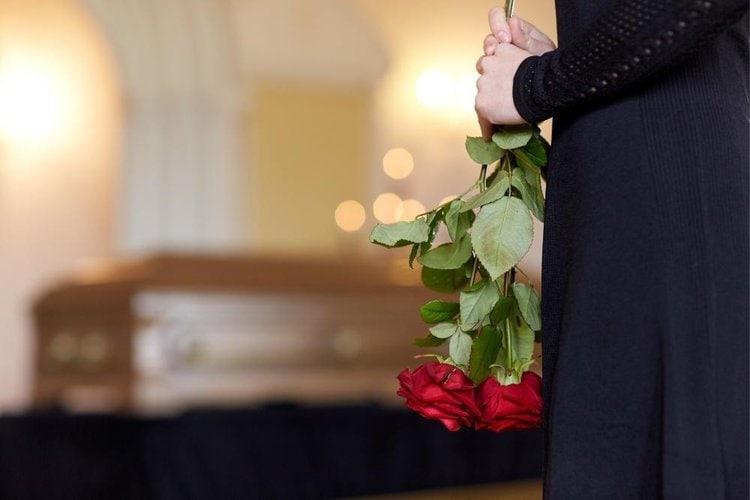 Cowboy boots are absolutely a great choice for going to funerals. This is largely due to the variety of their styles.
However, you should pay attention to the style of the boots and the overall outfit, they should be harmonious and give the cleanest look!
After all, the funeral is a ceremony that requires your respect. If you can't afford the style mentioned above, bring your heart to the funeral! No one blames you!
I dare to assure you of that!
Howdy y'all! I'm Grace, a Western style enthusiast with over 5 years of experience. From cowboy boots to western gear, I'm passionate about all things Western and dedicated to helping you find the perfect style to suit your taste. Join me and my fiancé Jay Gatz as we explore the rich history and timeless appeal of Western fashion together!