In the 19th century, cowboy boots were always the epitome of hard-working work boots. Made of strong and durable cowhide, they have traversed thousands of kilometers and roamed the arid steppes.
But from the years of the 20th century and especially the 21st century, cowboy boots gradually molted and got out of the rigid and rugged image. Instead, they take on new, sleeker, and more luxurious looks.
If you've been a fan of cowboy boots since the turn of the millennium, you'll know that these days exotic cowboy boots are incredibly popular and plentiful.
You'll have hundreds of cowboy boots to choose from for hundreds of different purposes, including business casual.
Today we're going to talk about that and find out the best cowboy boots for business casual.
Follow me!
Are cowboy boots appropriate for business casual?
As mentioned above, today's cowboy boots not only possess a solid and rugged appearance, but they also become fresh with luxurious and classy exotic leather finishes.
If you search on any websites about bootmakers like Lucchese or Tecovas, you will find boots made from caiman, ostrich, or lizard are very nice and elegant.
Take a pair of Tecovas boots as an example, The Cole caiman boots offer an exquisite and classy look with accents of bold and sharp scales.
These boots still get that classic wildness from rough scales and natural creases, but deep down, you know they're still gorgeously refined. They are absolutely a good choice for business casual.
For me, wearing a pair of cowboy boots made from lizards or caiman to go with a suit, or dress pants to the office is not a strange thing at all.
How to choose cowboy boots for business casual?
Many cowboy boots can be suitable for business casual, but not all of them are. It's important to know which cowboy boots really fit business attire.
Cowboy boots should be sleek or elegant instead of distressed. This is the elegant standard style you need in the office. And you can find it in well-polished cowboy boots.
Boots made from cowhide or bull hide are well polished to go with dress pants or a suit for business casual. Moreover, these 2 materials are quite affordable.
If possible, you should refer to cowboy boots made from exotic leather, such as blue Nile alligator, caiman, lizard, and sometimes ostrich leather.
The above exotic leathers all have a very beautiful and classy appearance when well-crafted by well-known brands such as Tecovas, Lucchese, Chisos, etc. And especially, they are very suitable to go with dress clothes or business casual in general.
In addition to the leather finish, you also need to pay attention to the structure of the boots.
Men's boots for business casual
For men, traditional cowboy boots and roper boots are very suitable for the office when they often converge the necessary features.
For example, cowboy boots should have a toe shape that tapers to the tip with a toe box that is neither too wide nor too narrow. A round toe would be a good choice.
The pointed toe is too extreme and narrow while the square toe does not look refined but rather rugged.
As for the heel, a roper heel of a cowboy heel that isn't too tall would be a great option. These 2 types of heels have an elegant construction that brings confidence without affecting your gait much.
Also, make sure your calves fill most of the leather around the calf of the boots. Because if the V-shaped part of the collar is exposed on the pants, it won't give you an elegant look.
Those are the things you should keep in mind when choosing cowboy boots for men to wear at work, but what about women?
Women's boot for business casual
High-shaft cowboy boots don't seem like they should be worn with women's business casual – they look a bit showy and don't suit office elegance.
Unless you tuck them into dress pants, but very few women would do it.
Don't get me wrong, when a girl wears cowboy boots and tucks jeans into them, it's totally fine and stylish, it's also the perfect outfit for outdoor work like farming or yard work.
But that's a different style from the office style, where elegance is more important than attention-seeking.
For women, western booties are more suitable as they can be worn with dress pants, midi skirts, skirt suits, pencil dresses, etc.
They still retain the classic and sophisticated beauty but are not so eye-catching to obscure the entire business casual outfit.
Regarding the structure of western booties, you should search for boots with narrow toe shapes like a pointed toe, snip toe, or maybe a round toe. Besides, the high heel should be 1 3/4 inches or more.
This combination will make you look taller, your legs longer and slimmer, and especially, bring more confidence.
The surface of women's boots has more choice than that of men's boots. You can choose delicate boots with a glossy finish as this is the most suitable choice for the office style.
The rather wild-looking boots with suede's signature napped finish are also a good choice as they give you an appealing style.
Best Cowboy Boots for Business Casual
There are many different types of cowboy boots these days, so choosing really good cowboy boots that are suitable for the nature of work has never been easy, especially if you are a newbie.
I will divide it into 2 categories, the first is a list of boots for men and the rest is for women. Because the style of cowboy boots for business casual for men and women is quite different!
Men's boots
Cowboy boots for men to wear for business casual should have the same color tone as the whole outfit. You should look for boots with dark colors and absolutely not flashy ones like red, or green, to name a few.
Most of the boots made from caiman and lizard that I mentioned are dark tones. You don't need bright colors, boots with dark tones but a well-polished surface should do the job.
1. The Austin
The Austin boots will steal your heart with their natural and seductive lines.
The first thing that catches our eyes is the extremely impressive surface of The Austin boots, they are made up of unique and luxurious American Alligator belly scales.
The skill of the craftsmen at Tecovas must also be commended, the scales shine through because they are well-polished and have a rich and well-defined color.
It can be said that this is a pair of boots born for matching with a suit when they have clean calfskin shafts, not as elaborately textured as other boots.
Besides, the piping along the sides of the boots has also been replaced with a unique strip-style construction.
The two factors above ensure that there will be no prints on your dress pants when tucking boots inside. This will offer a nice surface for your trousers.
The Austin boots have a traditional style, so they have a beautiful toe and heel shape construction, and come with a thin and delicate leather sole that feels light and delicate in every step.
The toe shape is a round toe but not too wide, doesn't feel as rough as a square toe, and doesn't make your legs look big. I especially like the round toe of Tecovas because it can make me comfortable but still give a sharp image.
A 1 1/2-inch stacked leather heel is the harmony between aesthetics and use. The stacked leather design does not make the viewer feel bored when it has a unique appearance. And 1 1/2 inches is enough to make you taller, as well as look more confident without affecting your gait.
The Austin boots have a harmonious color between the upper, heel, welt, and leather sole. Therefore, they bring a classic beauty that is very suitable for business casual.
In addition to the beautiful and sharp image, these boots also offer great comfort, especially the leather lining, leather sole, and wooden pegs have good breathability as well as the ability to absorb sweat well. Your feet will always stay dry.
The Austin is everything you need for your next big business!
2. The Nash
Most people fear that the shafts of cowboy boots that are too high can affect the elegance when they print patterns on your trousers. That's an understandable worry!
In fact, to choose traditional cowboy boots to wear with dress clothes, you will have to pay a lot of attention to the fit around the calf.
Basically, your calf should fill most of the leather around the calf, so there will be space between the boots and dress pants.
In fact, you can have another choice, instead of having to go with traditional style boots with too many precautions, roper style boots will be the right option when their shafts are not too high.
The Nash Roper lizard boots from Tecovas are such a choice! They not only have low shafts but get a neat look. You'll get rid of the worry of getting the details of your boots printed on your pants.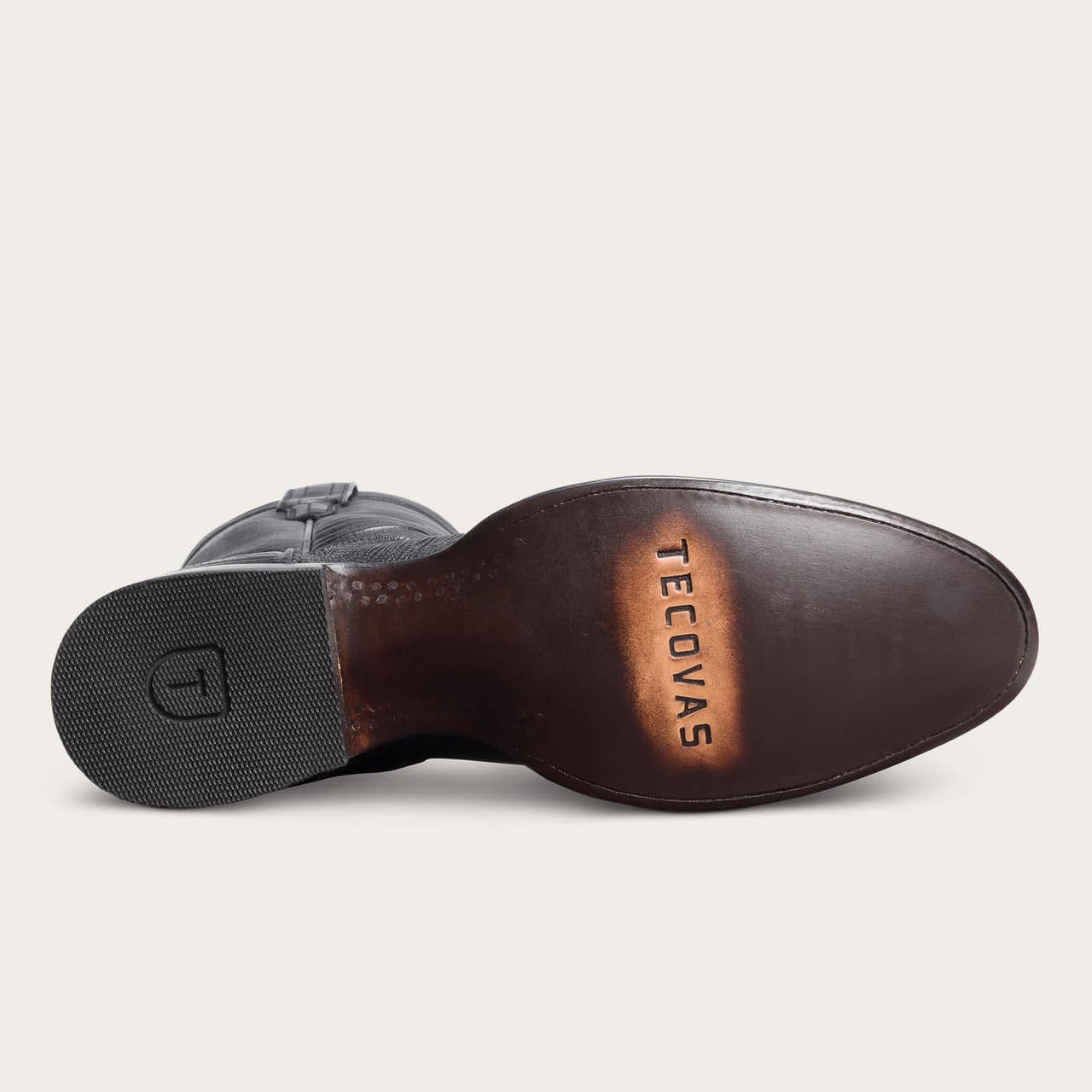 The most notable highlight of The Nash is the perfect natural texture and the shape of the boots made with great craftsmanship.
In addition to the above advantages, The Nash boots have the perfect sharpness created by natural textures that only lizard leather has. In addition, the surface is thoroughly polished with rich colors that make The Nash satisfy any demanding customer.
The Nash boots are especially striking with a very beautiful round toe and become even more beautiful when adorned with veins of lizard leather.
A round toe that is slightly curved upwards creates a slightly arrogant feeling for the wearer, but believe me, this is a style any man will need.
A 1 1/8-inch stacked leather heel and roper style are just what you need for any business casual clothes! Because they are neat, light, and delicate. I love the block shape of the roper heel and the attractive look of the stacked leather design.
The heel and toe shape becomes even more elegant when they go with the thin and sharp leather sole. I love the curve created by the leather sole from heel to toe. These curves are soft and impressive.
Not only beautiful, but The Nash lizard boots also have a very short break-in time, which is understandable since lizard leather is very soft and flexible. Thanks to the excellent machining skills of Tecovas, they fit very well.
Finally, the interior of the boots is mainly made of leather (leather lining, leather sole) so it has good breathability. Combined with lemonwood pegs (connecting insole and outsole), the boots get good sweat absorption to keep your feet always cool and comfortable.
These are the factors that will minimize the burning feeling when you have to wear dress clothes all day.
The Nash is a good investment for your closet!
3. The Dillon
Most of the time when looking for cowboy boots to wear with dress clothes, you need to take your eyes on the vamp and toe shape first. I am sure those are two important positions that will bring victory!
The vamp needs to have a classic style, while the toe shape definitely needs to be subtle.
The Dillon is exactly what will make you completely satisfied! Look at the vamp surface and its toe shape, totally stunning!
The entire vamp part of the boots is made from a caiman belly with impressive colors for an elegant and classy vibe. The caiman scales are like waves lapping rhythmically in the sunlight.
Along with that, the round toe is beautifully done as it tapers towards the tip, and is well-polished, and embellished with layers of scales.
The familiar stacked leather heel commonly found in Tecovas boots has the same color as the leather sole and upper to bring an elegant style to the wearer. Not fancy or fussy, just natural beauty!
Not only excellent at vamp, but The Dillon's shaft is also very beautiful with soft curves running all the way from top to bottom. While it's never a good idea to tuck dress pants into your business casual boots, trust me, a nice shaft will encourage you to put them on all day.
Not only are they stunning in appearance, but the boots also provide great comfort when the heels are not too high and the leather lining is also soft and molds feet well.
Surely you will be satisfied with both the feel and look of The Dillon!
4. The Wyatt
Honestly, not any pair of ostrich boots should be used for business casual. But take a look at Tecovas' The Wyatt, and you'll understand why it is here.
Bold colors and unique bumpy surfaces make a good impression at first sight.
The Wyatt is one of the most successful products of Tecovas as it is trusted by a large number of different customers, including office workers.
Working in the office is not all about fancy and elegant outfits, sometimes just a shirt with jeans and a nice pair of boots is enough. The Wyatt is among those boots!
Made from full-quill ostrich leather, The Wyatt has a very soft characteristic, you will feel great softness and comfort for all-day work.
The leather sole is thin, light and has a good color tone with the upper for a polite style, no fuss. The heel has a classic beautiful stacked leather design and is 1 1/2 inches tall, bringing a beautiful and relaxing gait for the wearer.
In addition, the round toe of the boots is beautifully crafted with just the adequate width to give you an elegant look while providing a high level of comfort from the decent toe room.
Signature Tecovas hand-corded calfskin shaft is one of those familiar but always impresses cowboy boot fans, as it is beautiful in a soft, classic, and sophisticated way.
With a beautiful shape, color, and details, The Wyatt is sure to be one of the top contenders for business casual.
5. The Cartwright
The Cartwright is probably the choice of many people because of its elegant, wonderful appearance at an affordable price. The main reason is that these boots are not made from exotic leather.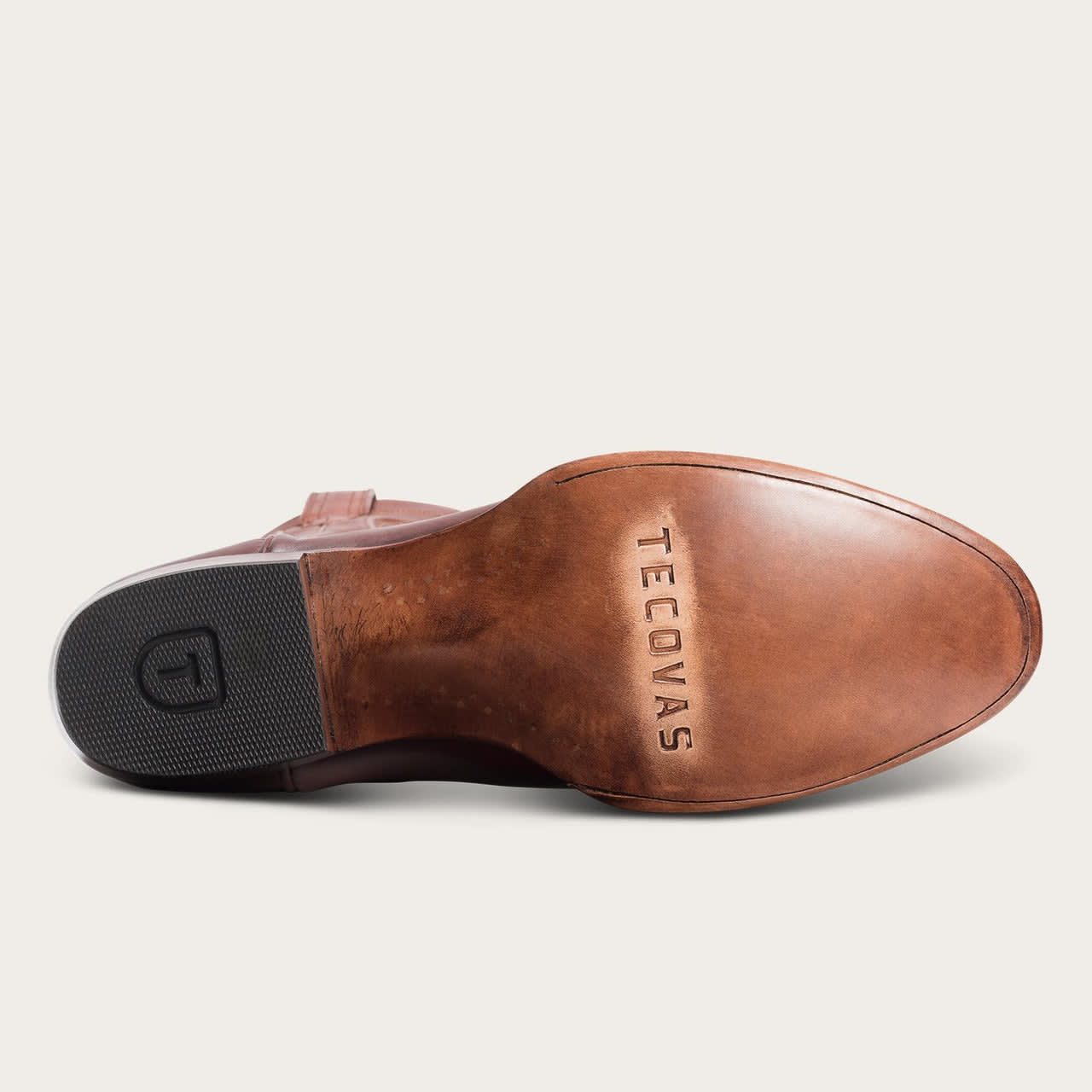 Although there are no unique features of exotic leather, thanks to skilled workmanship, The Cartwright still leaves a good impression with its sharp and seductive outlook.
The surface of The Cartwright is beautifully polished and gradually darkens at the tip. This gives the boots a smooth and interesting appeal.
The color of this boot is also very pleasant with a dark and warm tone, it is easy to be combined with different types of pants, not just jeans. You can wear them with khaki pants or dress pants to go to the office with the admiration of your colleagues.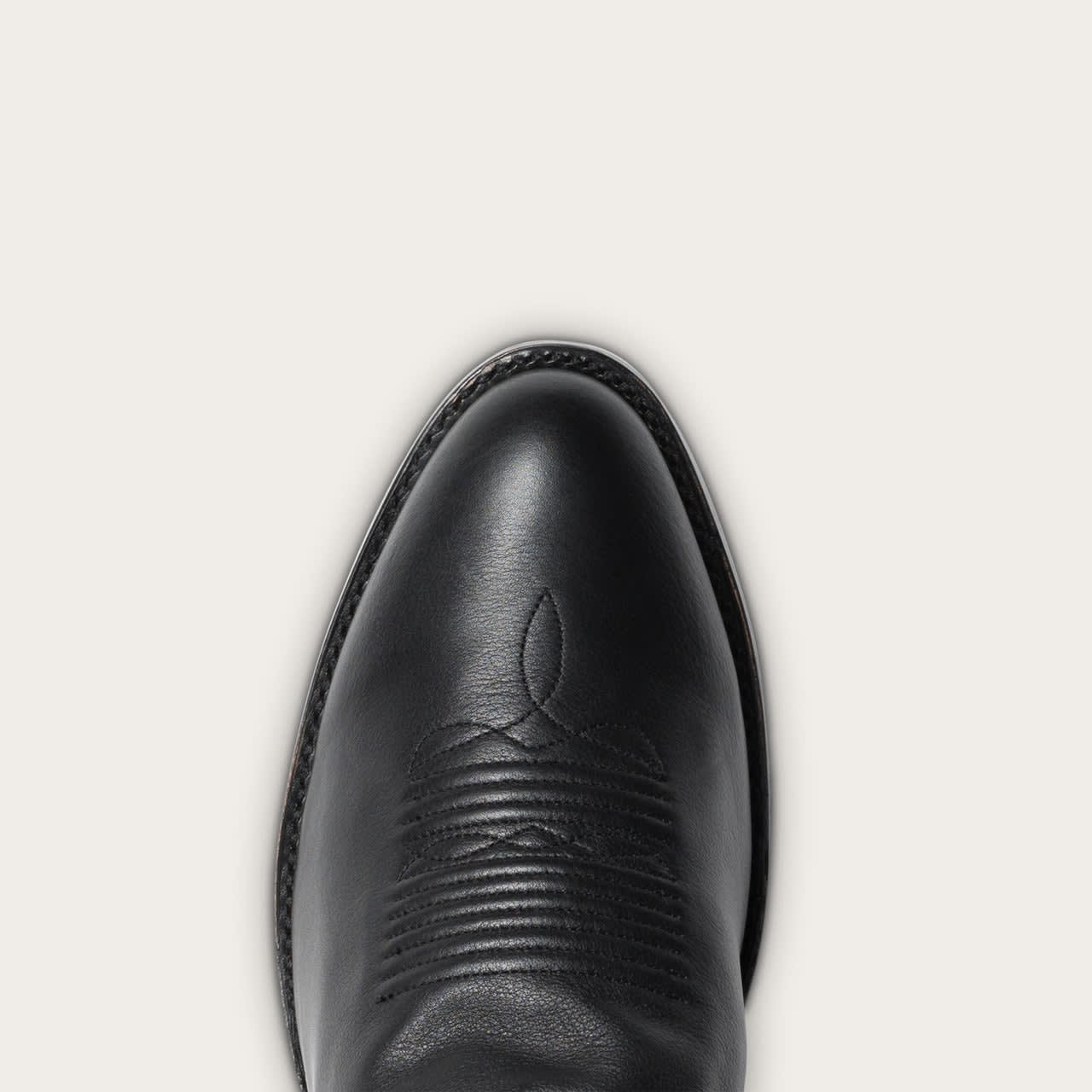 The round toe shape of these boots is not too wide, but it's not annoying pointed toe, and it still gives a very formal look for the office.
Another thing I love about this boot is its heel as it gives you a polished and confident image. With a height of 1 1/2 inches, you will easily balance but still have a good walking posture.
The Cartwright boots come in a wide range of color options, but I suggest you consider the bovine stout or the bourbon calf stout as these are very pretty and elegant colors.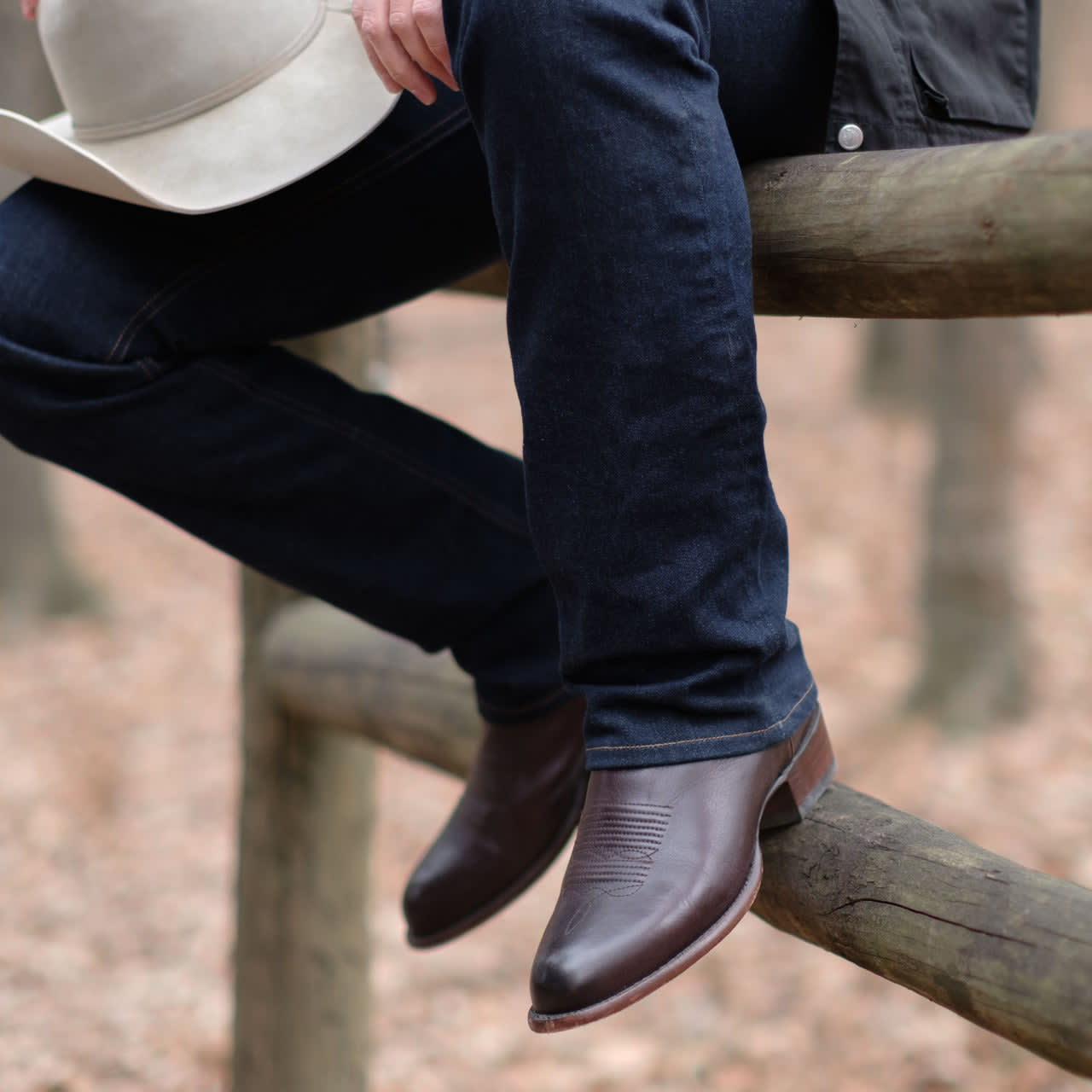 In addition to the good looks, like many other Tecovas boots, The Cartwright offers a very good fit and a very short break-in time.
Besides, flexible leather is also an advantage when it absorbs sweat well and is breathable, which ensures you are comfortable to wear even in the summer.
Women's boots
Women often have more choices of clothing and footwear when it comes to casual office wear.
Although many cowboy boots have a very elegant style, honestly, you should not wear shoes that attract too much attention. Traditional cowboy boots could be one of them unless you intend to tuck your boots into your pants.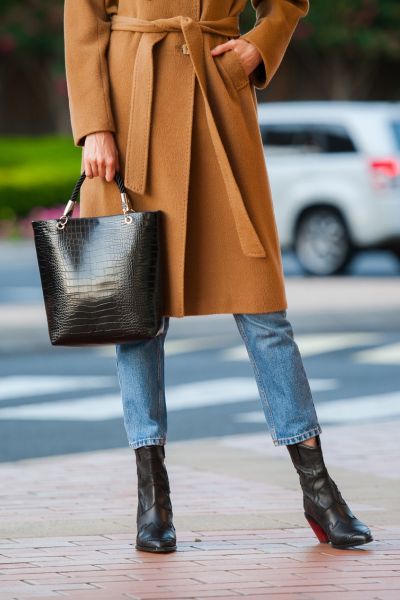 Western booties would be a more affordable choice, a nice pair of these boots will go well with trousers, skirts, dresses, and everything!
Therefore, I will choose 3 pairs of western booties (short cowboy boots) for this review.
But if you have a different experience from this, please prove me wrong in the comments.
1. The Jenny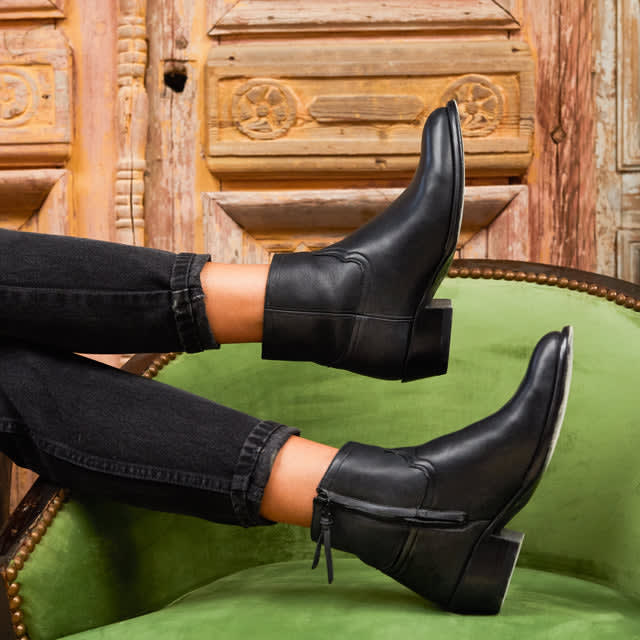 The Jenny boots by Tecovas will be the first candidate for business casual. Look at it closely and you'll know why.
Well-polished, and gradually deepened on the tip for a smooth feel, The Jenny is very cute even though its main color is classic.
The color of the entire boots is in harmony from the top to the bottom for a sophisticated and formal feel, not messy at all. This is a big plus when brought into office fashion.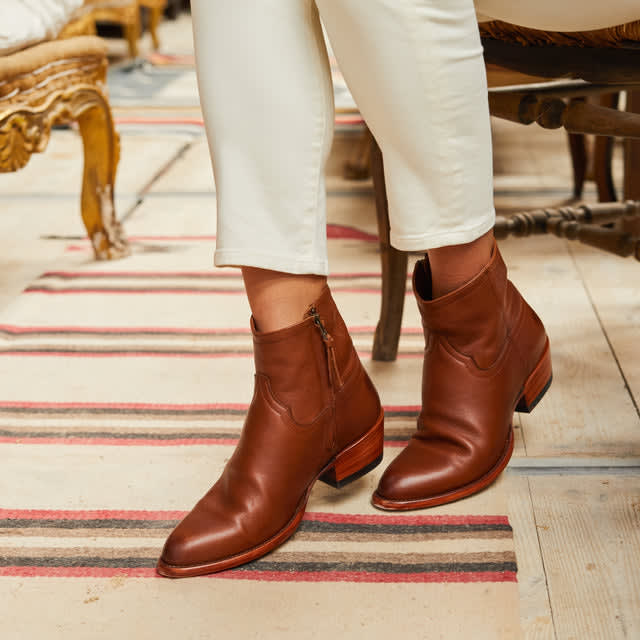 Your feet will look slim with the narrow traditional round toe while the 1 3/4-inch heel would give you a tall figure. The combination of the round toe and heel of these boots brings a light, beautiful, and elegant aura. This is a very good thing in the workplace.
The leather around the ankle is not wide, but rather narrow, so it hugs your ankle quite snugly. Therefore, you should use boots with ankle-length pants, or skirts and dresses. This is beautiful coordination!
The colors of these boots are very pleasant and easy to match, so you won't be limited in your imagination. However, do not choose outfits with too messy colors.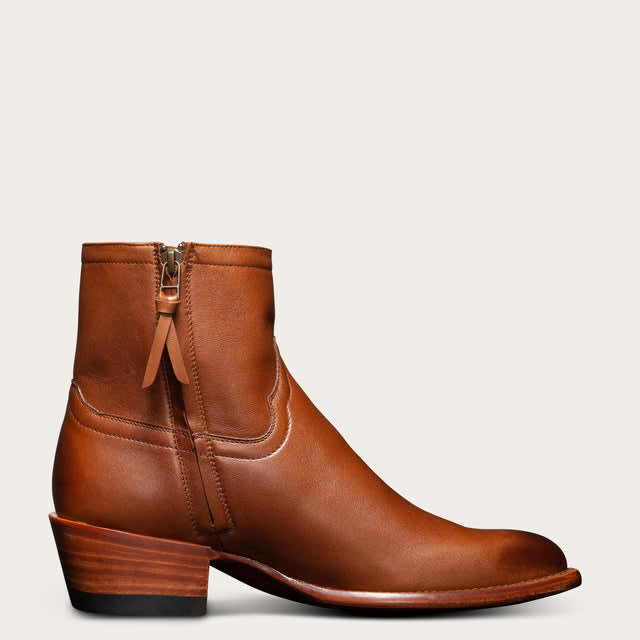 Another thing I like about these boots is the fringe attached to the zipper. The craftsmen were very delicate when attaching only a small piece of leather, very soft and feminine, which is very suitable for the office.
Overall, this is the perfect timeless choice to wear with any outfit on earth!
2. The Daisy
In addition to this article, I also have an article about cowboy boots for weddings, and The Daisy by Tecovas also appears in it, simply because these boots are so stunning.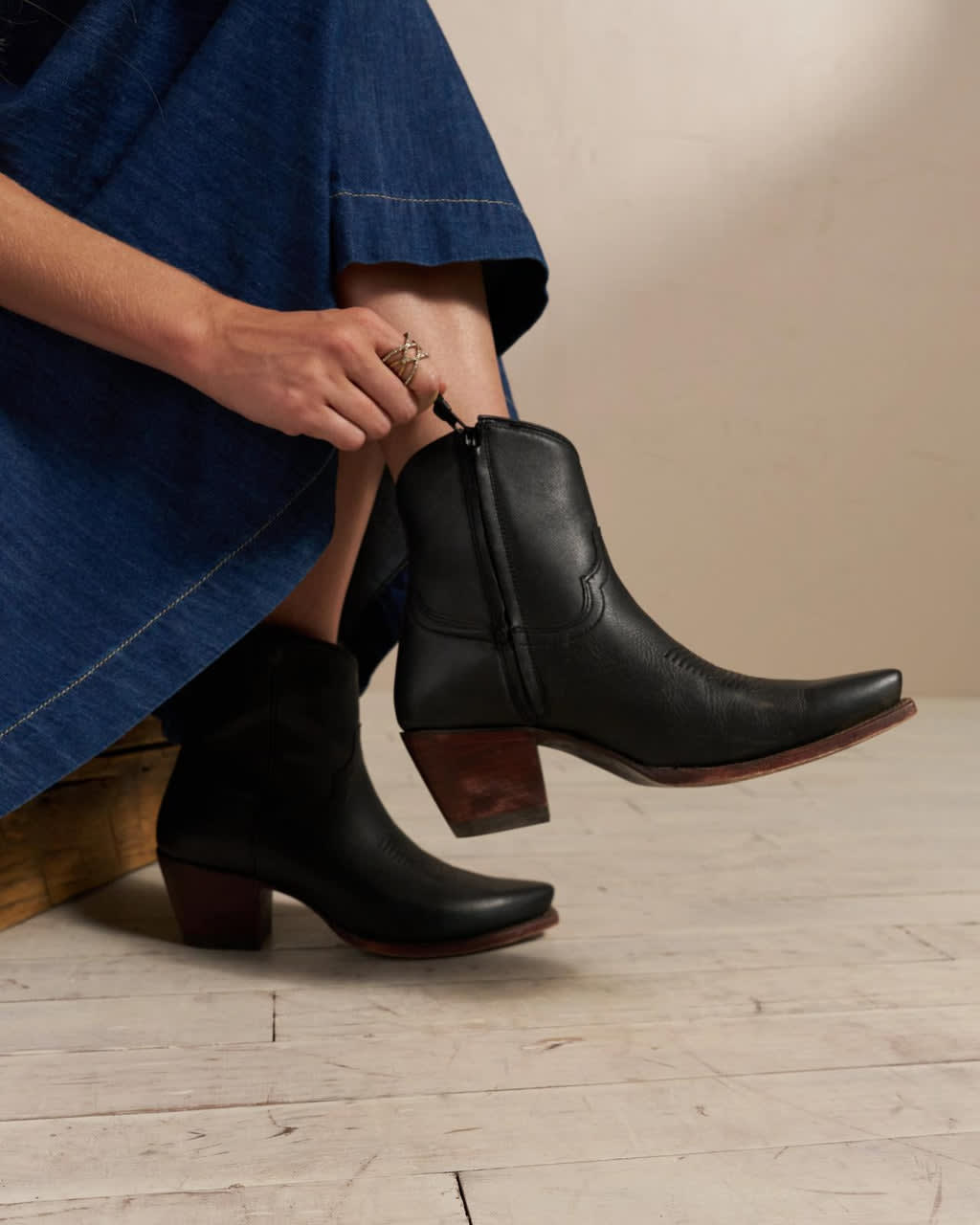 It doesn't have a round toe like many other Tecovas boots, but you'll find the snip toe of these boots is also a masterpiece. Notice how they curve slightly upwards in a sexy way.
If you opt for full-grain leather boots instead of suede (because The Daisy has a wide selection of materials), you'll be pleased with Tecovas' polishing skills as they feel so smooth. The color gradually deepens on the tip to bring good and subtle accents.
But if you choose The Daisy suede boots, you will love the softness and femininity of their napped surface.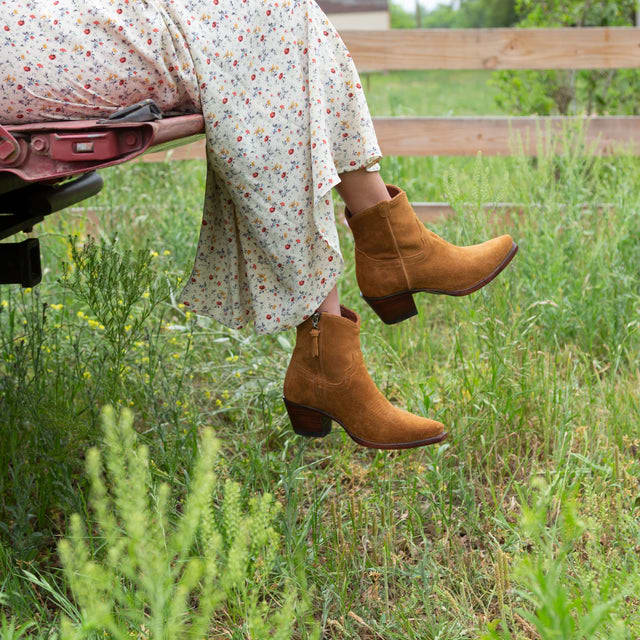 This boot is the epitome of women's fashion as it features a 2 1/2-inch heel. You will look significantly taller, very confident and liberal.
The combination of such high heels and narrow toes will make your feet look slim and beautiful. However, it is also a weakness that discomforts you if you have to stand most of the day.
The Daisy also has another very beautiful feature which is the leather sole. I like the thinness of leather soles, they are smoother and more refined than rubber soles.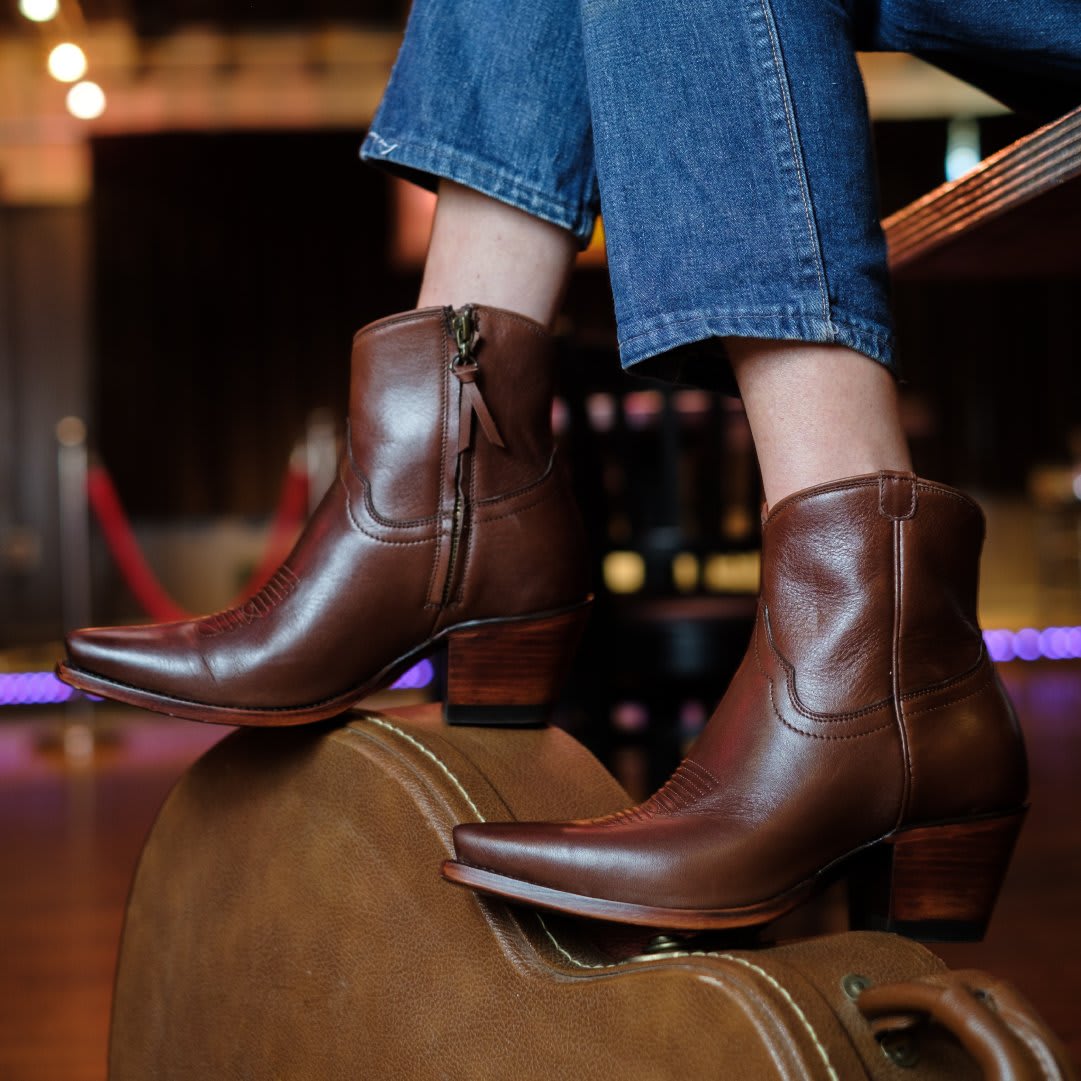 In addition to the outstanding structure, The Daisy is considered to have a good fit, short break in time and good arch support. You will be relatively comfortable throughout the day.
But don't stand too much in them, their high heels are nice, but will put more pressure on your heel and knee.
3. The Penny
Of all the leathers for boots, goat leather is one of my favorites. The reason is that they have very beautiful natural colors and wrinkles at an affordable price.
For that reason, The Penny cowboy boots are a perfect choice.
The most important thing that makes these boots perfect is the imperfection! Don't get me wrong, it has a natural beauty with gorgeous colors and wrinkles that only goat leather has.
The color of The Penny goat boots is easy to match, and it is also polite enough for you to wear every day to the office.
The gentle and elegant round toe combines with the delicate 1 3/4-inch stacked leather heel for a simple yet noble style.
In addition to a unique and natural appearance, The Penny goat boots also offer a very high level of comfort. If you do not know, goat leather has many large pores, so they can "breathe" much better than other types of leather.
Leather soles, leather lining, and lemonwood pegs are also good at absorbing sweat. Your feet will be dry and comfortable all day.
The 6 1/2-inch shaft would be a great feature for casual wear because you won't have much trouble putting on or taking these boots off.
The leather around the calf of The Penny is wider and has more room than The Jenny's. In addition to ankle-length pants, you can still use other pants that are longer. It's best to tuck your pants into The Penny to complete your look.
Besides, these boots also go well with dresses or skirts.
Overall, aside from the above note, these are great boots for a stunning appearance and a comfortable interior.
Before you leave
To this day, many people still think cowboy boots are not suitable for business casual, and they are wrong.
Today's cowboy boots have brought more creative styles. In addition to distressed style, there is no shortage of beautiful and elegant cowboy boots, typically caiman or lizard boots with a very sophisticated look.
The cowboy boots reviewed above are some examples that we want to introduce to you. Hope you have made a good choice for yourself.
Besides, I would also love to hear your opinion on the topic of cowboy boots for business casual. Feel free to comment below, any suggestions are always welcome here.
Thank you!
Howdy y'all! I'm Grace, a Western style enthusiast with over 5 years of experience. From cowboy boots to western gear, I'm passionate about all things Western and dedicated to helping you find the perfect style to suit your taste. Join me and my fiancé Jay Gatz as we explore the rich history and timeless appeal of Western fashion together!