Cowboy boots are often known as a "representative" of the classic style. However, once you try to look at them from a more youthful perspective, you will come up with many ways to style cowboy boots to make your outfit more interesting.
Besides the classic jeans, many wonder if these boots can go with other modern and elegant pants like chinos, and slacks or not. Well, the answer is absolutely possible.
How about another kind of youthful jeans, like ripped jeans, can we pair them with cowboy boots? Well, they can, as long as you know a few things mentioned in this article.
Since ripped jeans are quite different from classic ones, let's dig in to see how they can go with cowboy boots and how to get the most standard style.
Key takeaways
You can totally wear cowboy boots with ripped jeans – but you need to know how to style them.
Ripped jeans and cowboy boots when styled properly can create a youthful style and fresh look.
The way men and women wear ripped jeans with cowboy boots is different. As for men, there are some rules to follow!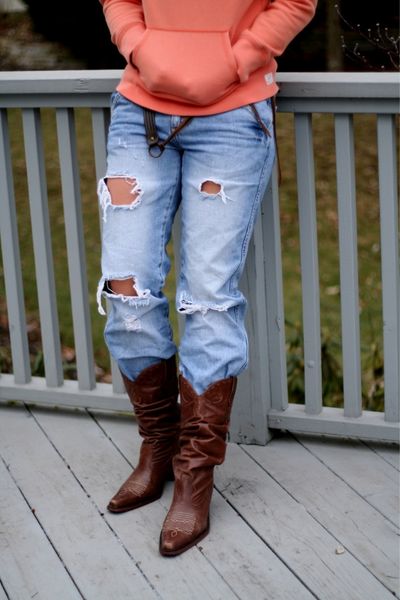 Can you style cowboy boots with ripped jeans?
Fashion is always formed from ideas, and human ideas are endless.
Ripped jeans, a type of pants mainly favored by young people due to their youthful and wild look, can be worn with a pair of classic cowboy boots.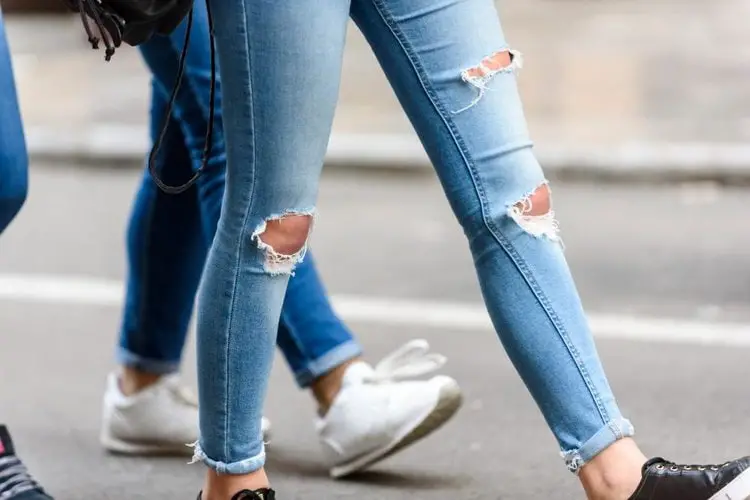 First, you need to remember that cowboy boots and jeans are always excellent choices of the time. That's why a little rip in jeans will not make it worse, but brings a special look instead.
In fact, ripped jeans are inspired by the natural torn pants of cowboys – possibly because their pants are brushed against thorns or uneven fences.
Therefore, ripped jeans with cowboy boots somehow match the style. You can completely wear this combination and enjoy a clean and classic look.
Men wear ripped jeans with cowboy boots
For men, a pair of well-polished cowboy boots, or a distressed look, are also good choices to go with these jeans.
Or a pair of cowboy boots made from exotic leather such as ostrich, python, or blue alligator leather is also a perfect companion for ripped jeans.
Overall, it's very easy to style a pair of cowboy boots with ripped jeans. But you should note that your ripped jeans should still cover the shaft of your boots. This will ensure a clean look for you. It is also a standard style in the world of cowboy boots.
Therefore, you need to have the length and width of the bottom legs with proper measurement so that they can go over the entire boot shaft. We have a thorough article on how to do this here.
A basic problem that you will easily see in ripped jeans is that they often have a tight-fit structure (quite similar to skinny jeans) because this is a style favored by young people. Therefore, this type of jeans is often not the right choice for cowboy boots.
The bottom legs of ripped jeans that are too narrow will lead to a tight fit in the shaft area of cowboy boots, resulting in the patterns of the shaft and V shape collar being printed on jeans and causing an unflattering look.
That's why bootcut or straight-leg jeans with a few light-ripped lines are more reasonable choices. Their bottom legs will have more room, which is ideal for covering the entire boot shaft.
Speaking of light ripped lines, this is also a pretty important recommendation from us!
You should not choose jeans that are too torn from top to bottom, they really don't go well with classic cowboy boots. Light rips will create a more natural feel for the overall outfit without destroying the clean look!
In addition, the tears should also be in the tight part of the ripped jeans. For example, bootcut jeans are usually tight from the knee up and flare out from below the knee. So the ripped part of ripped jeans should be from the knee up. That way they can look nicer.
Women wear ripped jeans with cowboy boots
As for women, well, they have more freedom in coordinating than men.
The main reason is that cowboy boots for men often have a classic style. Meanwhile, women's cowboy boots are diverse in colors and can be called fashionable and trendy accessories.
That's it, you can either wear the same way men wear ripped jeans with cowboy boots like above, or opt for more colorful cowboy boots and wear them in more creative styles.
For example, women can completely wear ripped skinny jeans with cowboy boots. They can tuck the entire bottom legs of ripped jeans into the colorful shaft of cowboy boots.
Or, short ripped jeans are also a good choice to go with cowboy boots for women.
Another style that I also often see women wear is a pair of fringed cowboy boots (ankle boots or western booties) paired with skinny jeans. This is really a great choice for a youthful and dynamic look.
Overall, there's really nothing that can stop girls from trying any styles with ripped jeans and cowboy boots. Be confident and do what you want to create the most attractive look.
Some notes
Another note that you should pay attention to is harmony. The perfect harmony here is the style of the entire outfit.
For example, ripped jeans with cowboy boots should also go with a youthful t-shirt like a polo shirt to create a youthful feeling for the whole outfit.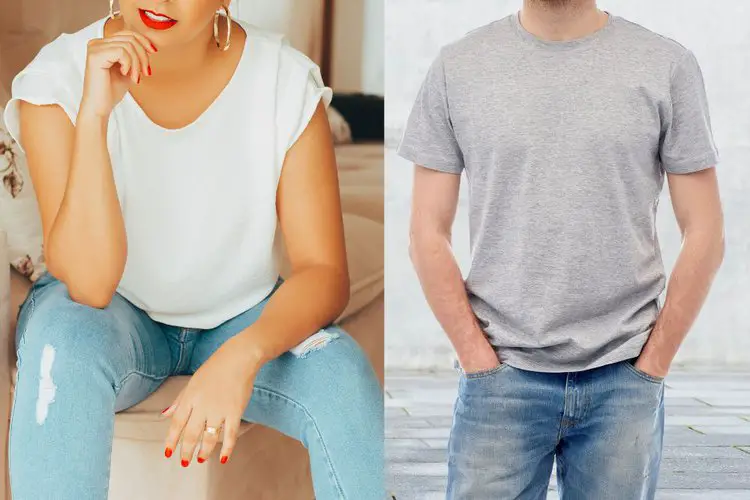 Don't wear ripped jeans or cowboy boots with an office shirt, it will make your upper and lower body contrast in style.
One more thing, make sure you define the style of the place you are going to! If you're going to an event where it requires high elegance and seriousness, then you'll need a more mature look.
Before you leave
In short, you can totally wear ripped jeans with cowboy boots to create a more novel look.
And in fact, ripped jeans are also inspired by cowboys when they actually tore their pants when they hit fences or thorns in.
So this combination is classic and totally great! As long as you don't make some mistakes in styling cowboy boots, everything would be fine!