Most of us know an unwritten rule in the cowboy boots world that in terms of style, no man tucks jeans into cowboy boots.
Not everyone knows why, though. And honestly, we don't really have the most accurate information.
It can be said that in terms of aesthetics and style, they depend quite a lot on the personality and mood of each person. And whether you should tuck jeans into your boots is largely up to you, you can still break the rules if you want.
But since many people question this problem, today we will dig into it. And you? If you really understand the reason, then let us know in the comment section.
Let's check it out!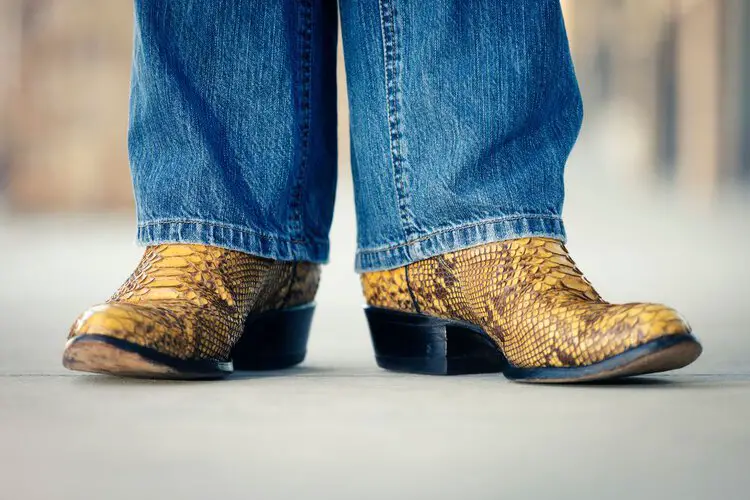 Benefits of Jeans Going Over Cowboy Boots
One of the first reasons that comes to your mind is that, in terms of style, they would create a contrast between boots and jeans.
As you know, boot shafts often have many textures and colors, they are often seen as the signature of bootmakers. If you have been a fan of cowboy boots for a long time, just by looking at those motifs, you will know which brand the boots are from. It's so interesting!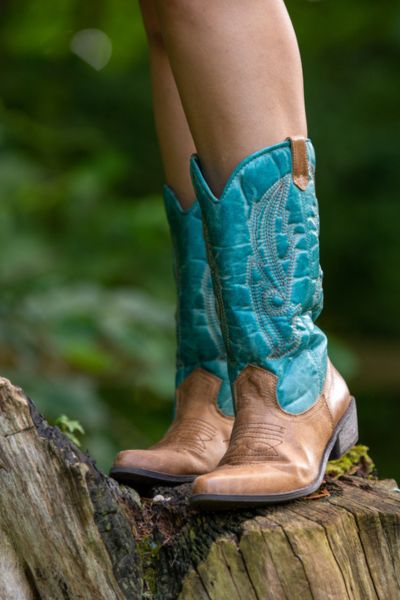 The challenge here lies in the fact that most male cowboy boot enthusiasts have a deep appreciation for the classic and clean appearance of these boots. When you reveal the vibrant shaft of your cowboy boots to the world, it compromises that timeless elegance.
Jeans often go with a clean, sharp look, they are completely inappropriate to go with the colorful shafts of cowboy boots. The contrast in color and style between the shaft of the boot and the jeans will be a big problem.
Today, jeans are not the only option with cowboy boots, there are several other types of pants such as dress pants, khakis, tactical pants, or even suits for your choice. However, people still prefer the clean look, so cowboy boots need to have the shaft tucked into the pants.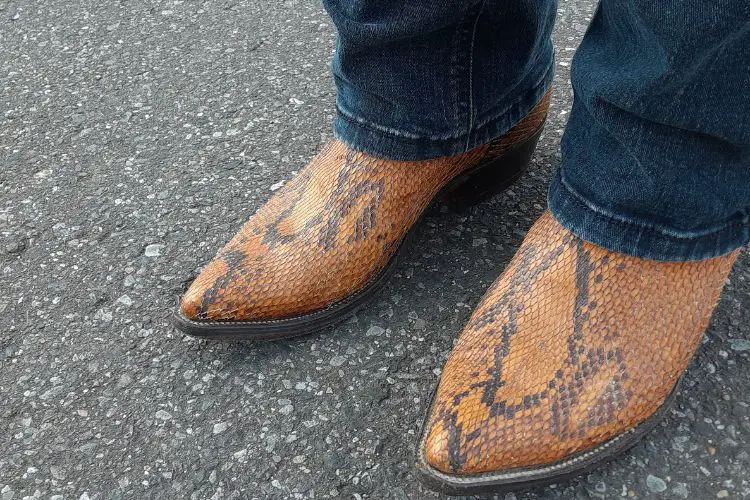 It's safe to say that you can style cowboy boots the way you want. But in reality, when any people from the cowboy boot world see a male model wearing cowboy boots with skinny jeans tucked into shaft boots, they'll all laugh and think it's a silly style.
Most people wearing cowboy boots with jeans should only tuck their pants into their boots for work. Doing this will make you look cleaner and allow you to put on/take off cowboy boots easily as well as protect you better, that kind of thing.
For women, jeans over boots or vice versa are often not so important and skinny jeans tucked in cowboy boots are a very common style.
For women, cowboy boots are not only a classic look, but also a trendy and youthful fashion product. So they can comfortably style them without having to pay much attention to the rules.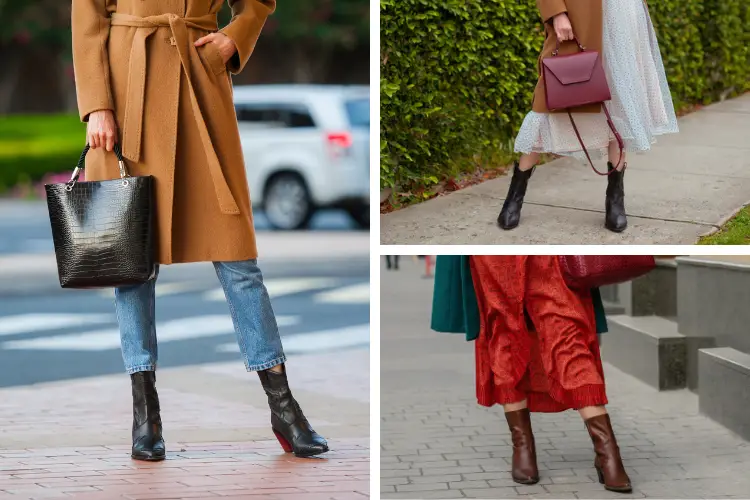 In addition to the above reason, which we think is the main cause, another reason is that jeans over cowboy boots also ensure that mud, rain, snow, or debris does not fall into your cowboy boots.
Other types of work boots often have padding collars that hug your ankle to prevent such external forces, cowboy boots, however, do not.
Cowboy boots usually have a collar and the leather around the calf is quite loose rather than tight, so "strange objects" are easy to fall in during work.
Given the boots with 11-inch height, removing these objects is a nightmare. Not to mention cowboy boots are not easy to take off.
Therefore, the simplest solution is to cover cowboy boots with jeans, that's all!
Conclusion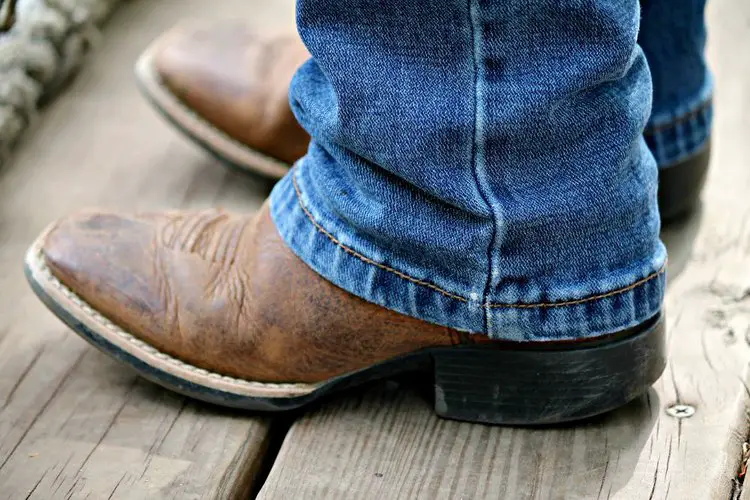 In general, the most likely reason in this regard is to wear jeans over cowboy boots to ensure a neat look.
Most men who wear cowboy boots are looking for a clean look, so cowboy boots over jeans just destroys that. This is because the color of the shaft is too picky compared to the wild yet classic look of jeans.
Another reason can be mentioned that functionally, jeans over the boots can ensure rain, dirt or snow do not penetrate the boots causing discomfort.
Those are all possible reasons, how about you? What do you think about jeans going over cowboy boots?
Howdy y'all, and welcome to From The Guest Room, your ultimate guide to all things Western! I'm Jay Gatz, a lifelong cowboy boot enthusiast with over 5 years of experience in the Western style world. I'm excited to share my knowledge with you and help you discover the perfect cowboy boots and western gear to elevate your style. Let's explore the rich history and timeless appeal of Western fashion together!