In the world of Western fashion, the line between casual and formal attire often blurs, allowing for unique interpretations of what constitutes business casual.
Today, we delve into the timeless question: Can a denim shirt be considered business casual? This article aims to provide a comprehensive answer while staying true to the Western fashion ethos.
Denim shirts have long been a staple in Western fashion. Their ruggedness and durability make them a perfect fit for the lifestyle of cowboys and cowgirls.
But can they transcend the ranch and find a place in the business casual world? Let's find out.
Can Denim Shirts Be Business Casual?
When it comes to Western fashion, business casual is about striking a balance between rugged comfort and professional style.
It's a nod to the frontier spirit, where practicality meets elegance. In this context, business casual allows for a bit more freedom than the strict confines of a suit and tie.
The response to this query is not a simple, one-size-fits-all solution; it hinges on a multitude of variables. Let's explore the three scenarios: Yes, No, and It Depends.
1. Why a Denim Shirt Can Work as Business Casual
A denim shirt can indeed be business casual, but with certain considerations. The key lies in the choice of denim fabric.
Opt for a well-fitted, medium to dark wash denim shirt. Its refined look and rugged charm strike the perfect balance.
Pair it with khaki or chino pants, and you're set for a Western-inspired business casual outfit. Don't forget to accessorize with a leather belt and cowboy boots for that authentic touch.
Styling is everything when it comes to making a denim shirt work in a business casual setting.
To add an extra layer of sophistication, consider wearing a well-tailored blazer or vest over your denim shirt. This not only elevates the outfit but also brings a sense of formality to it.
Opt for neutral colors like charcoal, navy, or brown for the blazer to create a harmonious contrast with the denim's ruggedness.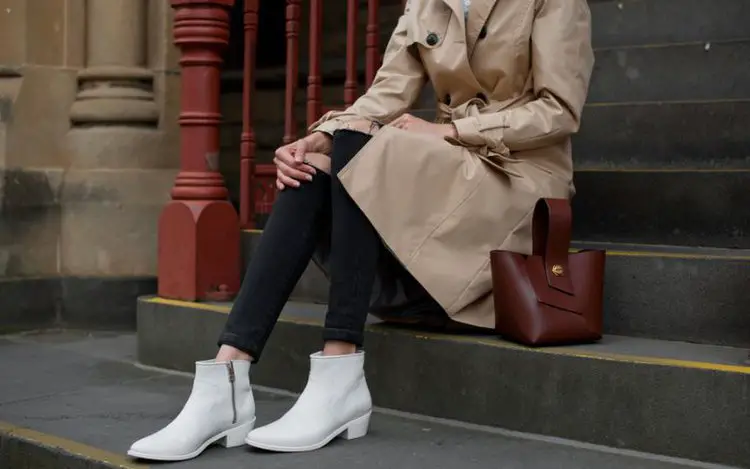 While denim-on-denim can work in some settings, it's often safer to pair your denim shirt with classic khaki or chino pants.
These pants offer a polished look that complements the rugged nature of the denim shirt. Ensure they are well-fitted and wrinkle-free for a clean appearance.
If you choose to rock a denim-on-denim ensemble, creating an elegant look is all about mastering the art of contrast. Opt for different shades of denim to strike a balance.
Ideally, the jeans should be darker than the shirt. You can even go for black jeans, which not only provide a stark contrast but also exude sophistication.
When it comes to completing your Western-inspired business casual outfit, the choice of cowboy boots is crucial.
To achieve an elegant look that resonates with the Western lifestyle, we recommend opting for modern cowboy boots with specific characteristics:
For a classic and stylish look, men should opt for cowboy boots with round or square toes. These shapes exude a timeless charm and blend seamlessly with various outfits, making them a versatile choice for any occasion.
Women have the freedom to explore different toe shapes for stylish cowboy boots. Round, snip, or pointed toes offer chic versatility.
Round toes are classic and comfortable, snip toes add a touch of Western flair, and pointed toes bring a hint of sophistication to your ensemble.
Choose the toe shape that best complements your personal style and the occasion.
The key to achieving an elegant appearance lies in the finish of your cowboy boots. Opt for well-polished finishes that exude sophistication. A high-gloss shine not only adds a touch of refinement but also enhances the overall look of your outfit.
Or, for those looking to make a statement and elevate their Western-inspired attire, consider luxury exotic-skin cowboy boots.
Materials such as caiman belly, snakeskin, and lizard skin offer a unique and opulent touch. These exotic patterns and textures can truly set your look apart from the crowd.
While distressed cowboy boots have their charm in certain settings, they may not align with the elegance of a business casual ensemble. To maintain a polished appearance, steer clear of distressed or heavily worn cowboy boots.
For a comprehensive guide on selecting the perfect cowboy boots for business casual attire, be sure to check out our dedicated article on this topic.
It provides in-depth insights into the world of cowboy boots and how to incorporate them seamlessly into your Western-inspired business casual look.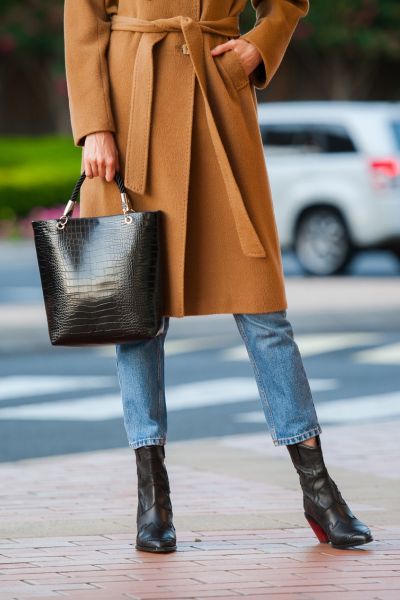 By adhering to these cowboy boot preferences, you'll effortlessly blend the Western spirit with a modern touch, creating an elegant and sophisticated look that's perfect for your business casual attire.
Remember that your choice of footwear can be the defining element of your outfit, so invest in quality boots that reflect your Western lifestyle with finesse.
Accessorize Thoughtfully:
Accessories play a crucial role in enhancing the Western aesthetic. Consider adding a leather belt with a prominent buckle featuring Western motifs.
A tasteful tie, such as a slim silk tie in a Western-themed design or a classic necktie, can also elevate your denim shirt ensemble. Make sure the tie complements the colors and overall style of your outfit.
Necklaces are versatile accessories that add a personal touch to your Western-inspired business casual look. Choose wisely to express your unique style.
Denim Shirt as a Jacket: Elevating Your Look
Styling a denim shirt as a jacket adds depth and texture to your outfit while allowing you to showcase your personal style.
It's a versatile choice that can be dressed up or down, making it suitable for both business casual and casual occasions.
The key to success with this look is the balance of elements. Pairing the denim shirt jacket with the right pieces ensures you maintain an elegant and polished appearance while exuding a touch of Western charm.
Personal grooming is essential. Make sure you are well-groomed with neatly trimmed facial hair, if applicable. Your hairstyle should also be tidy and presentable.
A subtle nod to the Western lifestyle can be seen in a well-maintained beard or a hairstyle reminiscent of classic cowboy looks.
2. When to Avoid Denim Shirts in Business Casual
While a denim shirt can make a bold statement in business casual attire, there are situations where it's best to choose other options. Here's a more detailed explanation:
Ultra-Formal Environments:
In highly formal settings, such as corporate boardrooms or events requiring black-tie attire, a denim shirt may not be suitable.
Stick to traditional formalwear in such cases to avoid standing out inappropriately.
Some workplaces or industries maintain strict dress codes that explicitly prohibit denim as part of business attire.
Always adhere to your company's dress code policy to maintain professionalism.
If your job involves frequent interactions with clients or customers who expect a higher level of formality, it's advisable to choose attire that aligns with their expectations.
Opt for traditional business attire like dress shirts and blazers.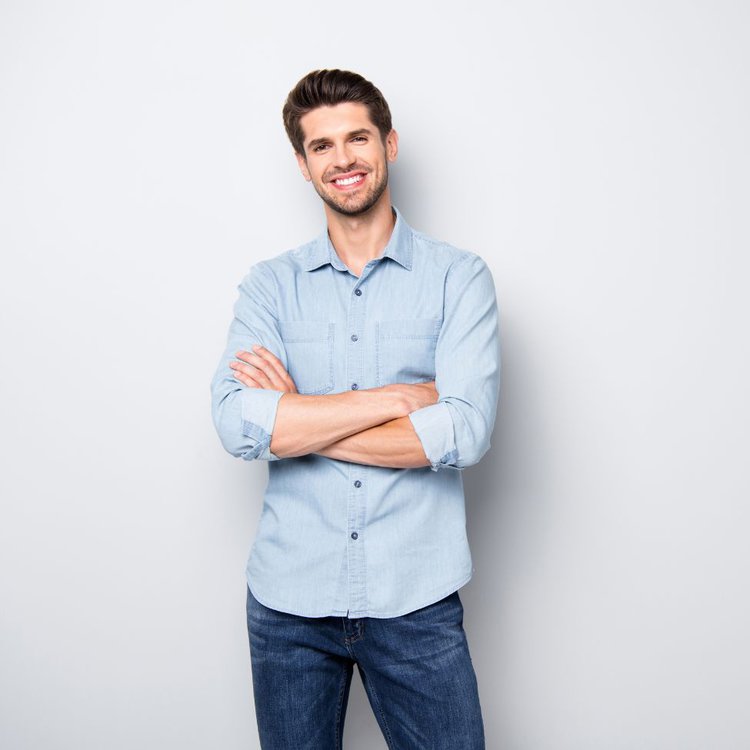 3. Other Considerations
The appropriateness of a denim shirt in a business casual setting often hinges on various factors, and here's a more detailed explanation of these factors:
Every workplace has its own unique culture. Some embrace a more relaxed and creative atmosphere, where a denim shirt might fit right in.
Others may lean toward a more conservative and traditional vibe, making it less appropriate.
Familiarize yourself with your company's dress code policies. Some companies provide explicit guidelines on what constitutes business casual attire.
Always prioritize compliance with these policies to avoid any misunderstandings.
Consider the specific event or occasion you're dressing for. For team meetings, casual Fridays, or creative brainstorming sessions, a denim shirt may be perfectly acceptable.
However, for high-profile presentations or client meetings, it's safer to opt for more conventional business attire.
Your individual fashion preferences and comfort level play a substantial role in this context.
If you feel confident and comfortable in a denim shirt, it's more likely to come across as fitting in a business casual setting. Just ensure that your personal style aligns with the overall atmosphere of your workplace.
By carefully considering these factors, you can make an informed decision about whether a denim shirt fits the business casual requirements of your specific work environment.
Fashion is a form of self-expression, but it should always respect the context and expectations of the setting in which it's displayed.
Closing Thoughts:
As we conclude our exploration of the intriguing intersection between Western fashion and business casual attire, it becomes clear that the timeless appeal of the denim shirt and the elegance of modern cowboy boots can harmoniously blend the rugged with the refined.
Fashion is not just about what you wear; it's a reflection of who you are. So, whether you choose to don a denim shirt for its versatility or step into a pair of well-polished, exotic-skin cowboy boots for their luxury, do so with confidence and authenticity.
As you embark on your journey to create a perfect blend of Western charm and business casual elegance, we hope our articles serve as a valuable resource and inspiration.
Thank you for joining us on this sartorial adventure, and may your Western-inspired business casual look be a testament to your unique style and the boundless possibilities it offers in the world of fashion.
Howdy y'all, and welcome to From The Guest Room, your ultimate guide to all things Western! I'm Jay Gatz, a lifelong cowboy boot enthusiast with over 5 years of experience in the Western style world. I'm excited to share my knowledge with you and help you discover the perfect cowboy boots and western gear to elevate your style. Let's explore the rich history and timeless appeal of Western fashion together!