I love cowboy boots and the reason behind it is that you don't even have to polish them every day before you hit the road.
This type of boots has a vintage, classic and pretty wild design that makes them even more expensive if these details stand out. As a result, they rarely have a smooth and glossy appearance.
Instead, the leather on the vamps and toes parts is often cracked, either with natural textures or with artificially smooth crevices that are commonly known as distressed leather.
And for that reason, a new pair of cowboy boots can also have scuffing marks made with purpose.
Are you obsessed with perfectionism and can't stand these flaws? Either, do your cowboy boots have received the worst treatment with scuffs of scuffs after years of servicing you?
If you do, then this "how do I stop my cowboy boots from scuffing" article is for you.
The truth is that scuffing marks aren't ugly at all. They are somewhat beautiful in their own way and I actually see a lot of "how to scuff leather boots" posts flooding the cowboy boots forums.
But also to say, everything is fine within a certain limit.
If the scuffs on your cowboy boots are too deep that reveal even torn leather marks on your toes, vamps or heels due to heavy friction with hard surfaces, it's time to take action immediately to restore a better look for your expensive cowboy boots.
Let's break down applicable ways to hide and stop unsightly and tasteless scuffing marks on your cowboy boots.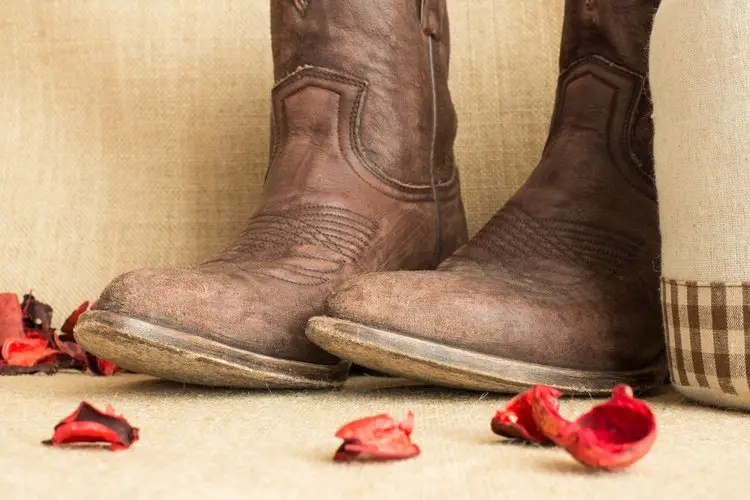 Do cowboy boots scuff?
Yes, they are. Even most cowboy boots are designed with scuff marks with purpose. Undeniably, the perfect scuffs will make a pair of cowboy boots express their liberal spirit and look like they should be.
During use, small scratches or scuffs will appear but will be blended with the original appearance.
So these scuffs will not be a problem to worry about if your boots are treated with the original (light to deep) wrinkles right out of the box.
So that you don't need to worry about having to repair them right away.
However, if you keep rubbing your toes, heels or side boots against a certain surface day after day, it will be the root cause of a large, wide and deep streak of scuffs.
And scuffs are real-time problems now.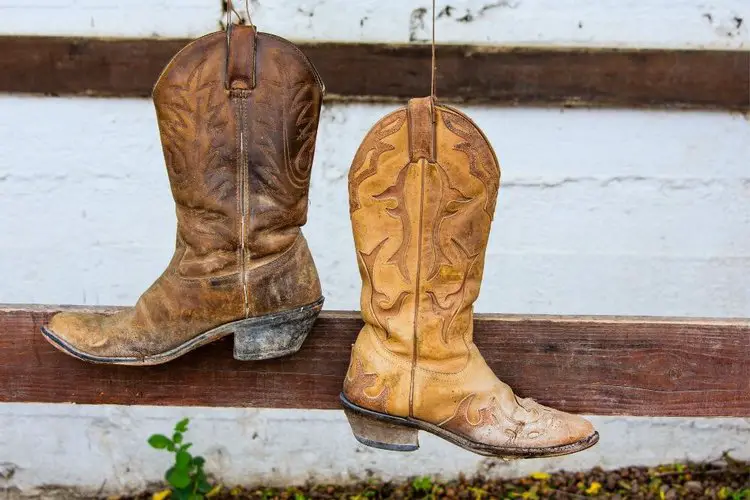 What causes scuffs on cowboy boots?
Knowing what causes scuffs will help you figure out what solutions work best for you.
Friction
The first and foremost reason, of course, is friction. The friction that comes from rubbing any surface of cowboy boots with other hard surfaces creates scuffs.
If your boots have a slick look, the scuffs are easier to spot.
If the boots have a light-toned color like nude or white, the scuffs will also show up clearlier.
In addition, the work you do will also show where the scuffs appear.
For example, regular riders will often scratch their cowboy boots on the toes and sides due to friction with the constant riding stirrups.
While farmers do farming, boots are scratched on the upper body and the entire surface of the boots by hitting the trunk from many sides.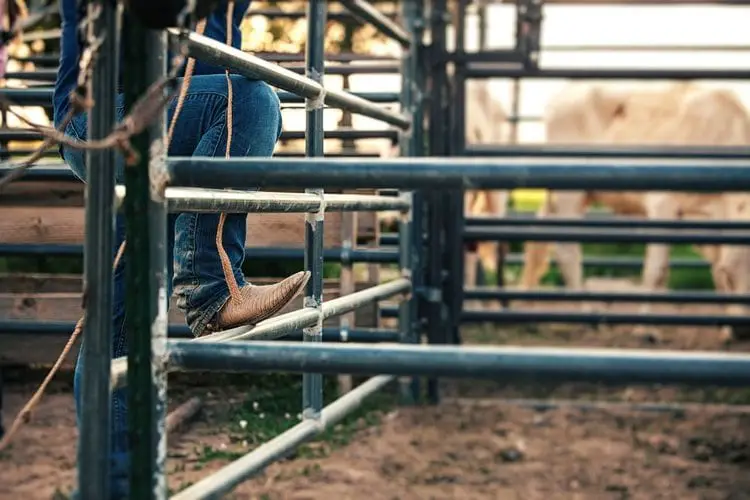 Dry leather
In essence, scuffs are like scratches with varying degrees of severity. And if the surface of the leather is too dry and vulnerable (because it doesn't have enough moisture), the scratch will get deeper.
Many of us don't wear cowboy boots to sit in an air-conditioned room 24/7. Cowboy boots are for showing up on the street, bars or shimmering photo shoots in the sun.
Therefore, if you have not moistened your cowboy boots in many years, it is also the cause of poor leather quality and easy to show deep wrinkles and more scratches/scuffs.
Faded leather
After a long time of use, any leather material is easy to fade, regardless of skin type.
In particular, colors that are industrially dyed with light tones such as ruby red, olive green or orange tend to be prone to environmental factors, air and fade faster.
As a result, irregular patches of color are clearly visible across the entire surface.
And if you regularly rub this discolored skin surface and cause scuffs, these flaws will appear more pronounced.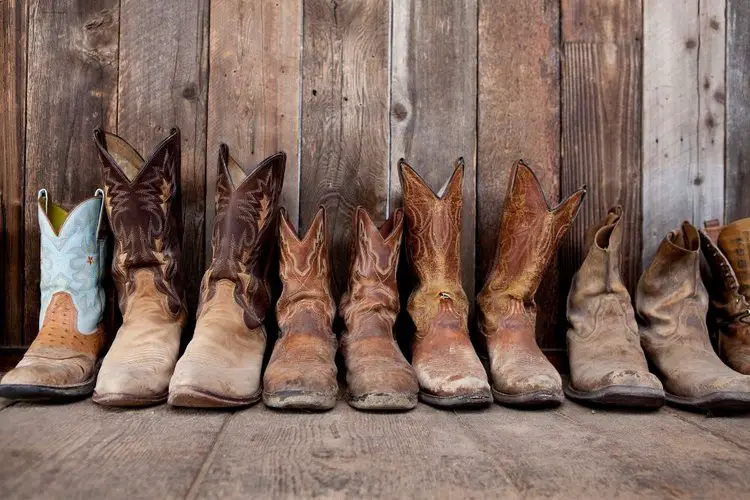 Can scuffed leather be repaired?
Definitely, you can even perform these tricks at home which we'll cover below. Yet, do not be impatient! Read some of the notes in this section first so you won't regret it later.
First, determine what your cowboy boots are made of. Is it 100% genuine leather/fax, nubuck/split leather or fabrics? This has a lot to do with how you fix them.
Most real leather adapts pretty well to most methods of renewing scuffing marks. They are naturally stretchy and resilient (to some extent) when properly hydrated and nourished. Therefore, deep scuffs will still be able to be restored to like-new on the surface of this material.
Faux is not comparable to real leather. They tear easily and are less resilient. They are also prone to intense sunlight, wind and heat that become cracked and dry. It is almost impossible for you to restore scuffing faux leather to 70% new.
Underside leather such as nubuck/split leather have absolutely no resistance to scuffs. The scuffs will be obvious and there is no way to change them. You can only get more versatile when you turn scuffs into beautiful decorations – in your own way.
How do you get scuffs off cowboy boots?
Now it's time to get to know how to hide and repair your lovely cowboy boots from scuffing.
1. Using deep leather conditioner
Weiman 3 in 1 Deep Leather Cleaner & Conditioner Cream - Restores Leather Surfaces - Use on Leather Furniture, Car Seats, Shoes, Bags, Jackets, Saddles
Bickmore Bick 1 Leather Cleaner 8 oz - Clean Dirt, Oil, Sweat, Salt, and Water Stains from All Colored, White, and Black Leather
Weiman 3 in 1 Deep Leather Cleaner & Conditioner Cream - Restores Leather Surfaces - Use on Leather Furniture, Car Seats, Shoes, Bags, Jackets, Saddles
Bickmore Bick 1 Leather Cleaner 8 oz - Clean Dirt, Oil, Sweat, Salt, and Water Stains from All Colored, White, and Black Leather
Last update on 2023-09-22 / Affiliate links / Images from Amazon Product Advertising API
As noted above, scuffs on the surface of cowboy boots can result from friction on poor leather quality, making the damage speed and appearance faster and harder to heal.
Therefore, nourishing the skin (especially real leather) with conditioners that contain moisture and nutrients will be better to prevent scuffs from forming later.
But this doesn't mean you should apply a deep conditioner every day, because the fact is that the scuffs won't go away completely. They only reduce the presence to a shallow level and are less noticeable.
Pro tip: My advice to you is to choose cream over liquid because cream will contain more oil, it will also take longer to return to its dry, brittle state.
How to do: It's simple, you just need to wipe the cowboy boots' surface from soil, dust, and water with a dry cloth. Apply conditioner on the surface of another cloth and gently massage to allow the conditioner to penetrate. Let dry overnight and continue using.
Material type: genuine leather, faux
Purpose: repair scuffs
Pros
Easy to buy and easy to use
Effectively fade scuffs, scratches well
Does not darken skin
Cons
No lasting effect
Scuffs can't be covered on sight
2. Take the best use of household oils
In case of an emergency, if you don't have any specialized leather cream/wax/liquid on hand, you can consider using household oils like coconut oils or olive oils to remove scuffs.
Among them, I recommend olive oils because they have a lighter texture and are also more absorbent. They also don't create a lot of excess oil on the leather surface after applying, unless you pour a tablespoon of oil over the boots.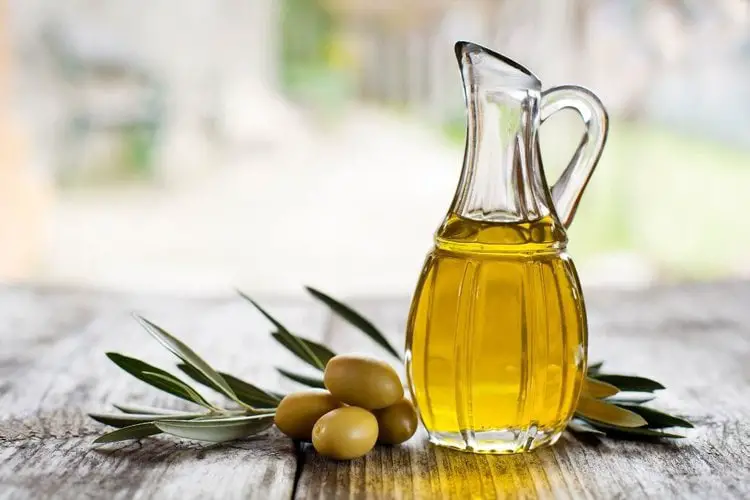 I haven't documented any research regarding vegetable oils for healing scuffed cowboy boots, but there are actually plenty of people who have had success with this method.
The principle of this method is that they help to moisten the surface of the leather and keep the shine of the boots. This will improve skin quality and fade shallow or deep scuffs.
However, vegetable oils have a different chemical structure, so they can only penetrate a small amount underneath the skin. Therefore, be careful when applying vegetable oils to avoid excess and patchy dark oily marks.
How to use: Also very simple, you just need to clean the surface of the cowboy boots and apply a small amount of household oils to the soft cloth/cotton pad. Gently massage around the scuffs and the entire surface of the boots.
Pro tips: Clean the boots with apple cider vinegar first. It will help increase the permeability of the leather.
Purpose: repair and hide scuffs
Material: real leather/fax
Pros
They are readily available, cheap and easy to use
Give a certain shine to cowboy boots
Won't be able to darken the leather tone
Cons
Less penetrating ability than animal-sourced oils
Easy to leave oily marks if poured directly on the skin surface
Less long lasting effects.
3. Colorful polish
Moneysworth & Best Shoe Cream, Grey
Our shoe creams combine the right amount of natural oils, waxes, lanolin and pigments tor restore...
Ideal for use on men's and ladies soft leather footwear
Provides a soft and natural shine
Last update on 2023-09-22 / Affiliate links / Images from Amazon Product Advertising API
A lot of people appreciate using colorful polish to fade scuffs. Personally, I have experienced and really succeeded, especially when applied with cowboy boots.
As you know, cowboy boots almost never have a smooth surface (except for performance boots). They are usually made from distressed leather or real leather with bold patterns.
Therefore, it is very easy to hide deep scuffs with polish when everything is shiny and the scuffs will blend in with wrinkles or leather patterns.
In addition, adding color is also a way to distract the attention of other people's eyes from your cowboy boots.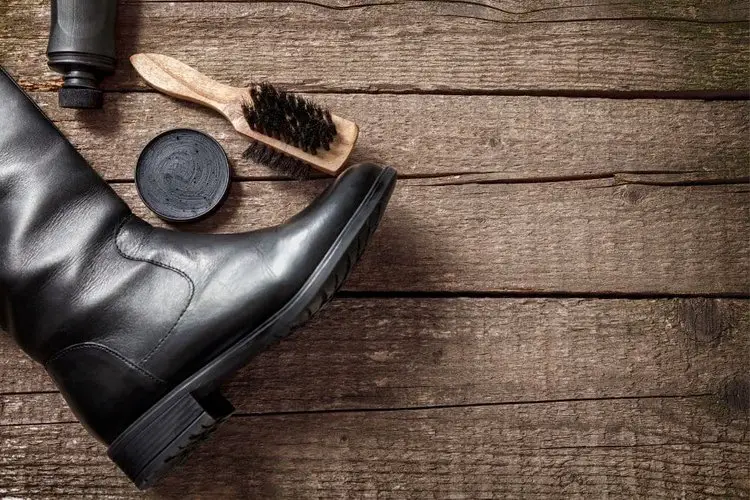 How to use: Be careful when choosing wax/polish colors. Then clean the boots as usual. Dispense an appropriate amount onto the cotton pad and rub vigorously over scuffs and entire boots.
Pro tips: If you have a pair of cowboy boots in a rather out-of-the-ordinary color and you can't find the right color among the commercially available products, darken the leather with dark brown leather wax/polish. Remember to polish the entire surface evenly so as not to create discoloration.
Material: real leather/Faux
Purpose: Hide scuffs
Pros
Easy to use and easy to buy
Covers scuffs effectively
Polish the leather surface clearly
Con
There may not be a suitable polish color as you wish.
4. Applying leather heavy filler
Coconix Vinyl and Leather Repair Kit - Restorer of Your Furniture, Jacket, Sofa, Boat or Car Seat, Super Easy Instructions to Match Any Color, Restore Any Material, Bonded, Italian, Pleather, Genuine
Super easy restoration for scratch, rip, tear, burn hole, crack, peeling refinish and refurbishing
Excellent fix for best finish that matches any color shoes, couches, office chair, belt, bag, purse
Extra compound to patch up large areas, no heat tools, patches, paint, glue, dye, tape, putty needed
Last update on 2023-09-22 / Affiliate links / Images from Amazon Product Advertising API
This is the most specialized product line used to patch the deep scuffs that create tears on the surface of cowboy boots. If you accidentally dragged your boot toes through an iron nail and created scuffs that couldn't be worse, this could be your lifesaver.
The filler has a sticky texture and is colored to fill cracks in the leather surface. They act as a form of skin glue that covers the surface.
Leather filler is used to patch cracks in the leather surface. BUT, you have to find the right color and the crack doesn't tear too big or lose part of the skin.
Most of the time, I get a lot of positive feedback from users that leather filler helps patch sofas very well. And I think it will also work on cowboy boots' deep scuff.
Pro tips: If your cowboy boots have a certain sheen, polish the boots after patching the scuffs with filler. That can help your boots look like new.
Material: real leather/fax
Purpose: repair scuffs
Pros
Easy to buy
There are many colors to apply
Has good tear repair effect
Cons
Not easy to use and manipulate
Available colors may not match.
5. Vaseline/Petroleum filler
One of the most common ways to make use of home remedies is to use Vaseline/Petroleum jelly to patch up scuffs or cracks.
Sounds pretty vague, doesn't it? What do you think if I say that Vaseline can repair scratches on CDs? So, even though they look simple, these products are quite useful for smoothing cracks.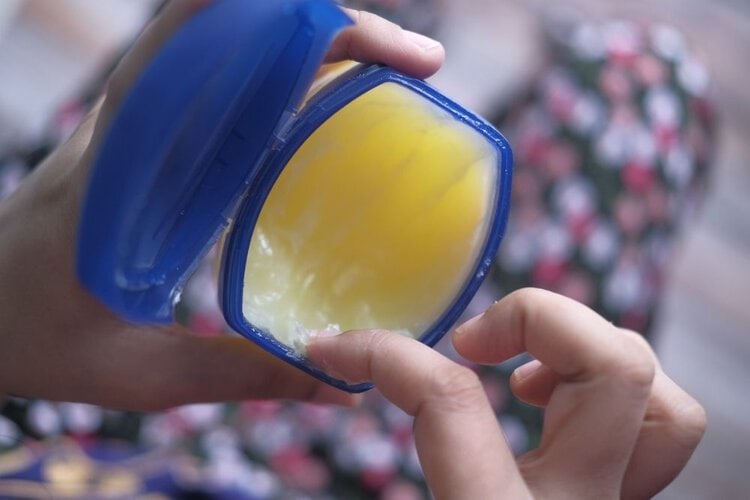 Applying vaseline or petroleum jelly can partially fill in the scuffles, thus helping to keep them moist and fade the scuffs.
However, to get good results when applying this method, you need to moisten the surface of the leather with a warm towel and then massage vaseline/petroleum jelly onto cracks, scratches or scuffs.
Note here that this method does not give very noticeable results with deep scruffs or torn scuffs. They tend to do better with light and medium scratches in small areas.
How to use: 
Clean cowboy boots from dust, dirt and mud thoroughly before use.
Cover the skin surface with a slightly damp hot towel. They will help soften the skin's surface for faster absorption.
Apply a small amount of Vaseline directly to the scuffs. Don't worry because vaseline will not cause marks on the skin like oils.
Massage several times and repeat until scuff marks improve.
Pro tips: Polish cowboy boots after using vaseline can bring leather back to almost new.
Material: Real leather/fax
Purpose: Repair/Hide scuffs
Pros
They are easy to find and use
They do not form marks on the surface
They do not darken the leather
Con
Can only be applied to light scuffs on a small scale.
6. Mink oils
Last update on 2023-09-22 / Affiliate links / Images from Amazon Product Advertising API
Unlike olive oils, mink oils are animal-sourced oils that have been used for leather care for footwear and furniture centuries ago until now.
Today, mink oils are much improved instead of using 100% mink belly fat as before. As a result, the texture of oils also becomes more faux-friendly and preserves longer maintenance on real leather.
Mink oils have a texture similar to animal oils, so they penetrate more quickly and are better at moisturizing, softening, and healing scuffs than vegetable oils.
However, mink oils can darken real leather if you use them on light-colored cowboy boots. So be careful with this if this is not what you want.
How to use: Clean cowboy boots in all areas where mink oils need to be applied. Next, moisten the skin surface with a warm and damp towel. Apply a generous amount of mink oils to cotton pads and begin to gently rub around the scuffs.
Pro tips: Mink oils can significantly darken cowboy boots. If your boots have faded quite a bit, then darkening and moistening the leather will prevent scuffs from appearing at sight.
Material: Real leather/Faux
Purpose: Repair/Hide scuffs
Pros
Easy to buy and use
Moisturise and nourish leather at the same time
Visibly blur scuffs
Con
Darken the leather (if this is your goal, fine!)
7. Visit leather repair expertise
If you are a careful person and do not want to be a guinea pig to experiment with the above methods, visit cobbler to get 100% new cowboy boots. (Remember, you need money too!)
Leather and cowboy boots experts have a wide range of methods, tools, and supplies for dealing with shallow, deep to torn scuffs.
You can completely trust and leave your boots for them to handle.
However, finding a reliable address is not easy. Therefore, carefully browse the cowboy boots forums to ask for more authentic information.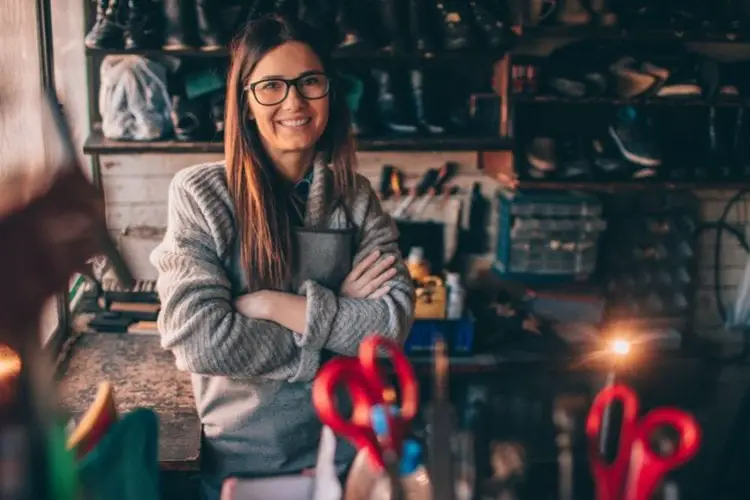 Pro Tips: Don't wait until cowboy boots are at their worst before meeting experts. See them as soon as possible to deal with cracks, scratches, scuffs quickly. This reduces costs quite a bit. In addition, they also help you to be more conscious of taking care of your boots.
Material: all types
Purpose: Repair/hide scuffs
Pros
Save time and effort
Easily find experts
Worthwhile results.
Cons
High cost
It's up to your luck to meet a truly skilled craftsman.
8. Make it a style
It's a bit risky, but if you're an artist (or you know how to design something eye-catching and balanced), try making those unsightly scuffs personal and unique in your own way. – as a shoemaker.
For example, if your boots have one side of the toes that is heavily scuffed, the other side is not scratched at all. Try scratching the other side with the same shape as the existing scratch. That will create the perfect symmetry like a new boot.
Next, condition your leather with a deep conditioner and make them shine with polish. It will make the boots unique and eye-catching. No one recognized it as a scuffing cowboy boot anymore.
A friend of mine had cowboy boots that were so deeply wrinkled and scratched on their boot's shaft that it couldn't be worse. You know what he did? He found a shoe embroiderer and told them to embroider different patterns on the shaft to cover the heavy scratches. Genius!
I mean, cowboy boots speak a spirit of freedom, creativity and nature. So if you make your boots look out of the ordinary, people might not notice the difference.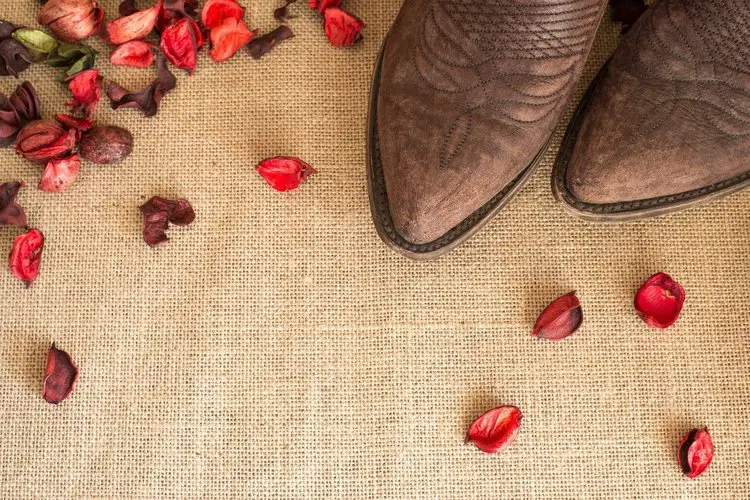 Pro tips: Choose the right details with your boots to edit or add or subtract. Don't turn it into a trash can full of stuff!
Materials: all types
Purpose: Hide scuffs
Pro
Really effectively masking the scuffs like nothing ever happened
Cons
Can have high costs
Requires creativity and artistic qualities
Can ruin everything! (worst case)
9. Dyeing faded cowboy boots
Last update on 2023-09-22 / Affiliate links / Images from Amazon Product Advertising API
As earlier mentioned, one of the main reasons for noticeable scuffed cowboy boots is the appearance of partially faded or fully faded leather. This mostly happened to strong and light-tone dyed leather for both genuine leather and faux.
If you wear cowboy boots for many years without any maintenance or polishing, they will also fade quickly.
Besides, frequent exposure to sunlight, wind, rain, air from the environment as well as heavily abusive scuffs/scratches will erode the original color of cowboy boots as well.
Dyeing leather seems the only way to get back the younger look for your boots with much less noticeable scuffs. But, no need to panic! It doesn't sound scary like what you hear.
I mean, you can definitely conduct the process at home. We break down how-to-do steps for you below. Yet, if you still feel insecure, don't hesitate to visit a professional cobbler to make things perfect as you wish.
How to use: It's a bit complicated but trust me, you can do it! You have to pick the most reasonable dye color that matches your cowboy boots (or at least matches what you expect).
Clean the cowboy boot's leather thoroughly like there should be no dust particles remaining on the surface.(if not, the dye products will leave some residue or discolored patches eventually and you never love to see them!)
Pour a small amount of dye products into cotton pads and rub every nook and cranny of cowboy boots. Remember to do it in small pieces to check if the color is even. If the boots have obvious embroidery with thread, wrap this up with nylon before doing the staining.
Let them dry completely overnight.
Polish the boots (if necessary).
Pro tips: If your cowboy boots are strongly faded with the worst discoloration, dye the leather black or brown entirely so the scuffs won't even be seen clearly. One more thing is to pick alcohol-based dye products, they will dry up easier and faster.
Material: real leather, faux, nubuck, suede
Purpose: Hide scuffs
Pros
Cost effective (if you make it at home)
Renew the boot's look while hiding scuffs effectively
Easy to buy dye products/kit
Cons
It requires some techniques and carefulness
If you fail, that's the end of your boots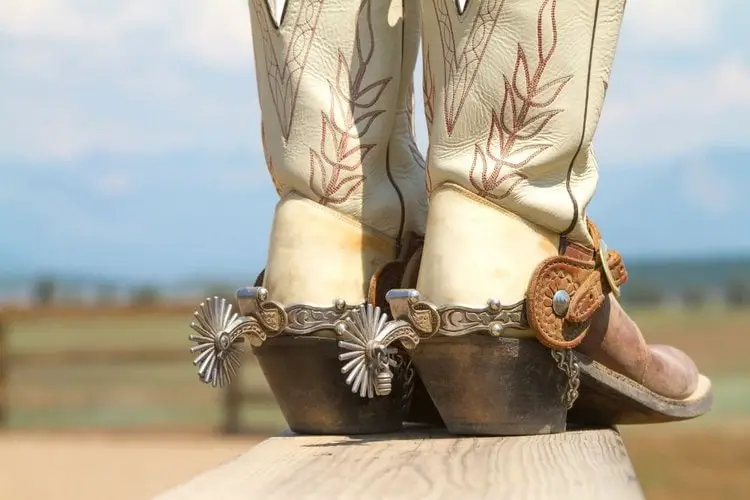 How do I stop my cowboy boots from scuffing?
Although there are many methods to get scuffs off cowboy boots, actually, there is no way to completely prevent scuffs on your cowboy boots!
However, I have 6 tips for you to avoid this matter.
1. Keep them moist
Never let your cowboy boots get too dry as leather is easily scratched if left dry for a long time.
Using products like a leather conditioner to moisturize them is one of those important processes that cowboy boots lovers never forget.
2. Keep them in shape
Use a boot shaper, boot tree or boot stand to make sure your cowboy boots don't break and fold, thereby preventing scuffed marks.
Always keep cowboy boots upright, in a dry and breathable place!
Whitmor 6905-5739 Gunmetal 4-Pair Boot Stand
Boot Shapers for Tall Boots Women,Boot Trees Cedar Freshner,Inserts Boots Support for Women 100% Cedar Wooden Sachets Bags (1 Pairs Boot Trees)
FootFitter Western Cedar Boot Tree - Best Shoe Trees for Western Cowboy Style Boots with USA Wood, Easy Removal - CW12 (Men's Size 10.5-12)
Whitmor 6905-5739 Gunmetal 4-Pair Boot Stand
Boot Shapers for Tall Boots Women,Boot Trees Cedar Freshner,Inserts Boots Support for Women 100% Cedar Wooden Sachets Bags (1 Pairs Boot Trees)
FootFitter Western Cedar Boot Tree - Best Shoe Trees for Western Cowboy Style Boots with USA Wood, Easy Removal - CW12 (Men's Size 10.5-12)
Last update on 2023-09-22 / Affiliate links / Images from Amazon Product Advertising API
3. Keep them dry
Besides moisturizing, don't soak your cowboy boots in wet places for too long.
Dampness may not cause your cowboy boots to scratch, but it will reduce the quality of your cowboy boots. As a result, your boots are more prone to scratches.
Read more: How to Dry Cowboy Boots Fast and Effectively?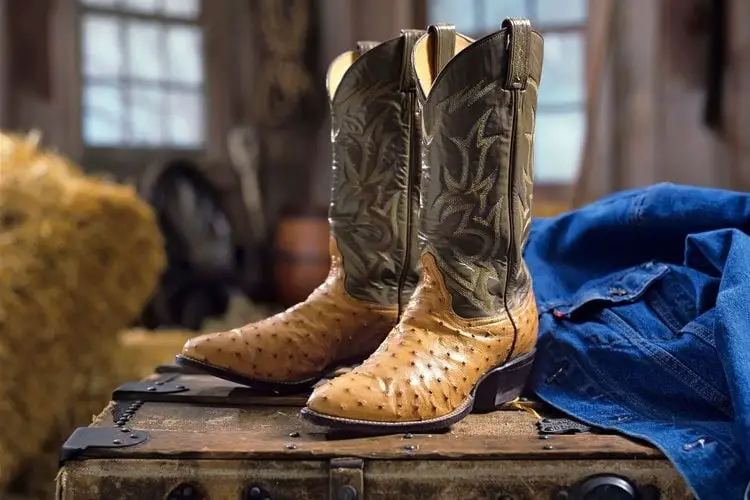 4. Keep them clean
Besides keeping cowboy boots dry and in shape or providing the right moisture, keeping them clean also retains their quality. Especially protect them from mud!
This will ensure cowboy boots don't get scuffs easily.
In general, keeping cowboy boots away from scratches or having fewer scratches will depend a lot on the inherent condition of the material. You need to take good care of them for them to have good resistance.
As you know, the leather types used to make cowboy boots are very diverse such as ostrich, snakeskin, caiman, lizard.
If you don't know how to care for them, I have a very detailed tutorial on how to care for exotic leathers here!
5. Polish them often
For old cowboy boots, you will need to give them a layer of protection, and that protective layer needs to be well-polished.
Many polishes these days are fairly resistant to scuffs. And I think this method will be a wise choice.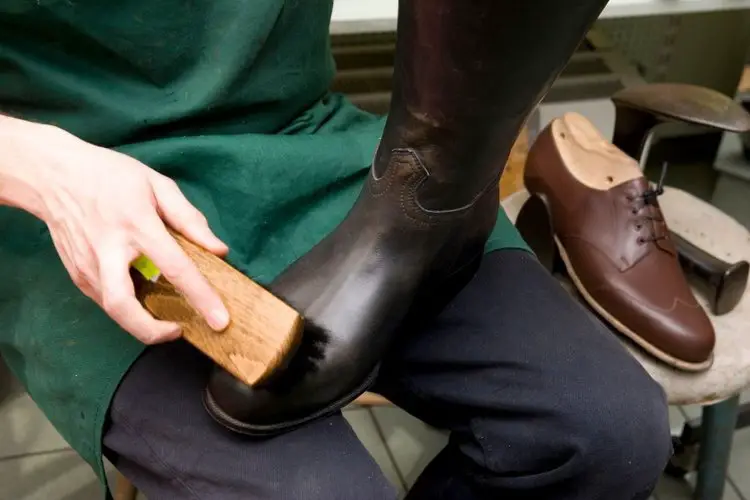 6. Stop abusive actions on your boots
Last but not least, no matter how much you try to renovate and repair the scuffs on cowboy boots but you don't consciously protect them when using them, I'm afraid you will have to pay to buy many new pairs in the future.
Most cowboy boots are not born with the same flawless, polished look as Chelsea boots. Cowboy boots have the finest wrinkles, natural scuffs and leather patterns naturally right out of the box.
So, many wearers think cowboy boots are almost immune to accidental scuffs or scratches.
But not so, cowboy boots are also made from faux but the quality is not so good. Because of this, they can also scratch, scuffs and even scuffs very badly.
What can you do to save a short-life pair of cowboy boots? Protecting and properly using cowboy boots is not difficult.
Avoid rubbing toes, vamps against brake pedals and accelerator pedals while driving.
Avoid wearing cowboys into bushes with thorns or branches.
If you have to cut/chisel/bend/heat metal every day, wear cowboy work boots with more durability than ordinary cowboy boots.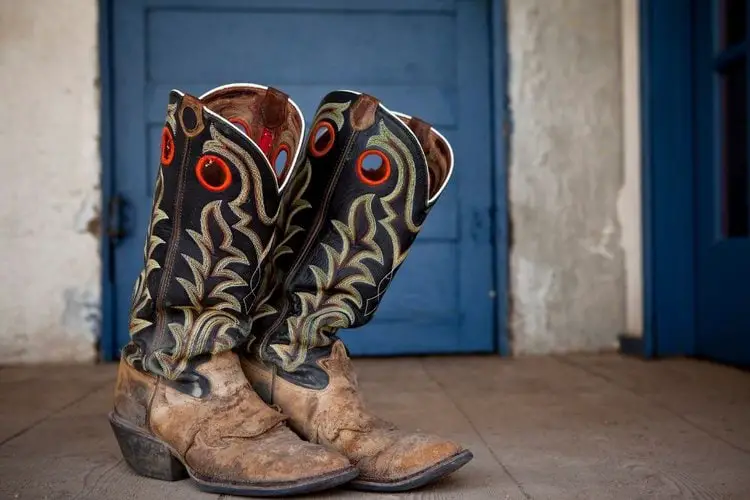 Some last words
If you've been a loyal fan of cowboy boots for years, you'd know how to take good care of your boots from scuffs or scratches.
Scruffs can be pretty to a certain extent, but if they're too deep, they'll make your cowboy boots look like crap!
Don't forget to moisturize and polish your cowboy boots every 6-12 months.
Wish you a pair of 10-year-old cowboy boots eventually!
Howdy y'all, and welcome to From The Guest Room, your ultimate guide to all things Western! I'm Jay Gatz, a lifelong cowboy boot enthusiast with over 5 years of experience in the Western style world. I'm excited to share my knowledge with you and help you discover the perfect cowboy boots and western gear to elevate your style. Let's explore the rich history and timeless appeal of Western fashion together!