What a great weekend with dance moves!
It's 11 o'clock at night and I'm still wearing my cowboy boots, sipping a beer with pop-tarts. So comfortable!
Today, I wear a pair of Dan Post cowboy boots with leather soles. Compared to Ariat's cowboy boots with rubber soles I wore last week, I have to say that wearing the leather sole ones are much easier for line dancing.
Well, it's not only the reason why cowboy boots have leather soles, there are still a few more reasons!
I'll tell you all about why cowboy boots have leather soles now.
Why Do Cowboy Boots Have Leather Soles?
If you think rubber sole cowboy boots will be more beneficial to you at work than leather sole ones, you are wrong.
Here are 3 main reasons why cowboy boots have leather soles:
Easy for riding a horse
Easy to find, comfortable and cheap (in the past)
Easy for line dancing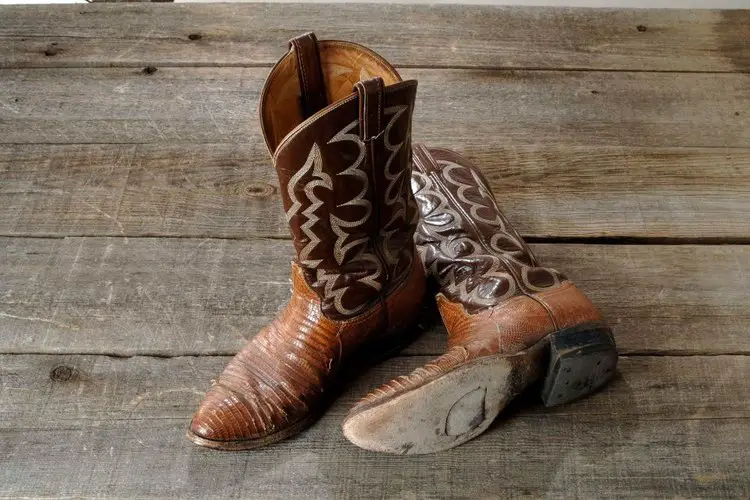 Easy for riding a horse
Leather soles have a smooth and slippery surface that can support cowboys riding horses in the past, I can say it's the main reason.
Why? To slip the feet into (or slip out) the saddle's stirrup easily, cowboy's footwear needs to have enough slip, and leather soles with smooth outsoles are a perfect choice.
Cowboys are guys who often roam the vast prairies on horsebacks. So it's not difficult to understand that they need footwear with leather soles to make them flexible when on/off the saddle.
No cowboy wants to jump out of the saddle with his foot stuck in the stirrup because the outsoles are too grippy.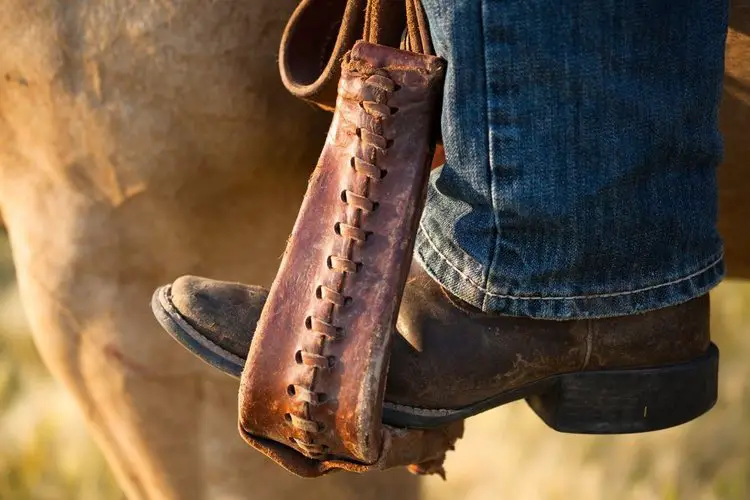 Easy to find, durable, comfortable and cheap (in the past)
Rubber soles are now very popular, while in the past, finding cowhide and bull hide in the Western is easier. They are cheap materials but still have good durability and comfort. That is why they are widely used, even in the soles of cowboy boots!
The leather used to make cowboy boot soles is heavy leather, these soles can last more than 2 years for casual use. Besides, leather soles are also more breathable and flexible.
However, cowboy boots with leather soles nowadays are not cheap for sure, I can say they are more expensive than rubber soles.
You can see many cowboy boots with leather soles that are handcrafted boots, they are very sophisticated, unique and completely different. That is why today's leather sole cowboy boots are much more expensive than rubber sole ones.
However, now people prefer using rubber soles to leather soles as they bring more advantages and because not many people ride horses nowadays. They need something more durable (rubber soles are twice as durable as leather soles) with good grip, and good shock resistance to walk in.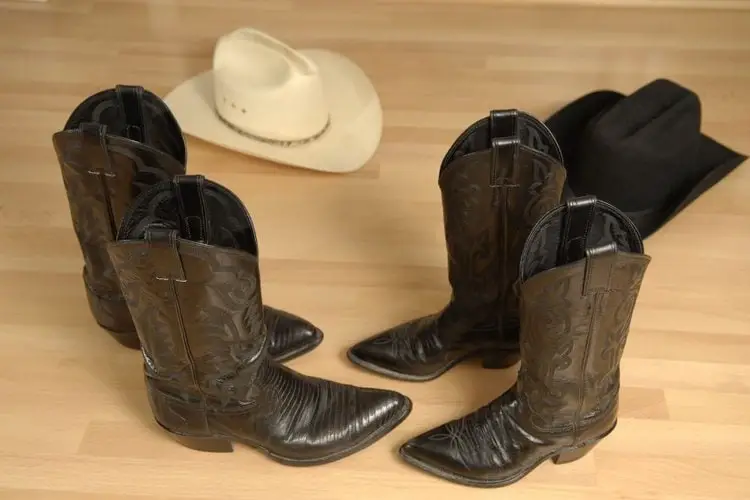 Easy for line dancing
One of the original reasons leather sole cowboy boots are born is to assist cowboy dancers in kicking or spinning for beautiful and smooth moves.
Line dancing is a very common cultural activity in the Western. The characteristic of this dance is that it requires boots to hold up well and have slippery outsoles. And only leather soles with smooth surfaces can provide that.
I'm writing these words when I just got back from a line dancing session.
Wrap it up
To sum it up, here are the 3 main points:
Cowboy boots have leather soles because they are easy to find, durable, cheap and highly comfortable materials.
The surface of the leather soles is very glossy and smooth, so they easily slide in or out of the saddle stirrup, which is good support for cowboys when riding horses.
Line dancing is also very popular in the Western and this dancing style needs footwear with smooth and slippery bottoms, that's why smooth leather soles are more and more popular and trusted.
Howdy y'all, and welcome to From The Guest Room, your ultimate guide to all things Western! I'm Jay Gatz, a lifelong cowboy boot enthusiast with over 5 years of experience in the Western style world. I'm excited to share my knowledge with you and help you discover the perfect cowboy boots and western gear to elevate your style. Let's explore the rich history and timeless appeal of Western fashion together!